I use my slow cooker all year round. Making a meal in a slow cooker kind of seems like a fall/winter thing to do but it's also handy in the summer when it's too hot to turn on the oven, or when I want a "dump it and forget it" kind of meal. My slow cooker chicken tortilla soup is one of those meals that everyone in my family eats without complaining, so it shows up in the meal rotation often. What I really love about this dish (besides the fact that it tastes amazing) is that you can customize the level of hot or mild to suit your family's taste buds. Since this recipe uses canned enchilada sauce, you have some options on how much you want to kick up the heat. You can also add another can of green chilies if you really want to add some zip to this dish. I hope you like this slow cooker chicken tortilla soup as much as I do. We like to use sour cream, avocado as garnish but you can also add salsa or chopped veggies. This is a great recipe for busy weekday evenings or on the weekend when you don't have time to spend in the kitchen.
This post may contain affiliate links.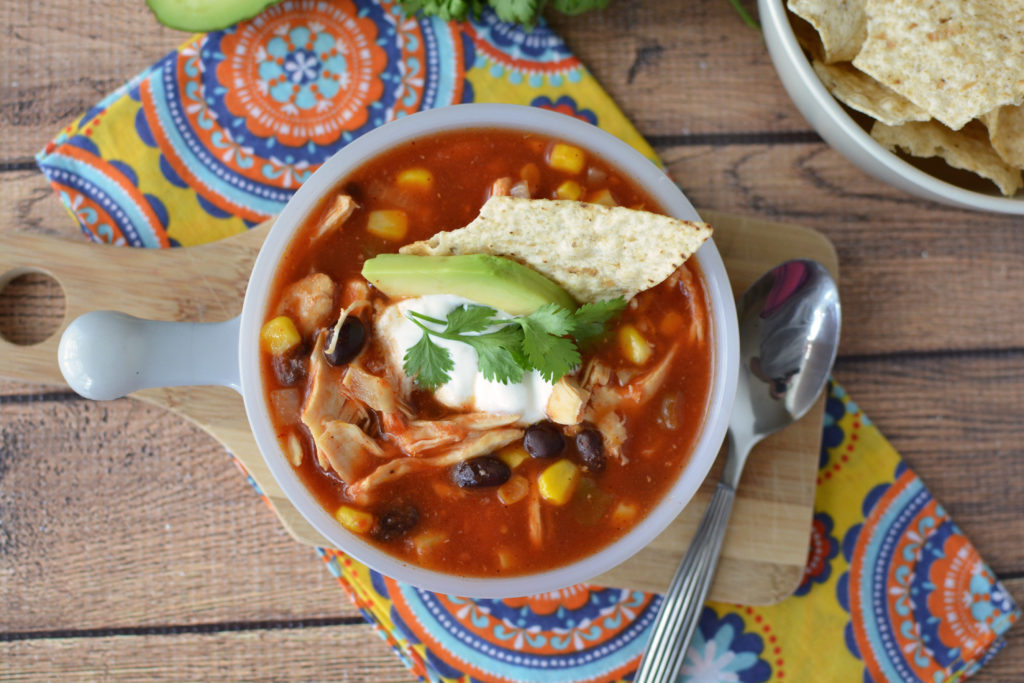 Slow cooker chicken tortilla soup
Ingredients: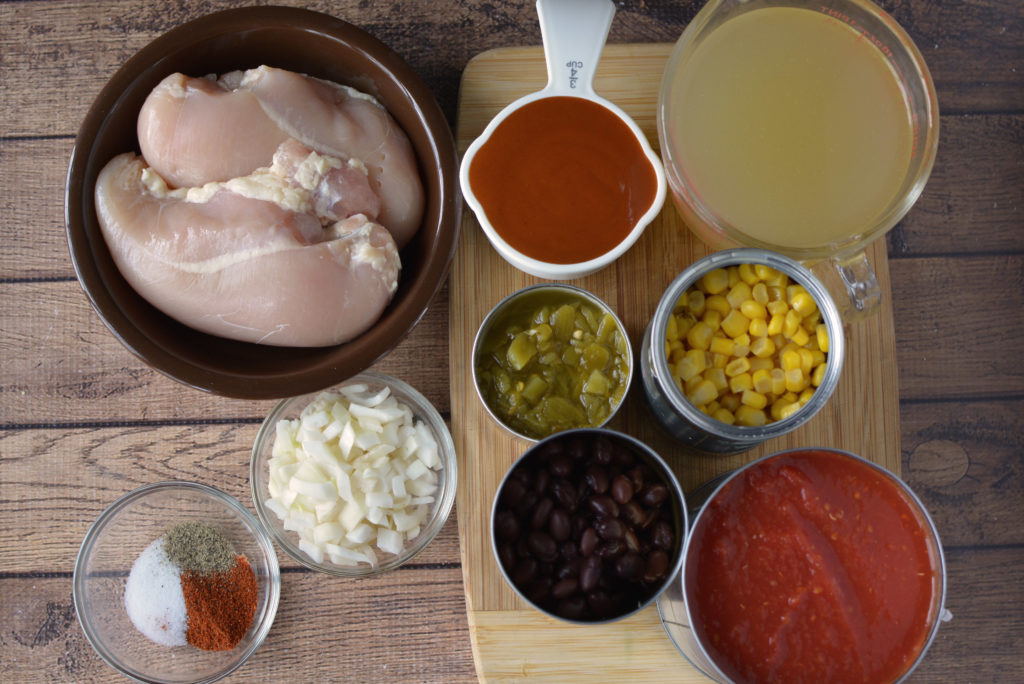 1 can, 28 oz, crushed tomatoes
1 jar enchilada sauce
1/2 cup chopped onion
1 small can, 4 oz, green chilies
2 cups chicken broth
1 cup water
1 teaspoon cumin
1 teaspoon chili powder
1 teaspoon salt
1/2 teaspoon pepper
2 whole, raw chicken breasts
1 can, 15 oz, whole corn, drained
1 can, 15 oz, black beans, rinsed and drained
sour cream, cilantro, tortilla chips, avocado, cheese for serving (optional)
Directions:
Place tomatoes, enchilada sauce, onion, green chilies, chicken broth, water, spices into a slow cooker and mix well. Add in chicken breasts.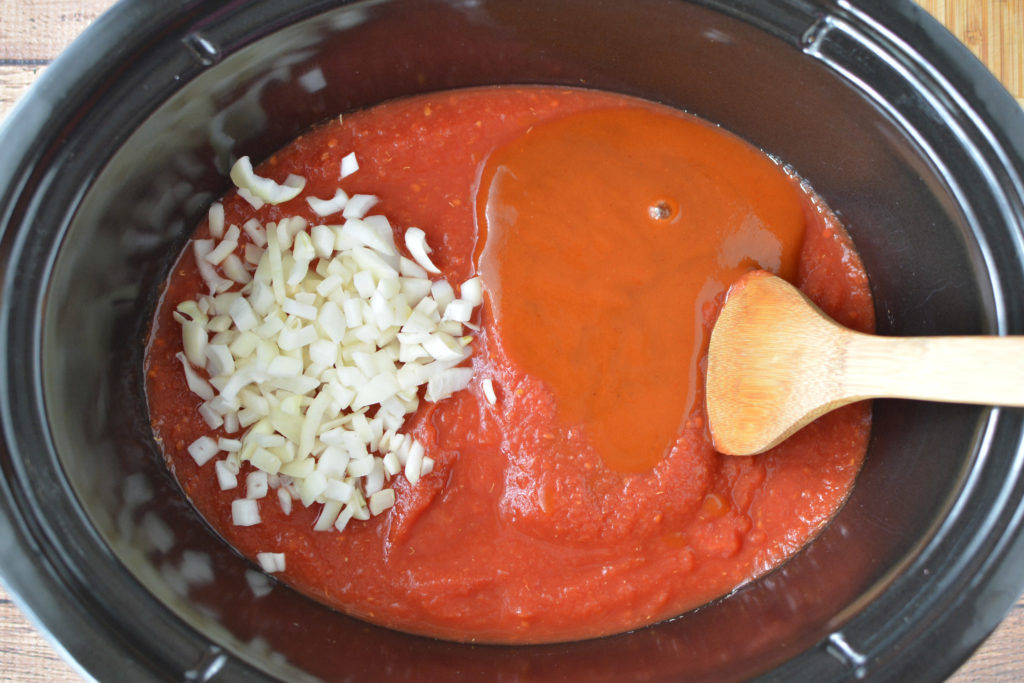 Heat on low for 8 hours or high for 4 hours*. When finished cooking, stir in corn and black beans and let set until heated through.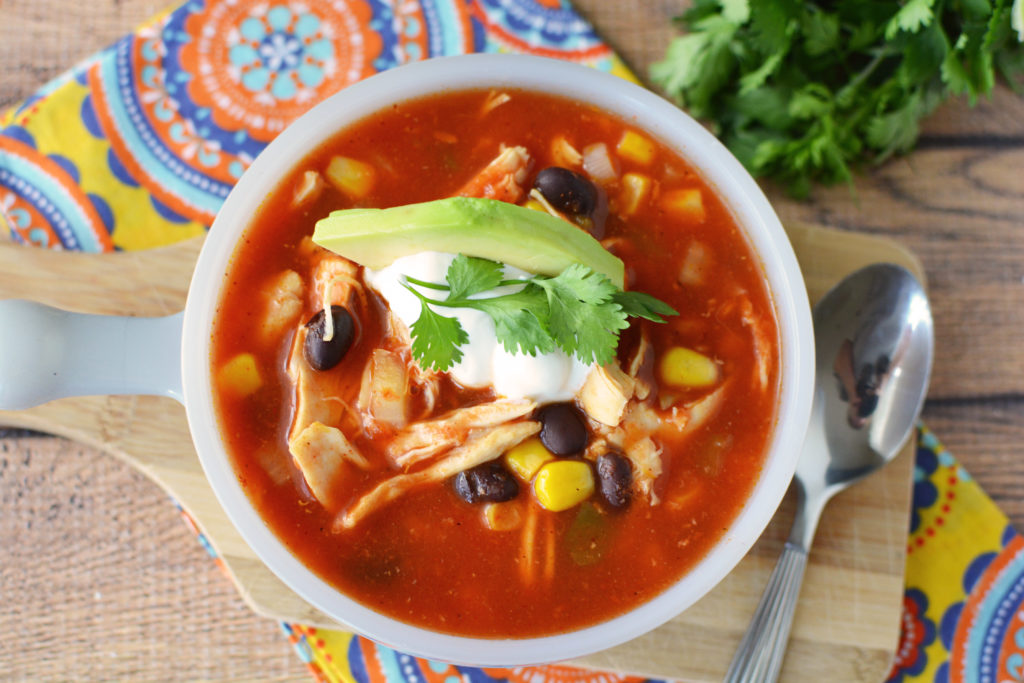 Serve with garnishes and tortilla chips if desired.
Serves 6
*On the weekends, we cook this for 4 hours on high and let everyone servce themselves throughout the afternoon. This is a great dish to have on hand if you've got weekend guests and you're not planning formal, structured meals.
If you're interested in the crock pot I use in my kitchen, you can check it out here.
You might also like: