Even though San Antonio Texas isn't known for crisp fall weather you can still enjoy pumpkin patches in San Antonio this fall. Here's the scoop on pumpkin patches in San Antonio in 2020 – what's open and what you need to know to have some great family time while picking that perfect pumpkin.
Pumpkin Patches in San Antonio in 2020
2020 has been…well it's been a year, hasn't it? And, while Halloween and other celebrations this fall will likely be a little different, Texas families can still enjoy the things they usually do in the fall. This list of San Antonio pumpkin patches will help you find the perfect place to have find that perfect pumpkin.
Even though fall in San Antonio is usually warm, there's an upside to the extended season of sunny, warm weather: hiking, camping and even swimming well into the fall season.
I've verified that all of the listed pumpkin patches in San Antonio are open. That said, some things are operating at reduced capacity or with reduced hours so when you're checking out the website of the San Antonio pumpkin patch you want to visit, make sure you're reading everything.
Want more info on Texas travel? Check out this list of cities to visit this year.
We are a participant in the Amazon Services LLC Associates Program, an affiliate advertising program designed to provide a means for us to earn fees by linking to Amazon.com and affiliated sites. Thanks so much for supporting us.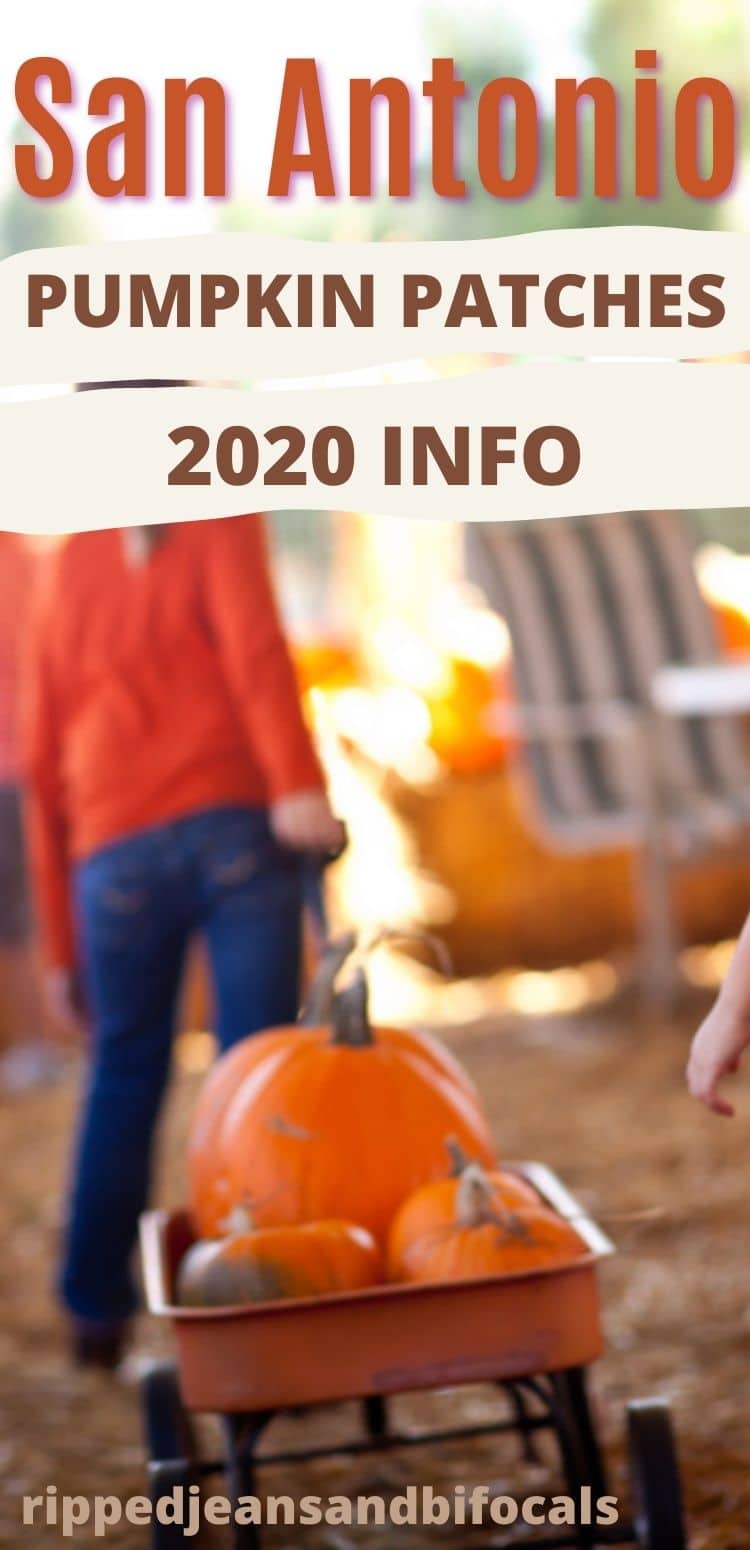 Visiting Pumpkin Patches in San Antonio – Check back for updates
I've reported what I know and can verify. As new info becomes available, I'll add to this post so feel free to bookmark to refer back to or reach out to me if you have questions. One of the most historically popular San Antonio pumpkin patches, Alamo Heights Methodist Church, has just confirmed they're not able to operate their pumpkin patch in 2020 but that they plan to be back in 2021.
When I have more info or can verify that a San Antonio pumpkin patch is for sure operating in 2020, I will update this post.
As of the time of this publication, the governor of the State of Texas has mandated masks in public places, so make sure you have a mask with you when you visit pumpkin patches in San Antonio with your family.
Bracken United Methodist Church
20377 FM 2252, San Antonio, TX
Opens October 3
M-Th 2-7, Fri-Sun 9-7
Get the latest on their Facebook page
Bulverde United Methodist Church
28300 Hwy 281 N San Antonio, TX
Open Oct 5-31
Follow their Facebook page for more info
Good News Pumpkin Patch
11020 Old Corpus Christi Hwy., San Antonio, TX
Details still to come but they will open/operate this year
Get the latest on their Facebook page
Northwest Hills United Methodist Church
7575 Tezel Rd., San Antonio, TX
October 17-31, noon-8 p.m.
All guests must wear a mask
Occupancy is limited so you are asked to get in, get your pumpkin and pictures and exit so others may have their turn
More info on their website
Oxford Hills United Methodist Church
9739 Huebner Rd., San Antonio TX
Opens Sep 27. Hours are noon-8:00 p.m.
Admission free. Pumpkins range from .75 – $50. According to the website, a free hayride may be offered depending on weather and availability of personnel
Masks must be worn, hand sanitizing stations available
Contact church directly to schedule field trips. More info on their website
Universal City Pumpkin Patch
2150 Universal City Blvd., Universal City TX
Open Oct 10-31, 11:00 a.m.-7:oo p.m. Fri-Sun, Tues-Thurs 3:00-7:00 p.m. Closed Mondays except for Columbus Day (Oct 14)
Admission free
Pumpkin prices start at $1
Wear face coverings when not able to social distance. Hand sanitzer available
Volunteers are needed. Refer to their website for more info
Windcrest United Methodist Church
8101 Midcrown, San Antonio, TX
Opens Sep 28-Oct 31 (or until they run out of pumpkins)
Mon-Fri 11:00 a.m.-7:oo p.m., Sat-Sun 9:00 a.m. – 7:00 p.m.
For more info, refer to their Facebook page
Pumpkin Patches near San Antonio open in 2020
The following are a bit outside the city but still a relatively easy drive for most San Antonio area families. If you're looking for a pumpkin patch near San Antonio and are up for a bit of a day trip, I think these are some of the best ones.
Saturday Fall Fest, Devine Acres Farms, Devine Texas
Devine is about an hour from San Antonio so this is a doable day trip.
944 FM 2200 W., Devine, TX
October 10, 17, and 24, 9:30 -2:30
Online ticket purchase ($15, 2 and under free) required. No tickets sold on site.
Entertainment and photo opps included. Lunch available for purchase. Catch and release fishing and pumpkin painting available for additional free
More info on their website
GRAFF 7A Ranch, Hondo TX
This is much more than a pumpkin patch. They offer a seven-acre maze, hayride, the MatterCorn Slide Mountain, the barrel Train, Farmer Ken's Kiddie Korral, the Hay Bale Jump, unlimited jumping the two Corn Poppers and the so much more!
911 US Highway 90 East, Hondo, TX
Sep 19 – Nov 28, Fri 6:00-9:00 p.m., Sat 12:00-9:00 p.m., Sun 12:00-5:00 p.m. Closed Halloween. The corn maze is open after dark but you'll need your own flashlight.
Admission is $17.50. Seniors 65+ 12, kids under 2 are free.
Lots more info on their website.
Pipe Creek Pumpkin Patch
805 Phil's Road, Pipe Creek, TX
Open weekends, Oct 3-4, 10-11, 17-18 and 24-25. 11:00 a.m.-5:30 p.m.
Admission is $6 per person, kids under two are free.
Activities included: pumpkin painting (you buy the pumpkin), scarecrow dressing, hayride, haystack, hop ball and more. Additional activities available for an additional fee. There's also an on-site farmer's market and Christmas tree farm.
Face masks required, snacks available for purchase. Note: No face painting available in 2020 because of close contact
More info on their website
Sweetberry Farms Pumpkin Patch, Marble Falls TX
1801 FM 1980, Marble Falls, TX
Open Sep 19-Nov 19. Mon, Tues, Thurs, Fri & Sat 8:30 a.m. – 5:30 p.m. Sun 1:00 p.m. – 5:00 p.m. Closed Wed
Multiple activities available: hayrides, pumpkin painting, barrel train and more. Admission is free but individual activities are around $5 each
No pets allowed
For more info, visit their website
Helotes Hills United Methodist Church, Helotes Texas
This was the church I went to when I was a child. I'm so happy to see them putting on such a great pumpkin patch in San Antonio in 2020.
13222 Bandera Rd., Helotes, TX
Oct 4 – Oct 31, Sun-Fri noon-8:00, Sat 10:00-8:00
Pumpkin prices start as low as .75
Occupancy limited to 100 people. Masks required on guests over two unless taking pictures.
If you would like to buy pumpkin bread, call the church office at 210-695-3761.
More on their Facebook page
Vogle Orchards, Fredericksburg TX
12862 U.S Hwy 290E., Fredericksburg, TX
Opens Oct 3, Fri-Sat 9:00 a.m. – 5:00 pm, Sun 11:30 a.m. – 5:30 p.m., Mon 9:00 a.m. – 5:00 p.m.
Admission is free. Pumpkins sold by the pound
More info on their website.
As their name suggests, this is way more than just a pumpkin patch. Fredericksburg Texas is an outstanding small city to explore. There's much to do with kids, with your sweetheart and of course, there's fabulous wine tasting opportunities if you can plan a little bit of a longer stay in the area.
Lovecreek Orchards, Medina TX
13558 State Highway 16N, Medina, TX
Every Sat, Sun, & Mon in Oct, beginning Oct 10. 10:00 a.m. – 4:00 p.m.
Admission is $7. Includes pumpkin painting (you buy the pumpkin), apple orchard tours, hayrides and more. Additional activities available for additional charges. Military discount: half price.
For more info, check out their website.
Unconfirmed San Antonio Pumpkin Patches
The following info about San Antonio pumpkin patches is unconfirmed/rumor but the info comes from what I've determined to be credible sources. As I learn more, I'll update and move the unconfirmed San Antonio pumpkin patches up to the previous section.
St. Margaret's Episcopal Church
5310 Stahl Rd, San Antonio, TX
Begins Oct 4. No hours available at this time.
Tips for Visiting Pumpkin Patches in San Antonio with Kids
1. Research
Make sure you read the website or event page thoroughly. Make sure you're clear on the hours, services offered, and any restrictions that might apply to your group, such as pets being allowed or how young kids have to be to get free admission (for San Antonio pumpkin patches that charge admission, it's typically 2-3.) Especially make sure you get information on what types of bathrooms are available. If you have younger kids, you'll want to know if there's a changing table available in the restrooms and what you're going to do if there isn't.
2. Lay down the law ahead of time
Go over the rules that you expect your kids to follow while visiting a pumpkin patch. Some of the pumpkin patches in San Antonio are located on church properties and others are located on farms. Are you going to allow your kids free range or do you expect everyone to stay together as a group? Communicate this in advance.
3. Have a plan in case you get separated
Talk to your kids about what to do if they find themselves separated from the adults. Scope out the security of the area. Can kids leave or be escorted out without their parents? Do you need to take precautions to make sure someone doesn't walk out with your young child? I know…it's not fun to think about that sort of thing but have a sense of your surroundings before you get distracted by the pumpkins and all the other fun activities.
4. Wear comfortable, loose clothes
You'll be on your feat and walking a lot so definitely make sure you're wearing comfortable shoes. You'll want cute, semi-coordinated outfits if you're planning to take photos but make sure you're wearing something you can all feel comfy enough in to have a good time.
If you're planning on taking fall family photos and really want that fall aesthetic – cozy plaids, knit beanies and booties – you might want to consider an outfit change after you get your Instagrammable snap because it's just too darn hot for those kinds of clothes when exploring the pumpkin patches in San Antonio.
5. Take sunscreen, water, and snacks
Even though we're all probably coveting our friends' pictures in cozy fall sweaters and blanket scarves, odds are you're not going to encounter crisp fall weather while exploring San Antonio pumpkin patches.
6. Practice good hand hygiene
This is more important than ever in 2020 but even during "normal times" (whatever that means anymore) a pumpkin patch is a high touch area. Lots of little fingers are touching the pumpkins that don't get purchased and even in the best of times, this is a pretty germy place, if you think about it.
Make sure you're taking every opportunity to wash hands with soap and water and make sure you carry lots of hand sanitizer or hand sanitizing wipes with you.
5. Consider taking a wagon…
…especially if you plan on buying a lot of pumpkins. Wagons also come in handy for toting tired kids, backpacks and other gear.