San Antonio with kids – 10 Questions Answered
(This post may contain affiliate links. Read my full disclosure.)
I grew up in San Antonio, and although I've lived a lot of other places, I'm excited that I'm raising my boys (both 11) in the city where I grew up. San Antonio is the U.S.A.'s seventh largest city. Whether you're a local or a tourist here are 10 questions answered about San Antonio with kids. I hope they'll help you plan your own adventure in my hometown.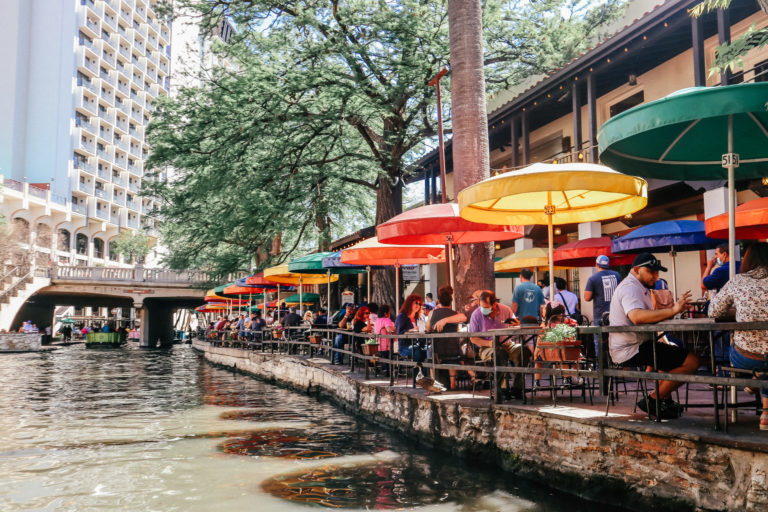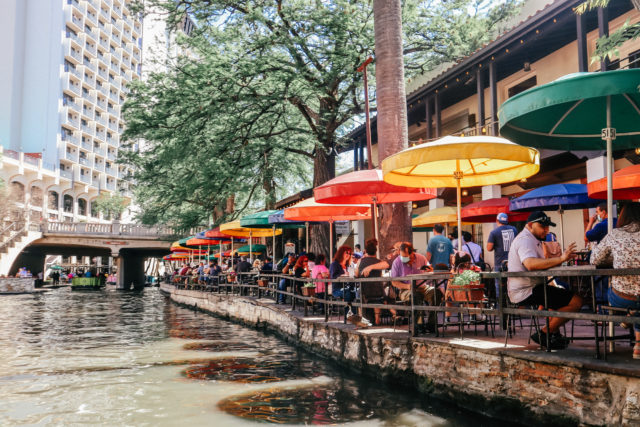 San Antonio with kids – 10 Questions Answered
If you've never visited San Antonio and are thinking about planning a trip, I bet you have the Alamo and the Riverwalk on your short list. While there is absolutely nothing wrong with that, my city is so much more than those two things.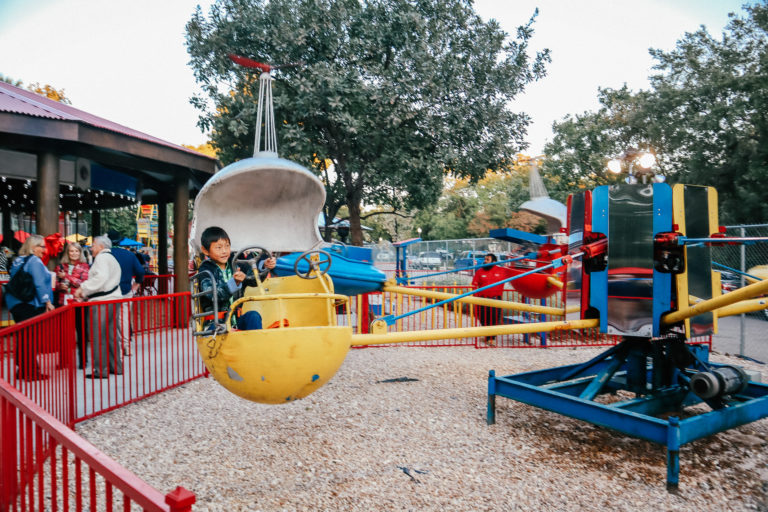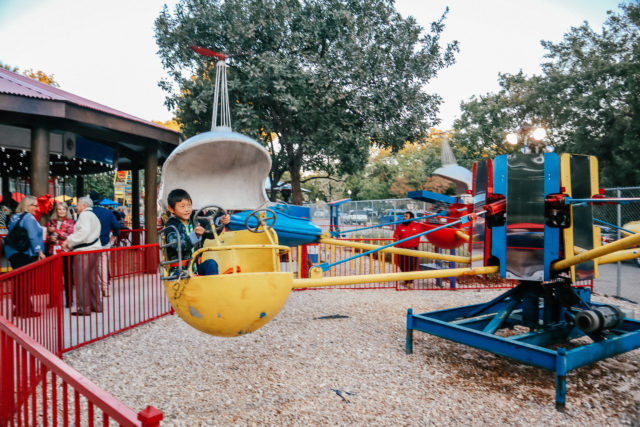 What's the best thing to do in San Antonio with kids?
It is really hard to have a favorite spot in San Antonio because there is so much to do and we have so many memories here. If I have to pick one, it would be the San Antonio Zoo and the surrounding Brackenridge Park. There's also an adjacent small amusement park called Kiddie Park. The rides are retro but they're lots of fun, especially for younger kids.
The zoo is a touch point in so many of my memories as a child and with each of my kids. They're always changing things, expanding, and becoming more focused on education and conservation but a lot of the familiar landmarks are there. For me, it's "the same but different" every time we go.
Visiting San Antonio during the fall? Check out the best pumpkin patches in San Antonio
When my kids were a little younger, their favorite place to go was The Doseum, which is a museum for children focused on hands-on and STEM activities. They have a lot of fun things to do indoors and outdoors. The outdoor areas are my favorite and they range from climbing structures to wading in a creek. They also have a bubble station and a reading garden.
What's the most iconic place to visit in San Antonio with kids?
The San Antonio Missions. This includes the Alamo, which his one of five San Antonio missions. The Alamo is the most famous but it isn't the most stunning or architecturally impressive. That said, most people want to see it when they come to San Antonio and would probably feel gypped if they missed it. My telling you it's underwhelming is probably not going to deter you, so I won't try.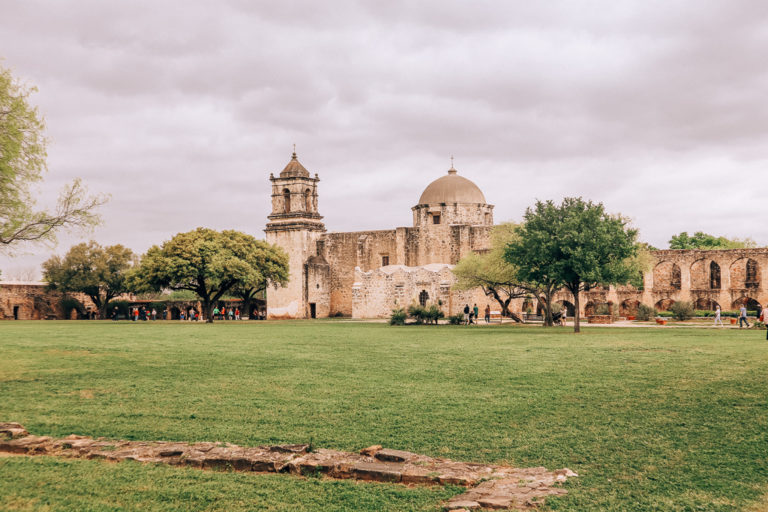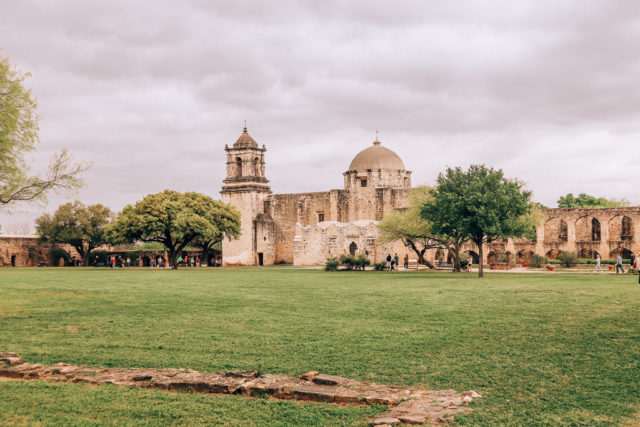 I do like the Alamo when they've got their living history actors on the grounds. That's a lot of fun for everyone and a great way for kids to learn about Texas history.
Entrance into The Alamo and grounds is free and there's also a free movie that's played throughout the day that gives information on the history of this famous mission. You can spring for a docent-led tours (about $15 per person) but you'll learn a lot.
What's the best bad weather outing?
There's a saying in Texas "If you don't like the weather, wait five minutes and it will change." Totally true.
There are definitely lots of indoor activities you can do in San Antonio with kids. You can consider these for rainy days as well as ultra hot days, which we have lots of. I recommend the Witte Museum. There's plenty to explore at The Witte Museum and if you've got fair weather, there are some lovely grounds to explore, too.
We call this museum "The Woody" since that's how my kids pronounced it when they were little. It's actually pronounced witty. They've got static exhibits on natural history, Texas history and Texas culture – a little bit of everything under one roof. There's also the HEB Science Tree House, which is a fun rooftop area that focuses on hands-on STEM activities for kids.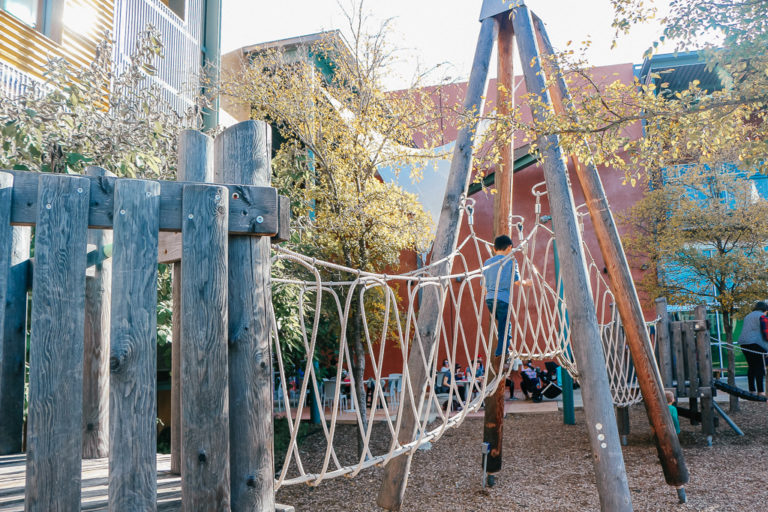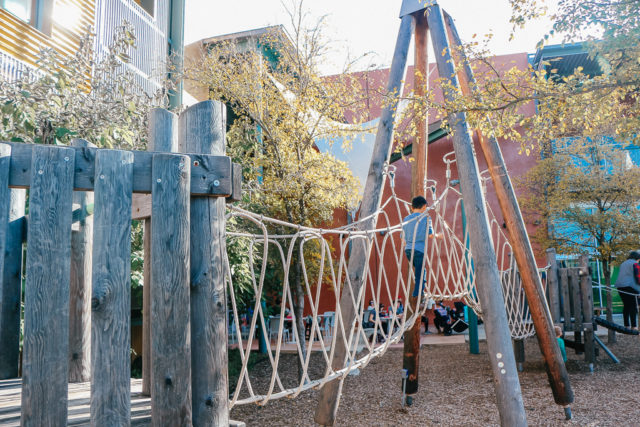 There will be various rotating exhibits which are usually art or science focused. We go about every eighteen months and always enjoy it.
If your kids are a little younger – probably 12 and below – check out the Doseum. It's got a lot of stem focused hands-on play activities and a special area for kids under six. There are also a lot of outdoor options, such as a tree house, climbing structures and even a creek to splash in.
What's the best fair weather outing in San Antonio?
I like Six Flags Fiesta Texas or SeaWorld San Antonio. Even if you go during the hot summer months, these both offer opportunities to cool off. Six Flags has a water park that is included in your park admission. SeaWorld also has a great water park, Aquatica, but a separate ticket is required. There's a splash pad in the kid's play area at SeaWorld that is great for cooling off on a hot day. We have a lot of hot days.
If you don't want to do a theme park, check out The Pearl, which is a shopping/dining/entertainment complex and home to The Hotel Emma, which is one of the nicest places to stay in San Antonio. There's a lot of spaces for kids to run around and play, as well as a splash pad. My kids are 11 and they still really like it.
What's the best free thing to do in San Antonio with kids?
Aside from The Pearl, which is also free, check out the Japanese Tea Garden, which is right next to the zoo.
It's a beautiful, peaceful park and completely not what you'd expect in San Antonio. Many people come here to have their wedding, engagement and senior pictures taken…it's a great place to explore if you're an active family.
The paths are paved and easy to walk on, although they're not 100 percent ADA compliant or stroller friendly.
Runner up is Yanaguana Garden, although you may have to pay for parking here.
What's your best insider tip for anyone visiting San Antonio with kids?
Go to the other missions. The Alamo (also known as Mission San Antonio de Valero) is one of five missions in San Antonio. The others are San Jose, San Juan, Espada, and Concepcion. Your kids might not really dig the historical aspects of visiting the missions or appreciate the architecture, but there's a lot of places to run around and play.
Trust me, you'll have so much deeper of an appreciation for the city if you visit even one of these missions. I'm not knocking The Alamo at all but you won't regret visiting the other missions. I promise.
If you are staying downtown and don't have a car, you can take the Via VIVA Missions bus route. The VIVA is a specialized line of bus routes that are designed to take visitors to San Antonio's most iconic spots. Other routes are Arts and Culture and Centro. If you're staying in downtown San Antonio, there are plenty of convenient spots to catch the VIVA Missions bus route. It's $2.75 for an all-day pass.
You might also like: Fun below ground and on the surface at Natural Bridge Caverns
What's the best kid-friendly restaurant in San Antonio?
Oh gosh, this question was hard because most restaurants in San Antonio, except for fine dining, are generally pretty kid-friendly.
I'm going to pick Cheesy Janes at Broadway and Hildebrand. It's mostly a burger place, although they have some other kinds of sandwiches, salads and a couple of Tex-Mex items (nachos and chalupas.) They're famous for their large milkshake menu and the electric train that runs along the track near the ceiling. This is a locally owned and super casual place that's located near the zoo, Brackenridge Park, The Witte Museum and The Doseum.
I also really like Willie's Ice House and Grill. It's simple, homemade Texas food served in a casual and fun atmosphere. There are several San Antonio locations to choose from. The bonus for parents is the outdoor sand pit for kids.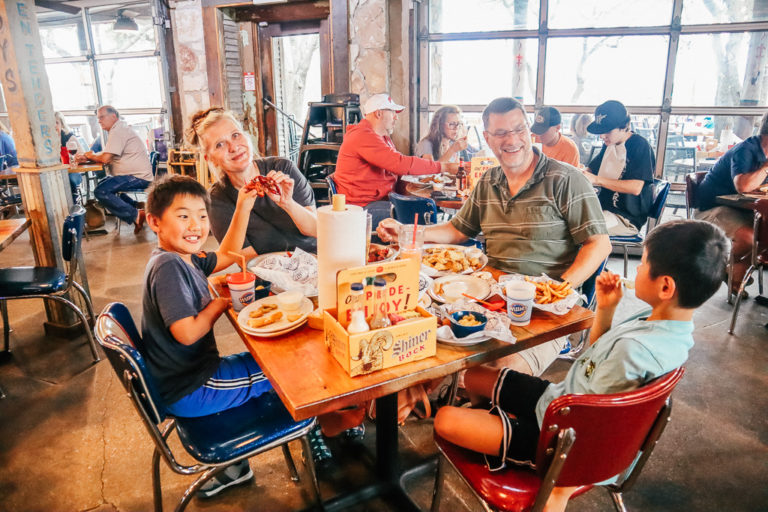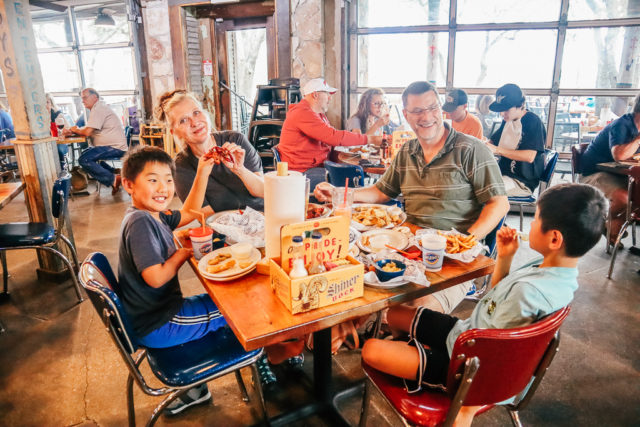 I also recommend Magic Time Machine. Adults might find it a little cheesy and I'll warn you, it doesn't look great from the outside, but it's really fun and the food it pretty good. Your servers are dressed up as super heroes or other fictional characters who like to joke and have fun with the patrons. They've also got some unique seating booths where you're enclosed inside a hut.
What's the best local food in San Antonio?
San Antonio is known for Tex-Mex and BBQ. Don't leave town without sampling these things. Most eateries offer a child's plate or are willing to make one up or make suggestions.
Tex-Mex and BBQ are subjects locals are passionate about – always ask for recommendations but prepare to get super conflicting opinions. Spoiler alert: it's really hard to go wrong here.
The best kid-friendly BBQ dish is probably smoked sausage. If your child has a sensitive stomach or doesn't like spicy or zesty food, ask for no sauce or the sauce on the side. Some BBQ sauces are mild and tangy and some have some heat to them.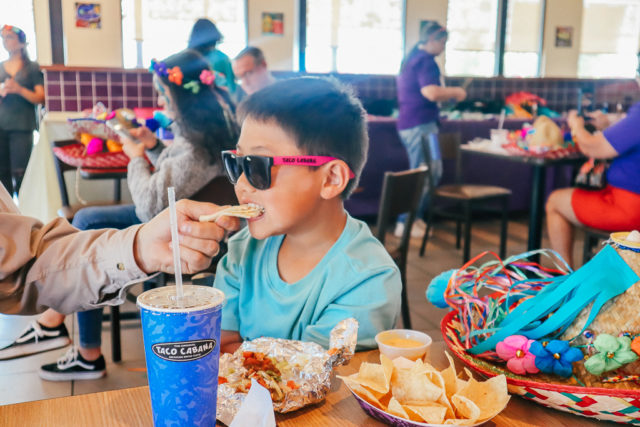 For Tex-Mex, try a bean and cheese taco (I like to refer to this as a Texas Grilled Cheese) or a quesadilla, which is cheese or meat and cheese sandwiched between two tortillas, grilled, cut into quarters and served with salsa, sour cream, or guacamole. Crunchy or puffy tacos are always popular.
If you allow your child to have soda, order your child a Big Red or Dr Pepper.
What's the easiest way to get around with kids?
This depends on where you're staying and where you're going. Most visitors stay downtown on The Riverwalk or at The Pearl so if you're staying here and exploring activities in the downtown San Antonio area you can get by with walking or using Via VIVA routes.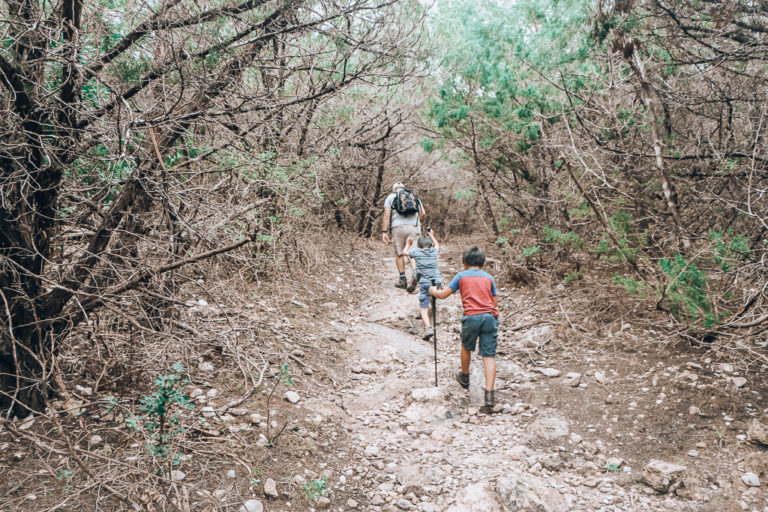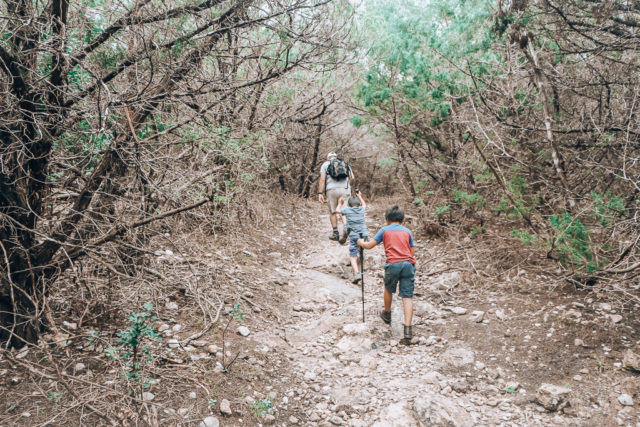 If you're going to venture further out, such as Six Flags Fiesta Texas, SeaWorld San Antonio, Natural Bridge Caverns, Cascade Caverns, or to go shopping (Alamo Quarry and the outlet malls north of town are great) then you're going to need a car. Ride share services, such as Uber and Lyft are alive and well in San Antonio.
If you're going to be doing a lot of driving, you may want to consider renting a car.
What's the best family-friendly neighborhood to stay in?
I've mentioned The Riverwalk and The Pearl, both of which are close to all the action. There are a wide variety of hotels downtown. You'll pay a premium rate for your basic Hampton Inn or Fairfield Inn, just because of the location. For a mid-priced downtown hotel with direct Riverwalk access, we like the Hotel Valencia Riverwalk. It's a very upscale hotel, but approachable enough to be kid friendly, with fantastic specials. Read my full review here.
If you really want a splurge, the Hotel Emma is fantastic. It is head and shoulders above other hotels, which is reflected in the pricing. This popular shopping and dining complex used to house the Pearl Brewery. Many of the architectural details from the brewery days are intact which gives the hotel a industrial look without compromising the luxury feel.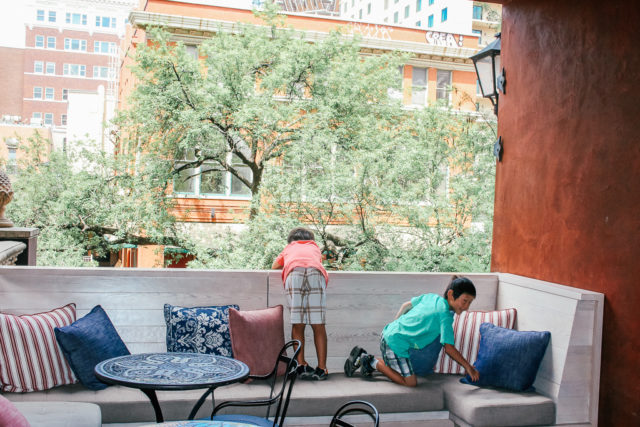 There's a cool library to explore and lots of little Instagrammable nooks and crannies, both inside and outside the hotel. The turndown service includes macarons from the popular Bakery Lorraine.
If you're looking to save money by staying away from the city center, consider looking in the Stone Oak area (lots of shopping, dining, and entertainment options) or in Schertz, Cibolo, or Universal City. The latter is a cluster of small cities north of San Antonio (also lots of shopping, dining and entertainment options.)
These options will be 30-60 minutes to downtown, depending on traffic. You'll be able to find quite a bit to do without going downtown, though, and you'll save substantially on lodging.
Vacation Rentals or Airbnb in San Antonio
If you're looking at vacation rentals, I recommend Stone Oak, Schertz, Cibolo, Universal City, Timberwood Park, Highland Park, and Alamo Heights. If you're willing to stay a little further out, look at Boerne or New Braunfels.
There are a lot of great rentals downtown but a lot of San Antonio is undergoing a gentrification process, which means beautifully restored and luxurious houses may be located in neighborhoods you might not feel safe walking about in during the evening. My best advice is to read reviews of other people who have stayed in a house you're looking at and scan the entire area on Google Maps. San Antonio is a family-friendly city full of wonderful people. Like any large city, there are some neighborhoods you probably want to avoid.
You can explore vacation rentals in the area here:
Get 20% Off Stays in Newly-Listed Homes
What are some of the best outdoor activities for kids in San Antonio?
In addition to what I've mentioned, I recommend checking out local city or reginal parks.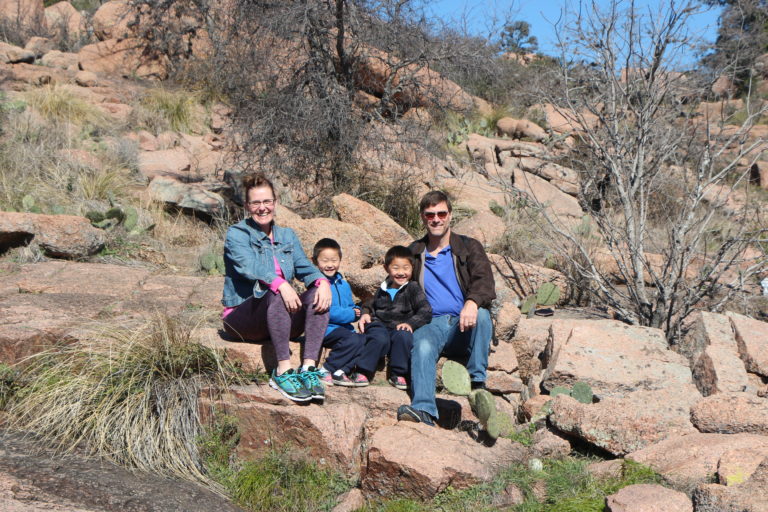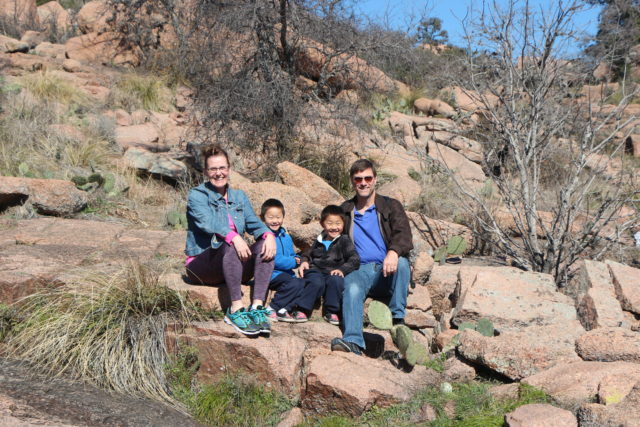 San Antonio and the surrounding area has miles of hiking trails and nature trails to explore. To see a full list of city parks, click here. If you want something a little more challenging or lengthy, try the Mission Reach, Eisenhauer Park, Friedrich Park, or Government Canyon State Natural Area. If you want to venture a little further from San Antonio, check out Lost Maples State Natural Area, and Enchanted Rock State Natural Area.
Even parks with more challenging trail systems, like Friedrich or Enchanted Rock have lesser or shorter trails that younger kids or less adventurous hikers can handle.
Want more ideas for things to do in San Antonio with kids? Check out this long list of fun ideas.