Is Disney's Boo Bash Worth the Money?
(This post may contain affiliate links. Read my full disclosure.)
I recently attended Boo Bash, which is Walt Disney World's 2021 alternative to the classic and well-loved Mickey's Not So Scary Halloween Party. Is Disney's Boo Bash Worth the Money? The short answer is, it depends on your priorities. I'll break down my experience and I hope that helps you decide whether this event is right for you…or help you plan your best Boo Bash experience.
Is Disney's Boo Bash Worth the Money?
If you have tickets for Boo Bash, I hope my review will help you maximize your experience. If you don't have tickets for Boo Bash, I am sorry to tell you that you're out of luck. This event, which takes place at Magic Kingdom on select nights from August through October (right up until Halloween night) is completely sold out for 2021. Sad trombone.
If you really want to go to Boo Bash, keep checking their ticket sale site. It is possible (although probably not likely) that they'll open up additional tickets.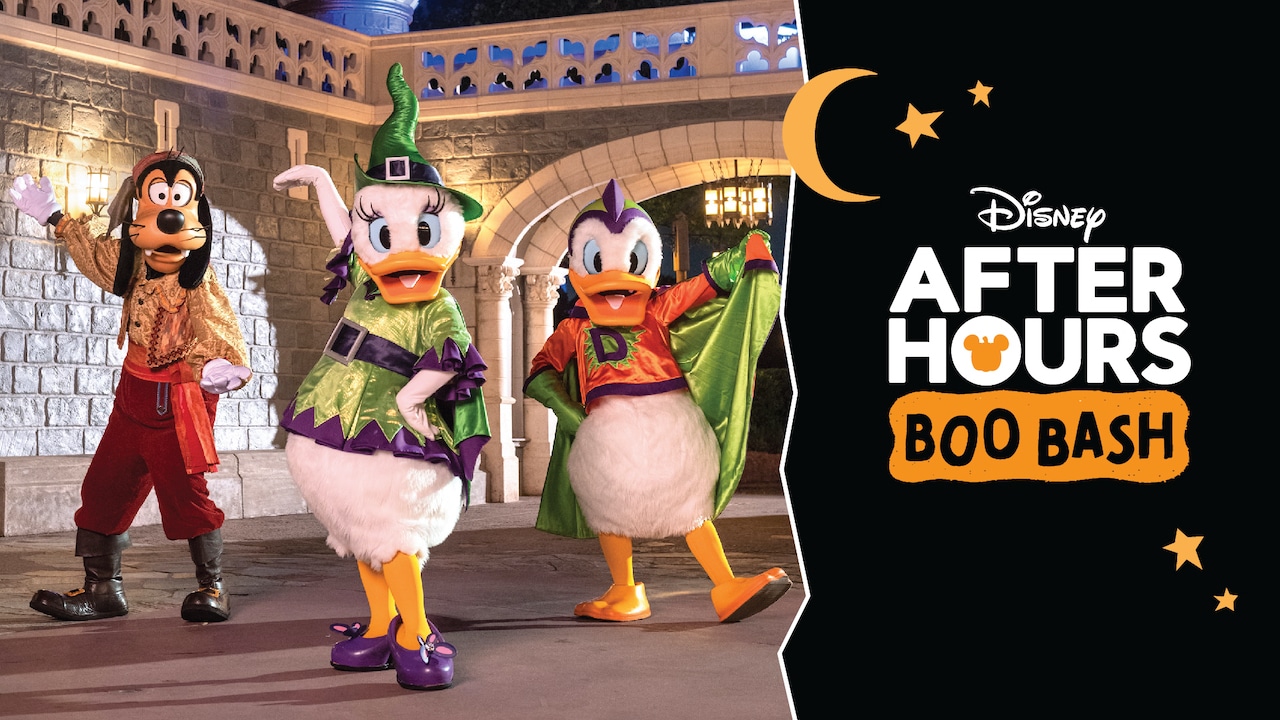 The basics of Disney's Boo Bash (+ a disclaimer)
Although I've heard many critics say Boo Bash isn't the same (or as magical) as Mickey's Not So Scary Halloween Party, I've never been to MNSSHP. I've been to an after hours Halloween event at Disneyland and a non-Halloween after hours event at Walt Disney World.
Although I'm not going to compare Boo Bash to any other event, I hope you can draw your own conclusions based on my experience.
The Boo Bash event runs from 9:00 p.m. until midnight or 9:30 p.m. to 12:30 a.m. on select nights. Ticket holders can enter the park as early as 7:00 p.m.
Tickets are/were $129 to $199 with the prices getting progressively higher closer to Halloween. Annual Pass Holders and Disney Vacation Club members receive $10 off in August and September.
I am a DVC member and I bought my ticket in July, shortly after they went on sale, for a September Friday night. With taxes, I paid about $137 for Boo Bash. So, is Disney's Boo Bash worth the money?
Based on my experience, Boo Bash is worth the money if you want to ride lots of rides minus long lines and minus the Central Florida sun beating down on you.
If you're looking for an awesomely themed Halloween experience or an epic parade, which has become the hallmark of Disney's Halloween events, you may be disappointed.
What is included with your Boo Bash ticket?
Although the question "Is Disney's Boo Bash worth the money" is a moot issue (if you're going, you already spent the money because the tickets are sold out) here's a refresher on what your ticket includes:
Admission into the park – no other park ticket is required. Your ticket gets you admission into a three hour party after the park is closed to regular ticket holders plus two extra hours.
Unlimited ice cream bars, popcorn, bottled water and bottled soft drinks.
Entertainment, such as character cavalcades (think mini parade), a dance party, and special Halloween themed Magic Shots. A Magic Shot is where a Disney PhotoPass photographer takes your picture and something else appears in the finished digital image. It could be Tinkerbell, Figment, hitchhiking ghosts or more. The surprise is part of the fun.
Trick or Treating. You'll get a bag upon entry to the party or at any of the trick or treat stations located around the park. It is perfectly acceptable for adults to participate in the trick or treating. You do get the good candy and you'll tend to get more generous handfuls toward the end of the night.
I'm going to break down a few elements about my experience below. I hope it helps you!
Get to the park as early as you can
I recommend being in line ready to go into the park at 7:00 p.m. on the dot. Part of the benefit of the expensive Boo Bash ticket is that you can enjoy two hours of the park before the party starts, so definitely do that.
While you can use your two bonus hours to grab dinner in the park, I suggest eating earlier in the day. If you eat a heavy meal before Boo Bash starts, you may not have the appropriate appetite for all those Mickey Bars. I'm a "get your money's worth" kind of girl. I want to be hungry at 9:00 when Boo Bash starts and the ice cream carts roll out.
I do not recommend getting in line for one of the popular rides that typically has a long queue, such as the Seven Dwarves Mine Train or Space Mountain until after the park is officially closed and Boo Bash officially starts. You'll be able to ride those later in the night with almost no wait time. You do not want to be in an end of the night line with people who have regular park tickets. Three hours goes by very fast, so you don't want to waste your time.
If I could have a do over, I would have ridden some of the rides that have shorter lines, checked out some of the shops along Main Street U.S.A. (hello Disney Halloween merchandise) and staked out a good spot for the fireworks.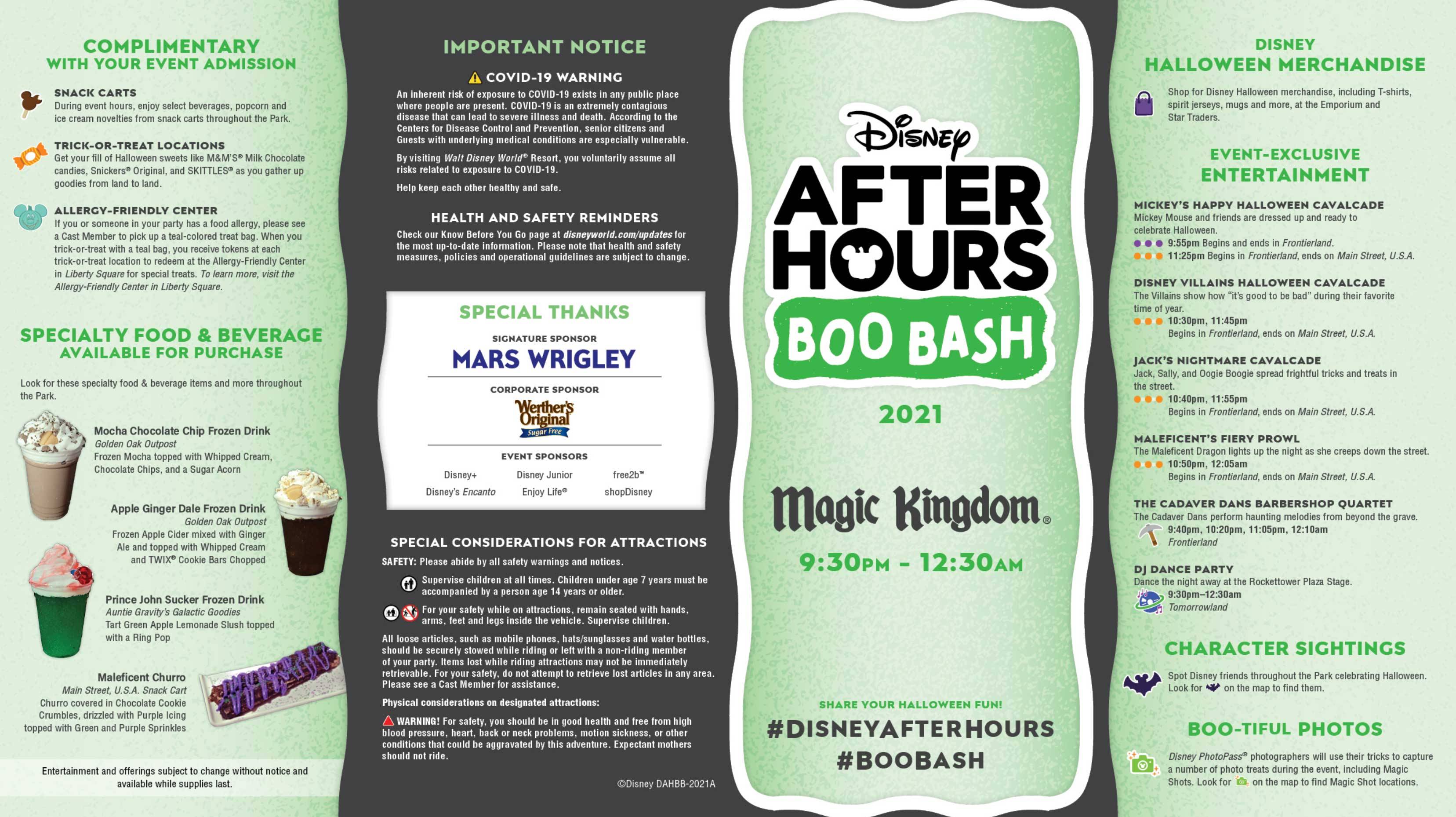 Have a strategy for once the party starts
You've got three hours to check out the Halloween character cavalcades and the other entertainment options, ride rides, eat snacks, and trick or treat.
You can't do it all. I suggest picking your top two activities and planning from there. If you have a larger group, you can always split up and determine a meeting point for end of the night.
I recommend focusing on riding the rides and getting your money's worth on the snacks. The trick or treating is fun but it's nothing unique or special. Unless you like the idea of paying $100+ so your kid can take home a bag of mini chocolate bars, use your time to soak in the Disney experiences that you can't get elsewhere.
Ditto for the dance party in Tomorrowland. It's cute and lively and you'll see lots of of Halloween silhouette lights projected on the ground but again, stacking up the money you spent on the tickets versus the time you have to spend, the dance party isn't super unique.
A Mickey ice cream bar costs $6. A bottle of Dasani water will run $3.50. These are included in your ticket – take advantage!
I think making a plan to do the things that are important to you are going to go a long way in answering your question of "Is Disney's Boo Bash worth the money?" If you try to do everything you'll probably come away unhappy that you've parted with that much money.
If you missed out on Boo Bash, tickets for Very Merriest After Hours are on sale now.
Character Interactions
There are four short Halloween character cavalcades. Each cavalcade appears twice nightly, taking the standard parade route starting from Frontierland.
The four calvalcades are: Mickey's Happy Halloween, Disney Villains, Jack's Nightmare, featuring Jack Skellington, Sally, and Oogie Boogie, and Maleficent's Fiery Prowl, featuring Maleficent in her dragon form.
The cavalcades are spaced far enough apart to where you've got some chunks of time between each one. You can stake out one parade watching spot if you like. I saw lots of people doing this and waiting for all four cavalcades to go by. That would take up a good portion of your evening.
I would have preferred one larger, longer parade. Committing to catch all the cavalcades takes up time that could be spent doing other things.
There are also opportunities for socially distanced character interactions, although there weren't very many of those. I saw Chip and Dale on the balcony in Frontierland, which has been their standard pandemic hangout spot. I saw Winnie the Pooh and Piglet on the steps of the Crystal Palace. Pooh was dressed up like a bee and Piglet was a butterfly. It was insanely cute.
I also spotted a couple of ghosts hanging out in the graveyard by the Haunted Mansion. They were singing and telling really corny jokes. It was very entertaining and something you don't usually get to see at Disney World!
The cavalcades versus parades and the very limited character interactions are where I think Disney fell short with this year's Boo Bash. The tickets for Boo Bash were substantially higher than Mickey's Not So Scary Halloween Party has been in previous years. I know I said I wasn't going to compare Boo Bash to any other events but if you've attended MNSSHP in the past, I think this is something you will notice.
Ride Wait Times
The longest I waited for any ride during Boo Bash was 35 minutes for the Seven Dwarves Mine Train. Many of the rides had no wait at all. I walked onto It's a Small World without waiting at all. My actual wait times were anywhere between 5-15 minutes less than the posted wait time.
I did see all the Lightning Lanes ready to roll. Disney announced their new Disney Genie+ which will replace FastPass earlier this year. At publication time, no date has been announced for when Disney Genie+ will roll out but they're definitely ready to pull the trigger on that.
Disney's current mask policy requires masks indoors and on attractions. There are some queues that are part indoors and part outdoors so you can leave your mask off if you wish while waiting in an outdoor line but you will be prompted to put on your face covering before moving indoors. Disney has done away with their social distancing markers in the queues.
Other things you might want to know before you head to Boo Bash
You can wear a costume! Disney normally doesn't allow guests over the age of 14 to wear costumes or costume masks. That rule doesn't apply to Boo Bash!
You'll get a Boo Bash wristband when you enter the park. Be prepared to show that wristband to cast members until the regular guests clear out. They are watching for people moving towards the back of the park that don't have wristbands so make it easy on them and keep your band visible.
Special Boo Bash Merchandise and Boo Bash Food – I am not a merchandise person so I didn't look for event-exclusive merchandise. I understand there's not much of that this year. There are a lot of cute Halloween themed things in the shops along Main Street U.S.A. and lots of Halloween confections that are available in the parks during regular hours during the Halloween season. There are a limited amount of Boo Bash confections and sweet drinks available but I did not try any.
The crowds were very light during my Friday night visit , which is a big bonus. Main Street U.S.A. was nearly empty. If you're looking for those pictures without tons of people in the background, this might be the time to grab them. Frontierland was the most population dense, as people lined up to catch the beginnings of the character cavalcades.
It's still not so scary! It's dark and there's fun, spooky music but there's nothing ominous or intimidating about the event. If your kids can handle the Haunted Mansion ride, they can easily handle Boo Bash.
Would I give the Boo Bash another try?
Probably. Since the big benefit for me was shorter ride times, I would consider it for this reason alone. I got to ride all the rides I wanted to ride. My wait time was next to nothing. This makes me lean toward a yes when asked if Disney's Boo Bash is worth the money.
If you focus on riding the rides and grabbing lots of ice cream novelties and popcorn in between, you can pack a ton into a short amount of time. Bonus: the cooler evening temperatures during a time of year where being outdoors during the day is a pretty sweaty experience.
The Halloween party element was lacking for me. If you're expecting a huge Halloween celebration atmosphere, Boo Bash might fall short of your expectations.
Enjoy the Mickey ice cream bars and the short wait times and hope the parades are better in future years and you'll be fine.