runDisney 101 – Everything you want to know about Mickey's Race Program
(This post may contain affiliate links. Read my full disclosure.)
As I sit here at my desk, I'm four days away from my ninth and tenth runDisney race and my very first Princess Half Marathon weekend. Instead of doing that thing I need to do to prepare for the 10K and the half marathon that seemed like a good idea when I signed up, I'm going to answer some of the questions about runDisney people have asked over the past couple of years. I love running almost as much as I love to procrastinate on running so I give you runDisney 101.
runDisney 101 – Everything you want to know about Mickey's Race Program
Background
I ran my first runDisney race in 2017 after attending a Disney Social Media Moms Celebration (now rebranded as Disney Creator's Celebration.) I've been a runner most of my adult life but I didn't know about runDisney until fairly recently. runDisney (not a typo with the capitalization and spacing) is the road racing division of Disney.
Founded in 1994, runDisney has/has had races in and around the Disney Parks and on Castaway Key (pronounced Cay) which is Disney's private paradise in the Bahamas. They offer everything from kids races all the way up to the full marathon distance. The majority of the races take place at Walt Disney World in Florida. Disneyland in California used to offer runDisney races but for now, they do not.
Once I found out Disney had running, it didn't take much arm twisting to get my husband and kids on board.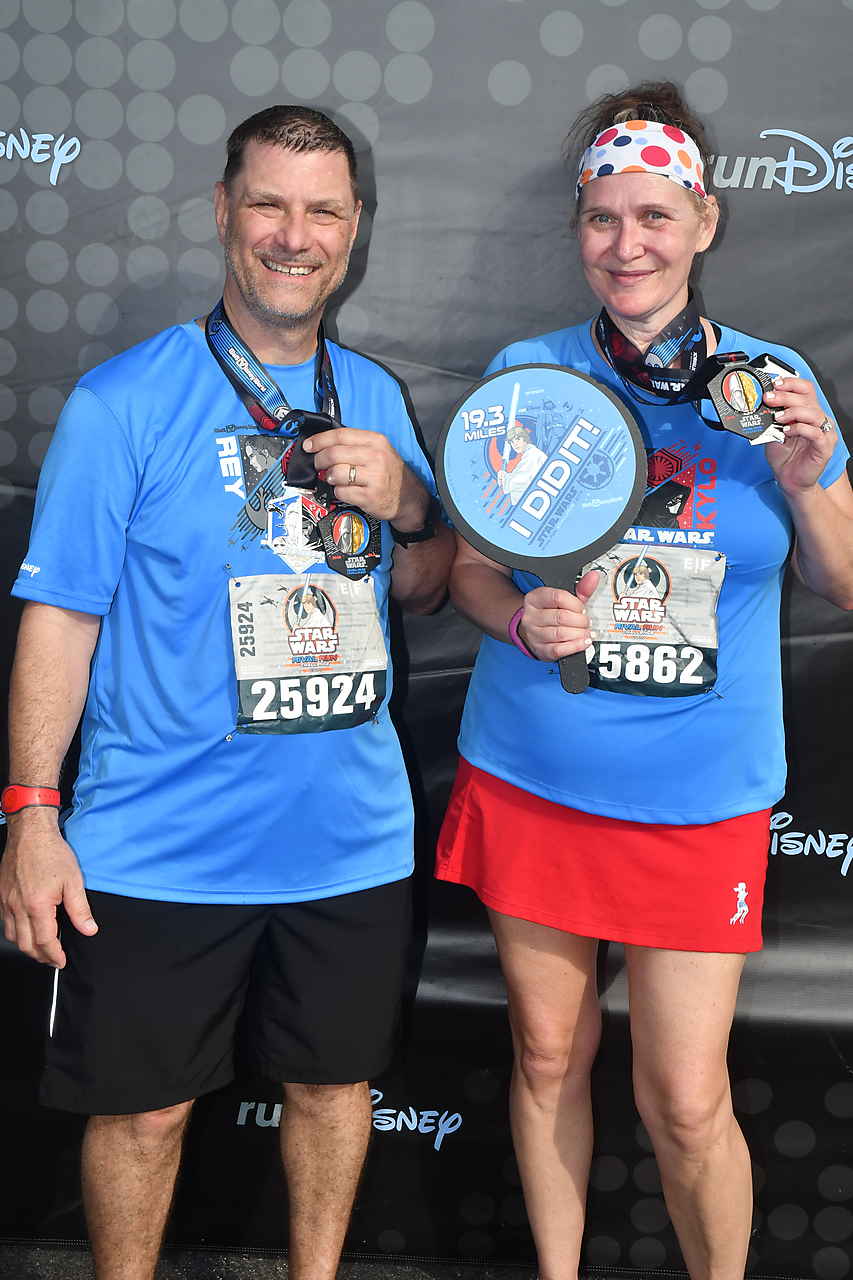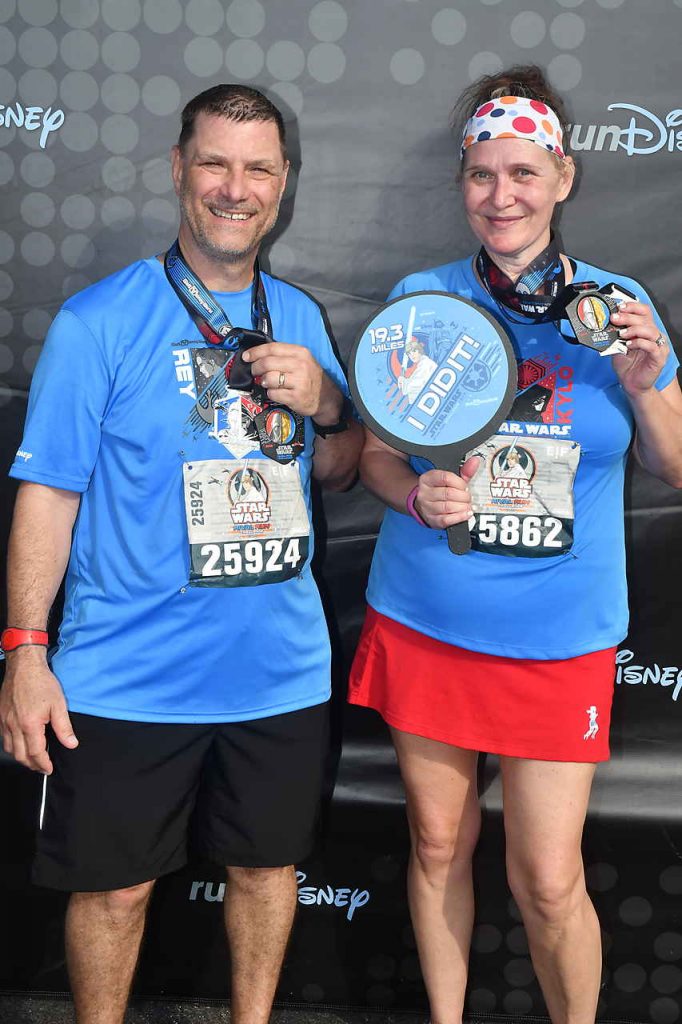 Questions about runDisney? Let's start with the breakdown of races. There are currently four different race weekends at Walt Disney World
With the exception the Walt Disney Marathon weekend, each race weekend offers three race lengths (5K, 10K, and half marathon) as well as a kid's race series and a challenge. The challenge race will consist of a 10K on Saturday and a half marathon on Sunday. You'll receive finisher medals for both races and an extra one for completing the challenge.
The Walt Disney World Marathon weekend offers four race lengths as well as kids races and two challenge races. The distances are 5K, 10K, half marathon and full marathon. The challenges are Goofy's Race and a Half – both half and full marathons and The Dopey Challenge. The Dopey Challenge includes all of the races: 5K, 10K, half marathon, and marathon, all run on consecutive days.
Yes, there are crazy people out there that do all these. I'm not one of them.
Walt Disney World Marathon Weekend is held in January.
Princess Half Marathon Weekend is held in February.
Star Wars Rival Run Weekend is held in April.
Wine and Dine Half Marathon Weekend is held in November.
Related content: The Star Wars Half Marathon: My very first runDisney experience!
For current dates and registration info, bookmark this page. If there's one thing I can tell you about Disney in general, they do change things up and keep it fresh, so if you're interested in these race series, definitely follow them and subscribe to their mailing list.
Thinking of booking your own Walt Disney World or Disneyland California vacation?
Check out my partner, Get Away Today for the best deals and white glove service.
Sign up early
I can't stress this one enough. You can't finish if you can't get to the starting line and runDisney 101 says these races sell out very fast. If you wait until the last minute to sign up, you'll probably be disappointed. They sell out very quickly because they're very popular.
Stalk the runDisney site so you'll know when registration is going to open up and register ASAP. Certain categories of people can register in advance of the races being open to the general public: Disney Vacation Club Members, annual pass holder at either Disneyland or Walt Disney World, or a Golden Oakes resident, you'll be able to register early.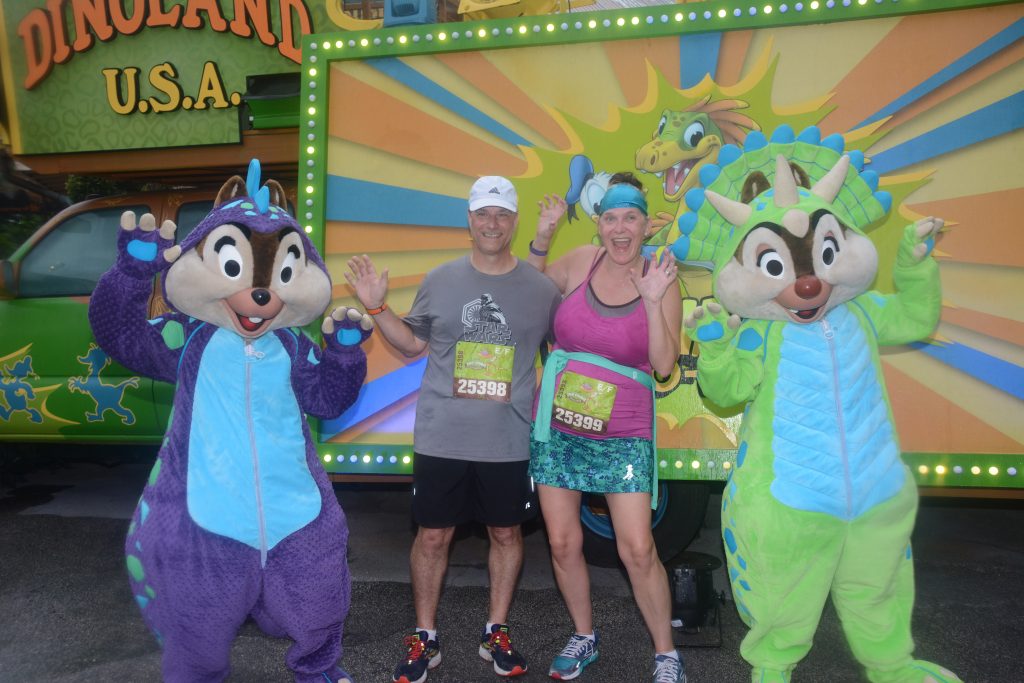 Find a race you want to enter, mark on your calendar when registration opens, set your alarm (yes really) and register. If you've got questions about runDisney, get them answered before registration opens up because after that, it's a race – get it? After you've registered, treat that date like it is written in stone because it pretty much is. Registrations are non-refundable and non-transferrable.
Related content: Walt Disney World Do Overs
Pace Requirements
If you're searching online for runDisney 101, you might have questions about the pace requirements. Like most road races, runDisney races have set pace requirements. The runDisney website recommends a training pace of 15 minutes per mile or less. You run the risk of being swept from the course if you're slower than 16 minutes per mile.
I've never started completely at the back of the pack, but pretty darn close to it. I've heard about the famous – or infamous – balloon ladies that are the last ones to cross over the starting line. The balloon ladies (so named because they carry balloons) are not Disney employees. I'm not sure exactly what their role is if you happen to get behind them and I don't want to find out. According to the runDisney website, there are course cyclists that will direct you to transportation if you're behind the required minimum pace. The transportation will take you back to the Family Reunion Area near the finish line.
If you think you're going to be slow, mitigate your stops. I know it's tempting – there are so many fun character photo opps along the race course and it's super tempting to get your picture snapped with Chip and Dale in their athletic clothes. But, if you signed up and trained, you probably want that bling bling at the finish line. Getting that medal never gets old, even for a slowpoke like me.
If you're running slow or walking and you see those balloon ladies or cyclists sweeping the course, that's probably your signal not to jump in that line for a photograph.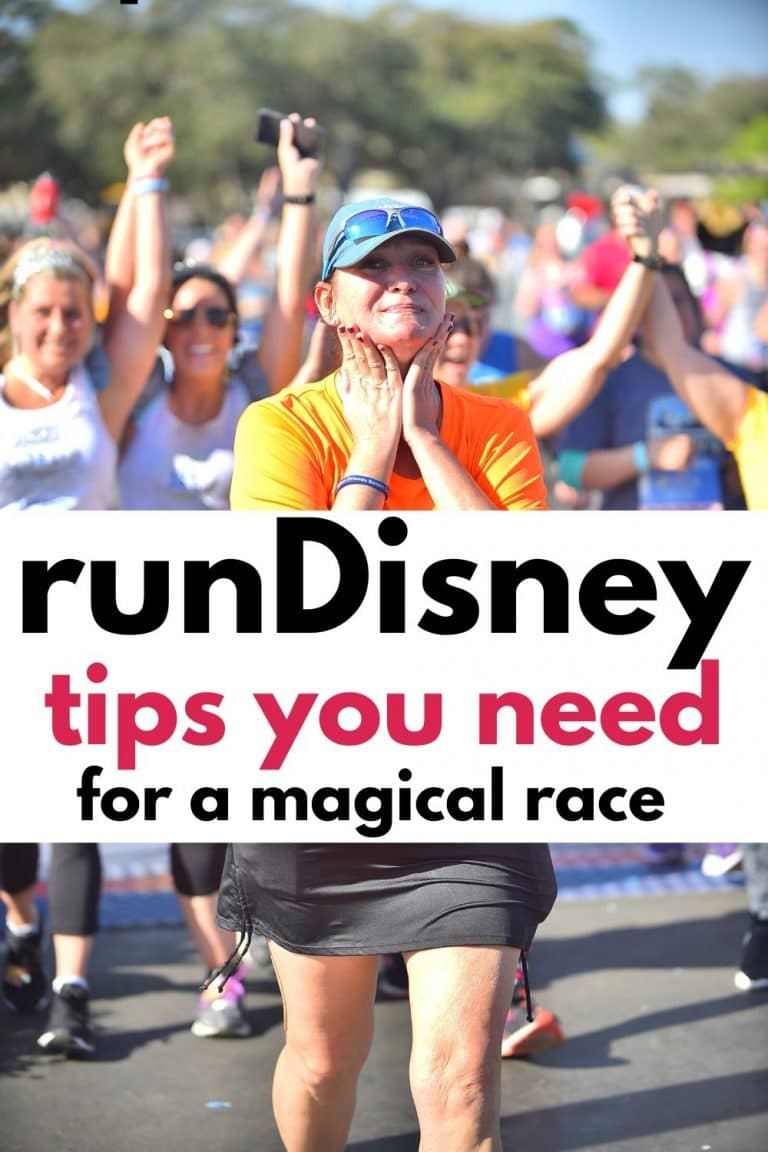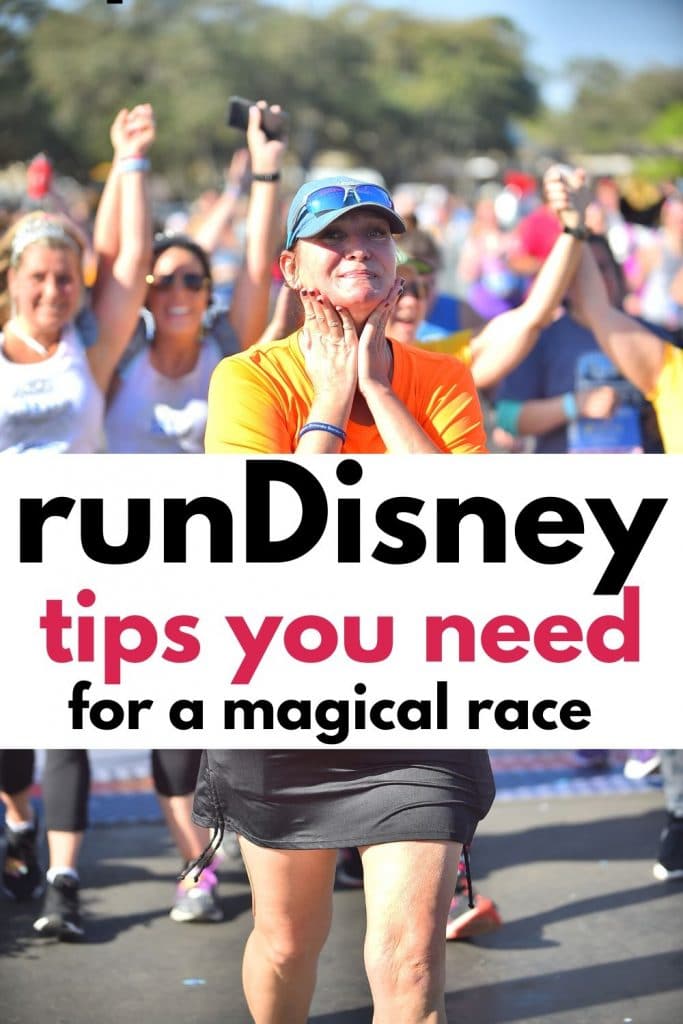 Photo Opps Galore
There are character meet and greets at the start and finish lines as well as all along the course. Which characters will you see? Well, that's a surprise and part of the fun, although the characters generally reflect the theme of the race series.
This will be the first time I've run Princess and I'm expecting to see lots of princesses out there – I'll keep you posted on who I find. Our Star Wars races have included almost exclusively Star Wars characters. The Wine and Dine race series we ran had a hodge podge of different characters, to include a few that we don't usually get to see, such as Rafiki, Lumiere, and Oswald.
Even the characters who are out all the time, such as Chip and Dale may be dressed differently so you'll get a different photo opp. We've seen them in running gear outside of Epcot and in dinosaur costumes inside Animal Kingdom. They are my favorites.
Some of the character photo opps pre and post race and at the expo will be able to scan your Magic Bands and some of them will be self service only. In general, the character stops along the course are not going to have the Disney photographer there. I always make sure I run with a skirt or tights that has a pocket that will hold my phone.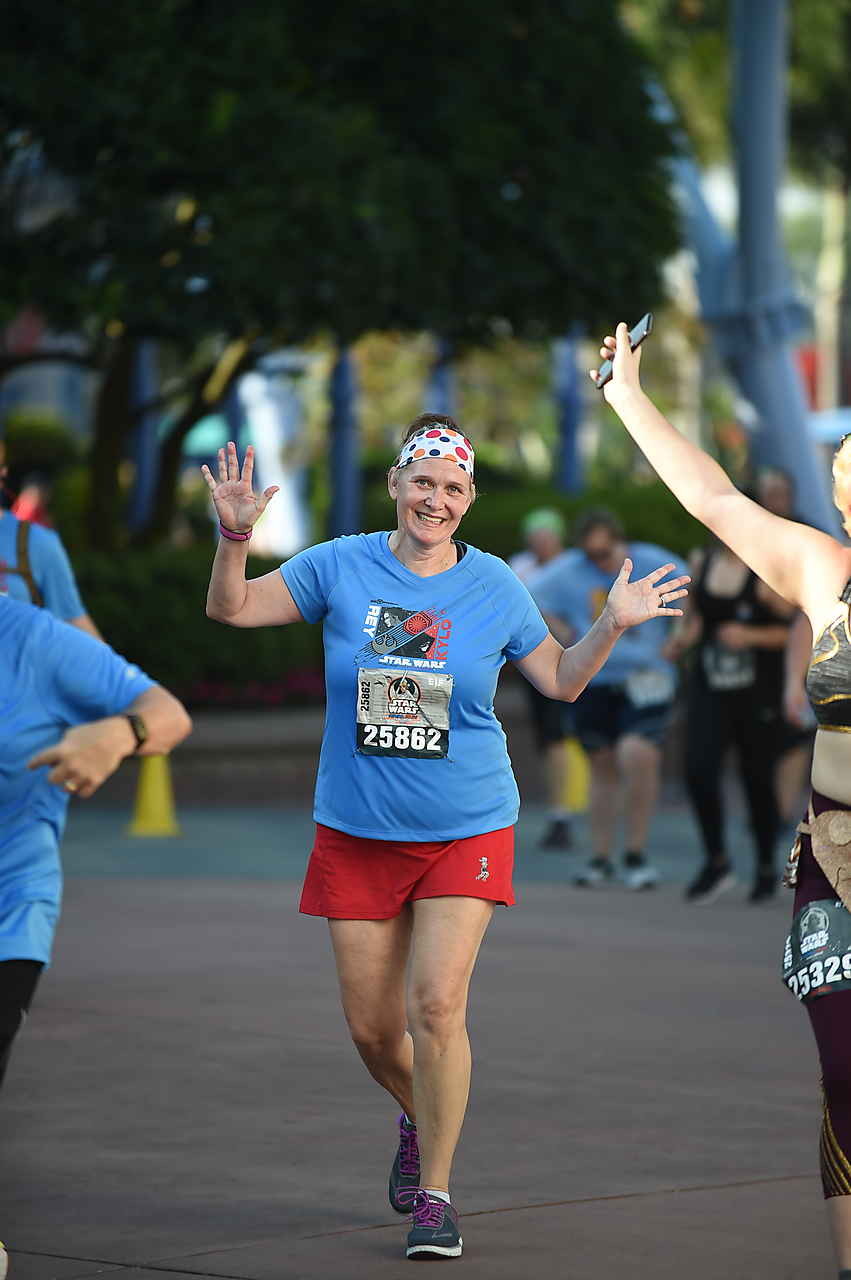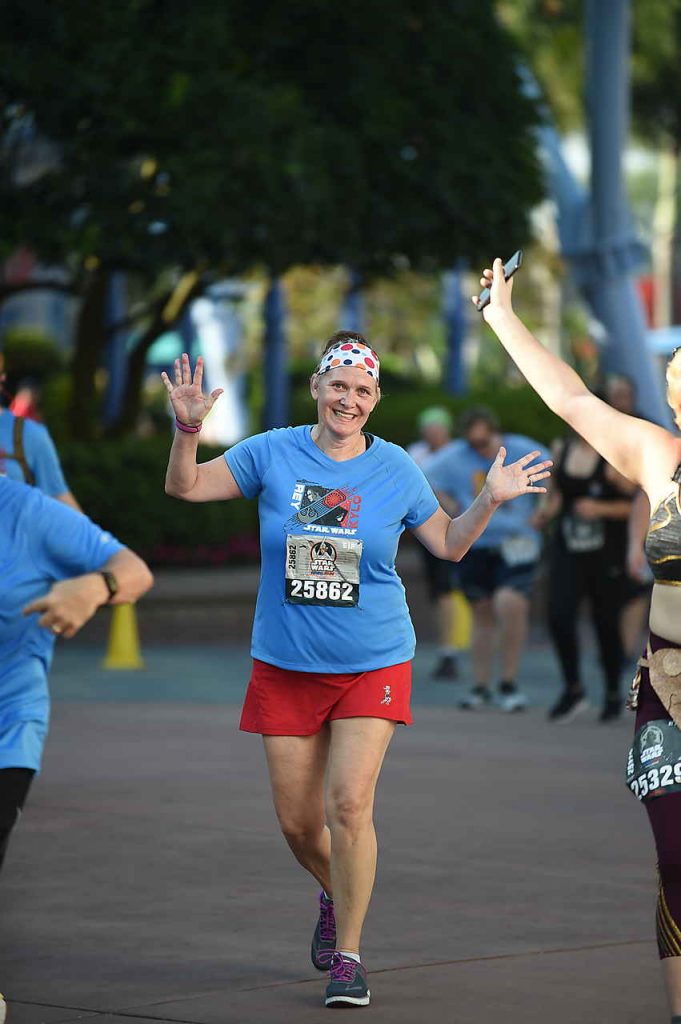 There are runDisney photographers along the race course. They are easy to spot wearing bright green hats or sitting in (or near) bright green tents. As with most major running events, the photos are not included in your race fee. If you've purchased Memory Maker for your trip, you'll be able to get your pictures that way.
I think Memory Maker (a prepaid option that allows you to download all of your Disney photos) is such a good value in general, but especially so during race weekend. If you plan to do a trip to the parks in conjunction with your runDisney race, the Memory Maker will be worth your money. Learn more about Memory Maker here.
Event photos are available in the My Disney Experience app within 48 hours after the race. To link your race photos to your Disney account, log in at DisneyWorld.com/PhotoPass, select "Link Photos," and enter your 16-digit code, which is the 11-digit RaceID, plus your 5-digit bib number. It's a pretty easy process.
Related content: The Dark Side Has Cookies – My 2019 Star Wars Race Recap
What's included in my race registration?
This is one of the most commonly asked questions about runDisney. The answer is…not much. You'll get a bib, a finisher medal and a nice tee shirt. You'll also get hydration along the race course (I've found runDisney hydration support to be excellent, even if you're a back of the pack runner) and snacks at the finish line. The finish line snacks are nothing fancy but it's a little something to replace your lost electrolytes and salt.
If you are staying at a Walt Disney World Resort Hotel, your transportation to and from the race and to and from the expo is included. We've found the Disney transportation to be seamless, but be prepared for an early (early, early, early) wakeup call. Some area hotels (non-Disney) will offer transportation to the races so check with your hotel to see if they provide that for you.
Not included are park passes (womp womp womp) or any discounts on resort stays and merchandise. I strongly disagree with this and think for all the money and business runDisney brings in that participants should get some sort of free admission on the day of their race. I'm not bitter or grumpy about it – I think it would be a great perk and it would definitely not break Mickey's bank – but I wish this was offered. It isn't, though, so I guess complaining about it isn't a very good use of time or energy.
Does your hotel offer transportation to the start line? If not, check out the Minnie Vans as a transportation option.
Running in Costumes?
I am adding this in because it's popular and because people have questions about it. I have never run a runDisney race in a costume – I wear my regular running clothes. It is fun to see all the different costumes, though, but I firmly believe in dressing for performance and comfort.
If you are going to wear a costume, here are a couple of tips for you to consider, especially if you're a newbie runner:
The longer the distance, the simpler the costume. You are probably not going to want to carry a lightsaber for 13+ miles…at least that's what the amount of lightsabers I see on the side of the road tells me.
When possible, fashion your costume out of technical fabric that wicks and not cotton.
Do a test run. Make sure your basic pieces can hold up and that they don't slip or chafe.
Related content: Wine and Dine Half Marathon Weekend: Your Questions Answered
What you need to know about the expo
If you've participated in a major running event, the expo isn't too much different than what you're probably used to, although there's more fun stuff because it is Disney. If you're a total newbie, you're probably adding "What's an expo?" to your list of questions about runDisney.
The Health and Fitness Expo is the place you have to go the day before your first race to get your registration finalized and get your race number. There are also lots of shopping opportunities, photo opps, food, drink and stations where you can check out the products/services from the different sponsors.
The expo is held in the ESPN Wide World of Sports. If you're not staying at a Walt Disney World resort, you can drive yourself there or use a ride share if you didn't rent a car. If you can get yourself to one of of the Disney Resort Hotels, you can hop on one of the free buses – they won't ask if you have a reservation and I'm pretty sure that doesn't even matter.
A word about the shiny shopping opportunities: A lot of the stuff you'll see at the expo can be bought on Amazon for much less. If you're grabbing a forgotten item like your socks or pain relief gel, the ease of just buying it at the expo probably wins out over Amazon or Shipt, but I've used both of those things at Disney and it's been easy.
There's a lot of really fun runDisney merchandise that's exclusive to the expo and or to your race series, so if that's important to you, snap it up. In the past, I've seen runDisney apparel on Shop Disney but they currently have a pretty slim selection, so if you see a commemorative item you can't live with out, buy it up.
More important runDisney 101 stuff you need to know:
Here's a rundown (see what I did there?) of the EIGHT most important things you have to know before a runDisney race:
First rule of runDisney 101: Planning is always your friend
In addition to planning and registering for your runDisney race early and making plans to carve out your expo time (important!) make sure you're carrying that spirit of planning through the rest of your trip.
Disney is a hard place to do "go with the flow" especially during busy race weekends. In reality, there is no such things as a "not crowded" time at Disney World anymore. Your post race plans will include something, whether that's having an excellent brunch or hitting the parks. Make sure you've hashed that out ahead of time. Most of the sit-down places to eat in the parks or in the resorts are going to require reservations. You can get lucky and get something on the spot, but don't count on it.
If you're not a Disney person, do your homework
Register for a My Disney Experience account. Download the app. Have a basic idea of what's offered at each park and the distance between them, if you plan to visit them. Familiarize yourself with terms like "Advance Dining Reservation" and "FastPass+." If you plan to spend any time in the parks at all or if you're planning to eat in a Walt Disney Resort Hotel, make sure you do a little advance research. Disney vacations are magical but they are less magical if you don't have a grasp of the lay of the land. Disney World is roughly the same size as the city of San Francisco.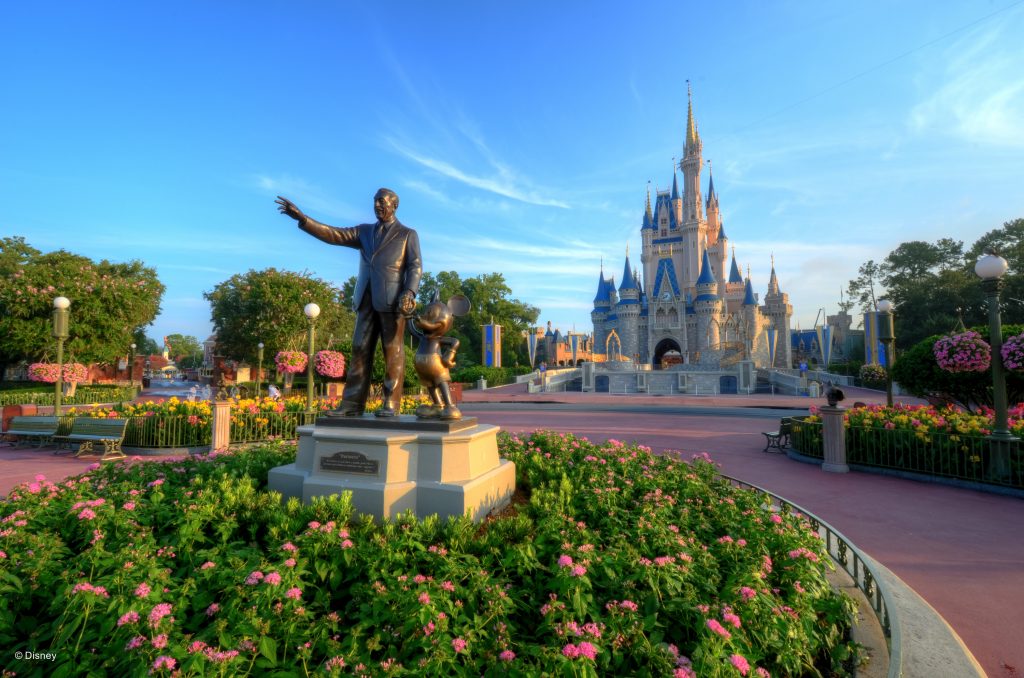 Be honest about your finish time when you register
This goes for any race. Your corral placement (where you are assigned to stand before the race starts) is based on the anticipated finish time you put down. There's some guardrails built into the system (you'll be asked to provide proof if you submit an anticipated time under a certain threshold) but you don't want to be getting trampled during the first mile because you're lined up with faster runners.
If you're a newbie runner, familiarize yourself with basic race etiquette
There's a lot out there on race etiquette and this just scratches the surface. The best rule of thumb is to remember there is always someone behind you running and that person can't read your mind or anticipate what you are going to do.
Basic race etiquette includes things like not running four abreast (yes, it's fun to run with your friends but it isn't fun to run behind that kind of formation) and moving to the right or left if you're going to stop or slow down. Humans don't come with blinkers, so lifting your hand as your're slowing or stopping signals your intent to the person behind you (that doesn't want to slam into you because you suddenly stopped.)
Watch where you're spitting or sending that snot rocket. Yeah, it's gross but we all know that long runs sometimes bring the need to expel fluids. It isn't difficult to do a quick check to make sure you're not spitting on someone else.
Keep it moving through the water stops and through the finisher's chutes. You might want to nosedive into that cup of Gatorade or fall down and kiss the ground at the finish. That's a great way to get trampled.
If you're not a newbie runner but new to runDisney, realize many of your fellow runners won't know basic race etiquette
runDisney races attract a lot of new runners, run/walkers and non-runners. While it can be frustrating to share space with someone who doesn't understand the rules or realize there are rules in the first place, bring a little extra patience with you. Lots of people like the villains but no one likes a jerk.
Not every newbie who has signed up to run their first runDisney race is scouring the internet for runDisney 101 tips or looking for info on race etiquette.
I'd venture to guess at least half of the people who are lining up to run this race with you are more into the Disney part than the running part. Running is an awesome, inclusive sport that's a great fit for a lot of people and you could trash someone's first running experience by being rude to them. Most people figure out the rules in time…but maybe just not at the time when you're running next to them. Give them grace and try to maneuver away from them or around them.
And, the Disney courses aren't necessarily built for speed or PRs. You can certainly run a fast race or PR there but the amount of sharp turns doesn't put these races on the list of best races for speedsters. Keep that in mind if you find yourself wanting to lay into someone for stopping in the middle of the road and ruining your perfect time.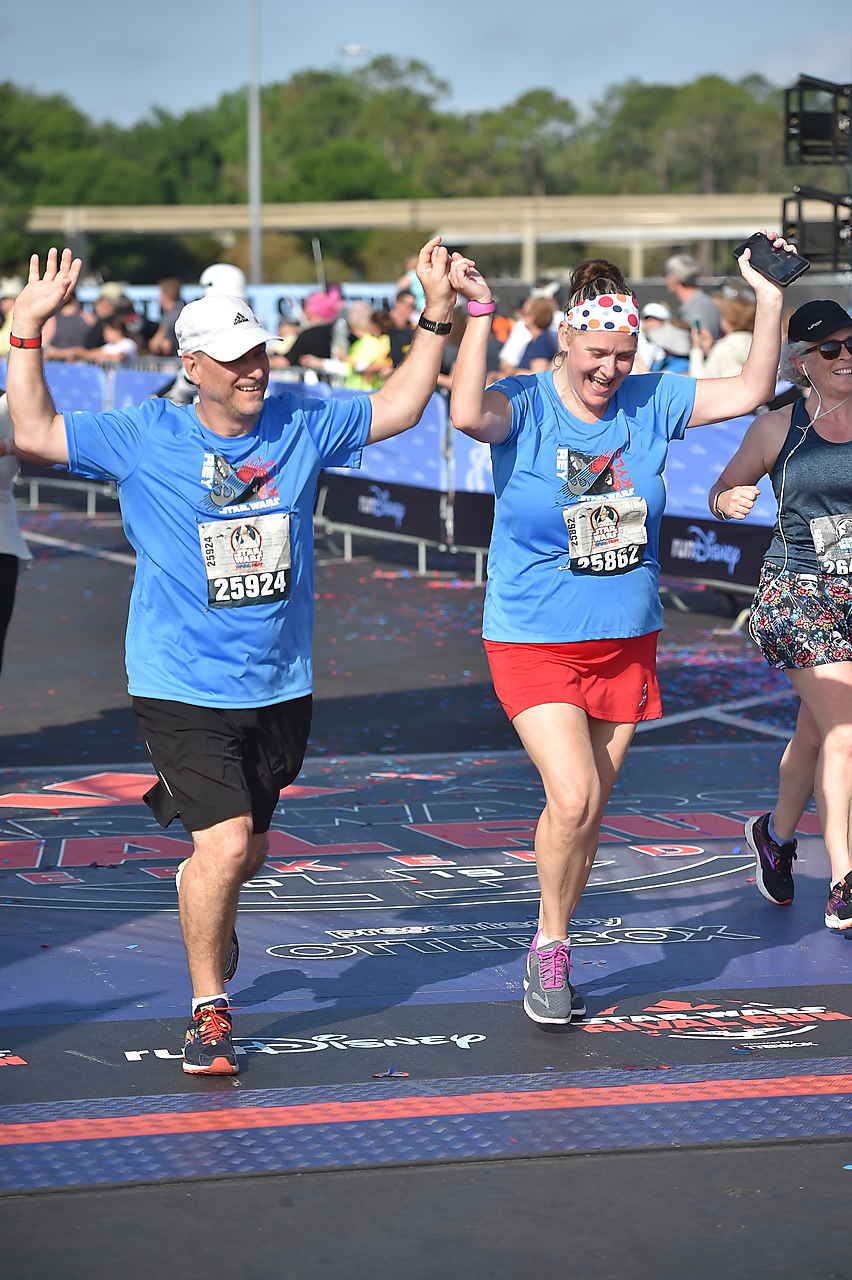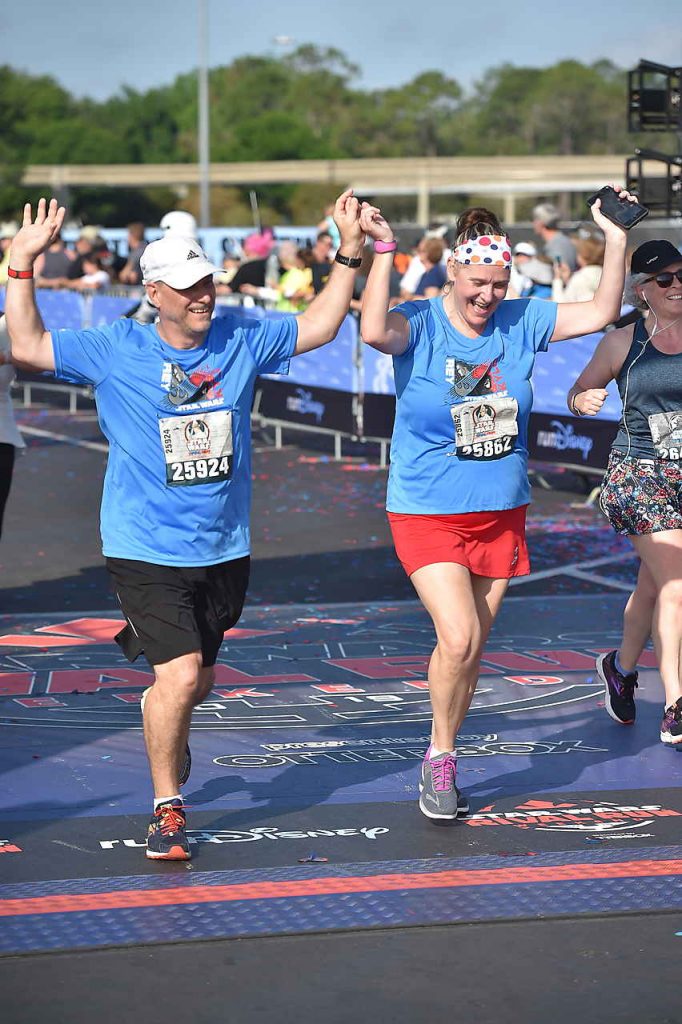 Put your running clothes in your carry-on
I hate lost luggage which is why I hardly ever check my bags when I fly. If you check yours, put your running clothes in your carry-on. They probably don't take up much space it it will save a lot of stress and panic on the other end if you bag doesn't show up when it is supposed to.
Yes, in today's world of Amazon Prime, lost or forgotten items can be replaced pretty easily but who needs that hassle? If you're truly in a pinch, you can probably purchase what you need at the expo but you'll pay top dollar for it.
Smile for the camera…
…but be aware of your surroundings and other runners.
Getting the perfect action shot does top the list of runDisney 101 items, but be careful. Once, I saw a cameraman on the horizon and I was fortunate enough to be in a pocket where I didn't have a bunch of other runners in my immediate space.
Or, at least that is what I thought.
I smiled and flung my arms wide like Fraulein Maria in the opening song of The Sound of Music. "This is going to be the most epic shot," I thought to myself. Only it wasn't, because I hit someone in the face with my hand when I spread my arms wide. Not only was she not amused, it was a terrible shot and not what I was going for.
Bragging is totally OK!
Post-race bragging, regardless of finish time, is a must. Wear your medals to the park. Sleep in them. Wear them on the plane ride back home. Maybe to work the following week.
You've definitely earned the right to toot your own horn!
Grab the image below and save to Pinterest so you'll have it later. Keep running!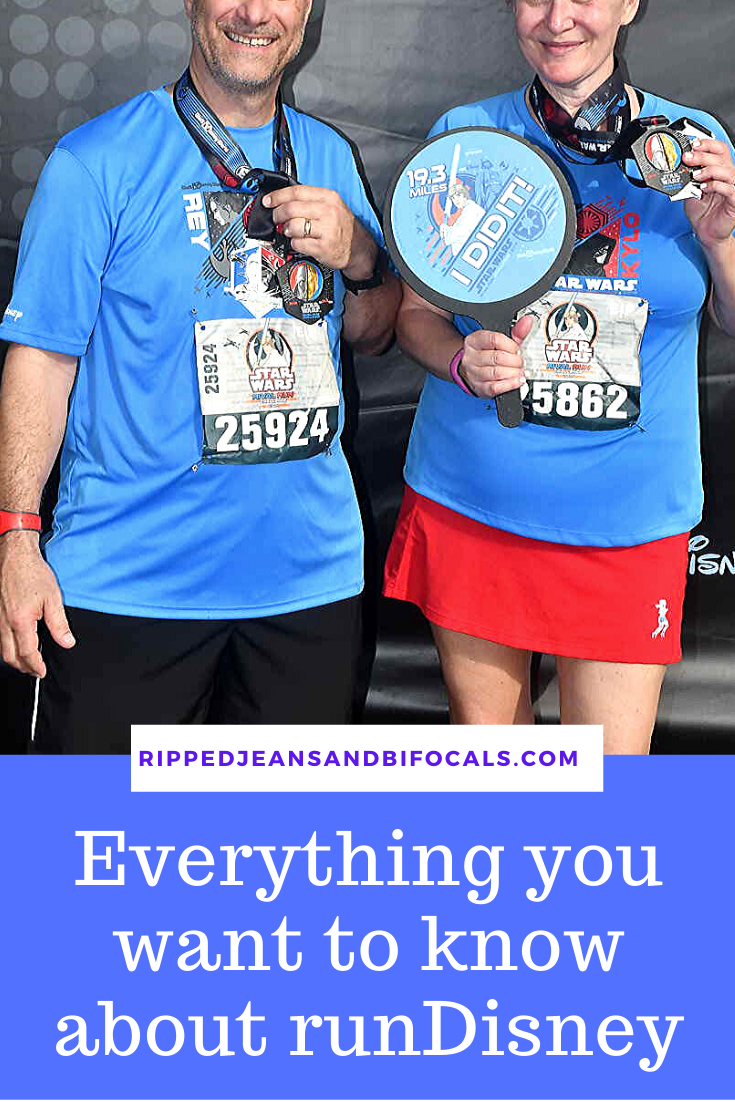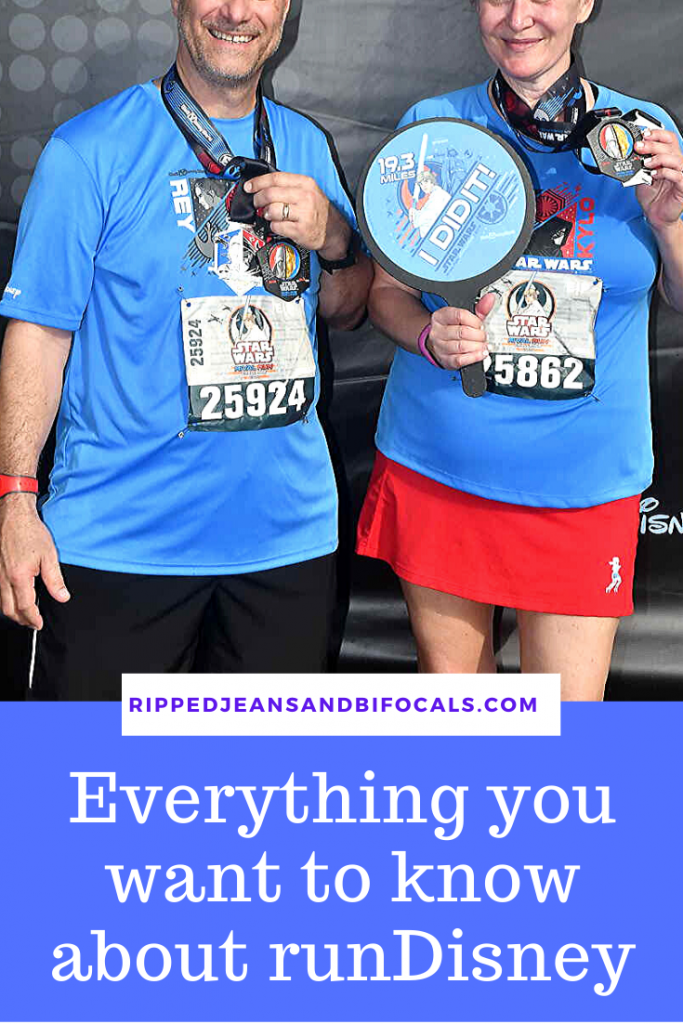 Thinking of booking your own Walt Disney World or Disneyland California vacation?
Check out my partner, Get Away Today for the best deals and white glove service.