Questions about the Chicago Auto Show? Here's what you need to know.
The Chicago Auto Show is the world's largest auto show. While most auto shows run the span of a weekend or a few days, the Chicago Auto Show runs from February 8th through February 17th. If you're in or near Chicago, I highly recommend you stop by. The Chicago Auto Show makes a great family day out or a date night/date day. Here's what you need to know about the Chicago Auto Show to have a kickass experience. If you've got questions about the Chicago Auto Show, I've got answers.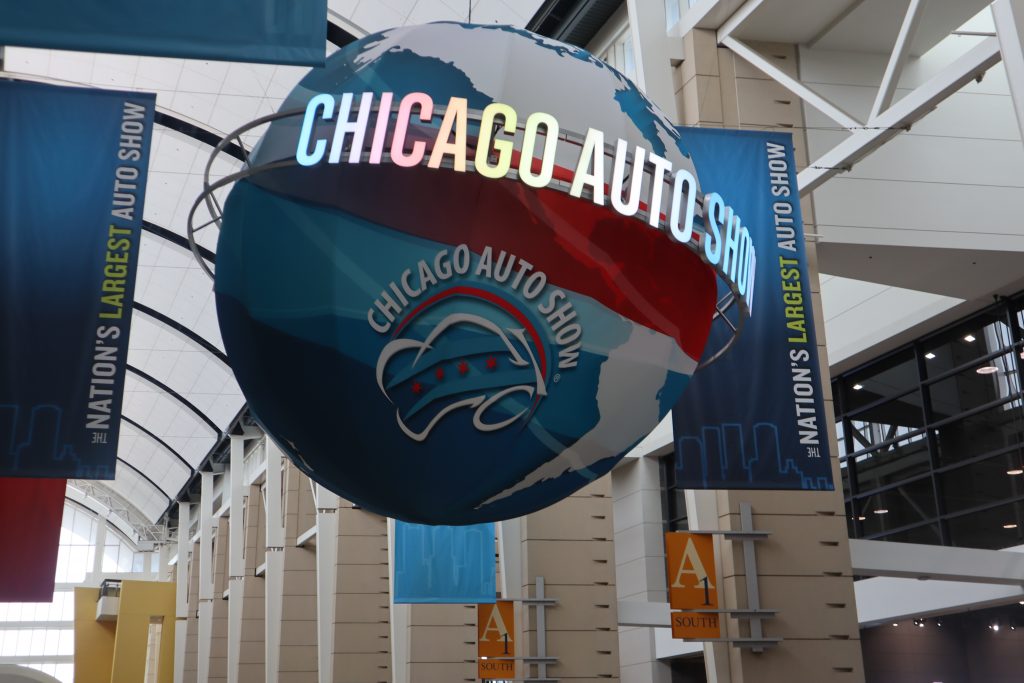 Questions about the Chicago Auto Show? I've got answers. Here's what you need to know to have a kickass experience
I was hosted by the Chicago Auto Show and Nissan. Some of the links in this post are affiliate links, which means I may earn a commission if you purchase something through this website.
Scope out the website and social media in advance
The Chicago Auto Show is massive and it's probably impossible to see everything unless you go more than once. I recommend checking out their website and social media to get a peek at what all is offered. This will give you an idea of the lay of the land and probably a few "Ooh, I definitely don't want to miss that!" ideas on what you want to see.
Not only does the Chicago Auto Show website give pricing, parking info, and hours, there's a "Today at the Auto Show" section that spotlights events going on at throughout the day. You'll also find a floor map and a list of vehicles on display, so if there's something in particular you don't want to miss, you'll be able to go right to it. You're going to have questions about the Chicago Auto Show before you go so try and get a little bit organized to make the most of your time.
You can also follow along on Facebook, Instagram, and Twitter.
If you're buying a car over the next two years, make a list of what you think you want…
…but be open to changing your mind. You might think you're set on a certain auto brand…maybe you're a Mazda loyalist…or you're set on a large SUV or a truck. You might know exactly what you want but be open to learning about other options.
This is your one shot to ask your questions, sit in the cars, adjust the seats, touch the cars, and potentially ride in or drive the cars with zero pressure to buy. We all know that walking into a car dealership equates to blood in the water and a whole lot of annoying/someone following you around.
If you think you're not a truck person but you're curious, here's your chance to get an up close look. If you're that person who said you'd never drive a sedan again, ever, here's your chance to see what's new in a sales-free environment. It's a wonderful thing, y'all.
Make a list, keep it with you and then be open to changing your mind. There's a lot to see and you might surprise yourself.
Dress comfortably
One of the most common Chicago Auto Show questions I've received is "What do I wear?"
I spent a day and a half at the Chicago Auto Show and I dressed for comfort. The first day, I wore Spanx faux leather leggings – I can seriously hear angels singing when I put them on – with a graphic tee, a cardigan and my Skechers slip on sneaks. These doubled as my travel shoes and I thought they looked cute and trendy with this look.
If you want the faux leather leggings on a budget, Target has these for a fraction of the cost of what I paid for the Spanx leggings. Check them out here.
I am pretty happy with my Spanx leggings but I'm thinking about snagging a pair of the Target ones just to see if the higher price point really makes a difference. I'd intended these to be a travel wardrobe staple, so I'm wondering if I could have paid less for the same degree of awesomeness…any thoughts on this?
I snagged my "dreamer" shirt off of a clearance rack and I don't see it available online but Target has such a fun selection of graphic tees online and you never know what's going to pop up in store.
The second day, I wore a top from Target with a pair of black pencil pants and a cardigan from Stitch Fix along with my trusty "I can be on my feet all day in these" Rothy's. The Rothy's are certainly pricey but they're environmentally forward, easy to pack and super comfortable. I've worn them for a 12-hour day on the auto show floor and they make my feet happy. I have a neutral black pair and I've never regretted buying them. Plus – they're washable, although I've haven't needed to wash mine yet.
Here's the link to my black pants, which I adore and the link to my black cashmere cardi, which I think is sort of old ladyish but it makes a nice travel staple. If you shop from Stitch Fix, I appreciate it when you use my unique referral code.
You are indoors all day, so the indoor temperatures can vary. You will be doing a LOT of walking so make sure your footwear is up for that. There is a coat check on the lower level of McCormick Place if you need a place to leave your heavier outerwear.
Do you have questions about the Chicago Auto Show? You probably do. Ask all the questions!
And, don't feel dumb or small for doing so. If you're going to spend a lot of money on something, you're going to have a lot of questions. Right? You expect answers before you drop your money and sign on the dotted line. That only makes sense.
You've got the opportunity to ask questions about something you're interested in that you might purchase without being pressured to purchase. Ask all the questions you want. Don't worry about wasting someone's time – there are people on the floor of the Chicago Auto Show in place to answer your questions. Some are brand ambassadors and some are auto experts. They'll get you where you need to be with the info but please…ask about what you want to know.
Have (sort of) a plan
The Chicago Auto Show is the world's largest auto show and it can be overwhelming. My best advice for making the most of your time there is to check out a floor map of the show and getting a visual on what's there and how things are laid out. If you just walk in blindly, you'll likely get off track and end up having to retrace your steps to figure out where you started from. Ahem.
Attending the Chicago Auto Show or any auto show for the first time is so much fun but it can be overwhelming. The Chicago Auto Show covers a large area so decide what your must-see's are before you go in. It is super easy to get distracted. I spent the first two hours on the floor wandering aimlessly because I kept getting distracted by cool stuff. I had a great time but having a plan and figuring out what your questions about the Chicago Auto Show are ahead of time helps cover all your bases – and helps you make sure you don't miss something!
Related post: I'm going to the Chicago Auto Show!
Do all the extra experiences
There are so many extra photo opps and experiences you can do while attending the Chicago Auto Show. Most will require you to fess up an email or phone number to get the freebie/product but you can always go back and unsubscribe if the brand's content truly is not interesting to you…but give it a chance.
My video debut with Turtle Wax…and can we just take a minute to admire my hair, pretty please?
You'll find photo booths and virtual reality and different experiences where you can ride in and drive the vehicles. I think Subaru wins the day for best display – they've got changing weather and puppies and that's hard to top. However, Chevrolet does a really good job with interactive fun as well. They've got a cartoon strip photo opp and a 4D virtual reality experience.
I hope this has addressed some of your Chicago Auto Show questions and that you're planning your visit. Regardless of where you are in the car buying cycle, you will have a good time here.
Special-themed Days + Discounts:
Monday, Feb. 10: Sports Team Pride Day:
This sports-themed event kicks off the first full public week of the show. Sports fans who visit the show will be able to participate in special sports activations led by Windy City favorites including the Chicago Blackhawks, Chicago White Sox, Chicago Wolves, Chicago Dogs and Windy City Bulls. As an added incentive, sports fans who wear their favorite Illinois team jersey to the show will receive a discounted access at just $8.
Tuesday, Feb. 11: Women's Day:
There will be a series of events geared towards the female demographic including panel discussions, workshops and networking opportunities throughout the day. Women will be offered a discounted ticket at $8.
Wednesday, Feb. 12 – Friday, Feb. 14: A Safe Haven Food Drive:
The show partners with A Safe Haven to host an annual food drive. Fans who bring three cans of food will receive a $5 discount off the full adult admission.
Friday, Feb. 14: Hispanic Heritage Day:
The Chicago Auto Show will continue to partner with Telemundo Chicago to host Hispanic Heritage Day featuring a live TV broadcast as well as fun-filled activities – such as lucha libres and mariachis – throughout the evening.
Friday, Feb. 14: Chicago Friday Night Flights — Craft Beer Sampling Night:
The Chicago Auto Show is bringing back "Chicago Friday Night Flights," a craft beer sampling event on Friday, Feb. 14 from 6-9 p.m. The event will feature a dozen local breweries to sample their latest brews. Attendees will receive access to the auto show along with their tasting pass. Tickets can be purchased in advance for $30, or $40 at the door.
Sunday, Feb. 16: Miles Per Hour:
The show's final weekend is heating up with a new indoor run called Miles Per Hour, sponsored by Honda. We've partnered with the Chicago Area Runners Association on the run where participants will cover as much distance as possible within a one-hour timeframe. A 2.4-mile
loop includes the wide aisles of the auto show!
Monday, Feb. 17: Family Day (Presidents Day)
Family Day returns to the 2020 Chicago Auto Show on Presidents Day. Many children have the day off of school, so it's a great opportunity to shake off those winter blues and come down to the show. Plus, it's the last chance to see the nation's largest auto show.