We had a chance to try out the newest way to get around Walt Disney World, the Minnie Van (not to be confused with a minivan which is considerably less cool) and I'm here to pass along the scoop so you can decide whether using this service is right for you. We spent a whirlwind four days at Walt Disney World in February with the Disney Social Media Moms Celebration (Disney SMMC for short.) Since our time was compressed and our schedule was packed, we decided to try the Minnie Van to save a little bit of time. Plus…they are just so darn cute I had to be able to say I'd ridden in one!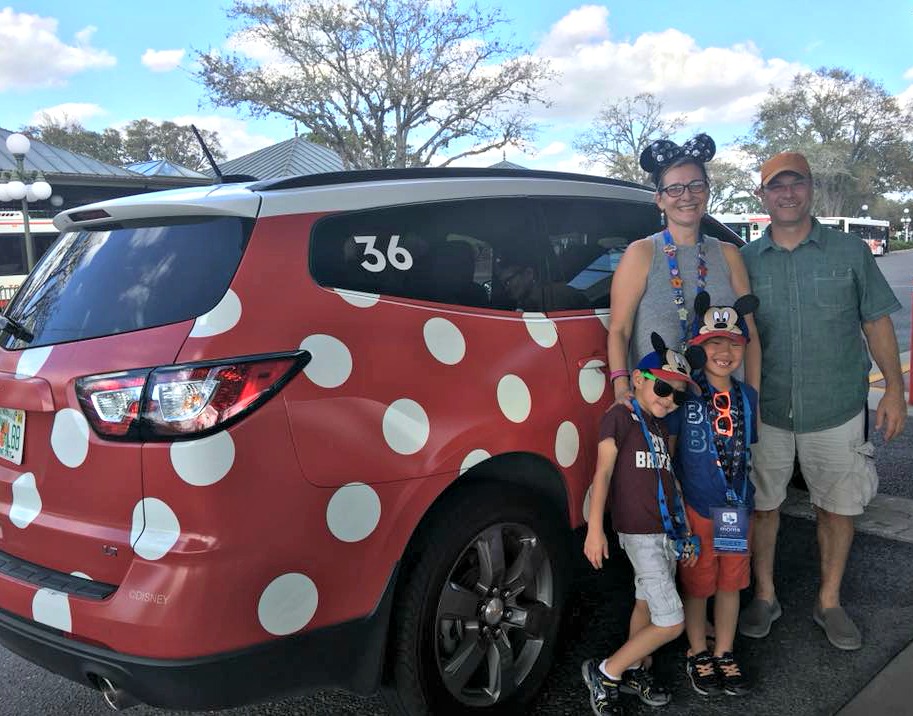 I attended the 2018 Disney Social Media Moms Celebration. I paid a conference fee to attend. All opinions are mine.
What you need to know about the Minnie Van Service at Walt Disney World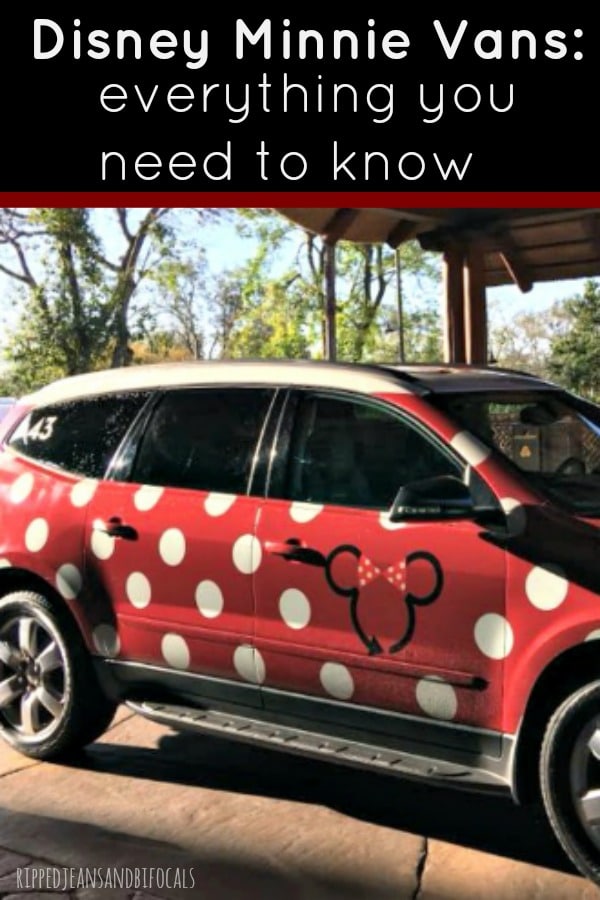 1. The Minnie Van service is operated by Lyft
You'll need the Lyft app on your phone to be able to use this service so download it in advance of your trip. The app is free in the iTunes Store and Google Play Store.
If you are a registered guest at the resort where your ride originates, you should automatically see the "Minnie Van" option when you request your Lyft. If you don't see it or if you're not a registered guest, see a cast member at the front desk and they can quickly unlock the option for you. The Minnie Van option didn't show up for us at first, even though we were registered guests at Disney's Animal Kingdom Lodge but the cast member at the front desk took care of it faster than you can say Bibbidi Bobbidi Boo. I'm not sure if it was a first-time Lyft user thing but it worked like a charm after that.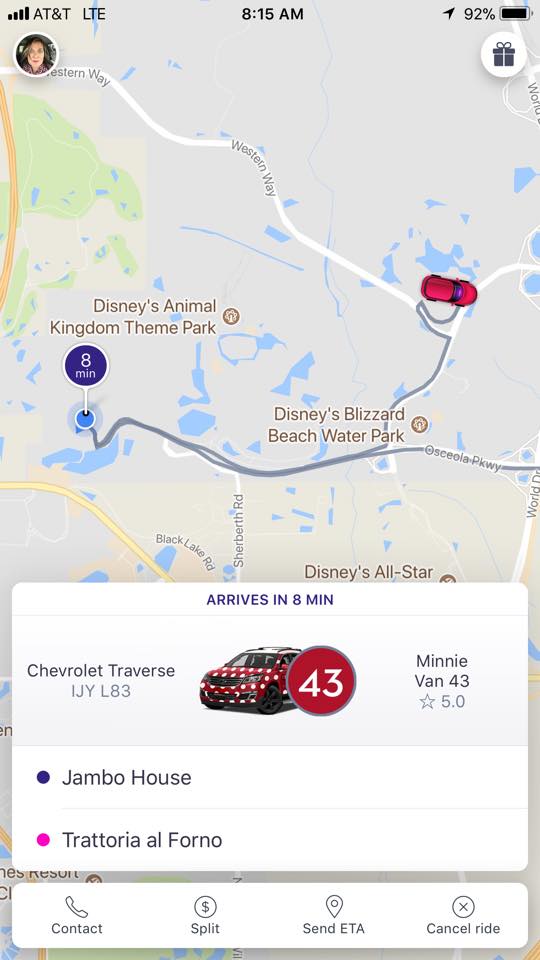 We typically use Uber at home so the Minnie Van service was our first experience with Lyft and we loved it.
We used the Minnie Van Service for the first time when we needed to get from Disney's Animal Kingdom Lodge to Trattoria al Forno on Disney's BoardWalk for an early character breakfast. We waited about seven minutes for our ride.
Read more about the Bon Voyagre Adventure Breakfast HERE. It is, to date, the only Disney character meal to feature Disney princes.
When you request your ride, you're given an estimated time of arrival and also the number of your Minnie Van, so she's easy to spot.
2. The Minnie Vans are late-model Chevy Traverse
Each Minnie Van is equipped with two car seats and the driver (who is a Disney Cast Member, how cool is that!!!) is trained on car seat installation and safety.
The Minnie Vans are clean – as in pristine eat off the floormats clean – and the Cast Members are knowledgeable and friendly (no surprise there) so we spent the majority of our trip chatting about Disney (always awesome) and getting tips on things to do and see at our destination.
Disney generally does a great job with transportation. Disney's Magical Express that gets you to and from the Orlando Airport and the transportation systems that run from the resorts to the parks and between the parks – buses, boats, and my favorite, the Monorail) is seamless, although you will often wait in a long line, especially during peak hours or at the end of the night.
3. The Minnie Vans can fill a much-needed gap in Disney transportation
If you want to go from one resort to another, things start to get tricky. Disney doesn't offer complimentary resort to resort transportation. If you want to get from Resort A to Resort B, the only way to do it is via one of the parks…although some resorts are within walking distance of one another and, if you're going between resorts on the Monorail Line or around Disney's BoardWalk, it's not that bad. The Walt Disney World property is roughly 40 square miles, though, which is about the size of San Francisco. You can't say it is or isn't to get around Walt Disney World on foot because it really just depends on where you're going.
We like to stay at Disney's Wildnerness Lodge. We're Disney Vacation Club members and the villas at Copper Creek are our home resort. One of our favorite resort to resort hacks is to jump on the Disney Springs bus from Disney's Wilderness Lodge because it stops at Disney's Contemporary Resort. We can explore that resort or visit one of their restaurants without having to pay for transportation.
There are a lot of great shopping and dining experience that are outside the parks and in the Walt Disney World resort hotels, especially character breakfasts. Popular Chef Mickey's is at Disney's Contemporary Resort and Ohana (breakfast with Stitch or a fantastic Hawaiian Luau dinner) is at Disney's Polynesian Village Resort. There are lots of other character experiences and dining experiences outside the parks that you don't need a park ticket to enjoy.
To see a list of my favorite character dining experiences, read here.
We were scheduled to attend an early character breakfast at Trattoria al Forno on Disney's BoardWalk and we were staying at Disney's Animal Kingdom Lodge. Disney's Animal Kingdom Lodge is the only Deluxe Level resort where bus service is the only Disney transportation option. To get from where we were to where we needed to be was going to be quite the production. Utilizing the free (and yes, there's a lot to be said for free) Disney transportation, we'd have had to take a bus from Animal Kingdom Lodge to the one of the parks and then take a second bus to Disney's BoardWalk. Buses usually run ever 20 minutes, so depending on timing, we were looking at at least an hour's travel time to get to breakfast. Character breakfasts are awesome but they become less awesome for everyone getting there is a major production.
Minnie Vans are a flat rate of $25. That's more expensive than a traditional Lyft or Uber, which are also an option for getting around Walt Disney World Resort. However, the Minnie Van can get you places a regular ride share can't…like closer to the park entrance. Ride shares have a particular drop off and pick up point, which is usually a bit of a walk from the park entrance. Minnie Vans can get you pretty much wherever the buses go.
4. Why use the Minnie Van Service in place of the free Disney Transportation?
Time and cranky humans.
Taking the Minnie Van from resort to resort is probably the best use of the service. I'd also recommend using the Minnie Van service if you're super compressed for time. If you've only got a couple of days at the most magical place on earth, you might not want to spend your time waiting in line for the bus to get you from your resort to the park or from park to park. We have used the Minnie Van Service to get from resort to resort and to and from the parks when we didn't feel like waiting in the bus line.
My general advice is for people to plan for 90-minutes to get from one park to another by bus if you're dealing with dining or FastPass+ reservations. If you've only got a couple of days to spend at Disney World, paying a little money to get some of that time back might be worth it to you.
We've found Disney transportation to be very comfortable, friendly, and reliable, but the wait times can be…well, more than you want to wait. We've waited almost an hour for a bus to take us from one resort to another (buses are supposed to run about every 20 minutes but different factors can make the wait longer) and the lines for the buses at the park closing can be even longer…and the buses are crowded.
The Minnie Van service is easy. Punch a few buttons on your phone. Go to the pickup point. Ride in comfort and get to where you're going while everyone else is still waiting in line.
We also took the Minnie Van Service from Coronado Springs to the Magic Kingdom on an afternoon where we wanted to maximize our time in the park. Yes, it was more expensive but it gave us an extra hour to hit the rides, so it was worth it.
5. The Minnie Van can replace free Disney transportation if you're prepared to spend
Should this be your primary means of navigating your way around Walt Disney World Resort? Yes, if you budget for it. $25 a pop can add up quickly. If you're using the Minnie Van to get to the parks in the morning and to return to your resort hotel in the evening and do one park-to-park transfer per day, that's $75 per day on top of what you're already spending at Disney. Only you can decide whether that is worth the time you'll save standing in line or riding the bus with everyone else.
Regular Lyft and Uber are less costly options to get around Walt Disney World. If you're using non-Minnie Van Lyft or Uber, you'll probably pay less than $10 to get you where you need to go versus the flat-rate Minnie Van fee of $25. You also might experience longer wait times for a ride with regular Lyft or Uber.
If you don't need the child seats, don't mind a little extra walk to get to the park entrance, and aren't in a huge hurry, I'd recommend you opt for regular Lyft or Uber if you don't want to use Disney's free transportation.
We love using the free park-to-park transport as much as possible because it's free and we'd prefer to spend that money elsewhere but we also like knowing the Minnie Van service is an option should we need it.
You might also like: