San Antonio Hikes – Where to hike this fall
(This post may contain affiliate links. Read my full disclosure.)
One of the things I like best about fall in San Antonio is the extended hiking day. Year-round warm weather and long days might sound good for hikers but most June through August days make extended outdoor activity uncomfortable unless a body of water is involved. While fall weather in San Antonio might not always be crisp and cool, the temperatures are finally becoming a little more comfortable for hiking and exploring the area's many trails and parks. Here are 9 great San Antonio hikes perfect for fall.
San Antonio Hikes – Where to hike this fall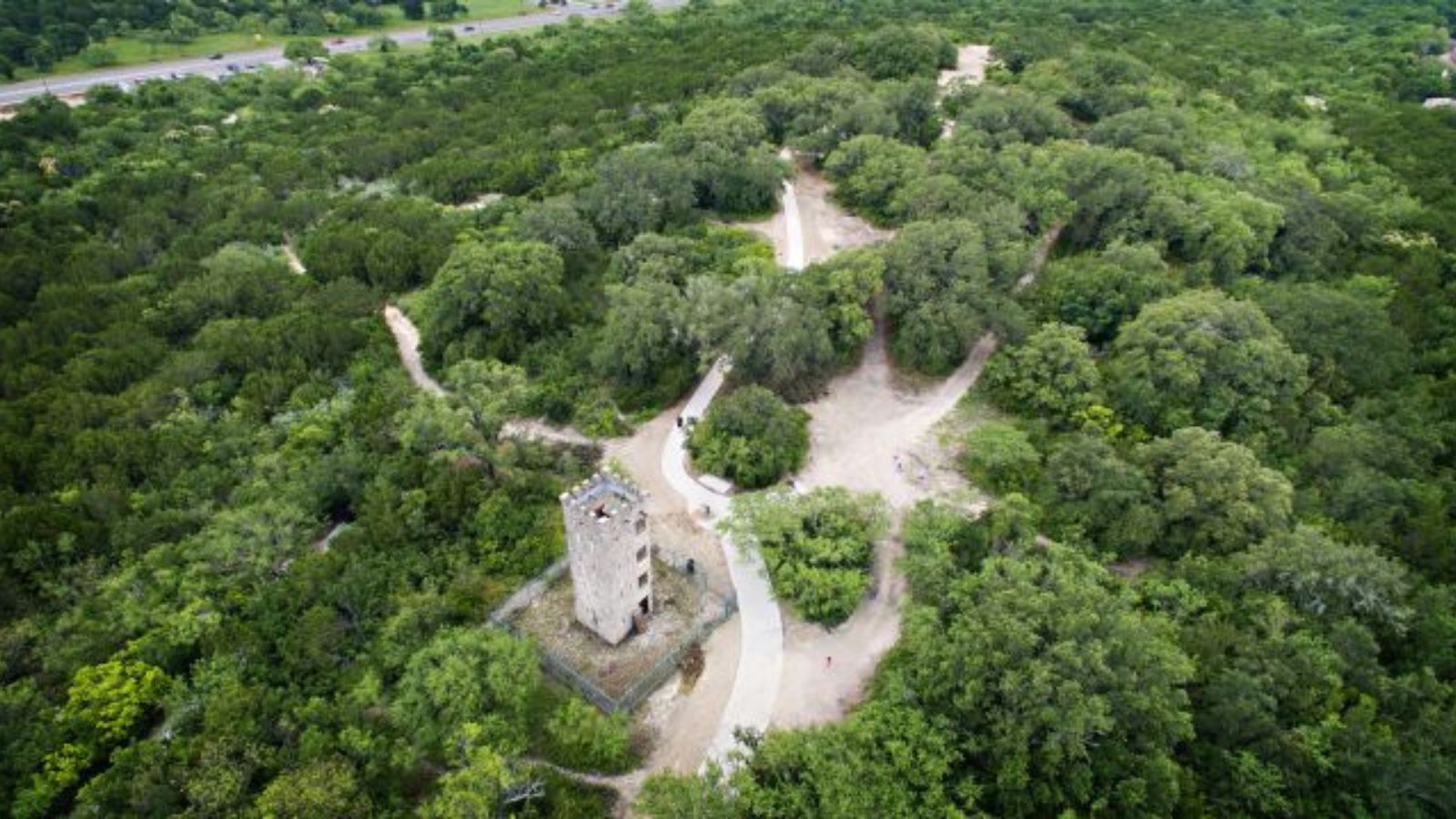 This list includes my 9 favorite San Antonio hikes for fall.
1. Friedrich Wilderness Park
Friedrich Wilderness Park offers 10 miles of hiking trails with varying degrees of difficulty. The park is also a habitat for two species of birds on the federal list of endangered species—the Black-capped Vireo and the Golden-cheeked Warbler.
There's a trail for everyone here. The Main Loop Trail is a good moderate trail if you're looking for something a step up from flat, paved terrain. This rocky 1.7-mile trail has an elevation gain of 350 feet. Many of the park's other trails can be accessed via the Main Loop Trail, so it's easy to branch out and extend your hike from there. Plan ahead or go early as the parking lot is small and can fill up on busier days. No pets are allowed.
2. Government Canyon State Natural Area
Government Canyon State Natural Area is located on the far Northwest side of San Antonio, near Helotes. The most popular trail is the Joe Johnston Route due to the 110-million-year-old dinosaur tracks found about 3 miles in. The full out and back trail is 9 miles long, but most hikers turn around at the dinosaur tracks, which is an about a 5.7-mile roundtrip. The Joe Johnston Route, listed as moderate, is often closed after rainfall so check before you go. The trail earns its moderate rating due to the rocky surfaces in spots and the length.
Most kids will have no problems navigating the trail, but it is not stroller or wagon-friendly. Pets are also not allowed on backcountry trails (the Joe Johnston is considered backcountry), but leashed pets are welcome on front country trails. Stop in at the Visitor's Center or visit the website for info on other trails. Entrance is $6, and kids 12 and under are free. If you have a Texas Parks and Wildlife Pass, this will cover your entry.
3. Cibolo Center for Conservation
Also known as Cibolo Nature Center, this destination in Boerne offers visitors 6 miles of trails that lead through four different ecosystems. Visitors can walk through a prairie, explore the trails that wind along Cibolo Creek, and wander through groves of live oak and cypress trees. The full circle trail is approximately 1.5 miles, but it also has several loops and side routes that allow hikers to create their own adventure. Part of the trail winds along Cibolo Creek, so visitors can add wading and wildlife watching (turtles, fish, and birds) to their hike if they choose. The trails are easy to navigate and the portion along the boardwalk is ADA-accessible.
No admission is required but donations are welcome. Leashed and friendly dogs are permitted. Check the website before planning your visit for information on any special events or workshops that might require an additional fee or reservation.
4. O.P. Schnabel Park
O.P. Schnabel Park has six main trails and two connector trails. Most of the trails are short—less than 2 miles—with the Leon Creek Gateway North trail being the exception at 7.7 miles. All the trails are easy, and many are paved or asphalt, making these a great choice for families or anyone who isn't interested in steep inclines or navigating rocky areas. The paved trails are popular with bikers and runners, so expect to share the path. Leashed pets are welcome.
5. Eisenhower Park
This Northside park has 18 miles of trails as well as facilities such as picnic tables and pavilions. There are flat trails (some paved) suitable for family hikes as well as several trails better for advanced hikers interested in something more strenuous. The 3-mile Hillview Trail is great if you're looking for a challenge. The climb is steep, aided in places by stairs, and covers some rocky terrain but those who persevere are rewarded with fantastic views of the city.
Eisenhower Park is a popular military training spot, so if you see someone in uniform carrying a heavy backpack scrambling up the trail ahead of you, let that be your clue that the trail is difficult. Leashed pets are welcome but assess whether your pet can complete the trail you select as some terrain is rough and rocky.
6. McAllister Park
Visitors here will find 5 miles of asphalt trails and 10-plus miles of unpaved natural bicycle and cross-country trails that make great easy hiking spots. There's a lot of vegetation at McAllister Park and hikers will get the feeling of being out in the wilderness without having to go far from the city's center. This park is a popular spot to see deer, especially earlier in the morning. Playgrounds, restrooms, and shaded picnic tables make this an ideal diversion for families who want to explore.
The park is spread out with several parking lots adjacent to the trailheads, so you'll need to look at a map before you head out to determine where you're going to park. The biggest challenge to hiking in McAllister Park is the lack of signs and trail markers, so be sure to look at trail maps. Expect to share the trails with cyclists. Leashed pets are welcome.
7. Comanche Lookout Park
Here you'll find 2.3 miles of mixed surface trails (paved, gravel, and asphalt) shaded by live oak and juniper trees. Although there are a few trails with some steeper inclines, this is an easy and accessible park to explore overall, with much of the property being wheelchair and stroller-friendly. All the trails are about a mile long and it's easy to combine them for a longer hike. The Tower Loop Trail offers panoramic views of San Antonio. On a clear day, you can see the downtown skyline from Northeast San Antonio. There are several picnic tables and benches located throughout the park. Leashed pets are welcome, and this is an ideal park to walk your dog or take your daily exercise.
8. Medina River Natural Area
Medina River Natural Area is a 511-acre property featuring 7 miles of trails with interpretive features that represent the El Camino Real Wagon Trail. The Camino Real and Rio Medina Trail is an easy 2-mile loop trail that includes some paved pathways as well as some dirt and gravel. This trail is suited for families or anyone who wants that "out in nature" feeling without encountering rugged terrain. There are side trails to explore and paths down to the river if you want to extend your hike but watch out for poison ivy. Leashed pets are welcome. 15890 Hwy. 16
9. Mission Trail
This trail can be used to explore the city's five historic missions. Each mission is about 2.5 miles from the next, so this is a fun way to combine history with activity. The entire trail is nearly 14 miles but visitors who prefer a shorter hike can pick a segment of interest and start there. The trail is flat with gravel, dirt, and some paved sections. Anyone can enjoy exploring this trail provided they pick a distance that's within their capabilities.
Mission Trail is very popular with bikers so expect to share the path. This hiking trail is part of San Antonio Missions National Historical Park. Use of the trails, entrance into the missions, and ranger-led programs are free. There are various starting points, but you can't go wrong with Mission San Jose. If you're not local and interested in renting a bike to explore Mission Trail, check out San Antonio B-Cycle.