Disney Wine and Dine Half Marathon Weekend – Your Questions Answered
(This post may contain affiliate links. Read my full disclosure.)
My family and I took part in the Disney Wine and Dine Half Marathon weekend a few months ago…early November to be exact. I'm just now getting around to telling you about it and I think our timing is pretty good because now is the perfect time to register for the 2019 Wine and Dine Half Marathon weekend. I'm answering all the questions you might have about the event and if I don't? Leave me a comment or send me an email and I will make sure I get your information.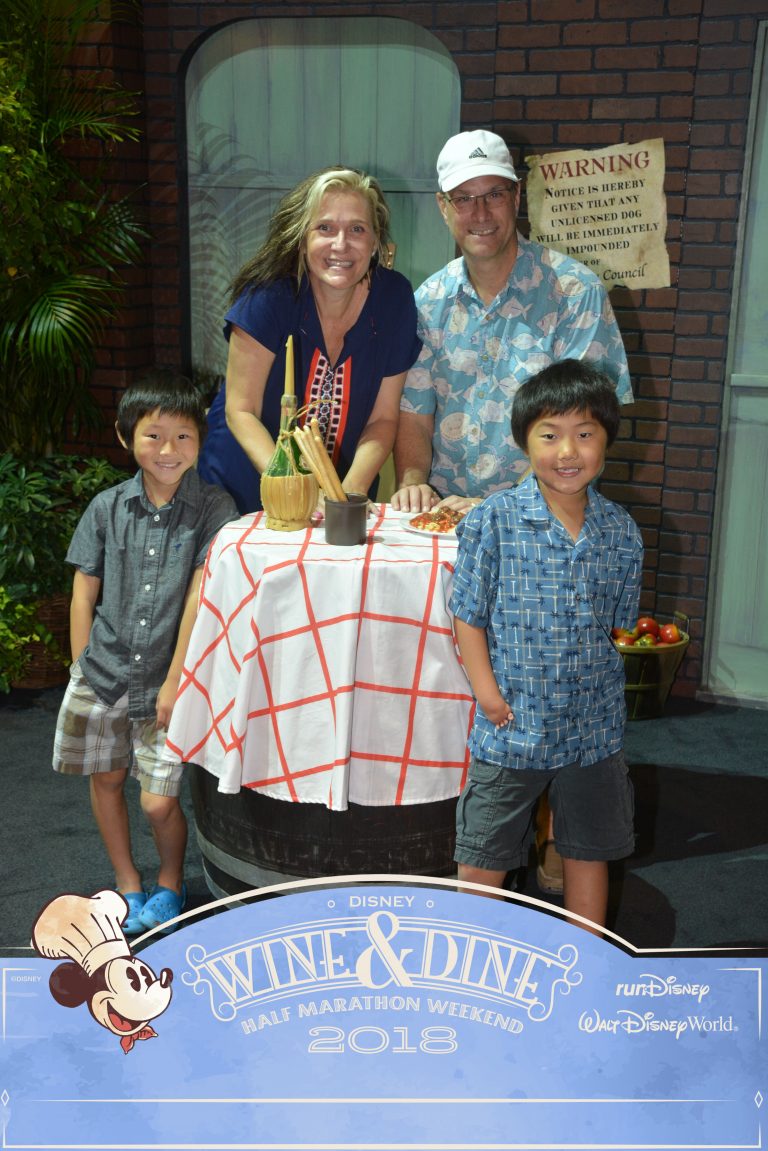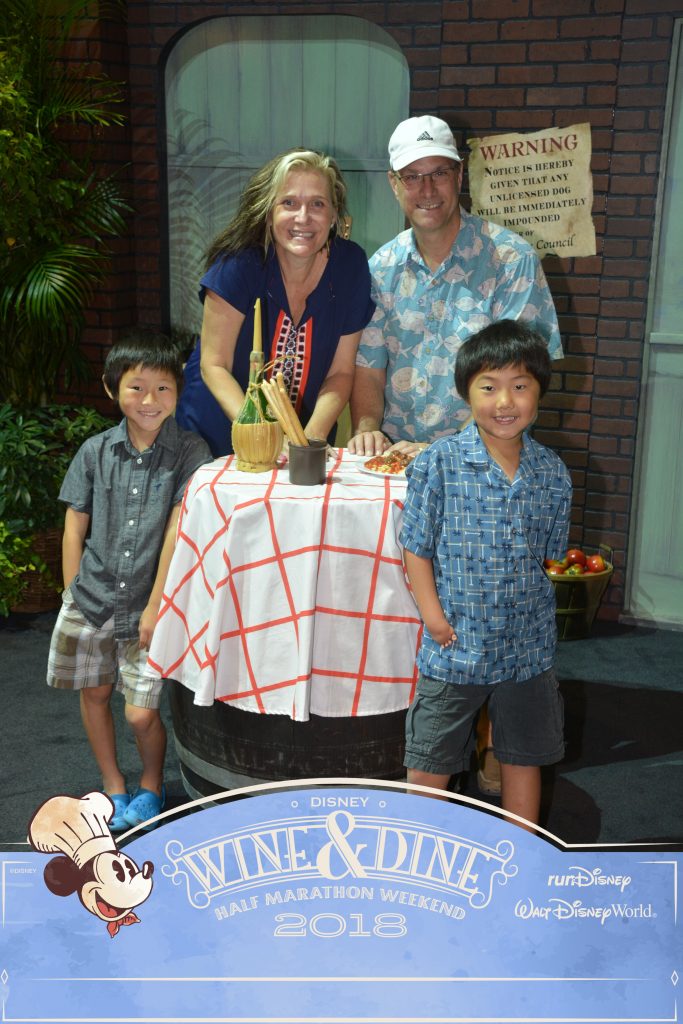 Disney Wine and Dine Half Marathon Weekend – Your Questions Answered
The 2018 Wine and Dine Half Marathon weekend was my second runDisney event, third if you count the 5K I did on Castaway Cay on the Disney Cruise I took a couple years ago. My husband and I ran the Two Course Challenge in November and our two sons ran the one-mile race in the kids races. Our trip to Walt Disney World was centered around the Wine and Dine Half Marathon Weekend and we had such a good time that we're making a return trip in April for the Star Wars Rival Run Weekend in a couple months.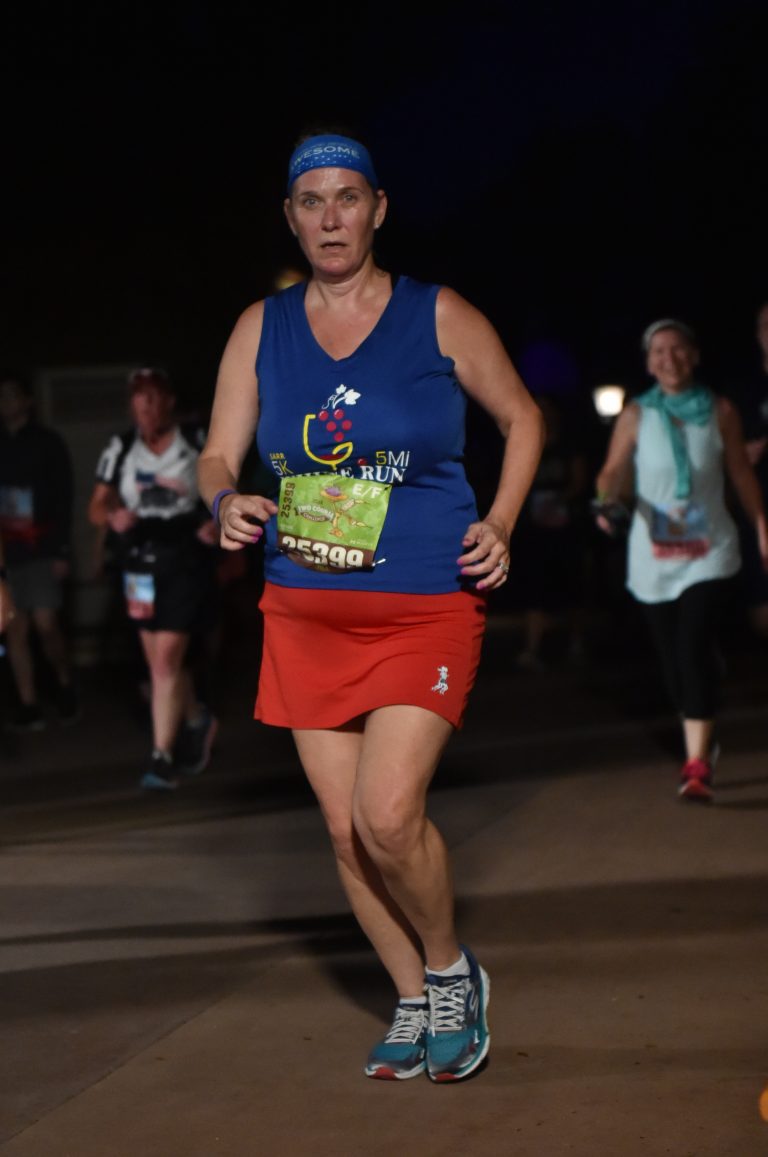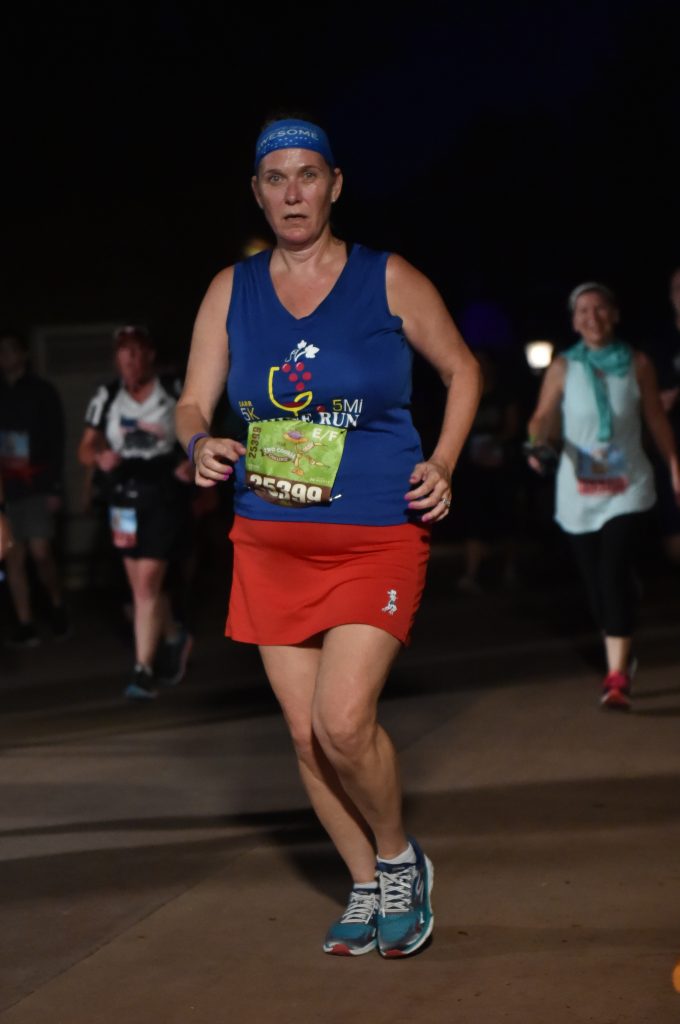 runDisney does change things from year to year but my research (and what runDisney has on their website so far) tells me not a lot is going to change between this year and last year, so I bring you "Disney Wine and Dine Half Marathon Weekend – Your Questions Answered."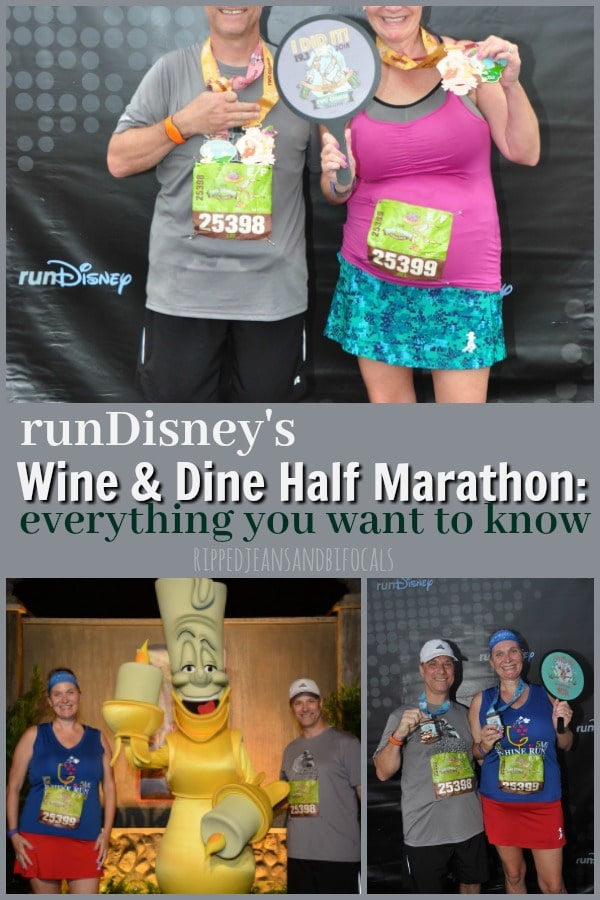 [Tweet "Disney Wine and Dine Half Marathon Weekend – Your Questions Answered @runDisney"]
What level of race is offered? Can I run in more than one?
The Wine and Dine Half Marathon Weekend has a race for every runner. And, even if you don't consider yourself a runner, there is still an event for you. You don't even have to call it a race.
There's the Fall Feast 5K on November 1st, the Wine and Dine 10K on November 2nd, and the Wine and Dine Half Marathon on November 3rd. See the full schedule here.
There's also the Two Course Challenge which does NOT involve eating. The Two Course Challenge means running the 10K and the Half Marathon and you will get a separate medal for completing the challenge in addition to your medals for the individual races. There's currently not an official event for runners who do all three races, although lots of people do it.
Want to include your kids? No problem. The Wine and Dine Half Marathon weekend has several events for kids of all ages, to include a Diaper Dash for crawlers. For more information on the various kids races, check out THIS LINK. My kids did the one-mile run and had a blast. The one-miler is for kids ages 4-13 and each runner will receive their own medal.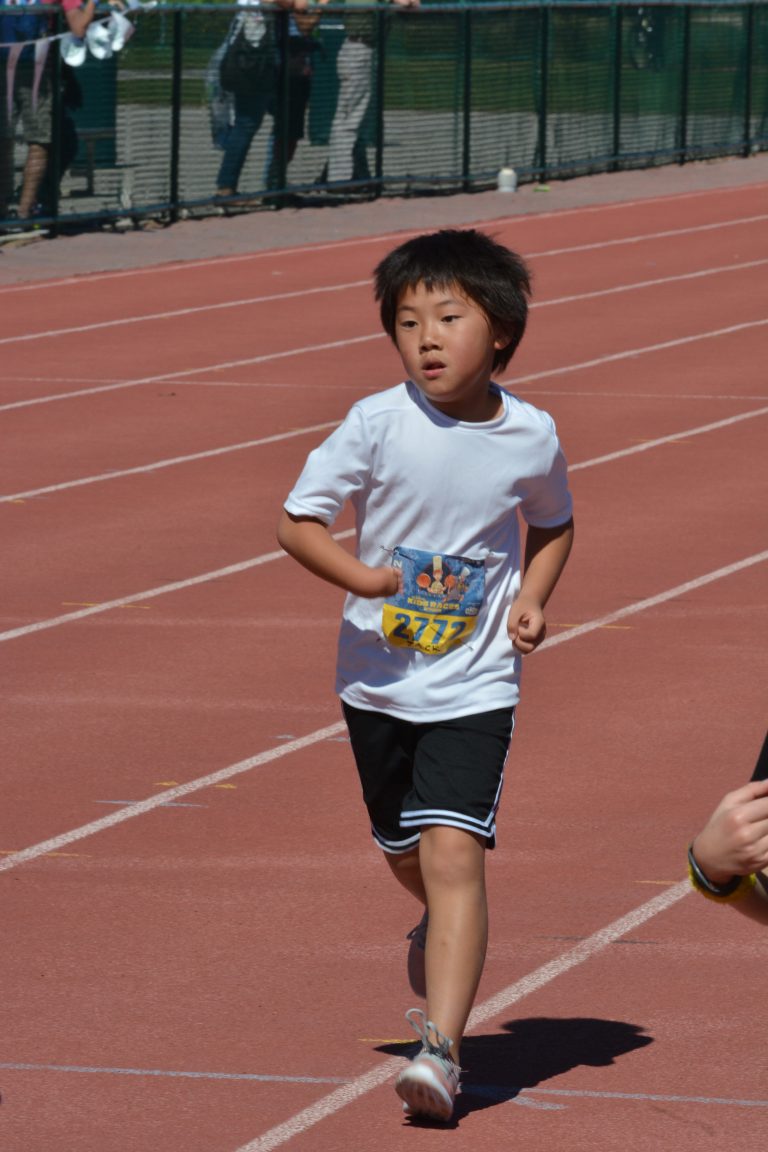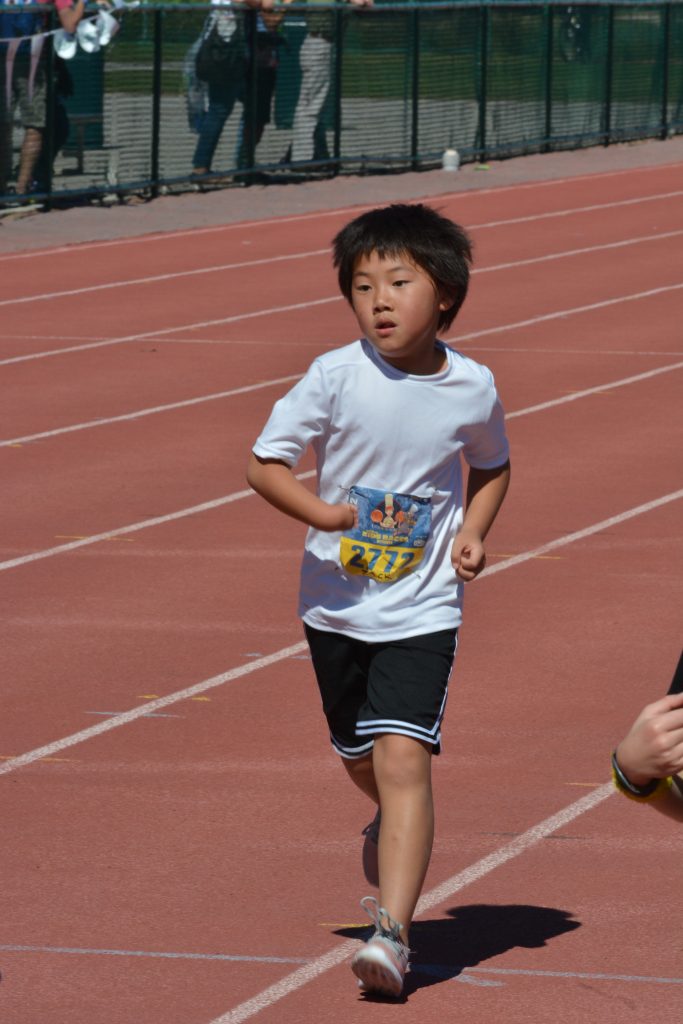 Our kids got a visit and a high five from Minnie as they completed their race last year…that was definitely in the "best day ever" category. Parents are allowed to run with their kids if they want to. We chose not to run with our two. At eight, they're pretty seasoned runners and one of them is a serious speedster and we'd have probably slowed him down. He's still a long way from one of the top spots (a lot of those 12 and 13 year olds are FAST) but I predict he'll be leading the pack in a few years.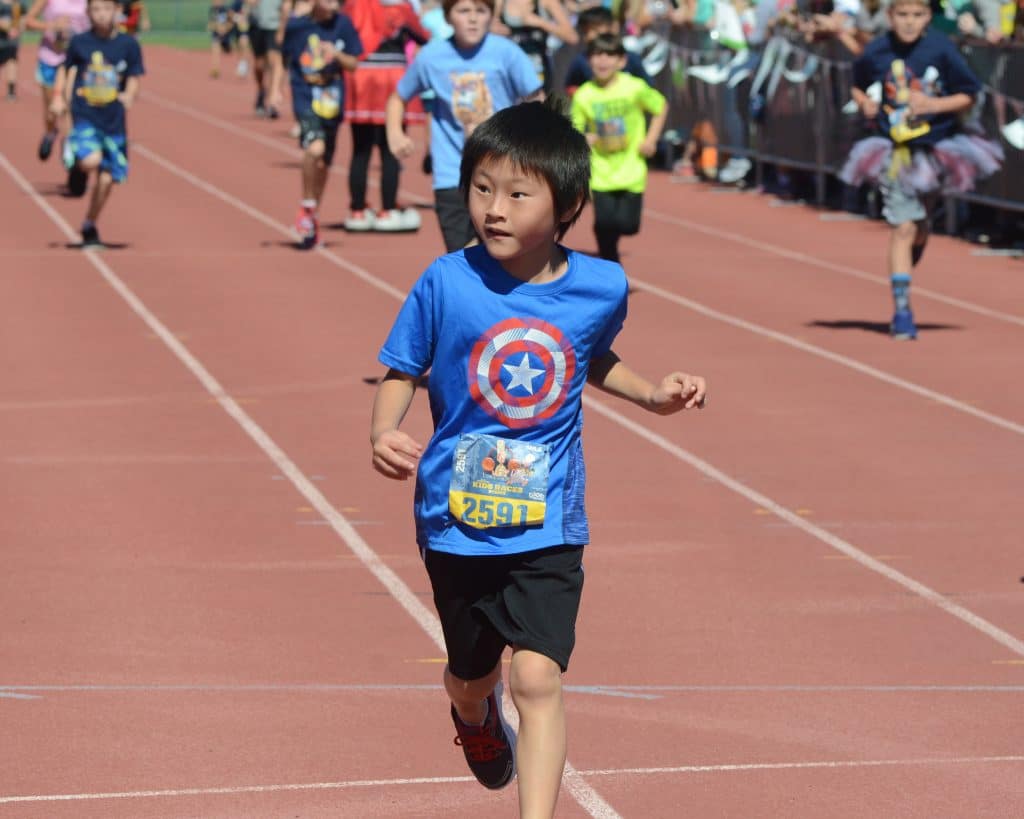 How much does it cost to sign up?
runDisney is expensive. We've run a lot of community races and other race series (mainly Rock n' Roll) and runDisney tops the charts for what we've paid to run. Their 2019 prices range from $85 for a 5K and $205 for a half. By comparison, Rock n' Roll series half marathons typically run $122 and you can often get better pricing if you register early. I've never seen runDisney offer early bird pricing. And yes, for those of you pricing the challenge against the individual 10K and half marathon events, the challenge does cost more than the individual races combined…but that third medal makes up for it.
Whoo Wee that's a lot of money. Is it worth it?
I'm going back for round three in a couple of months, so obviously, I think it is. Like with everything else Disney does, there's a level of magic and attention to detail that other races just can't touch. There's some pretty sweet pre-race entertainment (although I don't find much to be entertaining at 4:30 a.m.) and pre-race character meets.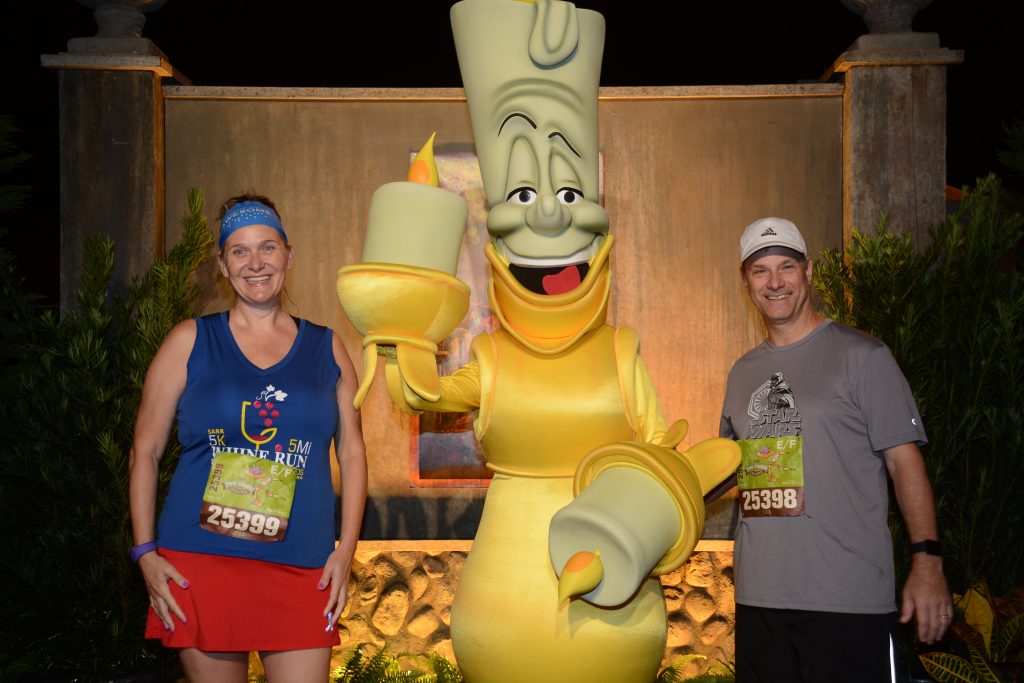 There's also entertainment and character meets along the race courses that goes beyond what the average park visitor is going to get to see. Having our picture made with Lumiere was a pretty sweet compromise for having to wake up so early.
I have found the finisher shirts to be of good quality, although for me, the shirts don't justify the high price. You'd get just as nice of a shirt at your local community 5K or another race series. The hardware is another story. runDisney finisher medals are notoriously cool.
And, you're running through the Disney parks. There is absolutely nothing cooler than running through Epcot while the sun is coming up or through the back of Animal Kingdom before the visitors come in for the day. Just the sense of being there is really cool, and if you're a picture-taking person, there are so many photo opps you just won't get when the park is crowded.
What if I'm the only runner in my group? Is anything offered for non-runners?
Well…you're at Walt Disney World, so your non-running friends and family can always sleep late or enjoy the resort amenities or the parks while you're running. The Expo, held at the ESPN Wide World of Sports, is a lot of fun for just about everyone, whether they like to run or not. If you haven't explored this little corner of Walt Disney World, this is a great time to do it.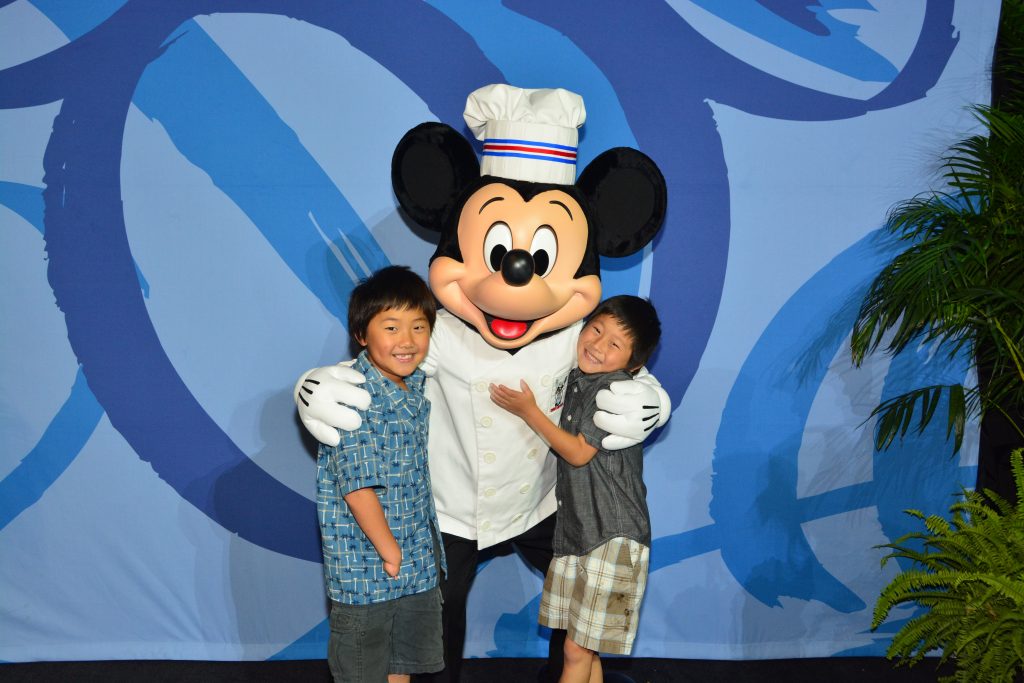 There's also the chEAR Squad Package, which offers reserved seating, access to restrooms, and some souvenirs for $65. If you don't want to shell out the bucks, there are places along the course where your loved ones can chEAR you on, although there won't be seating or restroom access. Parking and access are limited. Since the race courses go through the parks before opening hours, your cheering section won't be able to be in the park to high-five you as you make your way through…but, there are plenty of enthusiastic Disney Cast Members who give great crowd support.
Is the running bling REALLY that cool?
It really is. Come on…it's Disney and you should expect stellar design when it comes to finisher medals. They outdo themselves every year and I'm convinced the sweet hardware is one of the reasons these races are so popular.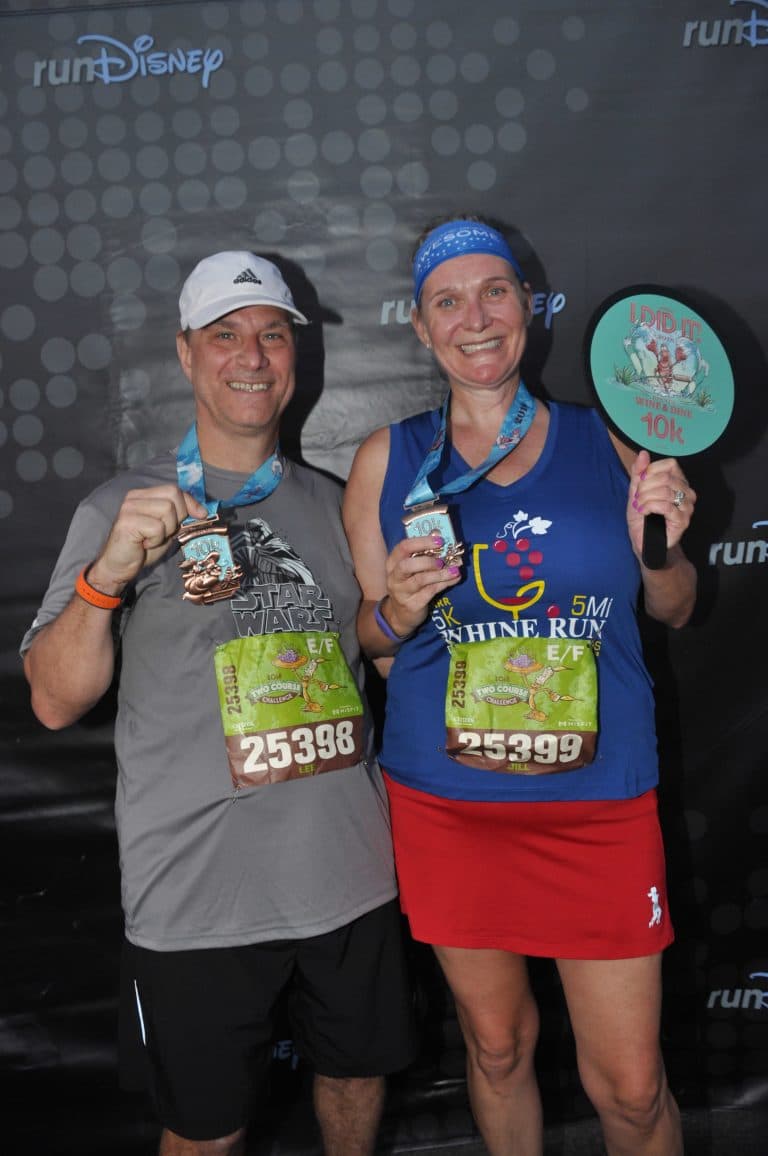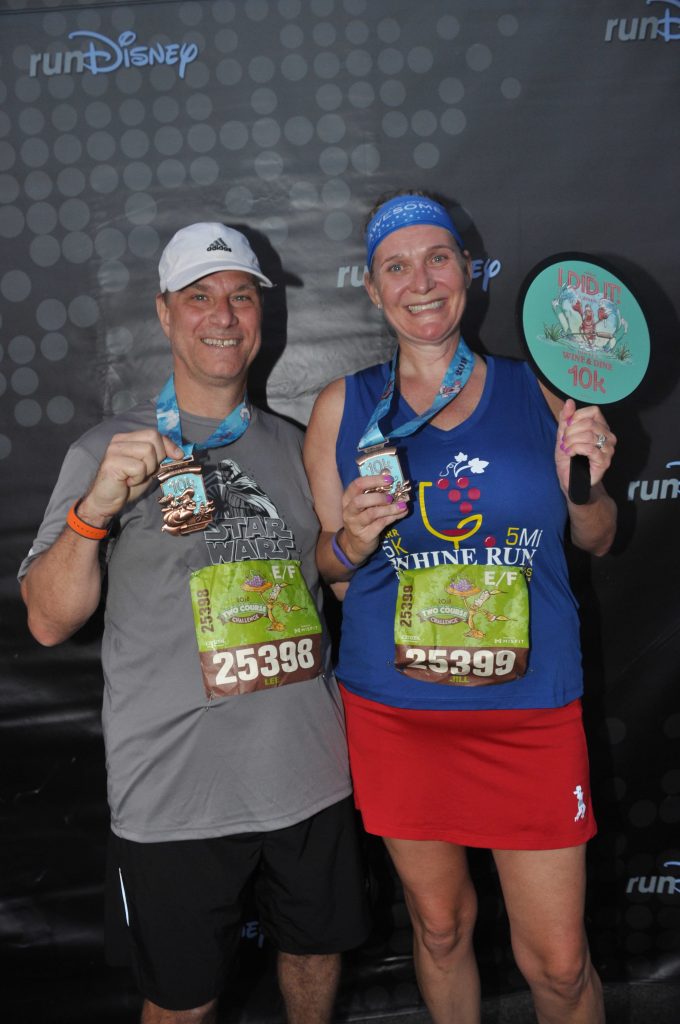 If you want to keep up with the latest in runDisney medals, check out my friend Patty's blog. She does a great job at previewing the latest and greatest medals as soon as they're released.
What about the Post-Race Party?
The Wine and Dine Half Marathon Weekend is capped with a special party for runners and their guests at Epcot after the parks closes. Entrance to the party is included with the half marathon and challenge bibs and available for purchase for other runners and guests.
The price of the party is $85 and the obvious question is: Is it worth all that? I'm going to say "probably not" but I'm also not a great person to ask and here's why:
Since my husband and I had entrance to the party as part of our race fee, we opted to go ahead and buy tickets for our kids. Mother Nature was absolutely not on our side that night and it started pouring down rain as soon as we walked through the gate. Rain is a fact of life in Central Florida, so you have to be prepared for rain, no matter what you're doing.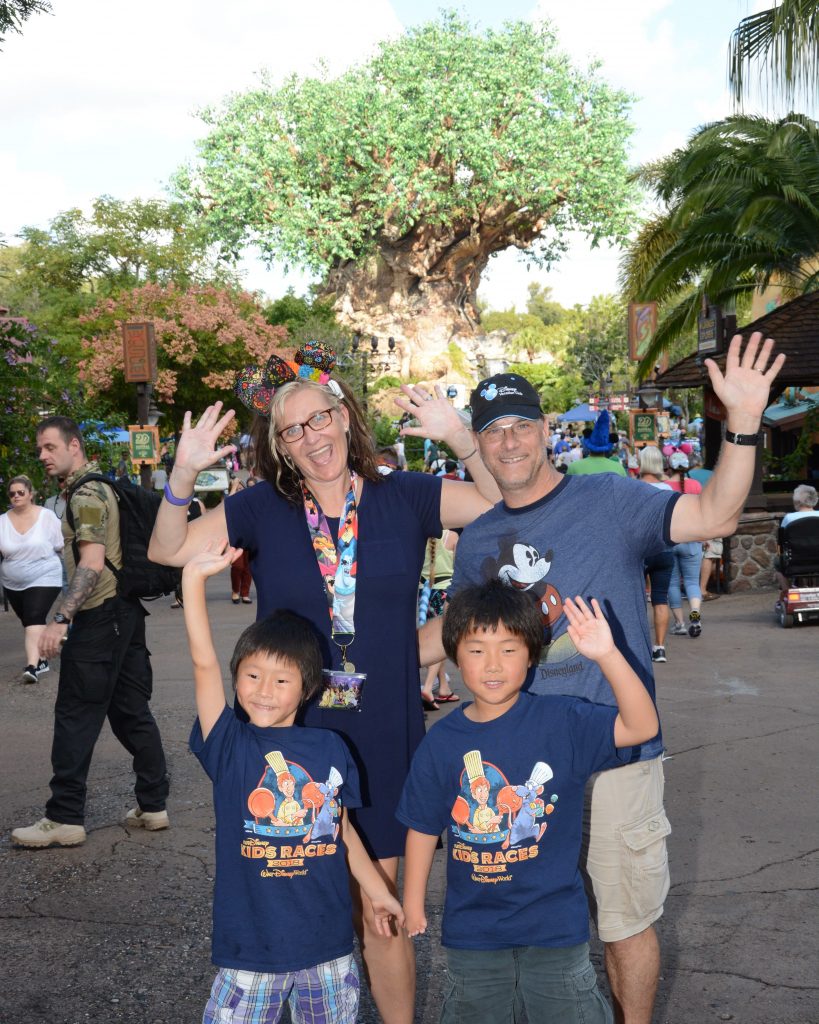 The post-race party ran from 9:00 p.m. to 1:00 a.m., with early entry allowed. We thought that would work out great for us since we didn't have park tickets for that day. We went into the park a little bit early with the hope of getting in a ride or two before the party.
The thing I didn't like was that there wasn't much to do between 8:00 p.m., when Epcot officially closed, and 9:00 p.m. when the post-race party officially started. There were a few food booths that were part of Epcot's Food and Wine Festival that were open and serving food, but the area around the booths offered zero shelter from the rain…and it was seriously pouring at this point.
We couldn't duck inside a restaurant or a store because they were all closed and although Epcot has some great indoor rides, we couldn't ride those either because there was literally nothing to do during that gap time. If it had been a clear night, it wouldn't have been an issue but all the party-goers were vying for what little available outside shelter space there was.
The party included after-hours access to a select number of rides and attractions, special musical entertainment, and character meet and greets that went beyond what the average park goers gets to see. I think it would have been fabulous if it hadn't rained. I know Disney doesn't control the weather and I don't have any hard feelings about paying $170 so my kids could ride Frozen Ever After twice before paddling our way back to the buses. Ha! Well, yes I do, but there's no finger-pointing coming from me…it's just the way it worked out. The character meet and greets weren't happening – at least not that I could tell – by the time we left at about 10:45. It was really a soggy night and that was just bad luck for us.
The post-race party won't include food or drinks – just admission and enjoying Epcot after-hours without the daytime crowds. A regularly priced single-day park admission is $109, so I recommend just buying a regular ticket and being strategic with your FastPass+ bookings. Unless the majority of your group gets the post-race party included (i.e. runs the half marathon or the challenge) buying a chunk of the post-race party tickets at $85 each probably isn't going to make the most sense.
Is my park ticket included in the price of my bib?
Nope. You get entertainment before and after the race, a finisher medal and a finisher shirt. You get a virtual swag bag with some discount codes but your pre-race bag will contain very little "stuff." You'll also get a nice box of post-race eats and if you're staying in a Walt Disney World Resort Hotel you'll get free transportation to and from but you won't get a park ticket (or even a discount) for participating in a runDisney event.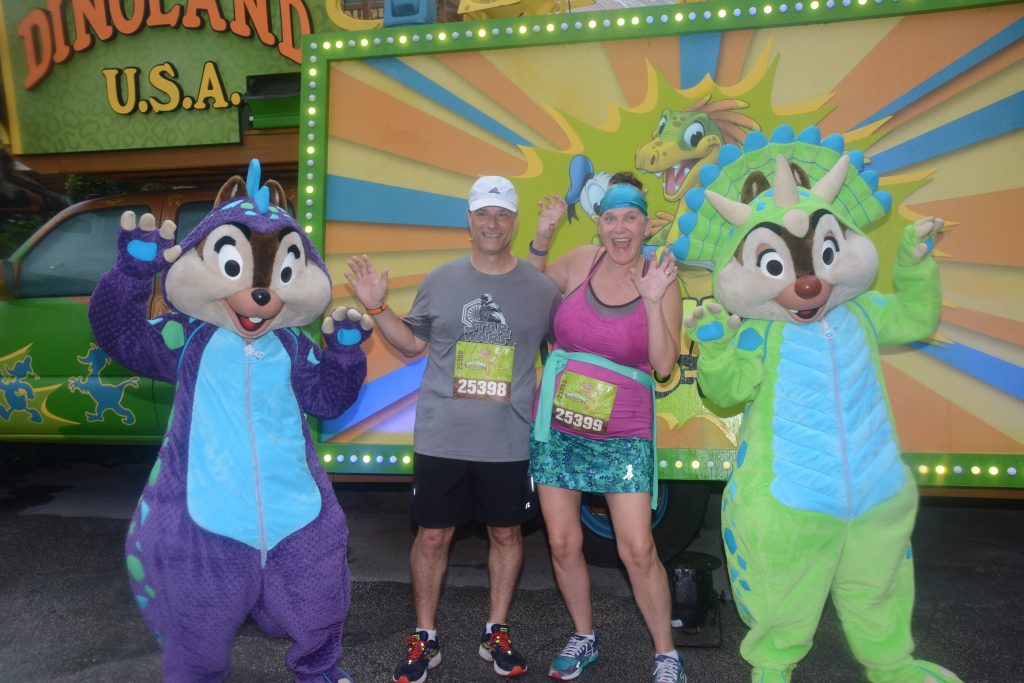 What's the best part of the Wine and Dine Half Marathon weekend?
I think you're going to get different answers to this depending on who you ask. I love the entire experience of runDisney, of the fireworks at the starting line and being able to run through the parks as the sun is coming up. I love everything about being at Walt Disney World during the Epcot Food and Wine Festival (because of course I do) and the camaraderie of runners and Disney lovers at the expo.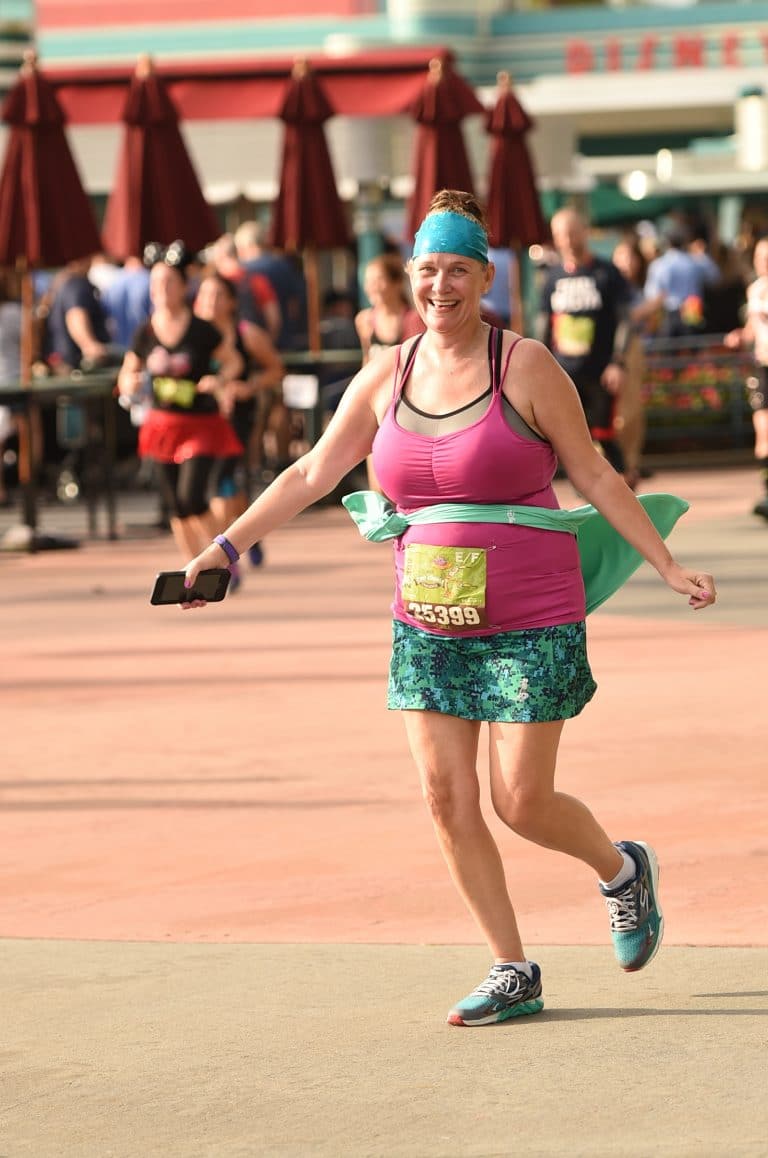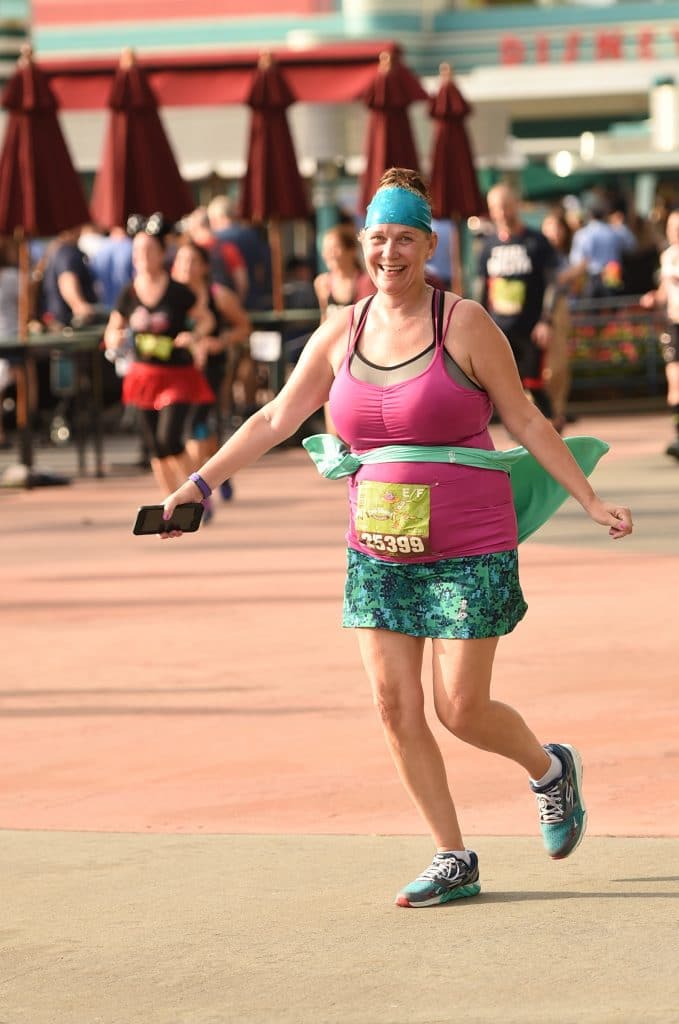 For you or for someone else, it might be the magic of meeting Oswald at mile eight or crafting the perfect runDisney costume…and, although I'm not a "run in costume" person, you will see some of the BEST running costumes at the Wine and Dine Half Marathon Weekend.
What's the worst part?
I'd hesitate to describe anything as "the worst." Obviously, I like the experience enough to keep coming back so there are no huge detractors for me. That said, there are definitely things that aren't my favorite.
One is the early hour. The races will start at 5:30 a.m., which isn't ridiculous to me. Walt Disney World needs to get the majority of the runners out of the way before guests start coming into the park. The unpleasant part comes with the bus service from the Walt Disney World Resort Hotels which run really really really (really really really really are you picking up what I'm throwing down) early. Your window will vary based on where you're staying but parking is very limited and everyone is encouraged to take the free transport. I am not sure what the people who are staying off-site do for transportation – if you've experienced this, I want to hear from you.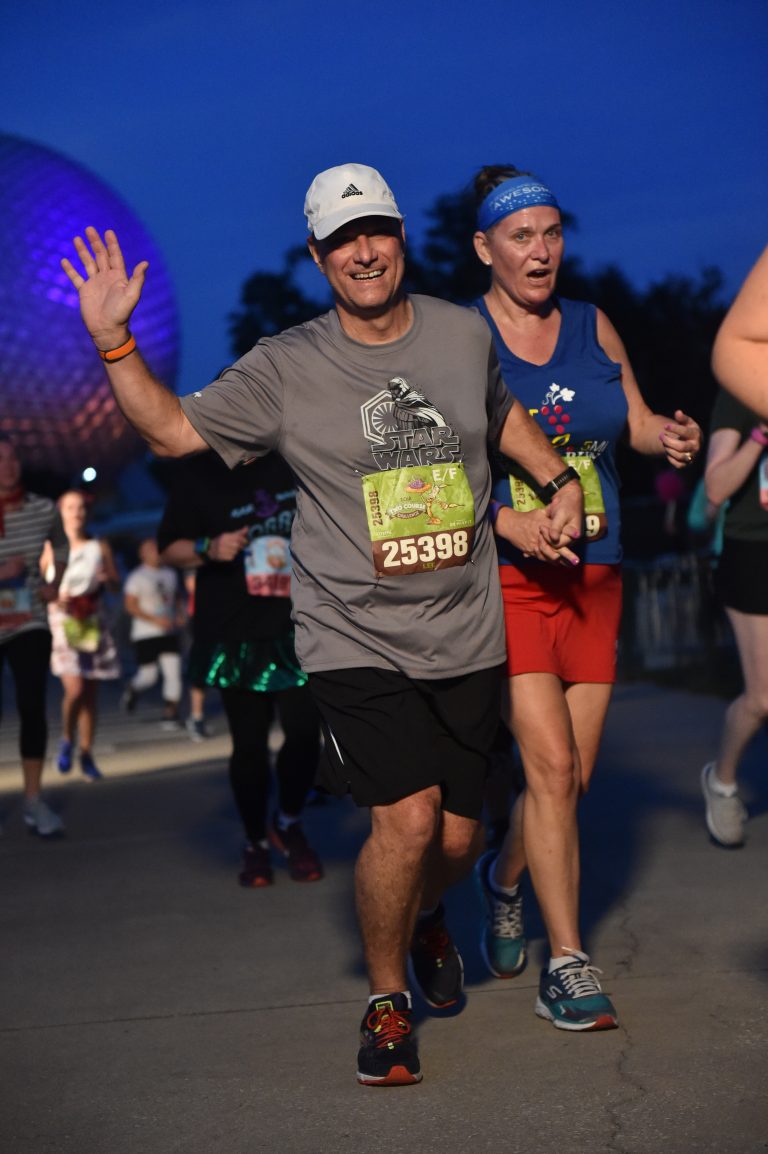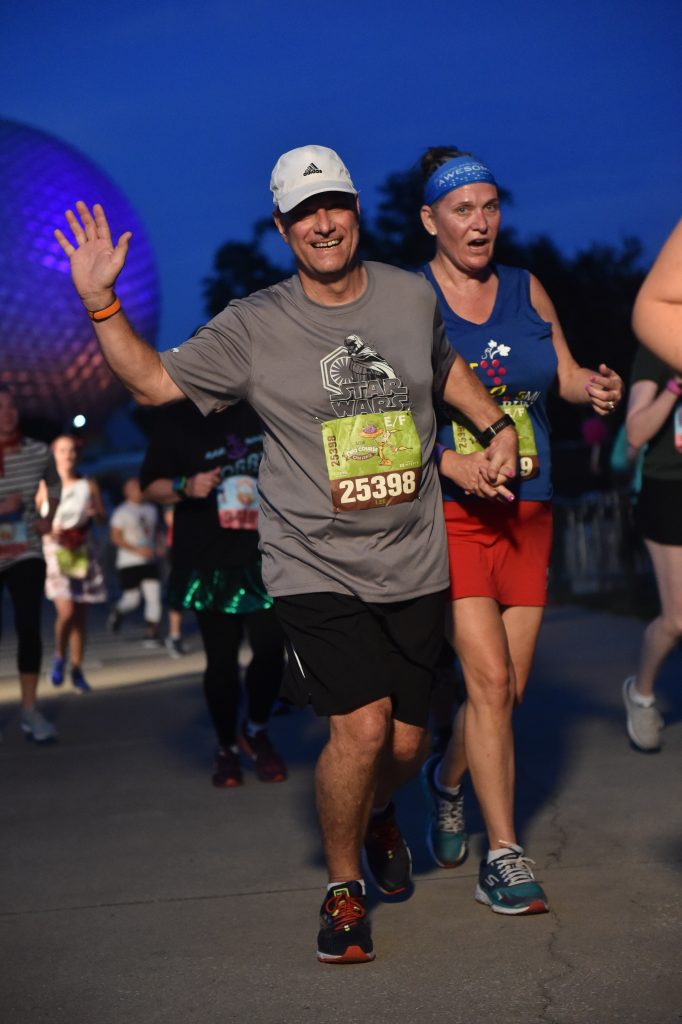 I can deal with the 5:30 start time (which will be more like 6:00 if you're in one of the slower corrals) but using the free bus service forces you to be at the start line even earlier than that…like at around 4:00 a.m. I am not fun to be around at 4:00 a.m. There is free entertainment, uncommon character meets and food and drinks for purchase in the start line area but I still don't dig anything very much at 4:00 a.m. I guess this is probably as close I get.
The bus departure times will vary based on resort, but you'll probably find you need to leave your hotel as early as 3:00 a.m. Ouch, right?
The second thing I don't love is portions of the half marathon course and lack of good runner etiquette that I see on said portions of the course. The half marathon course typically goes through Hollywood Studios and along the sidewalk that parallels the lake as you go toward the BoardWalk. This is a very narrow stretch of sidewalk that is not made for thousands of runners to go through. It typically gets very congested during the race (and this is at about mile 11, so you can taste the end but you're not there yet) and I've always experienced a major bottleneck. If you want to run/jog, you'll inevitably be behind a wall of walkers. If you want to walk, you'll be in front of a runner who is frustrated because he can't get around you. I've been both.
Although the runDisney events are definitely "real races" in every sense, my experience is that they tend to attract less experienced runners or people who might not have ever raised their hand to run a 13.1 mile road race if the word "Disney" weren't involved. And, while that's great, encountering someone not versed in runner's etiquette in a location that's not designed for a throng of runners isn't super fun. You get through it, though, and a sense of humor and some patience definitely will work in your favor.
When do I need to register?
Now! A runDisney race isn't something you typically sign up for at the last-minute (and especially not one of the shorter distances) because all races will sell out. The 5K and 10K will typically sell out faster than the half or the challenge races. In my experience, the challenge races (10K + half marathon) are the last to sell because only crazy people sign up to do that. Case in point (points to self.)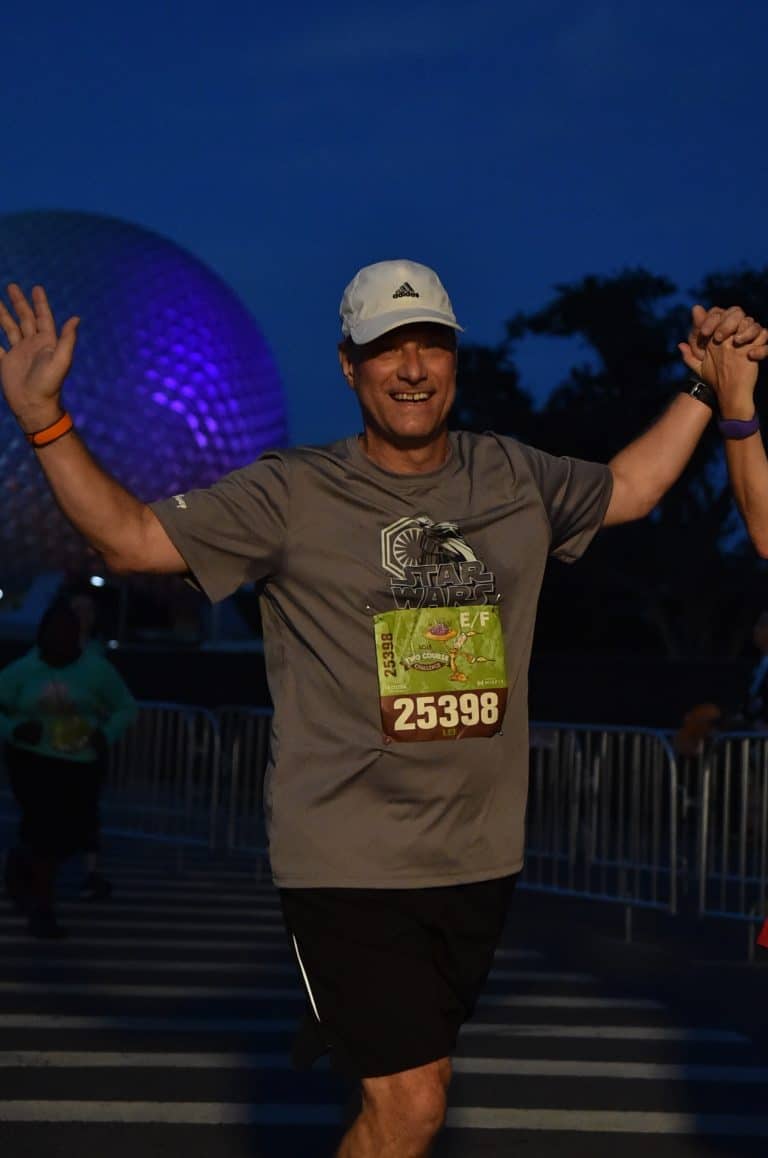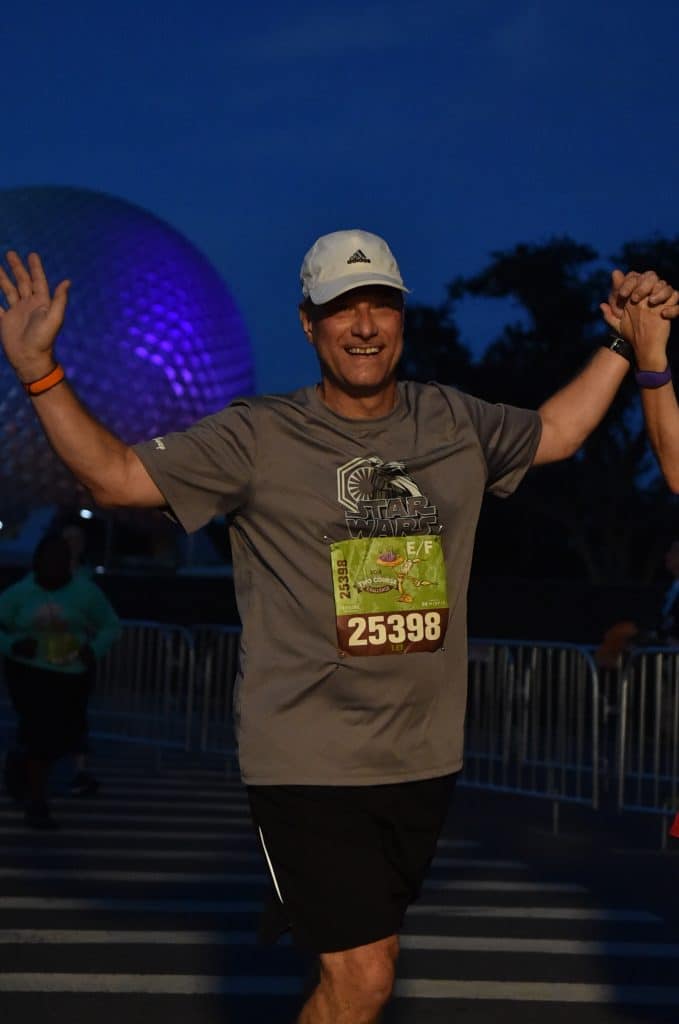 As of the publication date of this post (9 months until race weekend) everything is still open, but it won't be that way for long.
If you love running – or even if you don't love running and you've always wanted to sign up for that 5K – and you want to combine your love of running with Disney (during the Epcot Food and Wine Festival, no less) then give the Wine and Dine Half Marathon Weekend a try. We had a good time (I mean, it's Disney and if you're not having a good time you're doing it wrong) but we prefer the Star Wars races, mostly because we geek out over all things Star Wars and the character meets along the route are exclusively Star Wars characters that are rarely (if ever) seen at Disney outside the Star Wars races.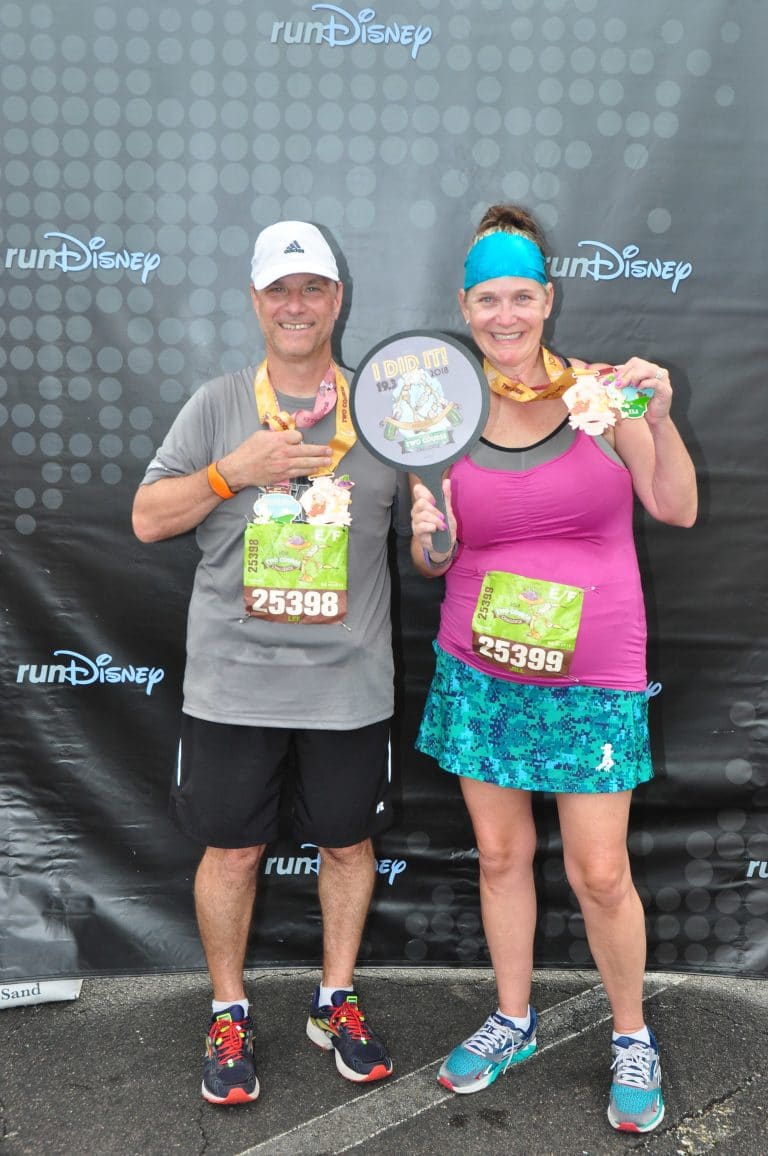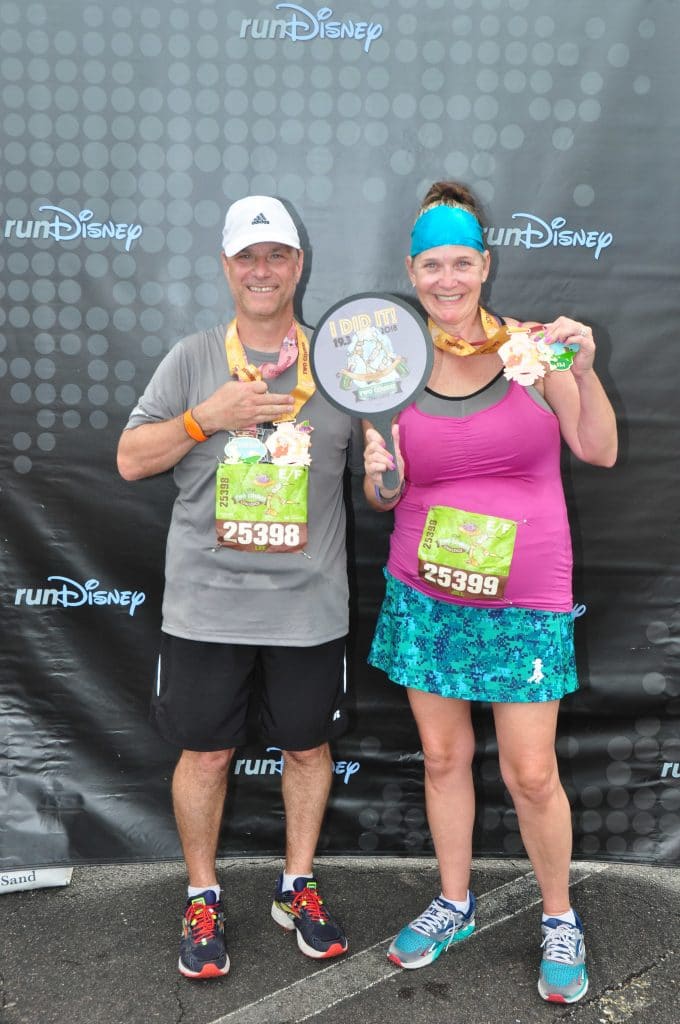 If you've participated in the Wine and Dine Half Marathon Weekend and have other feedback, please leave a comment or email me. Ditto for if there's something about this event that you want to know that I didn't address.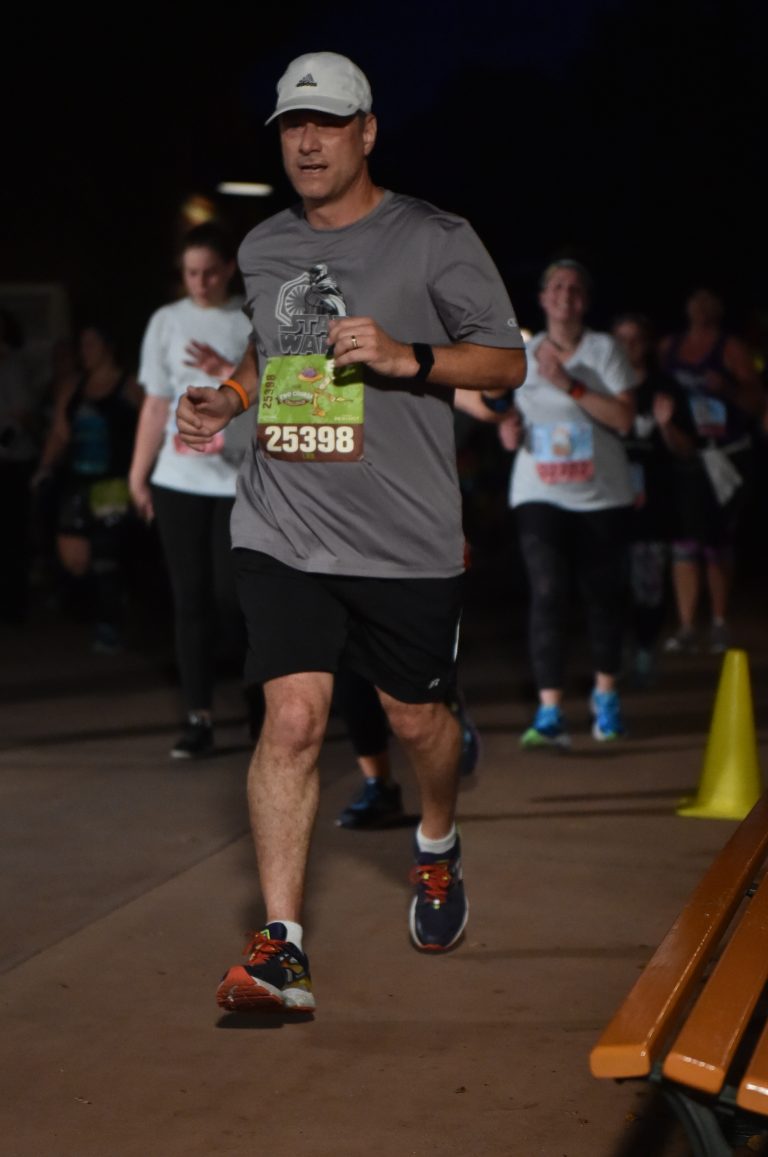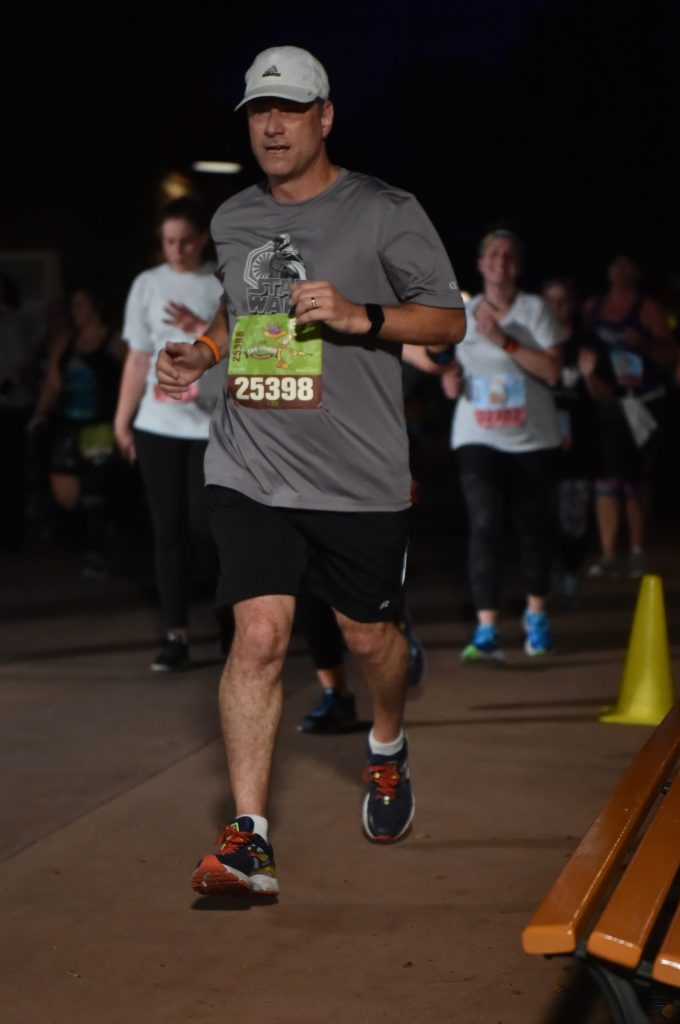 More reading:
What's coming to Walt Disney World in 2019 – News from the most magical place on earth!