Are you a Black Friday person? Does the idea of leaving Thanksgiving dinner to go camp out on the sidewalk outside of Target hold a certain appeal? Do you think people who go shopping at 3 a.m. are cray cray crazy? If you (or someone you love) is a Black Friday person, you'll appreciate this list of Funny Black Friday Memes.
I am hit or miss with Black Friday. The last couple of years, there hasn't been anything I really wanted to get up that early for but my husband has gone to check out the early deals at Home Depot and Lowes. Whatever. He can go to Home Depot and Lowes all the live long day as long as I don't have to suffer through that noise.
If you're looking for 2019's hot Black Friday deals, scroll to the end.
My daughter and I used to go out to Black Friday together. We'd usually hit J.C. Penny or Khols early in the morning, go to breakfast and call it good. It was something we did together and I miss it now that she is grown and flown.
When my daughter and I would do Black Friday together, we'd usually focus on linens, school clothes and maybe a few Christmas presents. If you've got the ability to handle Black Friday, you can get some amazing deals on clothes. I don't typically buy my kids a whole new wardrobe at the start of the school year. Instead, I stock up on Black Friday or Cyber Monday. You are welcome!
My own Black Friday experiences have been pretty tame. I've seen bickering families, parking lot road rage (is it still called road rage if it happens in the parking lot?) and that tense moment I witnessed between two women near a display of highly discounted fleece bathrobes. I don't have any epic stories of Black Friday related injuries or the big deal that got away. We have fun with it, get a few bargains and laugh at the crazy people. Although discreetly because you SO do not want to get on the wrong side of the lady who is uber-serious about getting a deal on fleece bathrobes. Never, ever.
If you want some tongue-in-cheek Black Friday humor, I've got some laughs for you with my Funny Black Friday Memes. Just to show I don't take any of this too seriously. Neither should you.
If you want to share the memes on Facebook, you can just click on the image and you'll magically go to Facebook. I super appreciate you sharing from the original source.
If you want to download the free printable, click this link:
Black Friday Funny Memes Printable
This is all the memes on one printer-friendly sheet. You can print them on magnet paper or card stock and give them to a friend that will appreciate the laugh. You can stick them on your fridge or send them to your Black Friday shopping bestie. I hope you enjoy them.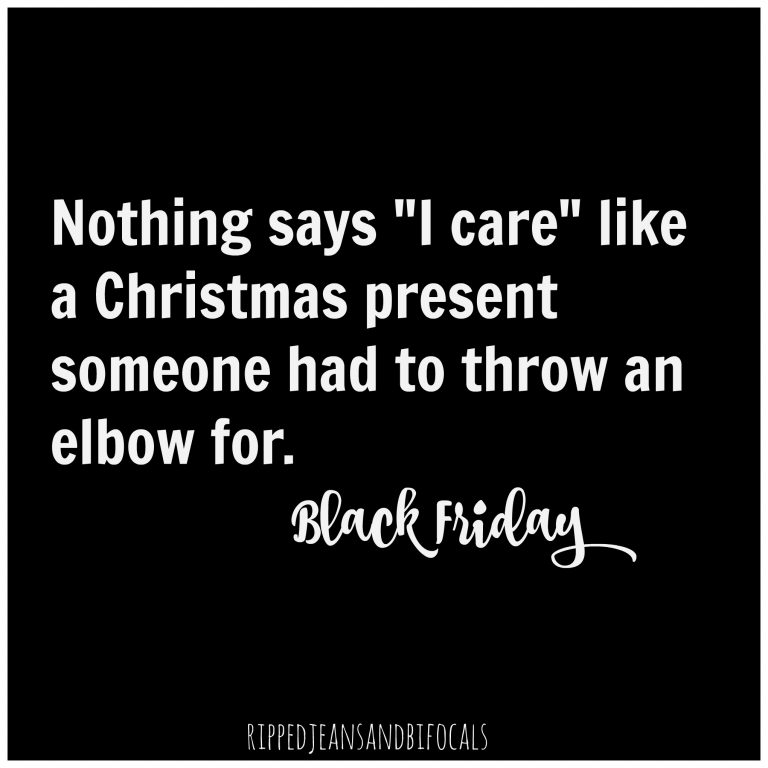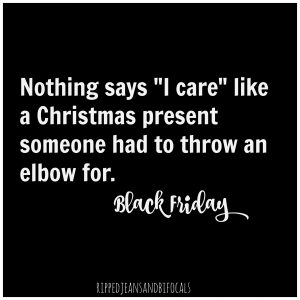 Thankgiving is my favorite holiday because there's no gift giving pressure and because I love to eat all of the delicious food. Mostly because of the eating, let's be real. Give me all the pie. All. Of. It.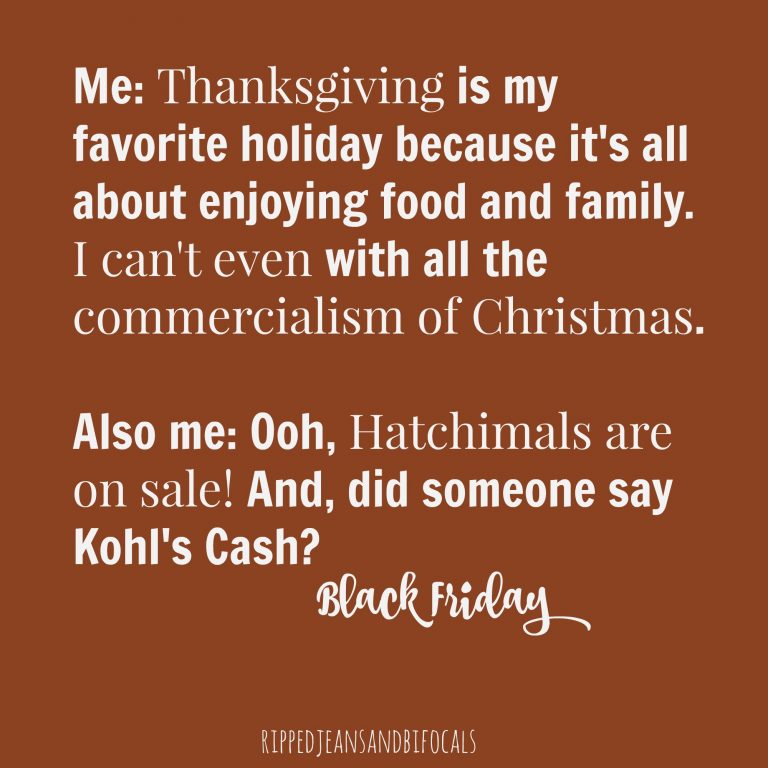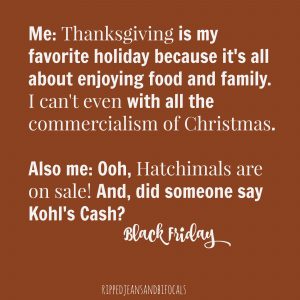 Ah, the lure of Kohl's Cash can be strong, can't it?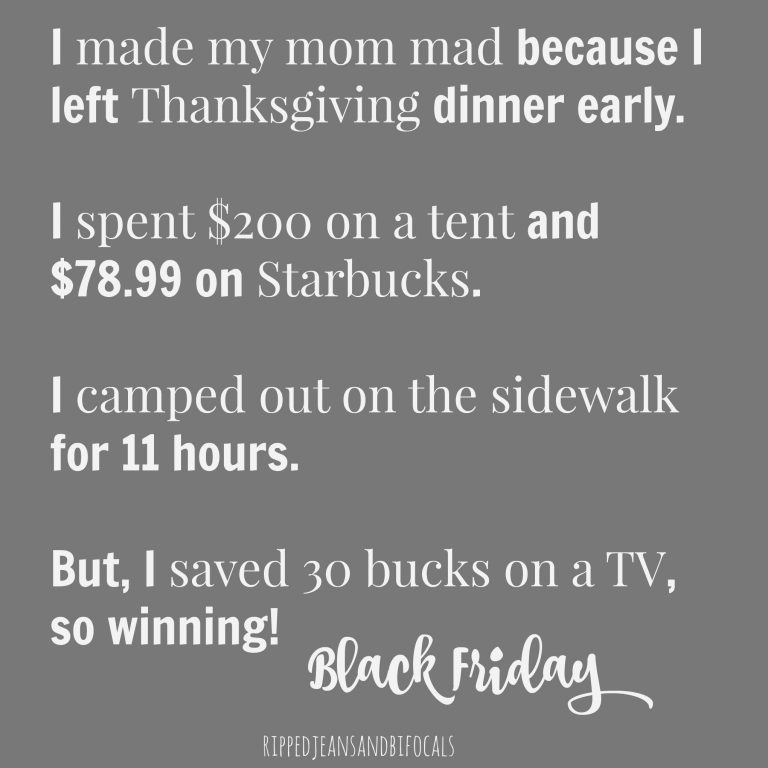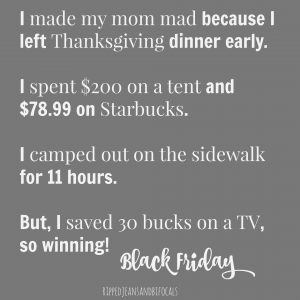 We've never been on board with the camping out foolery. You can get some amazing deals on electronics if you've got the preservereance to hang out on the sidewalk outside the store all night. I'm sure there's an element of fun in doing that, but it's not for me. We go to bed early on Thanksgiving (thank you, Turkey coma) and getting up at the crack of dawn to find crazy good deals on towels, graphic tees, and gift wrap.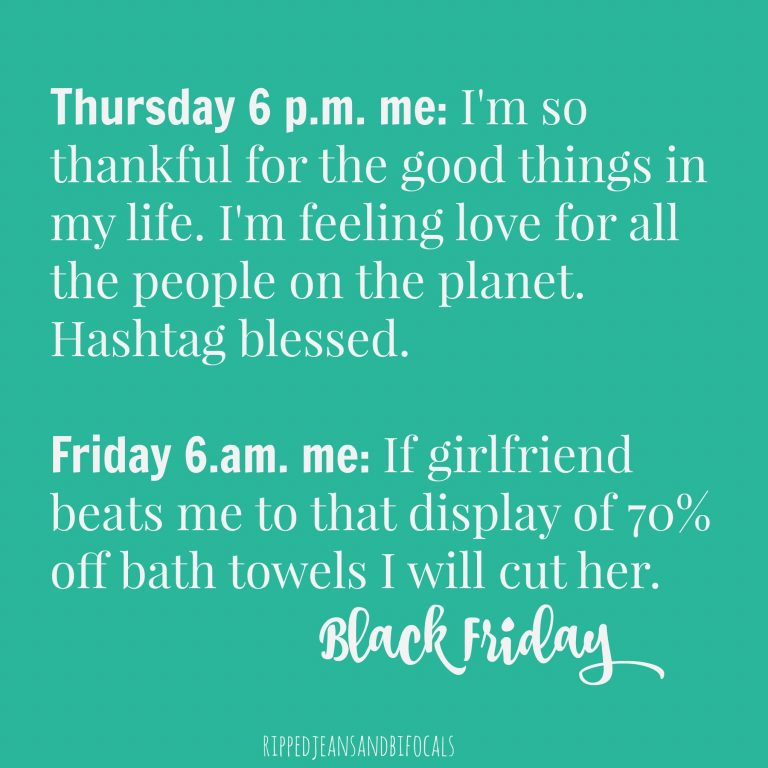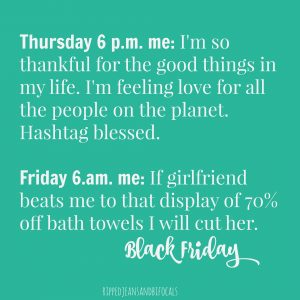 Thanks for reading. If you want to download my free printable, here it is again:
Black Friday Funny Memes Printable
Happy Thanksgiving, and, if you're a Black Friday shopper, stay safe out there. And, if you notice a certain zealous gleam in the eye of the lady that's standing too close to that display of highly discounted fleece robes? BACK THE HECK UP.
And, just to show I'm not all jokes and no practicality, I have some useful stuff for you, too. Several of my favorite bloggers joined together to create some resources to ease the strain of holiday shopping. Between the eight of us, we tried to cover all aspects of the holiday shopping experience from making the lists to getting the gifts wrapped and under the tree.
This bundle includes eight different printable sets all designed to help streamline your holiday shopping so you can get the best deals.
What you get:
Best Apps and Websites for Black Friday Shopping (from Katelyn at What's Up Fagans?) – Find out which apps you should download and which websites to shop through to save even more money during the biggest shopping weekend of the year.
Black Friday and Cyber Monday Checklists (from Corinne at Wondermom Wannabee.) I seriously need this level of organization. I'm not so sure about Black Friday but Cyber Monday and I have a date. I'll be wearing my pajamas.
Black Friday/Cyber Monday Mini Planner (from Herchel at Gym Craft Laundry) – Keep track of everything from your shopping buddies to your coupons with this mini planner designed specifically for Black Friday and Cyber Monday shopping.
Black Friday/Cyber Monday Shopping Lists (from Corinne at Wondermom Wannabe) – Simple, streamlined lists to help you easily track where your shopping, when, and for whom.
Black Friday Shopping Tips (from Joyce of My Stay at Home Adventures) – Shopping tips to help you score the best deals for the items on your Black Friday shopping list.
Christmas Shopping List (from Jamie of Life is Sweeter by Design) – An easy at-a-glance sheet to keep track of what you're buying for whom and whether or not it's been ordered, bought and wrapped.
Dear Santa Letter (from Stephanie of Parenting Chaos) – A fun and easy way to find out what your kids want for Christmas this year.
What to Buy Thanksgiving Day/ Black Friday/ Cyber Monday (from Raki of Outside the Box Mom) – Find out which day from Thanksgiving to Cyber Monday that you're likely to score the best deals on specific items.
DOWNLOAD THE BLACK FRIDAY/CYBER MONDAY PLANNING KIT FOR FREE
Receive all of the printables above for FREE when you sign up below. You're just one step away from having everything you need to have the best holiday shopping season ever!
This year's hot Black Friday deals:
Carter's/OshKosh B'Gosh – 60% off site-wide (no exclusions) + free shipping
Booking.com – minimum of 40% off all bookings through Dec 2
Disneyland – Adults pay kid's prices through Dec 2
You might also like: