The Ultimate List of Back to School Hacks for 2020
(This post may contain affiliate links. Read my full disclosure.)
This year is weird. Can we all just agree on that one?
I'm a summer mom. I love when school lets out for the summer and love the unstructured days and traveling with my kids that summer brings. While on some level I'm ready for my kids to return to full day school each fall, there's always that little twinge of sadness at seeing summer end. Everything is different now. How many times have you said that? Whether you're homeschooling, virtual schooling or sending your kids to physical school, everything feels different because it is different.
The Ultimate List of Back to School Hacks for 2020
So what's a parent to do?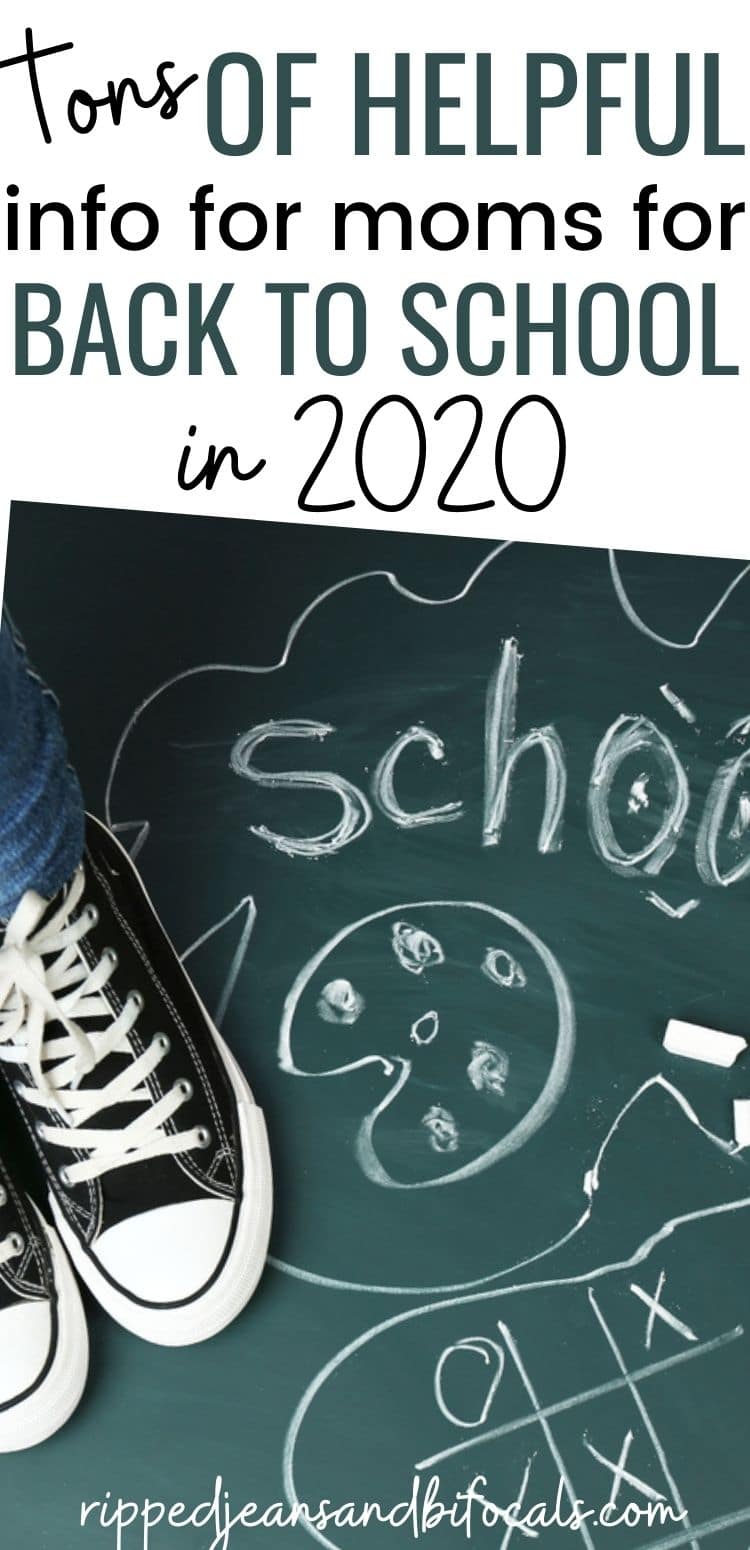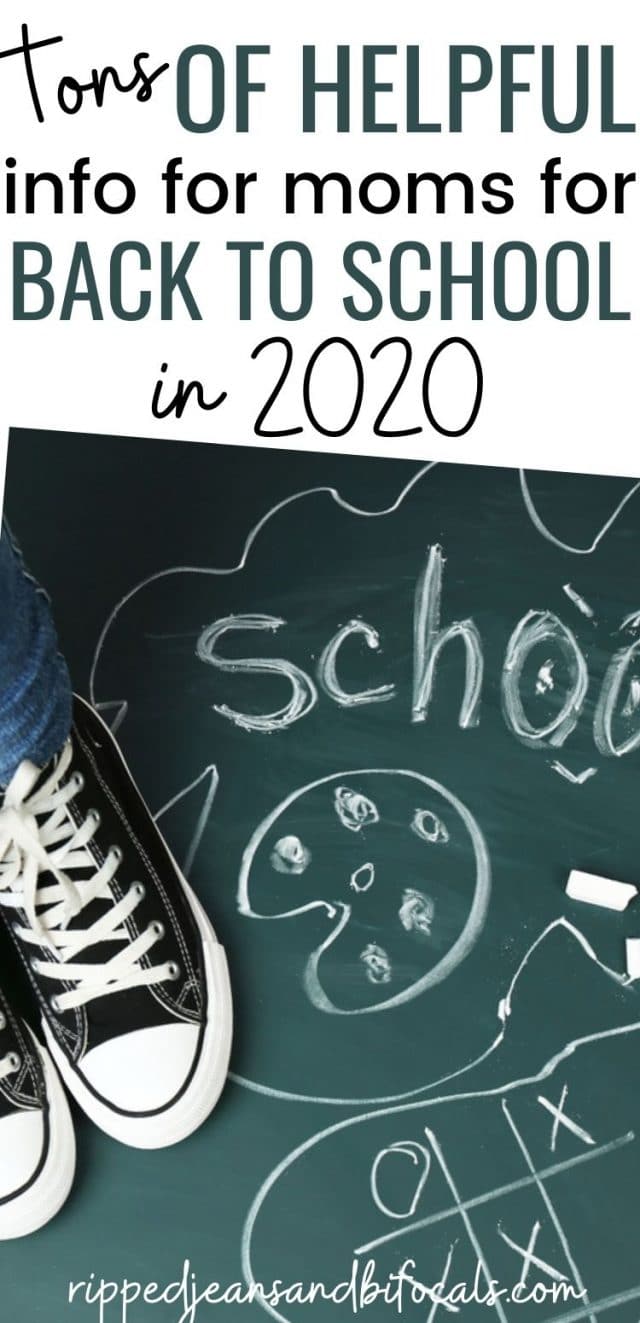 I don't claim to be perfect or to even have it all together. Although I have my moments where I'm on the ball, hot mess is usually a better way to describe me. I've decided my epitaph is going to be "Oh, was that today?" because that's the sentence I seem to repeat most often during the school year.
I put together this Ultimate List of Back to School Hacks for myself as much as for all of you. This living list of resources and inspiration will offer everything from practical tips to get you through remote learning to meal solutions to product suggestions to things that will hopefully make you laugh and remember not to take things too seriously.
Bookmark, copy the link into a note and check back often for the freshest content. New content is being added daily. Have an idea for content that will fit this series? Awesome. Email me at rippedjeansandbifocalsblog@gmail.com
Meal Solutions
NEW – Back to school meal planning + free printable meal planner
Back to School Meal Planning Tips + Free Meal Planning Printable
1. Lunchbox Ideas (that aren't sandwiches)
Outside the Lunchbox: Easy School Lunch Ideas & School Snack Ideas
2. 25 Easy Taco Night Recipes!
Because we all need easy right now.
3. 25 Super Easy Crock Pot Meals
These tried and tested Crock Pot/Slow Cooker dinners are the perfect solution for "I don't know, what do you wanna eat tonight?" problem I seem to have all too often at around 5 o'clock when my family is being pulled in a bazillion different directions.
4. 41 Pork Tenderloin Recipes That Will Save Dinner Time
Pork Tenderloin is easy and versatile and a great meat to stock up on when it goes on sale. Here are some ways to serve it that are both easy and "Wow, I never thought of that."
Practical Tips
NEW – PUMPKIN BANANA SMOOTHIE – made with peanut butter & cinnamon, this is a protein-packed meal solution or easy snack idea just right for this time of year.
1. Desk Organizer (Desert Chica)
If you're looking to better organize your home learning space, this easy hack uses toilet paper rolls, cardboard boxes and duct tape. It comes together really nicely and it's a fun way to utilize recyclables.
Get directions here.
2. Lunchbox Printables to make your child smile
There are two sets of free printables to tuck in your child's lunchbox – or set near (or under) their plate if you're learning at home – to make your kids smile.
3. How to handle home learning without losing your mind.
Drink wine in the closet and cry. The end. I'm kidding! I might not have this 100 percent down pat but I do have some things that have helped me – and it starts with being kind to myself and a lot of deep breaths!
4. 25 AFTER-SCHOOL SNACKS (MIA CUPCAKE)
This is from Mia Cupcake and although the title lists this as "after school snacks for teens", these snacks are great for all ages.
5. HOW TO HANDLE REMOTE LEARNING WHEN YOUR CHILD HATES IT (LIFE WITH TANAY)
Back to School Shopping + Products That Are Getting Me Through This Insanity
1. FREE lunchbox with purchase of backpack at OshKosh B'Gosh…
…plus 50% off site wide and 50% off clearance
Score a FREE lunchbox with purchase of backpack OSHKOSH B'GOSH
1. A Letter to my pre-pandemic self
What I would have wanted "March me" to know. Nobody could have seen any of this coming but it was fun (and cathartic) to take this little look back. I hope you enjoy!