Best Subscription Boxes for Christmas Gifts
(This post may contain affiliate links. Read my full disclosure.)
If you're looking for unique Christmas gifts or a holiday gift that keeps giving throughout the year, consider a subscription box. I've curated this list of the best subscription boxes for Christmas gifts in the hopes you'll find that perfect gift you're excited about giving.
This post contains affiliate links. I may earn a commission from the seller if you purchase from my links. Thank you for supporting.
This list of best subscription boxes for Christmas gifts is a combination of subscription boxes I've tried, subscription boxes for women that are on my "want to try" list and reader favorites. Most of these are subscription boxes for women but there are a few that can be enjoyed by anyone and a few just for kids. Use the table of contents to jump to what you want to check out first.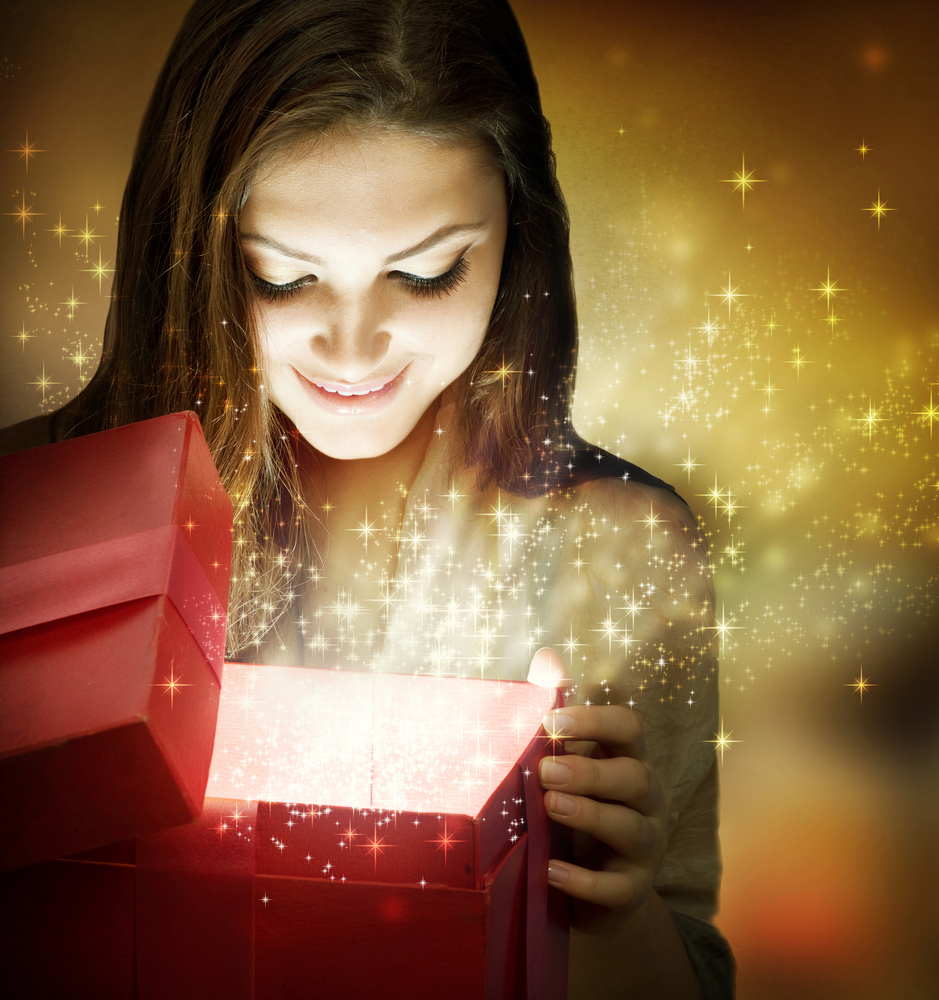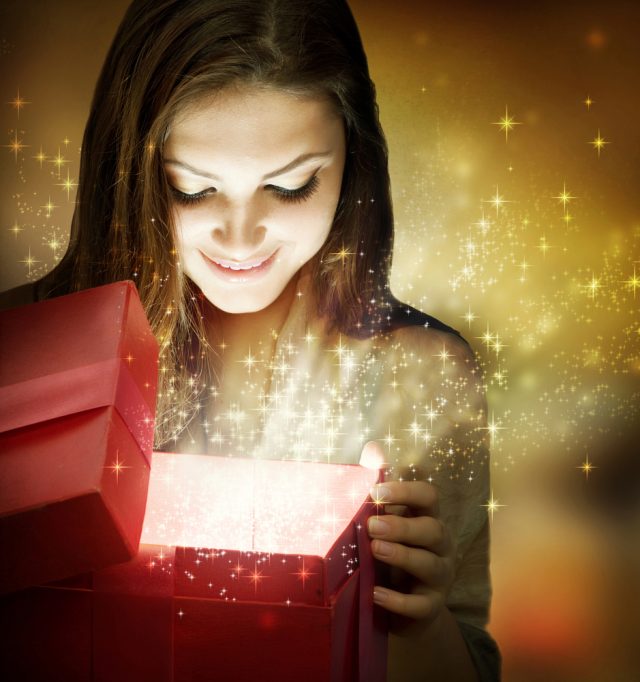 Make holiday shopping super easy with these best subscription boxes for Christmas gifts
Christmas is not cancelled but for a variety of reasons, many of us are doing less in-store shopping than ever. During "normal" years, online shopping is the way to go for lots of people. No trolling for parking spaces, standing in long lines or dealing with crowds of people. This year, avoiding crowds is more important than ever.
A subscription box makes a great gift because you're literally done with your shopping as soon as you order online. You don't have to wait for something to be delivered to you and you don't have to deal with wrapping or re-shipping the gifts. You don't even have to remember to put them in the trunk of your car on your way to grandma's house.
Lots of these best subscription boxes can be given as single boxes if you are working with a smaller budget or don't want to commit to a longer-term gift. Some of the subscription boxes for women, such as the beauty subscription boxes, have very budget-conscious options that will allow you to send a gift for six or 12 months for just a small monthly fee (although you'll usually save if you pre-pay for a longer term.)
Have a subscription box you give rave reviews to that you don't see here? Tell me about it so I can check it out.
Beauty and Grooming Subscription Boxes for Women
Here's a sampling of my favorite beauty subscription boxes for women.
Glossybox
Glossybox is a beauty subscription box that delivers five items worth at least $60 to your door. From makeup to skincare to hair care, discover old favorites and the most exciting new beauty releases wrapped in a premium, hand-tied box.
Several subscription plans are available. Starts at $18 per month.
If you really want to splurge on a nice gift for someone – or for yourself – grab this beauty advent calendar box.
Here's a sneak peek at the Beauty Advent Calendar from Glossybox:
Birchbox
Birchbox is a beauty/grooming subscription box that's actually a box. The products (5 sample sizes monthly) are great but I loved the study, whimsical box and seeing the different designs that come every month. If you are a crafter, there are lots of fun ways to re-purpose the boxes.
Ipsy
Ipsy Glam Bag is a monthly beauty subscription service featuring five products in a makeup bag each month. You'll get four trial/travel sized products and one full-size product. This is the beauty subscription box I'm currently using and I like it a lot because I'm on the go a lot and I can use the small sizes. This also gets me trying new brands that I might not have otherwise discovered.
You can also try Glam Bag Plus which features 5 full-sized products or Glam Bag Ultimate which features 8 full sized products and four deluxe sample sizes.
With all the Ipsy bags you get the opportunity to add on products and you can order full-sized products if you want them.
Boxy Charm
Boxy Charm is a beauty subscription box containing five full-size products for about $25. You can also opt into Premium or Luxe boxes that contain larger amounts of full-size products for add-on prices.
Like the other beauty subscription boxes listed, Boxy Charm features higher-end products at drugstore prices.
The next two boxes typically contain a lot of beauty and grooming problems but they're not exclusively beauty boxes. Both are very popular with customers.
Fab Fit Fun
Fab Fit Fun is a popular lifestyle and beauty subscription box. The box contains over $200 worth of products for $49.99. Subscriptions are billed annually and the boxes are shipped four times a year.
Grab your FabFitFun Members Picks Box
Causebox
Causebox is the box with a heart. It's got clean beauty products, sustainable home items and more. All products are ethically made, cruelty-free and sustainably sourced.
Best Subscription Boxes for Date Night
A date night subscription box allows you to connect with your partner without leaving your house. The cost of a date night subscription box is much less than a night out and you'll get new activities every month that allow couples to be creative and focus on each other.
Night In
Night In is a date night subscription box*. It's a fun to give to a couple or to give to your spouse or partner. It includes supplies and activities for a date night in and includes recipe ideas and a playlist. In a time where people aren't going out as much as they used to, this is a fun way to bring that date night magic back.
Boxes start at just a little over $40 per box. If you want to gift this, you can purchase gift cards from $50-$475 and allow your giftee to select their own box plus any add-on's they'd like to choose.
Whether you miss going out or you're a happy homebody, these Night In boxes are a fun way to bond. Kids night boxes also available. Check out their selection and grab your box (or gift one!) here.
Crated with Love
Crated with Love is another date night subscription box. You can order a single box – their website does a great job at describing what you'll get with the box – or you can sign up for their subscription service to receive date night boxes on a regular basis.
Check out the unboxing I did for my You + Me Yosemite box:
Order your Crated with Love box here.
Meal Prep Subscription Boxes and Food Subscription Boxes
Meal prep subscription boxes are popular and for a good reason. You get good, creative and (usually) healthy food that's premeasured and ready to cook. If someone on your gift list loves cooking, this is a fun way to experiment with new ingredients or dishes. One of our Blue Apron meals was a flatbread pizza with slices of sweet potato on top, which honestly sounded horrible. It was anything but. We'd probably have never tried something like that if it hadn't been in our meal prep box.
Meal prep boxes are great for when you're in a meal planning rut or when you're tired of the same meals you have in your dinner rotation.
Dinnerly
Dinnerly is an affordable meal box that starts at less than $5 per serving. You pick your meals and your delivery date. Your ingredients are delivered to your door in an insulated container. You cook, and, as their website says, "feel like a dinnertime wizard."
Daily Harvest
I've been loving Daily Harvest lately. It's my little thing I'm doing for me to get more fruits and veggies into myself. The smoothies have been a good solution for me mid-afternoon, which is when I'm most likely to grab something not so good for me. They fill me up, satisfy my sweet cravings and help me maintain the right threshold of fruits and veggies.
Daily Harvest is good for you food based on fruits and vegetables. You can set weekly or monthly delivery and choose from 14 or 24 items delivered at a time.
Daily Harvest has a selection of smoothies and healthy bowls as well as other options, such as flatbreads and soups. Use my link to try it out here. You can also use my code RIPPEDJEANS to get $25 off your first order, which is a pretty substantial savings.
Hello Fresh
Hello Fresh is a meal box that starts at around $5 per serving. What I like about Hello Fresh is that they offer a ton of flexibility up front and their interface is easy to understand when you're signing up. Hello Fresh has programs for families, vegetarians, pescatarians and calorie smart. They also offer a "quick and easy" option. Sign up or gift a Hello Fresh box here.
Blue Apron
Blue Apron is a meal box that starts at less than $8 per serving. You pick your meals and your delivery date and your ingredients are delivered to your door in an insulated container.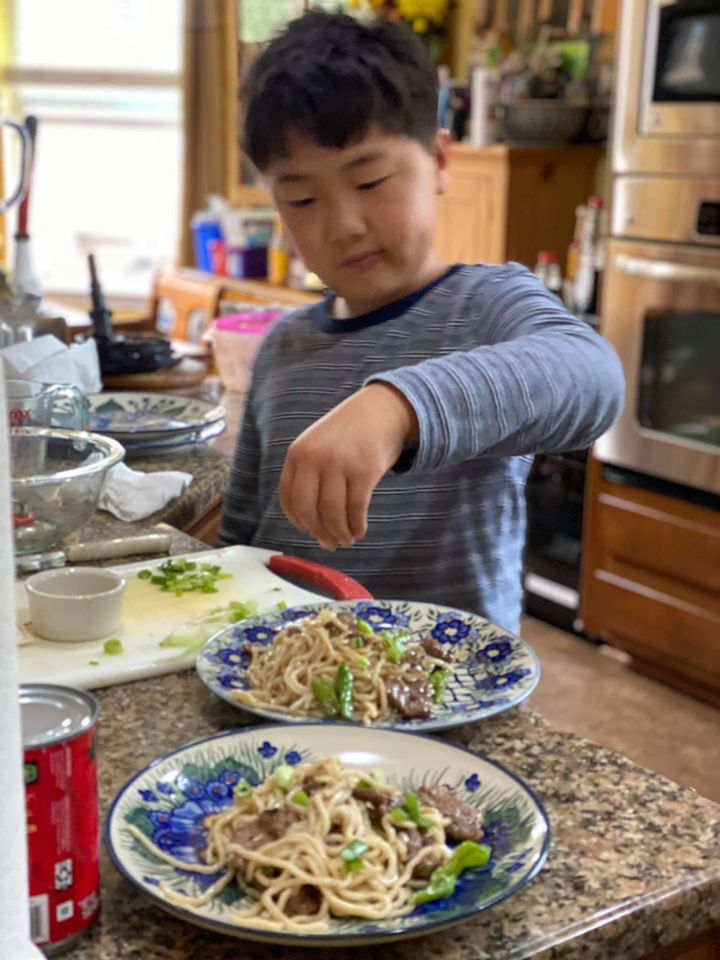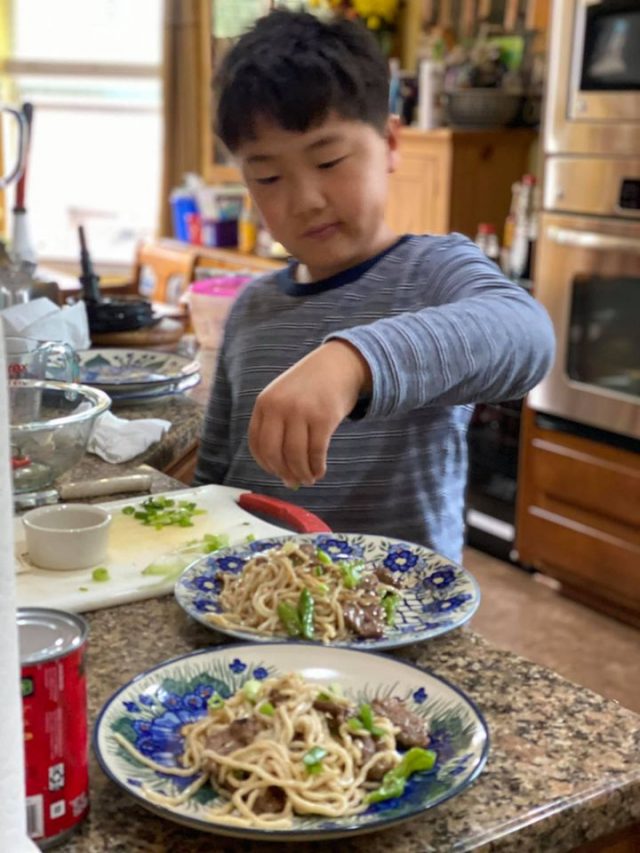 We've enjoyed about 90 percent of our Blue Apron boxes. Some of the meals were a little too adventurous for one of our kids and we found a lot of variation in the portion sizes. I recommend Blue Apron for someone who knows their way around the kitchen. There's usually chopping and slicing involved, so it's a little more than just dumping pre-packaged ingredients into a pan. We also found the prep times listed to be a little ambitious but overall, we really love the service, how everything is organized and prepped, and the variety in the recipes.
Freshly
Freshly offers single-serving heat and eat meals. Think of this as a modern, healthy twist on frozen entrees.
This is makes a perfect gift for single people or college students. They also make great lunch options for someone who is home during the day. Plans start at $8.49 a meal, which is on the higher side but it's probably cheaper than most fast food meals and definitely more nutritious.
Use my link to gift (or order for you!) and get a discount with your first order:
Yum Box from Universal Yums
The Yum Box is a selection of unique snacks from around the world, complete with a guidebook containing trivia and interactive games. Receiving your boxes month to month will run you $15 per box. You'll save by doing a year of pre-paid boxes – that works out to $13.75 per month and makes a nice little gift in someone's mail every month.
You can also get a Yum Yum Box or a Super Yum Box that have more things to try. These larger boxes might be better for parties, offices or larger families.
Want to save this list to come back to later? Pin this to Pinterest: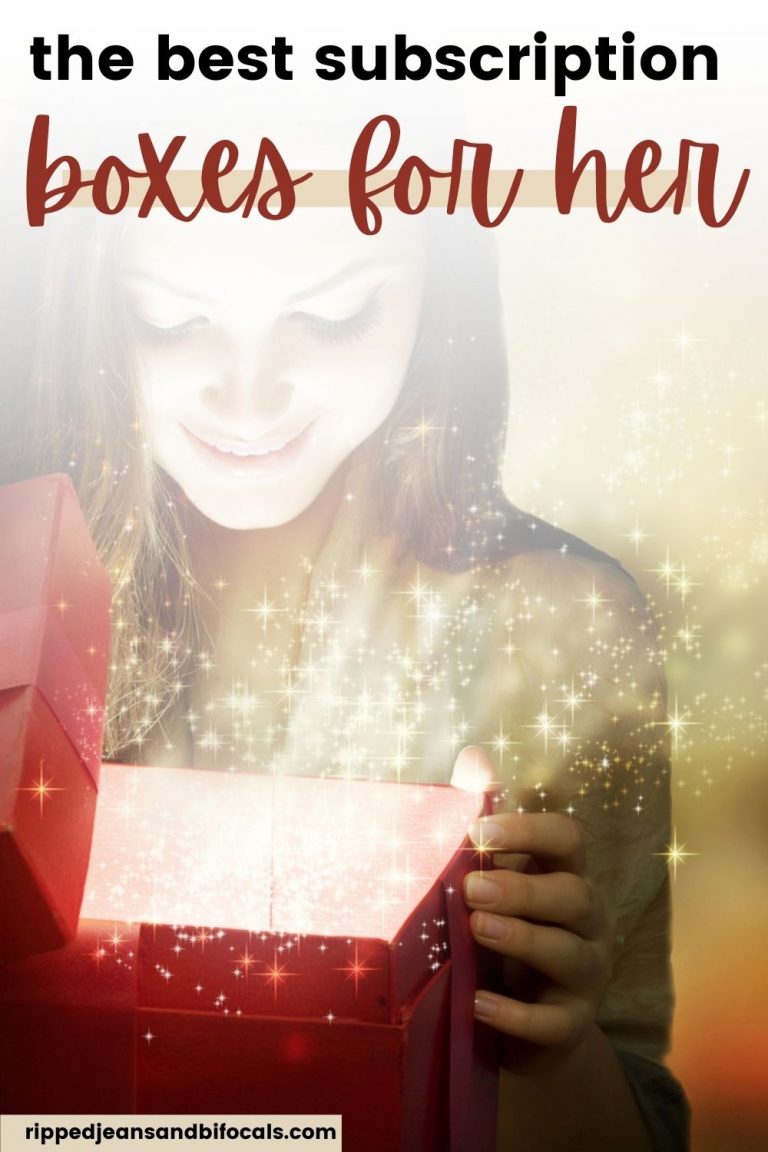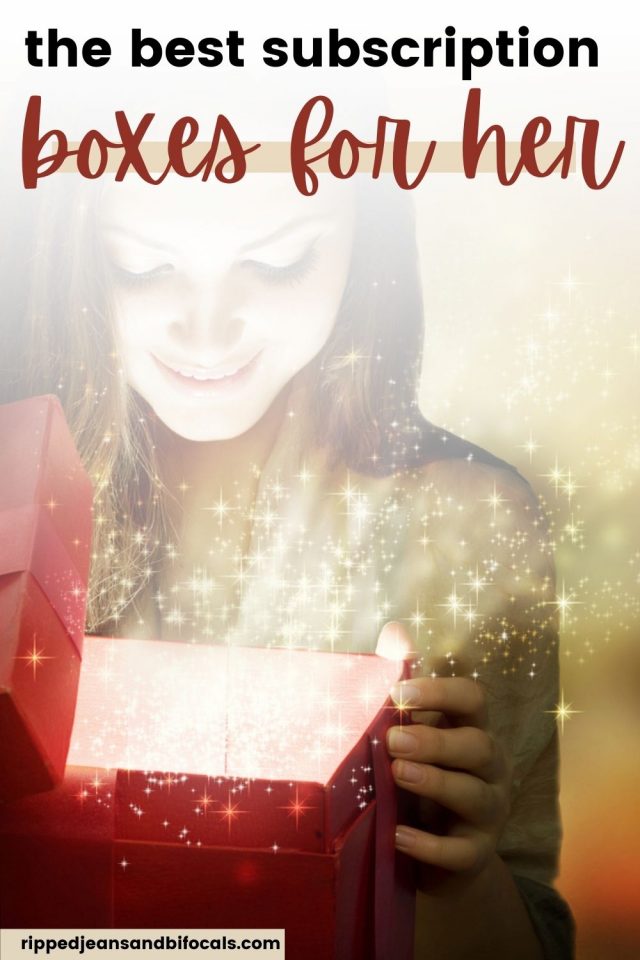 Clothing & Accessory Subscription Boxes
Stitch Fix
Stitch Fix is a clothing subscription service for women, men, and kids. They also offer women's plus sizes. You fill out a style profile and select what frequency you want to receive your box (you can pick from every 2-3 weeks to on-demand and lots of choices in between. You'll have a chance to let your stylist know of any special requests – upcoming vacations, closet needs, etc. – before your box is styled.
Your card is charged a styling fee when your stylist begins selecting your items. You'll get five items at a time and you keep only what you want to keep. Your styling fee is deducted from your purchases and if you keep all five items, you'll get a discount. If you choose not to keep anything, just send the items back in the prepaid shipping envelope. It's pretty easy.
Order your fix using my link here.
Wantable
I. Love. Wantable. It's my new favorite. I just got the Active Edit – a box for women dedicated to active wear/athleisure and everything was on point. They also have Women's Fashion boxes and Men's Fashion boxes and several specialty boxes – called edits – throughout the year. I'm waiting on my Holiday edit right now. If I love everything as much as I did my Active box, my pocketbook is in trouble!
Wantable works similarly to Stitch Fix but the amount of info they ask on your style profile is very, very detailed, so prepare to spend some time filling it out. This is the only subscription box where I really felt truly listened to. We'll see if it was beginners luck.
Dia
Dia is a plus-size clothing subscription box for women sizes 12 and up. Dia works similarly to Stich Fix, but you get the choice of picking what you want in your box from their website or allowing their stylist to select for you. You can also do a combination of the two.
Similarly to Stitch Fix, your card is charged when your Dia box is styled. You'll get the clothes and the style notes, plus a few days opportunity to try on the clothes at home. I don't have the same level of experience with Dia as I do with Stich Fix – I've got many, many Stitch Fix boxes and only two Dia boxes – but their pricing seems to be a little bit lower overall and their clothes feel a little more casual and sporty. Their exchange process is also really easy.
This top and shorts both came from Dia. Perfect for our "Texas fall."
Try your own Dia box or gift it using my link here.
Rocksbox
Rocksbox is a jewelry subscription/rental service. You'll pay a monthly fee of $21 and you'll get three pieces of jewelry at a time. When you're done, ship it back – shipping is free both ways. If you want to keep instead of send back, you can apply your $21 credit toward purchase.
You have the option to pick out your jewelry or have a stylist select for you. The jewelry is good quality fashion jewelry and this is a fun way to try out different looks or keep your style fresh.
MeUndies
MeUndies is a website that sells underwear, socks and loungewear. If you're looking for matching his and her underwear, this is your place. While not a subscription box per se, MeUndies does have a membership option that lets you stock your drawers (see what I did there?)
MeUndies is a reader favorite that I'd not heard of until recently and it's definitely worth a look for unique gift ideas. They also have plain underwear.
Subscription Boxes for Kids
Kiwi Crate
A Kiwi Crate is a kid's activities box centered around art and science. You'll be able to look at different lines and select the box that best suits your child's interests. There's a Kiwi Crate for every age group.
Use my link to order with a discount:
Raddish Kids
Raddish Kids is a monthly culinary box for kids. You can purchase single boxes or pay up front for a six or 12 month membership. Included in each box are three recipes guides, a creative kitchen project, and kid-friendly tools and collectibles. Six and 12 month memberships include a kid's apron.
Raddish Kids boxes are appropriate for kids ages 4-14 and there's also a Facebook Group where you can connect with 26K other families who use Raddish Kids. Order your Raddish Kids box here.
Lilypost
Lilypost is a book subscription service for babies and very young children – up to seven-years-old. You can choose from board books or picture books or a combination of both.
Start your subscription or gift someone here
Owl Crate Jr
Owl Crate Jr is a book subscription box for middle grades (8-12 years.) Every box will contain a brand new middle-grade novel, as well as a bunch of magical goodies that are both fun and educational. Examples of items would be cool activity kits (science, art and more!), notebooks, bookmarks, writing utensils, collectible toys, and other cool things!
Each box is as gender neutral as possible.
There's also an Owl Crate subscription box for adults but there's currently a waiting list.
Other super cool subscription boxes
Succulents Box
If you have a succulents lover on your Christmas gift list, this Succulents Box is an awesome way to let them enjoy some self care and greenery on a regular basis. You have lots of options with this one – a one plant per month subscription box is only $5. This is such a cute way to show someone some love all year around.
Smartass & Sass
Smartass & Sass is described as a "box for sassholes." It takes a certain kind of person to appreciate this type of box. You'll find punny – and sometimes sweary – mugs, wine tumblers, tee shirts, tote bags, doormats and more. Subscribers have the choice of three levels: tee shirt only, a regular size box and a big box. The subscription boxes are around $35-$45.
Out of all the boxes on my list, this is the one I would most hope someone would order for me.
Pop in a Box
If someone on your list is a Funko Pop fan, this is a great choice. They've got all the latest Funk Pop's in stock on their site.
My Geek Box
My Geek Box is a must check out for any true pop culture lover or that person who just has you stumped on what to get for them. Each box contains 4-5 items (one will be a t-shirt) and run $24.99.