Get ready for Turkey Day with this Thanksgiving Checklist
(This post may contain affiliate links. Read my full disclosure.)
Thanksgiving is my favorite holiday but I'm not always as organized as I'd like to be. Enter the Thanksgiving Checklist I'm sharing with you to help us all stay on track.
Get ready for Turkey Day with this Thanksgiving Checklist
I love Thanksgiving because it's not a commercial holiday – there's no gift buying and the decorating pressure is minimal. I usually decorate for fall in October and call it good until it's time to put up Christmas stuff.
Also…FOOD. I do love to eat. And, although I love to cook, too, sometimes preparing for Thanksgiving is overwhelming, which is why I've designed this Thanksgiving checklist that includes absolutely everything you need to remember to rock your Turkey Day.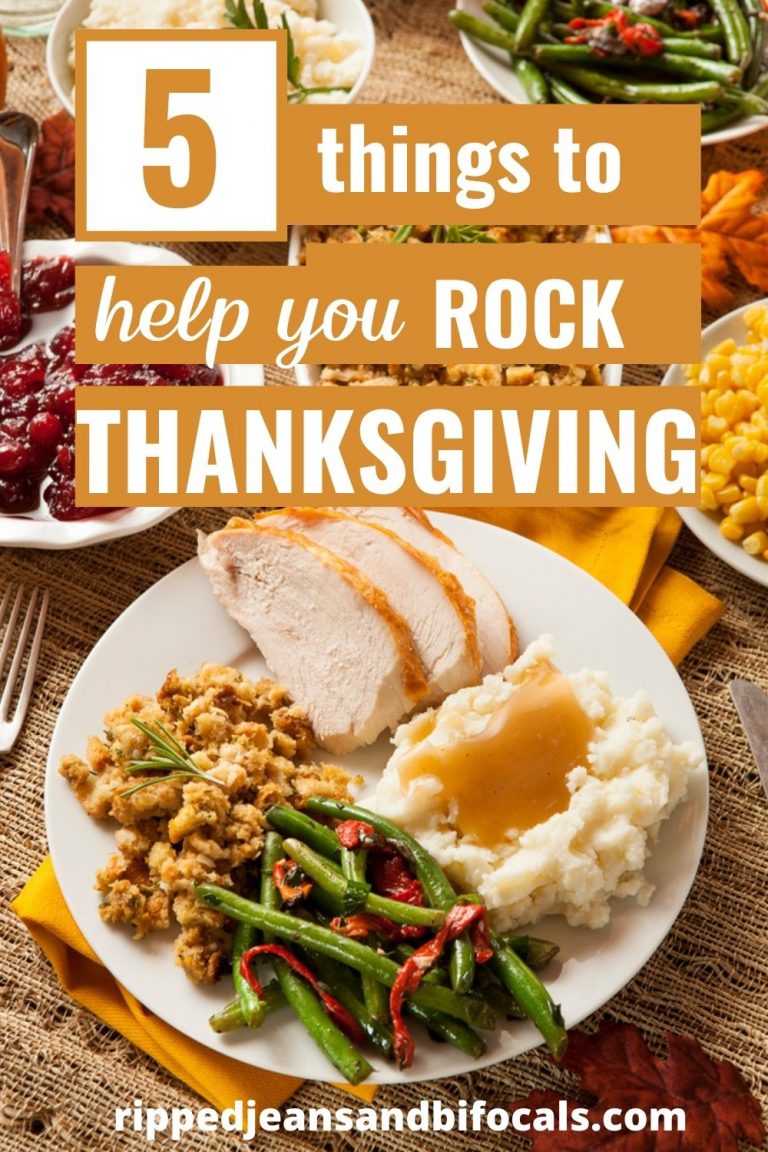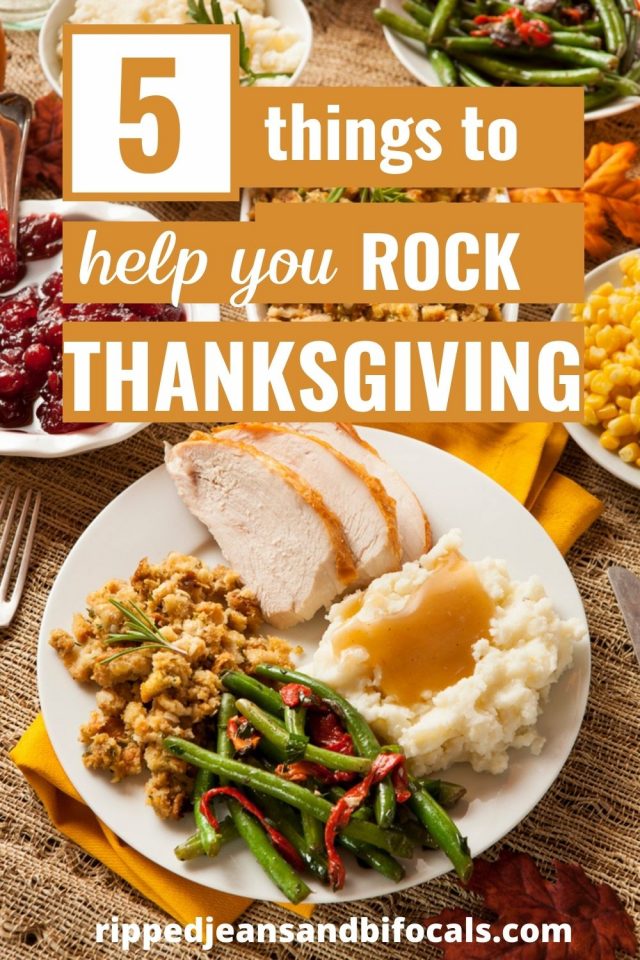 Preparing for Thanksgiving
Thanksgiving, like most holidays, seems to always sneak up on me. I think about what I need to do about six weeks out and then I tell myself "I've got loads of time" and then suddenly, Thanksgiving is next week and I'm at the supermarket looking at picked over turkeys. Sound familiar?
No matter what type of planner you are – or aren't – I hope this Thanksgiving Checklist helps you out. Not all of the items are going to apply, so just print off your copy, cross of what you know you won't need, and start planning.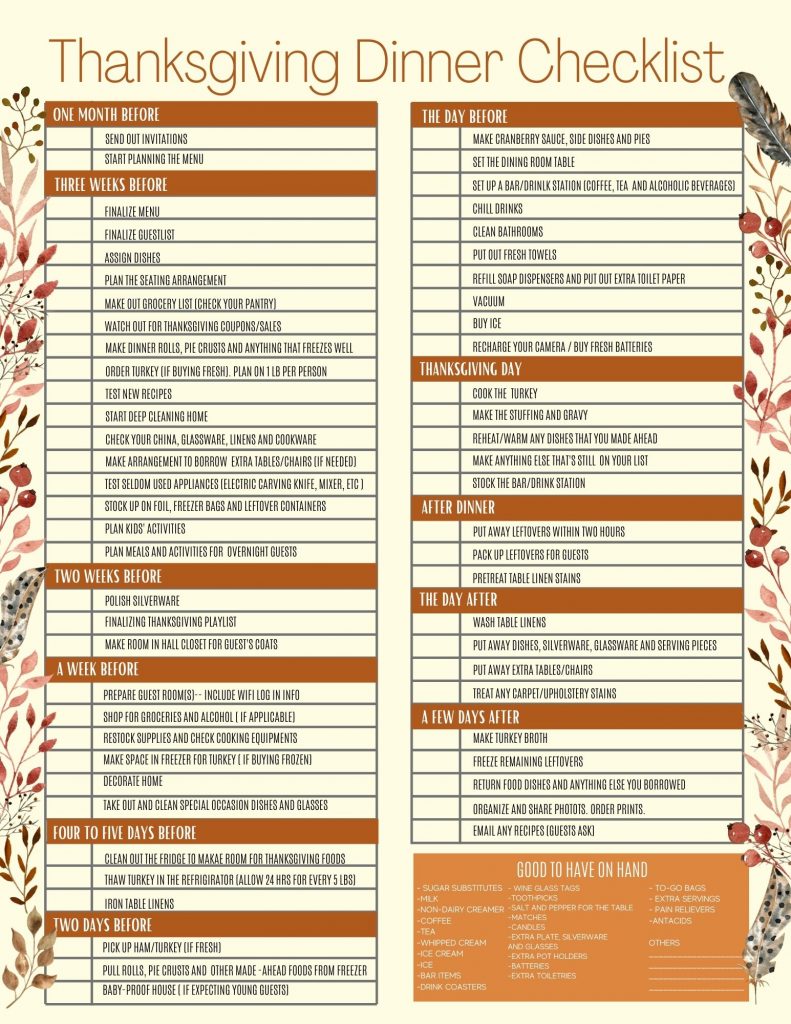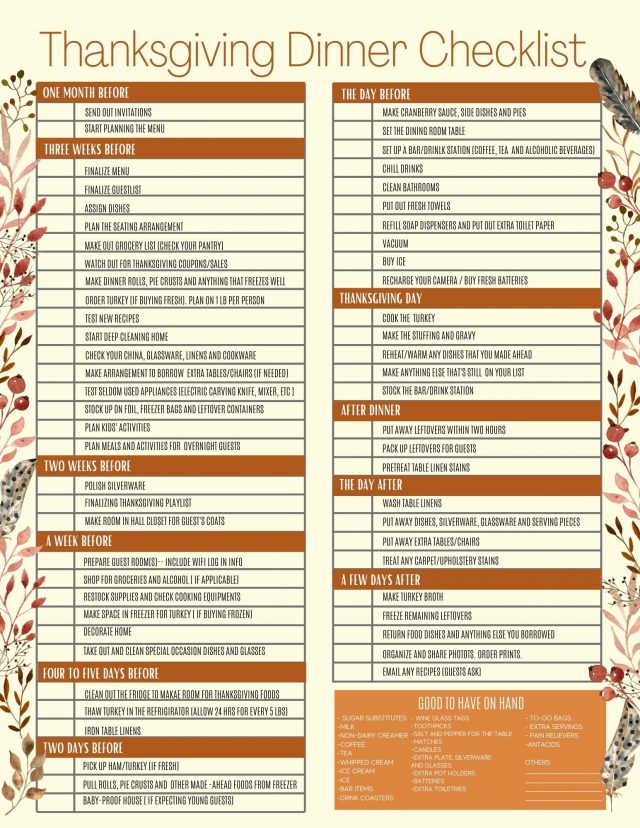 Here are a few other things that help me stay (sort of) organized.
Order Your Turkey First
One of the biggest items on your Thanksgiving checklist will be to get your turkey – unless you're cooking for all vegetarians.
Even if you wait until the last minute, chances are you'll be able to make do with whatever you find at the supermarket for side dishes. Perhaps not so with the start of the show – supermarkets obviously order extra turkeys for the holiday surge but as someone who has waited until the last minute to buy a turkey, you run the risk of not finding what you want. If you're a medium sized family like us, you'll want a medium sized turkey – although there is something to be said for lots and lots of turkey leftovers.
The one time we waited until late, we could only get the really, really, large turkeys and much to my chagrin, it was too large for my oven. Don't be me – and trust me, I've learned from my mistake – and order the bird ahead of time.
By the way, Perdue Farms can totally hook you up for the holidays. You can order whole turkeys, turkey-ham combos or the Perdue Seasoned Turkey Breast Roast. This is all easy and I like easy.
Make a Separate Thanksgiving Shopping List
Don't add your Thanksgiving meal items to your regular shopping list. Use a separate sheet of paper or make a separate list in your Alexa app. The Echo Dot is definitely our go-to for keeping organized.
We buy food for our Thanksgiving table that isn't on our everyday shopping list, so I make a separate list to make sure I stay focused. I keep this list with my Thanksgiving checklist so I can refer to them together.
Doing a separate shopping trip or a separate Shipt order is also helpful but I'm not usually organized enough to manage that.
Assess Your Kitchen Equipment
This is especially important to do if you're hosting more people than you usually do, if you've moved or purged your cooking equipment. You want to make sure you have enough serving spoons and casserole dishes and a roaster pan larger enough to accommodate your bird or your ham.
Prep Like You Mean It
What can you cook the day before or even two or three days before? Desserts and bread can usually be made in advance of Thanksgiving Day. If you're making cornbread for the stuffing, you can also do that in ahead of time.
The day before Thanksgiving, I'll prep any vegetables that need it, such as chopping onions or celery for stuffing and cleaning and chopping broccoli for casseroles or relish trays. I'll also gather all my canned and dry foods that I plan to use in my recipes together to one spot on the country. Cream of mushroom soup, gravy mix, boxed stuffing mix, etc., all come out of the pantry into a designated space where I can grab them easily.
Plan the rest of your meals, snacks, and activities…
… or delegate these tasks to someone else. I love delegating.
I like to pre-plan breakfast, lunch and snacks on Thanksgiving Day. If we're having company, I might plan things out for the following day. On the big day, I'm pretty busy in the kitchen and I don't need a lot of other stuff going on.
I look for simple, hearty breakfasts that don't interfere with my meal prep. Pre-made breakfast burritos or a make-ahead breakfast casserole are great ways to handle this.
No matter what time you're eating, your food schedule is probably off, so plan for snacks and light bites to tide folks over. We usually do a relish tray, deviled eggs or even chips and dip.
My kids are old enough to not need a dedicated activity to keep them out of my hair but if you've got younger kids or a group of visiting cousins, you might want to come up with some sort of organized activity or at least some boundaries. The Thanksgiving Dinner Checklist will help you keep track of those things, too.
Pro tip: If you've got younger kids, this Thanksgiving Snack Mix kills two bird with one stone – keeps them busy and gives them a snack.
Don't forget to download and print my Thanksgiving Checklist!
It's got the planning process broken down in steps so you can figure out where you need to be a week out, a couple of days out, etc.
Read more:
25 Sides and Extra for your Thanksgiving table