Hiking makeup – Makeup for hiking or other outdoorsy things
(This post may contain affiliate links. Read my full disclosure.)
Y'all know my family loves traveling. In the spirit of travel love (and mamas who want to look good in pictures) I'm bring you my best picks for makeup for hiking…or other outdoorsy things. Hiking makeup…is that a thing?
Why would you wear makeup for hiking or other outdoorsy things?
Hiking Makeup – An easy dewy look for outdoor fun
Women wear makeup for various reasons. As a travel/lifestyle influencer, my family and I get our picture taken a lot. We want to look good ish..or at least I do.
I also consider sun protection when I'm outdoors. As someone who is fair skinned, I don't go outside with out some type of sun protection on my face and body. My moisturizer has sunscreen in it but if I'm going to be outdoors for an extended time, I like to put something else on as well. One of the products I use as a makeup is a tinted sunscreen.
I've listed my favorite products for that "outdoor face" as well as done a quick tutorial on how I use them. You could recreate this look for skiing or a day at the theme park as well. This works in any situation where you want a little bit of makeup but you're going to be active and don't want a heavy makeup application.
Disclaimer: We are a participant in the Amazon Services LLC Associates Program, an affiliate advertising program designed to provide a means for us to earn fees by linking to Amazon.com and affiliated sites. This post may also contain affiliate links to other sites where I will be paid a commission by the seller if you make a purchase. Thank you!
SHOP THIS LOOK
Here are the products I used for this look/carried in my travel bag on my most recent trip.In most instances, I've provided both the Target and the Amazon links…I don't buy a ton online at Target (the lure of the store is too strong) but I'm finding their prices are better than Amazon.
If you want the tutorial on how I used these products to get this minimal, dewy look scroll to the end for a step by step tutorial on how to do this easy, less-than-five-minutes look.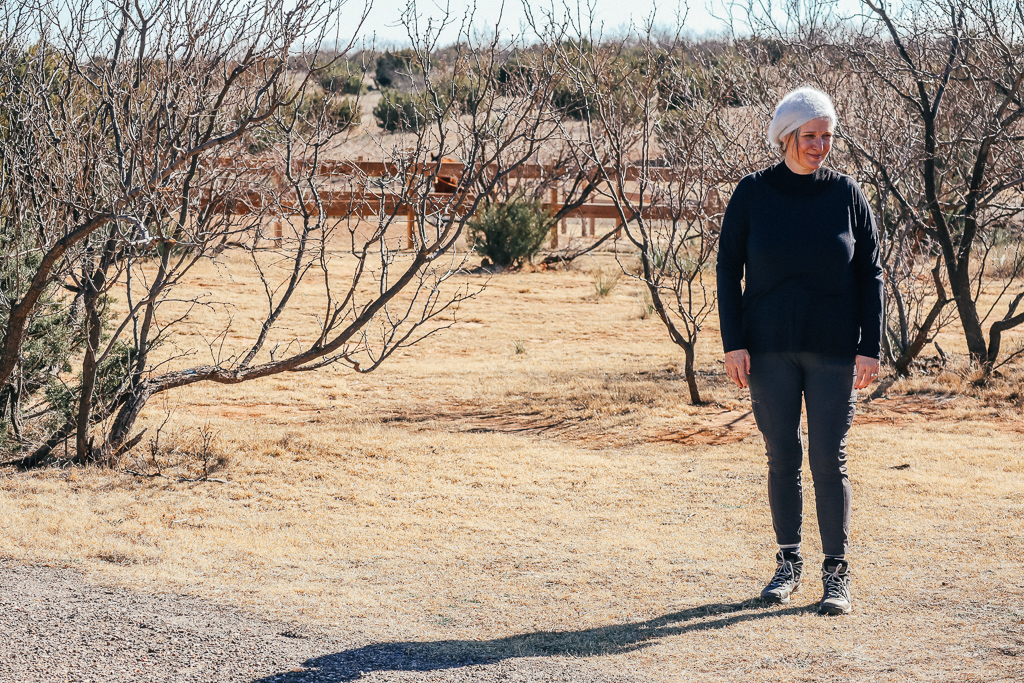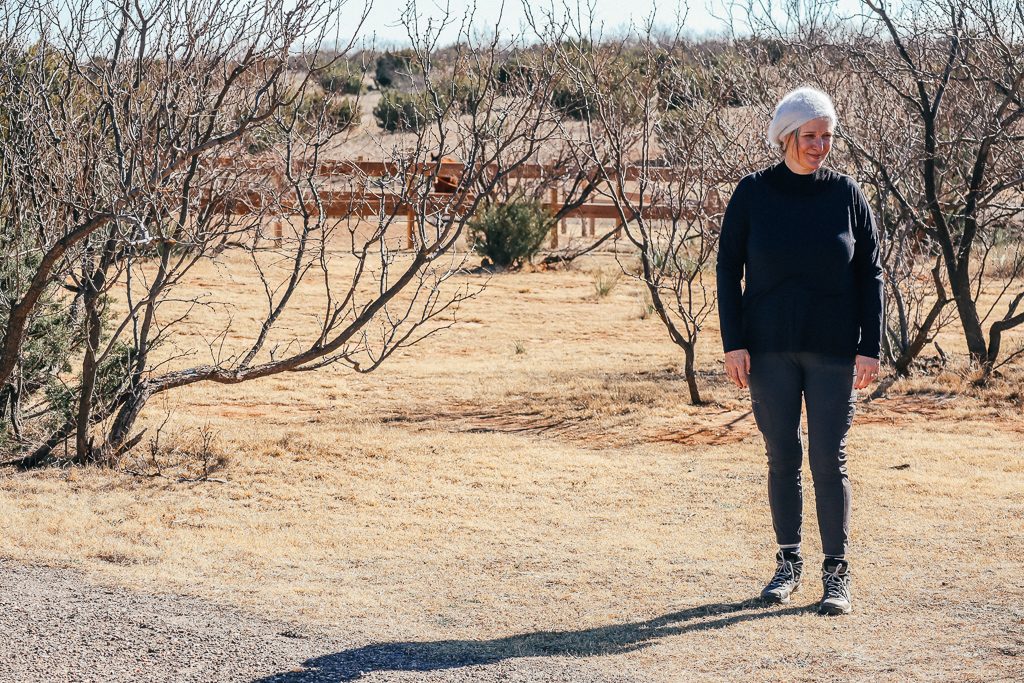 Cotz Face Natural Skin Tone
This is very lightly tinted and you can easily wear this in place of primer. When I'm out of doors, I wear this instead of foundation. Obviously, it won't provide a lot of coverage but it's awesome sun protection. SPF 40.
Cotz Flawless Complexion
I also use this one. It offers a higher SPF than the Cotz Face Natural Skin Tone and has a silkier texture. The Cotz Face Natural Skin Tone actually provides more coverage, so this one is even lighter than that.
Maybelline Master Conceal
This is the concealer I'm currently using. I don't love it or hate it but I think I'll probably try another brand for next time. I have dark circles under my eyes and my skin tends to get dry and red under my nose, especially in winter, so I include concealer in even my most minimal makeup routine.
Revlon Colorstay Aqua Mineral Foundation
This is my everyday foundation, especially in summer. For a hike or a day outdoors, I'd probably just stick with the tinted sunscreen but if you need more coverage of want to take some of the shine off your face…I kind of like the dewy look…this is a good makeup for outdoors or active women.
I started using this in 2012. My husband and I went on a cruise and I wanted a lighter foundation…up until then I'd worn a heavier cream foundation when wore it. This has become my everyday makeup and I love it. It doesn't provide a ton of coverage, though, so if you want that, this might disappoint you. I'm starting to not see it sold at some of the drugstores and big box stores (my local Walmart and Target don't carry it, nor does Target.com.) I think it might be time to stock up and then start testing some other mineral foundations. Currently taking suggestions.
Cotz Lip Balm
Obviously, I'm a big fan of Cotz products. I love their mission and how clean they are but I also love how well their products actually work. I've tried other natural sunscreens and while I love what the labels say, I haven't found one that worked the way I need it to work.
This lip balm is SPF 45 which is what Dermatologists recommend for lip protection. It is lightly tinted but I don't notice any color when I put it on. It's brown in color but it doesn't change the color of my lips at all. I use this on my kids and I've let my husband borrow it, too and none of them look like they're wearing lipstick.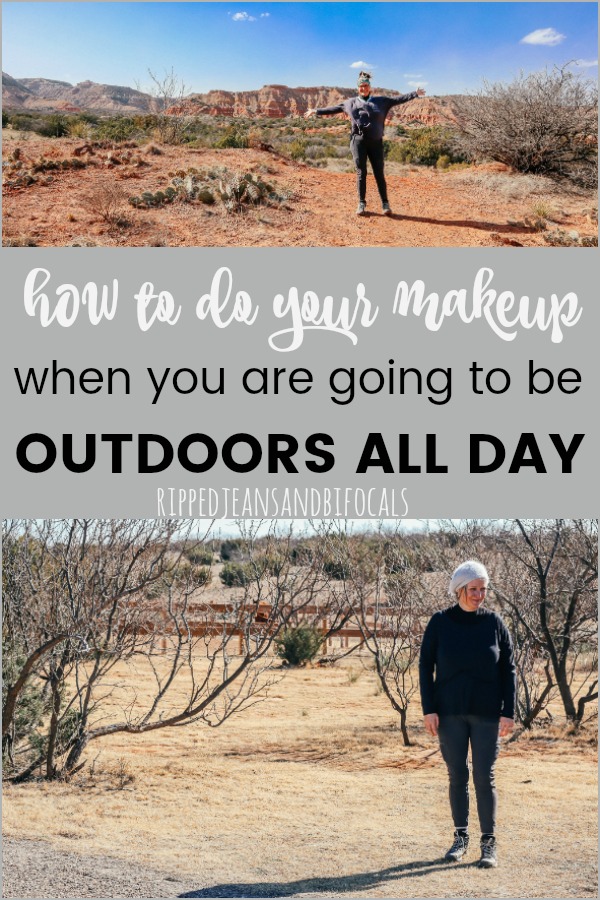 Burt's Bees All Aglow Lip and Cheek Stick
I love anything that serves more than one purpose, especially when I'm traveling and need to conserve space. This works great as a blush. I'm trying to use more cream-based products because powders settle into my fine lines. I love it less as a lip stain…the color is great and it feels good going on but it doesn't have a lot of staying power on my lips.
The price point and the fact that it does double duty make it a winner for now.
NYX Professional Lip Pencil
I like a nice nude color like this one – it's called Nude Suede Shoes – and it keeps whatever I put on my lips from bleeding. For this look, it's usually my Cotz lip balm with sunscreen and maybe a little bit of the Burt's Bees All Aglow Lip and Cheek Stick.
Urban Decay Makeup shadow palette
This is neither budget or travel friendly because it's expensive and too large to fit in my travel makeup bag. I don't care. I absolutely love it and I've tried drug store dupes with similar color palettes and they're not the same. For this look, I usually just sweep a little Sidecar or Half Baked (those are names of the colors) on my lids and call it good but there's SO MUCH you can do with these colors. I will never not own this one.
Buy it on Amazon (Target doesn't currently sell this brand)
Better than Sex Mascara
This is the mascara I'm currently using. I have a love hate relationship with mascara and I've been shopping around for the perfect mascara for about a year and while I haven't found one I love, this one comes close.
This one is on the pricey side…I tend to favor drugstore brands most of the time but I occasionally splurge.
Buy it on Amazon (Target doesn't currently sell this brand.)
Amazon also sells it in this cute travel size, which I've just ordered. I love small-size products for travel.
NYX Control Freak Brow Gel
I use a tinted brow gel when I'm doing a heavier makeup but I wear the clear when I'm going for a more minimal look. I don't have really heavy or unruly brows but a couple of quick swipes with this just make me feel a little bit more put together.
NYX Setting Spray
If you're going to take the time to put makeup on your face then you need to take the time to set it. This is especially important when you're going to be active. I'm currently using the Dewy Finish Setting Spray. If you don't like that dewy (AKA slightly shiny) look, NYX also makes a matte spray which I've used and like.
Miscellaneous Stuff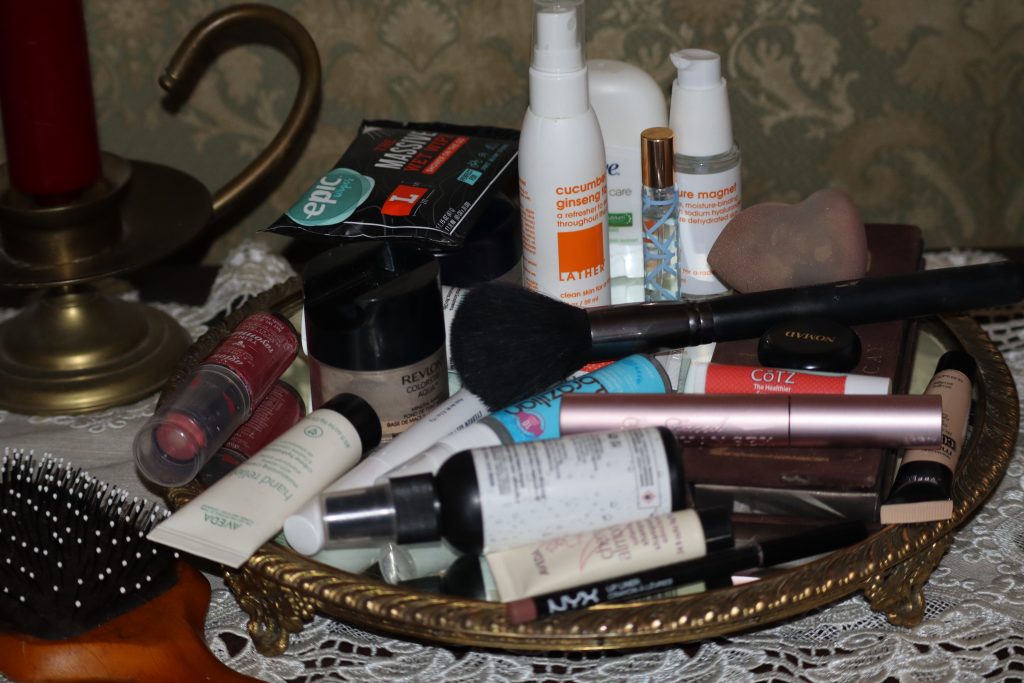 Tori Burch Travel Spray:
No, I don't put on perfume to go hiking but since its in the picture, I'll just mention these real quick. These floral sprays are tiny and perfect for travel so I threw them in. These come in this fun little set of three so they make a great purse scent, too.
Elf Blending Sponges:
I blend EVERYTHING, especially blush. I get mine from Amazon and I actually buy these on a subscription service now, so I always have a fresh one. The one in the picture is kind of gross. These can be cleaned easily enough but they're so inexpensive, I just toss them when they get like this.
Makeup brushes:
I recommend the Real Techniques Flawless Base Brush Set (which is NOT the brush in the picture.) I use this brush mostly for putting on my mineral foundation…The Revlon Colorstay Aqua does come with a small brush but like most applicators that come with the product, it's not any good.
Aveda Cherry Almond Shampoo and Conditioner and Hand Relief
Always stay in the good graces of your hair stylist, ladies. Mine hooks me up with these great samples that I take with me when I travel.
Buy Aveda Cherry Almond Shampoo on Amazon
Buy Aveda Cherry Almond Conditioner on Amazon
Buy Aveda Hand Relief on Amazon
Dove Trial Size Deodorant
I love snagging a bunch of these small size deodorants at Target…that way I always have a fresh one for my travel bag.
GET THIS LOOK
1. Start with a clean, moisturized face
2. Apply Concealer anywhere you need it – under the eyes, hyper pigmented spots, blemishes, etc.
3. Apply Cotz Face. I usually apply with my fingers but you can use a sponge or a brush if you want
4. Line your lips with a nude lip pencil (or one that matches your lips.)
5. Apply Cotz lip balm
6. Apply cheek/lip stick to cheekbones. Blend with sponge.
7. Apply cheek/lip stick to lips
8. Do a quick sweep on your eyelids with a neutral shadow
9. Apply clear brow gel
10. Apply setting spray (or add powder if you like)
11. Apply mascara to the tips of your upper lashes
12. Get outside and enjoy – keep sunscreen and lip balm with sunscreen handy and reapply as needed.
You might also like: