75+ Delicious Vegetarian Soups + Vegan Soups, Too!
(This post may contain affiliate links. Read my full disclosure.)
I am not a vegetarian or a vegan but I enjoy all types of food and try to do at least one meatless day every week. If you're looking to stretch your food dollar and create more meatless meals or plant-based meals, check out this list of over 75 delicious vegetarian soups.
You'll find some creative and yummy vegan soups and vegan stews, as well. I've brought you the very best of the internet foodies on this one, y'all, so I hope you enjoy some warming soups as the temperatures dip.
75+ Delicious Vegetarian Soups + Vegan Soups, Too!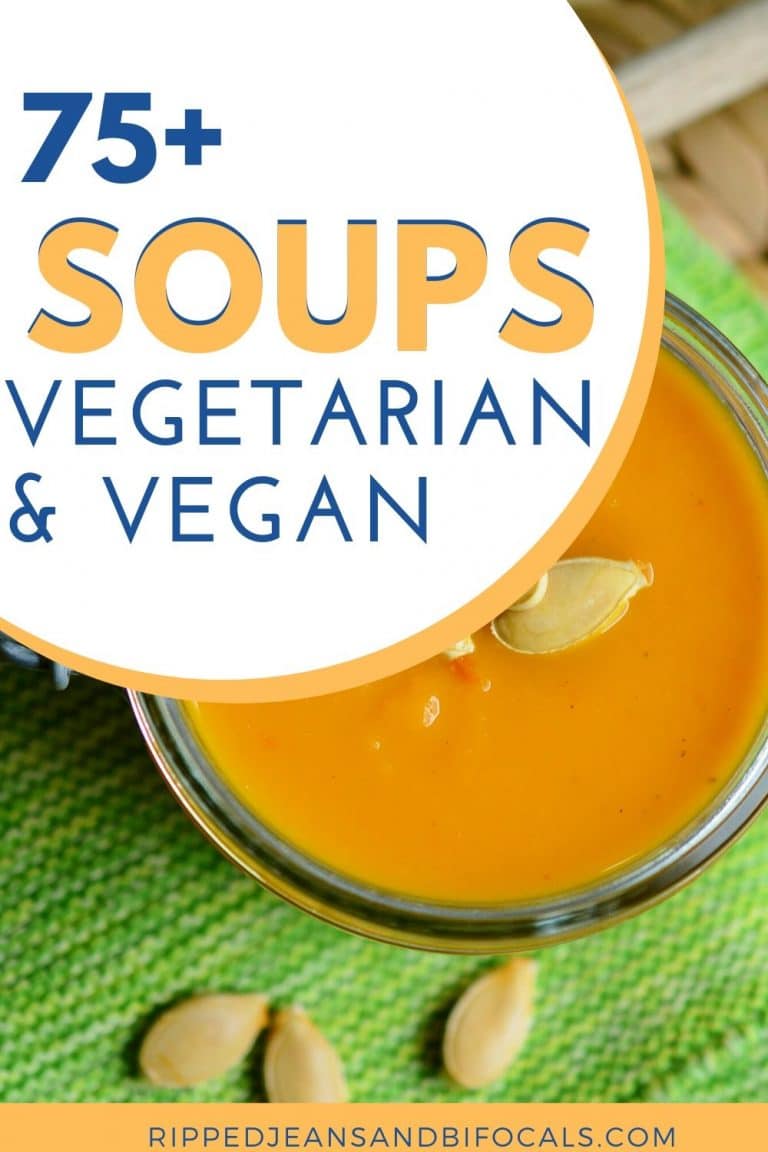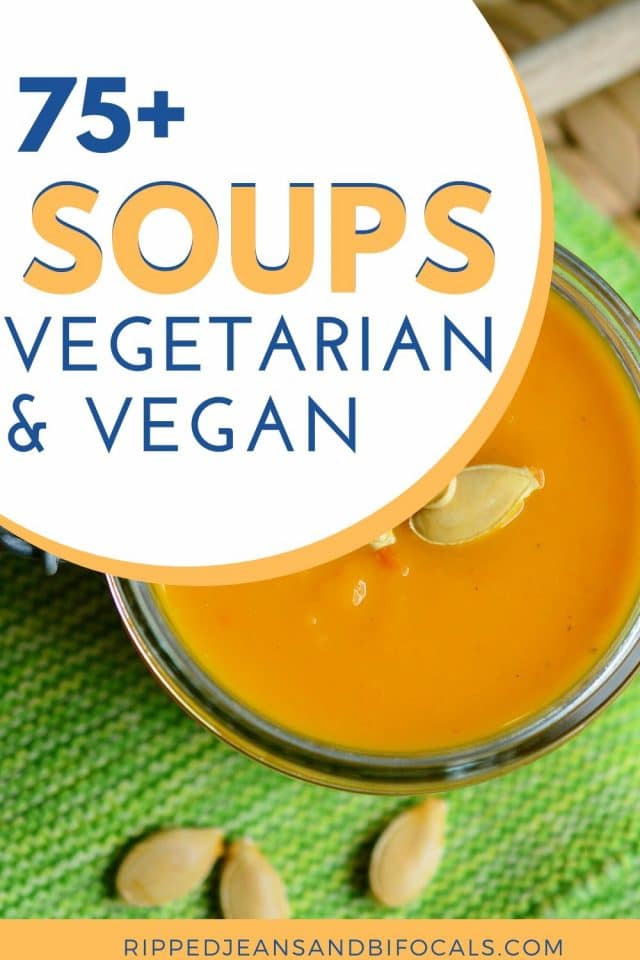 This is a really weird time for all of us. Things we took for granted, such as going to the store and being able to get all the ingredients on our list are not things we take for granted anymore. I think (I hope) things are getting better out there, but I also know that many home chefs like me have had to get creative, make substitutions and do without ingredients. If you're wanting to experiment with some meatless meals, soups and stews are versatile and comforting and I think we can all use a little comforting right now.
Disclaimer: We are a participant in the Amazon Services LLC Associates Program, an affiliate advertising program designed to provide a means for us to earn fees by linking to Amazon.com and affiliated sites.
How to use this list of Vegetarian Soups and Vegan Soups:
I've broken this list up into categories to make it easier to read. That said, some of these soups could go into more than one category, so expect to find soups made with beans in the hearty category or in the tomato based category.
I have NOT broken them down into vegan and vegetarian. This list is about 70/30 with the majority of them being entirely plant based but there are a few that call for milk, cream, butter, and cheese. Each recipe (except for the ones I've personally created which are in bold type) will open up into a new tab. I recommend you pin recipes you are interested in to a specific Pinterest board, such as "Soup," "Meatless Recipes," "Vegetarian Soups" or whatever will serve your purpose. If you don't have such a board, it is easy to create one.
To make it easy on you, I've saved ALL these soups to my Vegetarian and Vegan Soup Pinterest board so you can just click HERE to follow that board.
Looking to make recipes from pantry stock? Check out what's on my pantry stock list.
Tomato Based Soups
The Best Instant Pot Tomato Soup EVER|Ripped Jeans and Bifocals
This is one of the recipe creations I am most proud of. Everyone in my family loves it and it is seriously restaurant quality – if I do say so myself. I keep meaning to try it with plant-based milk but I haven't so far.
Read on for some more delicious tomato based soup options from some of my favorite food bloggers.
Quick Tomato and Turmeric Soup|Christina's Cucina
Vegan Tortilla Soup|A Virtual Vegan
Instant Pot Tortilla Soup|Cardamom and Coconut
Bow Tie Vegetable Soup with Pesto|Soup Addict
Beans and Rice Taco Soup|The Toasty Kitchen
Cabbage Soup|Stef's Sweets and Eats
Restaurant Style Tomato Bisque|Ask Chef Dennis
Vegetarian Taco Soup|Freezer Meals 101
Smokey Tomato and White Bean Soup|Vegan Huggs
If you like reading this you might be interested in: How to make your own laundry soap powder for cheap
Cauliflower Soups
Although I'm not on team "cauliflower is the same as a potato" I do like cauliflower based recipes. Here are some great ones.
Easy Cauliflower Soup|Delightful Adventures
Curried Cauliflower Soup|Nourish Plate
Cauliflower Parmesan Soup (No Cream)|Chef Not Required
Roasted Cauliflower Soup|Cook it Real Good
Instant Pot Golden Cauliflower Soup|The Recipe Well
Vegan Cauliflower Potato Soup|April Golightly
If you REALLY want to splurge on a soup pot, I've been coveting this one since forever.
Hearty Vegetarian Soups and Stews (some vegan, too!)
There's nothing like a bowl of hearty soup or stew to warm you up when it's chilly outside. No matter what time of year it is, I just find a hearty, heavy bowl of soup that's full of beans, potatoes, noodles or rice to be comforting. I hope you'll enjoy trying some of these.
Slow Cooker Potato Soup|Any Reason Vegans
Hearty Delicious Mushroom Stew|Delightful Adventures
Slow Cooker Vegan Wild Rice Soup|Mama Likes to Cook
Easy Vegetarian Udon Noodle Soup|Mama Likes to Cook
Instant Pot Sweet Potato and Kale Soup|Simply Happy Foodie
Pressure Cooker Vegetarian Corn Chowder|This Old Gal
Vegetable Barley Soup|Cook it Real Good
Creamy Tortellini Soup|Little Sunny Kitchen
Grandbob's Vegetable Soup Recipe|Pink Fortitude
Dairy-Free Potato Soup|The Fitchen
Delicious Potato and Leek Soup|Allergy Yummy
Hearty Lentil Potato Stew|Zardy Plants
Healthy Slow Cooker Vegetable Soup|Food Wine Sunshine
Vegetarian Instant Pot Chili|Zestful Kitchen
Hearty Split Pea Soup Recipe|Healthy Kitchen 101
Soups Made with Pumpkin, Squash, or Sweet Potatoes
I love a squash or sweet potato based soup. The first two are my own and they're family favorites. I'm excited to include some new favorite vegetarian soups from some of my favorite food bloggers.
Vegetarian Pumpkin and Black Bean Soup|Ripped Jeans and Bifocals
I have made this soup for years and I usually use chicken broth versus vegetable broth. That, of course, does not make it vegetarian but if you do east meat, this is an easy substiution.
Instant Pot Sweet Potato and Jalapeno Soup|Ripped Jeans and Bifocals
This is a soup inspired by Cafe Homestead in Waco Texas. The recipe as I've written it, does include bacon as a topping, however you can easily leave it off or use vegan bacon bits.
Thai Spicy Pumpkin Coconut Soup|Food Fit For Life
Vegan Pumpkin Soup|Nourish Plate
Sweet Potato Soup|Swirls of Flavor
Coconut Butternut Squash Soup|Busy Cooks
Creamy Sweet Potato and Lentil Soup|Happy Kitchen
Thai Curry Butternut Squash Soup|Piping Pot Curry
Sweet Potato and Peanut Soup|Rhian's Recipes
Sweet Potato Black Bean Soup|To Simply Inspire
Soups with Beans and Lentils
Legumes are such a wonderful option for vegetarian soups or vegan soups. They add that texture, heartiness and protein that make a soup main dish worthy.
Instant Pot Minestrone|Ripped Jeans and Bifocals
This is another one of my creations that I'm proud of, mostly because everyone in my family loves it. I have that one picky kid, so anything that pleases everyone is a winner.
Slow Cooker Vegan Chili|Strength & Sunshine
Vegetable Lentil Soup|Healthy Happy Mama
Five Minute Lentil Soup|Christina's Cucina
Red Lentil Soup with Lemon|A Virtual Vegan
Pressure Cooker Armenian Lentil Soup|This Old Gal
Instant Pot Lentil Soup|Little Sunny Kitchen
Vegan Minestrone|Happy Kitchen
Slow Cooker Lentil, Barley and Kale Soup|The Brooklyn Mom
Serbian White Bean Soup|Ve Eat Cook Bake
Hearty Chickpea Curry Soup|Go Healthy Ever After
Black Eyed Pea Soup|Veggie Inspired
Other Delicious Favorites
Enjoy this hodgepodge of delish vegetarian soups from around the internet that I had trouble placing in the above categories for whatever reason. There's pea soups, a few beet-based soups, carrot soups, and even a couple that I think are really unique like chestnut soup and mango soup. I hope you find some new favorites here in this section.
P.S. I have to give a special call-out to Frog's Breath Soup (see below.) If you're a Nightmare Before Christmas fan, you'll get the reference. Even if you're not, give this one an open. Despite the unappetizing name, it actually sounds really yum.
Minty Pea Soup|Simply Happy Foodie
Turmeric Zucchini Soup (Paleo, Keto, Vegan)|Food Fit For Life
Tofu Chickpea Curry Soup|Crafty For Home
Coconut Curry Soup|A Hedgehog in the Kitchen
Lemon Coriander Soup|Veg Recipes of India
Carrot Ginger Soup|Veg Recipes of India
Slow Cooker Ginger Carrot Soup|Swirls of Flavor
Easy Rice Noodle Soup|Veggie Lexi
Sopa De Fideo (Mexican Noodle Soup)|Vegan Huggs
Vegetarian Thai Green Curry Noodle Soup|A Mummy Too
French Chestnut Soup|A Hedgehog in the Kitchen
Instant Pot Mushroom and Wild Rice Soup|Piping Pot Curry
Thai Green Curry Rice Soup|Rhian's Recipes
Creamy Broccoli Soup with Cheesy "Everything" Spiced Croutons|Zestful Kitchen
Vegetarian Cream of Broccoli Soup|Marathons and Motivation
The Best Keto Broccoli and Cheese Soup Ever|The Curious Frugal
Beetroot Soup with Coconut Milk Drizzle|April Golightly
Borscht Soup|Food Fit For Life
Creamy Beet Soup with Red Sauerkraut|Healthy Taste of Life
The Best Vegan Quinoa Soup Recipe|Stress Less Be Healthy
Vegan Peanut Soup with Coconut Milk|Where Is My Spoon
Frog's Breath Soup|Vegan Dollhouse
The Best Mushroom Soup|Will Cook for Smiles
Want ideas for delicious, easy meals to make from pantry stock? Check out my list of over 50 meal ideas.