Why in the world would anyone make their own DIY laundry detergent? In this age of modern conveniences and the busy-itis that seems to be going around why would you make something that's so easy (and relatively cheap) to buy?
This post contains affiliate links. If you enter Amazon through my website and make a purchase, I'll make a small commission. You'll pay the same price you'd pay anyway. 
Because it's almost as easy and way cheaper to make.
Seriously. I'm not a huge DIY girl. I like the idea of making stuff and being all crafty and Pinteresty, but the truth is, I'm really not that mom. I'm the mom who gives the illusion that I've got it together ONLY because Amazon Prime exists and I live exactly a minute and a half away from a Super Walmart that has a kick ass bakery and deli section.
But laundry, man. Do you know how much dirty laundry two little boys can generate? Maybe you do. I remember going from a family of two to a family of five within the span of about a year. My husband and I were empty nesters for awhile. Then we adopted our son Zack. Then Laura came home to live with us for a bit. Then we adopted Kyle. There was a lot of laundry.
A. Lot. Of. Freaking. Laundry.
It was overwhelming and besides the fact that I'd started to become comfortable talking to my washer and dryer (not joking) I started to realize how much laundry detergent we were going through. The tightwad in me started thinking about how much that was costing us.
I heard about people making their own laundry soap and honestly? That sounded a little too Little House on the Prairie for me. I was a busy, professional woman and making cleaning products was for tree-hugging women who smelled like Patchouli oil and Ma Ingalls wannabees.
Then I tried it. It takes almost no time. It costs a fraction of the amount that we were spending on Tide. I've been making my own DIY laundry detergent for several years and I'm sharing my recipe with you.
Ingredients:
3 bars of Fels Naptha, grated
1 box of Super Washing Soda (3 lb, 7 oz)
1 large box of Baking Soda (4 lb)
1 box of borax powder (4 lbs, 12 oz)
1 container of Oxy Clean stain fighter (1.77 lbs)
Mix the ingredients together. I use a spaghetti fork to stir things up because sometimes, the super washing soda and the borax will have lumps. I mix everything up in a large utility bucket. If you double my recipe, it all fits nicely in a 5 gallon bucket. You can use a smaller container for your everyday laundry.
I mix this up in my kitchen…and I'll warn ya, it get's dusty. I usually damp mop the floor afterwards and let the residue clean my floor. Double win.
The Oxy Clean is optional – I've made it without – but I have two little stain monsters living with me, so I always use it. I think this detergent smells really nice but it doesn't leave much of a scent on your clothes. I've thought about adding essential oils to the mix, but I never have. I know laundry detergents that smell like lavender and lemon are really popular (and I love lavender oil and lemon oil) but I've never mixed them into an entire batch of detergent.
I use two tablespoons per load. This stuff is more concentrated that store-bought detergent. A double batch of this recipe lasts my family of four people about a year – and we dirty up a lot of clothes.
I've provided the Amazon links to purchase my supplies but you can (usually) get a better deal at Walmart or your local grocery store. The Fels Naptha, Super Washing Soda and Borax can usually be found in the laundry supply aisle, usually one one of the lower shelves.
And just in case you think I'm some kind of laundry badass…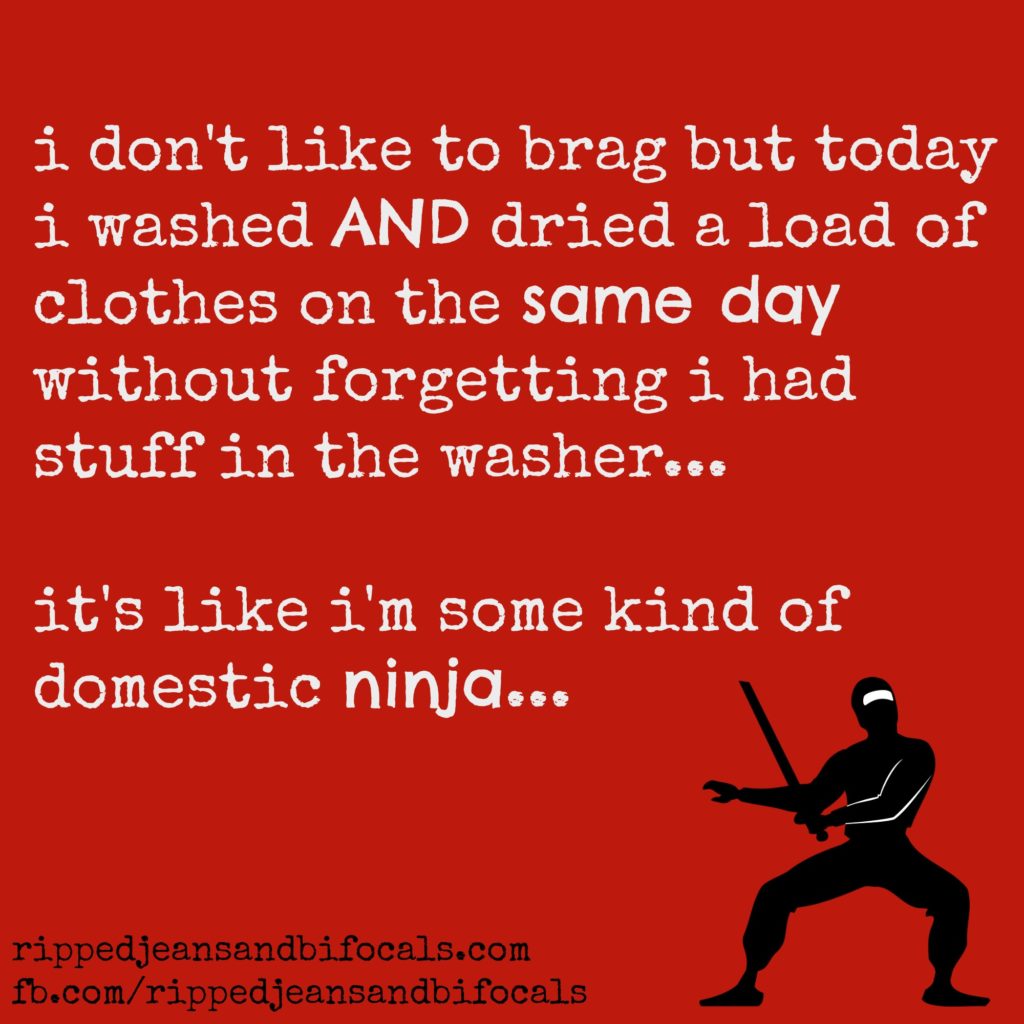 If you enjoyed reading this post, please give me a vote on Top Mommy Blogs my clicking the button below. It's super easy and helps my site A TON.