Amazingly Easy Frosted Pumpkin Spice Cake
(This post may contain affiliate links. Read my full disclosure.)
I am not a pumpkin pie person. I'll usually eat a small piece at Thanksgiving or maybe even Christmas buried under a ton of whipped cream because…well, I guess because it's tradition. I have never considered myself a huge pumpkin fan, although I'm learning that canned pumpkin can be a really useful and versatile pantry staple.
This pumpkin cake recipe has three ingredients – yes, really…three. It is ridiculously easy to throw together with stuff you probably already have on hand. You can use prepared frosting or whip up your own vanilla butter cream frosting (I've provided my recipe below.) I almost never buy frosting anymore. It's so simple to make your own and while frosting is never going to be in the health food category, I like that I at least know what goes in mine.
[Tweet "Super easy, egg-free alternative to pumpkin pie"]
But back to the cake.
This cake is so good that you're probably going to want to make out with me when you taste it. Okay maybe not that, but I definitely expect a lot of thank you text messages. Yes, it really is that good and the neat thing about it is that it is egg and dairy free, so if you know someone that has allergies, this is an alternative to pumpkin pie they can enjoy. The frosting, the way I make it, has milk and butter, but the cake is good unfrosted with a dusting of powder sugar.
OH. SO. GOOD.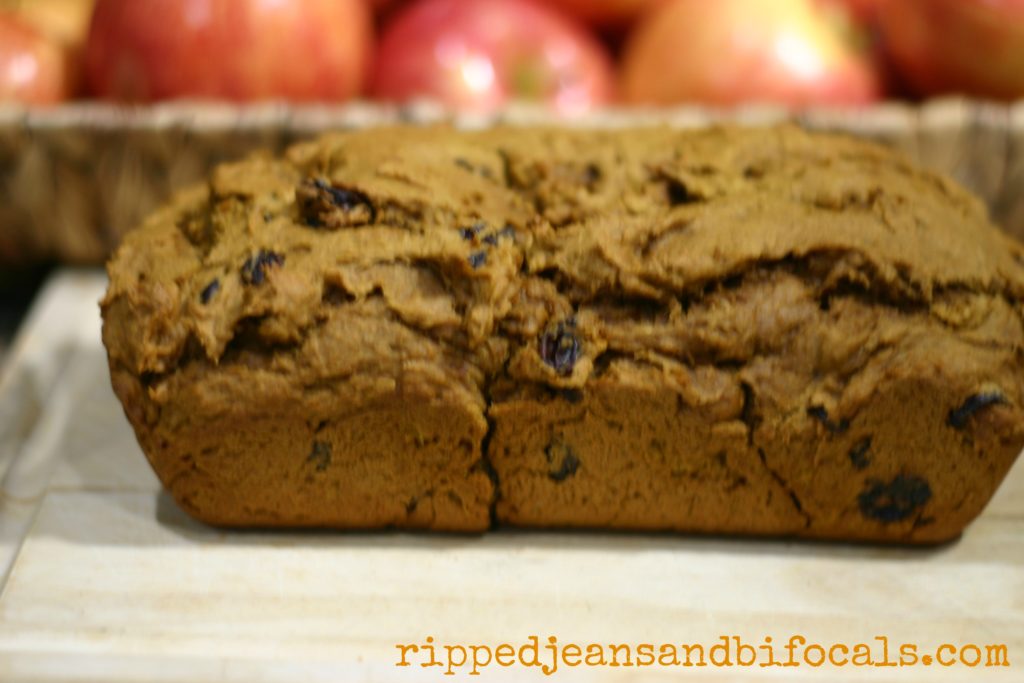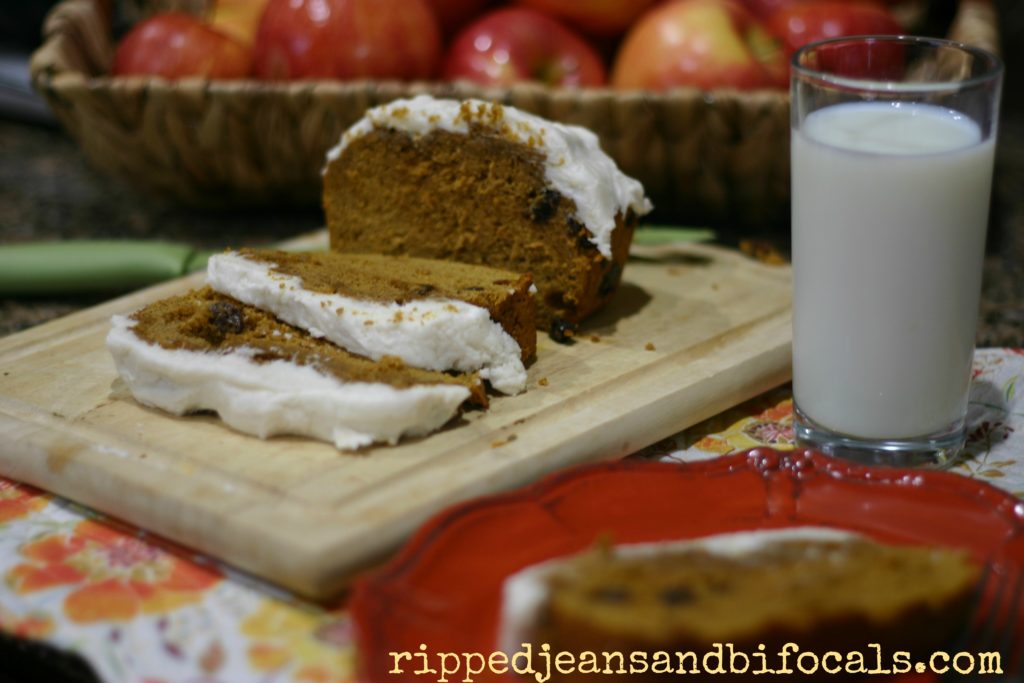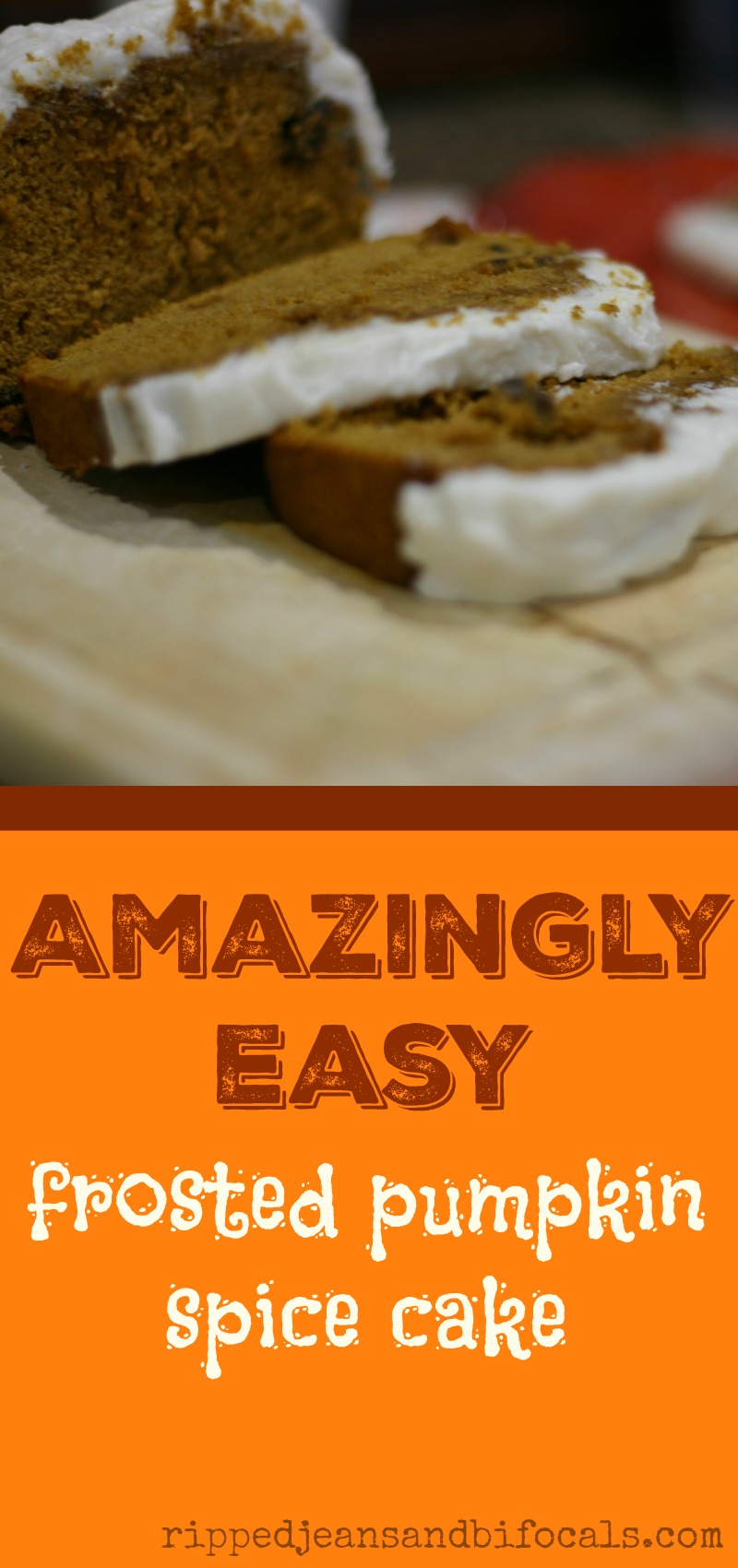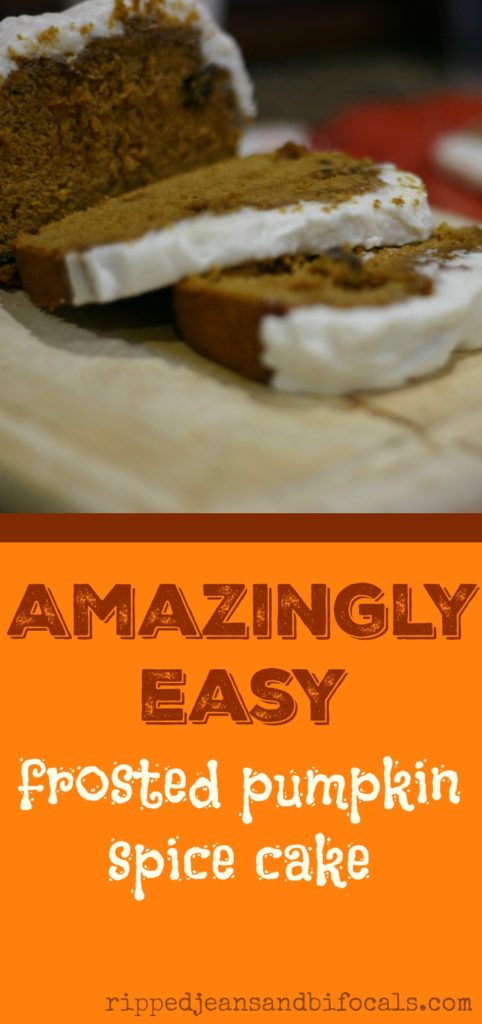 I store this cake in the fridge because of the dairy in the icing but it usually does not last very long.
Give this beauty a spot on your holiday desert table…or even better, just whip it up after dinner just because. I hope you enjoy it and if you try this and love it, let me know in the comments.
Easy Pumpkin Spice Cake
Ingredients:
1 box spice cake mix (you do NOT need the other ingredients listed on the box to make the cake.)
I5 oz can of pumpkin puree
1/2 cup raisins
Preheat oven to 350
Grease a large loaf pan (I use spray cooking oil)
Mix pumpkin and cake mix together with an electric mixer (I know, this is hard, right?) The batter will be VERY thick and stiff.
When pumpkin and cake mix are thoroughly blended, stir in the raisins by hand.
Bake about 35-40 minutes.
Warning: Your cake tester will still come up kind of wet at this point – don't over-bake. Forty minutes should be absolutely enough. Let cake cool thoroughly before frosting.
To make vanilla buttercream icing:
2 cups confectioner's (powdered) sugar
1/3 cup of softened butter (use the real deal unless you can't have dairy…it's not called margarine cream frosting, people.)
1/2 teaspoon vanilla
1/2 teaspoon milk or almond milk (optional)
Beat softened butter with electric mixer until creamy. Add vanilla, bled well. Add sugar a little at a time. Add milk if needed for consistency…usually if you want a thinner, more drizzly icing.

Follow Ripped Jeans and Bifocals's board My original recipes on Pinterest.