How To Make Perfect Bacon In Your Oven
(This post may contain affiliate links. Read my full disclosure.)
I always make a hot breakfast for my family on the weekends. Most weekdays, we stick to smoothies or a quick bowl of oatmeal but I enjoy having my time in the kitchen on Saturday and Sunday. One of my best breakfast/brunch hacks is oven bacon. Here's how to make perfect bacon in your oven.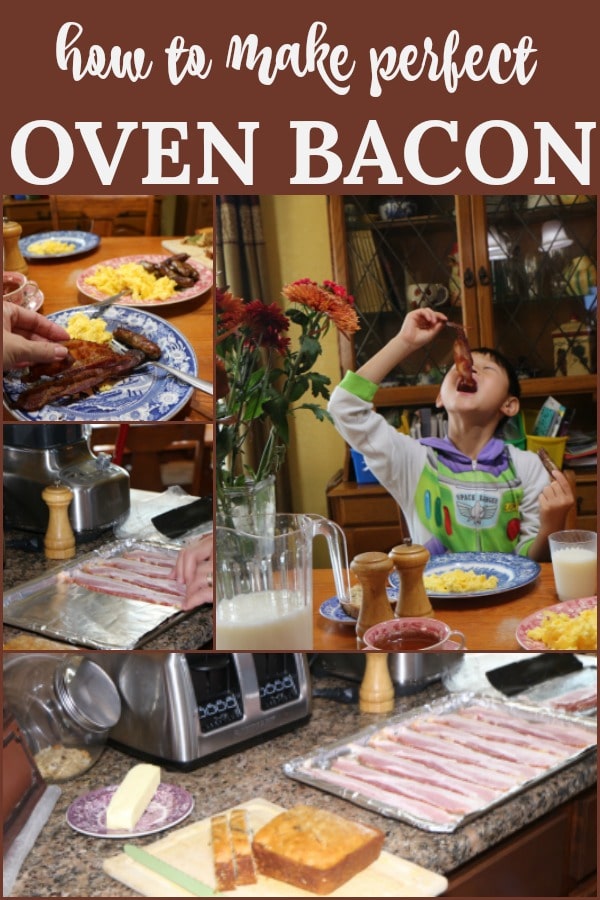 Disclaimer: We are a participant in the Amazon Services LLC Associates Program, an affiliate advertising program designed to provide a means for us to earn fees by linking to Amazon.com and affiliated sites. What that means in plain English is if you shop from links in this post, the seller pays me a commission. Thanks for supporting our site.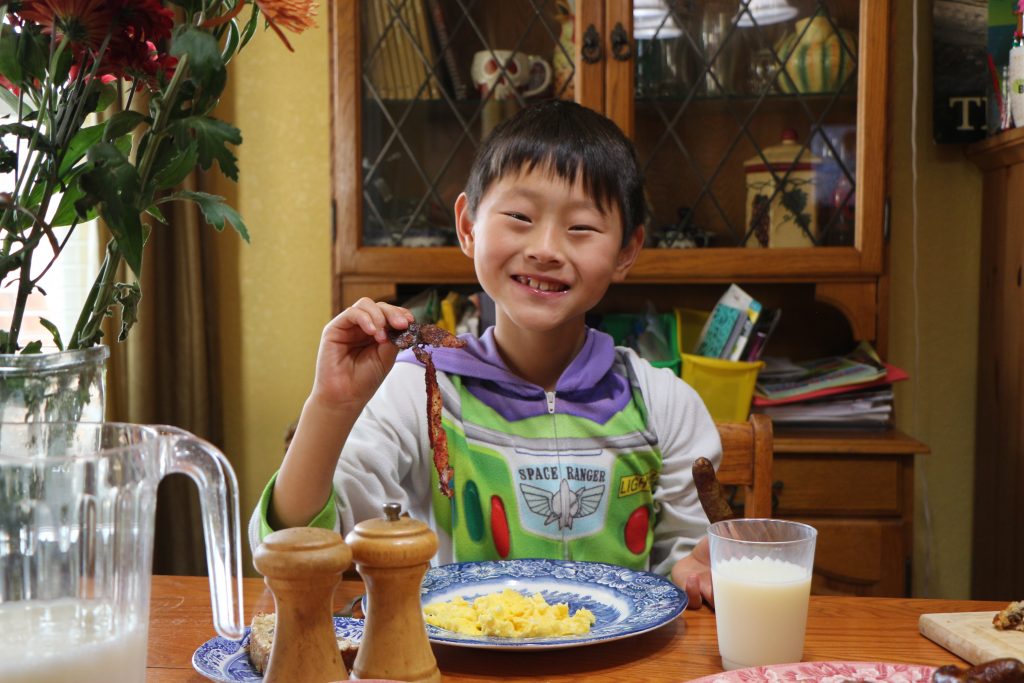 How to make perfect oven bacon
I love bacon. I can't imagine a world without bacon but I don't love frying bacon or dealing with the grease splatters. The perfect solution is oven bacon.
Ditch your frying pan and make your bacon in the oven. I learned this trick from my brother-in-law. When I saw him making bacon in the oven I wondered why I hadn't been doing that all along. It saves time and is so much less messy.
About the bacon we use to make perfect oven bacon:
We use COLEMAN NATURAL® Uncured Hickory Smoked Bacon. This bacon came in our Perdue Farms Medium Family Box, Perdue Farms' direct to consumer box available. It's full of delicious foods that will feed your entire family – the bacon is pretty awesome but there's more. You can read more here.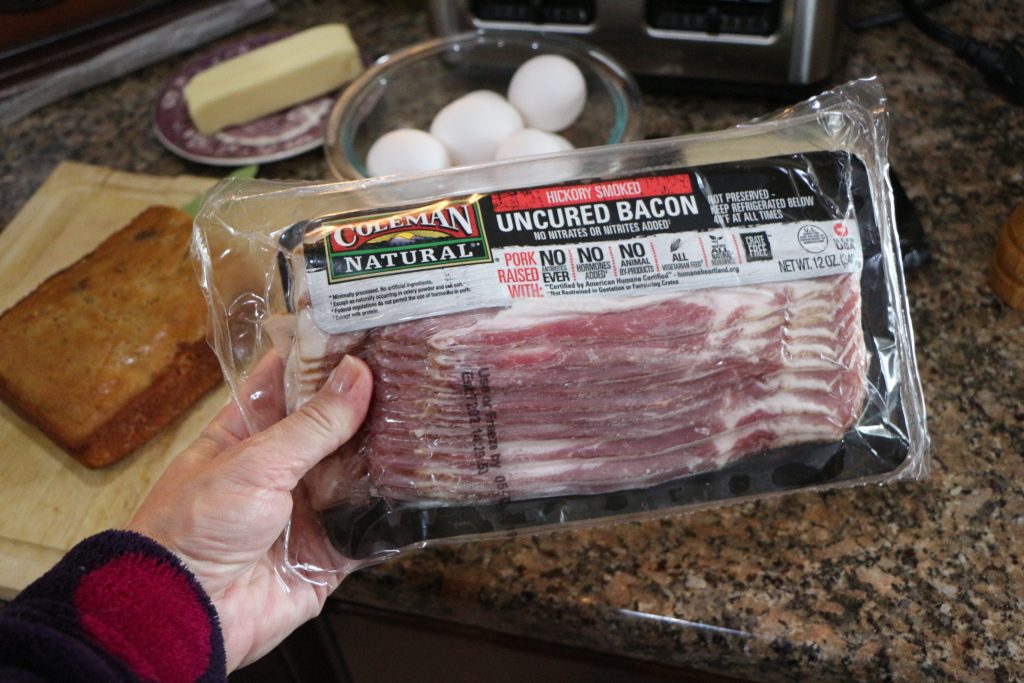 I care about the quality of our food and about where it comes from. Ethical farming practices are becoming increasingly more important to me and I find myself researching companies before I buy their products.
The bacon is made from pork sourced from farms that believe in a crate-free environment, feed animals an all-vegetarian diet and never ever use added growth promotants, hormones or antibiotics. What this bacon doesn't have? Antibiotics or nitrates. What it does have? A whole lot of deliciousness.
Perfect bacon in your oven – how to do it:
Preheat your oven to 350. Line a cookie sheet with foil. I usually use two sheets and overlap them in the middle to prevent bacon grease from trickling on to the cookie sheet (leaving me a mess to clean up.)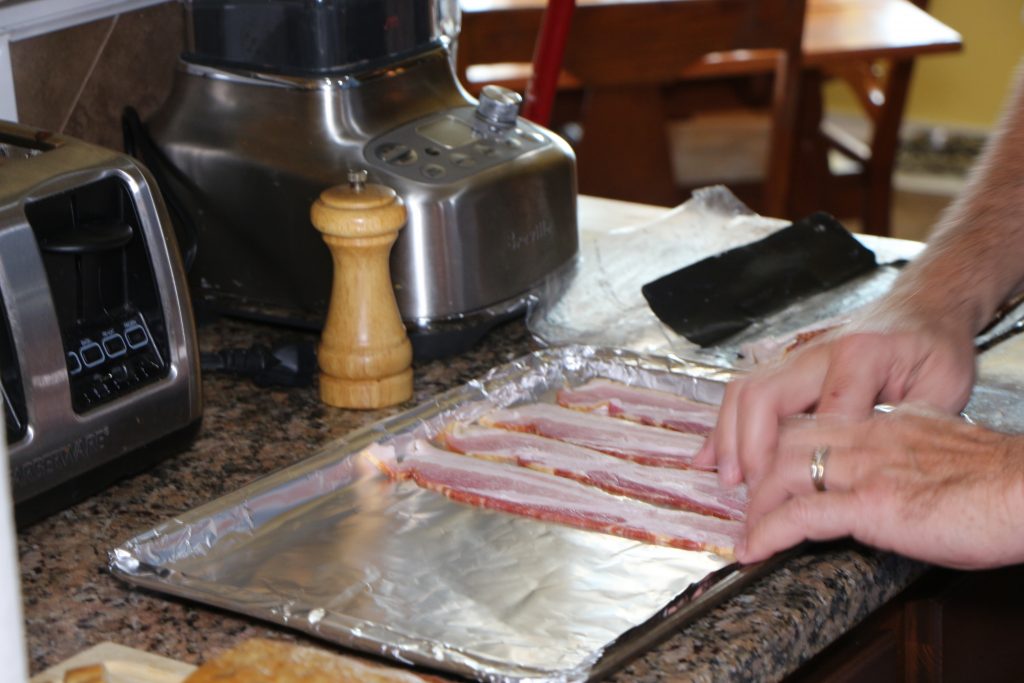 Lay the bacon on the foil…I know this is really complicated, y'all. We like to make our bacon with fresh ground pepper. If you want to change it up you can sprinkle a little bit of brown sugar on top of the raw bacon for that candied/caramelized finished.
It takes about 30 minutes for crisp bacon. I usually check it at the 20 minute mark. If you like less crispy bacon, I would check it sooner. This gives me time to enjoy my coffee or prepare another part of my breakfast. It's so nice not to have to stand over the stove.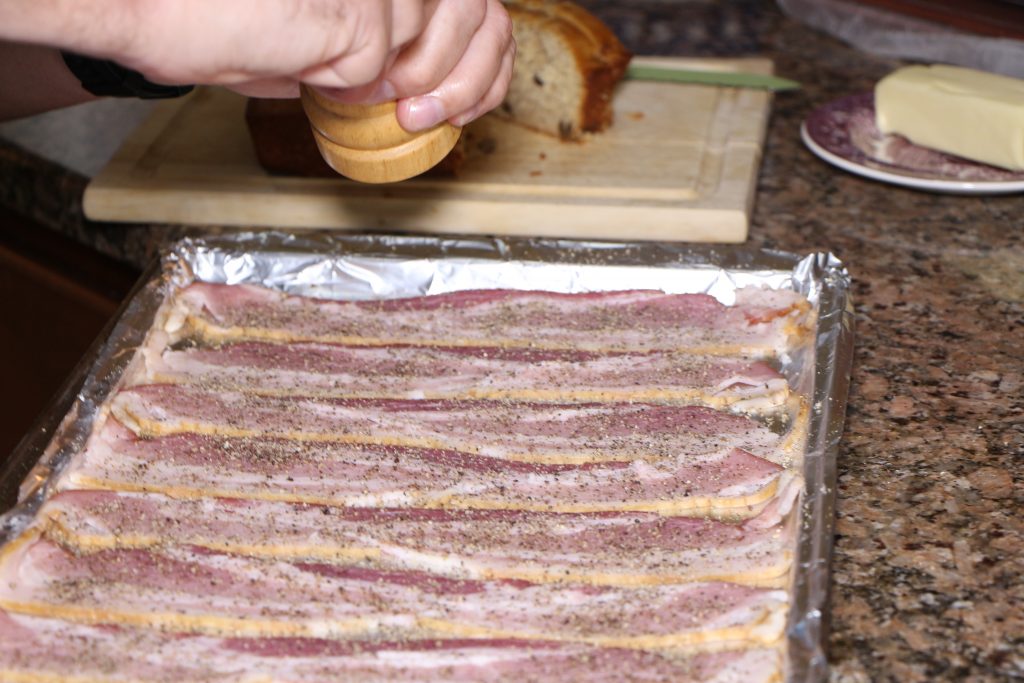 Once the hot grease has cooled I fold the foil up into a little package. If you want to toss it out and put your clean pan back in the cabinet, you can. I put mine in the freezer to use later. Think about it: a neatly little parcel of bacon grease at the ready in your freezer. I use mine in vegetable dishes (adding a little bacon grease and onion to green beans is super yummy) or in place of butter when making grilled cheese sandwiches. There's lots of possibilities.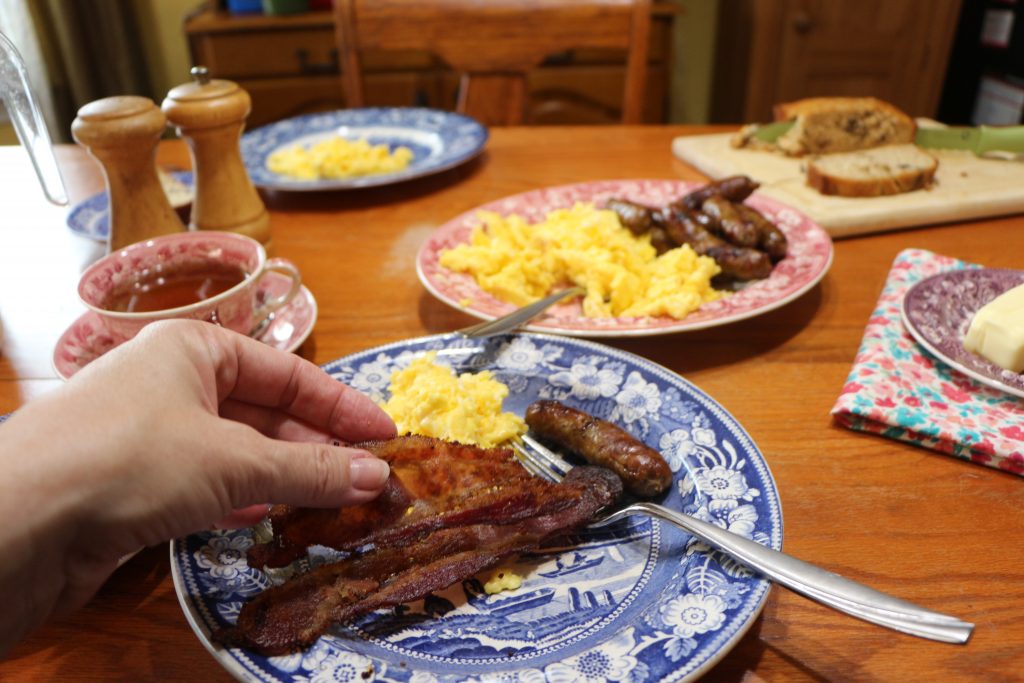 If you'd like to learn more about Perdue Farms direct to consumer products, click here.