Buffalo Chicken Quesadillas
In honor of Taco Tuesday, we're serving up quesadillas. That's almost like a taco, right? If you've never had a quesadilla, you should. Quesadillas are like the grilled cheese of tacos. You can make a quesadilla out of just about anything – leftover meat, veggies, delicious melted cheese and dipping sauces? You're only limited by imagination.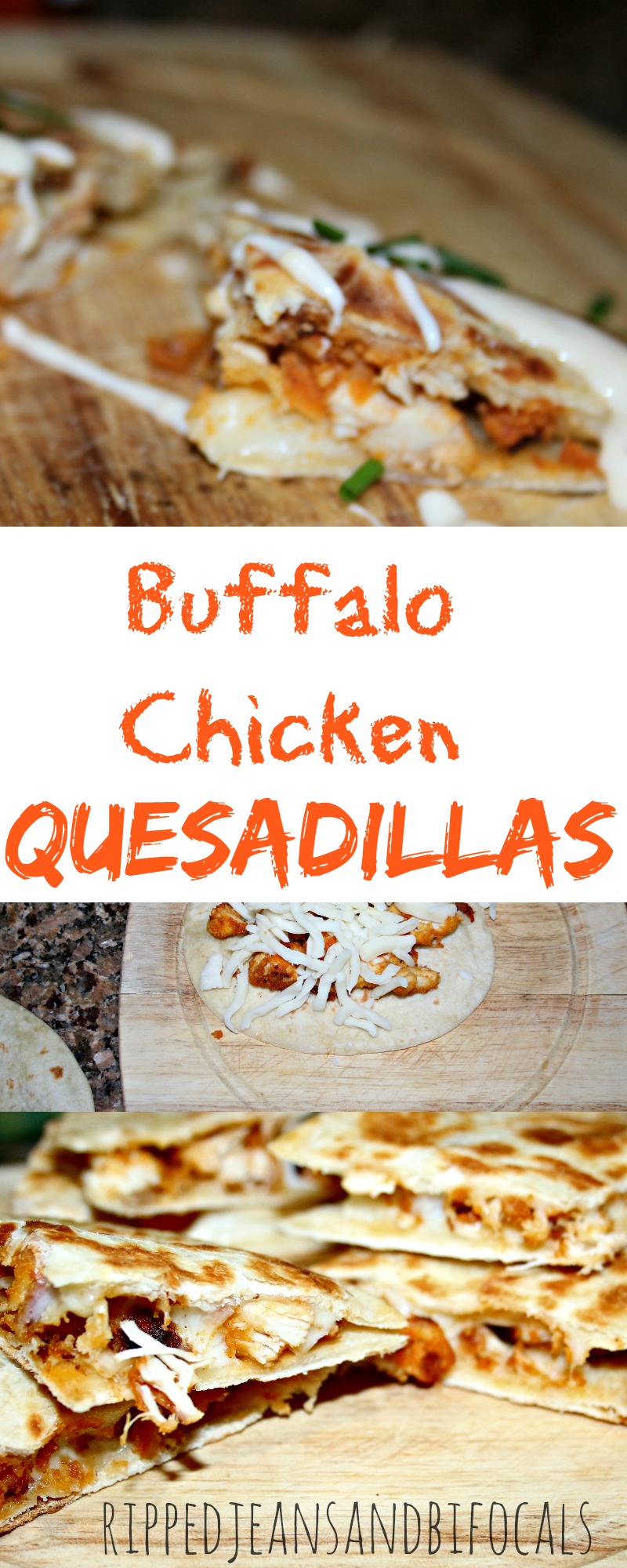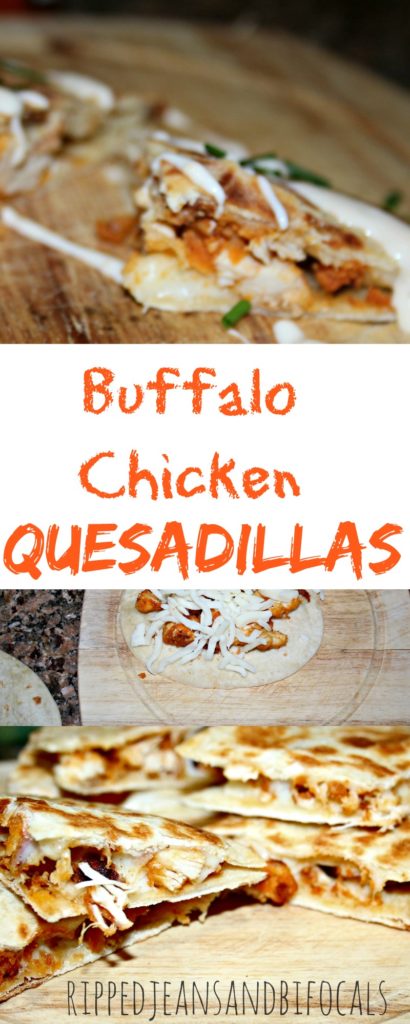 I love buffalo chicken tacos. I love anything with buffalo sauce on it. This recipe is a hodgepodge of a couple of different recipes I've pinned to my Tacos, Tacos, Tacos Pinterest board. I created this one because it's less spicy than a lot of the recipes out there – the Sweet Baby Rays sauce is pretty mild as far as buffalo sauces go – and I really wanted to do these as quesadillas because my son Zack finds messy tacos a little bit difficult to manage. He has a limb difference and if you're not familiar with his story, you can read about a little of it HERE. Zack isn't really very limited but eating messy tacos is a little challenging right now so I wanted to keep the zesty buffalo flavor and make these easier to eat.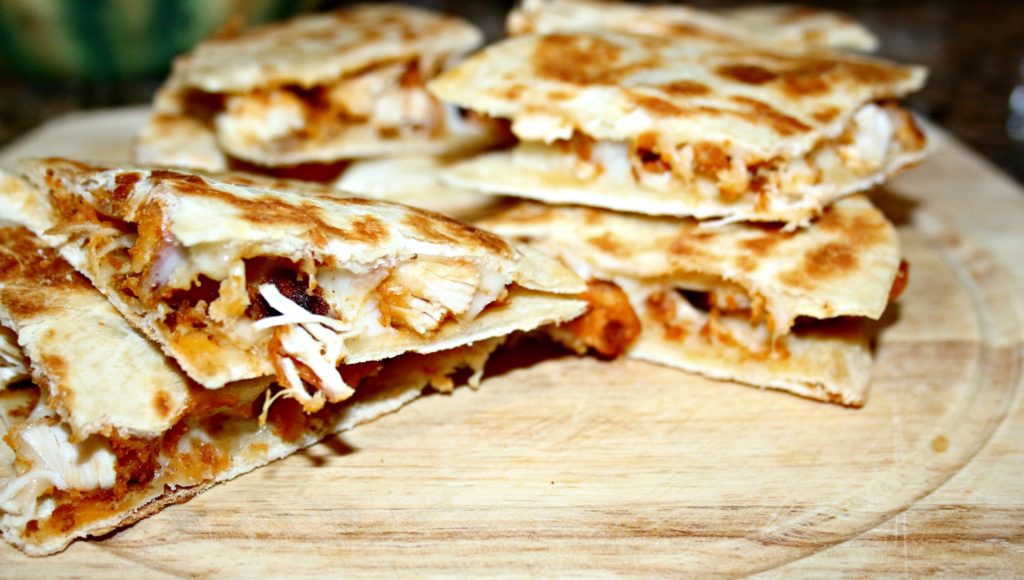 I think we have a winner!
These are really easy and fast to make and if you don't have something planned for Taco Tuesday, you probably have time to throw these together.
INGREDIENTS:
2 lbs boneless, skinless chicken breast cut into small pieces
1/2 cup flour
1 tbsp corn starch
1/2 tsp sea salt
Olive oil
1/4 cup Buffalo Sauce (I really like Sweet Baby Rays because it's thick and on the milder side but any Buffalo Sauce will work.)
12 flour tortillas
1/2 cup shredded mozzarella (although any shredded cheese will do in a pinch)
Ranch or Blue Cheese dressing
Chives or diced green onions
Mix flour, corn starch and salt together. Toss chicken to coat. I use a Ziplock bag.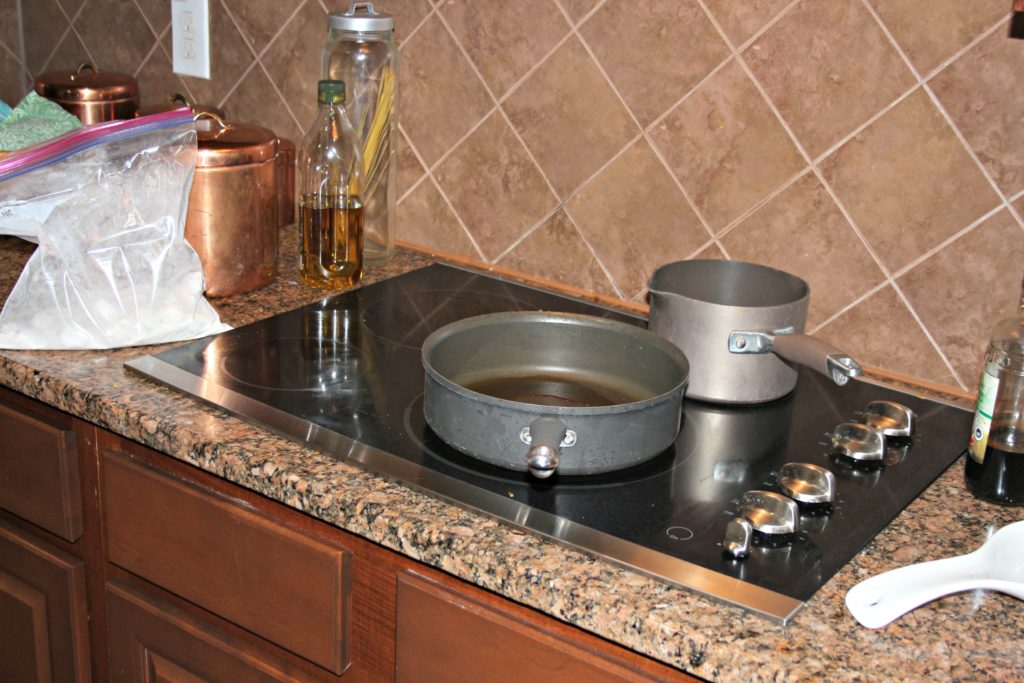 Heat olive oil in a medium/large skillet. I do 2-3 times around the pan. Yes, I've watched too much Rachael Ray and I never, ever measure my EVOO.
Add chicken, cook for 4 minutes over medium-high heat on each side until chicken is nice and brown.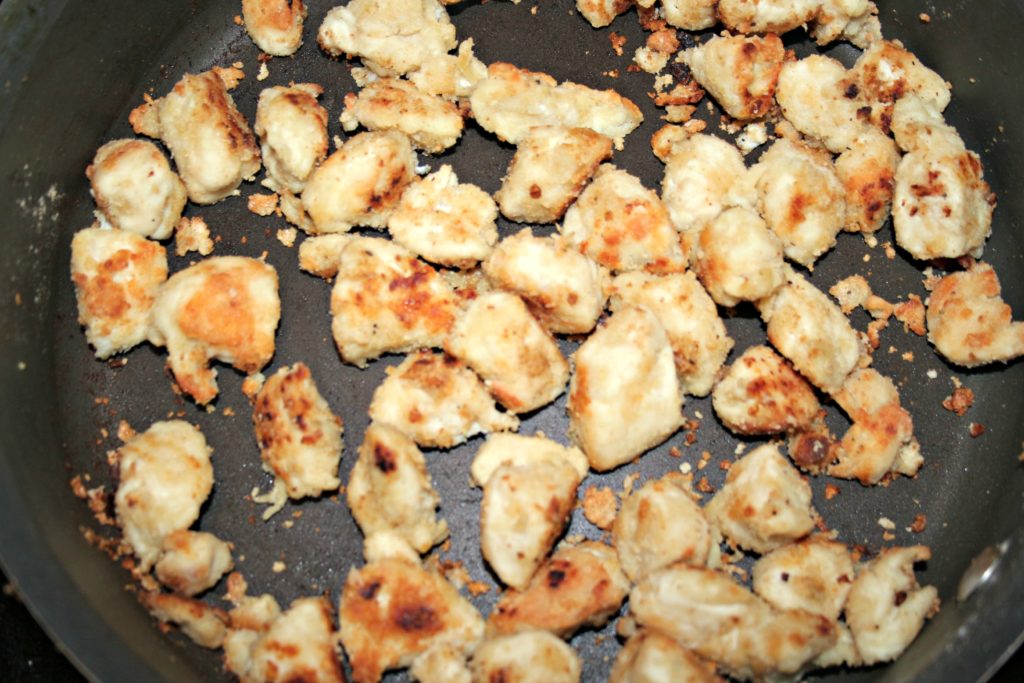 Mix in the Buffalo Sauce and heat thoroughly – about another 3-4 minutes over medium-high heat should do it. I use a very scant 1/4 cup of Buffalo Sauce. One of my kids doesn't like a lot of heat and I reserve the extra sauce for dipping for those of us who like more heat.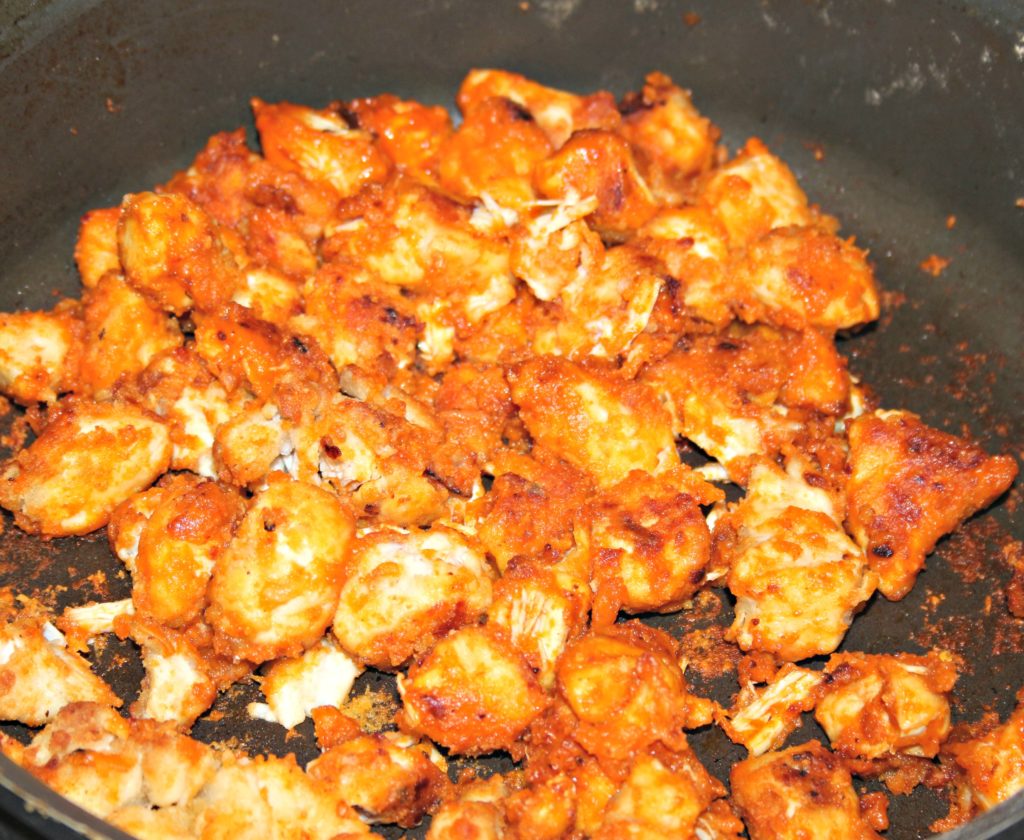 To build your quesadillas, sprinkle a little cheese on the bottom of the flour tortilla: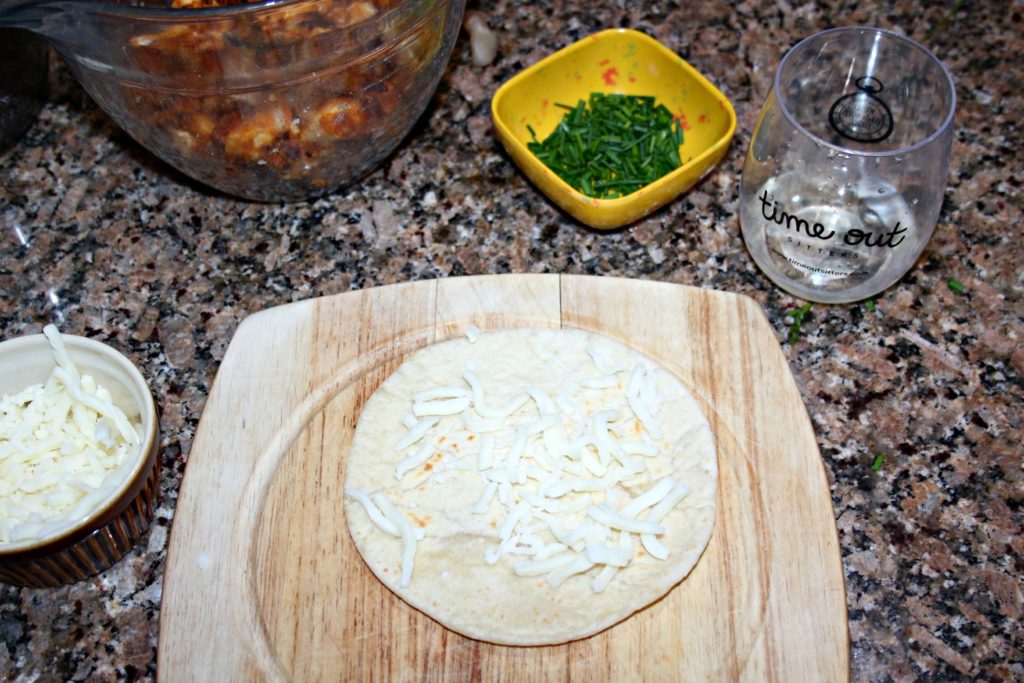 Spoon the chicken over top, add more cheese and place a second tortilla on top.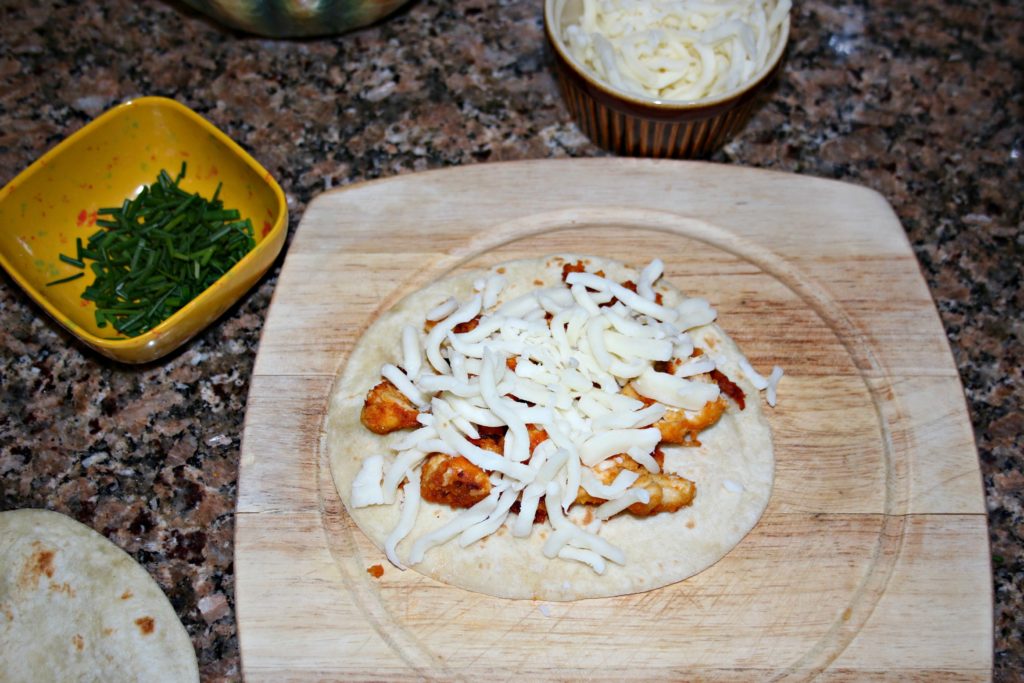 I like to smush the top tortilla down firmly. It seems to make the quesadillas hold together a little better while they're cooking.
You can cook quesadillas on a griddle or in a regular frying pan. Heat your pan to about medium and add a little spray oil. Cook for about 3-4 minutes on each side until the tortilla is golden. It's exactly like making a grilled cheese.
Cut into quarters: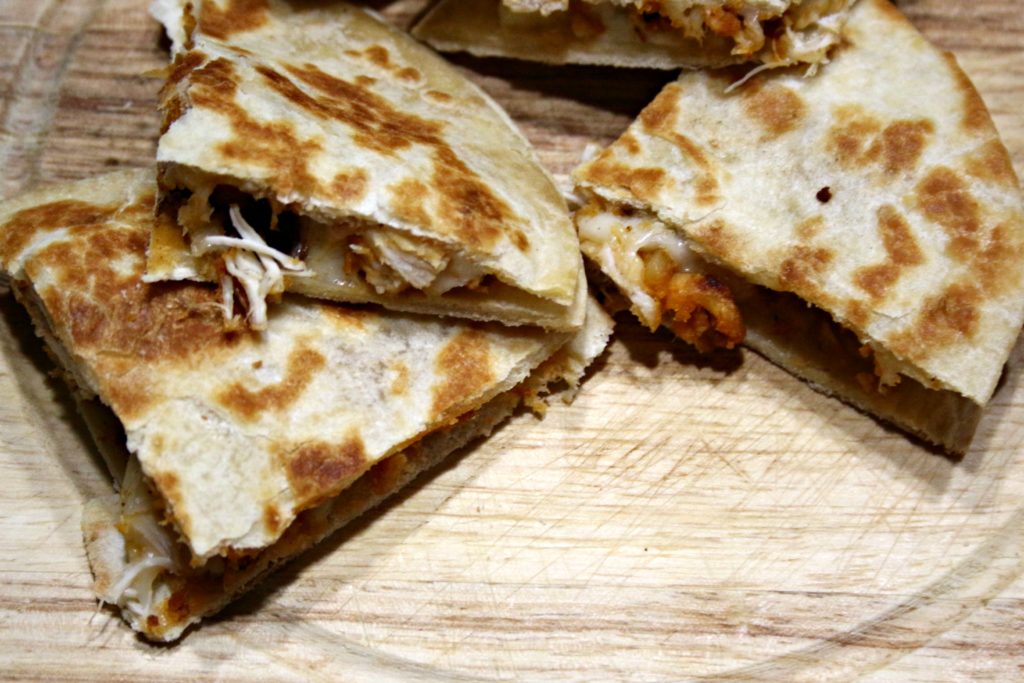 Drizzle with Ranch of Blue Cheese (Bleu if you wanna be fancy) and chopped green onions or chives. I personally like the flavor of chives a little better.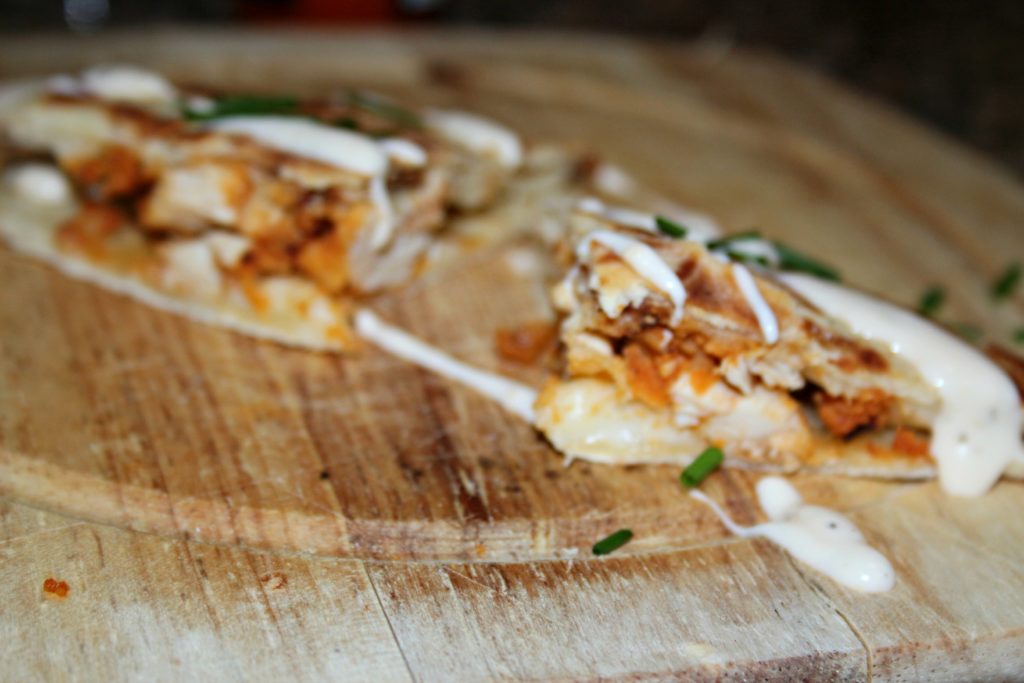 You can also add additional toppings if you like – sour cream, lettuce, tomato, avocado, more cheese. Cheese is always good. I like to dip mine in extra buffalo sauce. This recipe makes 6 quesadillas.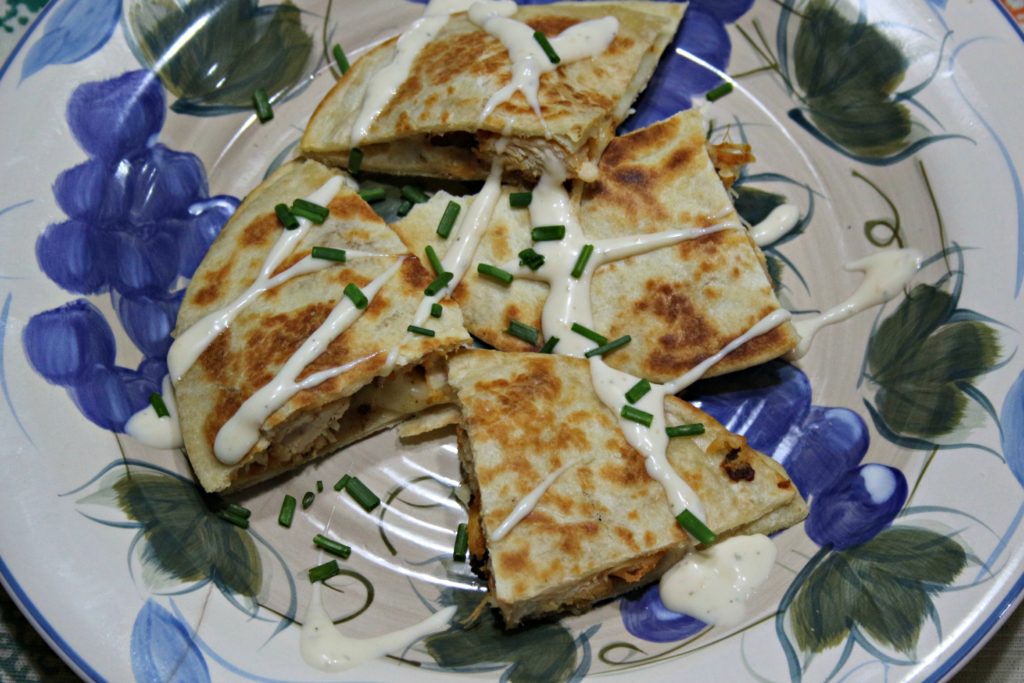 Hope you enjoy!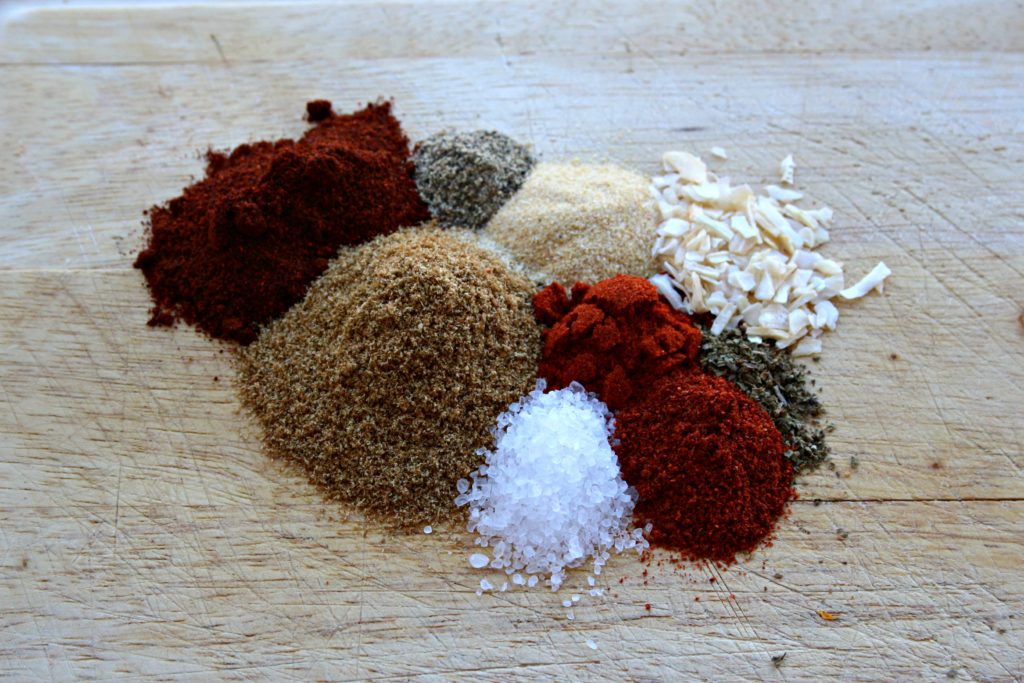 Taco recipes every Tuesday!

A vote on Top Mommy Blogs helps my site a ton. It's super easy & one click helps me to be able to continue to bring you great content. Totally non-spammy…I promise!