Back to School Meal Planning Tips + Free Meal Planning Printable
(This post may contain affiliate links. Read my full disclosure.)
Any change in routine is hard for me. My kids have been back in school for three weeks now and I've finally adjusted to our new timetable. I'm sharing some back to school meal planning tips that have helped our family during this busy time of year. I've also got a free meal planning printable you can grab. It's not fancy but it's easy and gets the job done. Check out my tips and download my free printable meal planner.
free printable weekly meal planner, free online meal planner, free daily meal planner free printable meal planning calendar
Back to School Meal Planning Tips + Free Meal Planning Printable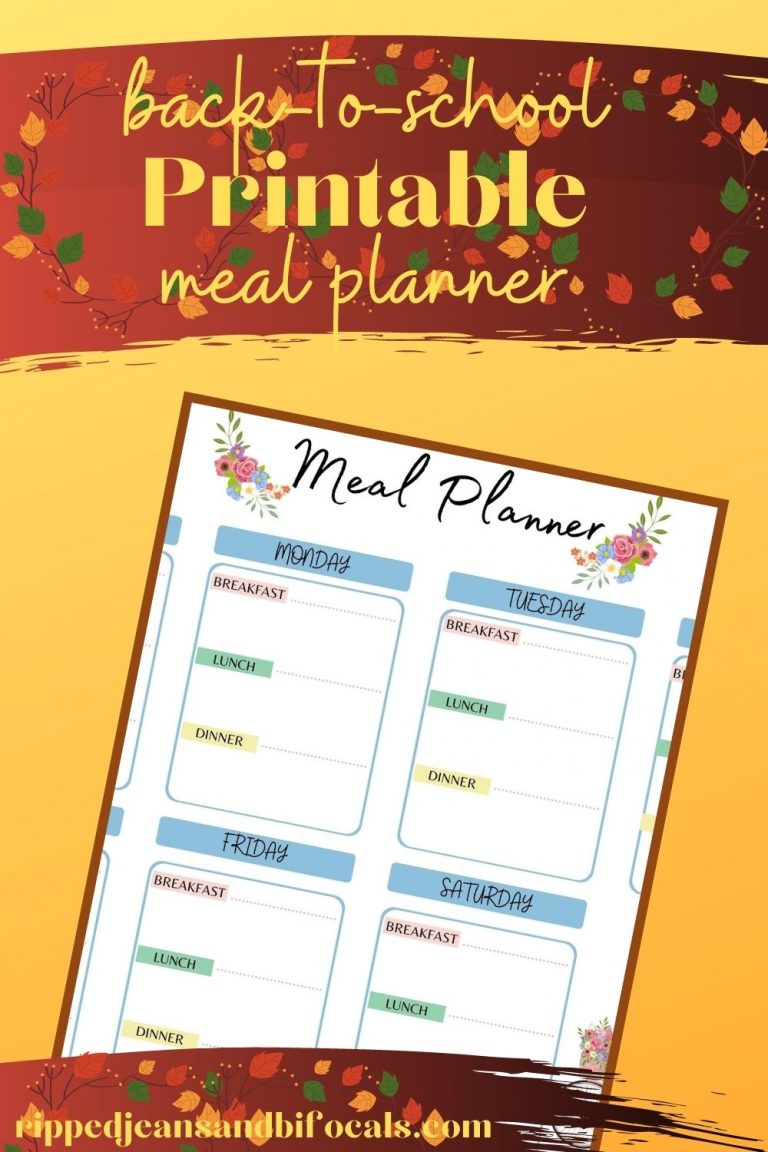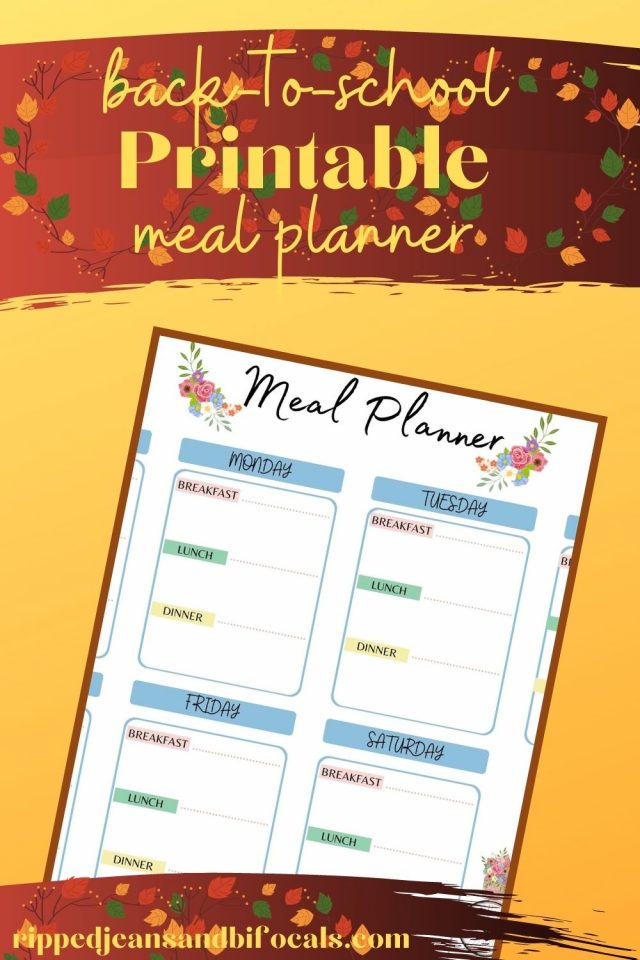 Click below to download your free meal planning printable:
Printable-Meal-Planner.Ripped-Jeans-and-Bifocals
Back to School Meal Planning Tips:
Do these five things to make back to school meal planning easy on yourself.
Disclaimer: We are a participant in the Amazon Services LLC Associates Program, an affiliate advertising program designed to provide a means for us to earn fees by linking to Amazon.com and affiliated sites. This post may also contain affiliate links to other websites. If you make a purchase from one of my links, the seller pays me a small commissions.
1. Set Aside Time for Meal Planning
I meal plan on Sunday afternoon. I plan meals for Monday through Friday only. I usually don't cook on weekends. If we go out to eat as a family, it's usually on the weekend or we just graze or eat sandwiches.
Sunday is when I make my big to-do list for the week and go through my inbox and my planner to make sure I haven't forgot anything so tacking meal planning on to this works for me. I grab a fresh copy of my meal planning printable and start mapping out what we're going to eat for the week.
Related reading: Ultimate List of Back to School Hacks for 2020
Having a free printable meal planner that you can print out each week (or print out a stack at a time) helps keep me on track.
2. Keep it Really Simple
I save elaborate dinners for when we're further into fall and I'm more adjusted to the routine. For back to school meal planning, I stick to things that are familiar to my family and things that I can make without really thinking about it. I
I also like to buy pre-chopped veggies. My grocery store sells chopped onions, celery, squash, sweet potatoes…you name it. I also like the bags of fajita veggies (onions plus green, red and yellow peppers) you get in the frozen section. It costs more money to buy it this way but it saves me a lot of time when I'm trying to get a meal on the table. I use the same free printable meal planner that I've included in this post to make sure I'm making use of the ingredients I have on hand.
3. Check the Pantry and the Freezer
I plan meals based on what I've already got. This makes sure my food stores get rotated and saves money. I usually do one Shipt order a week to and I normally place my order right after I've made up my meal plan for the week. This makes sure I have the ingredients I need when it comes time to cook and makes sure I keep what I have top of mind when I'm filling out my free weekly printable meal planner.
I typically do one Costco run each month and one Shipt order a week. I absolutely adore Shipt. It does cost a little bit extra (there's an annual membership fee plus it costs more per trip to order groceries delivered to your door than it does if you shopped for them yourself. But, I save a ton of time and I think our overall food bill is lower because the Shipt shopper gets exactly what's on your list and won't show up at your doorstep with a cart full of impulse buys.
4. Plan Out Breakfasts and Lunches
If you're using my free menu planning printable, you'll see I've got entries for breakfast, lunch and dinner. We all eat breakfast at home. My kids pack lunch and my husband and I eat together at home.
Our breakfasts and lunches are pretty simple but planning them out helps make sure I've got things on hand for easy breakfasts and lunches. It also helps me remember to use what I have on hand – like those avocados that are going to get yucky if I don't smash them up and slap on some toast. My free printable meal planner reminds me what I'd planned on making and makes sure I don't forget to use my avocados.
5. Have a Master List of Meals
Ours is pretty basic: taco bowls, chili, spaghetti, roasted pork loin. I make a lot of meals off this list of easy crock pot favorites and we do a lot of tacos from this list. I'm always on the lookout for new, easy meals to change things up but while we're adjusting to new routine of back to school, I usually stick to what I'm good at and what I know my family likes.
The printable meal planner I'm sharing with you does the job to keep me on track. Writing it all out and keeping the sheet on the fridge or on my bulletin board where everyone can see it keeps everything out in the open and everyone knows what to expect. I hope you enjoy my free meal planning printable and that it helps keep you on track this fall, too.