(This post may contain affiliate links. Read my full disclosure.)
I love a good bath bomb. But did you know that they're super easy to make? I'm sharing the recipe for Pumpkin Spice Bath Bombs – they make a fun fall gift, either on their own or tucked into a gift basket with a cute scarf and a Starbucks card. If the onset of cooler weather and changing leaves has you craving all the pumpkin spice smells, these pumpkin spice bath bombs are calling your name.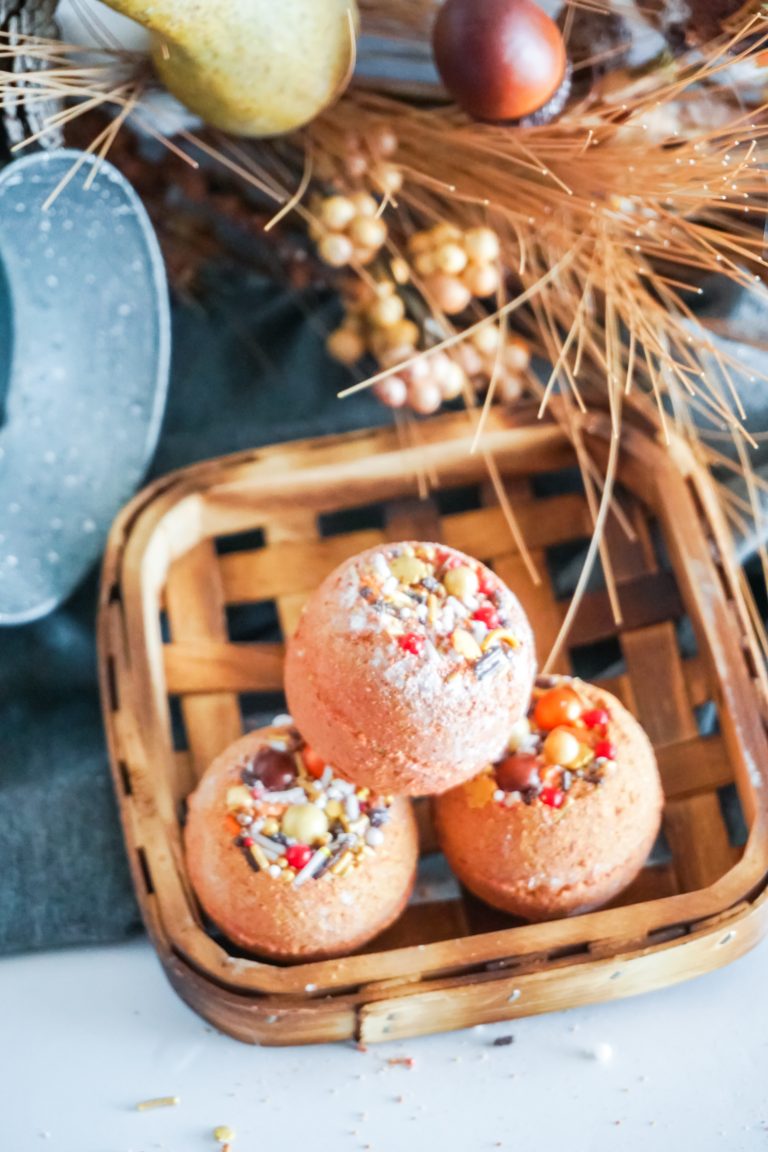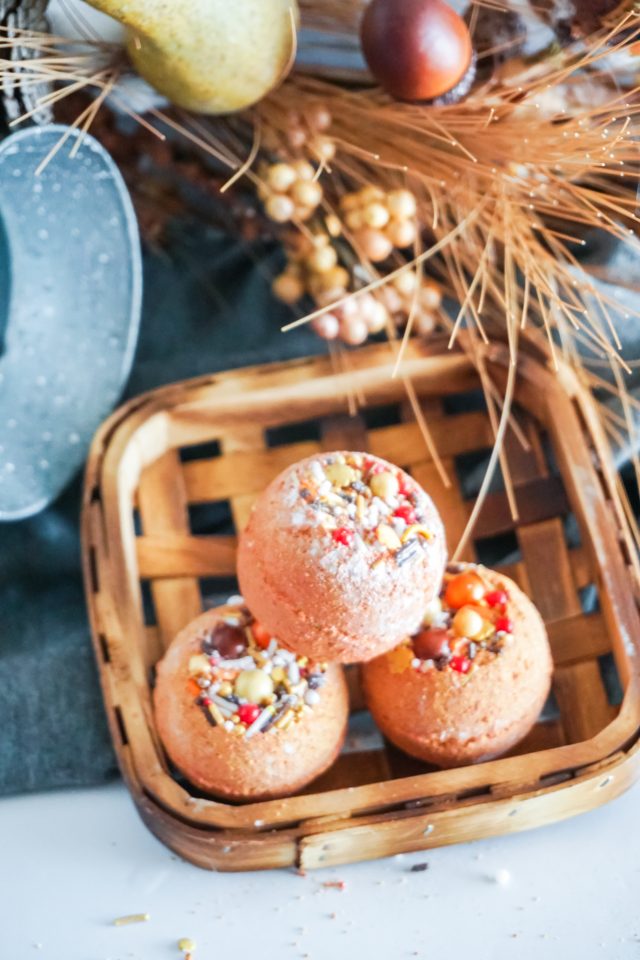 Pumpkin Spice Bath Bombs
You can make pumpkin spice bath bombs at home. It's not hard at all. If you're looking to give any sort of fall gift or compliment a bathroom with earth tone decor, these are perfect.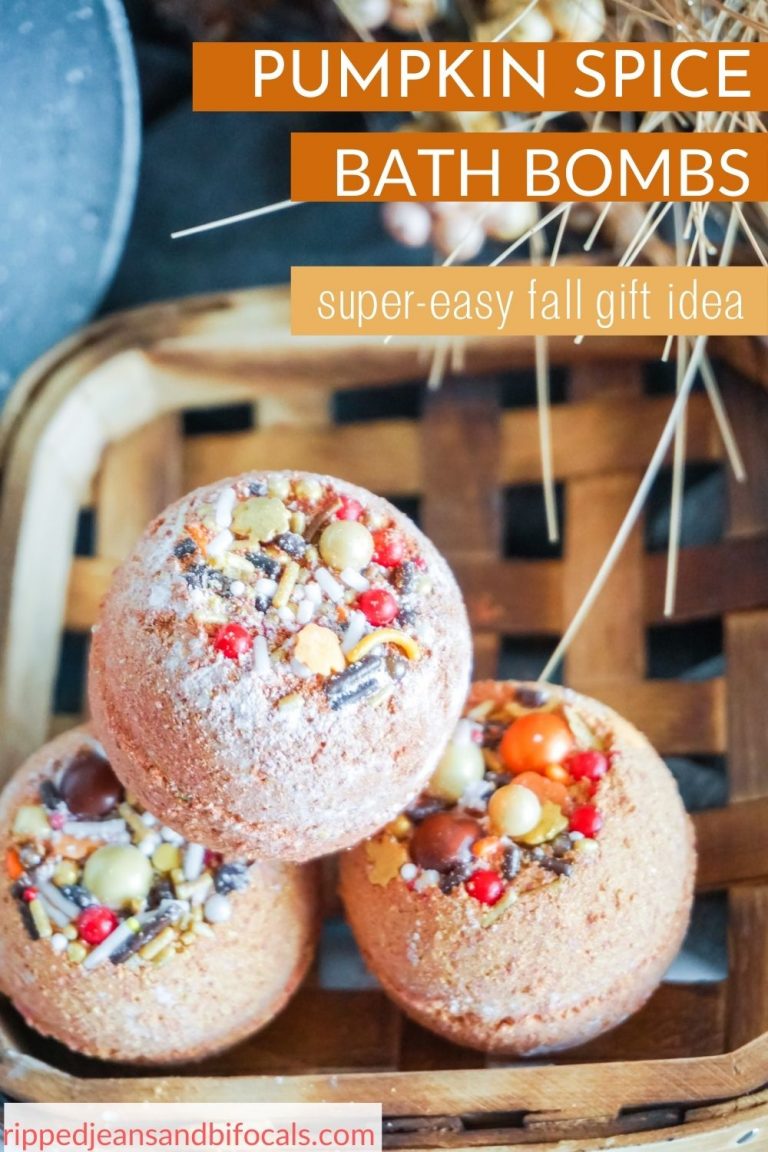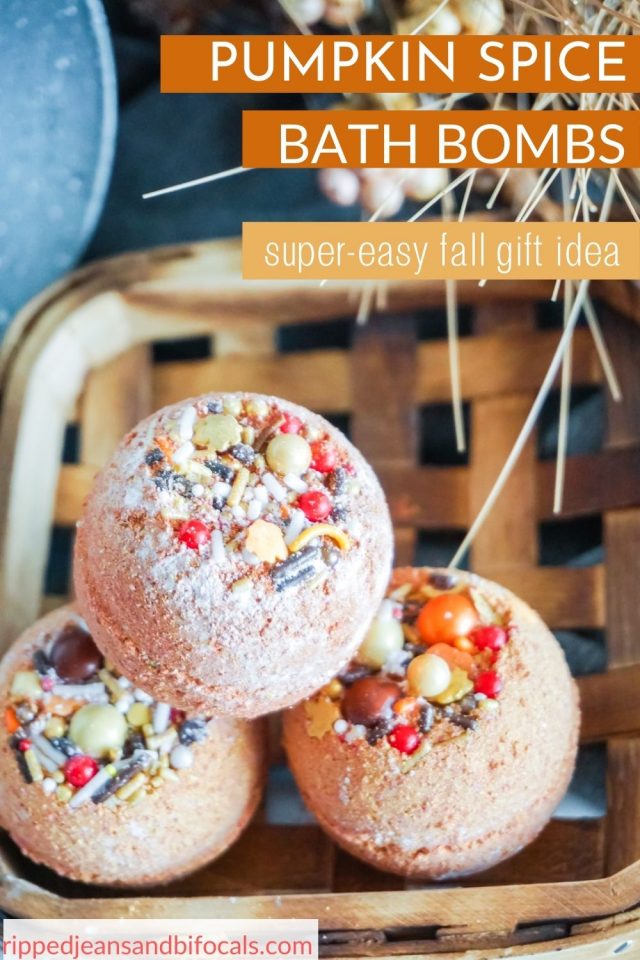 Disclaimer: We are a participant in the Amazon Services LLC Associates Program, an affiliate advertising program designed to provide a means for us to earn fees by linking to Amazon.com and affiliated sites. This post may also contain affiliate links to other websites. If you make a purchase from one of my links, the seller pays me a small commissions.
Supply List
You'll need a few things that you might not have on hand so make sure to gather all of your ingredients before you start.
And, of course you'll need a set of bath bomb molds to get this perfectly round shape.
Love bath bombs but don't want to make your own? Etsy has a plethora of bath bombs. Support a small business. I like Ritzy Bath. They have a great variety of colorful bath bombs and their prices are really good. Bath bombs make a great fall gift or a fun stocking stuffer…if you're really ahead of the game right now. Which I'm not but if you are, you do you.
Related: Want pumpkin spice goodness you can eat? Try this pumpkin and banana smoothie recipe.
Simple Process
There are quite a few steps but they're pretty easy to follow. See the instruction card (scroll to the bottom of this page) for more details, but here's what the process looks like: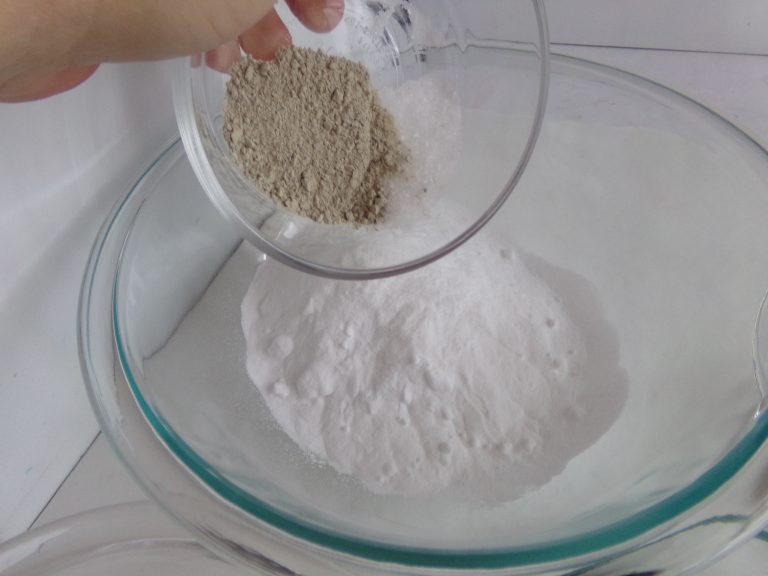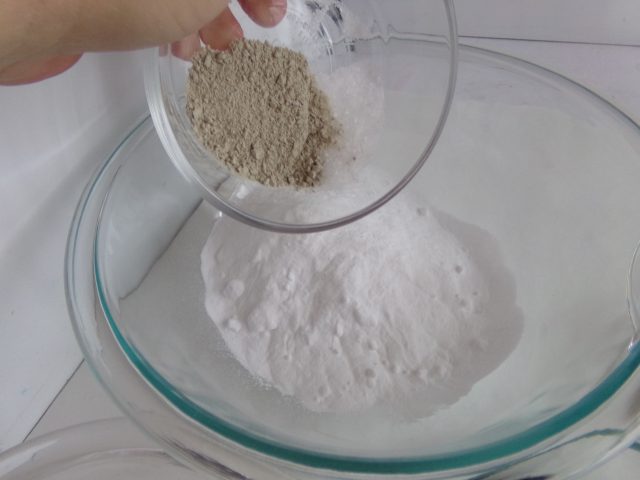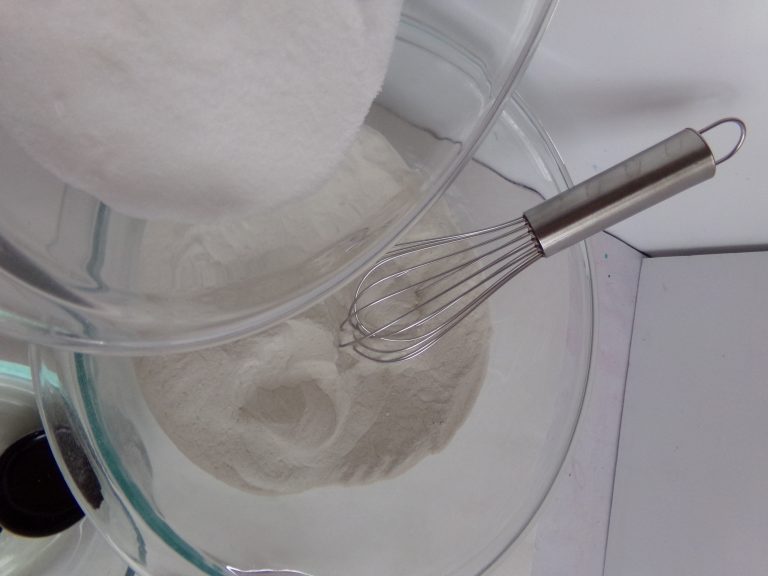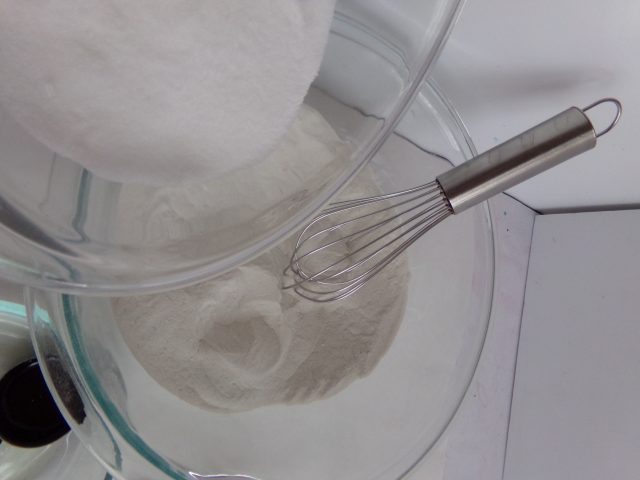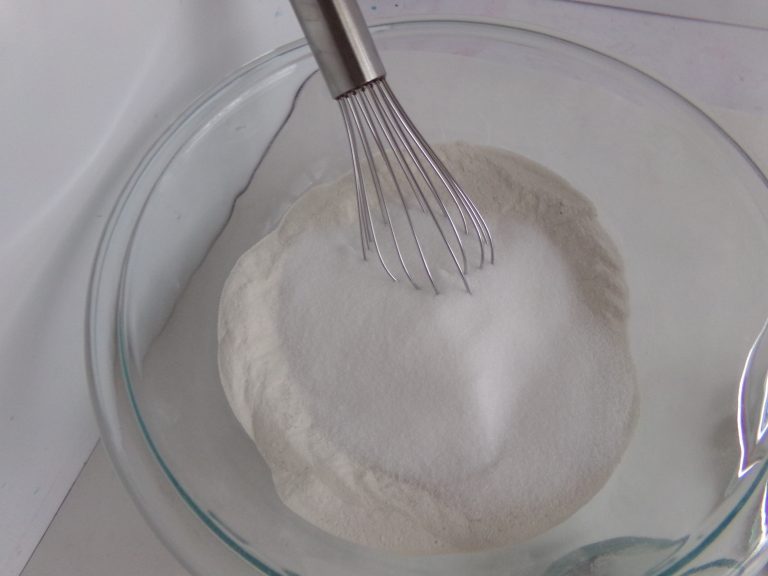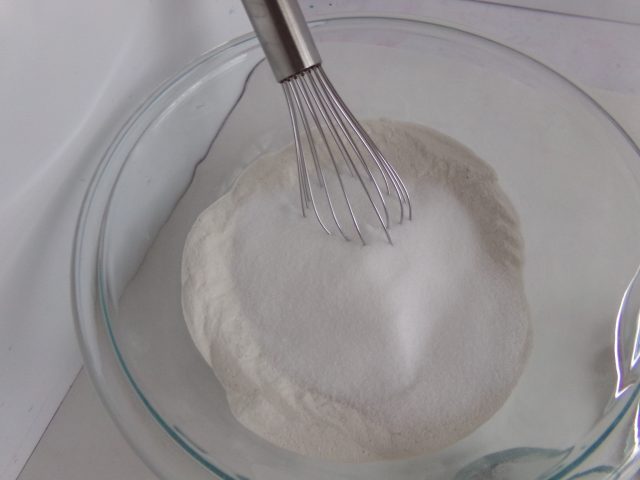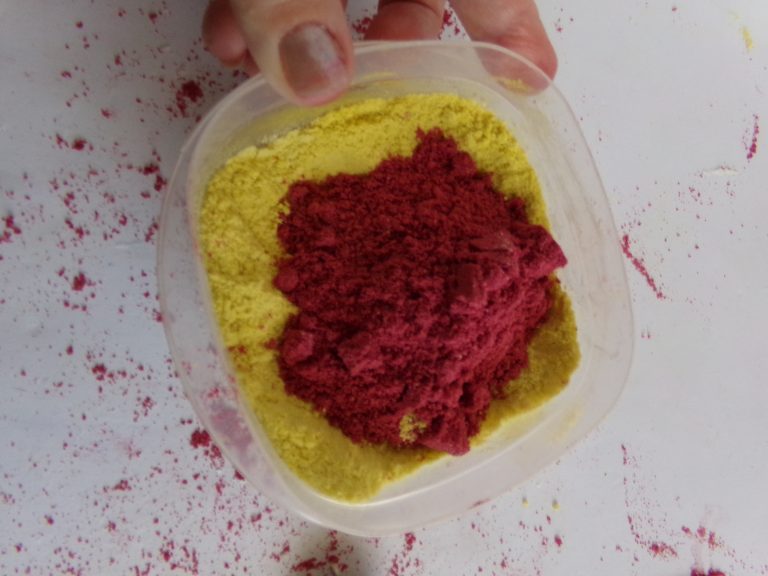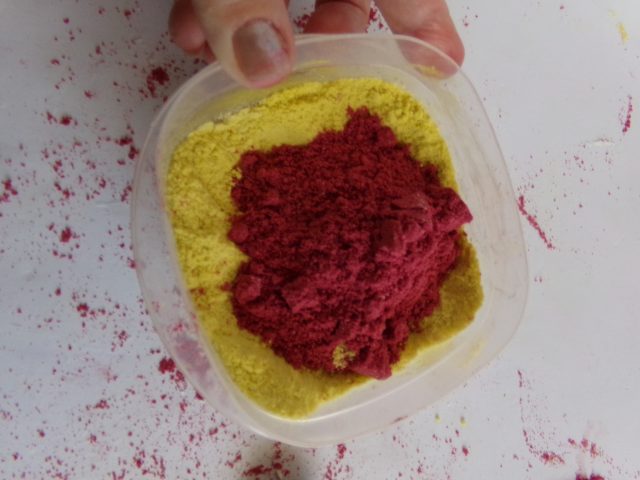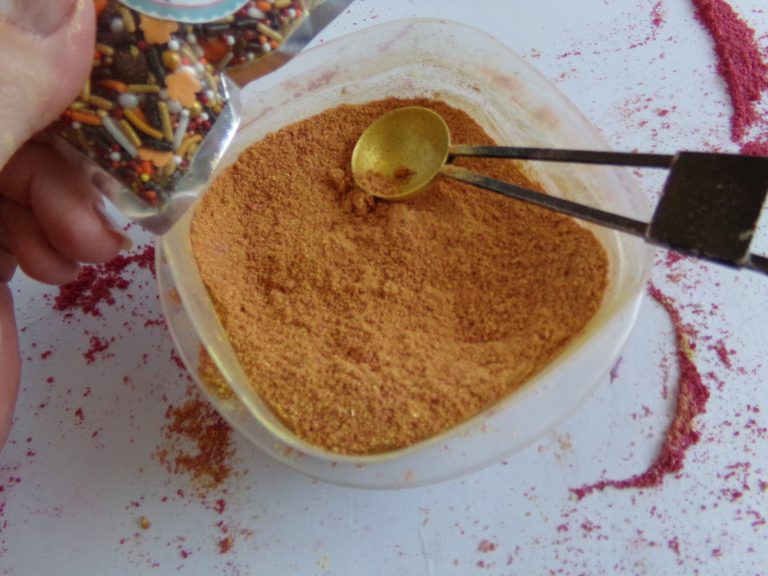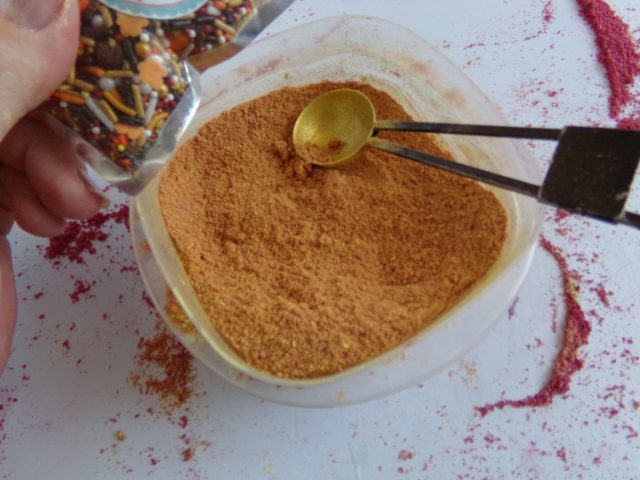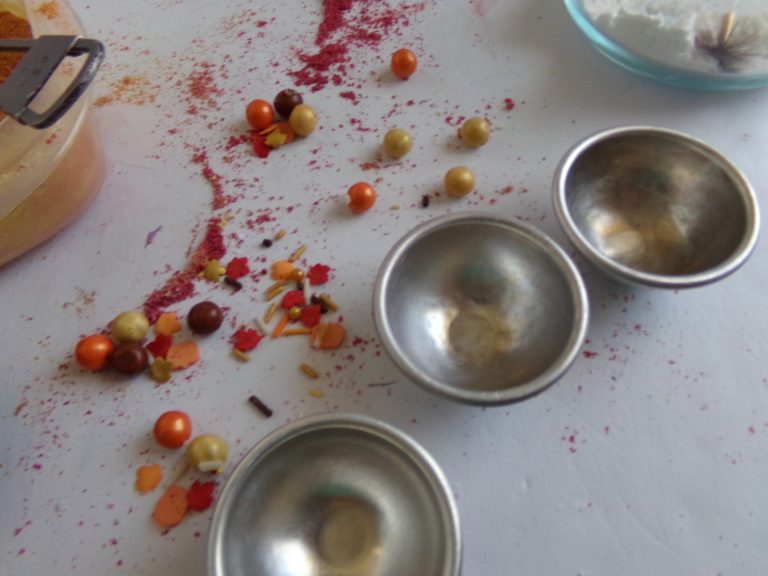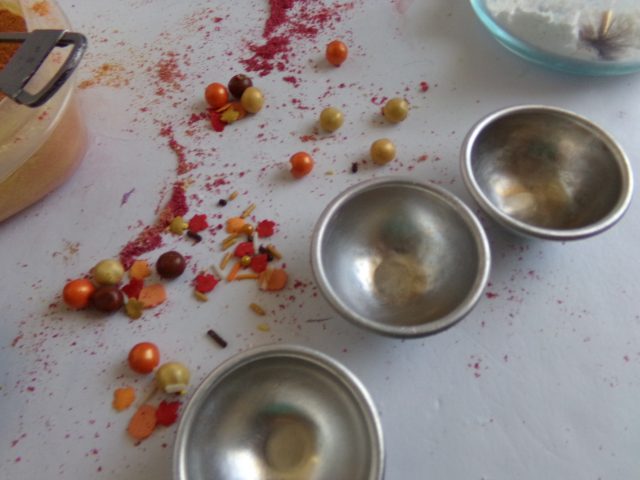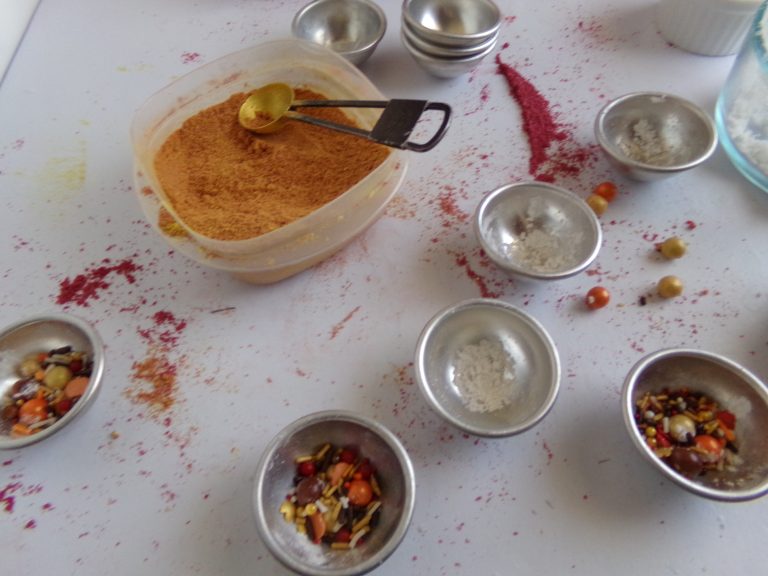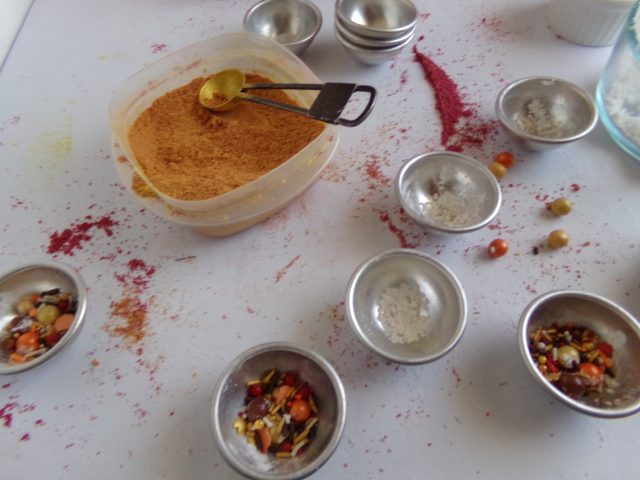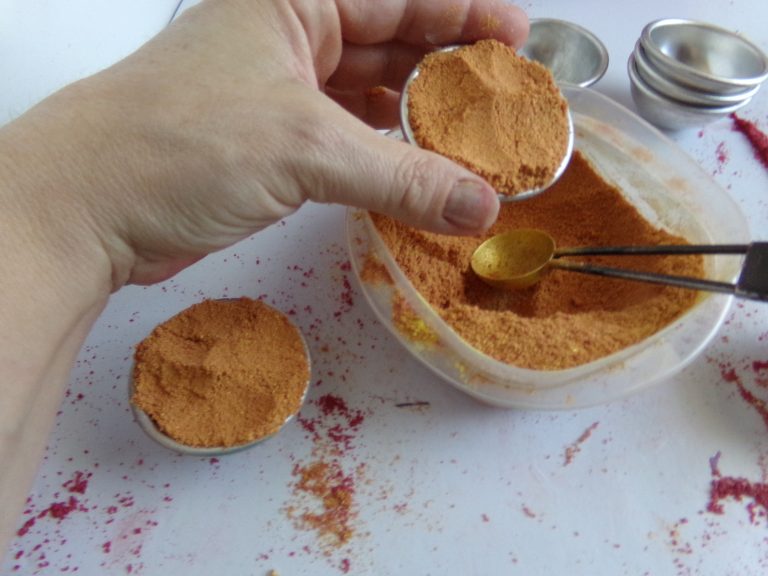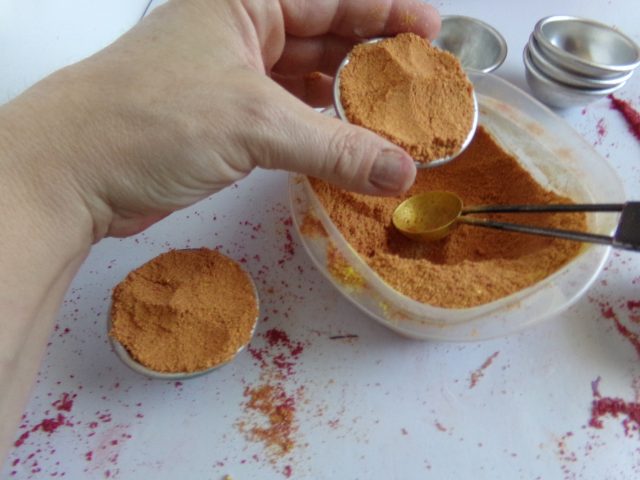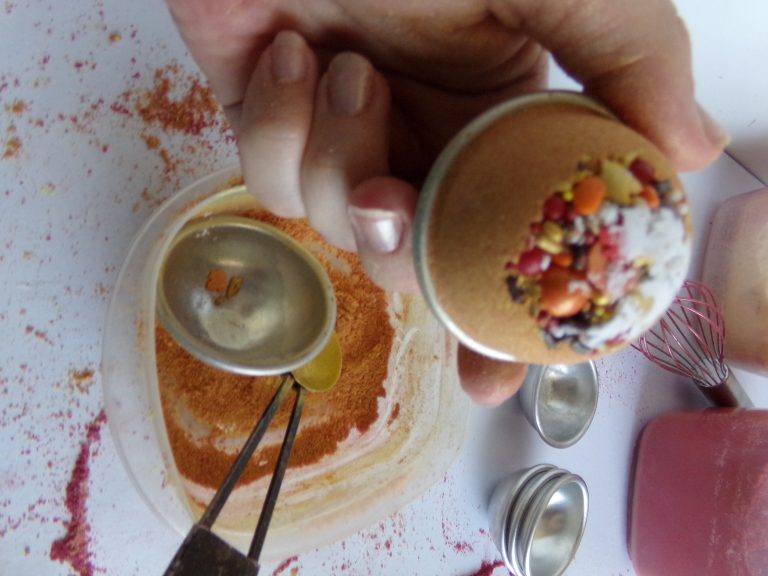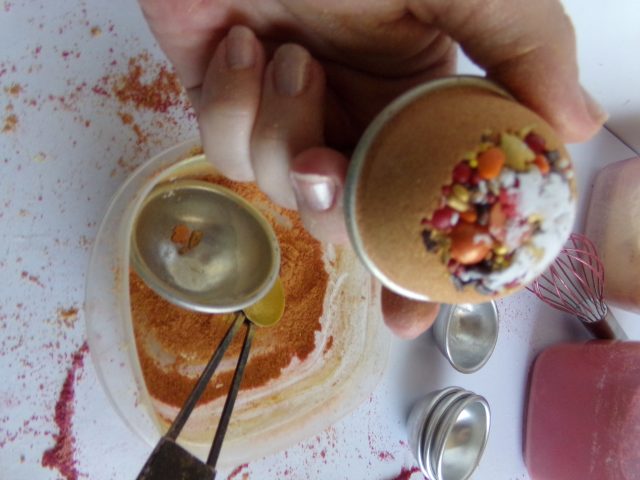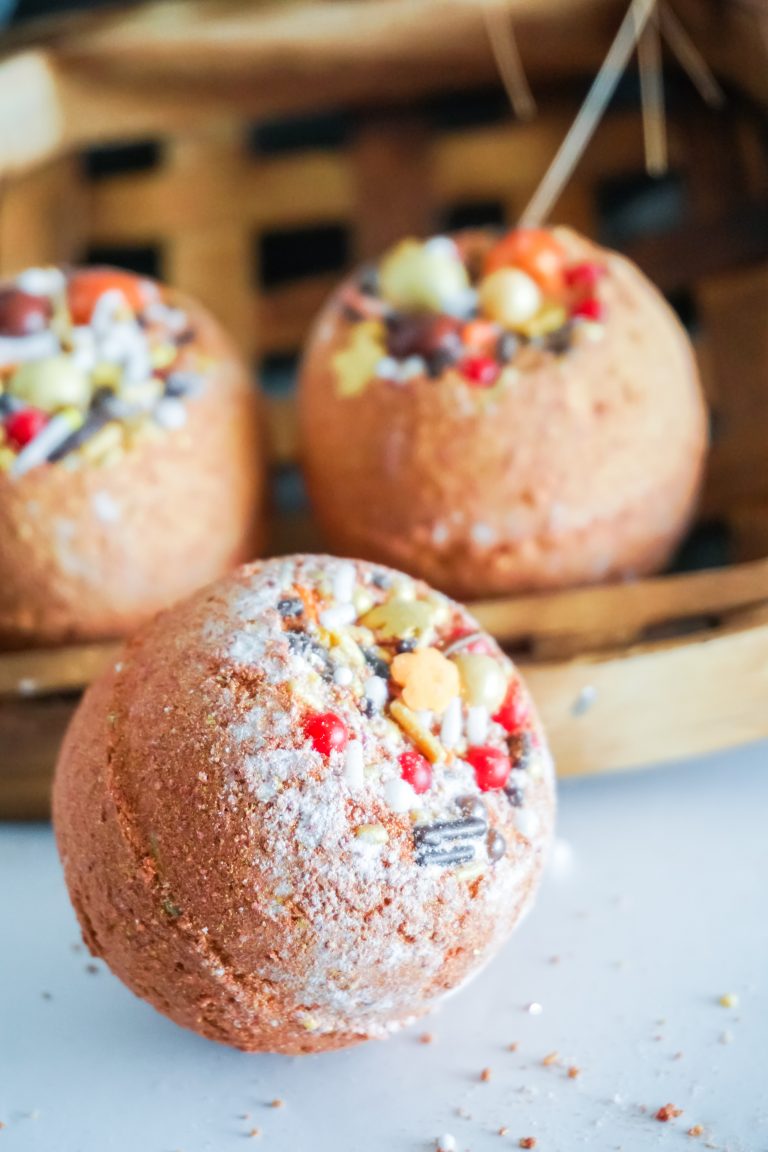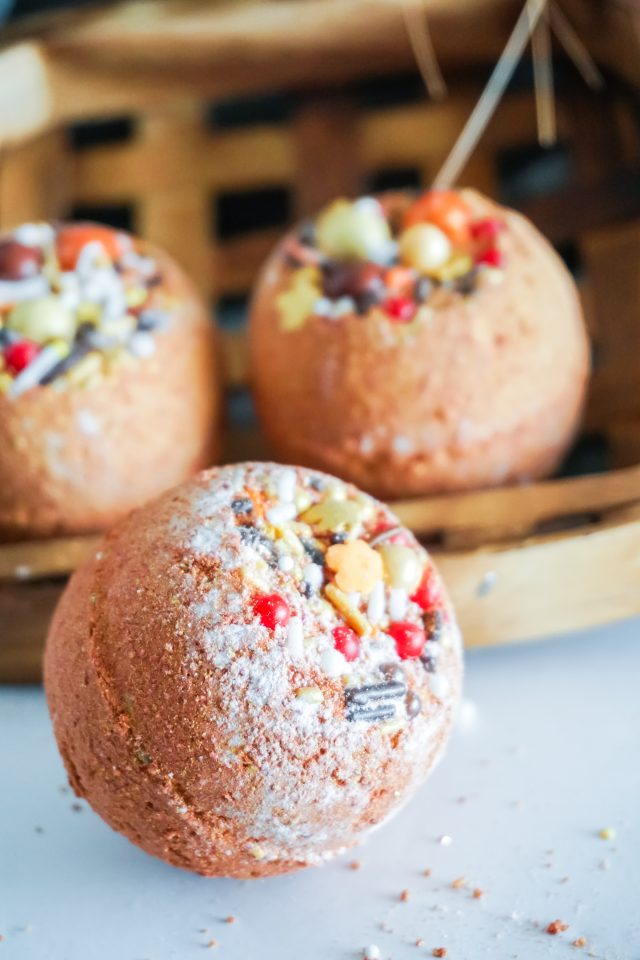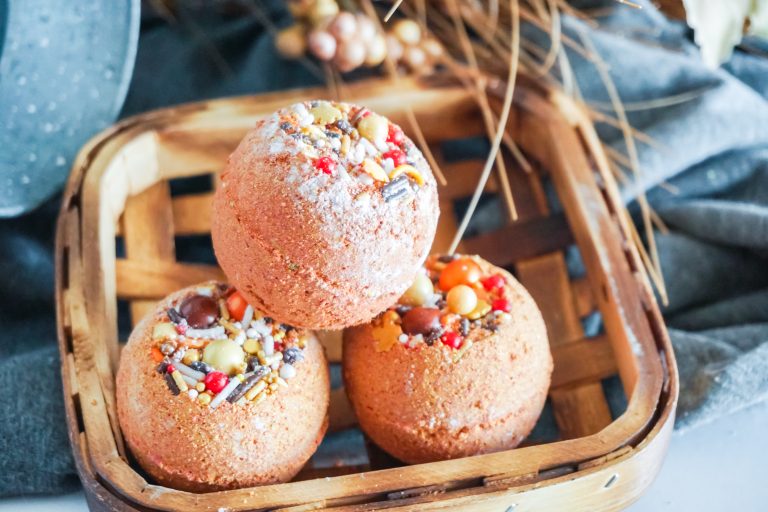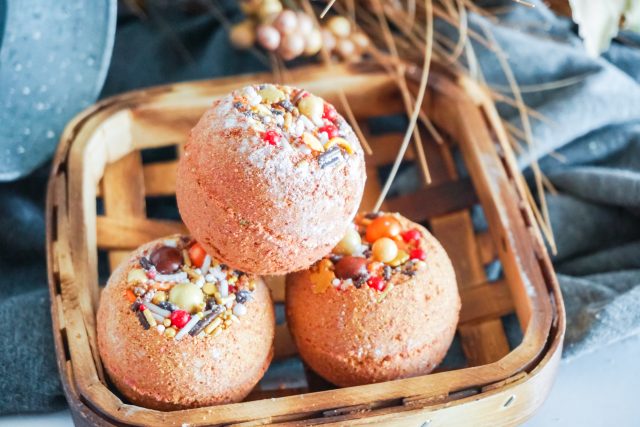 You can store your bath bombs in an apothecary style jar. I love this one because it's plastic but doesn't look plastic. If you have kids or don't want glass near your bathtub, this is a great option.
Pumpkin Spice Bath Bombs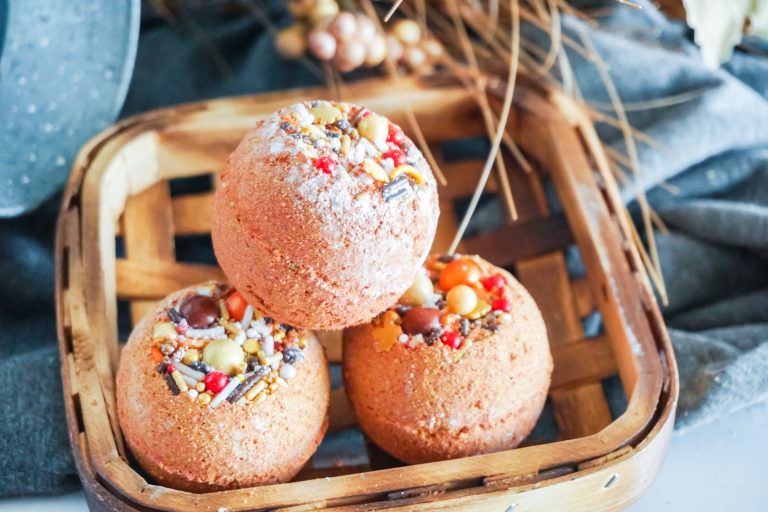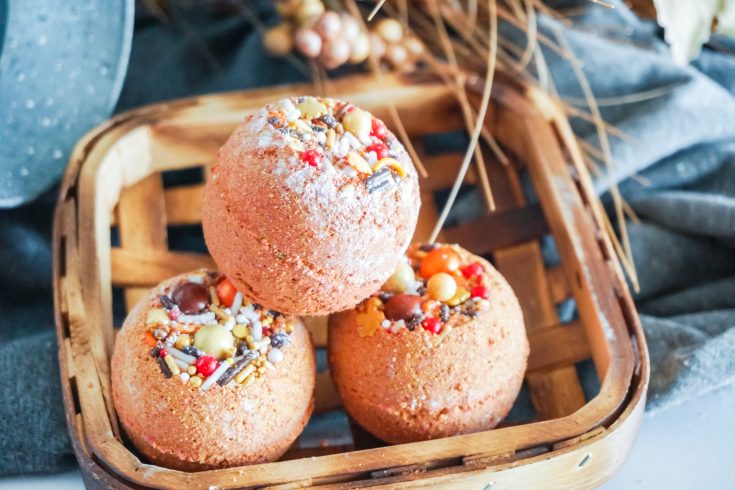 Celebrate fall with these easy to make pumpkin spice bath bombs. Pretty enough to give as a gift but definitely keep some for yourself.
Materials
1 1/2 cup baking soda
3/4 cup citric acid
1 tbsp bentonite clay
tbsp epsom salts
2 tbsp melted coconut oil
1/2 tsp essential oil blend desired (or pumpkin spice extract)
1/2 tbsp polysorbate 80 (to keep the colorant from sticking to the bathtub)
1 tsp red mica powder
1 tsp yellow mica powder
2-4 tablespoons fall sprinkles blend
1/2 tsp alcohol (to wet the mixture if necessary at the end of the mixing if it dries out while putting the mixture into the molds)
1/2 tsp cornstarch
Instructions
1. Whisk together the baking soda, citric acid, clay and epsom salts.

2. In a second bowl, combine the melted coconut oil, essential oil blend and polysorbate 80 together, mixing well.

3. Add liquid ingredients 1 tsp at a time to the dry ingredients, mixing it together slowly so as not to start the fizzy reaction.

4. Add the red and yellow mica powder and stir until the color is consistent throughout. If you would like a more intense color, add more mica powder in 1 tsp increments, stirring between each increment until you have a dark color. Keep in mind that the color will fade a little when the mixture dries.

5. Dust the bottom of one side of the bath bomb mold with cornstarch. The sprinkle side tends to come out on its own, so do not bother to dust that side with cornstarch.

6. Place about 1 tsp of sprinkles in the non-dusted side of the bath bomb mold.

7. Immediately pack each side of the bath bomb mold with the mixture. Pack extra bath bomb mixture between the two molds, then press the two sides together, grinding and pressing them to force the two together.

8. Allow the bath bombs to rest in the mold for up to 24 hours before gently tapping the top and side of the mold to release the bombs.

9. Use your bath bombs immediately or store in an airtight container until you're ready to use!