Why I really (really, really, really) love Shipt – A review of Shipt
(This post may contain affiliate links. Read my full disclosure.)
I love to go grocery shopping. Unless I'm in a hurry. Unless my kids are with me. If I'm not hangry/hungry, if it's not raining, or if the grocery store parking lot isn't crowded. So basically…never. I used to dream about a personal assistant who could go to the grocery store and just "pick up a few things" for me…and no, not my husband…heaven forbid. He's perfectly willing to make a grocery store stop on his way home from work. It takes him an hour to grab the five things I had on my list and he'll no doubt come home with six bags of tortilla chips that expire tomorrow that he snagged out of the clearance bin. Sigh. If you need me, I'll be over here creating recipes that use stale tortilla chips. But, now there's Shipt and it has made all my dreams come true, so I'm excited to give you a review of Shipt.
[Tweet "Why I really (really really really) love Shipt. @Shipt"]
I received a complimentary subscription to Shipt in exchange for my honest review of their service. This post also contains affiliate links, so if you wish to sign up for Shipt, too, I will earn a small commission.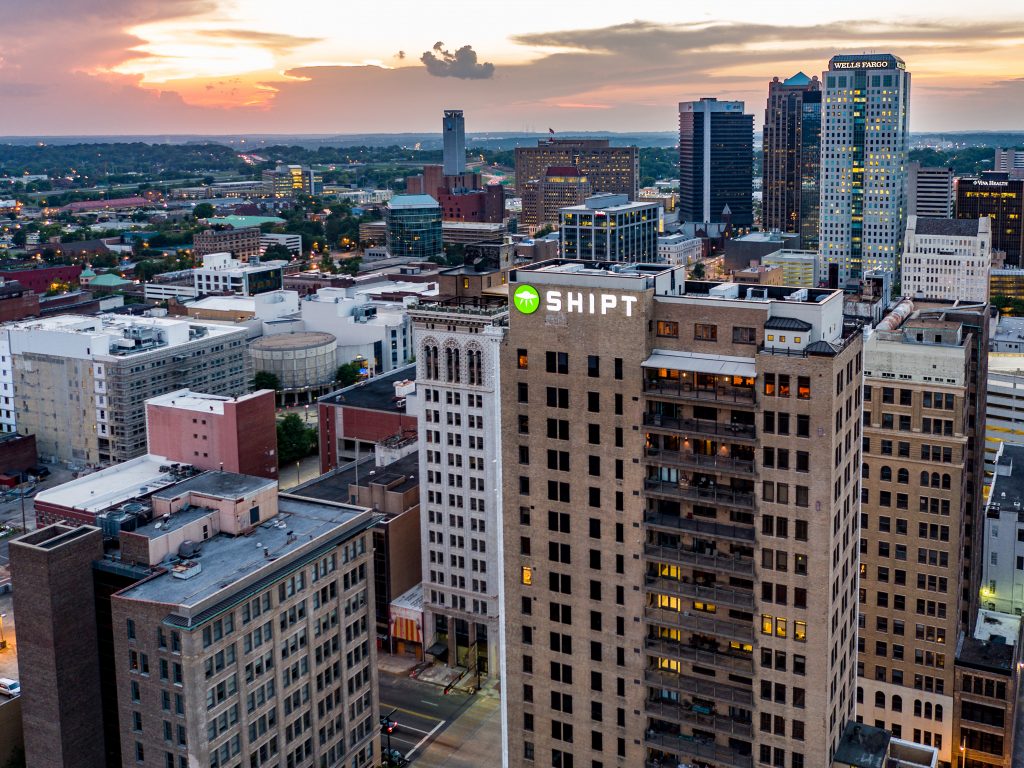 Why I (really really really) love Shipt – A review of Shipt
Shipt is the best thing since sliced bread. It's all that and a bag of chips. Had enough of the cliches? That's fair but just to let you know, you can get sliced bread and bags of chips through Shipt. The Shipt logo is a little flying saucer, putting the idea in your head that your grocery order will just be beamed down right to your house. It's just about that fast and easy.
For those of you who have been living under a rock, Shipt is a grocery delivery service. Yes, that's the personal assistant I've always wanted. Shipt has made that happen for me.
Signing up could not be easier. You enter your email and your location and Shipt gives you the options of the stores you can use in your area. This will vary from location to location. In my area, Shipt shoppers will shop at HEB, Target, and CVS. CVS is a relatively new addition and I'm excited to see that available.
Once you decide what store you'd like to shop with, you're taken to a menu page where you can use the search bar to find the items you are looking for, i.e. milk, crackers, lipstick, whatever. Yes, you can get someone to bring you lipstick to your door. What a wonderful time to be alive, right?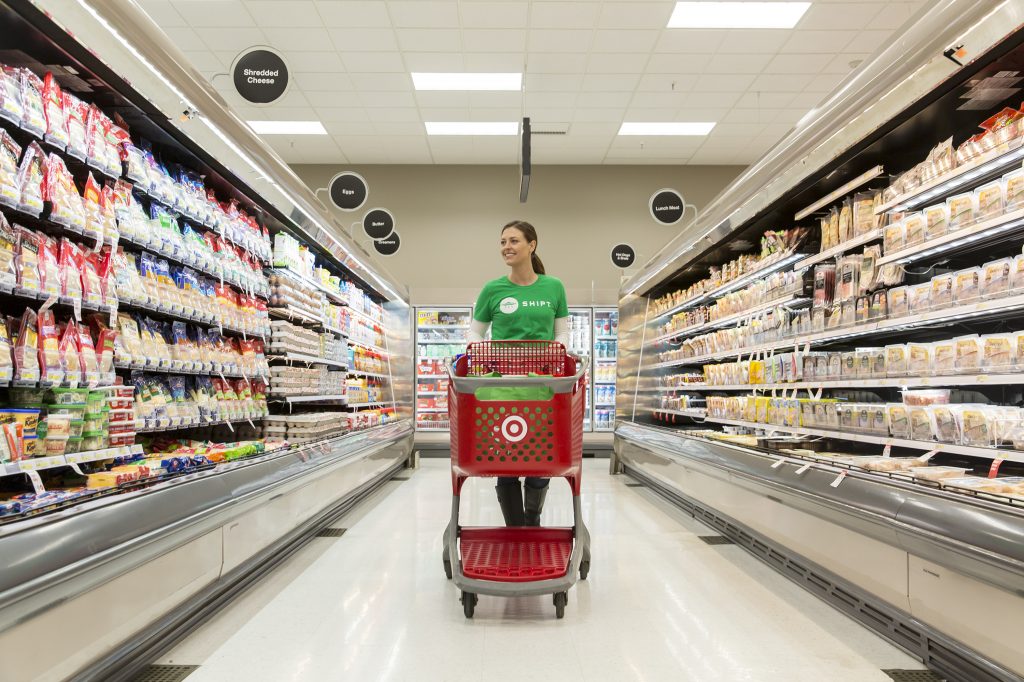 You can also shop what's on sale, shop specials exclusively for Shipt customers (because there will no doubt be something you had no idea you needed) or shop by category. I find it a good idea to know what I want to order before I get on the site, so I usually make a list, but you do you.
One important thing to note is that Shipt won't go to multiple stores for you in one shopping trip. You can order from HEB, Target, and CVS but you'll need to make three separate orders and they may be shopped by different Shipt shoppers. Shipt is really awesome but you can't tell your shopper to go to CVS for these three things and then to HEB (our primo grocery store in Texas) for these other things and then to Target for these last few things…it doesn't work like that.
What I really love about Shipt is that before I'm done with my order, it will give me the opportunity to order other things and suggest items for me based on past ordering behavior. Well yes, I did need bananas, thankyouverymuch, Shipt.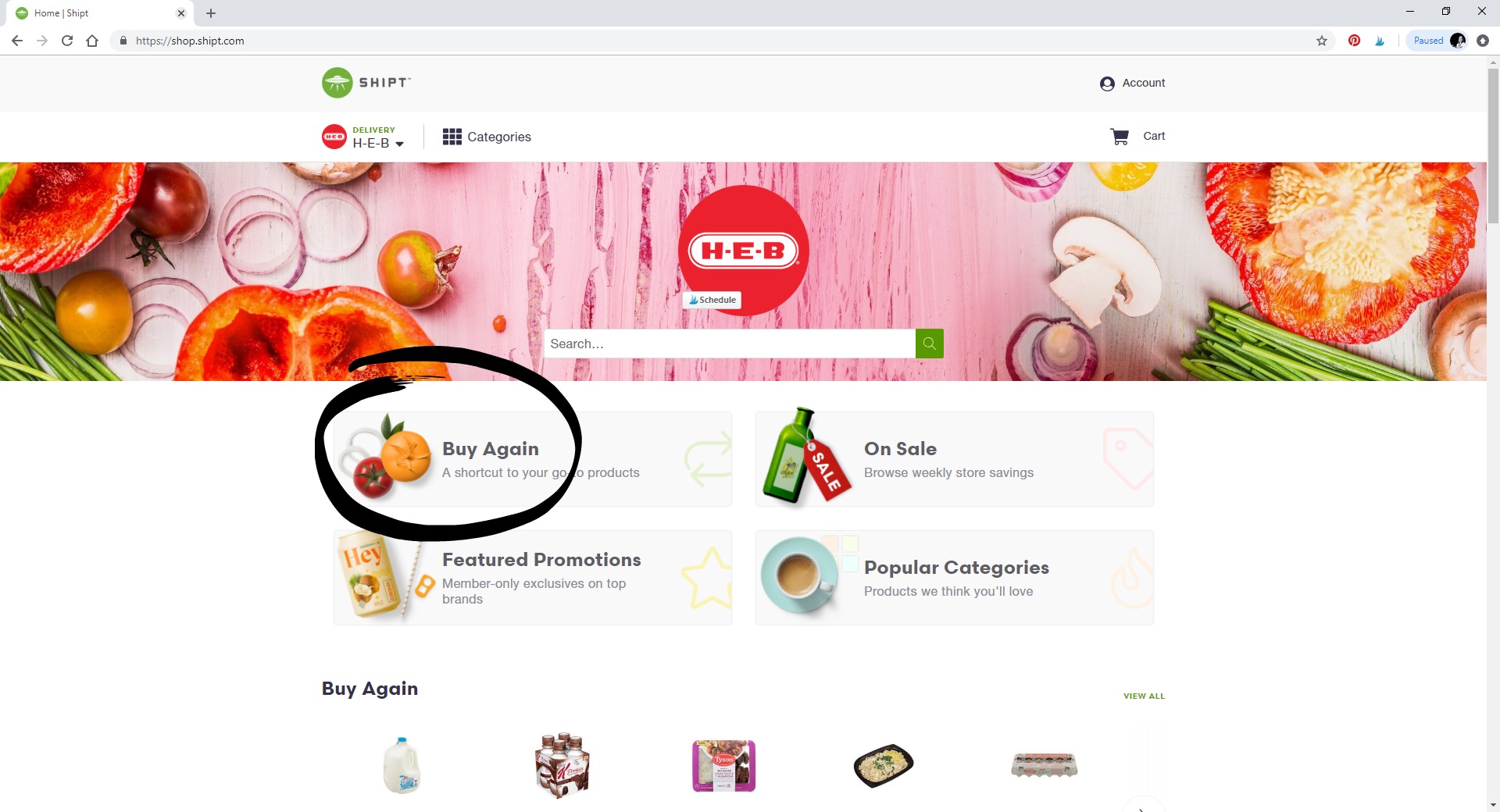 You can use Shipt on your computer or on the app. I prefer to order from the computer but an app lets me order easily wherever I am. As being someone who travels a LOT (I have been on 27 trips in 2018, some with my family and some media trips) being able to order groceries from anywhere to show up at my door shortly after I get home is absolutely priceless. Last week, I was sitting in the Orlando airport with my kids and I ordered groceries to be delivered an hour after we were due home. How nice is it to be able to walk in the door and not have to deal with the headache of going out for bread, milk and other essentials? Let me tell you, it's pretty darn nice.
We have other grocery delivery/pick up services available in our area and Shipt remains our favorite. While the curbside pickup services are nice (you'll order your groceries and then go to a designated area in the store's parking lot at a designated time) you still have to put on pants, leave the house, and carry your stuff inside. While one of our local stores offers great delivery service, the Shipt level of instant gratification isn't there. If I order groceries first thing in the morning, I can probably get them delivered same day bur if I discover I'm out of chili powder at 3 p.m., I'm probably not going to get someone to bring it to my door step until the next day. Shipt is faster. Like, A LOT faster.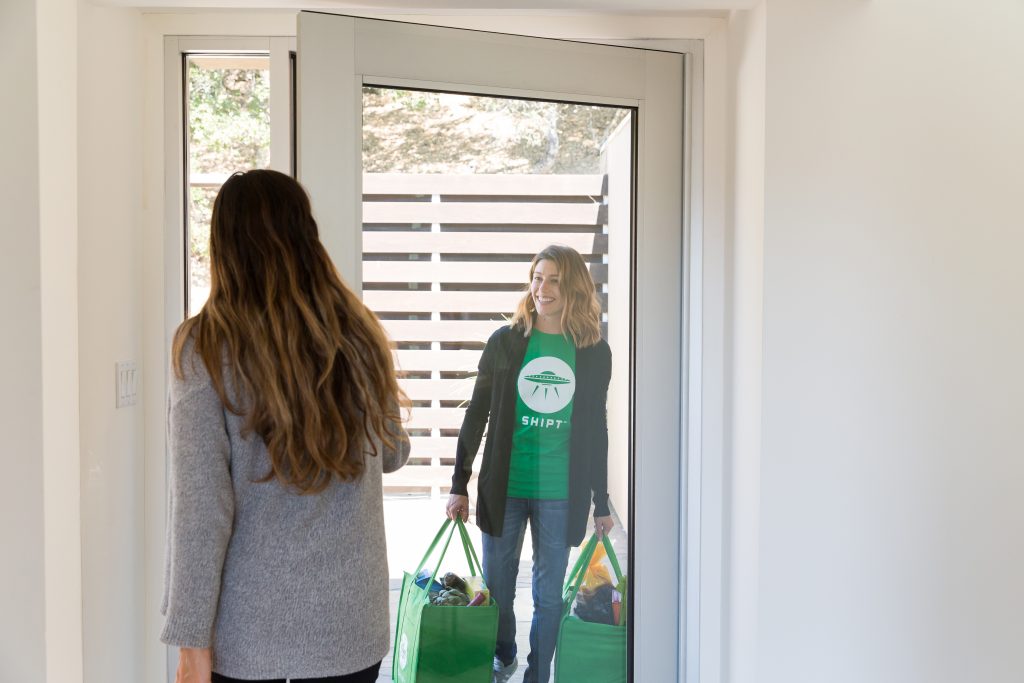 I've found Shipt to be amazingly fast…although your mileage will vary based on demand and location. Most of the time, I can have my Shipt order delivered within a couple of hours, which lets me get on with my day and do the things I need to do without having to set foot in a grocery store. I actually can't remember the last time I was in a grocery store, aside from that one time we had to duck in for an emergency potty stop…not mine, BTW.
Why do I prefer Shipt to other grocery delivery services in my area?
Hands down, personal attention. My Shipt shopper texts me when they begin shopping to keep me in the loop. They ask if I have any special instructions or if I need anything else. They'll text me again if they have any questions about substitutions or to ask me how ripe I want my avocados and bananas. Then, they'll text me one final time before they head to the checkout to give me the opportunity to send them back for anything I might have forgotten. Dreamy, right? Also, if you don't find what you're looking for in the search bar, Shipt allows you to put in a special request. You can even type in soft oatmeal cookies without raisins the kind you find in the bakery section, not the cookie aisle and your shopper will make an effort to find them for you. Ask me how I know this.
Timeliness. As I mentioned, Shipt is the fastest way to get groceries and other items delivered to your house.
Flexibility. I've ordered Shipt when I'm NOT at my house. When we're traveling as a family, we're looking more and more toward vacation rentals, condos or family suites with kitchen facilities. No, I'm not super wild about cooking on vacations, but having some simple things on hand for breakfasts, sandwiches, salads and snacks save money, time and meltdowns. Sure, eating in restaurants is part of the fun of traveling, but sometimes, we look to the healthier and less expensive option, and Shipt is there for us. When you're in a strange location, you might not want to search for a grocery store or drag your entire family on a shopping trip. On our most recent trip to Walt Disney World, we stayed in a Disney Vacation Club Villa, which is like a sweet little apartment. We didn't have a car in Orlando and the idea of taking a cab to the supermarket when we could be Disney-ing it up was majorly unappealing. Shipt was there for us.
Other things you might want to know about Shipt:
They might be able to deliver beer or wine to your door. Maybe. Not my door, but maybe yours. Shipt offers delivery of alcoholic beverages in select areas…however, mine is not yet one of those areas.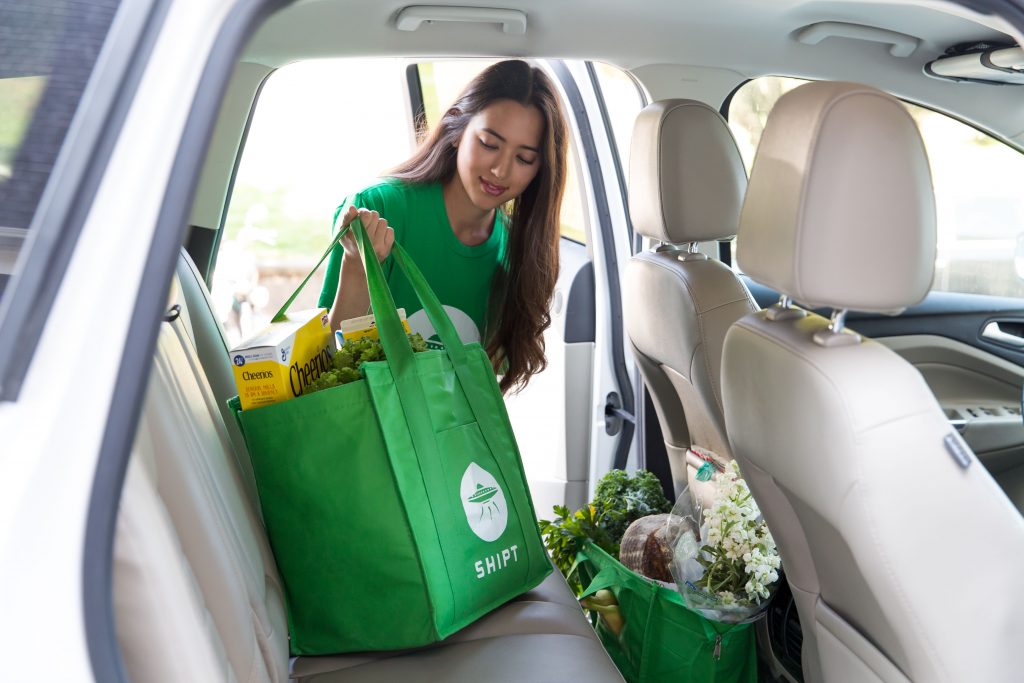 The Shipt Shoppers are amazing. My shoppers have always been prompt, courteous, neat, and in general, awesome. Shipt allows you to use the app or the program to rate your shopper…you can alert them to concerns or problems or call out for excellence. I have never, ever had a negative experience.
Shipt offers two different membership options: yearly and monthly. You can pay $99 per year or $14 a month. Obviously, the yearly is the better deal but if you're not sure if you'll like it (but you will like it) you can try the monthly plan out first. There are no hidden fees or other costs, other than tipping your shopper.
You can give a membership as a gift. This is a great housewarming gift or even a gift to someone going out on their own for the first time or a new mom. I am a big "experiences over stuff" person and I would have loved to have gotten this as a move-in gift.
Shipt is awesome for people with mobility issues. My mom has trouble getting around and a trip to the grocery store is a major event for her. Shipt has absolutely solved a pain point for her and she doesn't have to worry about how she's going to get heavy items from her car into the house.
Shipt is a great way to get your groceries and other household items, to include some housewares, sundries and cosmetics. I admit to loving Shipt a little bit less when it comes to Target shopping but I don't usually do full grocery shopping at Target. Target is more of my go-to place for leggings, throw pillows, graphic tees and kitchenware. If you're wanting your Shipt shopper to deliver leggings and throw pillows, they don't have those options available, at least not where I live. They can, however, deliver lip gloss, scented candles, school supplies and all kinds of other good stuff. Besides, you probably want to pick out your own leggings and throw pillows, right? If I primarily used Target for foodstuffs, I'd probably look at this differently but I am super happy with the ease of buying groceries at HEB here in Texas and at Publix in my home away from home, Orlando.
I hope you've enjoyed my review of Shipt. I believe in and use this service regularly. They are a relatively new service to my area, so I'm excited to see what they do next. Sign up HERE to try Shipt at your house.
Need a visual? Here's how it works: