(This post may contain affiliate links. Read my full disclosure.)
If you're looking for an easy cookie for Christmas or any other time of year, then make my sugar cookie bars.
Sugar cookies are fun for Christmas or other holidays – just change out the color of the sprinkles to suit the season. But, there's something about Christmas and sugar cookies that just go together, right?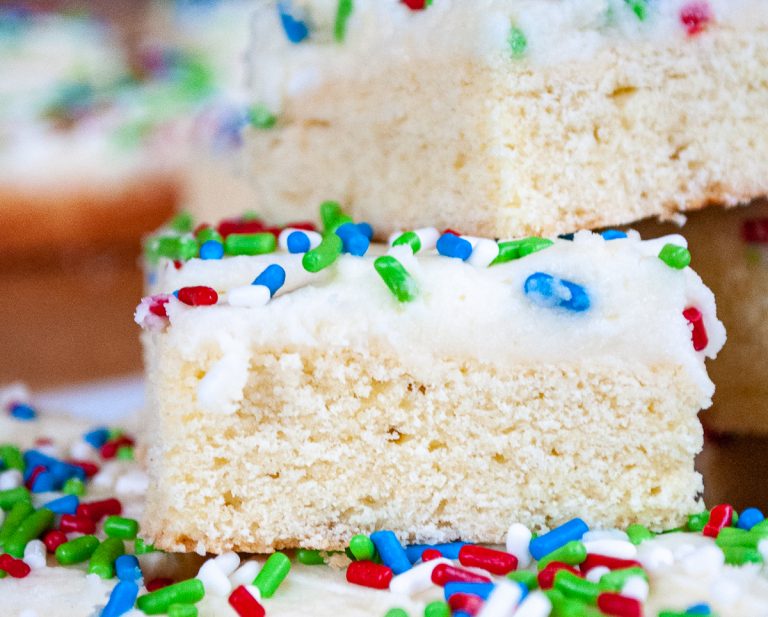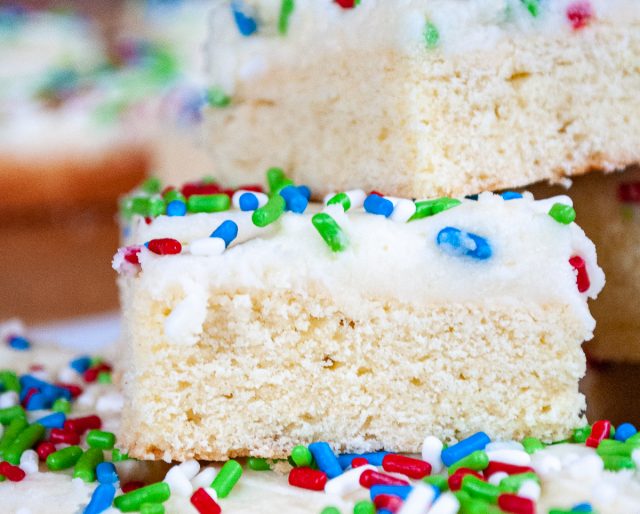 You can use any type of sprinkles or jimmies to finish off this sugar cookie bar recipe. It's fun to use red and green for Christmas and pink and purple for spring. You can even use the colors of your favorite team.
Sugar Cookie Bars
These sugar cookie bars use simple ingredients you probably have in your home already: butter, sugar, eggs, vanilla extract. This recipe allows substitution of the vanilla extract for almond extract or lemon extract, which is a fun way to mix up the recipe.
Disclaimer: We are a participant in the Amazon Services LLC Associates Program, an affiliate advertising program designed to provide a means for us to earn fees by linking to Amazon.com and affiliated sites. This post may also contain affiliate links to other sites where I will be paid a commission by the seller if you make a purchase.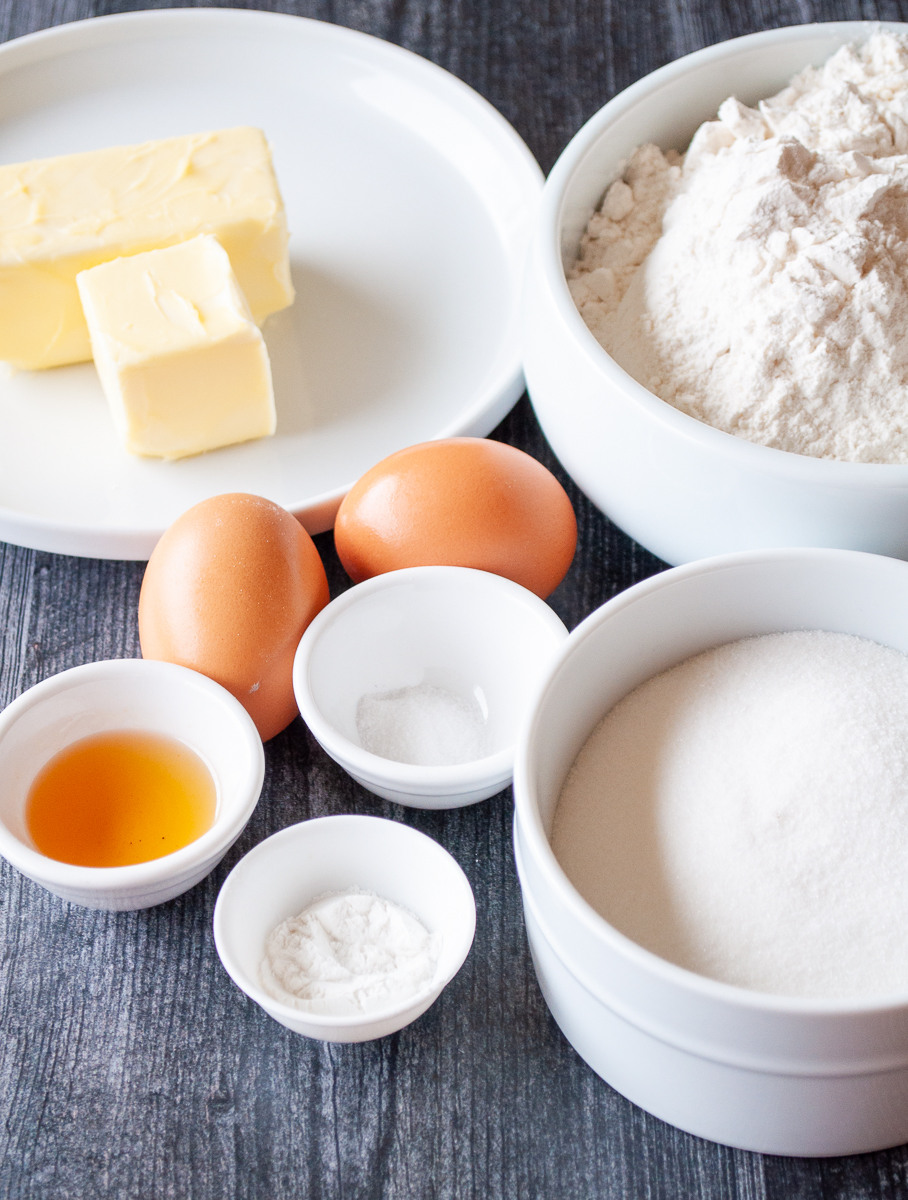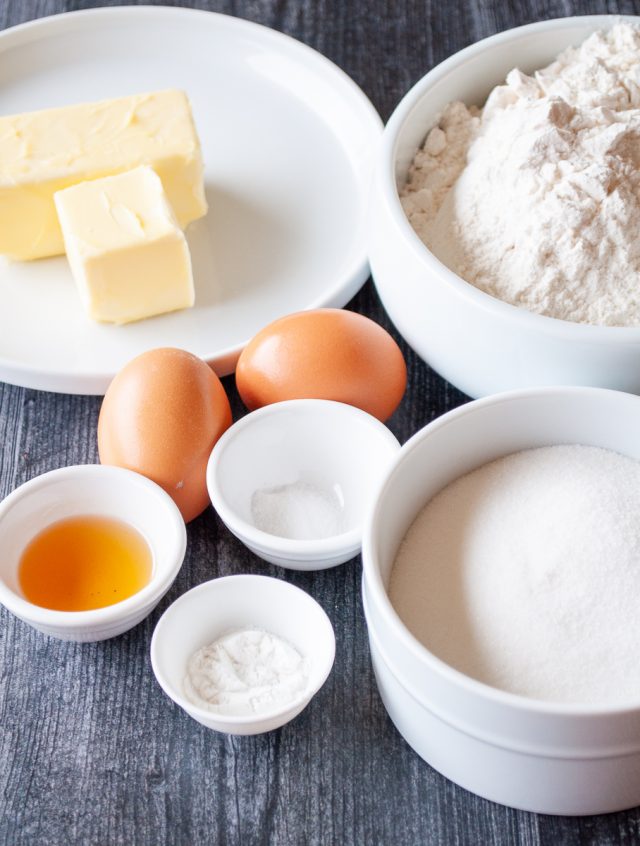 And, ALWAYS use real butter when baking. Yes, you can substitute margarine or shortening if you have to but your result will not be the same.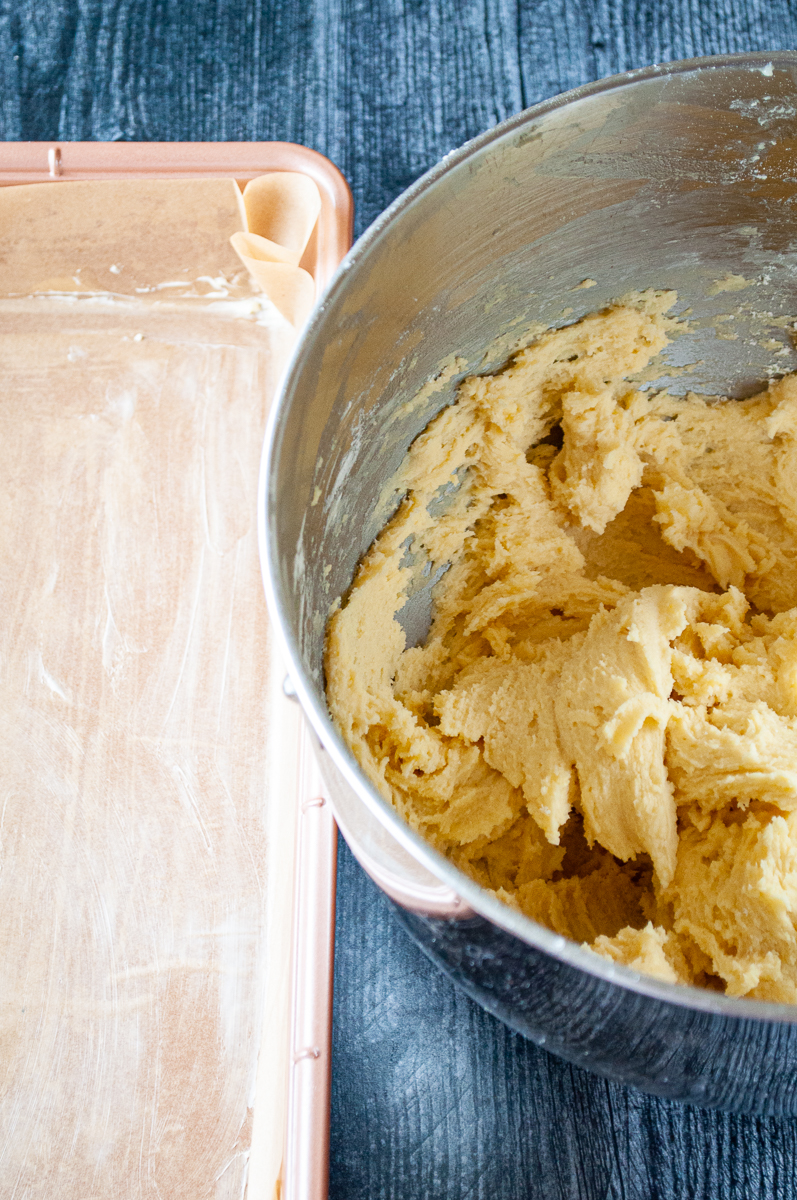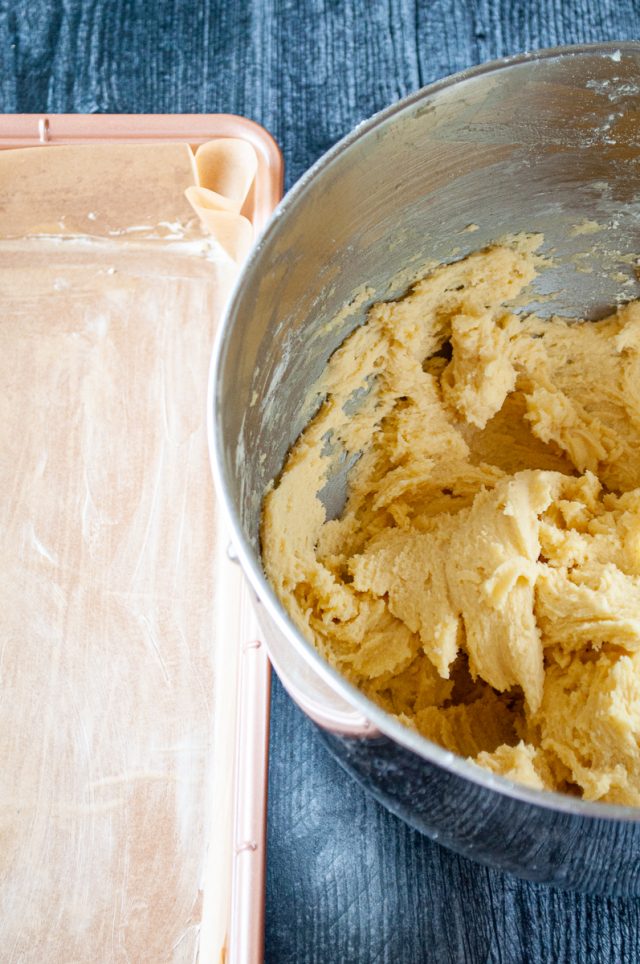 Parchment paper has been a baking game-changer for me. It turns out such a good result and makes so much less mess. I love these parchment paper baking sheets. They're always right-sized and I know it's probably a little thing but not having to measure and tear out the sheet of paper is pretty darn nice.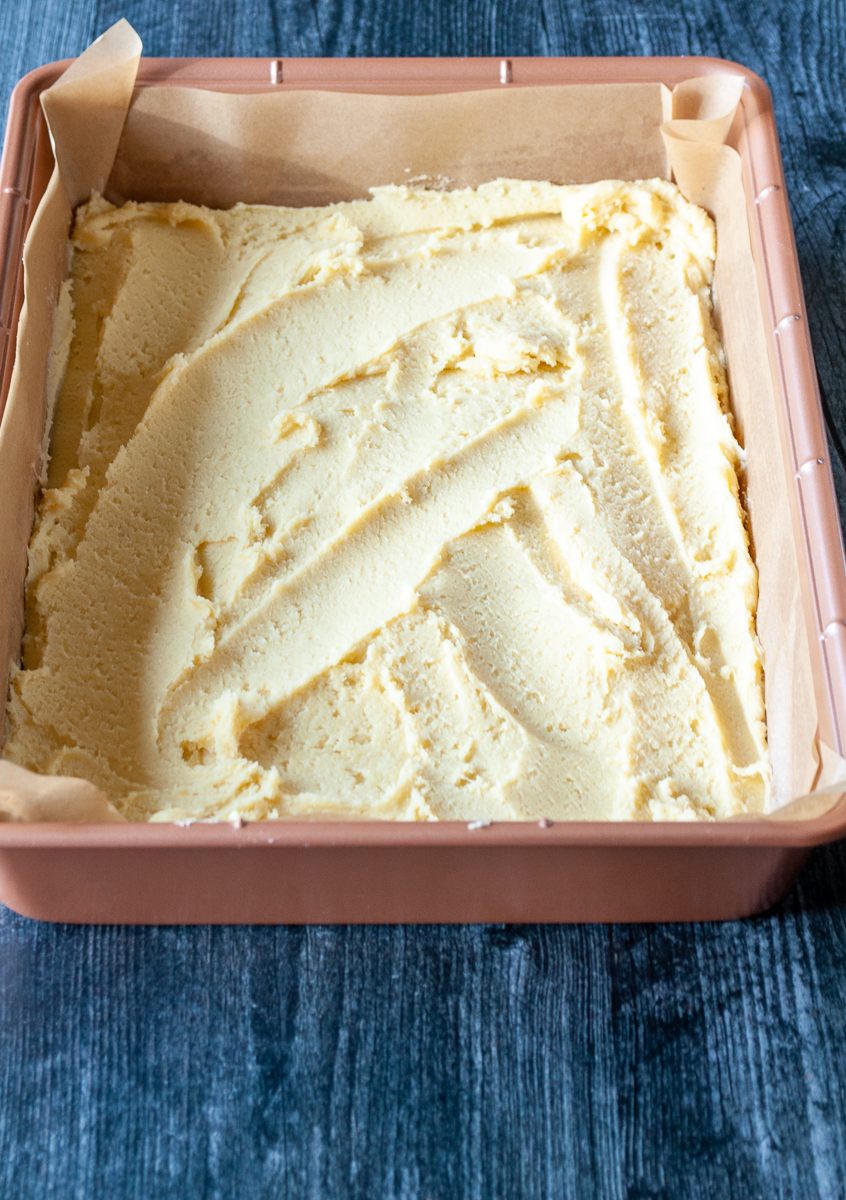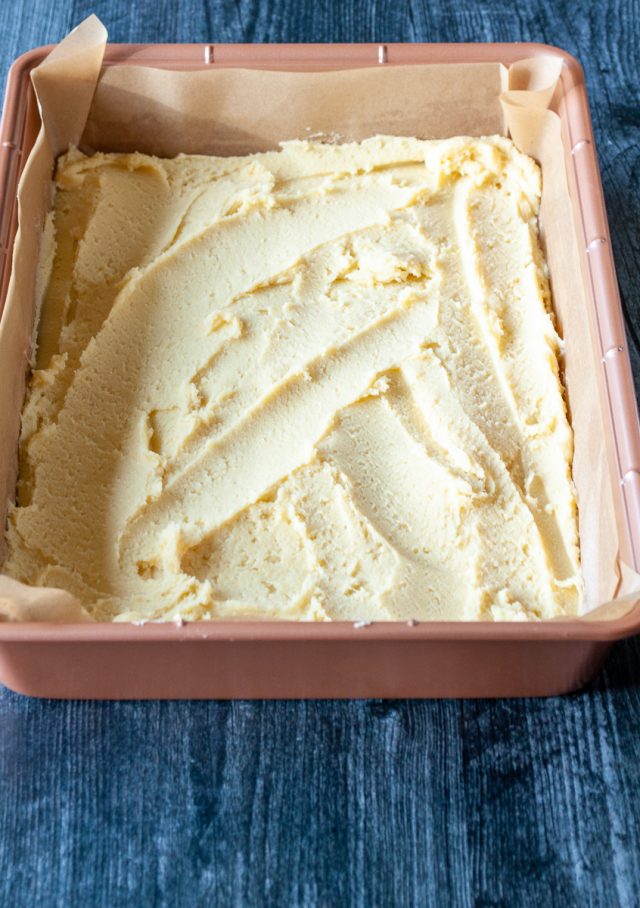 Related: Gifting your homemade goodies? Use these free printable mason jar labels to spruce things up.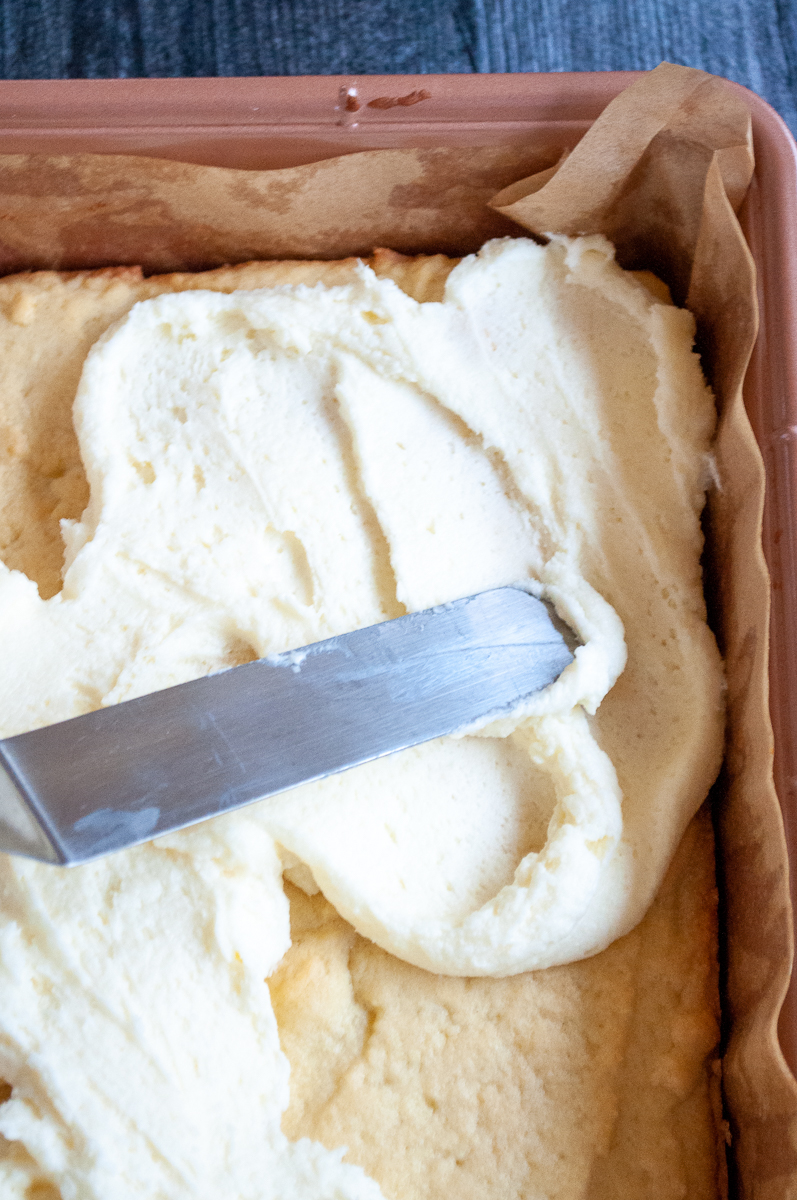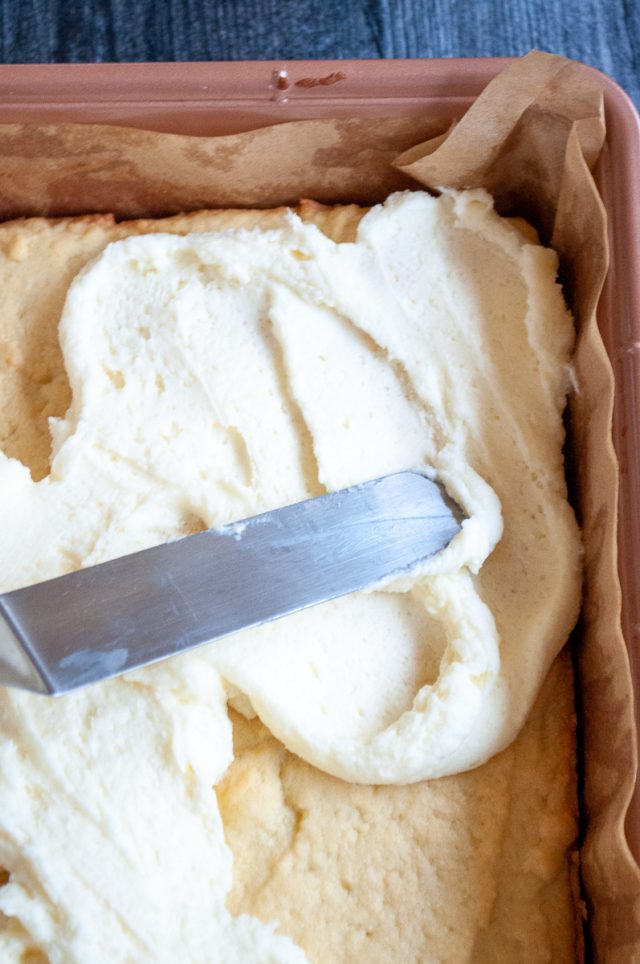 The frosting is the best part of these cookies. I'm probably biased, though. I'm definitely a frosting gal. This icing spatula makes the job easy. I also like using these little mini scrapers to frost bars. I know that's not what they're meant for but they work great.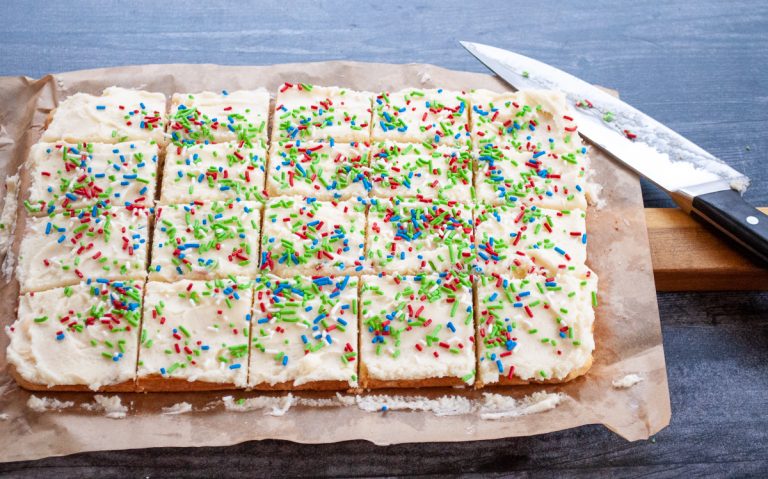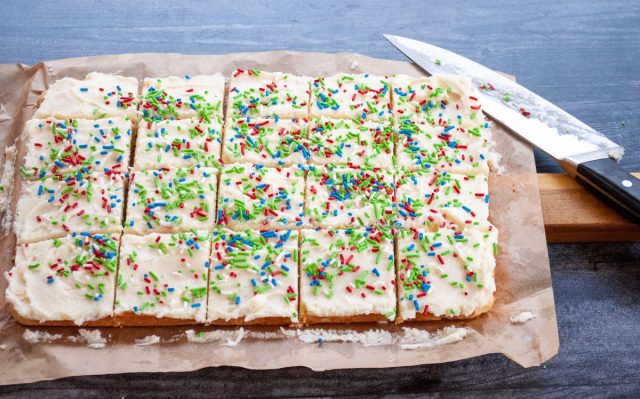 These sugar cookie bars are fun and pretty and are great to give as gifts or take to a holiday potluck. They're also easy enough to make for "just because."
If you're looking for some really fun sprinkles to decorate with when you make this sugar cookie bars recipe, here are a couple of my picks:
Ugly Christmas Sweater Sprinkles
"Elsa Sprinkles" – These are actually called something else and you could easily use them for a baby shower to welcome a little boy but they are "pure snow queen" to me. If Elsa baked cookies, she'd use these sprinkles. I know it.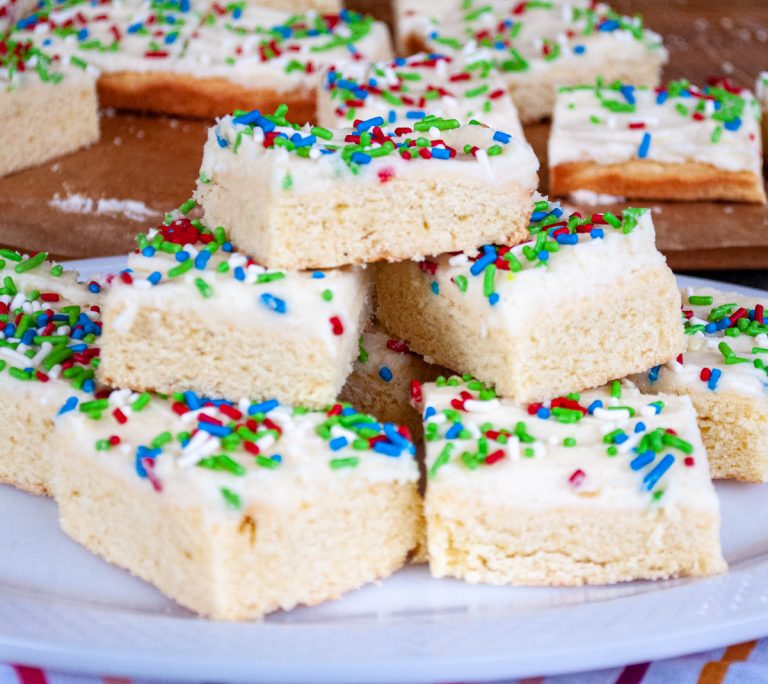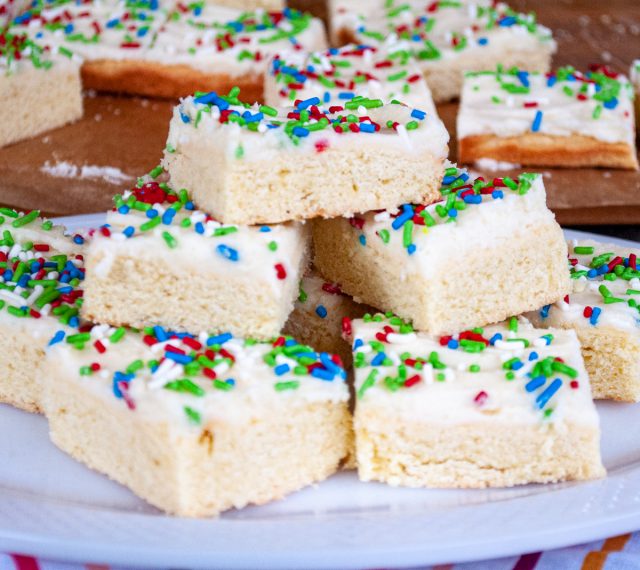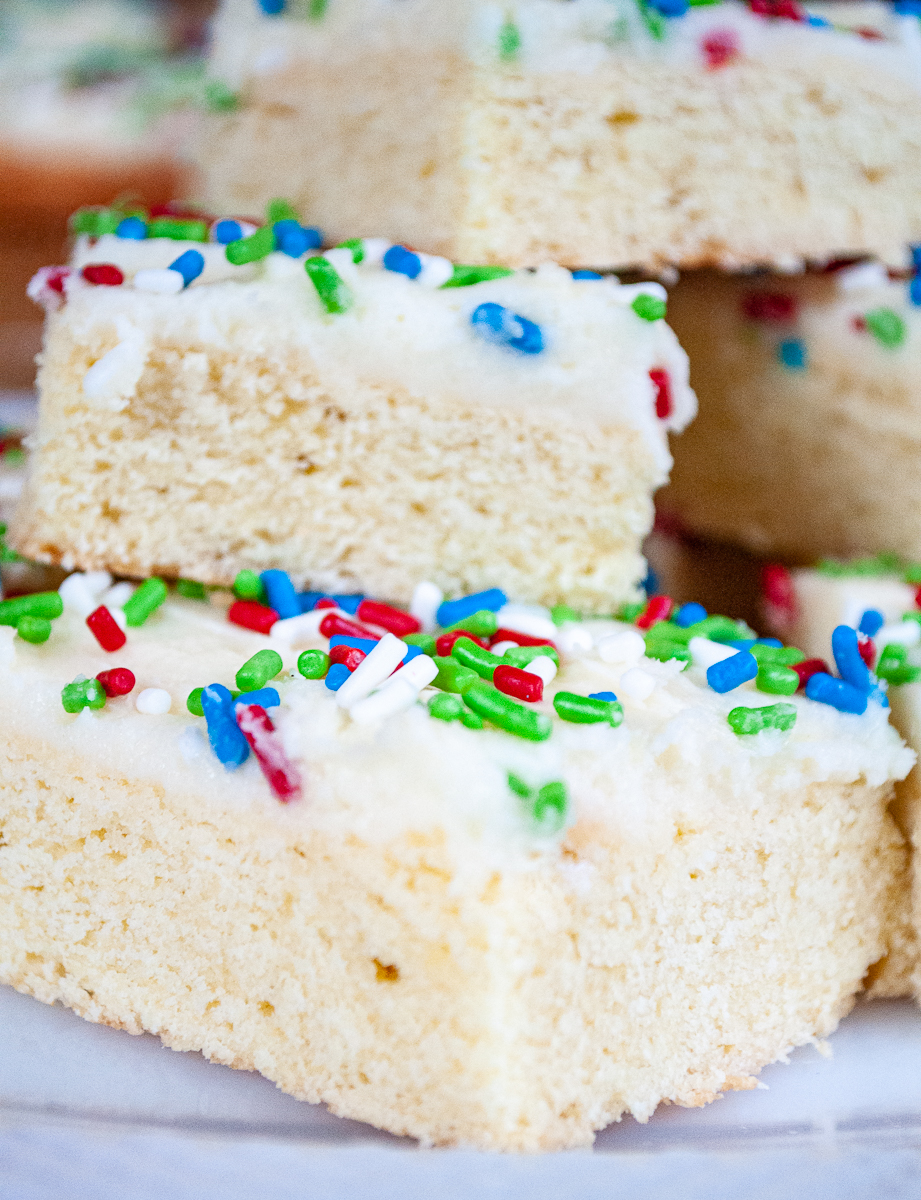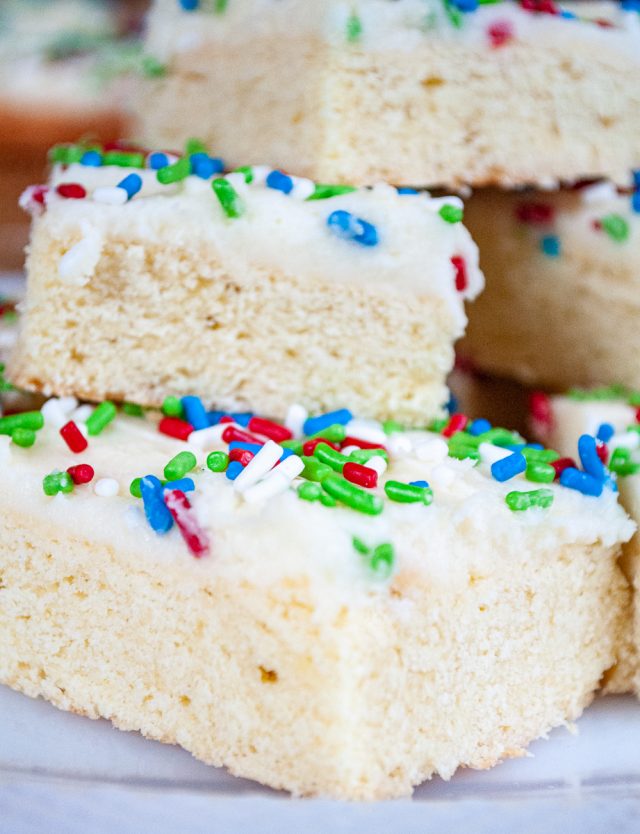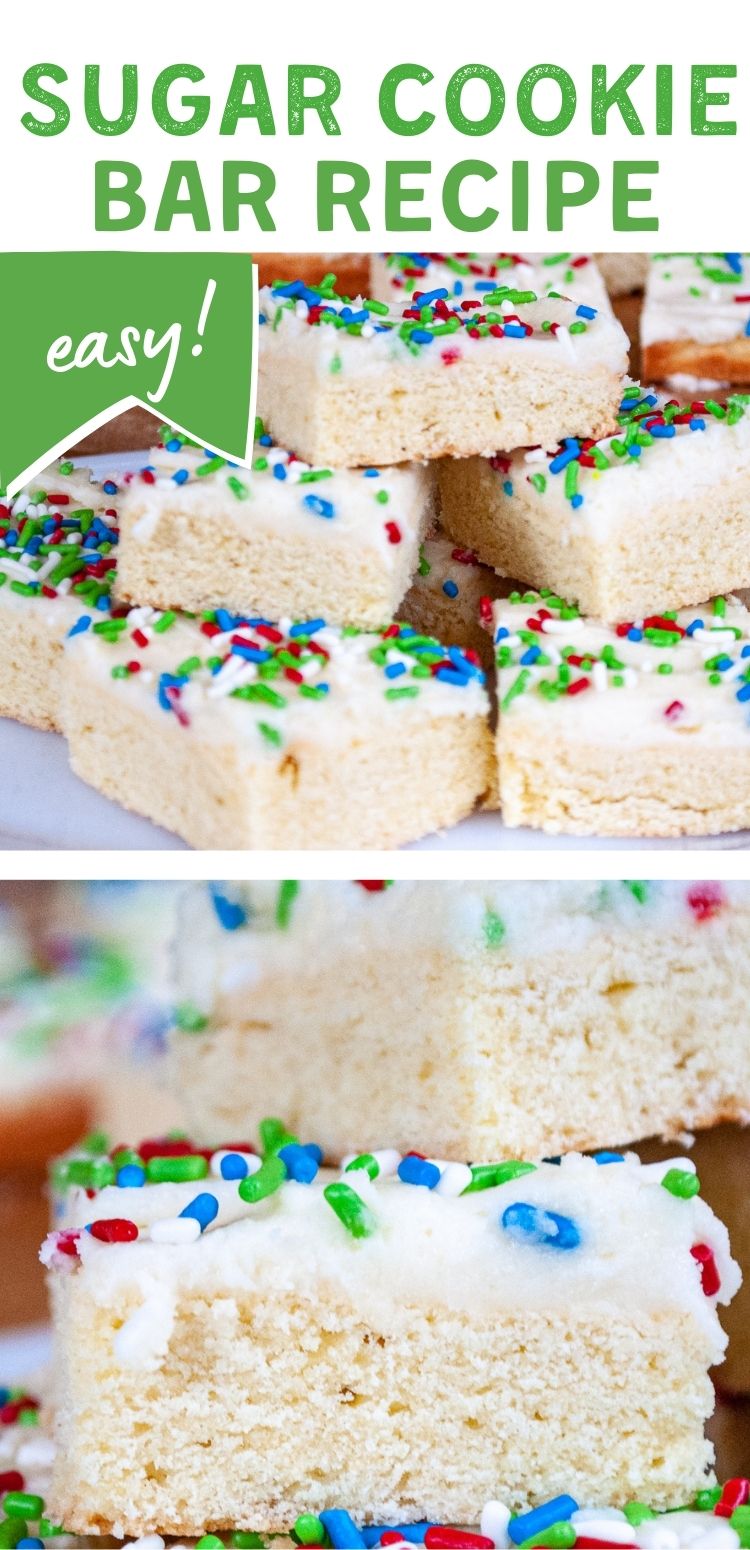 Yield: 20 cookie bars
Sugar Cookie Bars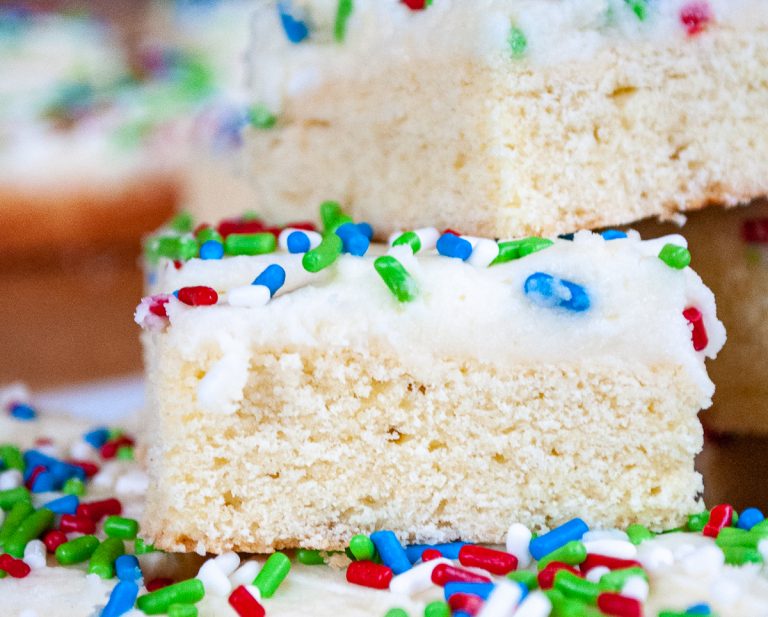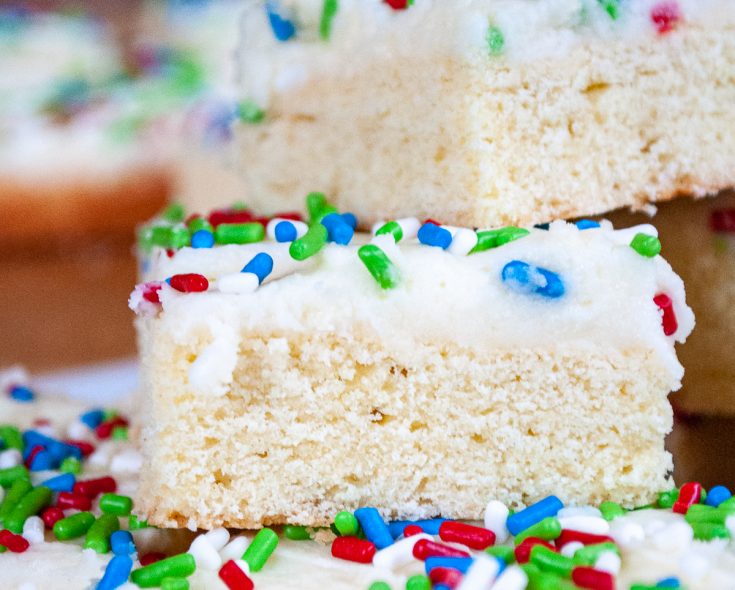 Sugar Cookie Bars are delicious, easy and best of all, SIMPLE. Perfect for the holidays or any time.
Additional Time
20 minutes
Ingredients
¾ cup of unsalted butter softened 
1 cup of granulated sugar
2 eggs, room temperature
1 teaspoon vanilla extract, or ½ teaspoon almond or lemon extract
2 ½ cups all-purpose flour
1 teaspoon salt
1 teaspoon baking powder
Frosting
½ softened butter
2 cups powdered sugar
1 teaspoon vanilla extract
Pinch of salt
2-3 Tablespoons milk
Instructions
preheat oven to 350˚

Line a 9x13 baking pan with parchment

Lightly grease or butter the parchment paper

Cream the butter and sugar together until light and fluffy

Beat the eggs in one at a time scraping the bowl between additions, then mix in the vanilla extract

In a smaller bowl stir the flour, salt, and baking powder together

Add it to the sugar mixture and mix well

Scrape the dough into a 9x13 pan and pan out

Bake at 350˚ for 20 minutes or until the cookie is just lightly browned

Remove from the oven and cool completely in the pan on a wire rack

When you're ready to frost put the soft butter in a mixing bowl and mix it lightly to make it smooth

Then mix in the powdered sugar, it will look crumbly

Add the vanilla, a pinch of salt, and one Tablespoon of the milk

Mix with the mixer, add another Tablespoon of milk and see how it looks, if it's soft and spreadable you're done, if you need to add more milk to make it spreadable you can add the last Tablespoon

Frost the sugar cookie in the pan and sprinkle with desired sprinkles

Lift it out of the pan by the parchment paper and cut into 20 Bars

They can also be cut smaller or larger