The coolest gifts for kids from Crayola that will get your kids unplugged and creating
(This post may contain affiliate links. Read my full disclosure.)
This post was sponsored by Crayola. All colorful opinions are mine.
If you're like me, you're probably worried about how much time your kids spend with their screens. I mean, don't get me wrong…screens have their place in today's world and our kids do need to be tech savvy. But, I worry that my kids spend too much time plugged in and like a lot of parents (hopefully it isn't just me) I find myself encouraging my kids to spend time playing outside and on creative pursuits. Crayola always wins the day…my kids love getting the opportunity to test out the newest things that Crayola has to offer and we have a couple of recommendations for creative, non-electronic gifts this year. And full disclosure: one of these items does require batteries but it's not a toy that beeps, squeaks, or requires WiFi. You'll see in a second.
Disclaimer: We are a participant in the Amazon Services LLC Associates Program, an affiliate advertising program designed to provide a means for us to earn fees by linking to Amazon.com and affiliated sites. This post may also contain affiliate links to other sites where I will be paid a commission by the seller if you make a purchase. 
The coolest gifts for kids from Crayola that will get your kids unplugged and creating
[Tweet "Cool gifts from Crayola @crayola #giftguide #giftsforkids"]
The Crayola Crayon Melter
The Crayon Melter allows kids to create with their favorite Crayola colors in a three-dimensional way. The possibilities with the Crayon Melter are endless. It's safe to use on paper, cardboard, and canvas and it's a great way to use your leftover Crayola Crayons.
The Crayon Melter sort of resembles a hot glue gun but it doesn't get as hot and it cools down very quickly. It's safe for kids eight and up to use with adult supervision. It was voted one of the best toys of 2018 by Parent's Magazine, and I can see why. My little dude who prefers Minecraft (sigh) over just about anything else was enthralled with this for nearly an hour…and when I left it, he told me what his plans were for his next Crayon Melter project. Mom win!
The Crayon Melter comes with a selection of peeled crayola crayons but also includes and easy-to-use cutting tool that helps you remove the paper from Crayola Crayons with ease.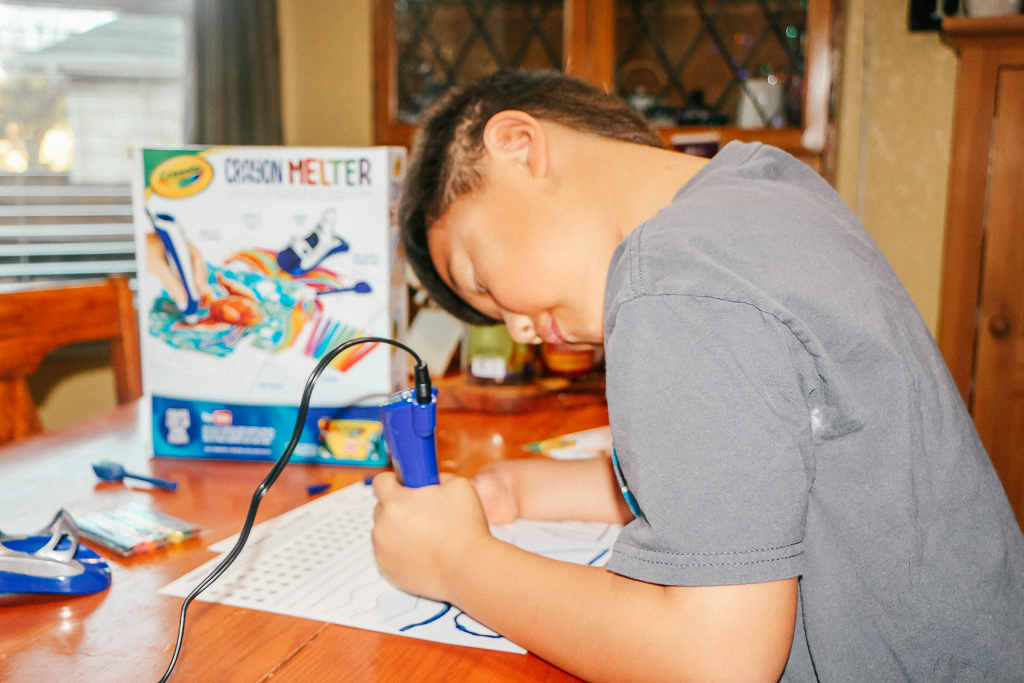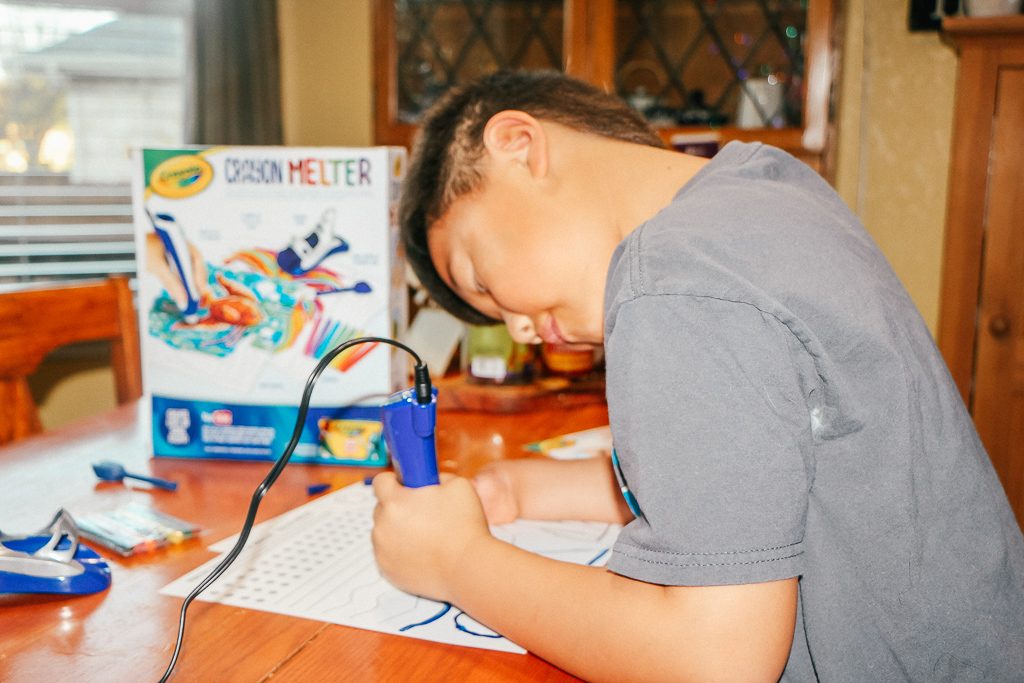 Crayola Ultimate Light Board
I've got good news and bad news. The good news is this is a SERIOUSLY cool toy. The bad news is that it is sold out on the Crayola website. It is, however, still available on Amazon in time for Christmas delivery.
I do love me some Amazon deals but right now, if you order directly off the Crayola site AND sign up for their mailing list, you'll get a discount on your order. As you know, when you shop my Amazon affiliate links, I'll earn a commission on your purchases but I know getting the best bargain this time of year is important…trust me, my pocketbook feels the Christmas crunch. Check on the deals directly from Crayola, as linked in this post, and, if you still want to check out my Amazon affiliate link, I'll put it at the end of the post for you.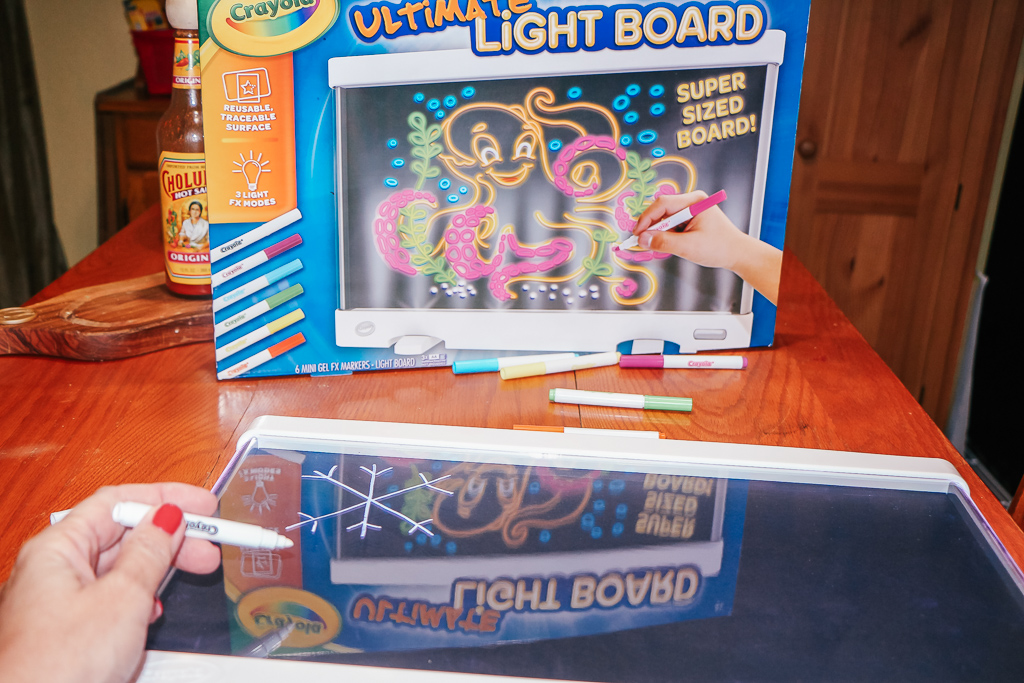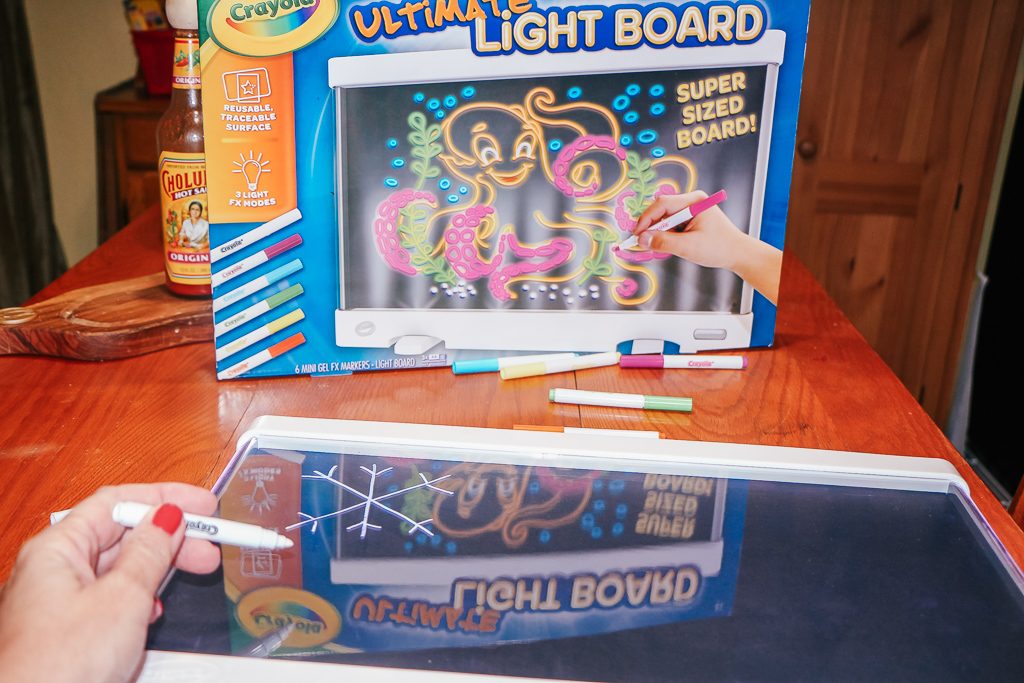 When we first got the Ultimate Lightboard, I thought it was some version of Lite Brite, which is also another great creative toy, but it's totally different.
Your kids (or you, not gonna lie, I loved this one) can draw on the light board with the Crayola Gel FX Markers (included) to create beautiful, glowing drawings, signs, or fun messages for your family. I predict we're going to have a ton of fun with this one, through the holidays and beyond.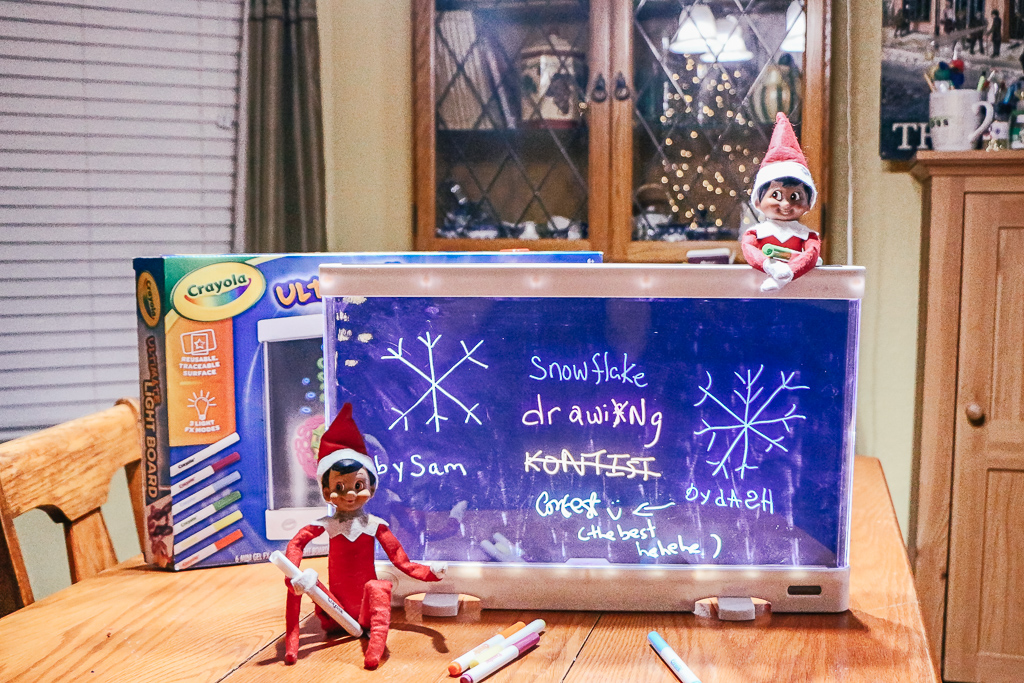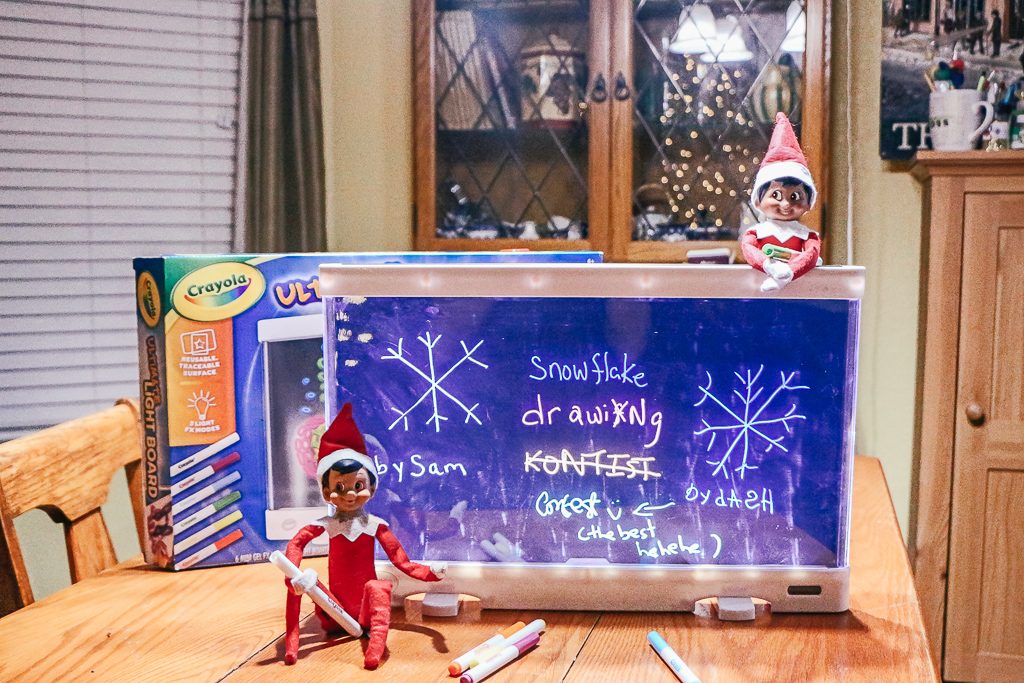 The Ultimate Light Board uses 3 AA batteries, which are not included.
The Crayola Color Chemistry Set
We don't have this one but it is on our wish list. It includes over 50 STEAM/STEM activities for kids to do that are developed by real Crayola scientists. The Crayola Color Chemistry Set is great for any child who likes to conduct experiments. Gloves and goggles are not required for any of these experiments but adult supervision is required.
Scribble Scrubbie Pets
I played with Scribble Scrubbie pets this summer at a toy show in New York City. There might have been kids in line to play with that I was ignoring and I might have been hogging the Scribble Scrubbie pets just a little bit. Ahem.
You can decorate your cute puppies and kittens with specially designed markers, wash them off and start all over again. This activity is recommended for kids ages 3-6 but I think older kids can enjoy it, too. Obviously. This one is also sold out on the Crayola website but is available on Amazon, so grab it if you want it. It's a popular item.
Silly Scents Sticker Maker
Try saying THAT five times fast. You might not be able to do it but you DO want this product for your creative kid. Kids LOVE stickers…that is a fact. With the Silly Scents Sticker Maker, they can design their own stickers. The Silly Scents Markers add another fun dimension.
All these products are reasonably priced and have the Crayola quality behind them so you know you're getting a great product you can be proud to gift. We love our Crayon Melter and our Ultimate Light Board (thanks, Crayola friends!) and we look forward to creating with AND gifting some of these fun sets.
For more, visit the Crayola website here. To buy through my link on Amazon, go here. Anything you purchase from your session on Amazon earns me an affiliate commission, so if you jump from Crayola to housewares to computer parts, I'll benefit from your sale.
And, looking beyond the holidays, all these are great sets to stock up on for birthday party gifts, so these are definitely some things to watch the sales and deals on. If you see them at discounted price, grab a bunch…these never go out of style.