Super easy Valentine's Day Decorating with Valentine's Day Garland
(This post may contain affiliate links. Read my full disclosure.)
If you're looking for ridiculously easy Valentine's decorating ideas, you've come to the right place. I'm not really an all occasion decorator…let me just put that out there. It's the middle (ish) of January and there's still a Santa Stop Here mat at my front door. Don't judge. But one thing that can add some instant seasonal pizzazz to your space is Valentine's Day garland. You can hang them on a shrub or on a Valentine's Day tree if you're really that ambitious. You can hang Valentine's Day garland in a doorway, along a mantel, over a window…lots of places.
Disclaimer: We are a participant in the Amazon Services LLC Associates Program, an affiliate advertising program designed to provide a means for us to earn fees by linking to Amazon.com and affiliated sites. This post may also contain affiliate links to other sites where I will be paid a commission by the seller if you make a purchase. Thank you!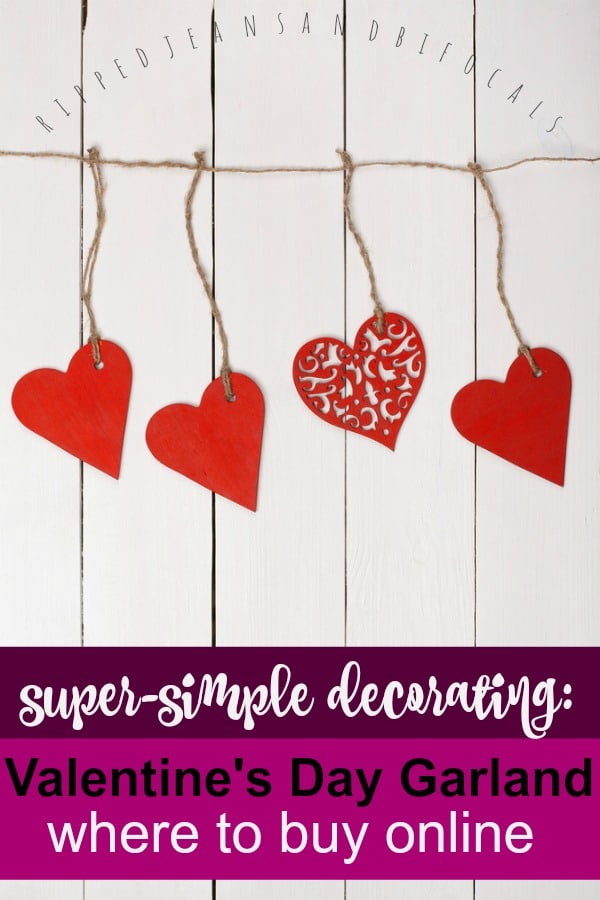 Super easy Valentine's Day Decorating with Valentine's Day Garland
Felt Ball Valentine's Day Garland
This one is "Valentine's Day ish but not overtly so. Translation: if you leave it up into March, it won't be that big of a deal. Check out out here.
Pre-assembled felt heart garland 3-Pack
This one comes in red, pink and dark pink. See it here.
Graduated sized felt heart banner
This one has a little more depth…the sizes of the hearts vary, which makes it looks a little more interesting. Check it out here.
Conversation hearts Valentine's Day banner
The factory that manufactures conversation hearts may have stopped making the confections we all love (sad trombone) but this is perhaps the next best thing. Now you can have your does of "UR CUTE" and "TEXT ME." See this cute Valentine's Day garland here.
Be Mine Glittery Heart Valentine's Day Decor
If you need glitter and sparkles to make your heart happy, this one's for you. Check it out here.
Lots and lots of hearts Valentine's Day garland
I love the vertical effect of this fun Valentine's Day garland. You can get it in pink and red or all red. See it here.
Burlap Valentine's Day banner
If you like a little more of a rustic look, check out this cute burlap banner. It's still very Valentine's Day-y but it looks a little more homespun. Check it out here.
Related: Valentines Day Activities for Families
Tissue heart Valentine's Day Decor that's super cute
If you've got flashbacks of homemade Valentines made out of red doilies, this is your Valentine's Day garland right here.
Burgundy plush hearts to hang on your fireplace
Even if you're not a Valentine's Day person, you HAVE to look at these.
Tassels – just in case you don't want to fully commit to the holiday…
…which is fine. These tassels are pink, red, and gold. Not a heart in sight. Check it out here.
Crocheted heart rainbow heart garland
You can use this rainbow garland to celebrate or give a nod to more than Valentine's Day. I just love the rustic look of this one. See it here.
Buffalo Plaid Heart Garland
This is another fun Valentine's Day decor that doesn't scream Valentine's Day. It's a fun decor item that's great for winter. AKA if you if put these up at Christmas and don't take it down, it's all good. Probably. Check it out here.
Fabric tie Valentine's Decor
If Laura Ingalls Wilder had a Valentine's Day Garland, this would be it. See it here. This is another one that's not as "in your face" Valentine's Day. Sometimes, subtle is good, just in case you end up leaving it up past Valentine's Day.
Whether you want glittery hearts that leave no doubt about what holiday you're decorating for or something that can be used year-around or for different types of parties, I think you'll find some great ideas for Valentine's Day decor on this list.