All about the Senses of Africa Breakfast at Disney's Animal Kingdom Lodge (and why you need to go)
(This post may contain affiliate links. Read my full disclosure.)
When I tell people about the Senses of Africa Breakfast at Disney's Animal Kingdom Lodge, they've usually never heard of it. I want to change that because it is just that awesome. Sometimes referred to as the Senses of Africa Tour, this is a unique Disney experience that you don't need a park ticket to enjoy.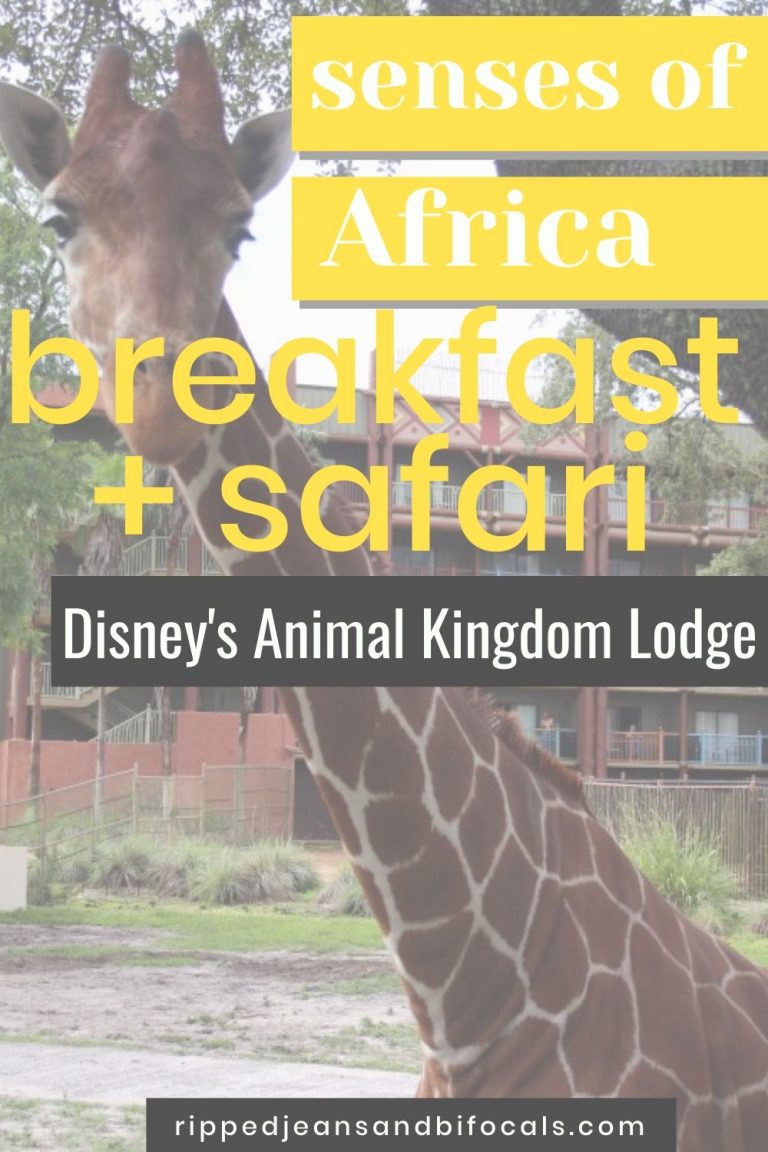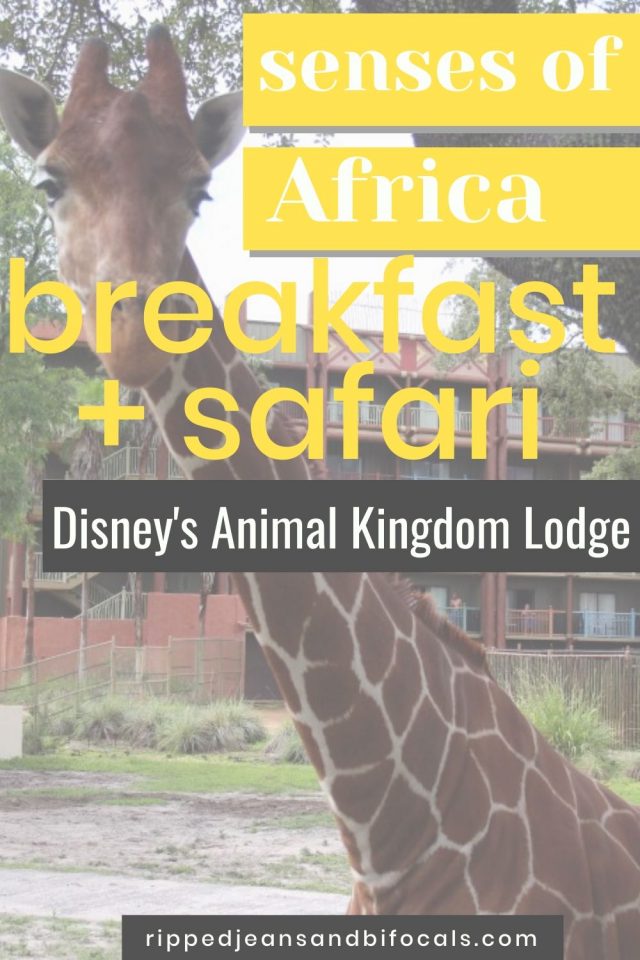 If you are looking for a Disney experience that isn't "traditionally Disney" consider checking out the Senses of Africa Breakfast at Disney's Animal Kingdom Lodge. The Senses of Africa Breakfast is a three and a half hour private safari that offers a unique opportunity to interact with (and learn about!) the wildlife that lives on the beautiful savannas at Disney's Animal Kingdom Lodge…which is my very favorite resort hotel at Walt Disney World. And, as the name suggests, there's breakfast! This post is written to answer all your questions about the Senses of Africa Breakfast at Disney's Animal Kingdom Lodge and will (hopefully!) convince you to add this amazing, VIP experience to your Walt Disney World bucket list.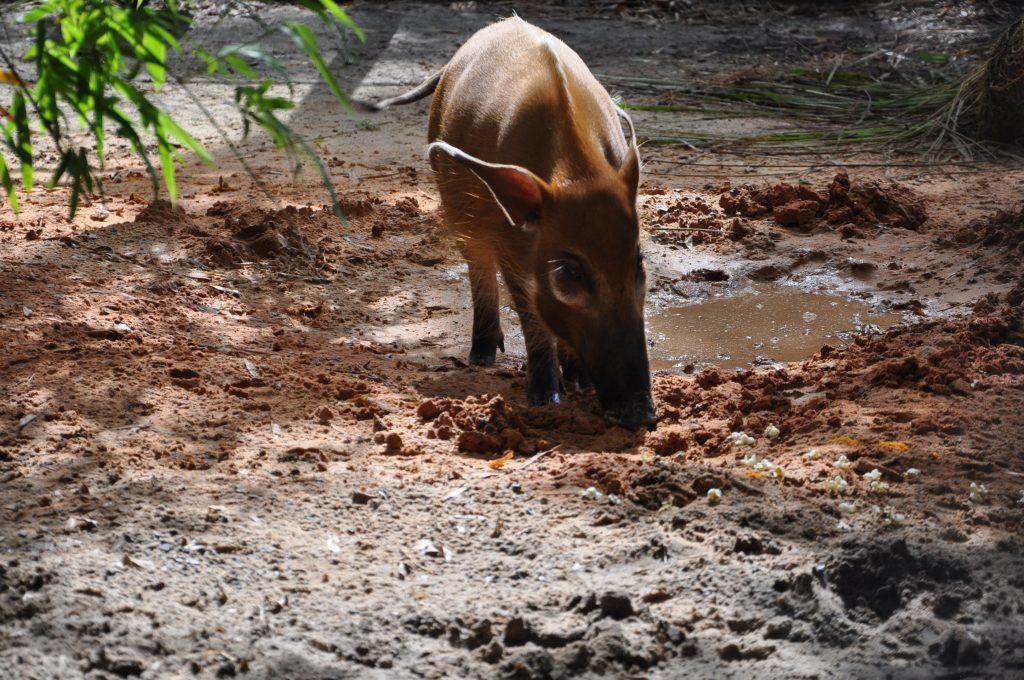 Thinking of booking your own Walt Disney World or Disneyland California vacation?
Check out my partner, Get Away Today for the best deals and white glove service.
All about the Senses of Africa Breakfast at Disney's Animal Kingdom Lodge
[Tweet "All about the Senses of Africa Breakfast at Disney's Animal Kingdom Lodge"]
What is the Senses of Africa Breakfast (AKA Senses of Africa Tour)
The Senses of Africa Breakfast is a three and a half hour private safari (about an hour of the experience is introductions and breakfast) that takes you backstage at Disney's Animal Kingdom Lodge. It's an experience that will absolutely delight the animal lover in your life and may provide some affirmation that "Disney really is the most amazing place to vacation" to tweens, teens, and curmudgeon-y adults that think they're beyond Disney magic. Spoiler alert: no one is beyond Disney magic…everyone comes back around, at least I like to think so.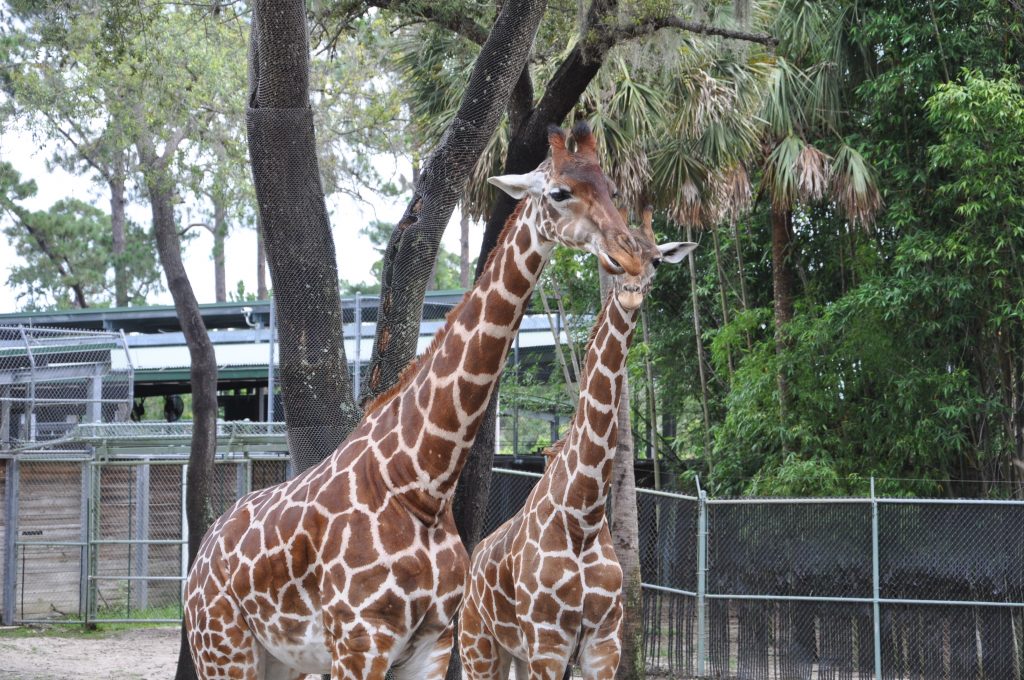 What's included in the Senses of Africa Breakfast?
In a nutshell, it's a private breakfast at Boma – Flavors of Africa followed by an epic backstage tour that gives you incredible insight into the animals that live in the savannas at Disney's Animal Kingdom Lodge and their caretakers. You will leave smiling and in awe that Disney offers such mega-cool options. It's a high-end, luxury Disney experience that would be a great special treat or gift to someone who really loves animals and wants to get a little more up close and personal with them.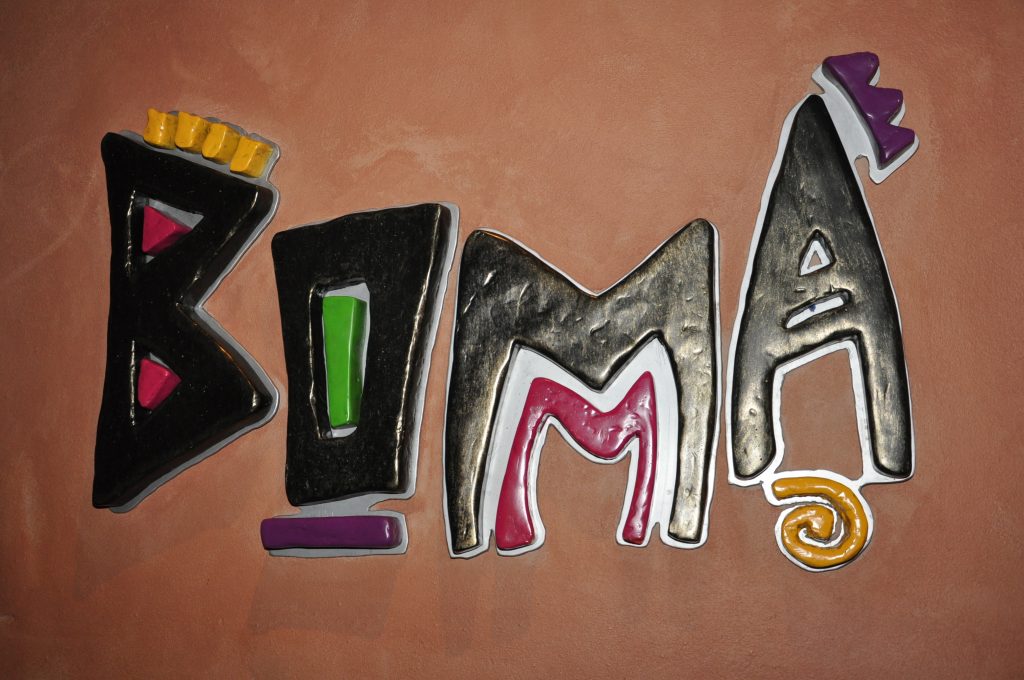 The basics of the Senses of Africa Tour
The Senses of Africa Breakfast/Tour is currently offered twice a week, on Tuesdays and Saturdays. The price is $249 per person, paid in advance. I know…that's a chunk of change. Disney Vacation Club Members and Annual Pass Holders receive a 15% discount. Yes, I know…still a chunk of change.
There are no same-day reservations and if you cancel within two days of your reservation, you forfeit the entire amount. Senses of Africa occurs rain or shine, with the exception of severe lightning.
No park admission ticket is required and you do not need to be a guest at Disney's Animal Kingdom Lodge. If is a great outside the park activity you can schedule on a non-park day. You start early so you'll finish early and have plenty of time for the pool.
Is the senses of Africa Breakfast at Animal Kingdom Lodge worth the price?
That depends. This isn't something to drop $500 (roughly the cost for two people) on just because…unless you have lots of money to spend at Disney, in which case, let's be friends because I want to get to know you better. But seriously, this is something special for a true animal lover, a milestone event such as a birthday or graduation, or for a true Disney lover who wants to experience the lesser-known things Walt Disney World resort has to offer.
The savanna at Disney's Animal Kingdom Lodge is NOT the same savanna that's in Disney's Animal Kingdom
For the longest time, I thought the savanna on the Kilamanjaro Safari in Disney's Animal Kingdom (my favorite park, by the way) backed up to the savanna at Disney's Animal Kingdom Lodge (my favorite resort hotel at Walt Disney World, are you seeing a trend?) and that it was all the same property. It is not, although I learned that some of the animals are swapped between the savannas on the Walt Disney World property.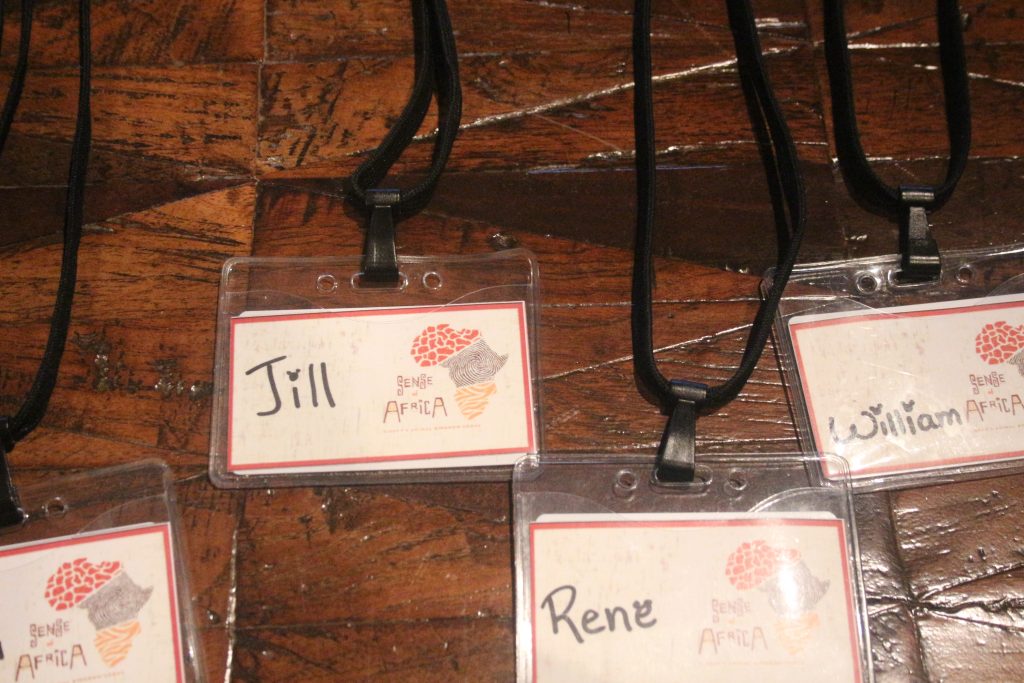 So…you mentioned eating?
The Senses of Africa Breakfast includes strong coffee and lots of delicious food, which is a very (very, very, very) good thing since it starts at the booty crack of dawn. Okay, so it starts at 6:45 a.m. which for most people on vacation is OMG EARLY. The Senses of Africa group are escorted into the Boma – Flavors of Africa restaurant before it opens and treated to extra-special personalized service, which includes a specially laid table, a tour of the buffet offerings and a meet with one of the Cast Members who works in the kitchen at Boma to answer any any all questions you might have. Many of the Cast Members working at Boma are from Africa, which adds a really special touch and perspective. Our host was from Botswana and he was super welcoming.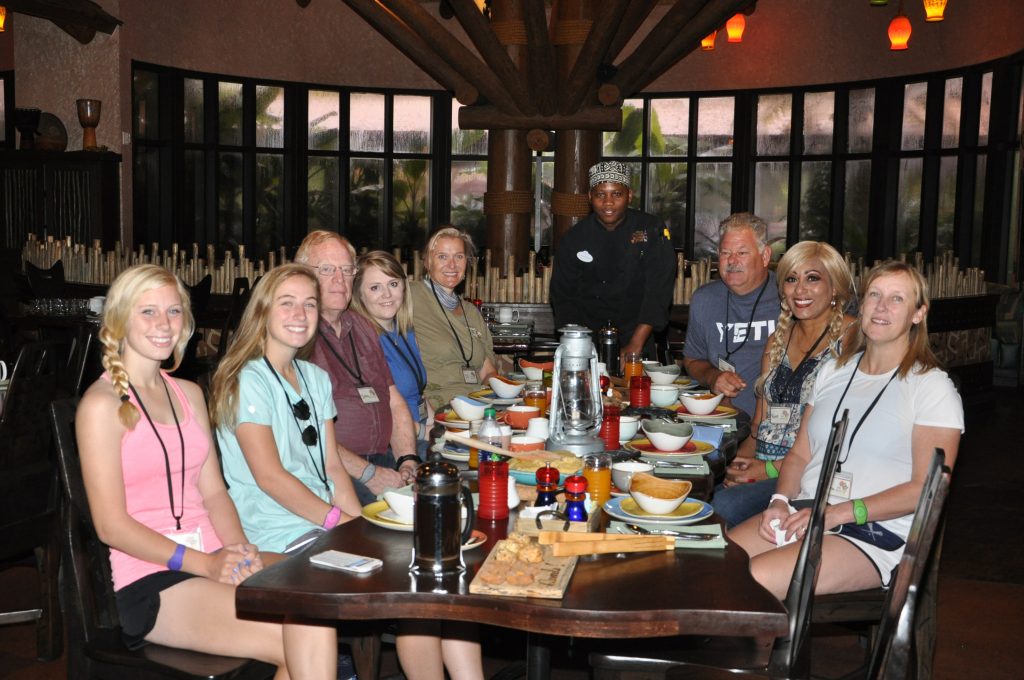 Boma is a breakfast buffet with traditional breakfast offerings as well as some African breakfast specialties which absolutely knocked my socks off. I tried the African specialties just to be polite and try something different, not expecting to really like them. A spicy tomato stew and a polenta-style porridge didn't appeal to my palate so early in the morning.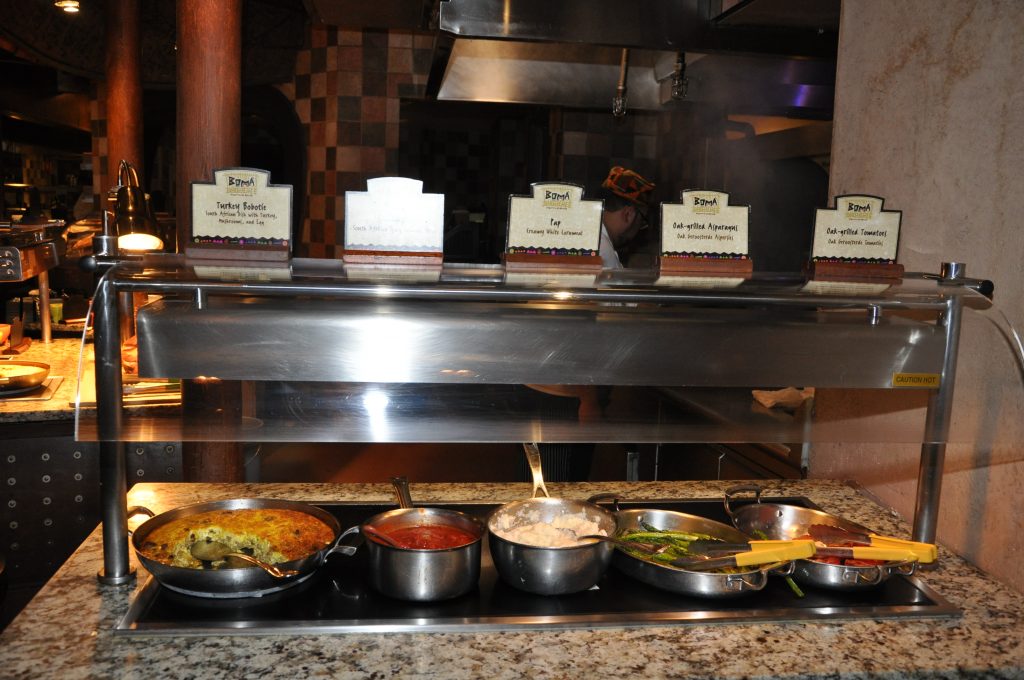 I was wrong and I'm GLAD. Although I put a Mickey Waffle on my plate (you better believe I did because you're not really at Disney if you don't eat a Mickey Waffle amiright?) the African breakfast delights were my favorite thing I ate on this trip. The porridge with tomato stew was delicious and I'd have probably licked my plate if I didn't have a small sense of basic table manners.
In addition to full access to the buffet, the Senses of Africa participants get some items specially placed on their table. You'll also get some delicious "Jungle Juice" which is a combination of orange and mango juices as well as free-flowing Kenyan coffee. You'll get a 10-minute warning from your guide before it's time to hit the savanna. Your cost of your breakfast is included in the price of the experience.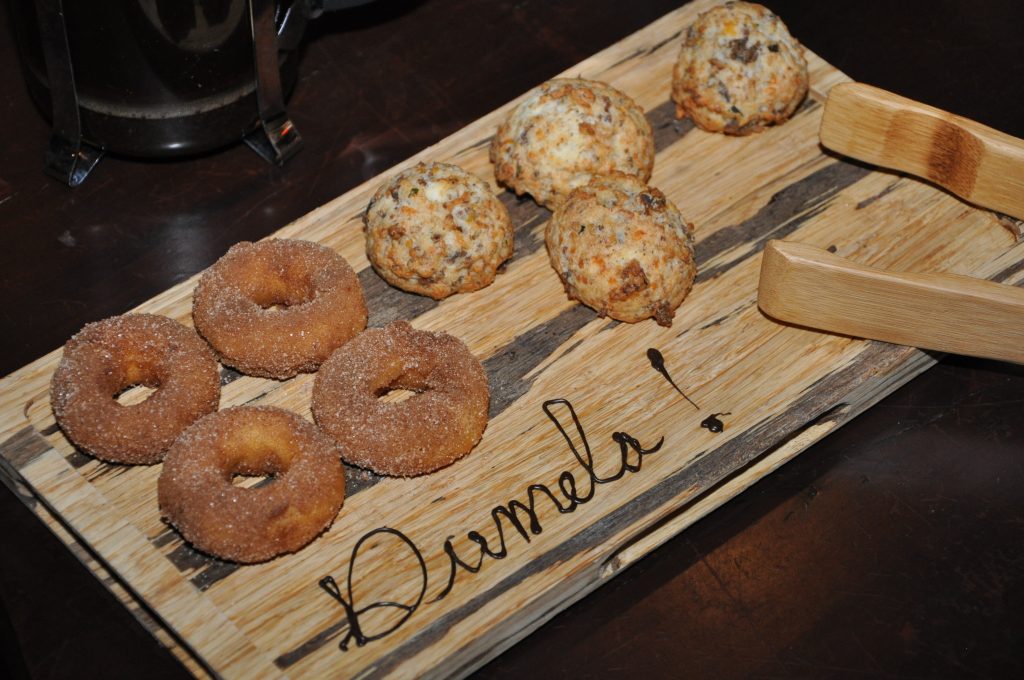 Even if you don't take the Senses of Africa tour, I highly recommend eating at Boma. It's open from 7:30-11:00 for breakfast and from 5:00-9:30 for dinner. Some dining plans are accepted and reservations are strongly encouraged. More info available here.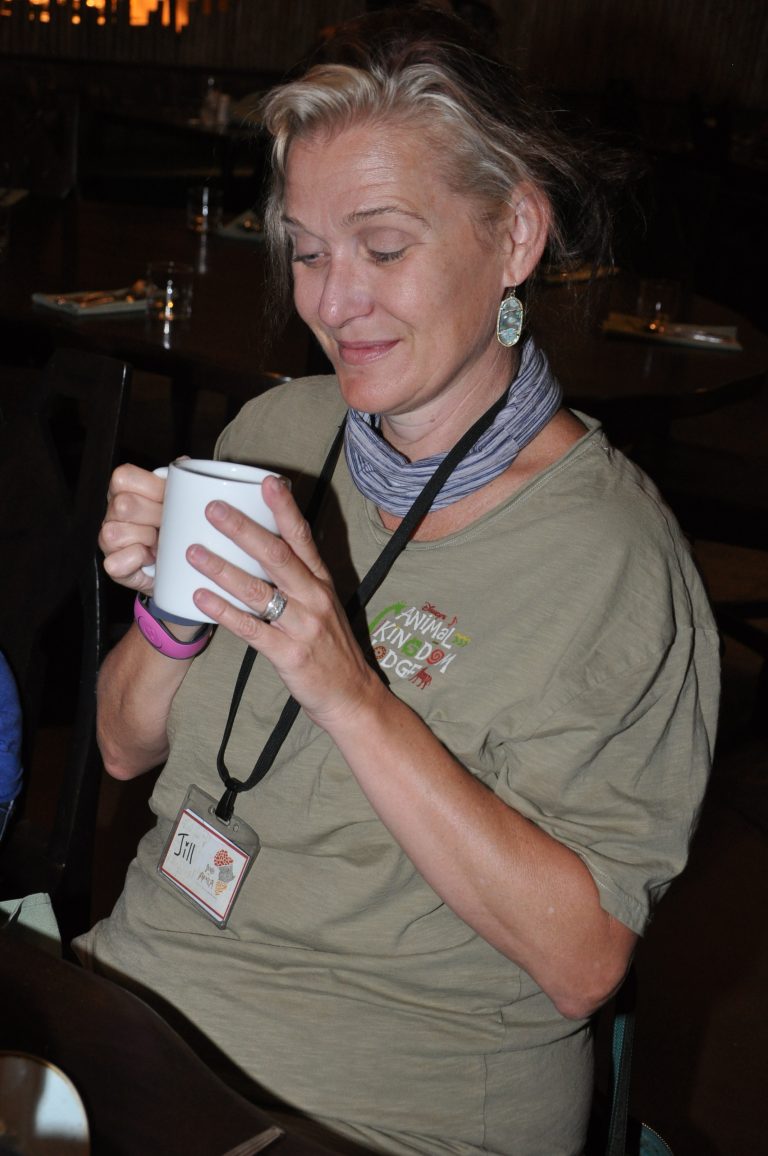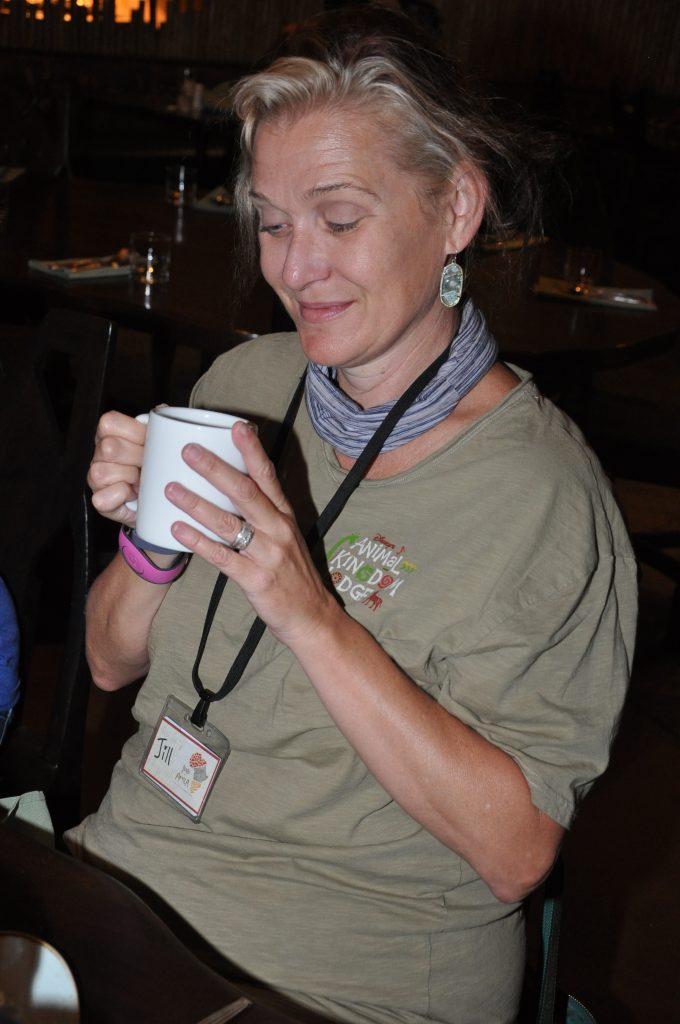 Animal Experiences
The animal interactions totally make this experience. After breakfast, our guide passed out water bottles (which we got to keep) and we boarded a safari vehicle and headed backstage. There were two cast members with us for the entire tour…one driving the vehicle and one in the back chatting with us. It felt like an adventure with old friends.
We also got to meet other cast members at our various animal stops. I'll add that these cast members are trained animal experts and not just your standard Disney tour guide. Their passion for their jobs was a pretty amazing thing to see. Everyone we encountered truly loves what they do and loves their animal friends…which isn't surprising for a Disney experience but it's still super heartwarming to witness. The entire experience just made me feel good.
Our first stop was the Okapi barn. These gentle and shy animals are actually related to giraffes, which I did not know. The Okapi are a recently discovered species, which I also did not know. They weren't discovered until 1901 in the African Rain Forest. They are shy and reclusive and managed to evade humans for a long time.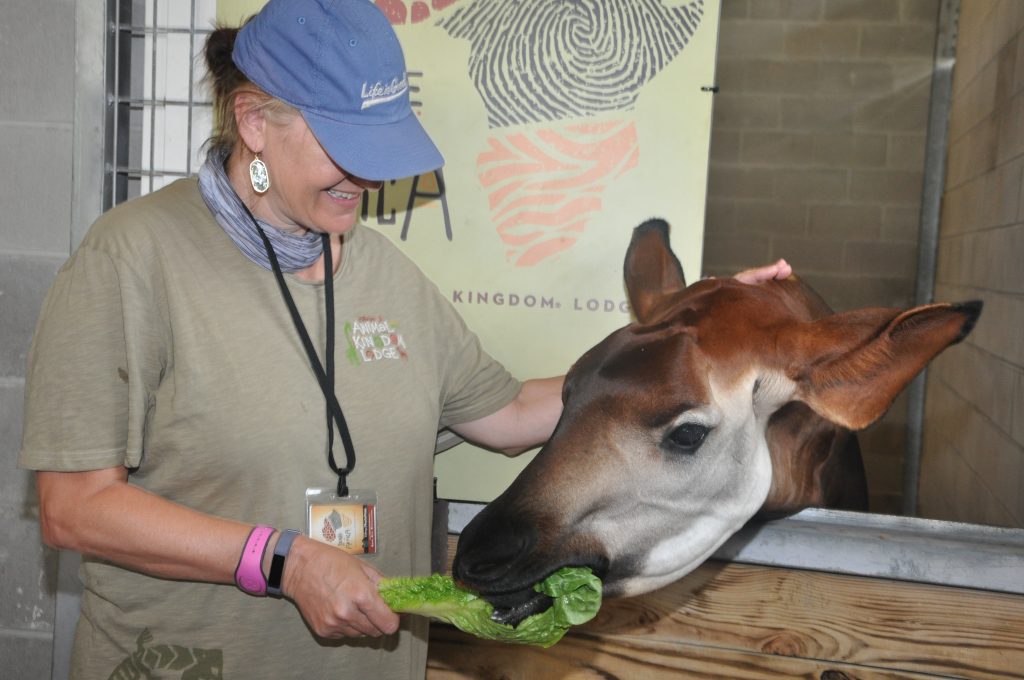 Feeding the Okapi is included in the Senses of Africa experience, and I have to tell you, this was one of the coolest experiences I've ever had. She was so velvety soft and so timid and it really made me happy to feed her this lettuce leaf.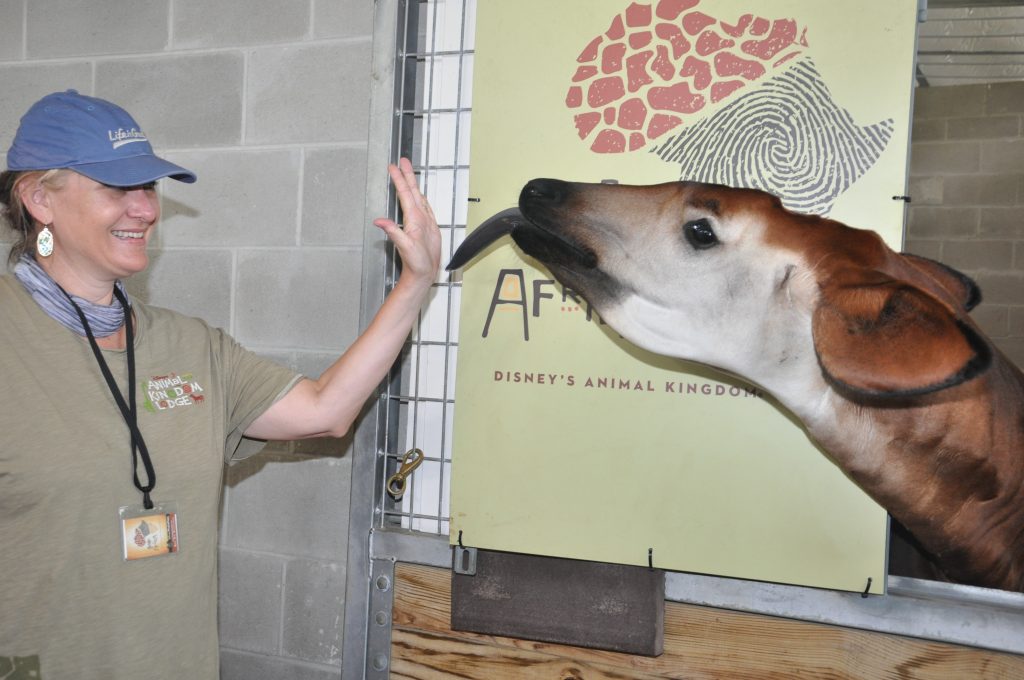 The senses of Africa Tour is 100 percent animal led
Typically, the Senses of Africa Breakfast includes giraffe feeding as well, however, on the morning of our tour, the giraffes opted to stay out in the savanna for the night. They usually return to the barns in the evening and are hanging out when the tour stops by. Since they stayed out all night, they weren't in their habitat where the giraffe feedings take place, so we weren't able to feed them.
This is probably a good time to explain that all of the animal experiences with Senses of Africa are the animal's choice. If they want to accept food from their human friends, they do. If they don't want to participate in the interaction, it is their choice not to and nothing is forced. Although I was sad to have missed the up close opportunity with the giraffes, we did get to feed the ostriches, which isn't part of the typical Senses of Africa Experience.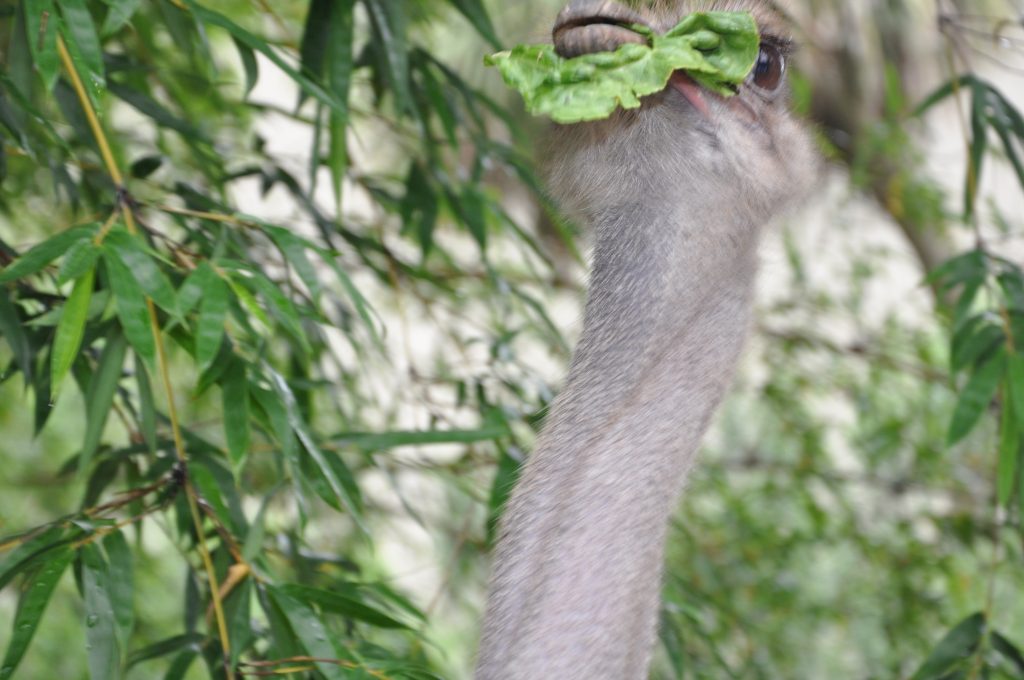 We also got to visit and feed a small species of deer…probably some type of Kudu but for the life of me, I can't remember what these gentle little animals are called. I know our Disney animal expert told us but the name just escapes me. I was really disappointed that our guide didn't take pictures of our interaction with these creatures because I have nothing to go on to ID them. Perhaps there were no photos taken because visiting with these animals isn't part of the standard Senses of Africa experience. Our animal expert mentioned that she was happy to see they did so well with our group, so maybe we were guinea pigs for something that might be part of future excursions within the savanna.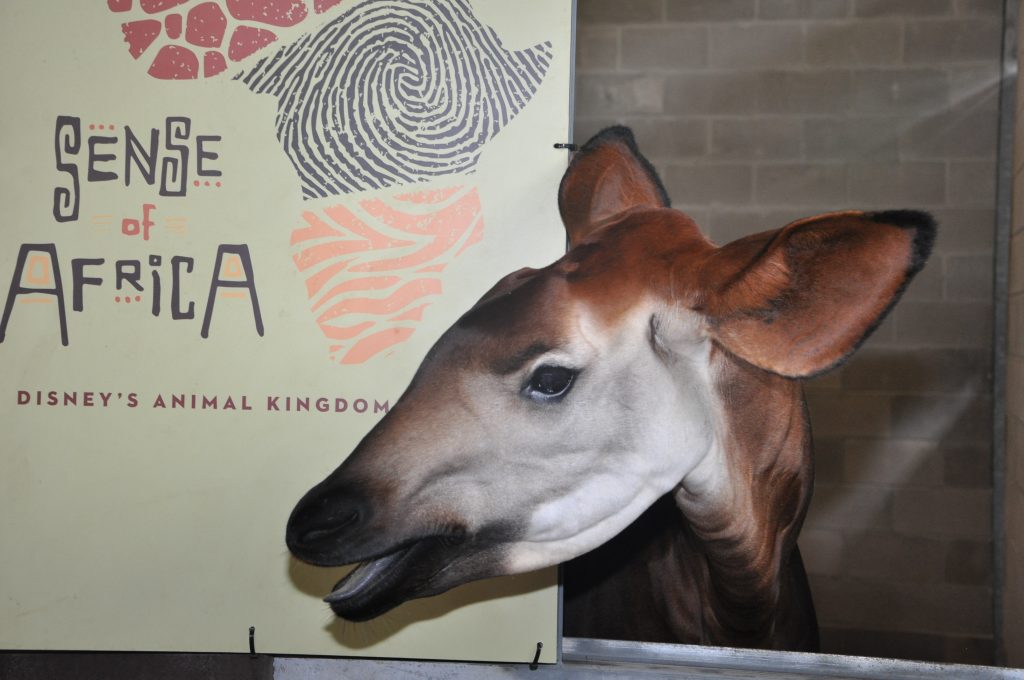 My favorite part was visiting the Red River Hogs. These are not Wart Hogs like I'd initially thought but seriously, don't they look like Pumba? We got to have a demonstration with their caretaker and saw first-hand how intelligent these animals are. After that, we got to prepare their animal interaction (involved smearing pumpkin on a plastic dome and hiding treats in these little balls – pretty messy!) and watch them go to town on what is considered to be a delicious treat, if you are Red River Hog!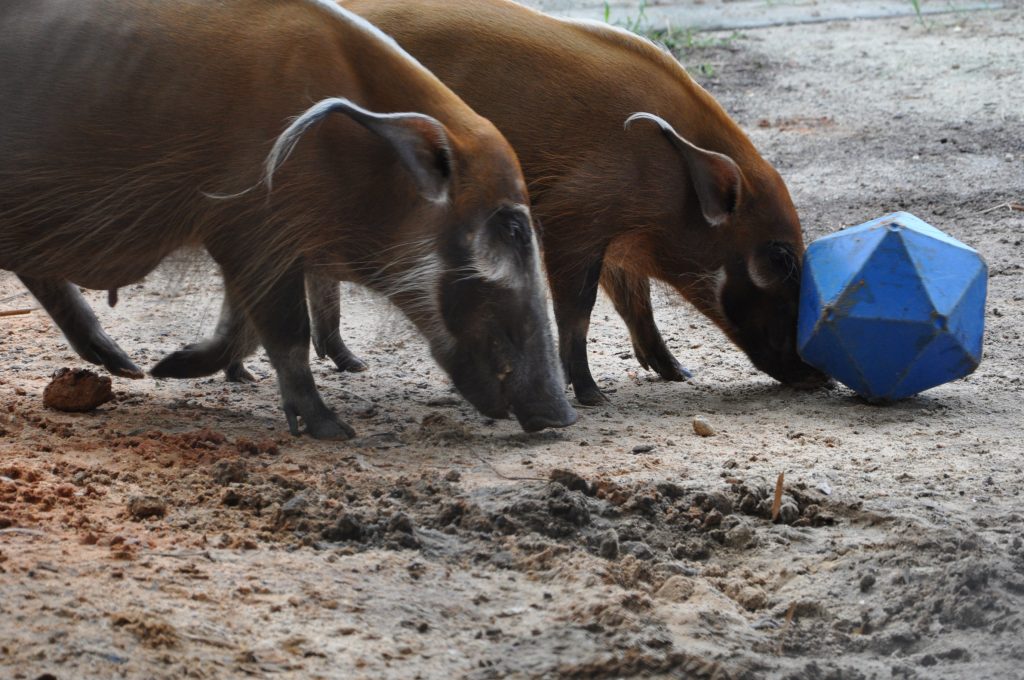 Our last stop was a safari ride around the savanna to get a closer look at the giraffes that we didn't get to feed. Although you can get awesome views of the savanna from many places at Disney's Animal Kingdom Lodge (those savanna view rooms are THE BEST and worth the splurge) getting to go out into the savanna and get this close-up view was really quite the treat.
Other things to note about the Senses of Africa Tour at Disney's Animal Kingdom Lodge
You must wear closed-toed shoes. No flip flops. Honestly, this is kind of a silly rule because you're not really trekking or walking rough conditions. But, it's a rule.
You can't take pictures "backstage." There's a professional photographer taking pictures throughout the tour. You will get a code to download pictures free.
I recommend you take a picture of the code in case you lose the card they give you with the code written on it. Disney re-entry is always tough (and for me, super unorganized) and you don't want to lose that little card. I loved the freedom of not having to worry about taking pictures and the ability to just be in the moment. That's something I don't get to do enough.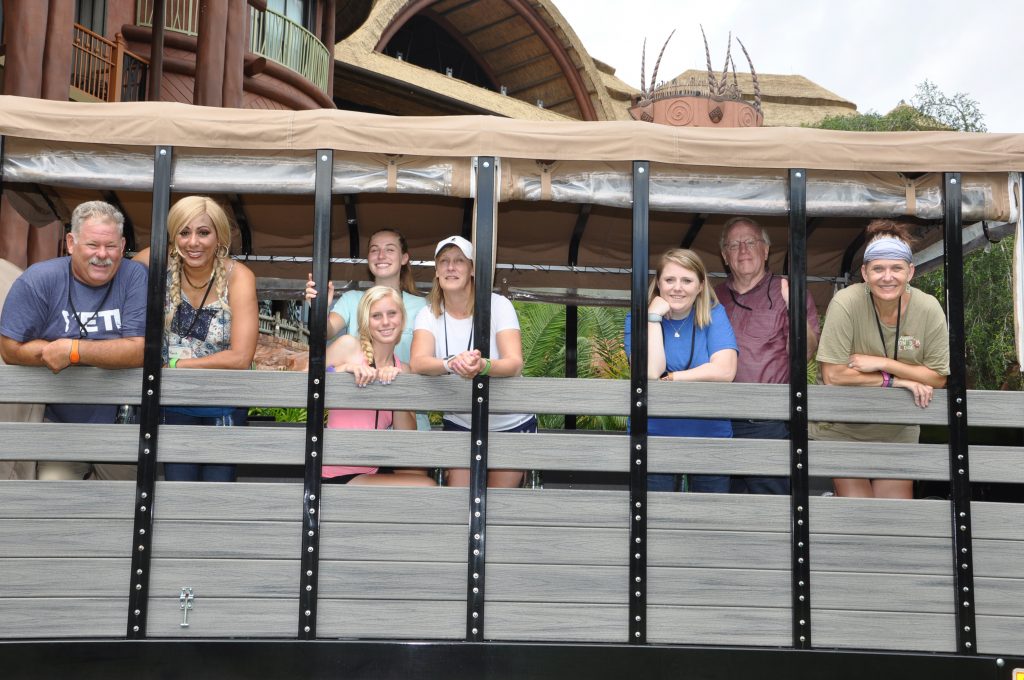 You'll get a unique, commemorative pin and a water bottle.
The experience is described as "rugged" and the safari vehicle goes over some semi-rough terrain, but I didn't think it was that bad. Guests climb into the vehicle via portable stairs but anyone with average mobility levels shouldn't have a problem. The Senses of Africa Breakfast is listed as "accessible" with the following note:
"Guests using a wheelchair or ECV must leave their mobility devices behind at the Resort destination where they will retrieve them upon conclusion of the tour. Please note that Guests must be able to walk by themselves or be assisted by a member or members of their party to experience this tour. Guests unable to transfer from a wheelchair may remain in their wheelchairs for the duration of the tour. However, due to the limited capacity of the safari vehicle, all accommodation requests must be confirmed ahead of time." More HERE.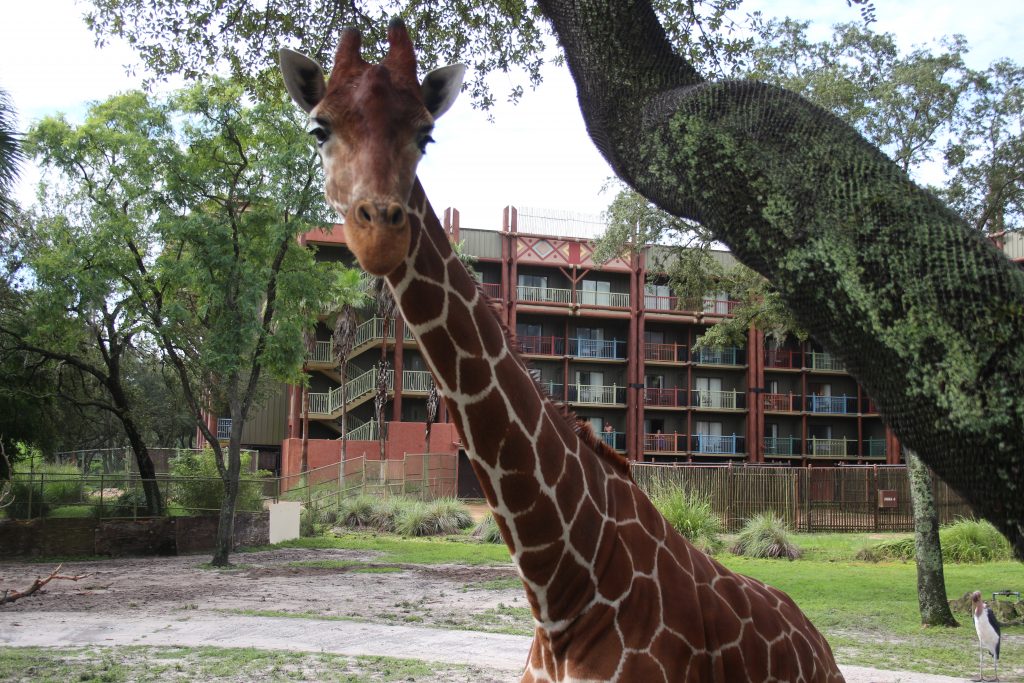 Participants must be at least 10 and guests under the age of 18 must be accompanied by an adult.
You do not have to have a park ticket or be staying at Disney's Animal Kingdom Lodge to enjoy this experience, You DO have to be able to arrive at Disney's Animal Kingdom Lodge by 6:45 to check in. If you're staying elsewhere on the Walt Disney World property, I recommend taking a Lyft or Minnie Van instead of relying on Disney transportation. Since there is no resort to resort transportation, you'll be getting up early early early. If you rely on the buses, you're probably cutting things too close.
The Senses of Africa is definitely a Disney bucket list experience. The price tag may cause some hesitation but you will not regret the splurge.