Why we loved the Disney Character Breakfast at Trattoria al Forno
(This post may contain affiliate links. Read my full disclosure.)
I love everything about Disney. One of my favorite things about Disney is character dining. We do at least one Disney character dining experience each time we visit Disney World. I tell myself that we need to enjoy these types of experiences before my kids get too old or too cool to enjoy them but the truth is that we'd probably go to character breakfasts if we didn't have kids. We did, after all, go to Disney World on our honeymoon, so remember who's talking, here! The Bon Voyage Adventure Breakfast at Trattoria al Forno is one of our favorite character breakfasts at Disney World. It's got unique characters and probably the best food of any Disney character breakfast we've attended to date. I am, however, always willing to test that theory. But for now, check out my Trattoria al Forno review!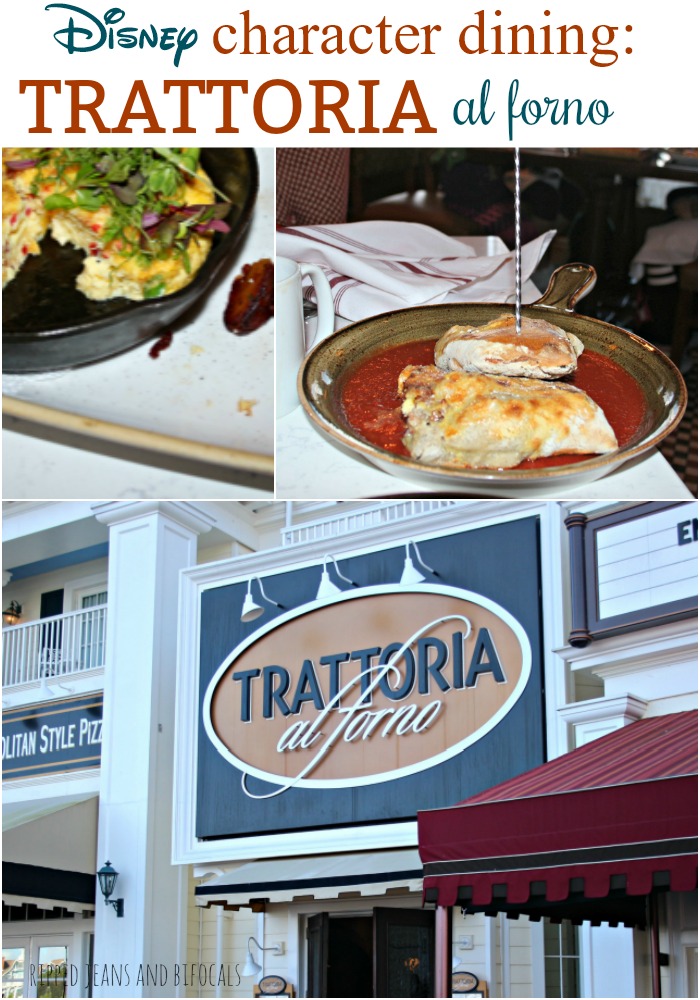 Character dining at Walt Disney World can be found in a variety of locations both inside and outside the parks. You can choose character dining based on location and convenience, what characters you want to eat with, what you like to eat, or what's open when you get around to deciding you want to do a character meal. Yes, that last thing happened to me once and we got totally lucky and walked into Akershus Royal Banquet Hall at Epcot.
While I always recommend advance dining reservations – you can reserve up to six months in advance – it is possible to get lucky with last-minute reservations (always check your My Disney Experience app) and with no reservations at all. If you have a child who is going to be devastated if they don't get to meet a certain character, make sure you reserve in advance or practice some expectation management.
You might also like: How to download your runDisney race pictures
Thinking of booking your own Walt Disney World or Disneyland California vacation?
Check out my partner, Get Away Today for the best deals and white glove service.
Why we love the Disney character breakfast at Trattoria al Forno – Our Trattoria al Forno review:
[Tweet "Review of character breakfast at Trattoria al Forno (Rapunzel & Flynn Rider + Ariel & Prince Eric)"]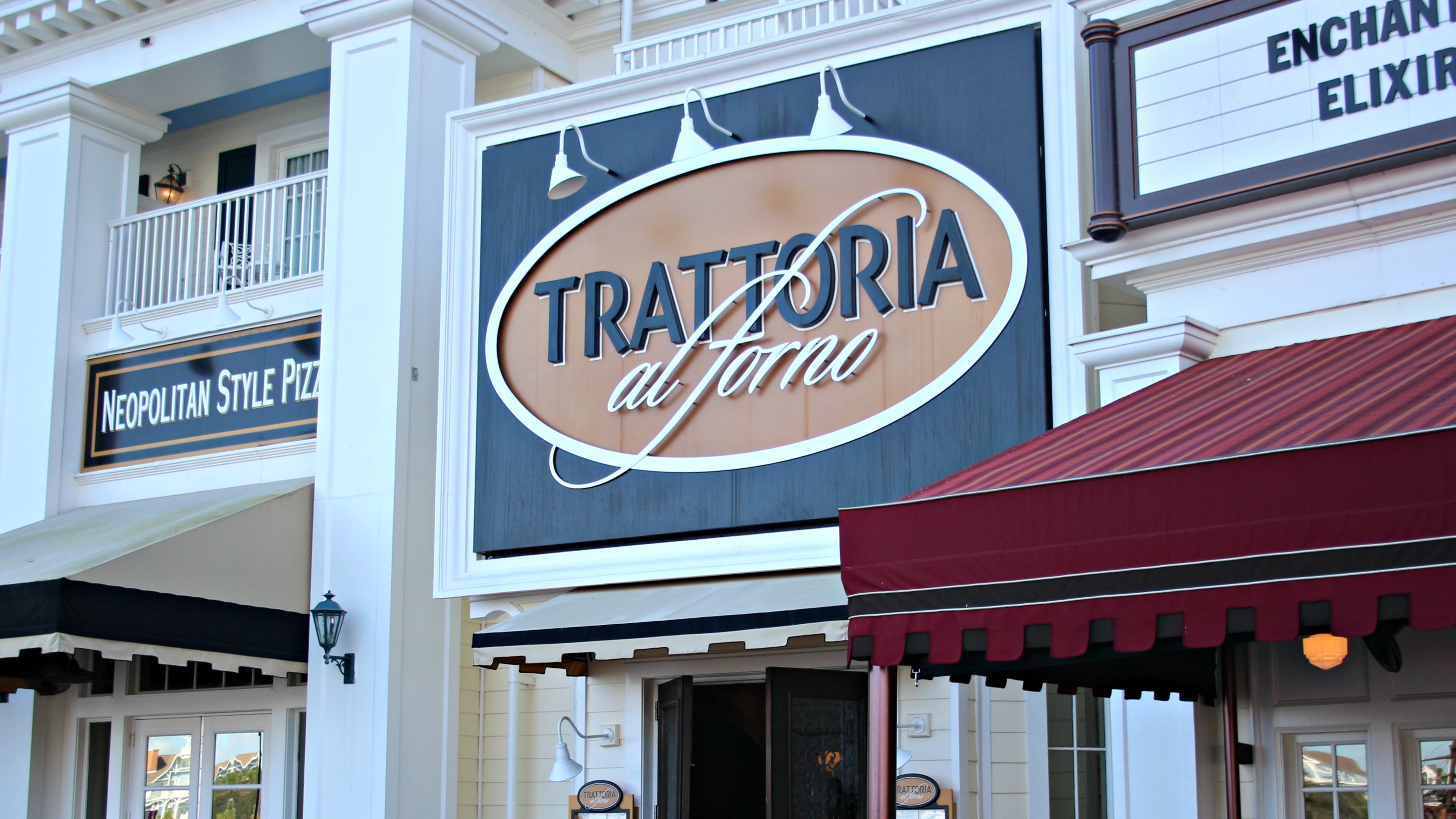 Trattoria al Forno…Where's that?
Trattoria al Forno is located on Disney's BoardWalk, so you don't need a park admission ticket to enjoy this one. If you're staying in one of the resort hotels on the BoardWalk (Swan and Dolphin, Yacht Club, Beach Club) you can walk over. If you're staying anywhere else, you'll need to plan how you're going to get there.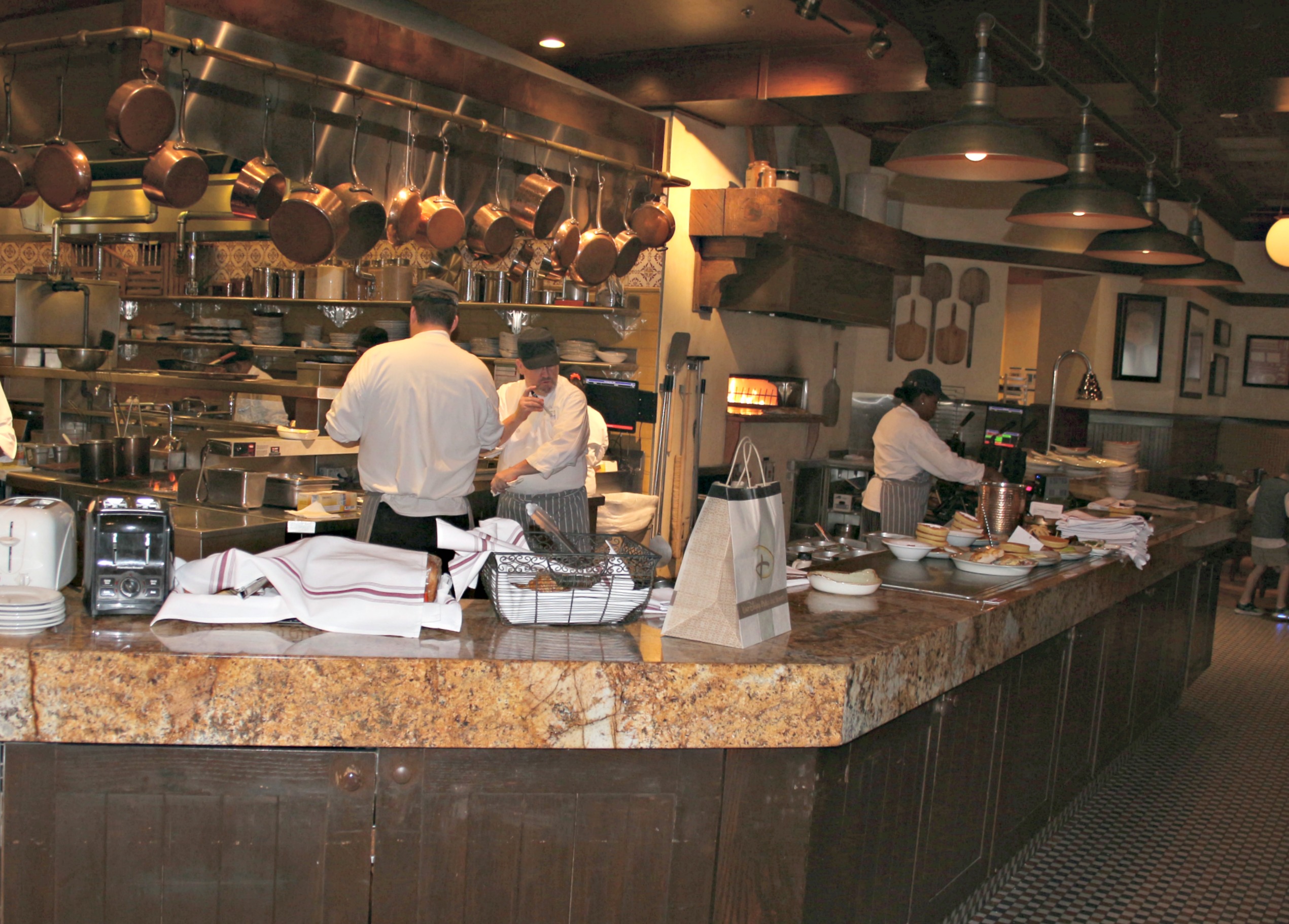 We spent the night at Animal Kingdom Lodge the night before our (very early) breakfast reservation, so we opted to take a Minnie Van to breakfast. Minnie Vans are operated by Lyft. You can book a ride using your Lyft app when you're on the Walt Disney World property. The fee is $25 each way. You can read more about Minnie Vans here.
There is no resort-to-resort transportation at Disney World. If you don't want to spring for a Minnie Van (or regular Lyft or Uber) you can take free Disney transportation to one of the parks and then get on a bus to one of the BoardWalk area hotels. This won't cost you want money but it will cost you time and if you have an early breakfast reservation, the buses might not be running so make sure you plan.
What is the Bon Voyage Adventure Breakfast?
The Bon Voyage Adventure Breakfast is the only option for character dining at Trattoria al Forno. They do offer a full menu of Italian delights and fine wines for lunch and dinner but the characters are only present at breakfast.
One of the things that is special and unique about Trattoria al Forno is that it's the first character dining experience to feature Disney princes.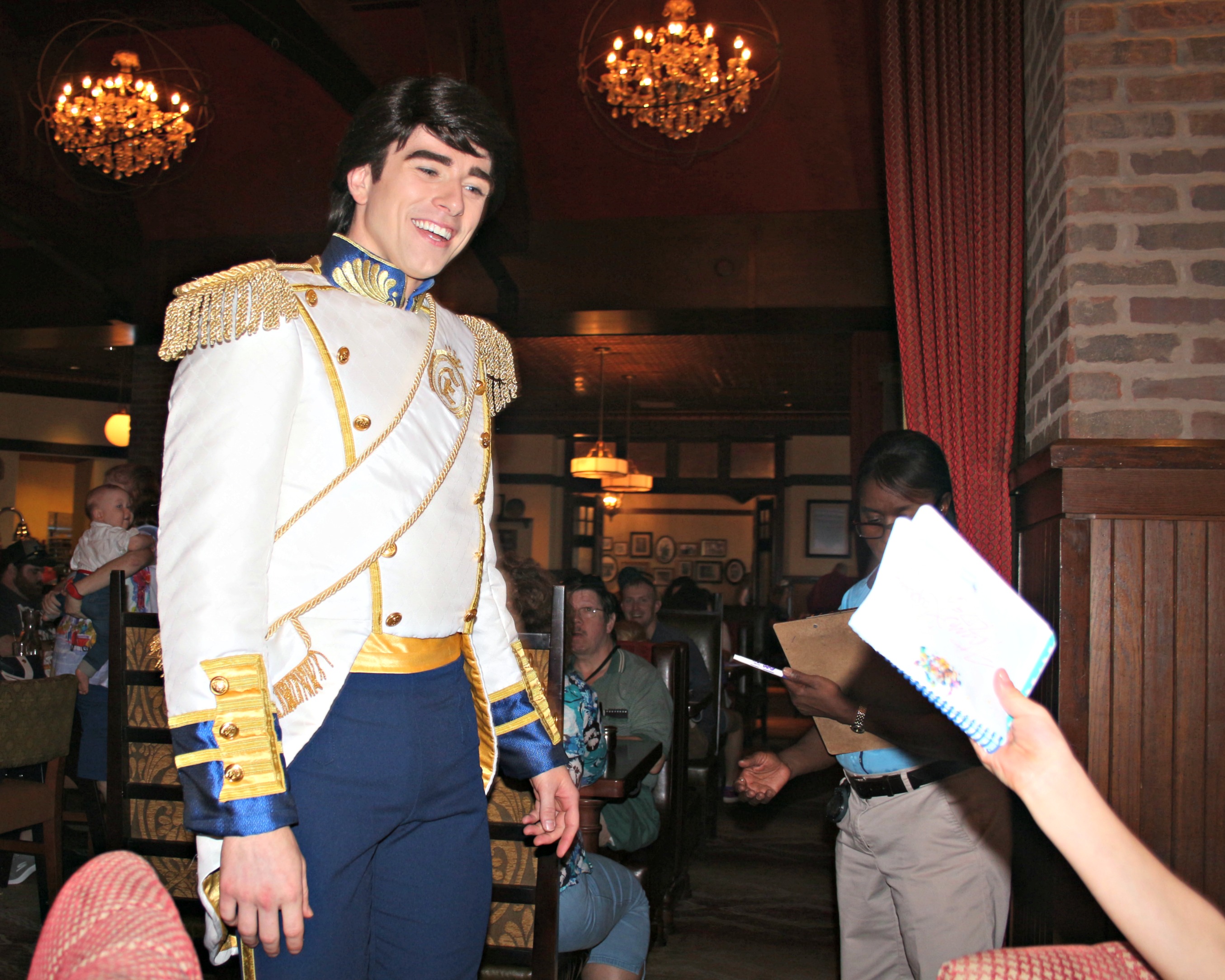 You can find Disney princesses at many other venues but this is a great chance to interact with the princes as well. Currently, Flynn Rider from Tangled and Prince Eric from The Little Mermaid hang out at Trattoria al Forno. And yes, Rapunzel and Ariel make an appearance, too.
As with any Disney character dining experience, characters are subject to change. That said, the characters have remained pretty stable since this breakfast opened.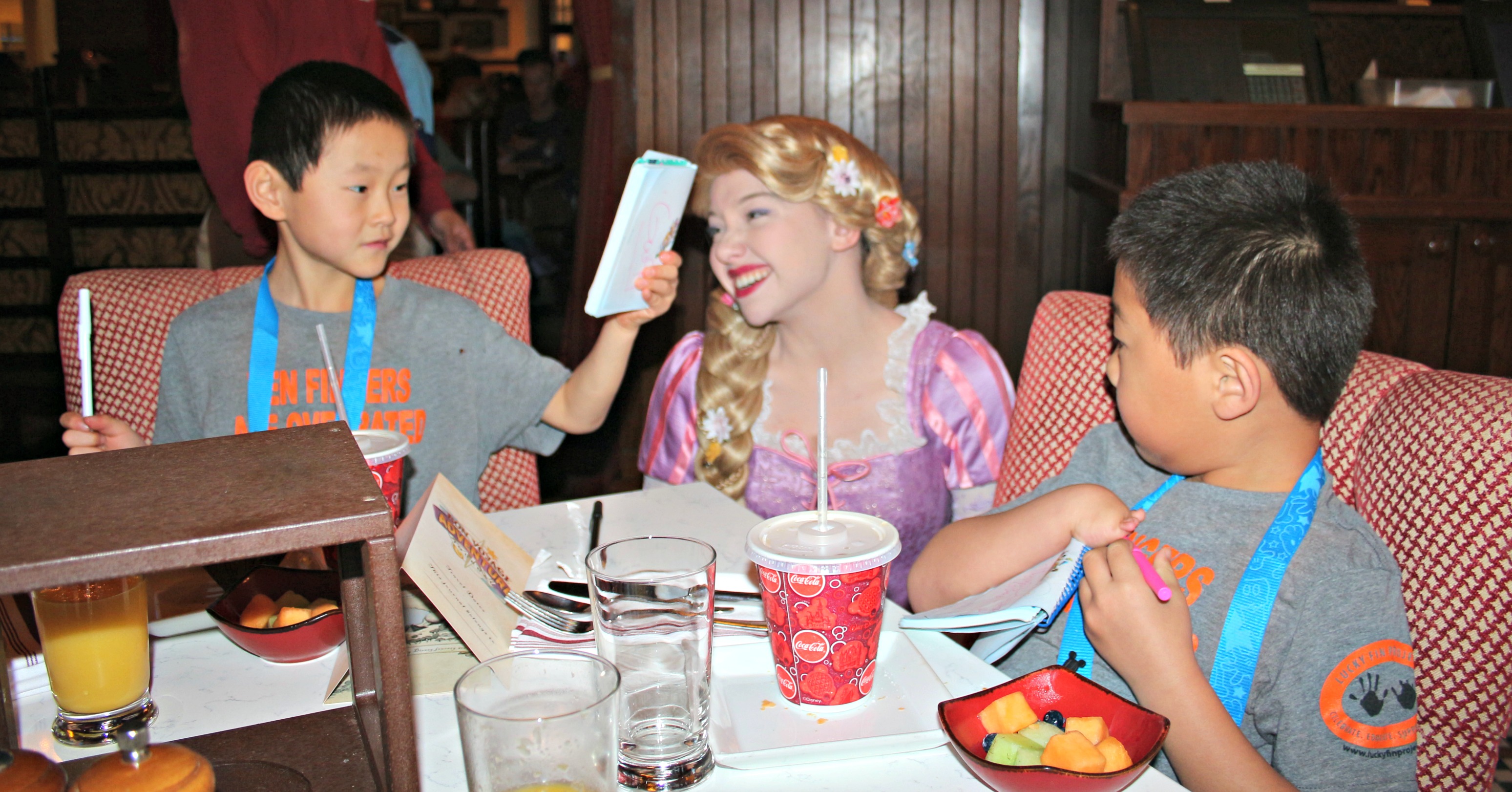 All of our Disney friends were wonderfully in character, especially Flynn Rider. His fun, slightly arrogant personality was very entertaining but he was absolutely wonderful with my kids. We were going to try calling him "Eugene" to see how he reacted but we all forgot!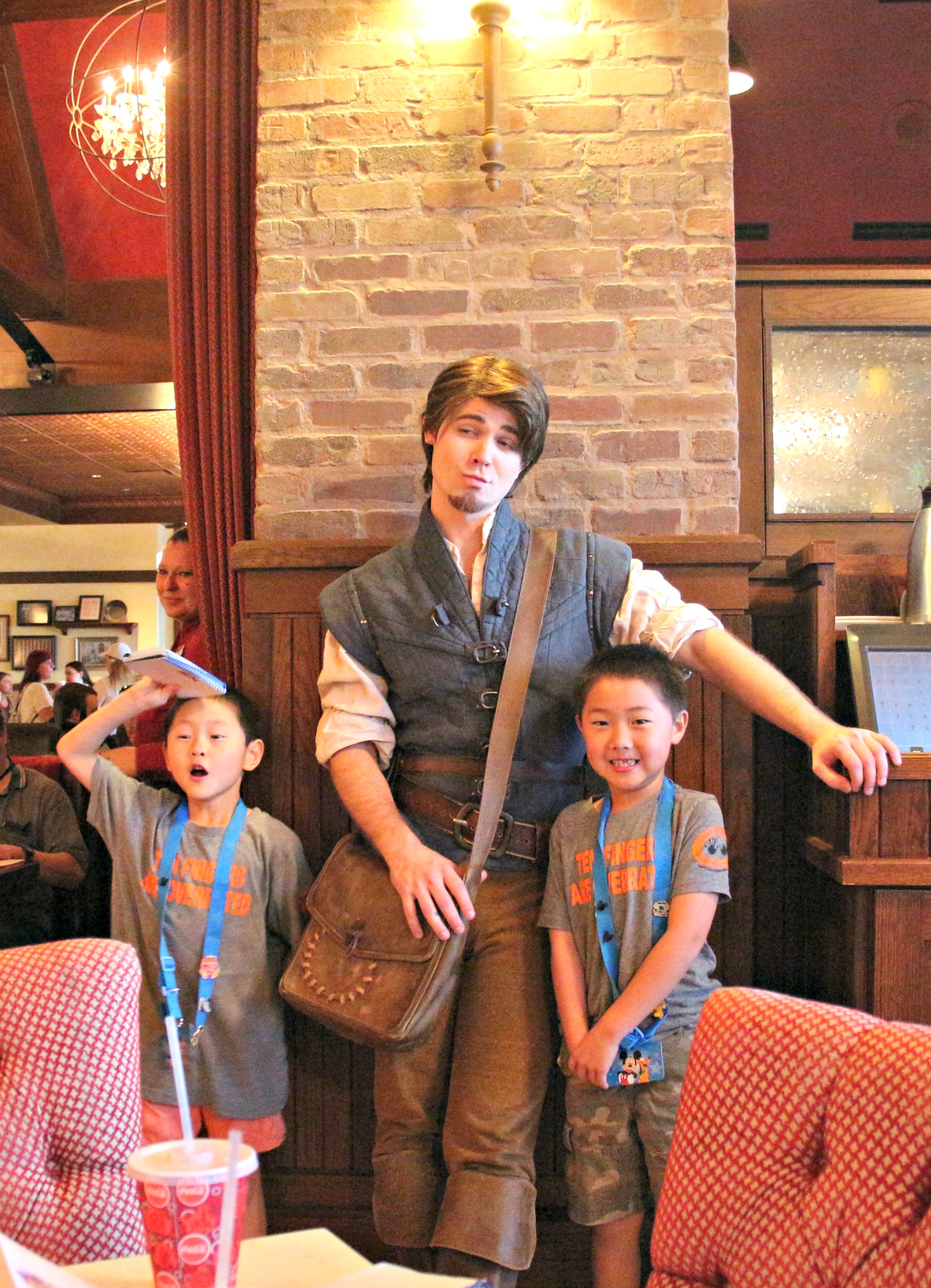 The Bon Voyage Adventure Breakfast has plated meals versus a buffet. The food is very good and the portions are more than generous. Most menu items have an Italian flare. They have a good combination of savory and sweet dishes.
If you have younger kids who can't serve themselves from the buffet, this is a great way for mom and dad to just sit and relax. There is a set fee: $45 for adults and $29 for kids, which is reasonable for Disney character dining. Some dining plans are accepted. See the full menu and details here.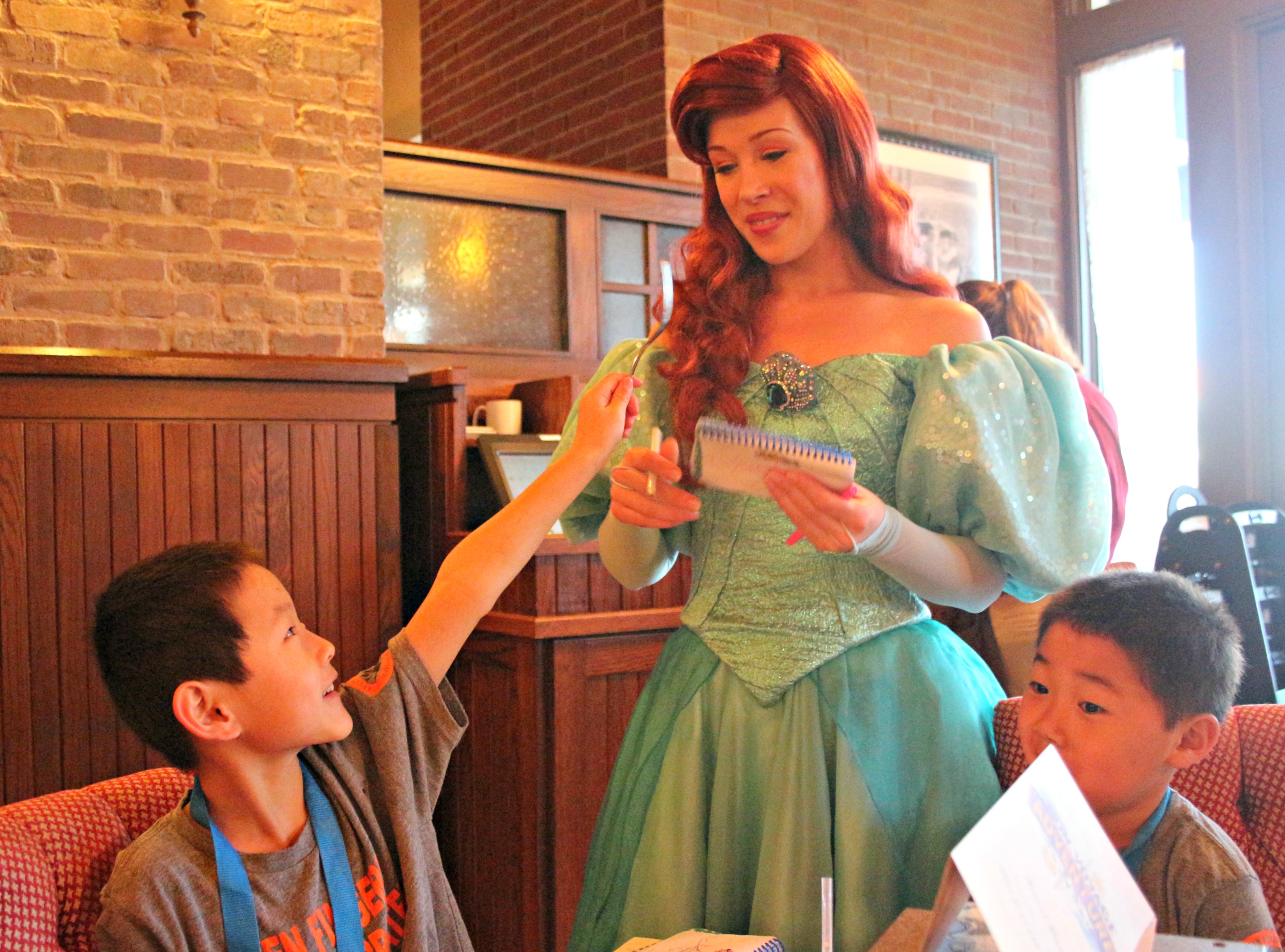 More about the menu at Trattoria al Forno
Our Trattoria al Forno review wouldn't be complete without some serious discussion about this awesome menu. In addition to the Italian themed breakfast items, you will find typical breakfast fare like omelettes, pancakes, and of course, Mickey waffles. My husband enjoyed King Triton's Shipwreck al Forno, which is a huge breakfast Calzone filled with eggs, meat and cheese served on a bed of Sunday Gravy (AKA Marinara sauce.) I had a bite and it was really good.
The Calzone comes with a fun triton but our server removed it as soon as he put it on the table. You get a minute to snap your insta-worthy photo, though. I'm not sure why they remove it. My guess is that they probably don't mean for it to be a souvenir and they take it away so you don't take it home.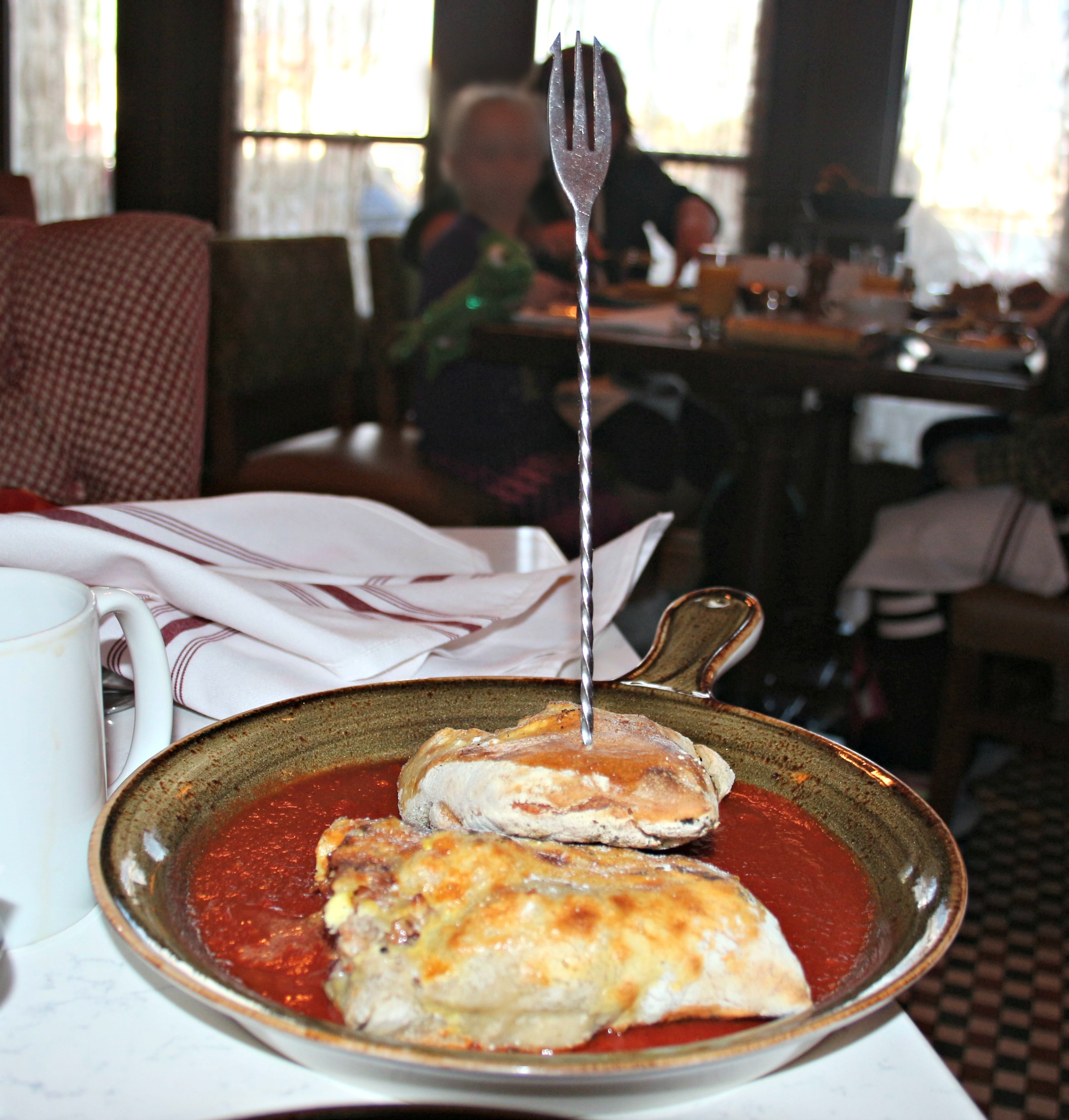 I had the Golden Frittata, although it isn't on the current menu. The closest item to this is the Tangled Eggs, although my frittata didn't come with Sunday Gravy and it had cheddar instead of mozzarella, which I think would be really good. In my experience, Disney is really good with special requests, so if you're getting the "gotta have it" vibes from my frittata, just ask. No guarantees, though.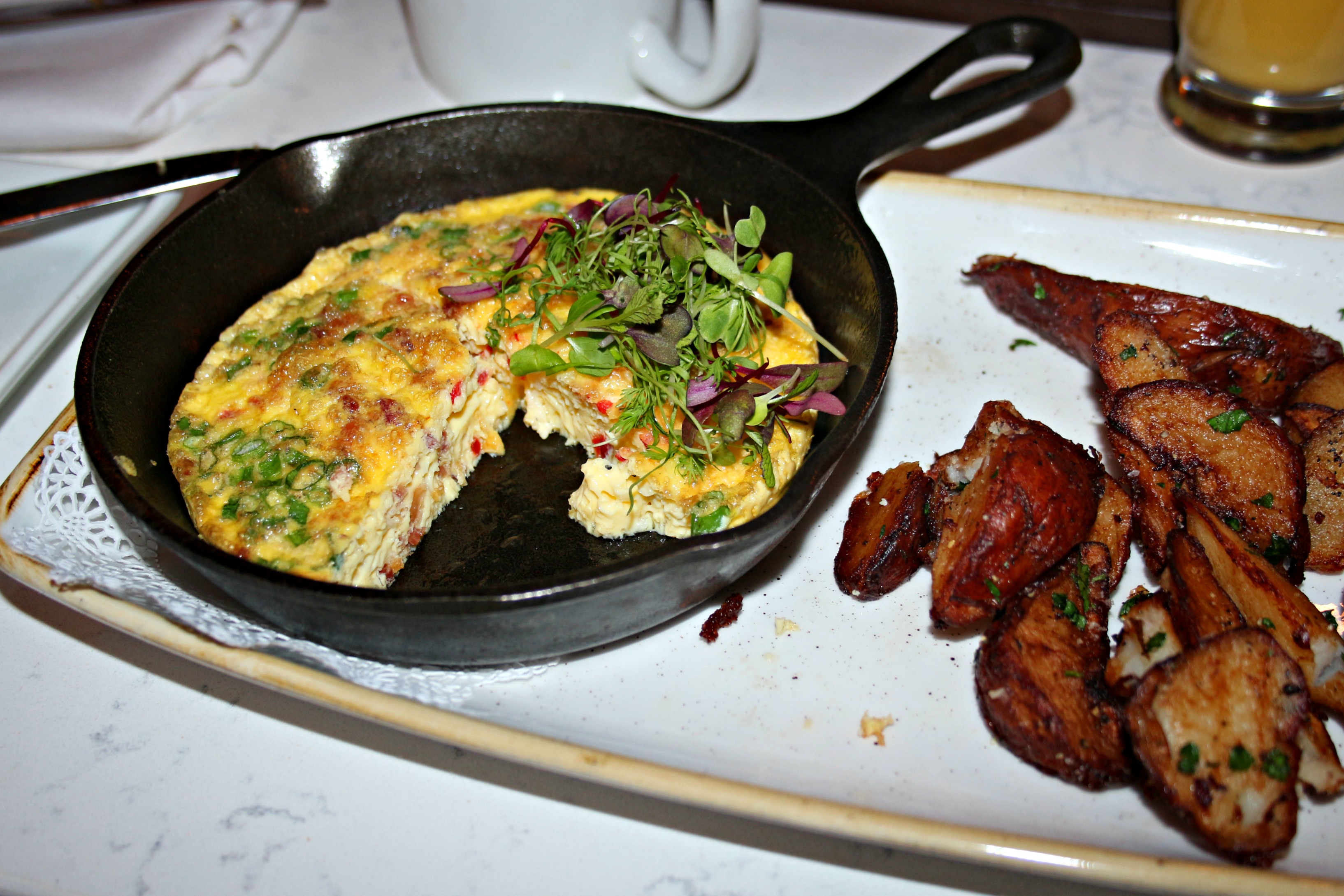 Each table will get fresh pastries and fruit to share and it's hard not to fill up on this and spoil your breakfast. I remember thinking when they put this lovely skillet of pastries on the table "I'll just take a nibble for research purposes so I don't spoil my breakfast."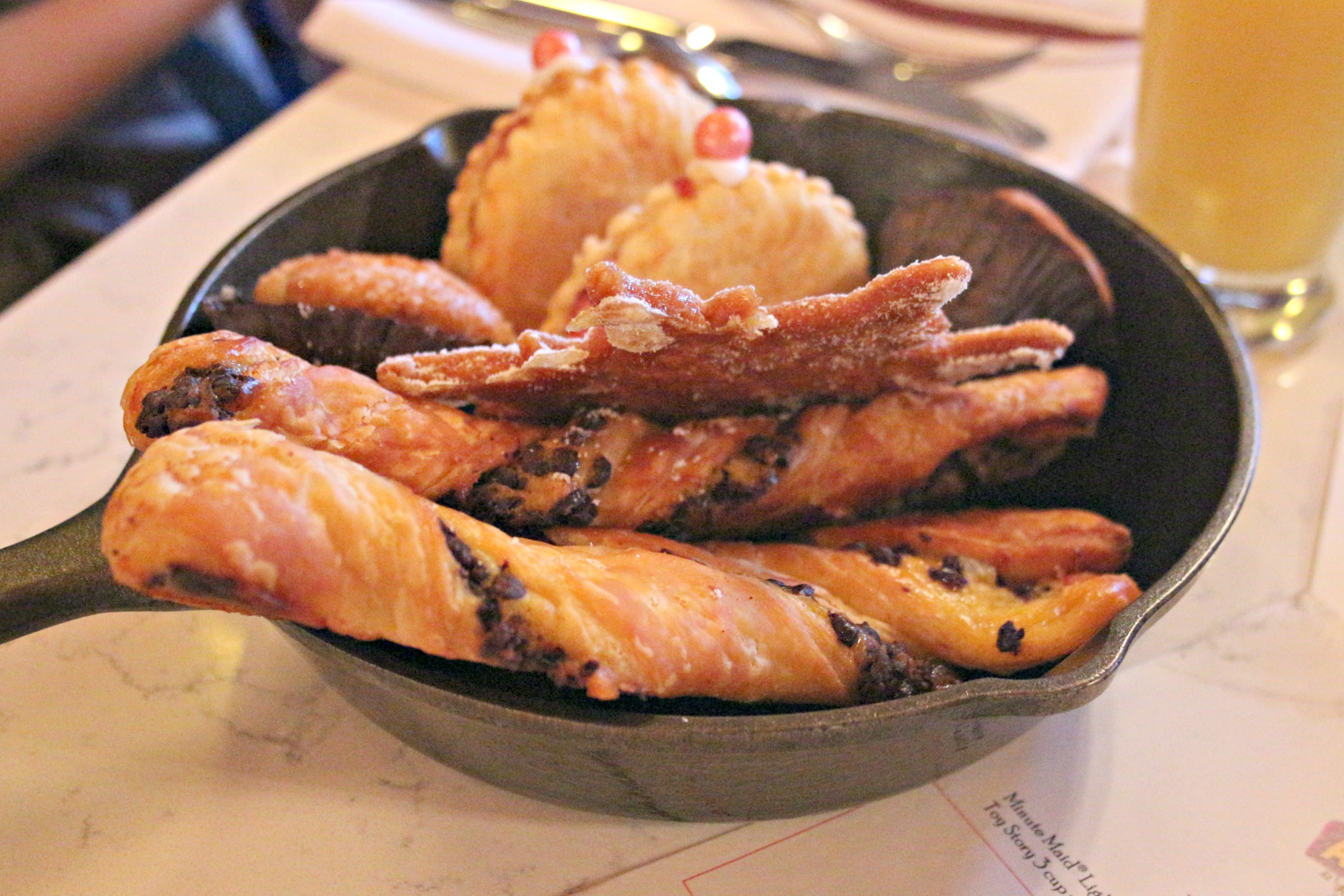 Yeah, right. When we left, that skillet was empty. Zero regrets.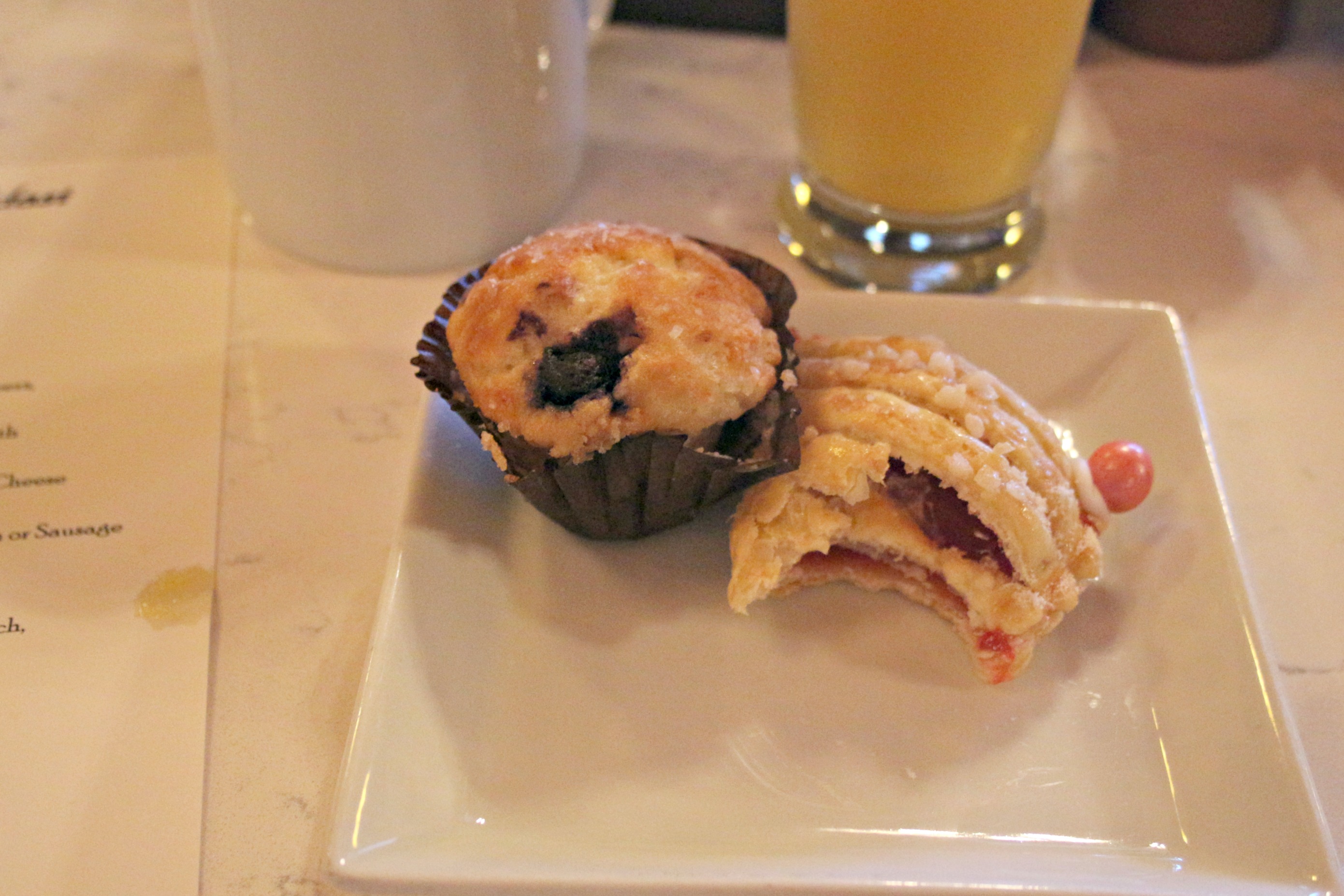 You should check out the Bon Voyage Adventure Breakfast if:
You're a fan of Tangled and the Little Mermaid and want some up close and personal with the characters.
You want character dining without going to a buffet.
You want to enjoy an amazing character dining experience outside the Disney parks.
You want a really fine dining style breakfast experience. Don't get me wrong, other character breakfasts have delicious food but the food and the atmosphere at Trattoria al Forno are top-notch.
After breakfast, explored Disney's BoardWalk and took a few pictures before walking right into Epcot. Our hearty breakfast filled us up and we ate late enough so that we didn't need a full lunch. Breakfast at Trattoria al Forno (and character dining in general) is not cheap.
Our family of four spent about $130 for breakfast and we opted not to have any of the breakfast cocktails that were on the menu, although the Caprese Bloody Mary and the Peach Bellini were tempting. Coffee, tea, milk and juice are included. Alcohol and specialty drinks are not.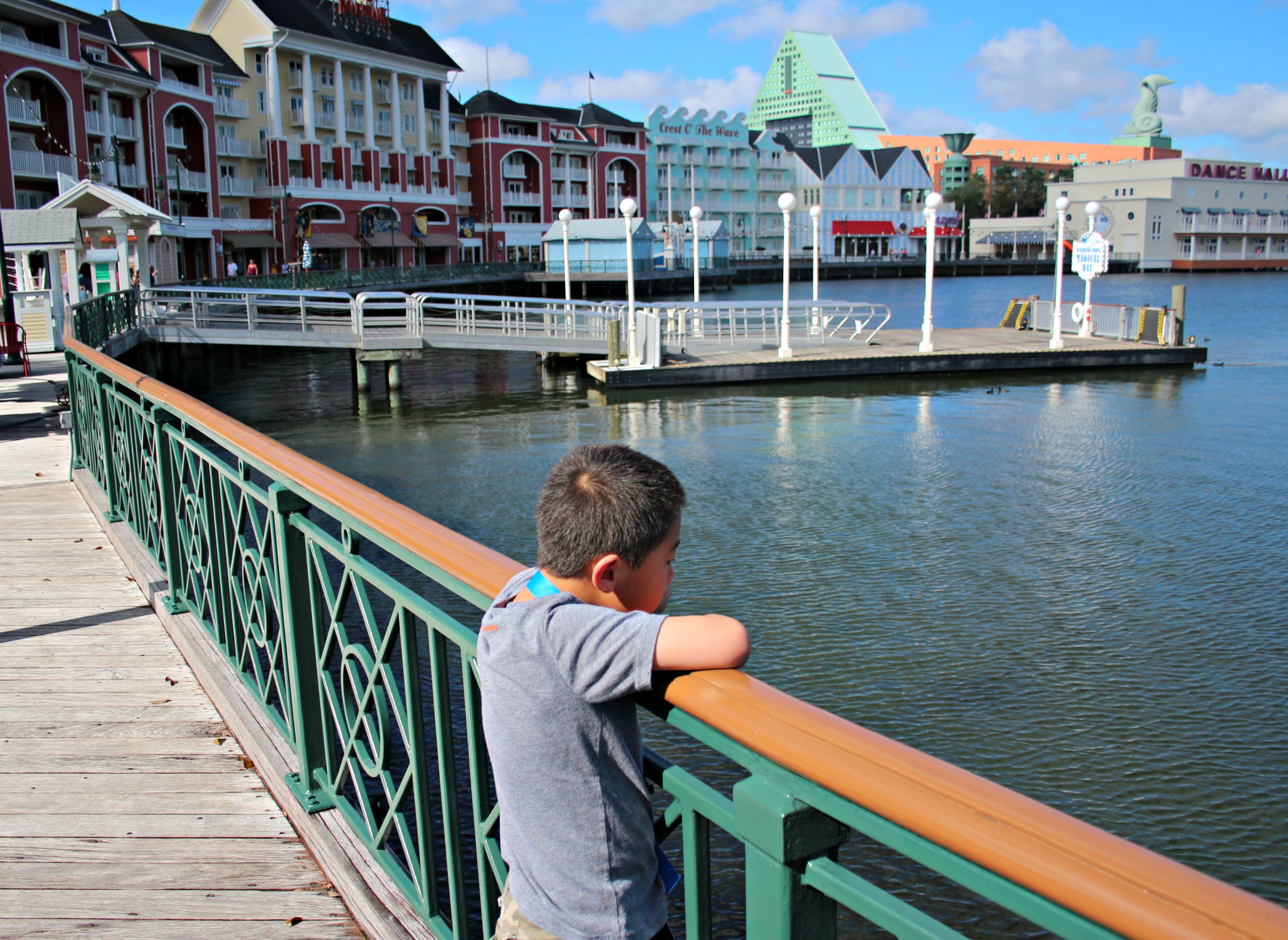 I recommend allowing about 90 minutes for breakfast. The characters visit your table one at a time. Flynn Rider, who was first, came by just as we were getting our drinks and we'd just dug into our main course when Ariel, who was last, stopped by to say hi.
If you're staying on the Disney property you can reserve dining 180 days in advance. The character breakfast at Trattoria al Forno is popular, so you'll want to get your reservations made as far in advance as possible – and keep checking back if it's sold out.
I hope you've found my Trattoria al Forno review helpful. I've had several people report back that they've eaten here and loved it. I would love to know what your experience is.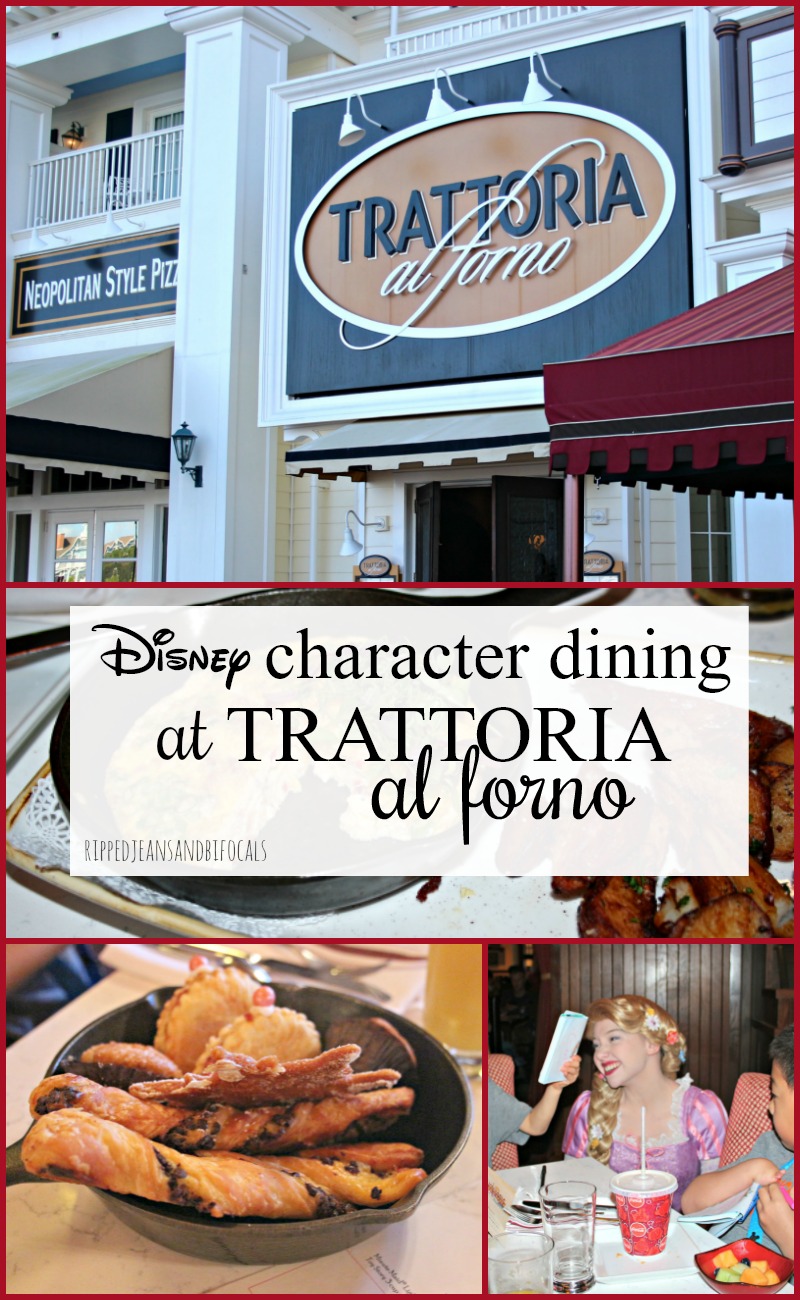 You might also like:
How to pack for Disney when you have kids