Epcot is always thought of as the Disney Park for grownups. After all, drinking your way around the world – the World Showcase, that is – isn't something that sounds appealing when you have small human beings in tow. Or maybe it does. Anyhoo. Outside of runDisney events, Epcot is the park we've spent the least amount of time in but I recently spent a full day there with my two nine-year-old boys…just me and them. Here's my 1 day Epcot touring plan and suggestions on what to do (and also what not to do.) I loved putting together these Disney tips for Epcot for you and I hope you get to visit soon.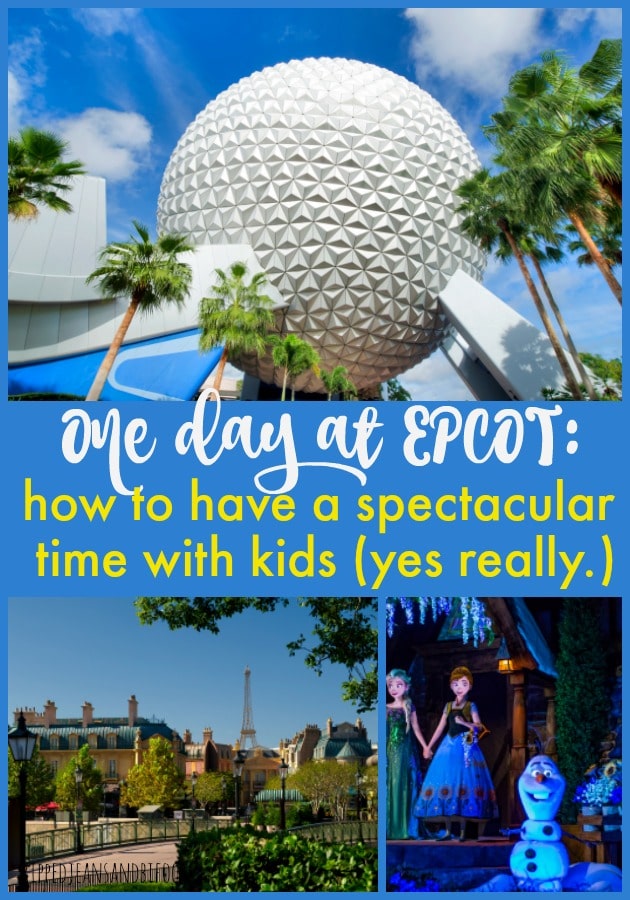 1 day Epcot Touring plan with kids
Walt Disney World provided me two media Park Hopper passes – thank you for supporting us, Disney!
Disclaimer: This may not be the most efficient way to explore Epcot but this is our day exactly as we did it and we had a great time. Our trip was not particularly well planned out in advance, which is my strong recommendation with all things Disney. I pretty much know what I'm doing when it comes to Disney things, but I don't recommend not waiting until the last minute to plan your day at any of the Disney Parks. You can follow my plan and amend it as I've suggested and have a great day and see a lot of the park. Also, this 1 day Epcot touring plan with kids won't show you a lot of the World Showcase, which I don't think is of great interest to younger kids.
Related reading:Love Disney so much you don't want to leave? Read about how you can LIVE at Disney from Little Feet Big Adventures.
Related Reading: Disney Wine and Dine Half Marathon Weekend: Your Questions Answered
You CAN Love Epcot with kids
Our trips to Epcot usually involve riding the big three: Test Track, Soarin' Around the World and Frozen Ever After in the least amount of time possible and moving on. My husband and I keep telling each other we need to plan a visit without kids and spend the whole day exploring every nook and cranny of the World Showcase but it hasn't happened yet. Epcot is known as "the festival park" and the different seasonal attractions, i.e. the topiaries from Flower and Garden Festival and the awesome food and drinks at Food and Wine Festival (duh) but it's not usually the place parents with young kids want to hang out for a whole day. Well, I did! And we loved it.
Want a one-day touring plan for Magic Kingdom? Check out this one from Travel with a Plan
1 day Epcot touring plan with kids – Start early
Get to the park before it opens. If Epcot opens at 9:00 a.m. you'll want to be in line by 8:00. Yes, this is a lot of standing in line in the hot Florida sun (although it's not that bad early in the day.) This makes you among the first inside, which is important if you planned last-minute (which, I repeat, you shouldn't do) and don't have FastPasses. We scored one FastPass before our visit which I made while standing in line to board my flight to Orlando. Guests staying at Walt Disney World Resort Hotels can make their reservations 60 days in advance and guests staying in on-Disney hotels (which we were this time) can make FastPass reservations 30 days out. We did it two days out and scored a FastPass for Soarin' Around the World, which was pretty lucky considering how last minute I was.
Related reading: Things you can't miss at Epcot.
Make a beeline for Test Track
Test Track is easily the most popular ride at Epcot. It's notoriously hard to score FastPasses for this attraction, at least that's been my experience. We entered the park at 9:10 (we weren't in line at exactly 8:00 a.m. as I suggest above but you should be.) We went as fast as possible to Test Track and the Standby line was over an hour long. My kids and I chose to do the Single Rider line, which means we agree to be split up on the ride and fill in holes as needed when odd-numbered parties board the rides.
With Test Track, the Single Rider line gyps you out of a little bit of the pre-ride experience, i.e. building your car. However, your wait time is substantially shorter and the real fun of this ride is the ride part. We waited about 10 minutes to ride Test Track.
Ride Frozen Ever After
Although the World Showcase doesn't officially open until 11:00 a.m, you can visit Norway. Akershus Royal Banquet Hall is open for breakfast as well, although you'll want to reserve in advance. To read more about Akershus Royal Banquet Hall go here.
We didn't have a FastPass but the Standby line for Frozen Ever After was only 25 minutes long, which is great for this ride.
Take a break
If you enter the park early, you may have skipped breakfast, or maybe just need a cold drink. We decided to indulge ourselves with some Joffreys. One of my kids had a doughnut and I had a frozen cappuccino. It gave me brain freeze and probably had a million calories but it was so good.
During this time, we also took a little detour to the first aid station at Epcot. We had a little blister issue and we were taken care of promptly The staff was dealing with a severely ill child while we were waiting and I was so impressed by the way they handled the situation. Our issue was really minor and our visit would have been unneeded if mama had remembered to pack bandaids in her day bag.
Wander through Canada, England and France
This gives your kids just a small taste of the World Showcase. You could check out O' Canada, which is a 360 degree movie about…well, Canada. We skipped it this time around but we need to go see this one…we haven't watched it since it has been updated.
For whatever reason, my kids were fascinated by France. There are so many cute photo opportunities here, which we skipped for the most part but if you're looking for great places to snap family photos, Epcot is full of them. It was a really hot day and I was solo with my kids so I didn't snap as many pictures as I would if my husband would have been with me.
We watched Impressions de France, which is an 18-minute film that shows French scenery in a gloriously air conditioned theater. The one thing I love about the World Showcase is that the people who work within the various "countries" are from that actual country. We spent about 20 minutes talking with a lovely young woman named Marilyne from Vernon, France before the movie, which, to my surprise, my kids were really into. And also, I want to go to France now.
When looking for Disney tips for Epcot, you're typically going to find World Showcase heavy content but we spent very little time exploring that area of Epcot.
A 1 day Epcot touring plan isn't complete without riding Soarin' Around the World
We had a noon FastPass for Soarin so we headed there next. We were hungry and had no dining plans (generally a bad idea at Disney) so I hopped on the My Disney Experience app while in line and made a reservation for Garden Grill.
A note about character dining: I've had really good luck with last-minute character dining reservations. If you have a "gotta do it" experience, such as Be Our Guest or Cinderella's Royal Table, I recommend you do it as far in advance as you can, but if you don't get what you want (or if you just need to eat) check last minute.
EAT.
My kids and I entered the park at just after nine. We had a couple of snacks but didn't eat lunch until after 1:00. Hashtag bad mom.
We spent about an hour at Garden Grill which is my new favorite character meal. We chose it out of sheer convenience but there's lots to love about this character dining experience.
Ride Living with the Land
I haven't ridden this since our honeymoon in 2009. We've always skipped it because I remembered it as sort of a sleepy ride through some greenhouses and I never thought my kids would get into it. However, when we left Garden Grill, I noticed the Standby line was only 10 minutes long and I thought my kids should experience it, so we went.
They LOVED it. And so did I. Living with the Land is an oldie but goodie that you should revisit once in awhile, even if you've been to Epcot a bunch of times.
Ride The Seas with Nemo and Friends
We have NEVER ridden this ride. I was aware that there was some kind of Nemo something at Epcot but we've never had time to check it out. The Standby line was pretty minimal and since my limb different kiddo loves everything Nemo, we went for it. The Seas with Nemo and Friends was cute but what is really cool is the aquarium at the end – which you can explore without going on the ride.
The aquarium (AKA SeaBase exhibit area) is really cool to explore on its own and my kids could have easily spent an hour in here. That is saying something since we live near a SeaWorld park.
Related reading: What it's like to parent a limb different kid
Ride Spaceship Earth
Okay, here's where our 1 day Epcot touring plan starts to get squirrely. We were leaving the park at about 5:00 p.m. and the plan was to ride the bus to Disney's Hollywood Studios. My kids wanted to ride three rides there and I wanted to get back to our hotel at an early hour and crash because by this point, I was one tired mother.
Spaceship Earth is the ride inside the big white iconic Epcot ball…which you might be tempted to ride upon entering the park but no. Don't. Ride one of the big three first (Test Track, Frozen Ever After, and Soarin'). The line for Spaceship Earth usually isn't long. Spaceship Earth is pure iconic Epcot…see also a little cheesy and outdated. I could easily do without it. However, my kids (who rode this two years ago and don't remember it) wanted to ride it. The Standby line was only 5 minutes, so we got in line. Spaceship Earth hasn't changed in…well, maybe it's never changed. I'd love to see this one overhauled and updated sometime but I haven't heard any rumors about that happening.
While in line, my kids started chatting with a lovely young man named Alex from the Dominican Republic. He gave us an extra FastPass that had to be used that day in Epcot. There were a few restrictions on the pass so we decided we'd ride Test Track as a group. Except we discovered…
Mission Space
We'd never been this far back into Epcot and we probably wouldn't have if one of my kids hadn't have had to go to the restroom and I saw this:
And texted my husband: "What is this ride? Have we ridden it before?"
Turns out, no, we haven't. As I said earlier, we usually get in and out of Epcot as quickly as we can
There are two versions of Mission Space, Green and Orange. We decided to ride the Green and see how things went. My kids LOVED the green (we all did) and we voted to use the extra FastPass we scored on riding the orange version and forgo Test Track.
My kids loved the orange version, although I did not. We used a FastPass and ended up waiting about 40 minutes to ride the ride, due to some technical difficulties. The G forces on the ride were a little much for me to handle. I felt like someone was trying to vacuum seal me and I was a little off kilter for about an hour.
By this time, it was about 6:30 and we did a potty stop and left Epcot to finish out the evening at Disney's Hollywood Studios.
So…that was an all-day visit at Epcot with just me and two kids. It might not be the perfect 1 day touring plan…we zig zagged the park more than necessary and didn't plan as far in advance as recommended. We didn't see most of the World Showcase. But…we had a full day and we all had fun. No one cried.
I hope you've enjoyed my Disney tips for Epcot and that they inspire you to plan your own adventure.