Tips for visiting Magnolia Market in Waco Texas
(This post may contain affiliate links. Read my full disclosure.)
I'm offering these tips for visiting Magnolia Market in Waco Texas because I know it's a popular tourist spot in Texas. Magnolia Market in Waco Texas is just a stone's throw from my home in the San Antonio area and Waco is our secondary stomping ground. I'm happy to give you my best tips for visiting the Magnolia Market in Waco Texas. I hope you love Waco as much as I do and that you find my tips helpful.
Disclaimer: We are a participant in the Amazon Services LLC Associates Program, an affiliate advertising program designed to provide a means for us to earn fees by linking to Amazon.com and affiliated sites.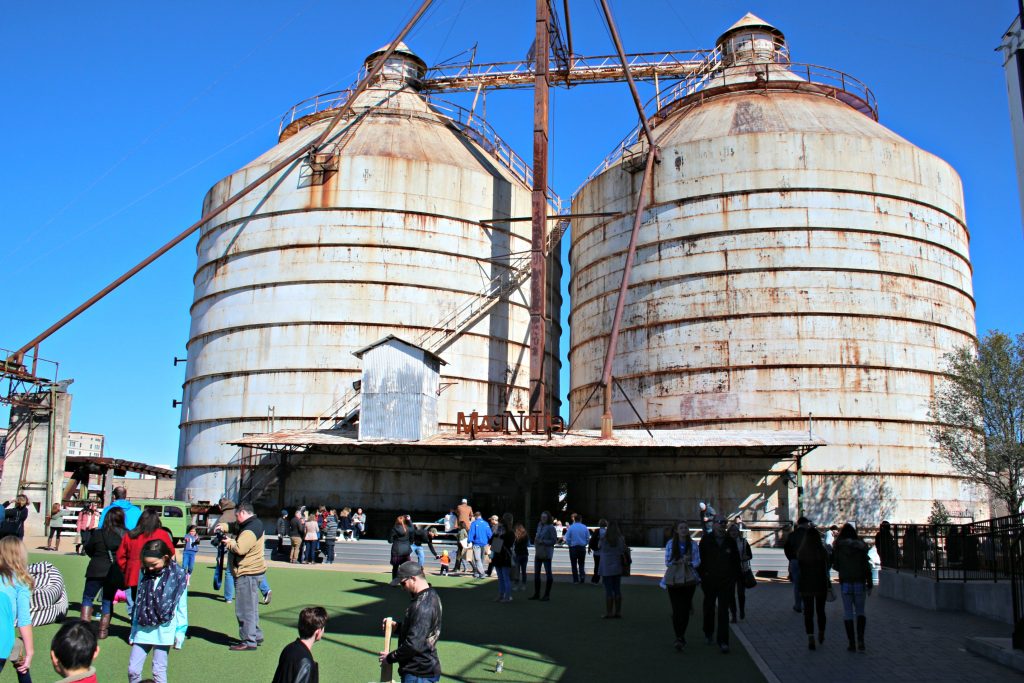 1. Don't come on a Sunday
I followed one of my travel blogger friends journey from Alabama to California and back. It was so much fun to see them travel through my stomping grounds. Except when they drove the 2.5 hours from San Antonio to Waco ON A SUNDAY.
None of the Magnolia stuff is open on Sunday. Do your homework.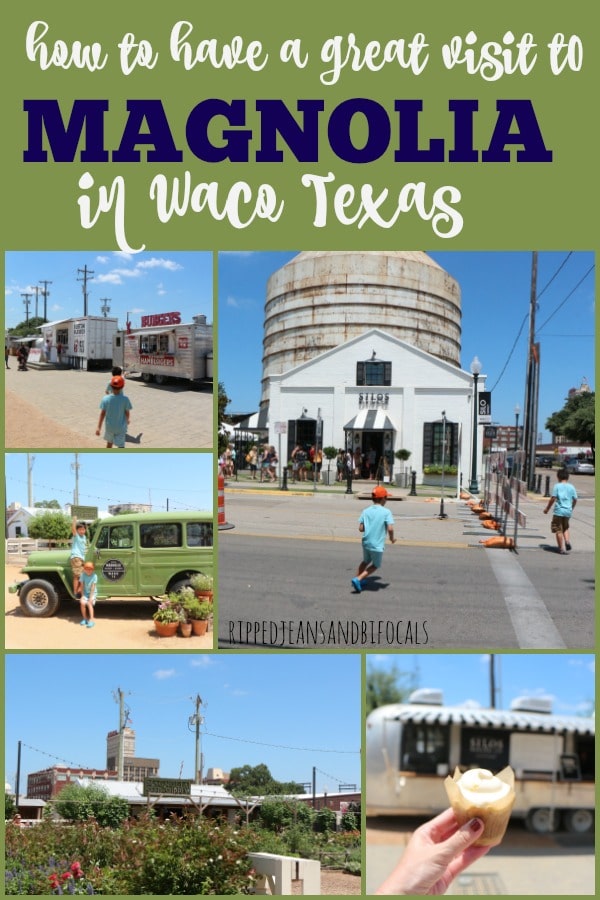 2. Don't come on a Saturday
OK, I know I'm starting to sound like a little bit of a wet blanket. Since Magnolia isn't open on Sunday, Saturday is a super popular day to visit. Obviously. If you can schedule your visit on a weekday, do it. If you have to come on a Saturday, start early and bring your patience. Expect to wait everywhere.
Related post: The best places to go in Texas for Spring Break
3. Do visit mid-week
I'm told Wednesday is the slowest day across the Magnolia enterprise. I'd recommend visiting on a Tuesday, Wednesday, or Thursday to avoid anyone making a long weekend of their Waco visit.
Looking for info on Magnolia Table?
4. Do visit early or late in the day
Magnolia Market is open from 9:00 a.m. until 6:00 p.m. Visit during the first or last hour of the day.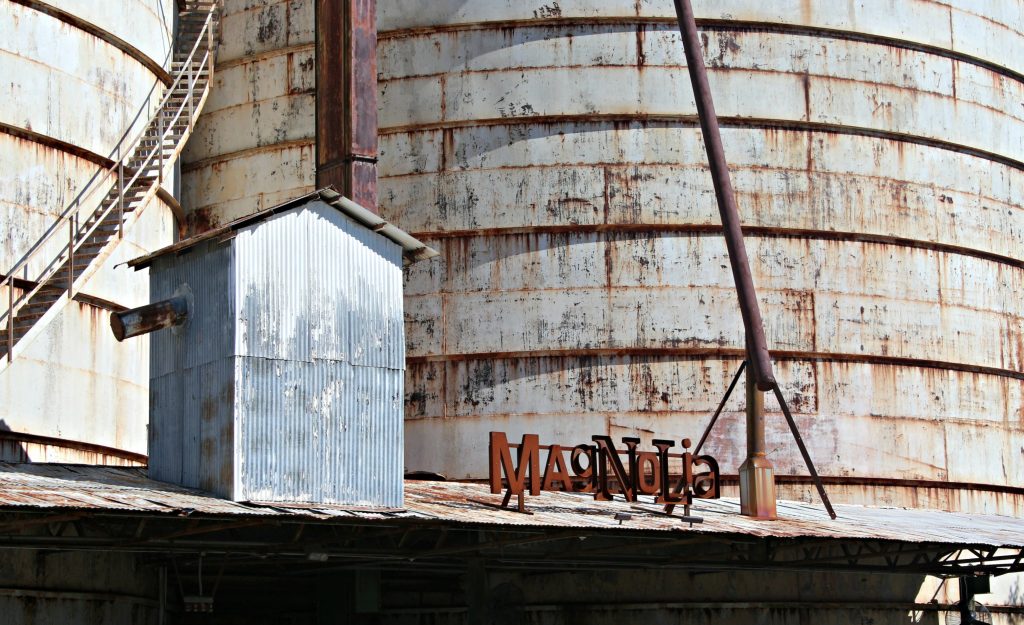 5. Get in line for Silo Baking Company at early…or consider skipping
Silo Baking Company is so used to lines that they've got an order form they hand out to people in line so they can be ready when it's their turn. They also have a shaded awning for people who are waiting…because hot Texas sun.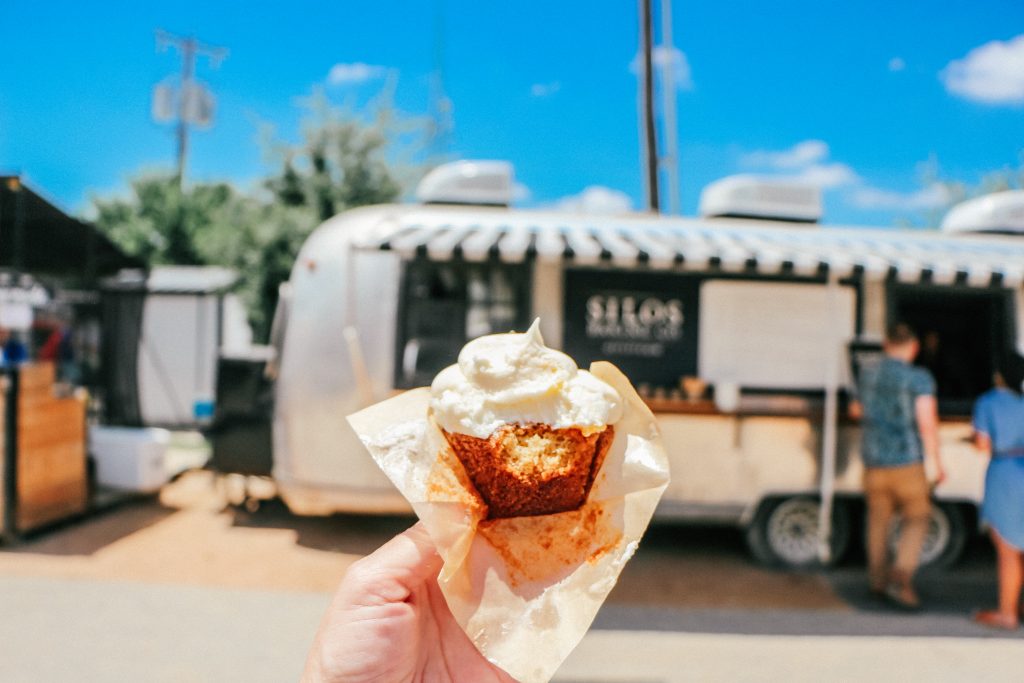 And, when I say early? I mean at 8:00 a.m. at the latest. Silo Baking Company opens at 9:00 a.m. and even on the slowest days, there will probably be a bit of a line. If you don't have to wait, count yourself lucky. Now that Magnolia Table is also open, the wait at Silo Baking Company may be less but I can't confirm that. I was thinking in sort of a "spread the wealth" kind of way in that visitors have more place to go to sample Jo's goodies.
Want to consider skipping Silo Baking Company? Go to the Silo Baking Company food truck in the backyard of Magnolia Market. There's almost never a line and they offer much of the same things that you'll get inside Silo Baking Company. The full menu is not available but Silo Baking Company's menu is not all that extensive. Want the experience without the lines? Go to the food truck.
6. Eat at the Silos
Whether you want to shop or not, the backyard at the Silos is a foodie's paradise. The backyard is lined with food trucks, offering everything from gourmet grilled cheese to hamburgers to smoothies. There's also food truck versions of Silo Baking Company, as I mentioned above, and Magnolia Table.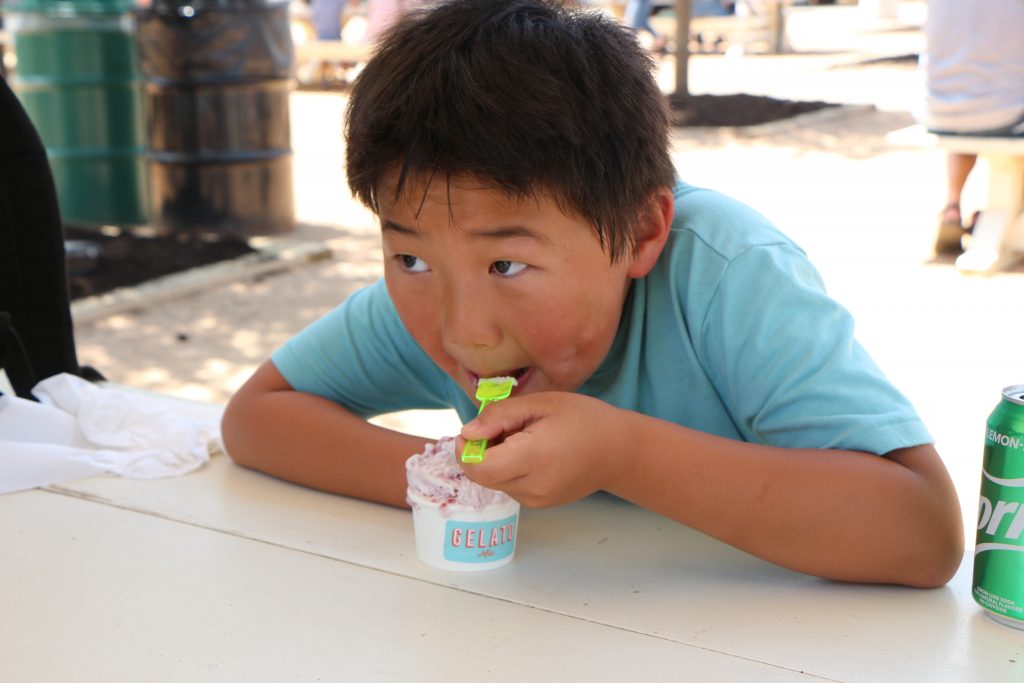 My personal favorite is Waco Dog House. I usually won't go anywhere else because why mess with perfection? But, they have other things and every time I've visited, I spot something new.
If you want to know more about Magnolia Table, I dedicated an entire post to how to have the best experience. I hope you read it here.
7. Don't pay for parking
One of the things that surprises visitors the most about visiting the Silos at Magnolia Market is that they're in the middle of town. Waco is a bustling, small city. While Magnolia is responsible for some of the bustle, there are still people taking their kids to school, going to the bank and living everyday life.
When you roll up, you'll see paid parking (typically businesses allowing you to park in their lot for a price) and you might be intimidated by the traffic and the crowds and think that's what you've got to do. Nope. You can park without paying, even when its busy.
The Silos have a free parking lot on 8th Street. If that's full, there's usually ample street parking. If you can't find parking on the street nearby, you can park for free downtown (a few blocks away) and take the free Silo District Trolley to Magnolia Market. You can learn more about the Silo District Trolley here.
Looking for things to do in Waco besides Magnolia? Check this out:
Family-Friendly Things to do in Waco, Texas besides Magnolia
8. Be mindful of holidays when planning your visit
While mid-week is generally a great time to visit, consider Christmas break, Spring break, summer break, and any holiday weekends that might spill over into your midweek visit.
9. Don't expect to see Chip and Jo
I remember how disappointed I was the first time I went to the Magnolia Market and didn't see Jo when I walked in the store. We visited on a Saturday and she's a mom (as well as being a pretty big deal) and I didn't expect to see her in the store on a Saturday. OK yes, I did. Irrationally, but I thought maybe I'd luck out and this would be the one day she'd pop in on a Saturday and our eyes would meet across the crowded store and she'd know we were meant to be besties. In a totally non creepy and non stalkery way, of course.
I truly believe Chip and Jo are nice, regular unassuming folks who just happen to be famous AF. I believe they're good people and good parents as well as being smart business people who love and appreciate their customers. But, can you just imagine? It would be a complete mob scene, I'm sure.
10. Do understand the Silos (AKA Magnolia Market) are smack in the middle of Waco
Waco is a growing small city and there are businesses, schools, and people living their life all around you. The area and the people are charming and gracious but when you're trolling for a parking space or elbowing someone out of the way to get your perfect picture, think about how you'd feel if such a popular attraction were smack in the middle of your neighborhood.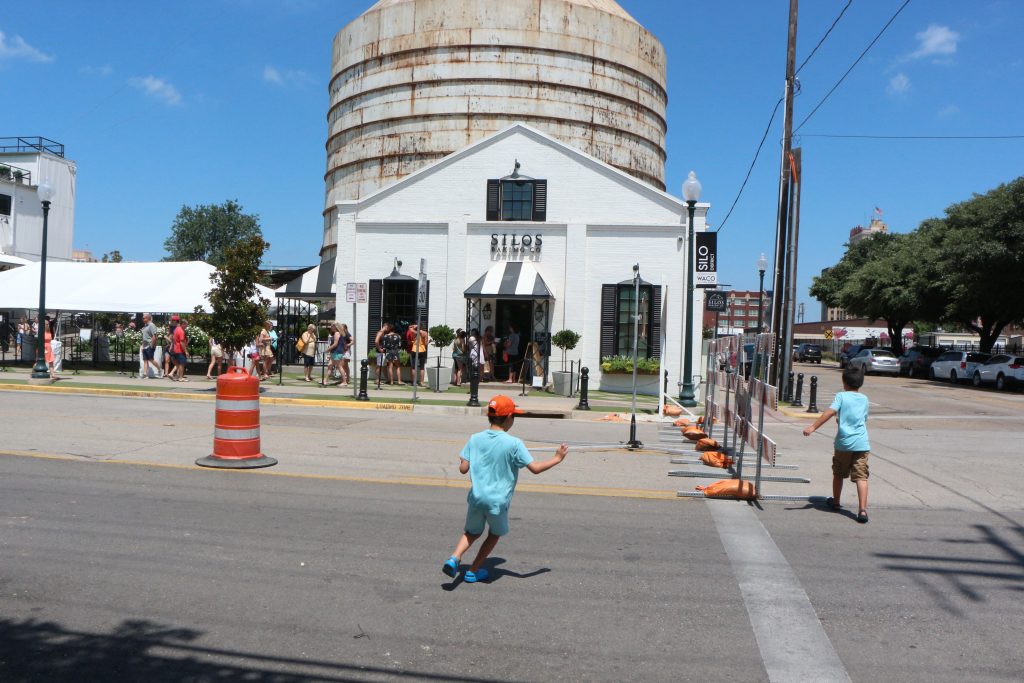 Don't get me wrong…Wacoans are in general appreciative of what Fixer Upper has done for their city but…well, don't be a jerk.
11. Their stuff is expensive
If you want the best deals, go to the Little Shop on Bosque, which is the location of Jo's original store. That's where they have the markdowns and the best deals. It's not the "Magnolia Market experience" but you will spend less.
I'd compare the stuff in the store at the Silos at Magnolia to Pottery Barn or Williams Sonoma as far as pricing goes. You can definitely get better prices on home decor items. You can buy some merchandise online but not everything you see in the store will be available online, so I definitely recommend having an idea of what you want to buy…and what you want to spend.
Some of the Magnolia merch is made in China. You can say "Oooh look…I got this at Magnolia" but you could probably buy something nearly identical on Amazon or at a cheaper housewares store, like World Market or Home Goods.
I have been to the Silos three times and inside the store once. I bought something to say I did. I paid too much and I probably could have bought it at a floral craft store for much less. I did take a lot of pictures to get decorating inspiration, so there's that. It's a fun experience…a fun, crowded experience and I think everyone who is even slightly interested should have it…but for me, it's not a shopping experience.
Even the fun, Magnolia specific merchandise (i.e. "Demo Day" Tee Shirt) is very pricey for what you get. Tee shirts start at $26 and hoodies can run you almost $60. You can buy knock offs on Amazon for much less…not quite the same but still cute.
Besides, if you order online before you go, you can wear your tee shirts to the store and your Instagram pictures will be way cuter.
My love for Chip and Jo has never waned (but not in a weird, creepy way I swear) even though I don't love shopping in the store. It's definitely fun to browse in, though, if you go on a weekday. If you visit on Saturday, you're likely to find lines just to get in the store.
I will give props to the employees, though, because even at during the most crowded times, it's very organized. I'd say it rivals the drive-through lane at Chick Fil A and that's really a high mark. There are lots of staff with tablets that can ring you up on the spot without having to wait in line. Unless you have a heavy or fragile item that needs to be wrapped, you can usually get out of waiting in line to pay.
12. Make plans to see a little more of the city
Yes, there are plenty of other things to do in Waco besides all the Magnolia things. If you're visiting with kids, this post gives you a good start and some great suggestions. You can also check out Waco Tours…they cater to visitors to Magnolia and really put on the dog to make visitors to Waco feel at home. A bonus? On the Waco Classic Tour you'll get to see some of the flip houses you've seen on TV up close and in person.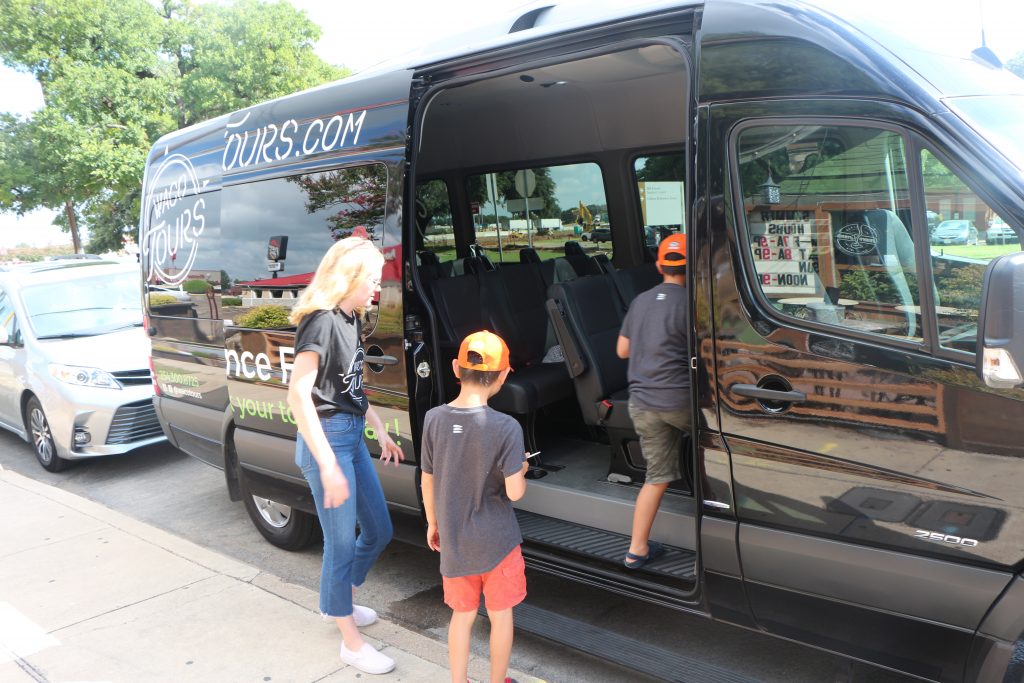 I hope these tips for visiting Magnolia help you plan your visit. If it did (or if it didn't) I would love to hear from you. If you found this helpful, I'd love for you to follow me on Facebook and Instagram or consider joining one of my closed groups on Facebook…get in touch and let me know!