Eight things to do in Hot Springs Arkansas
(This post may contain affiliate links. Read my full disclosure.)
Hot Springs Arkansas has long been on my list of places to explore. It appears on the first page of one of my many national parks books and every time I look at an eastbound driving trip, my eyes fly to Hot Springs on the map. I finally got a chance to explore a bit of the national park and the city itself. Here are eight things to do in Hot Springs that will make you want to explore this fun Arkansas city.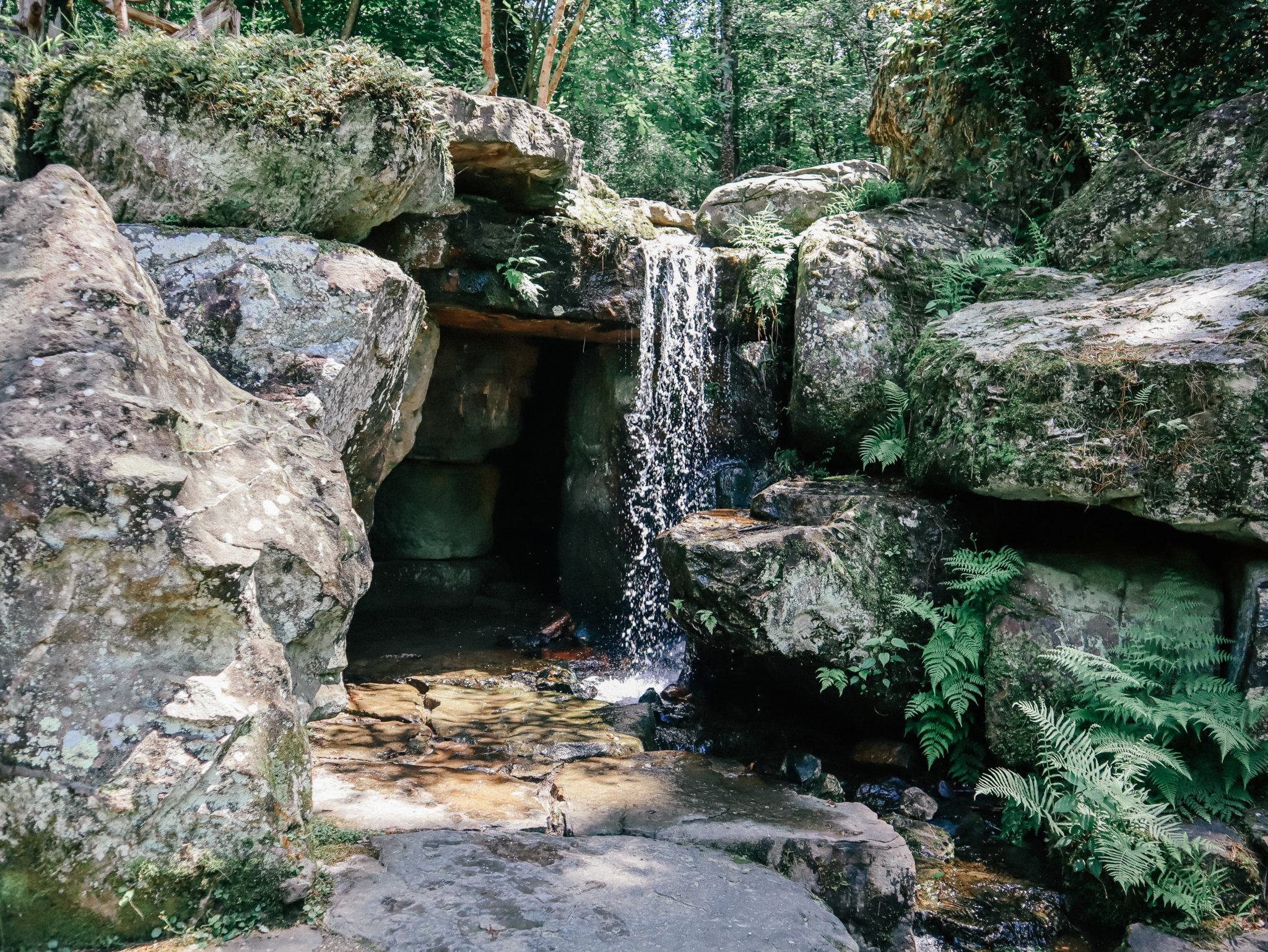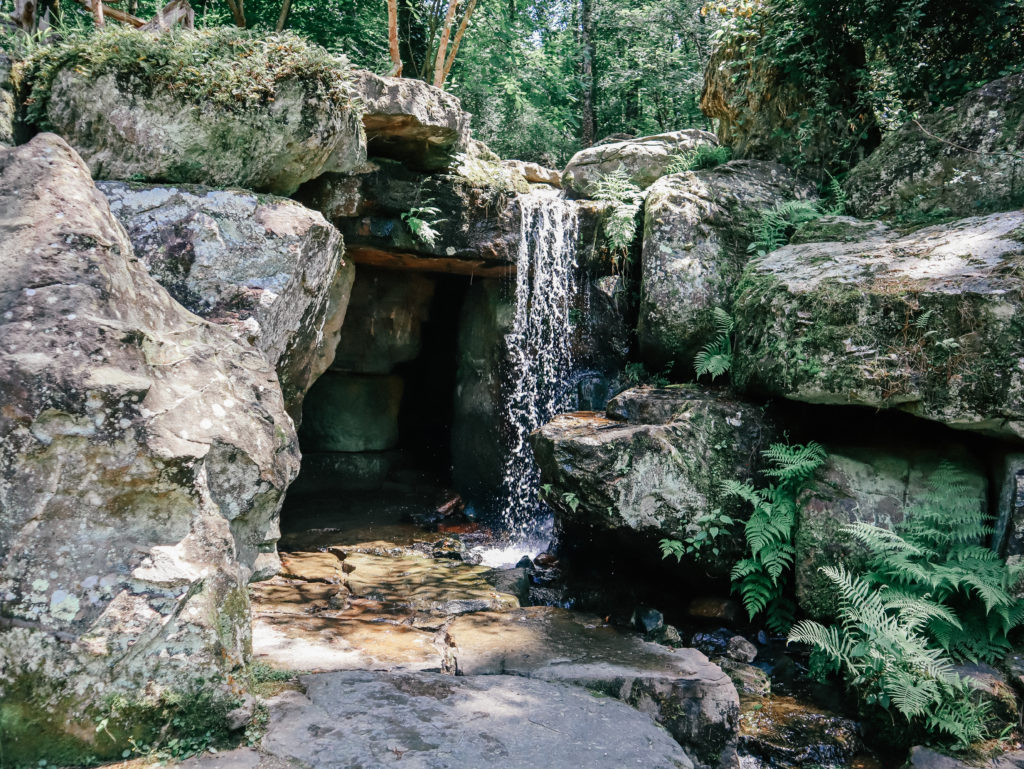 Things to do in Hot Springs Arkansas
Spoiler alert: Hot Springs is in incredibly cool town with kind of a fun, funky vibe. Everything we did was family-friendly and the activities we've listed below are suitable for just about everyone.
1. Visit Hot Springs National Park
Visiting Hot Springs National Park was the biggest draw in planning our trip to Hot Springs. Interestingly, we didn't explore that much of the national park outside of Bathhouse Row in downtown Hot Springs. Our time in Hot Springs was relatively short – four days – and we had so much to do in town that we didn't spend as much time in the park as I'd wanted to, which means we'll have to go back.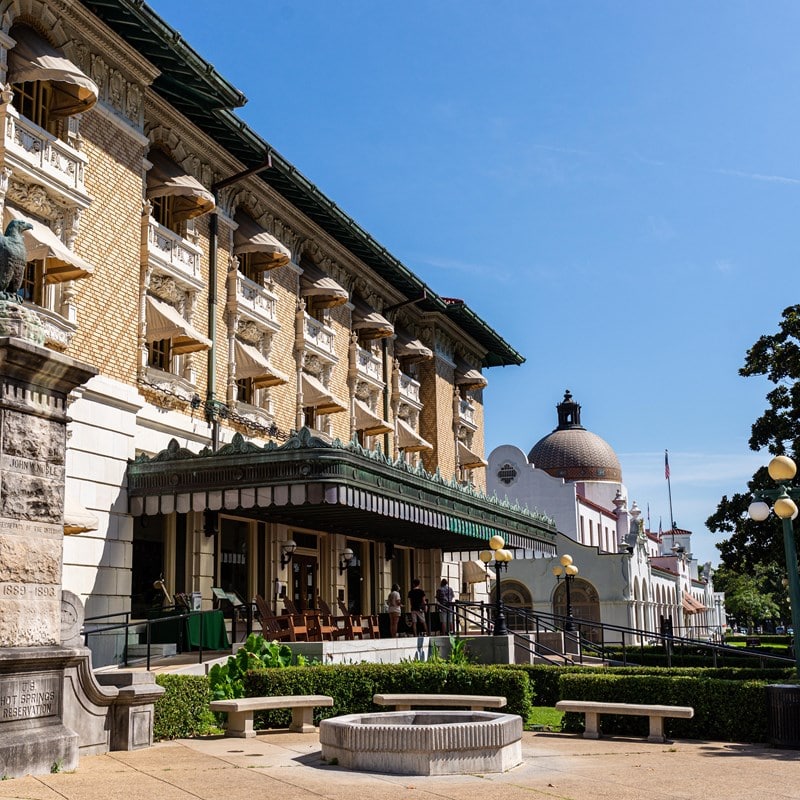 There are a variety of things to do inside the park, to include camping, hiking, and soaking in the thermal springs. The Fordyce Bathhouse (more about that below) and the gift shop are on Bathhouse Row in town and present a very different kind of national park experience.
2. Check out the Fordyce Bathhouse
369 Central Ave, Hot Springs, AR 71901
The Fordyce Bathhouse serves at the park's visitor's center, so this is a place to get your stamps, talk to a ranger or join a Junior Ranger program. It's also a classically furnished self-guided museum that gives visitors a look at what it was like to take mineral water therapies in the early to mid twentieth century.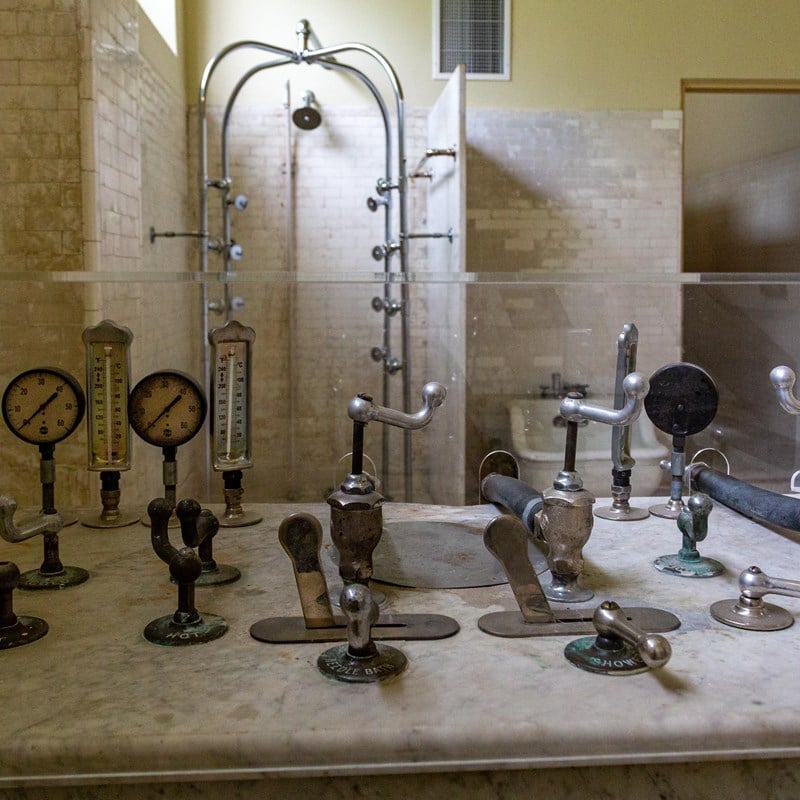 I'm a spa person but some of these antiquated treatments are so strange! Still, the museum is beautiful and so well done. There are three floors to explore and the exhibits are well labeled so you can get a sense of the story of the bathhouse.
3. Learn about a life of crime at The Gangster Museum of America
510 Central Ave, Hot Springs, AR 71901
This is a must-do when you visit Hot Springs. Gangsters in Hot Springs are actually a huge piece of the story of Hot Springs and not only do I recommend you take the museum tour, I recommend you do it early on during your stay. The information you'll get provides a great jumping off point for other things to do in Hot Springs and it just gives so much insight into the area.
The tour takes about 1.5 hours and touches on potentially delicate subjects like prostitution and other illegal activities. Our tour guide mentioned these things very subtly but in a way where my kids had some questions about them afterwards. I think most tweens and older kids (mine were 11 and 12 when we visited) will be fine but every parent has different views on this type of conversation.
The Gangster Museum of America also has a section on Hot Springs' place in baseball history, which came as a complete surprise. If you're a baseball fan, check out the Hot Springs Baseball Trail in advance of your visit. This was something we just didn't have time to fit in during our time in Hot Springs but it's something we'll make room for when we go back.
4. Explore Downtown Hot Springs
Downtown Hot Springs is a fun, walkable place to explore. In addition to Bathhouse Row, there are lots of restaurants, shops and cafes to explore. We visited on a Saturday and there were a few street musicians performing downtown which added to the general festive vibe.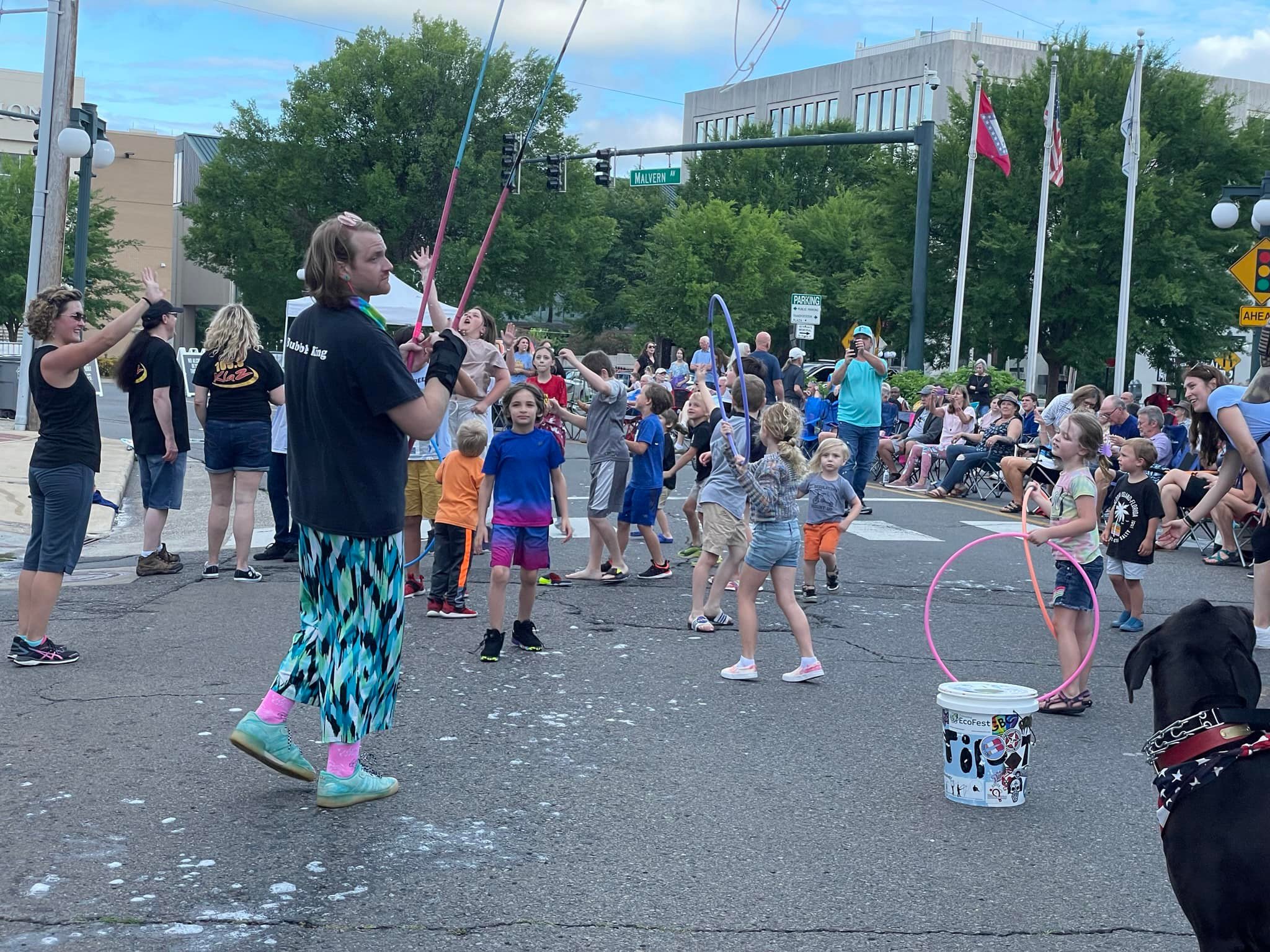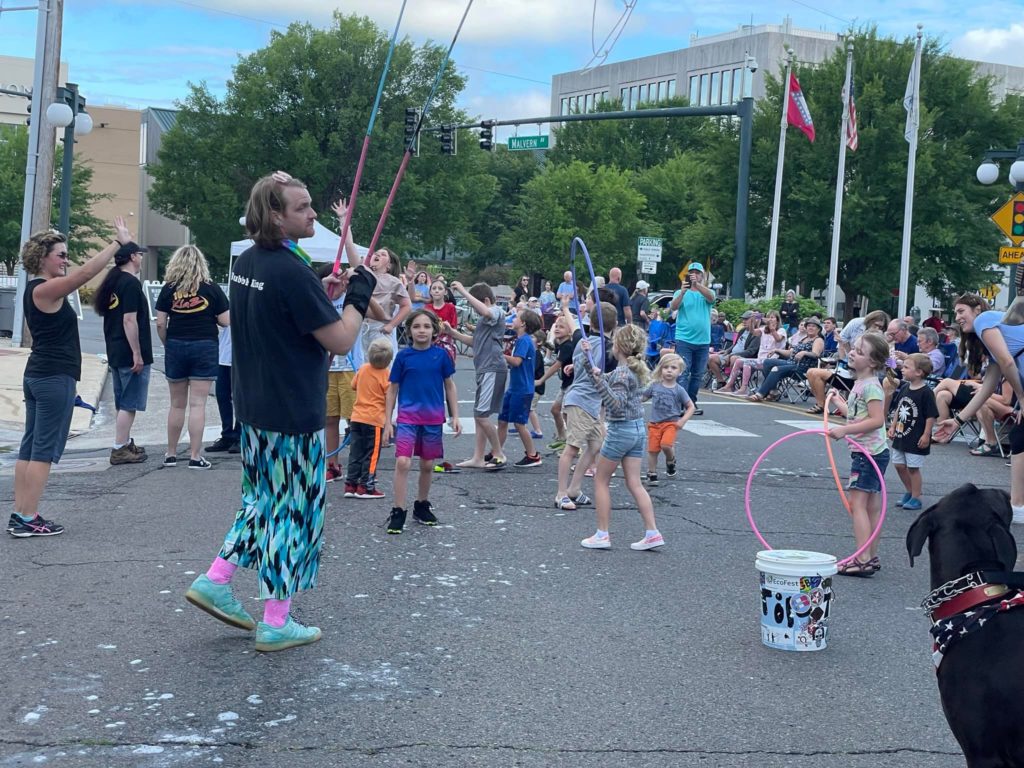 Parking is very limited in downtown Hot Springs. Some of the businesses have small dedicated parking lots but you'll mostly have to hunt for street parking. There's a two story free parking garage directly behind the Gangster Museum of America but it fills up quickly.
If you visit during June, be sure to check out Bridge Street Live, which is a free Thursday night street party with games and entertainment.
If you're a breakfast lover, you won't want to miss The Pancake Shop. Many of their menu items are locally made or sourced from local farms and the huge pancakes are phenomenal. There might be a line to get in, so plan appropriately. I think these pancakes are worth a bit of a wait.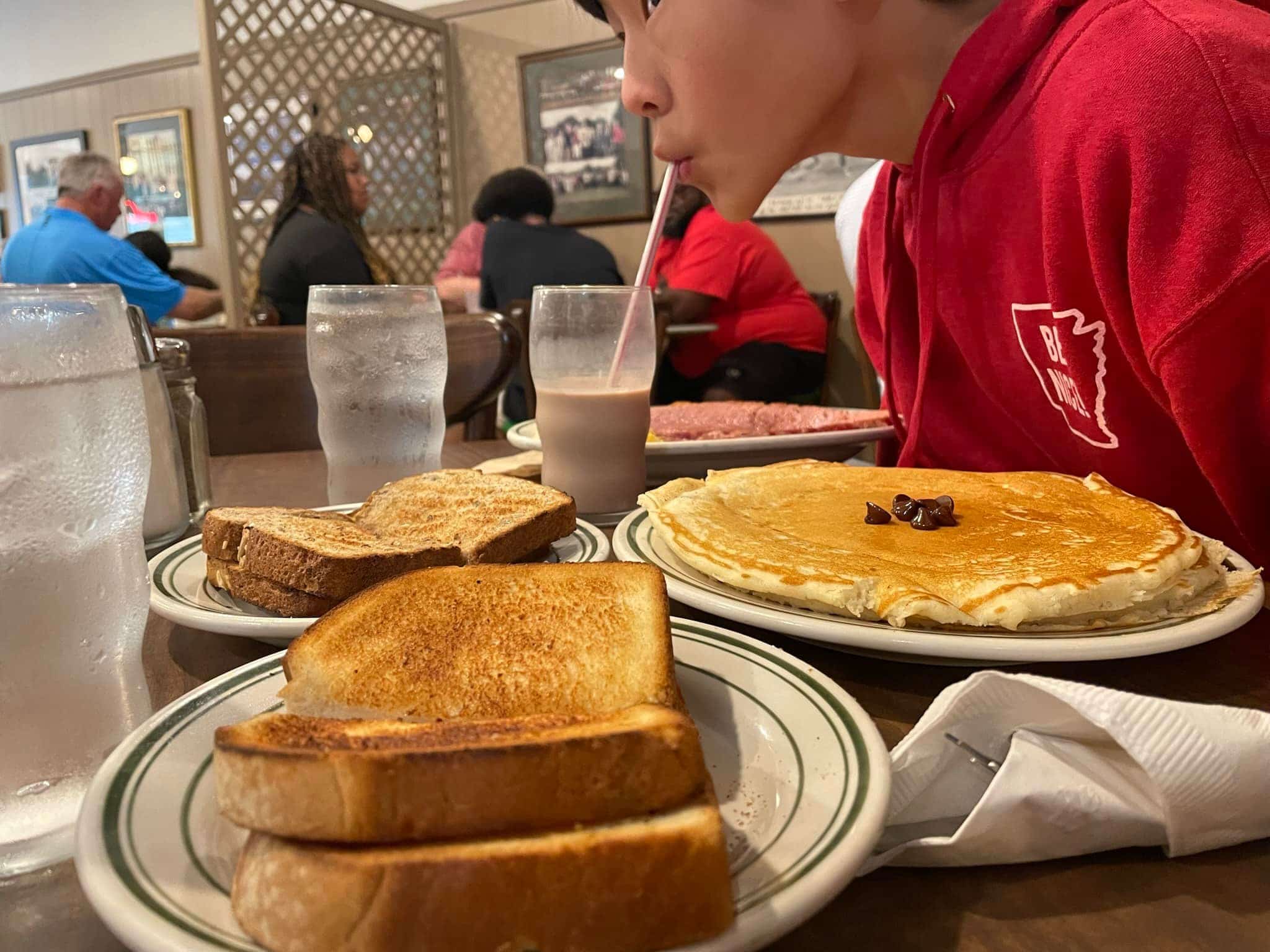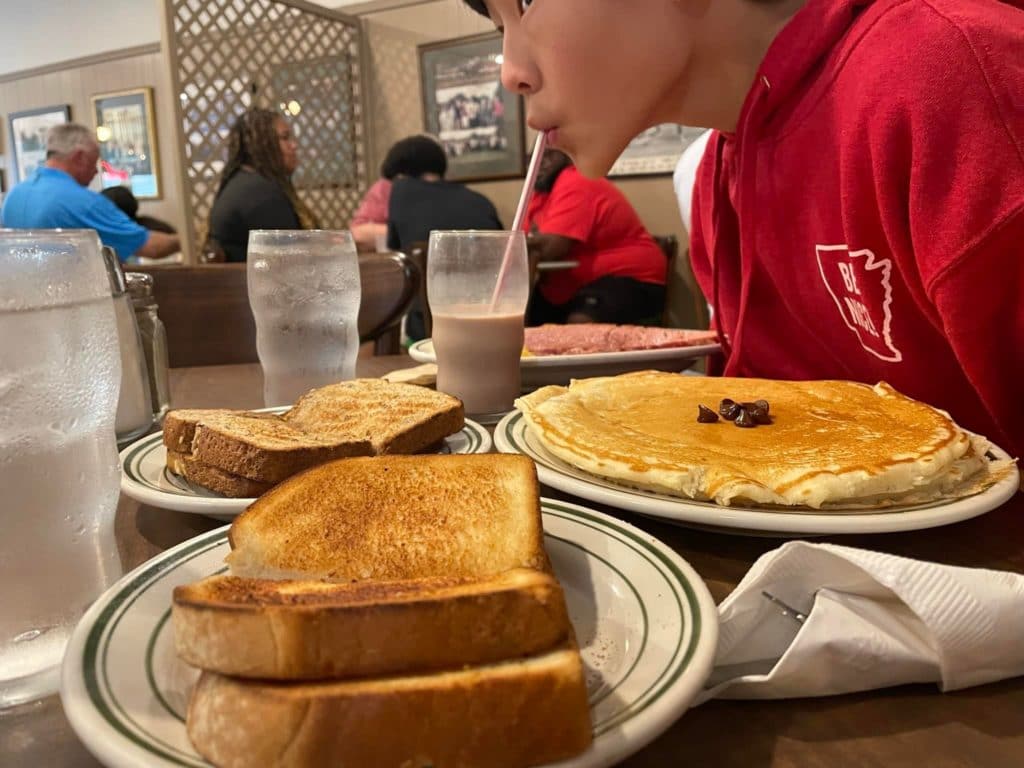 5. play at Magic Springs
1701 E Grand Ave, Hot Springs, AR 71901
This Arkansas theme park and water park is a fun place to spend a summer day. As a parent, the one thing I liked most about this park was the single entry. Once we were in the gates, we were in and there was no separate process to go from the theme park to the water park.
There's an even selection of kid, family, and thrill rides. Our family favorites were the Brain Drain, Plummet Summit, The Hawk, and the Log Flume ride. The water park has lots of slides, a lazy river, pools, and a flow rider boogie board attraction, which is always a favorite for my kids.
Both the theme park and water park sides offer plenty of food and drinks available, mostly theme park staples like frozen treats, fries, and corndogs.
6. Spend the day at Garvan Woodland Gardens
550 Arkridge Rd, Hot Springs, AR 71913
Garvan Woodland Gardens is truly a magical place and another don't miss. Arkansas is, after all, known as The Natural State, and that is perfectly showcased here. You'll find a canopy of pines, lapping waves that unfold along the 4 ½ miles of wooded shoreline, and rocky inclines that remind us of the surrounding Ouachita Mountains.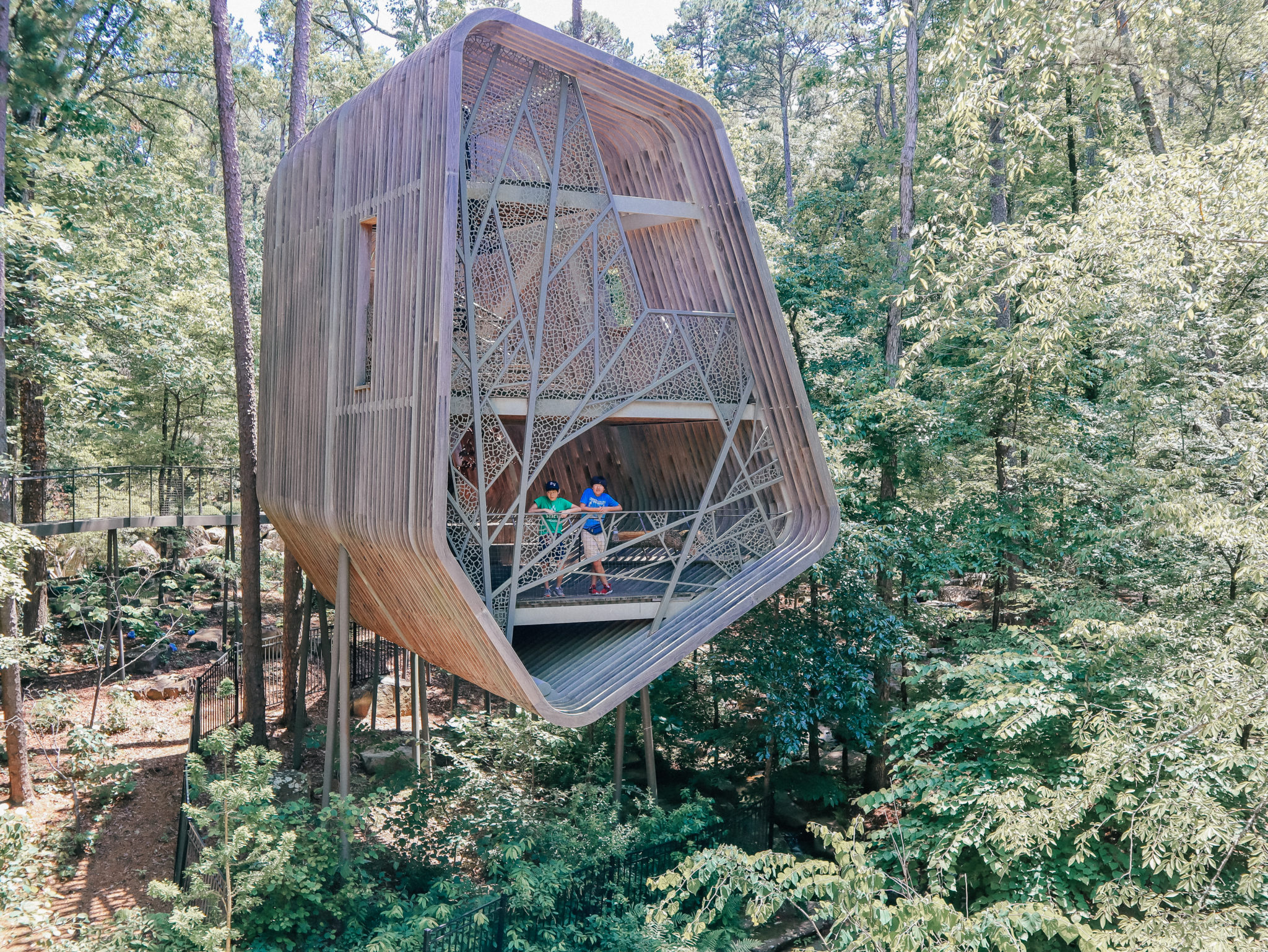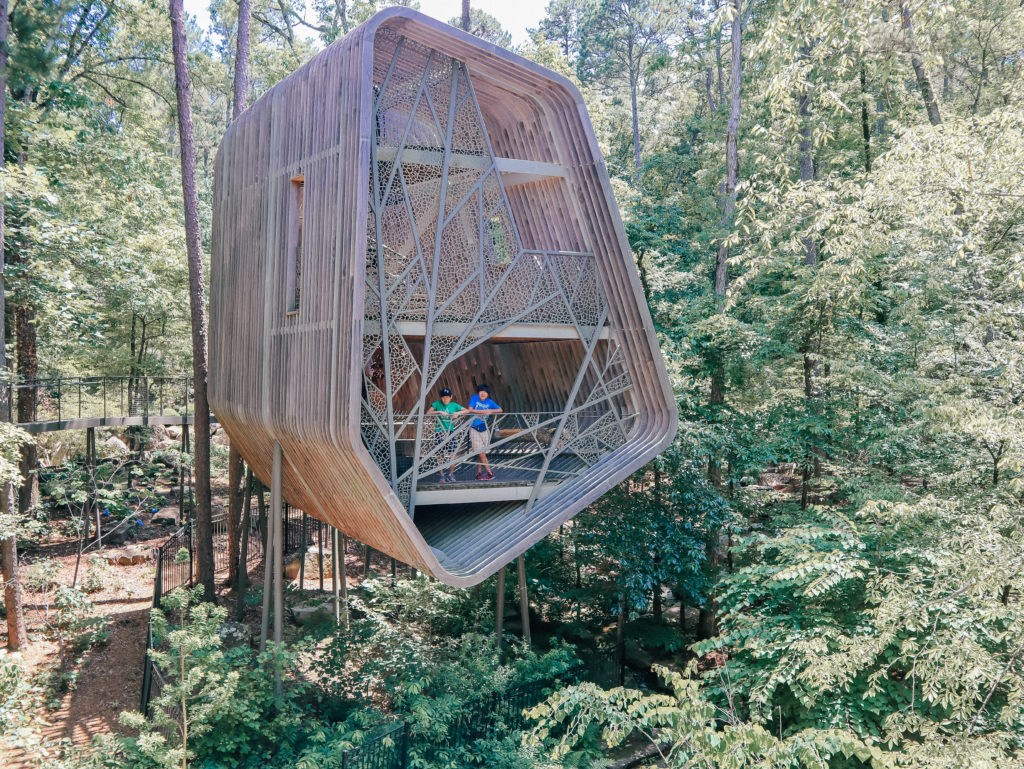 We spent about 2.5 hours at Garvan Gardens and that's not nearly enough. I recommend you allow at least half a day, if not a full day to see everything here.
Garvan Gardens is a popular wedding spot so check their calendar in advance of your visit to make sure the planned nuptials don't conflict with your visit.
Don't miss spots at Garvan Gardens are the treehouse (there's a great spot for a photo from the nearby bridge), the chapel, and the train garden.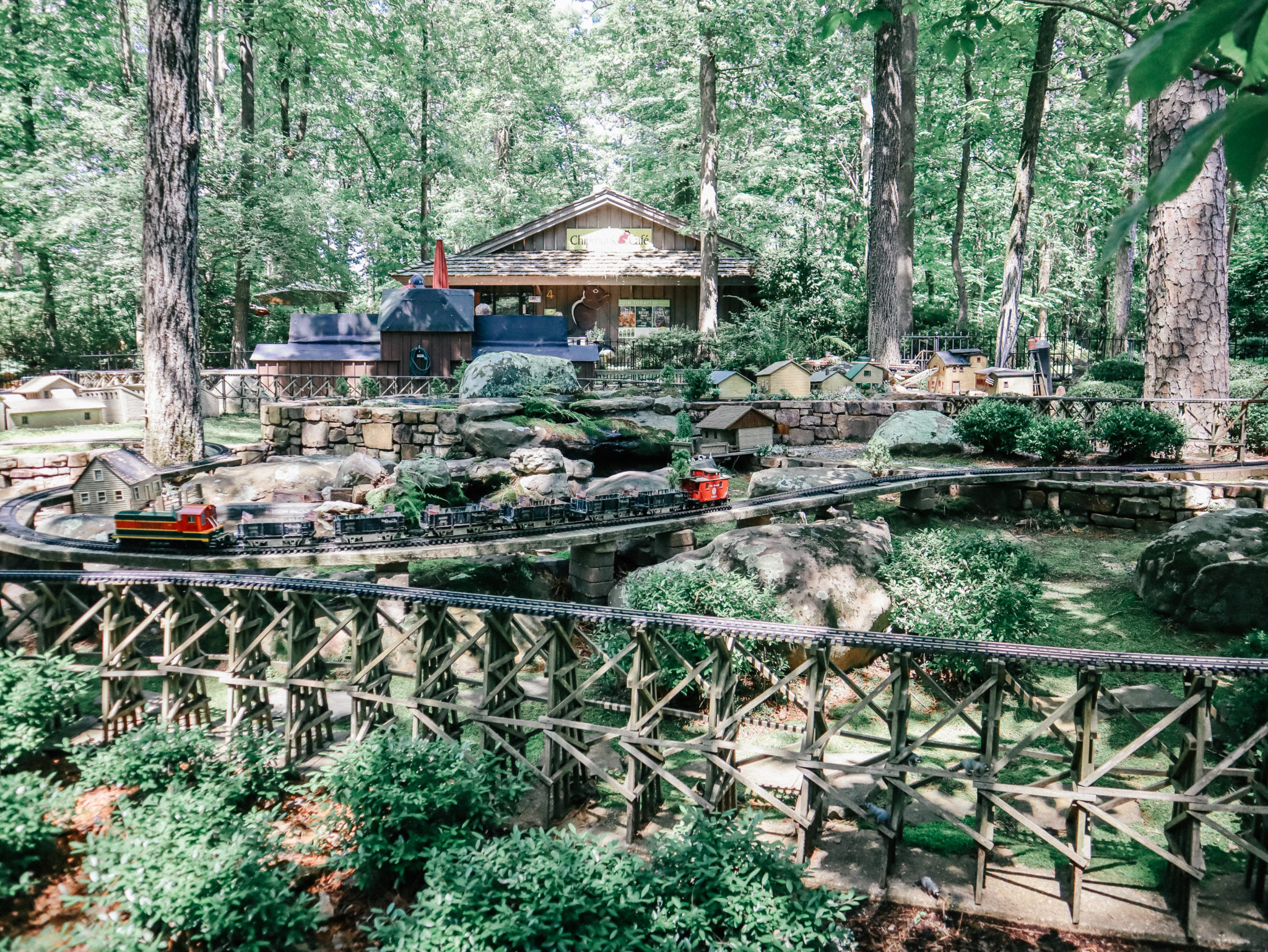 7. Take a Waterfall Hike at Lake Catherine State Park
1200 Catherine Park Rd, Hot Springs, AR 71913
Lake Catherine State Park is absolutely a destination I'd like to revisit. A short drive from downtown Hot Springs, Lake Catherine State Park offers lots of opportunities for camping, hiking, and cooling off in the water.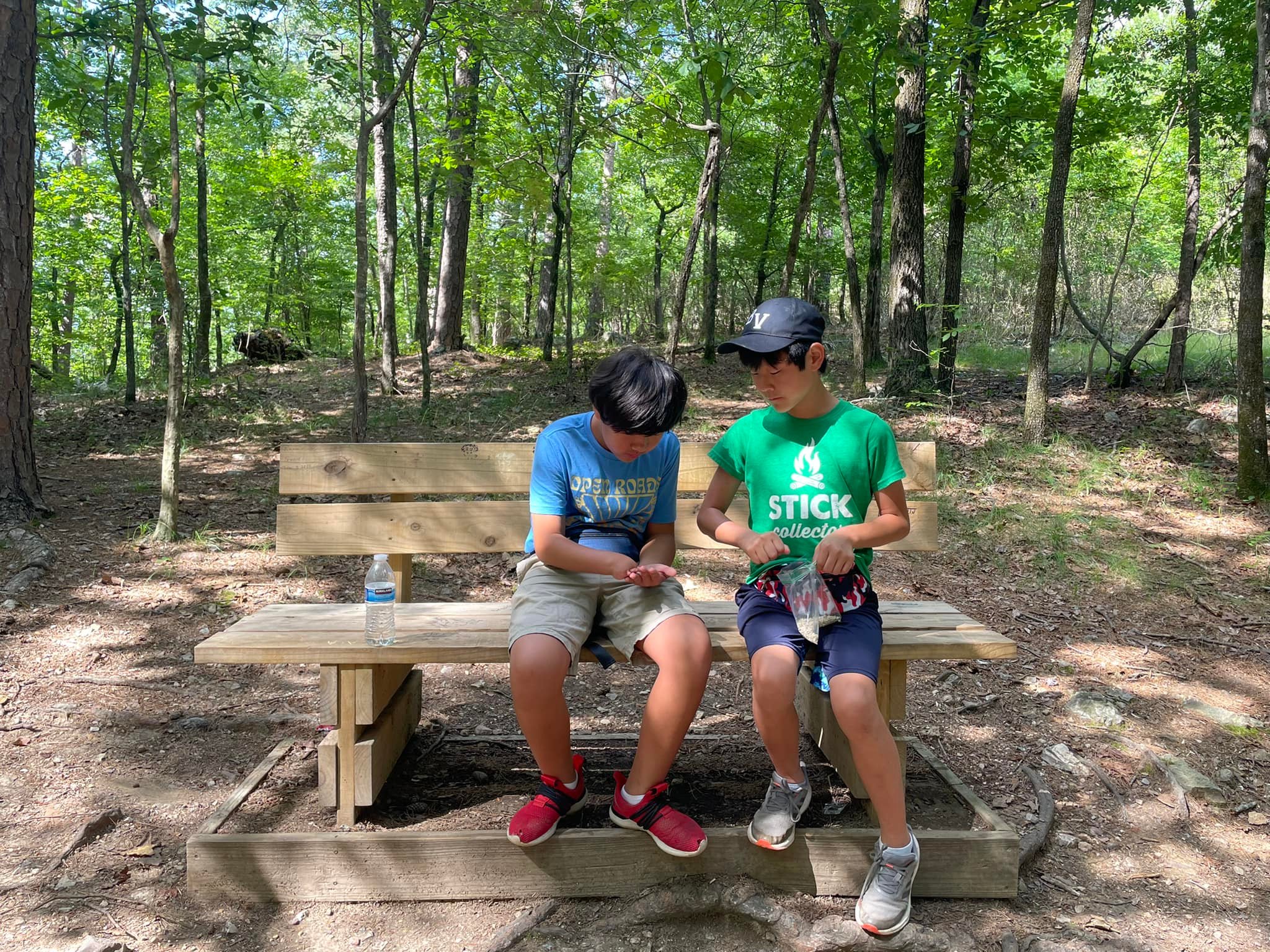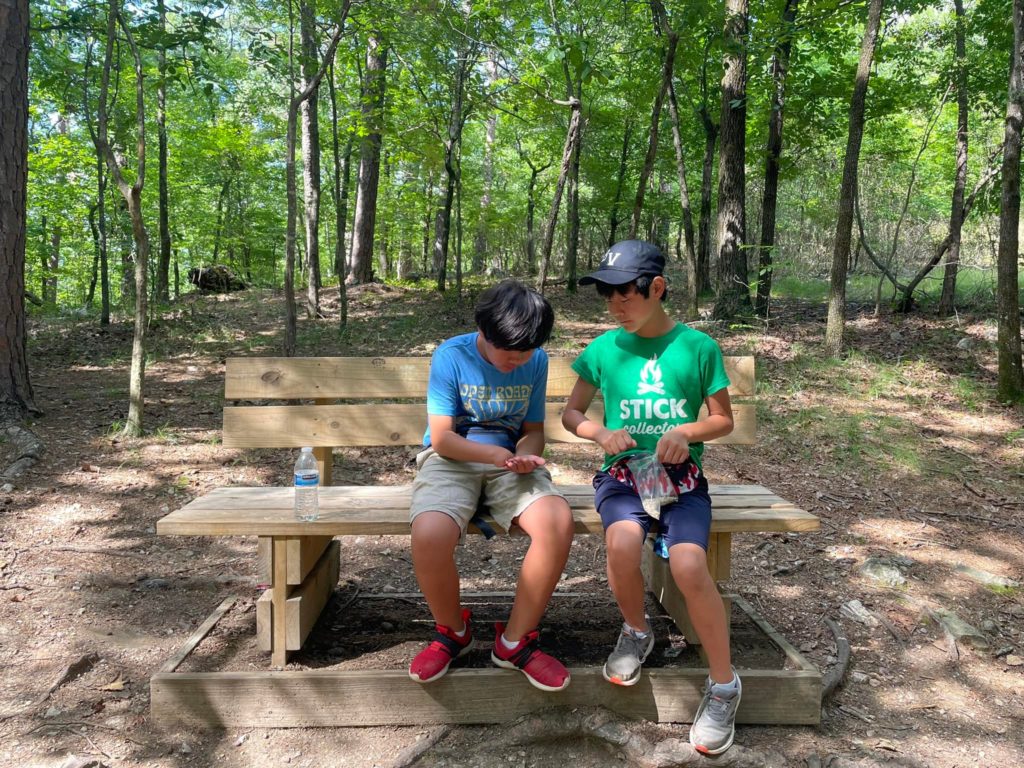 If you're interested in hiking in Lake Catherine State Park, drive straight in from Catherine Park Road and stop of the Visitor's Center for a trail map and ranger advice.
Our waterfall hike took about two hours, HOWEVER, we hiked our course as an out and back and not the loop trail that it was…this is a reminder to take a picture of the map at the trailhead to orient yourself. I always do this but this time I forgot. I saw hikers returning on our loop trail and second guessed myself. If I'd have continued on past the largest waterfall, our hike would have ended much sooner than it actually did.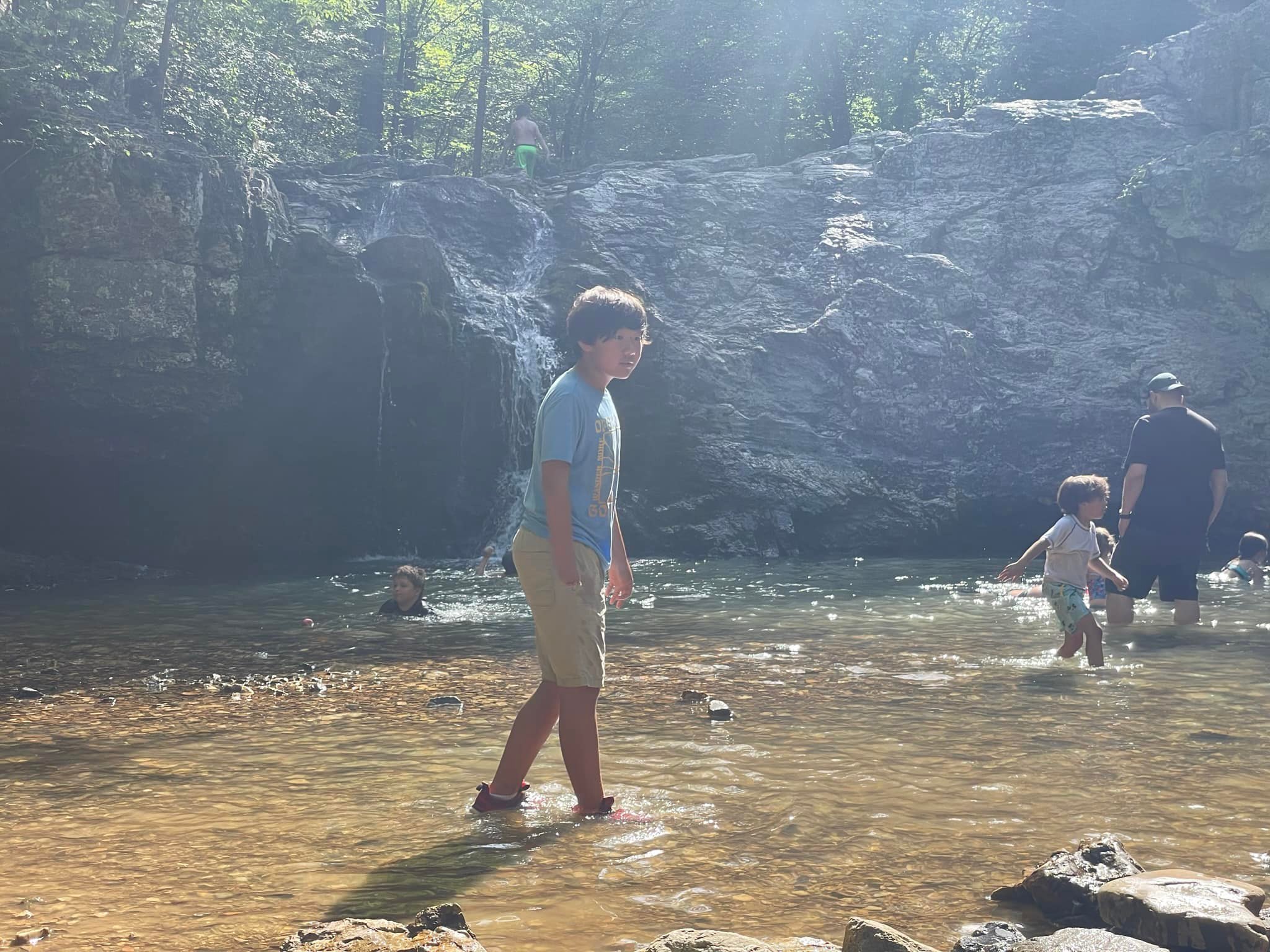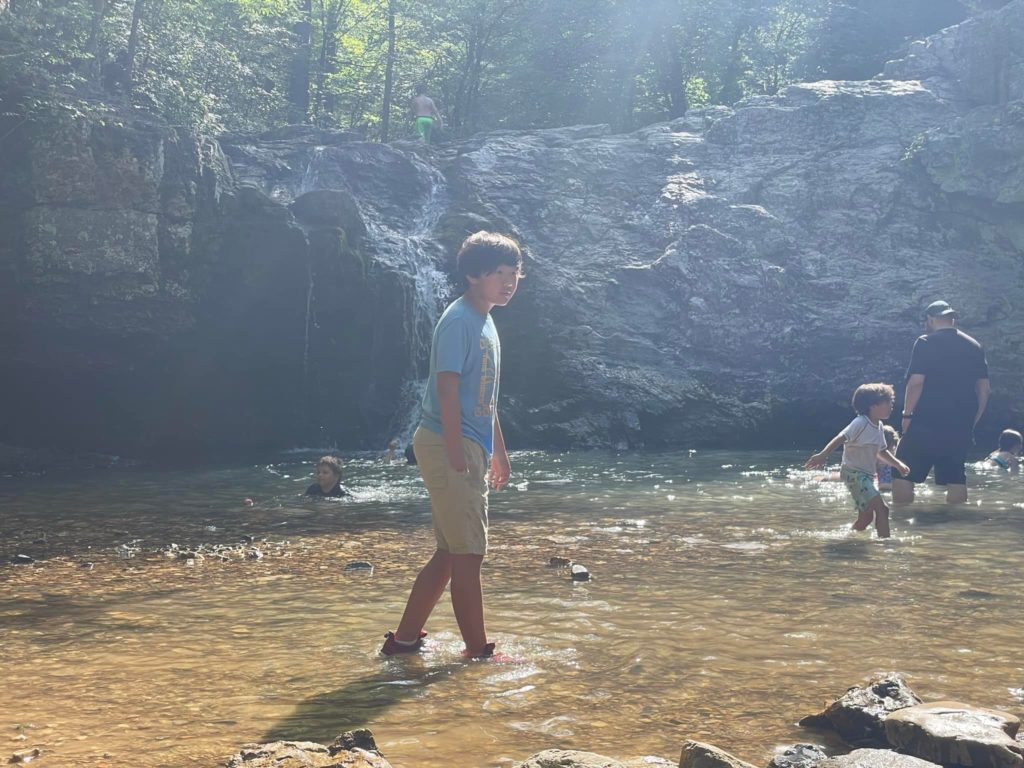 The waterfall trail was truly lovely. There was another, longer trail that overlapped the one we were on so if you're up for a longer hike, scope out the maps at the trailhead or talk to one of the rangers.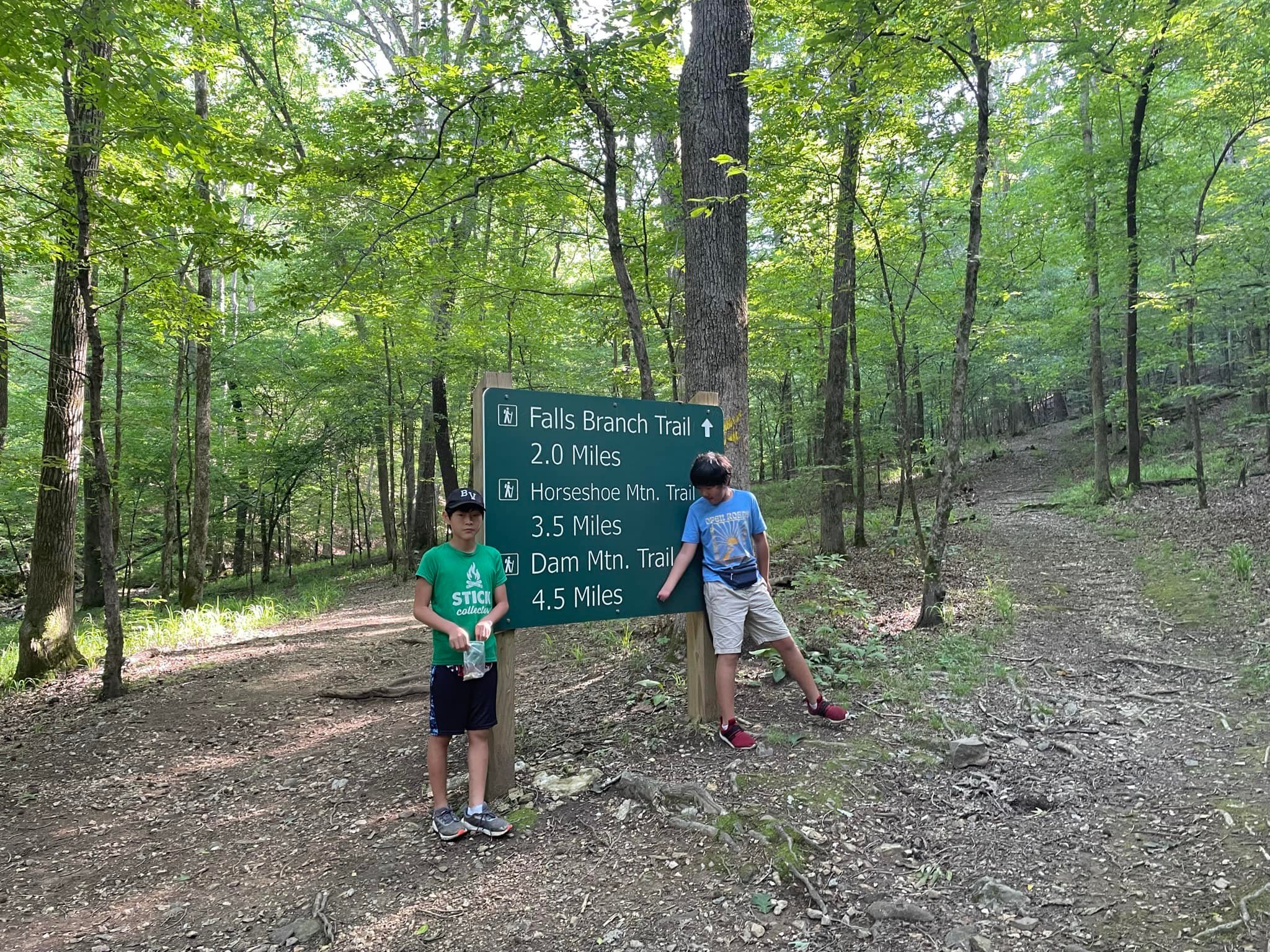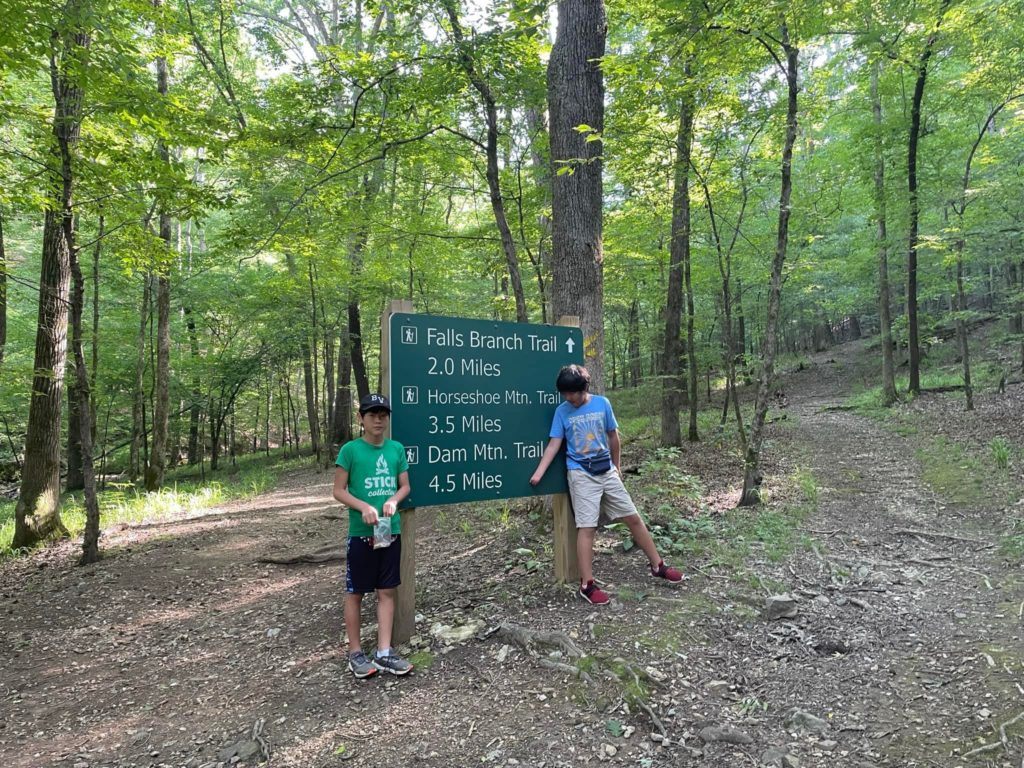 8. Witness The Running of the Tubs
If you can schedule your visit to Hot Springs in early June, you will be on hand to witness the Running of the Tubs. The Running of the Tubs is a bathtub race and it is quite something to see. Five-person teams race a bathtub filled with water plus a human down one of Hot Springs' main streets.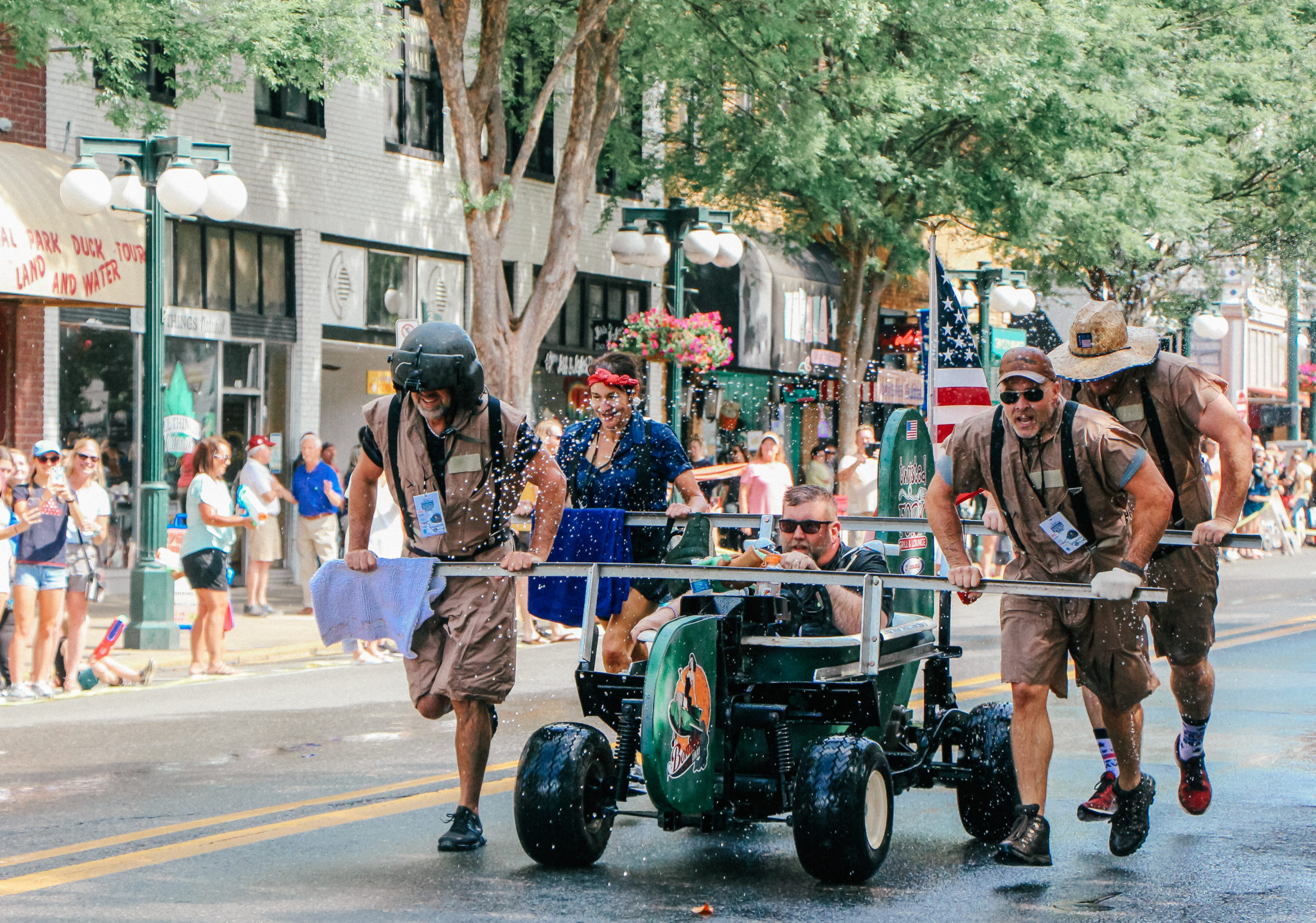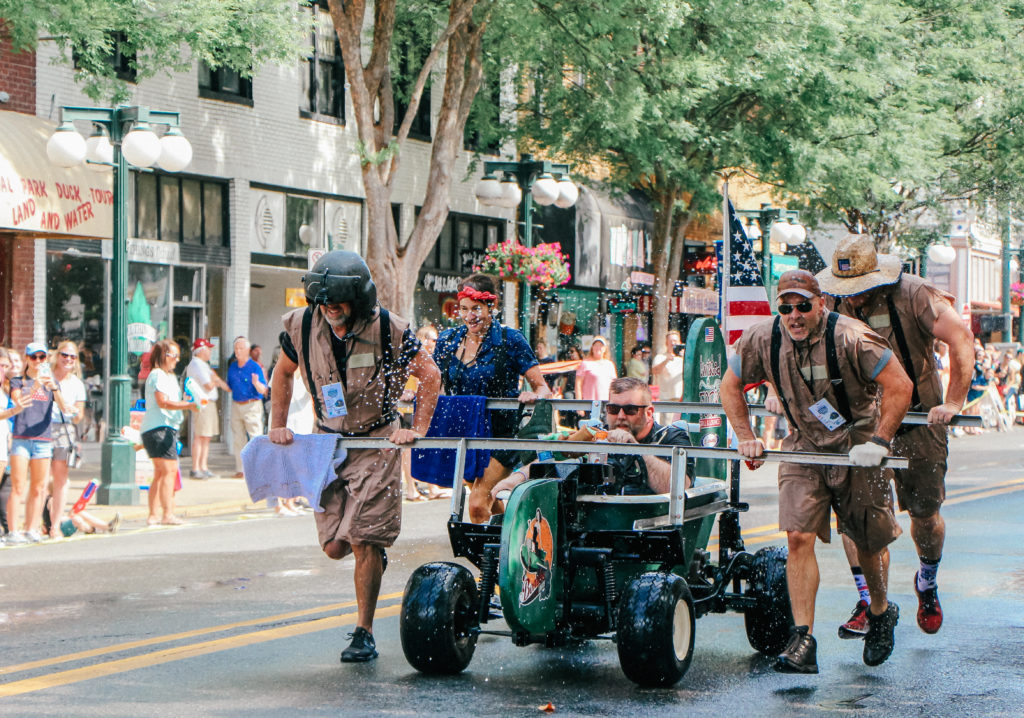 Spectators are encouraged to join in the festivities from the sidelines. Not only can you cheer loudly for your favorite teams, you can squirt them (or their opponents or the announcers or other spectators) with water guns. There will be tubs of water on hand to refill your super soakers or water cannons but the city asks that you don't bring water balloons because of the close proximity to the park and wildlife.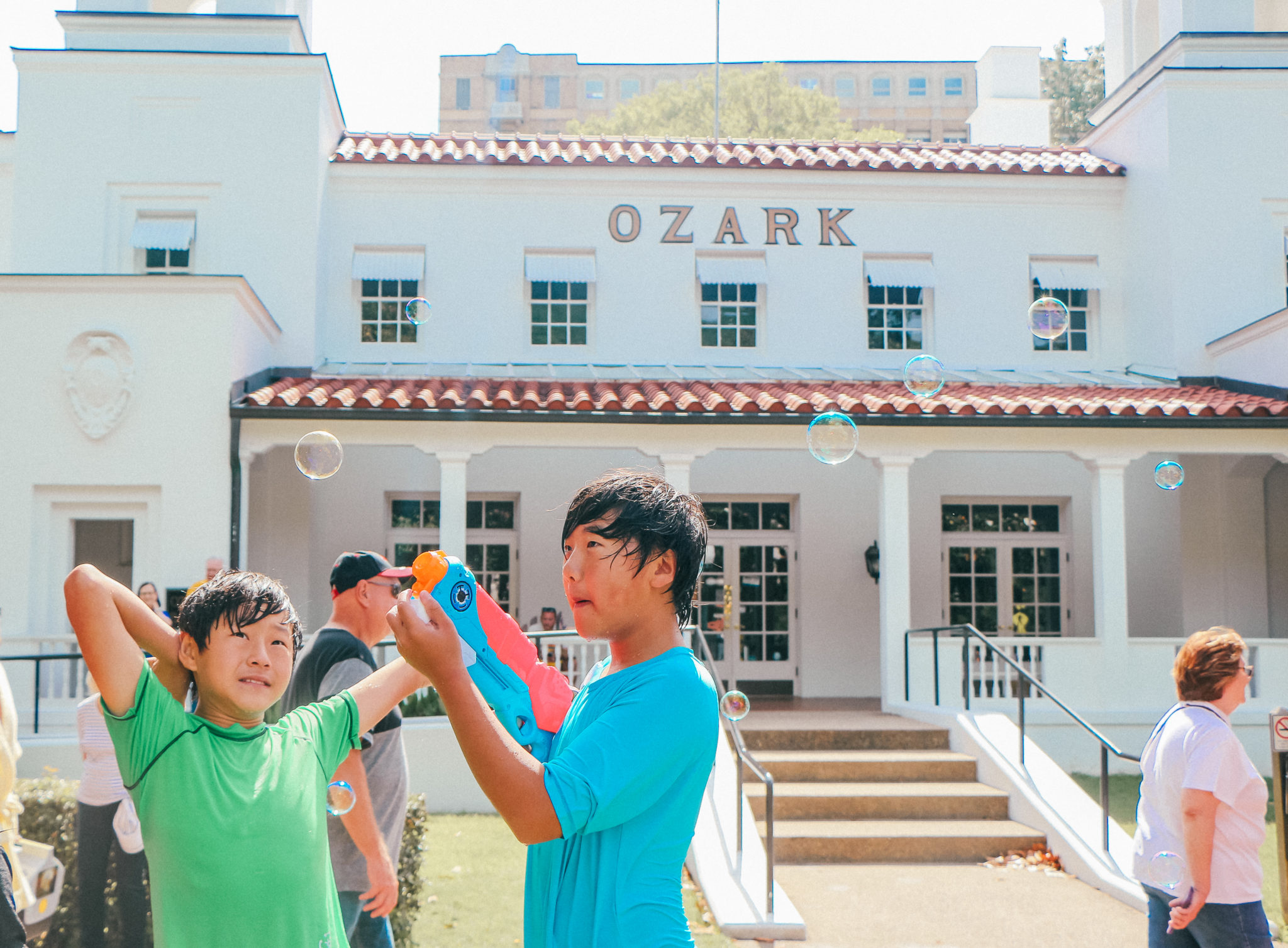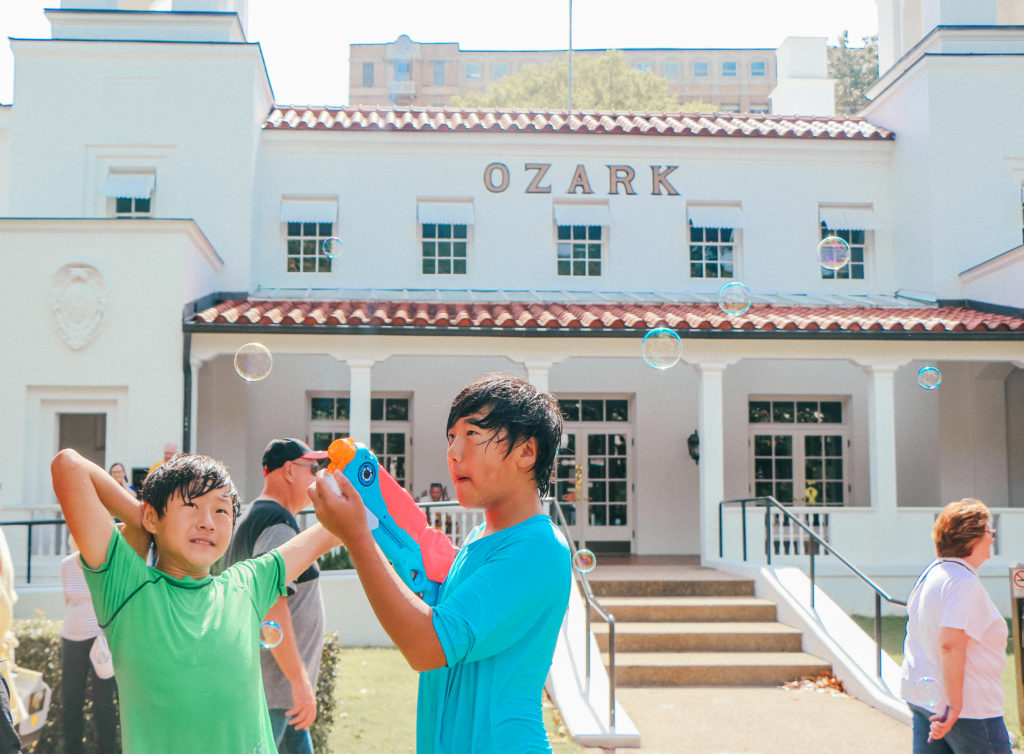 Check out Visit Hot Springs' website for information on 2023 Running of the Tubs dates.
Where to stay in Hot Springs
We stayed at the Hotel Hot Springs which is an ideal location if you plan to do a lot of exploring in the downtown area. If you're there in June for Running of the Tubs or Bridge Street Live, even better. All the action is just a short walk from the hotel.
Many restaurants and shops are within an easy walk of Hotel Hot Springs and with parking downtown being a little challenging, it's easy to leave the car parked at the hotel and explore on foot. I didn't love was that the parking garage is located two blocks away from the hotel, so we had a trek each time we wanted to access our car. The parking is free and there are car charging stations available.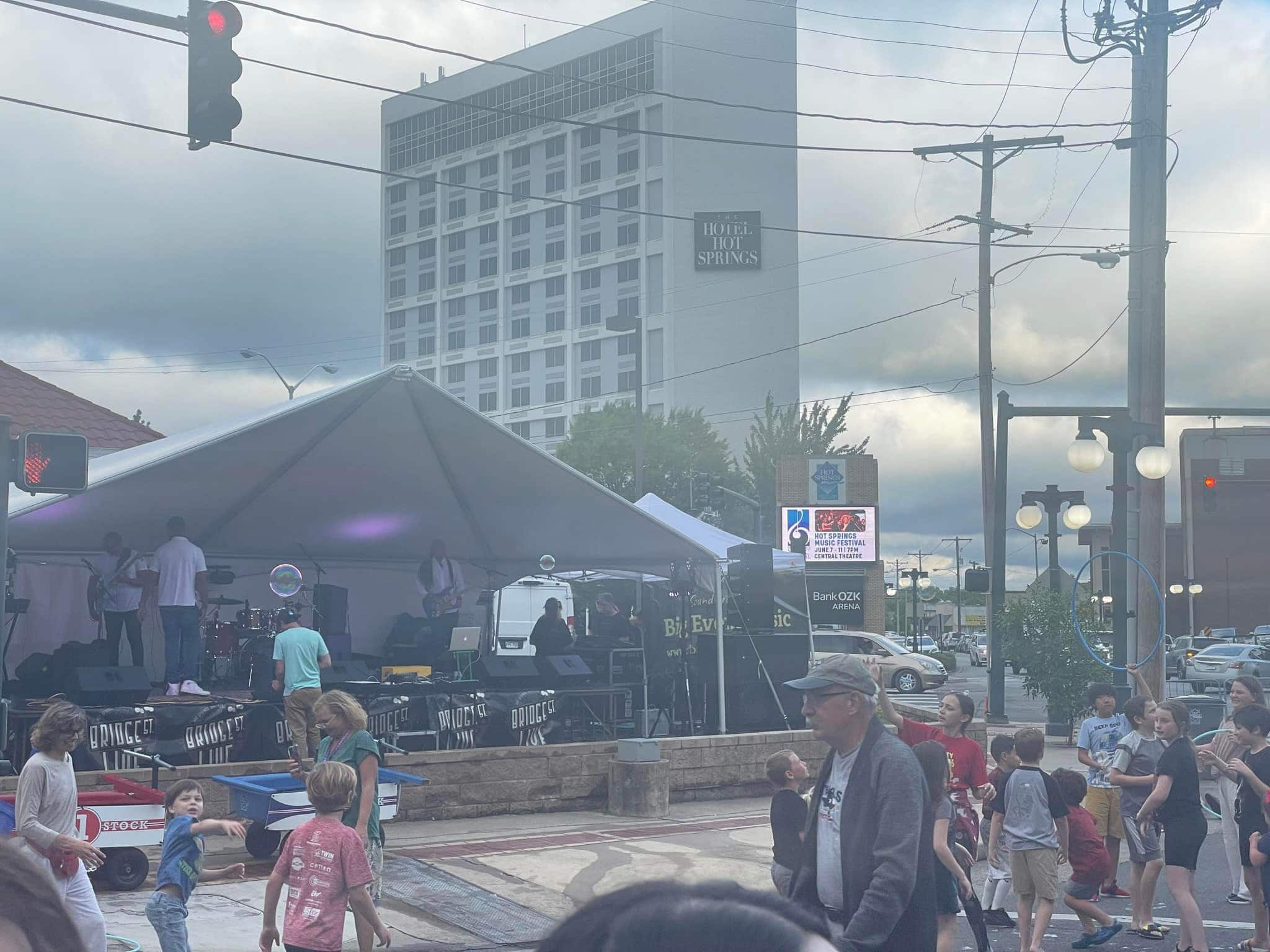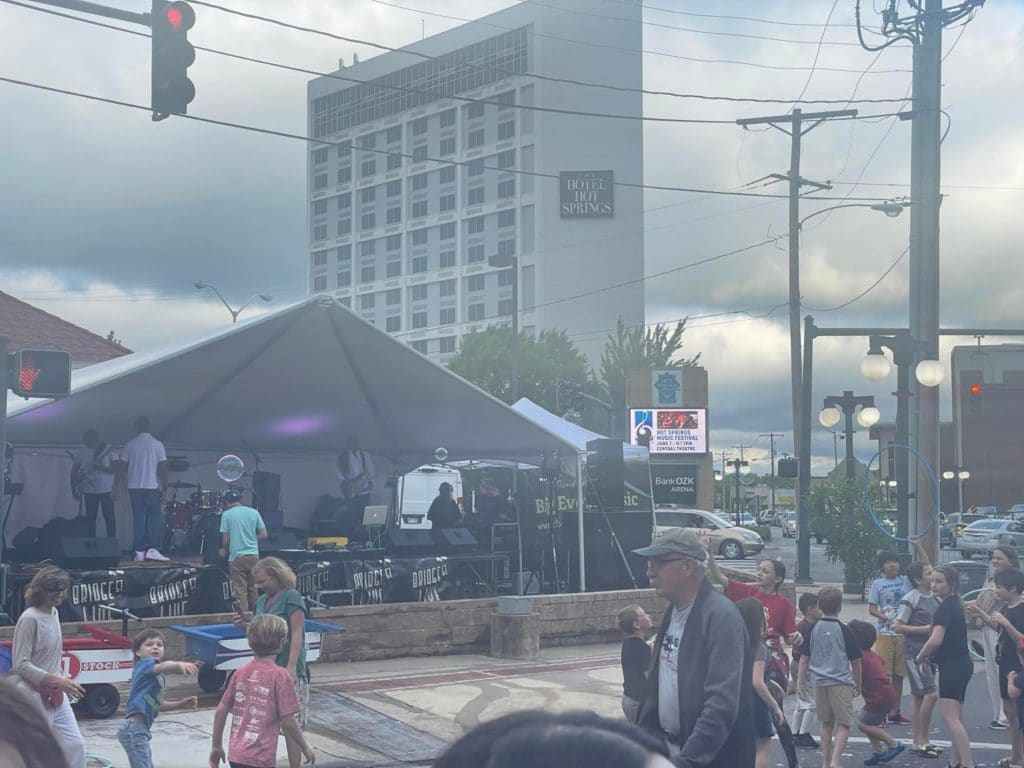 My kids and I were in a double queen suite, which is actually two rooms, the suite being an available add on for a queen or king room. The bedroom had two queen beds and a bathroom with a shower – no tub. The living area was huge, with a dining table, pull out couch, an additional bathroom with another show and a ton of floor space. We also had a mini kitchen, with a sink, microwave, small refrigerator and a Keurig.
We loved having the space to spread out and this is an excellent setup for larger families. The room on the opposite side of the suite is also available if you need more bedroom space.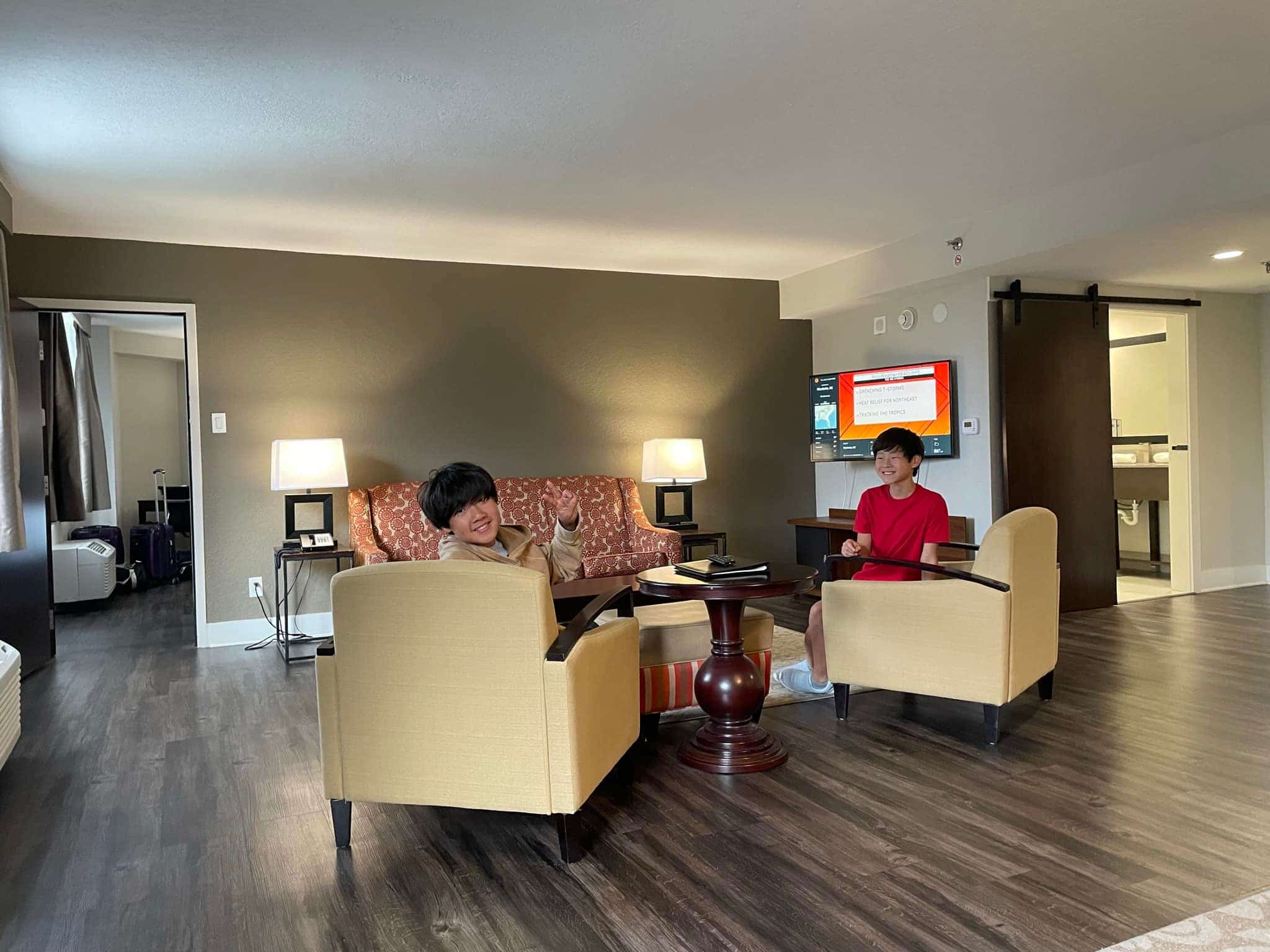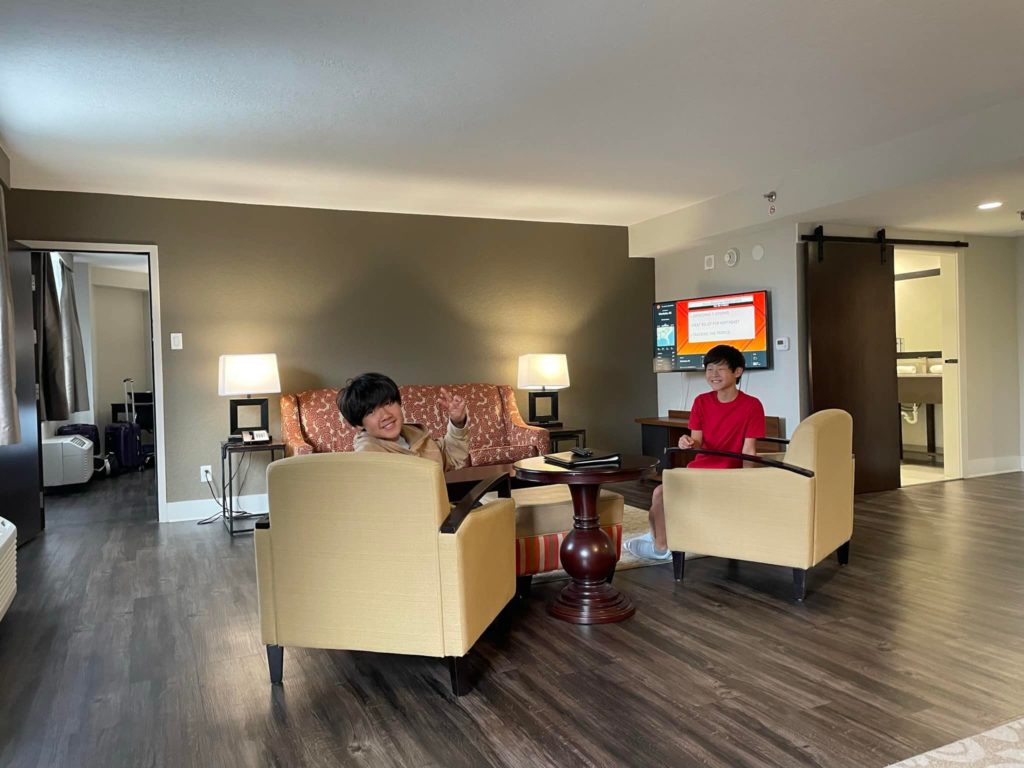 A hot breakfast buffet is included in the price of your room. There's also a sundry shop available at the front desk that sells various snack foods and convenience items as well as a sports bar and grill, The Inside Track. My kids and I got burgers and sandwiches here after a day of exploring downtown. The food is good and the servers are very friendly and helpful.
There is no pool at the Hotel Hot Springs.
Visit Hot Springs and The Hotel Hot Springs provided us with a hotel stay and admission to activities. All opinions are my own.
You might also like:
Adventures on the Gorge – New River Gorge West Virginia
Review of Carolina Pines RV Resort
The Ultimate Pigeon Forge Vacation Guide
Fun things to do in Bowling Green Kentucky
What I wish I'd have known before planning a visit to Mammoth Cave National Park