The perfect Texas getaway: The Hyatt Regency Lost Pines Resort & Spa
(This post may contain affiliate links. Read my full disclosure.)
If you're looking for the perfect Texas getaway, let me introduce you to the Hyatt Regency Lost Pines Resort & Spa.This luxury resort is located just outside Batrop Texas, which is very near Austin. Bastrop is technically part of the Austin Metro Area, although this small town doesn't have an Austin vibe at all.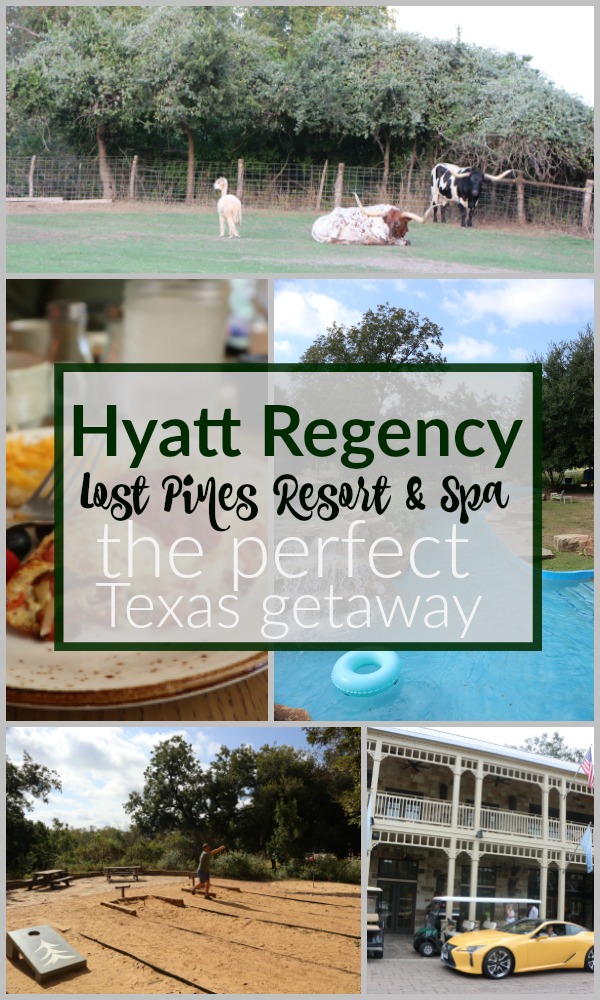 Why the Hyatt Regency Lost Pines Resort & Spa is the perfect Texas getaway
My husband and I were hosted by Hyatt Regency Lost Pines Resort & Spa. Links in this post may be affiliate links. All opinions are mine.
My husband and I stayed the weekend at Hyatt Regency Lost Pines Resort & Spa to celebrate our tenth anniversary. We had an amazing weekend getaway (the resort is about 90 minutes from our home in the San Antonio area) and while we enjoyed our time to connect as a couple, we must have said "Our boys would love it here" at least once an hour, so I'll answer your question of "Is it family friendly?" with a resounding YES.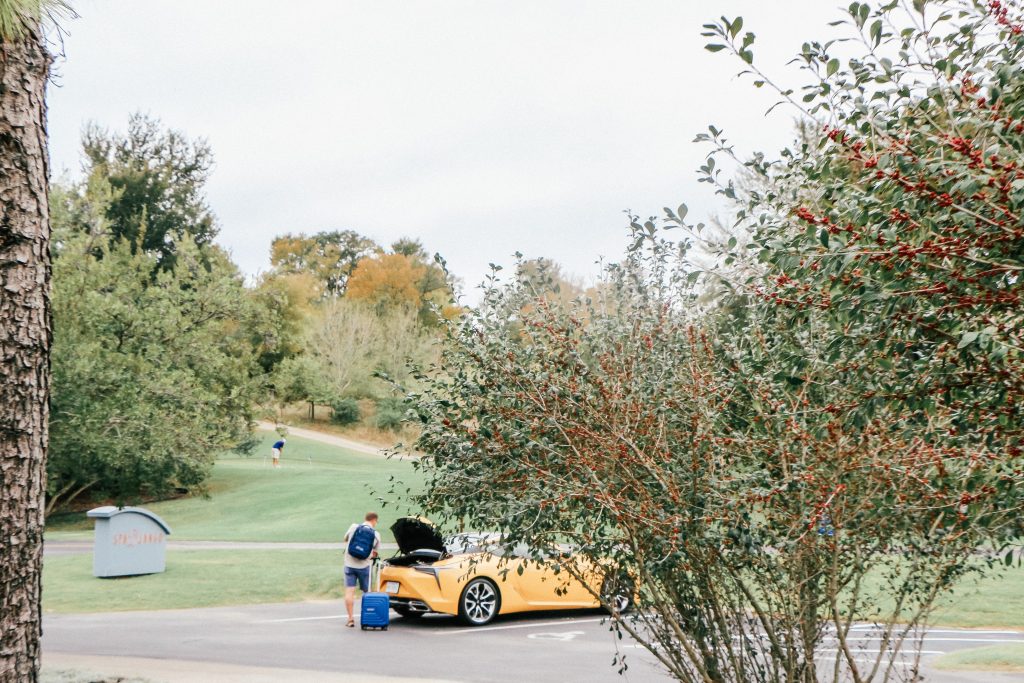 The overall vibe of the property
This resort isn't located far from town at all but once you turn off the main road and onto the Hyatt property, you just get this sense of…release. The "get away from it all" vibe just hits you (in a really, really good way) as you drive down the tree-lined road.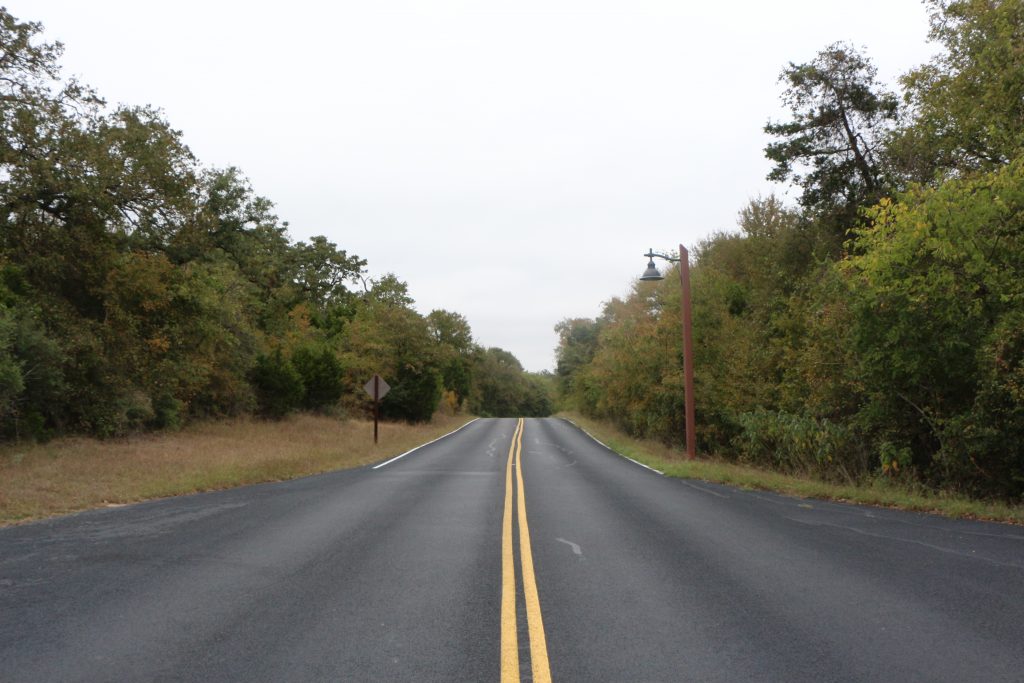 Our check-in process was absolutely seamless. The lobby is beautiful and rustic and it smells amazing. I am a "smell person." While this was the first time I stayed here as a resort guest, I have been to the property before and as soon as I walked into the lobby to check in, I remembered the unique smell. I asked about it was told there were diffusers strategically placed around the lobby. I asked if we could buy the scents and unfortunately, they aren't for sale. I guess we'll just have to go back for some more smells. It's an awesome intro to the property.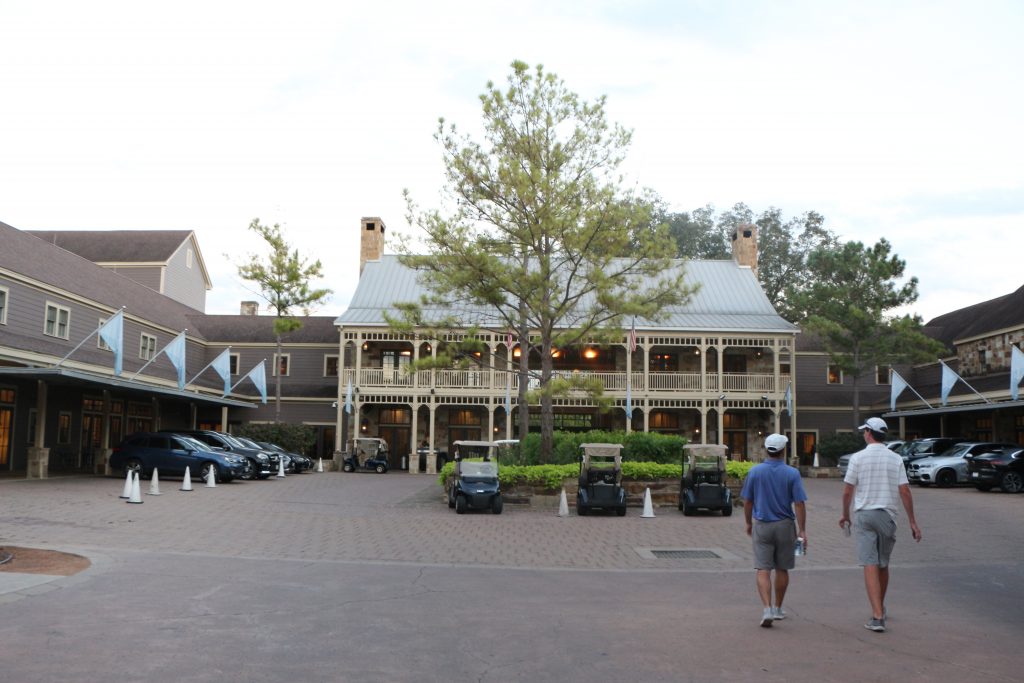 Related: Things to do in Bastrop Texas
Our guest room
My husband and I stayed in a king room with a patio view. We had a very comfortable king-sized bed – I love it when hotels have king-sized beds because that's what we sleep in at home. I know it sounds like we're spoiled and we probably are, but it's uncomfortable to sleep in a queen or full bed when we're used to having a lot more room to spread out. We had some pretty righteous sleep at the Hyatt Regency Lost Pines Resort & Spa.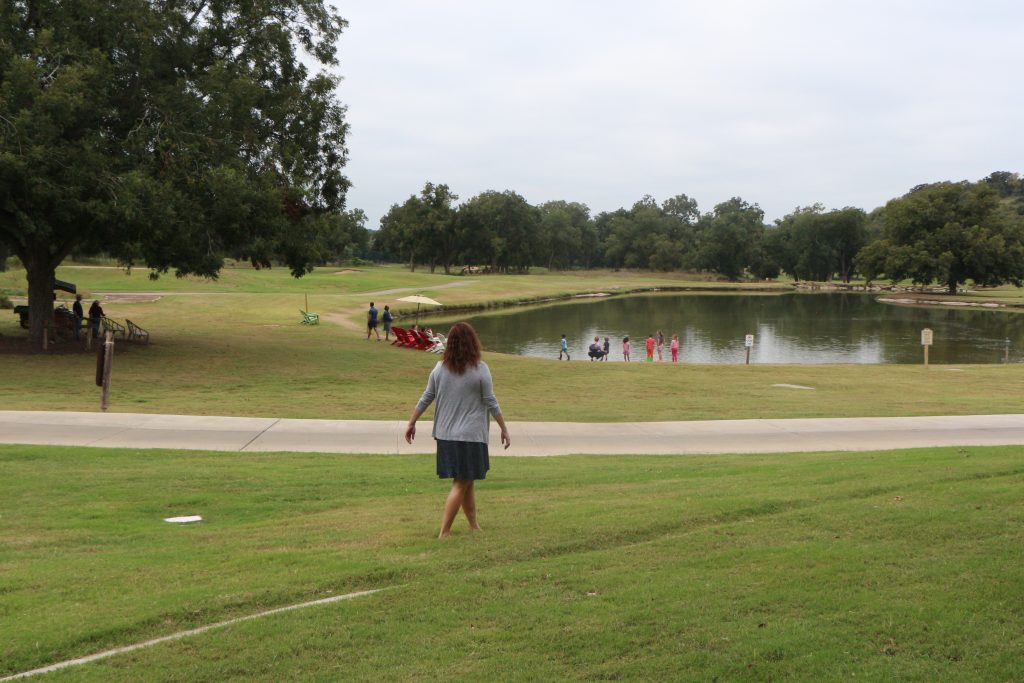 We had a desk area, a sitting area and a very spacious bathroom with a separate shower and tub. There was also a vanity area outside the bathroom, which was handy for doing my hair and makeup while my husband was using the shower.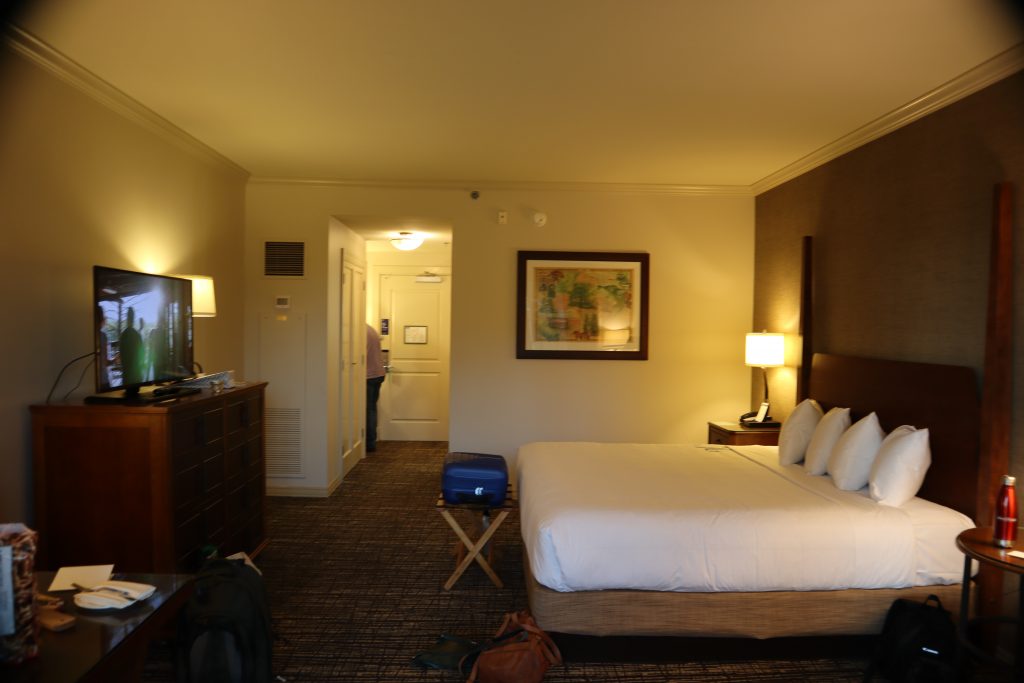 We really loved the patio view area. We had an awesome view of the pond, which was a very popular morning spot for fishing. This is a stocked pond and fishing experiences can be booked through the resort. The entire vibe was very peaceful and beautiful.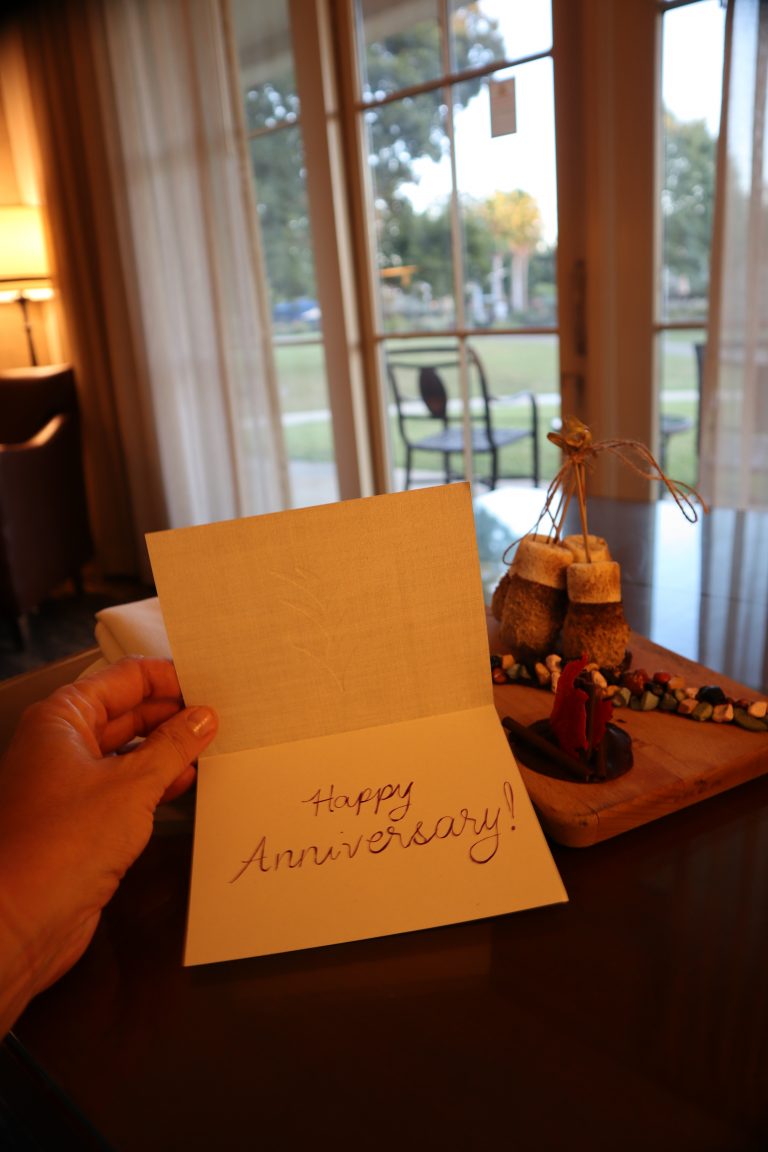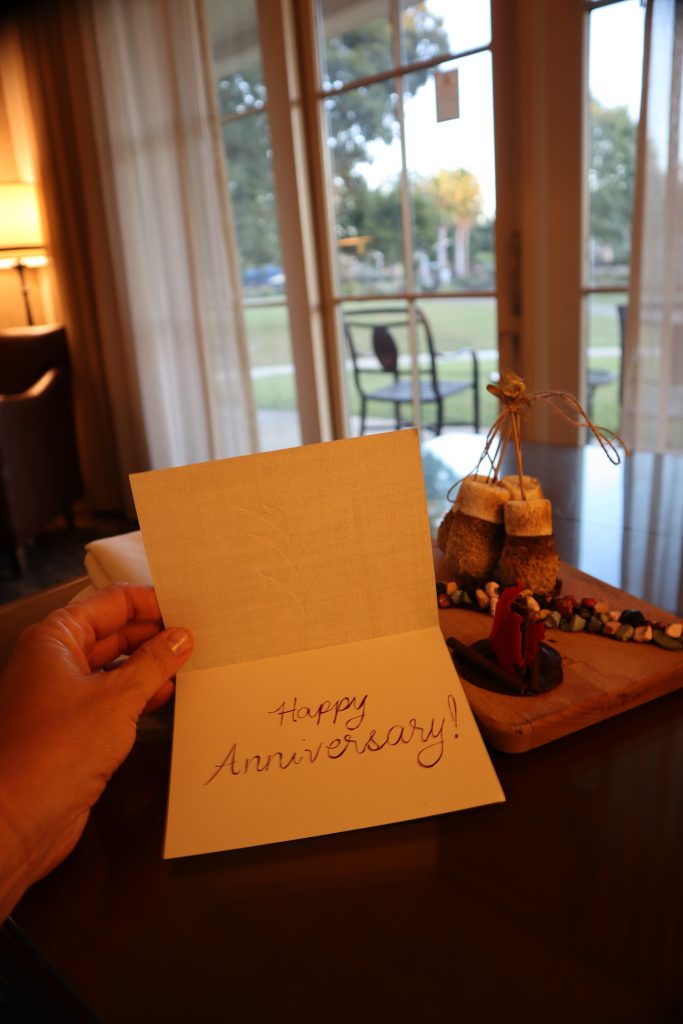 There are a variety of guest rooms and suites available. Book here.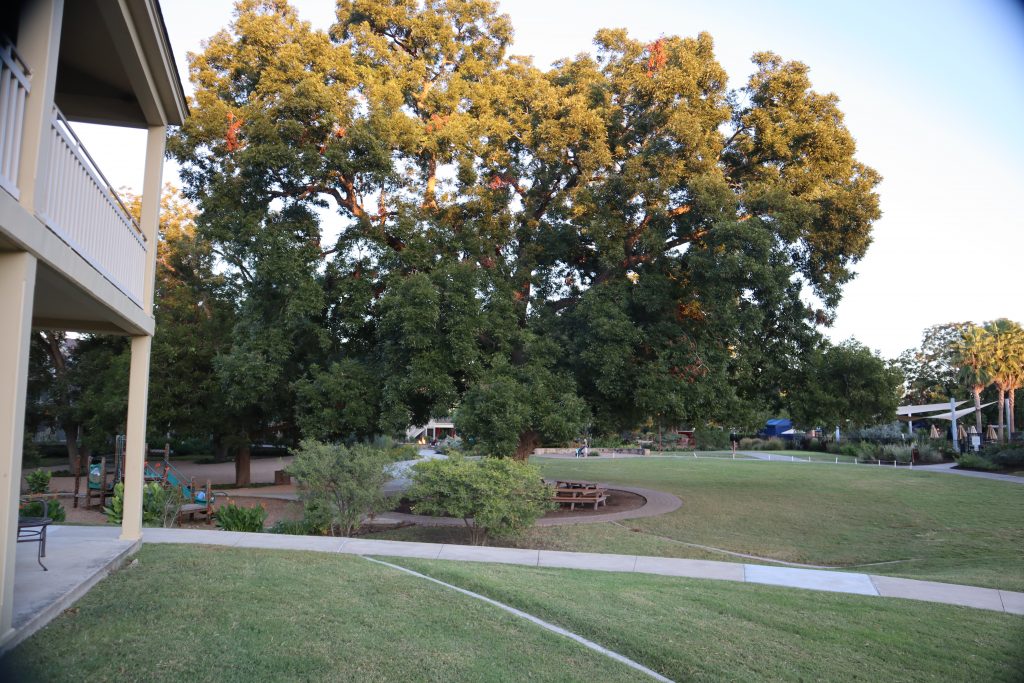 Eats at the Hyatt Regency Lost Pines Resort & Spa
The nice thing about this property is that once you're on it, you don't want to leave. And, since they offer absolutely everything you want or need, you don't have to.
Casual dining at the Hyatt Regency Lost Pines Resort & Spa
If you're looking for casual dining, check out Sheller's Barrelhouse Bar. Sheller's is open for lunch from 11:00 – 5:00 and for dinner 5:00 to midnight (open until 1:00 a.m. on Saturdays.) They serve a variety of sandwiches, salads, and plated meals, and of course, they have a great selection of appetizers. My husband had the grass-fed burger and I had the vegetarian beyond burger. What can I say…it was a burger kind of night.
We were absolutely wowed by the food and service and the beyond burger? I would never have known it didn't contain meat. I am not a vegetarian but I do like eating low meat and meatless meals for health and ethical reasons and this was pretty darn amazing.
Shellers has a full bar and a great selection of local craft beers and wines. It's not pretentious or stuffy and although we dined as a couple, I would totally bring my kids here. There's also outside seating available.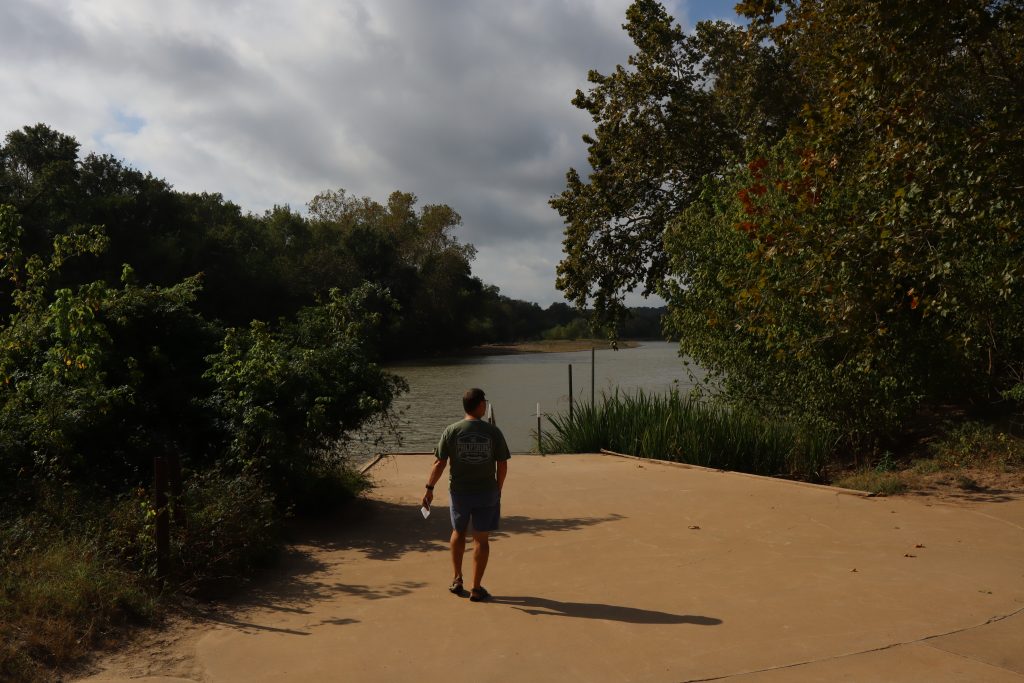 Fine dining at the Hyatt Regency Lost Pines Resort & Spa
Stories is the signature fine dining experience at the Hyatt Regency Lost Pines Resort & Spa. This restaurant is inspired by local authors and has a charming seating area outside the restaurant where you can sit, relax, and have a drink – or just soak up the atmosphere – while you're waiting for your table.
Stories is expensive…definitely a special occasion or treat meal. The premium cuts will run between $40-$50 and sides are extra. There are several "Chef's Creation" options that do come with sides. If you're a steak person, I recommend you treat splurge and order from the premium cuts section of the menu. We were absolutely not sorry we spent the money on this dinner.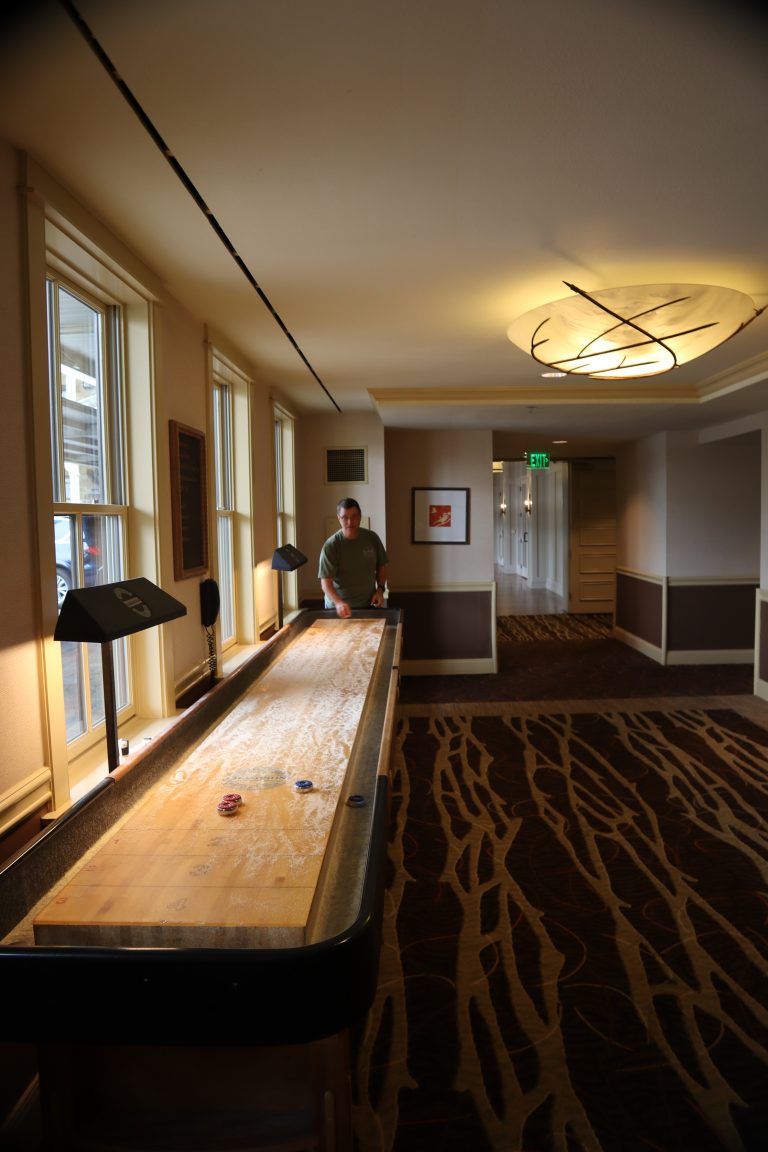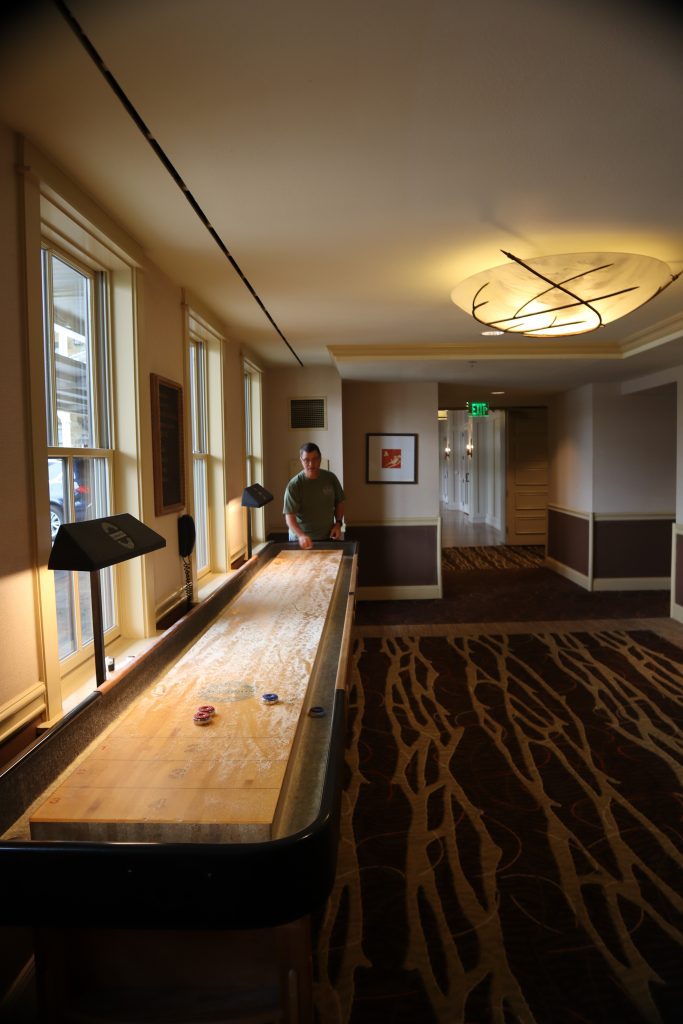 I don't recommend this for younger kids but it was an amazing anniversary celebration for my husband and I and the spend was totally worth it. The steaks were "cut it with a butter knife, melt in your mouth" tender.
One last thing – make sure you make a reservation. We arrived on a Friday night and made our reservations for Saturday night right after we checked in, so pretty last minute. We didn't have a ton of options on times to eat, so I recommend making a reservation well before your stay, if you can.
The most important meal of the day at the Hyatt Regency Lost Pines
I've told you about an awesome vegetarian burger and a special, super-splurge steak dinner, but my most favorite meal at the Hyatt Regency Lost Pines Resort & Spa was breakfast at the Firewheel Cafe.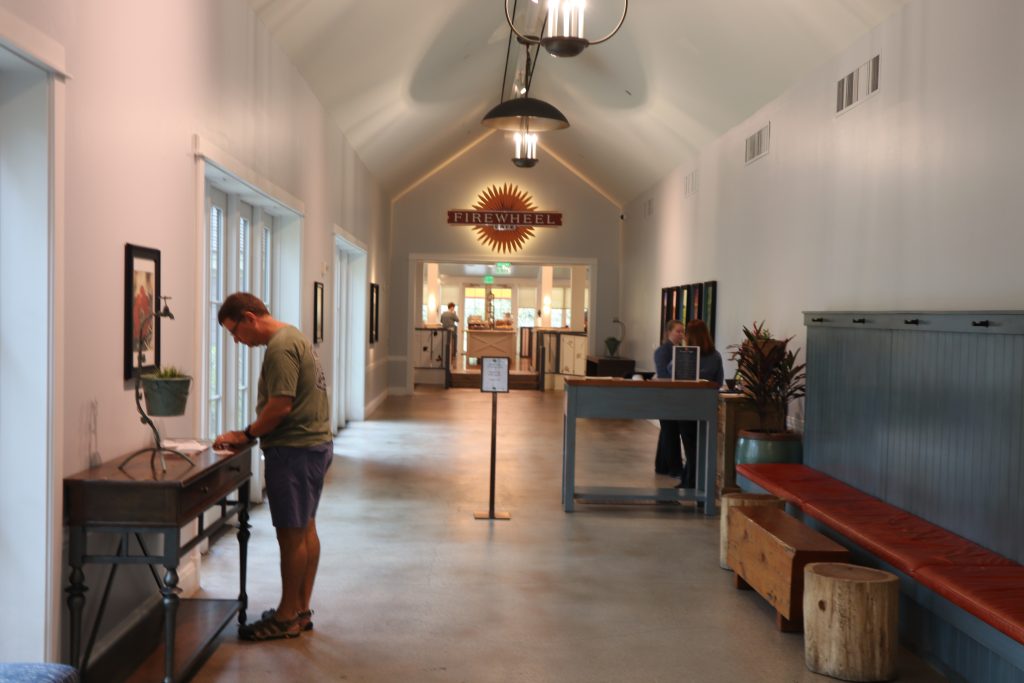 So. I love breakfast. Like…LOVE LOVE LOVE breakfast. The Firewheel Cafe is a breakfast to bring tears to your eyes. You can order a la carte or choose the buffet. My husband and I went back and forth on this one because we weren't sure how hungry we were but we went ahead and went for the buffet and I'm so glad we did. Turns out we were hungrier than we thought and we did contemplate cancelling our plans and just eating our way through the morning.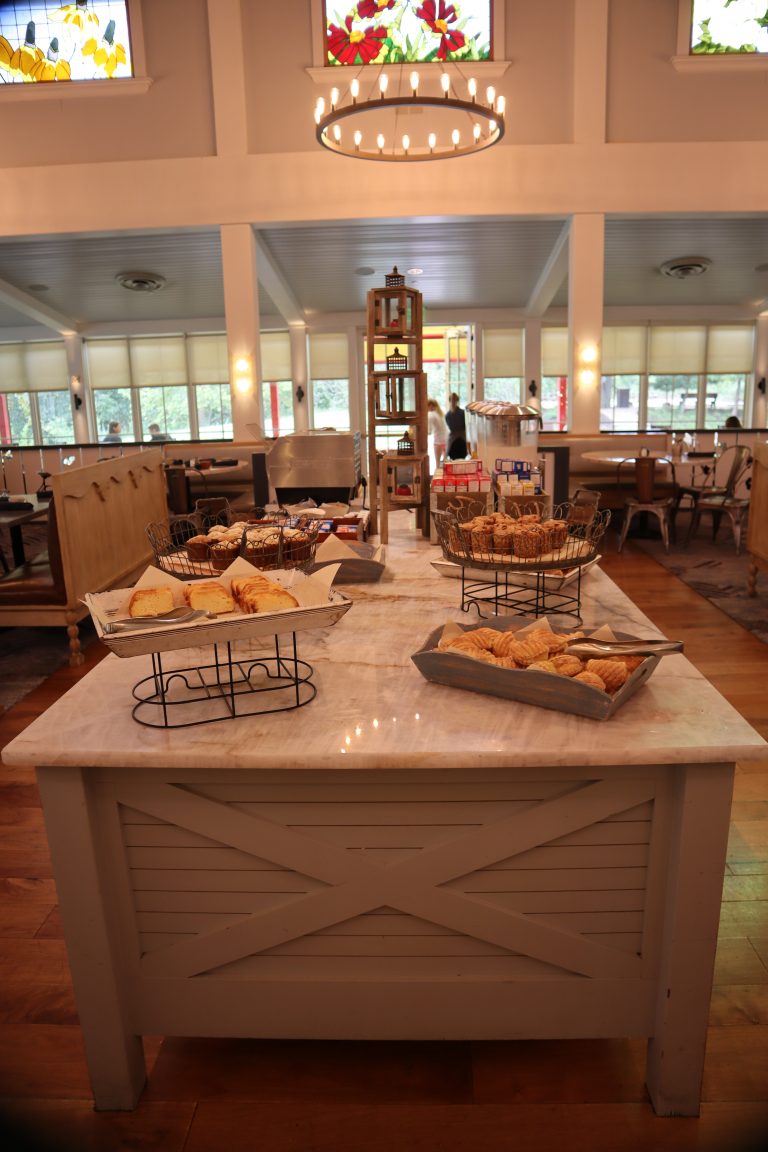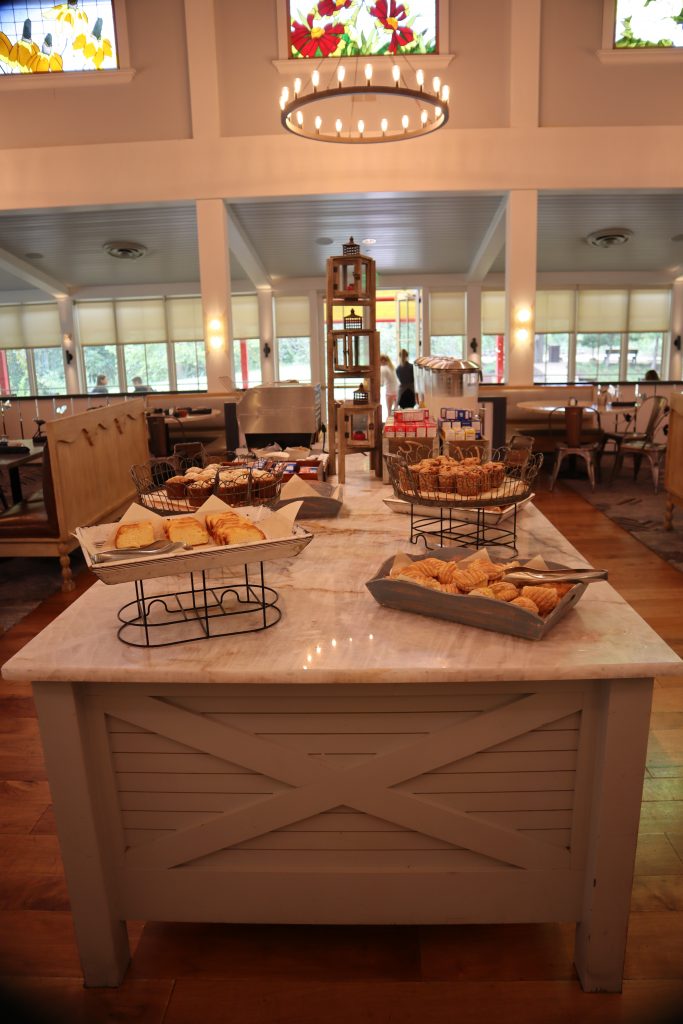 This breakfast buffet has EV-REE-THING. They have an omelette bar, They have local deliciousness. They have cheese grits (I love cheese grits.). I'm not sure what I need to say to get you to eat here. It's SO GOOD. No matter what you like for breakfast, they will have it. It's the perfect blend of familiar favorites and "try new things."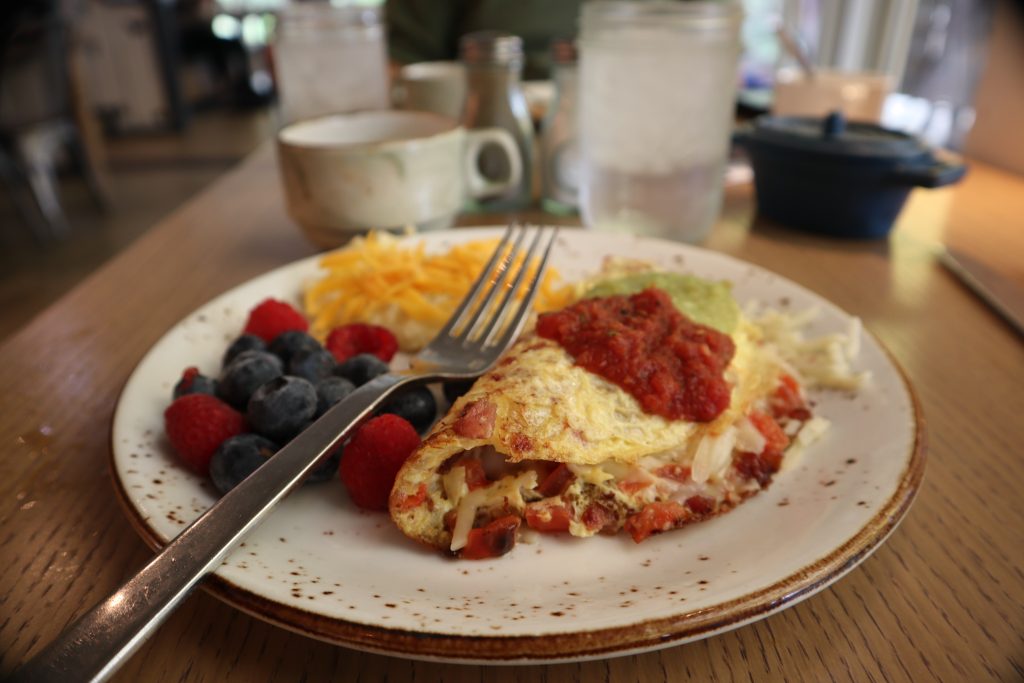 Scribes Club
Scribes is a delightful little bar off the main lobby. They have a small but versatile menu available that offers everything from snacks to steaks. It's a small, intimate, and fun place to have a drink or a bite. It has a lovely atmosphere. Not kid friendly, so if you're staying here with your family, you'll need to skip this one.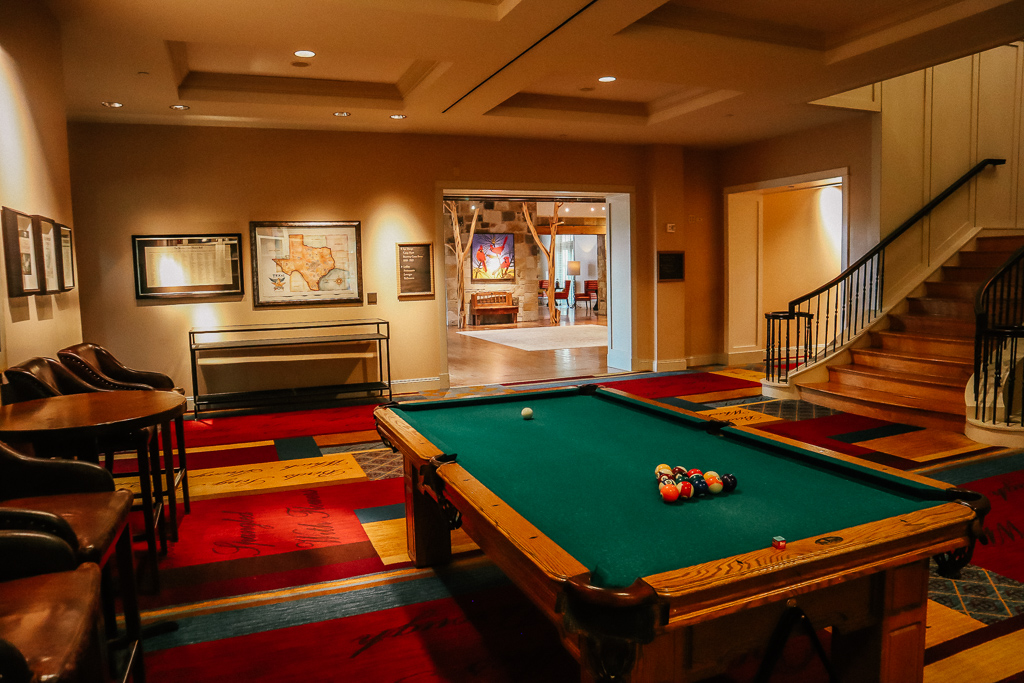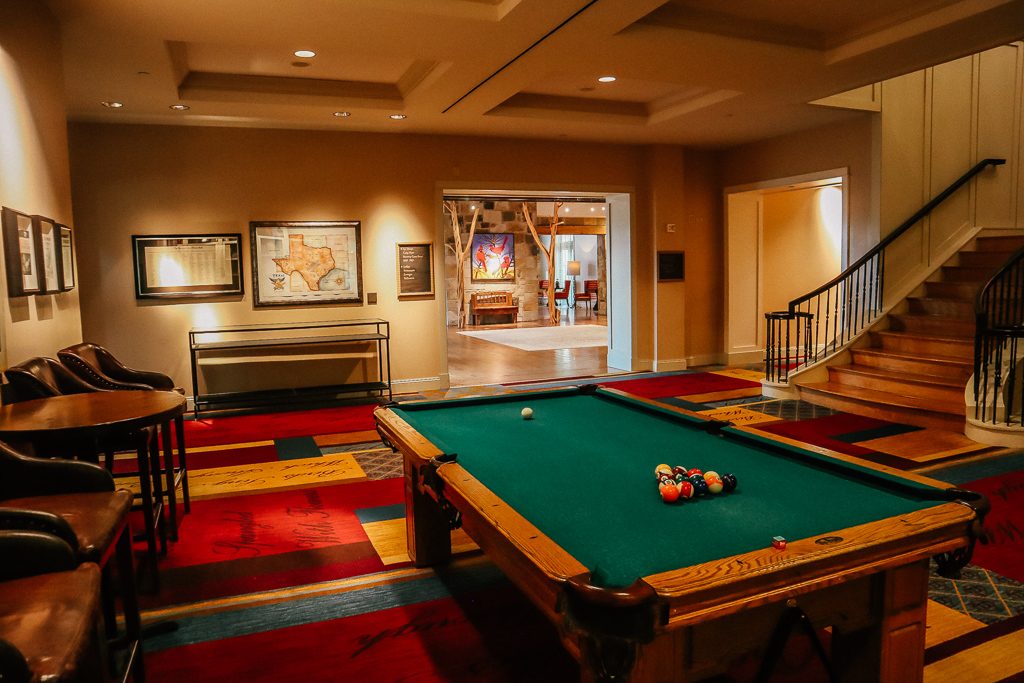 There are lots of other food and drink options at Hyatt Regency Lost Pines Resort & Spa. Check out this link for more info on what's available plus links to menus.
Spa Django at the Hyatt Regency Lost Pines Resort & Spa – Make your Texas getaway POP
My husband and I had a duet massage and a facial at Spa Django. It was absolutely sublime. You can check out the different spa options and pricing here. The spa treatments were another splurge but we thought it was well worth it. Everything is just done so well.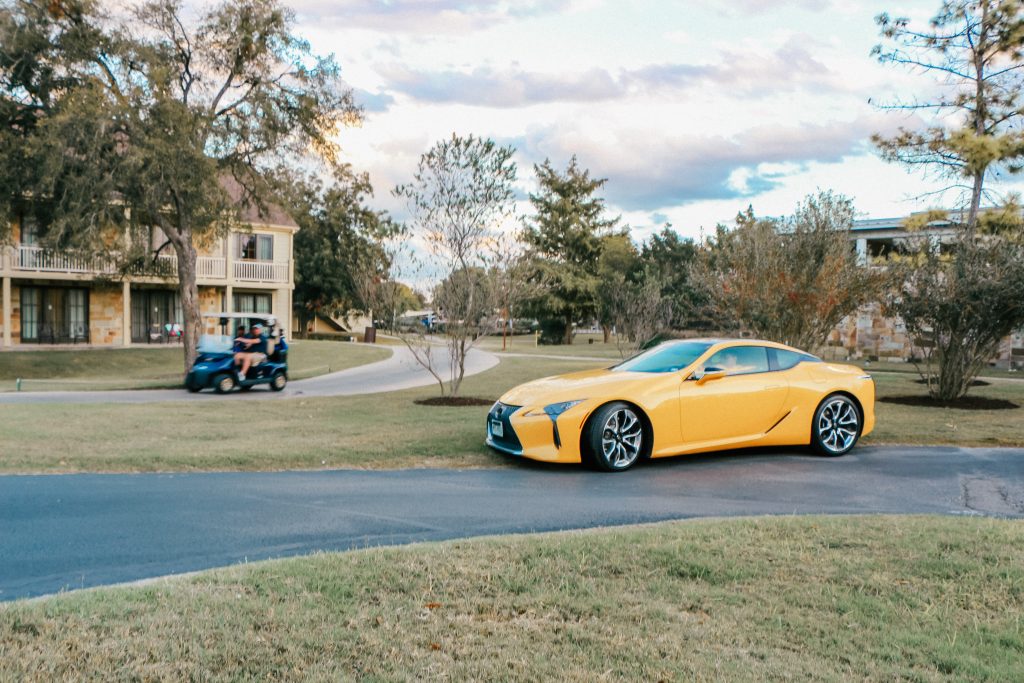 All resort guests can use the spa facilities. There's a separate adults-only pool with food and beverage service available. There's also a lovely spa shop with beauty products and apparel. I resisted but there was a lot of stuff I wanted to buy there.The women's locker room has a separate hot tub, sauna, and steam room as well as an awesome space to relax the luxury bath products. The men's locker has a similar set up.
Make reservations as far in advance as you can. We waited until about a week before our stay to book and we weren't able to get the exact service we wanted, which was the Soulmate Sunset Couple's Ensemble. Next time!
Crooked River Water Park and Pool Area
This is a seriously awesome water space. My husband and I had the BEST time sans kids but our kids would have loved spending time here.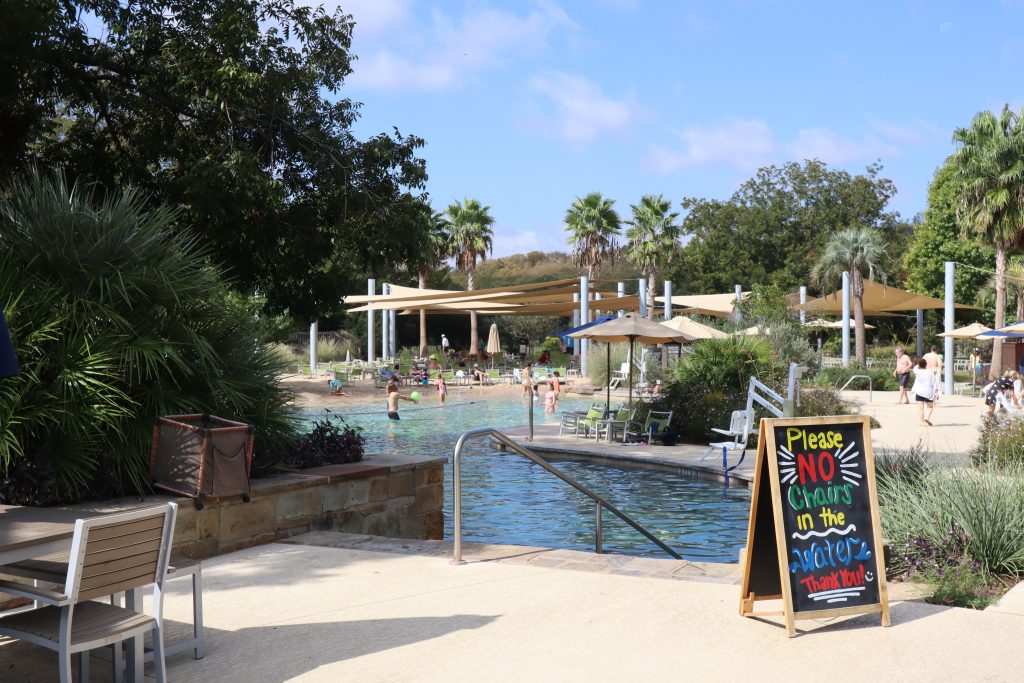 They have an adults only area, a pool bar that serves food, a sandy beach area and a water slide. Sometimes, it's fun to do things as adults that we enjoyed as kids. There's really something to be said for the notion of releasing your inner child.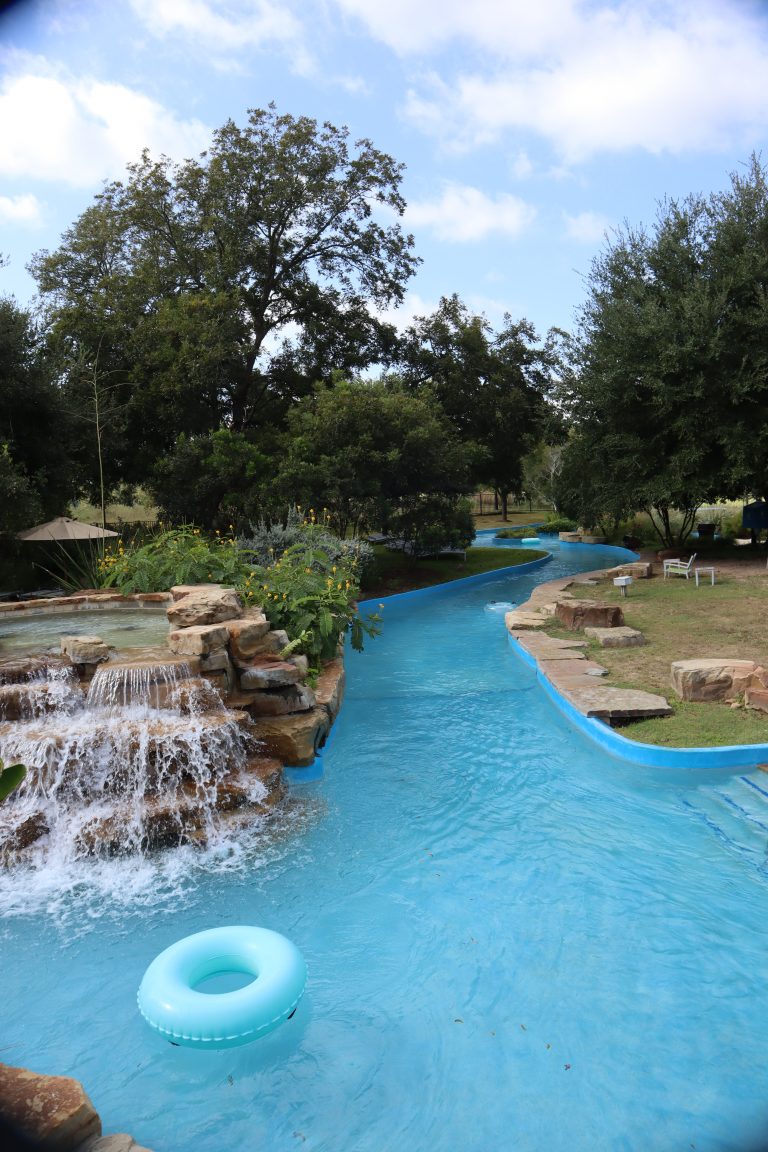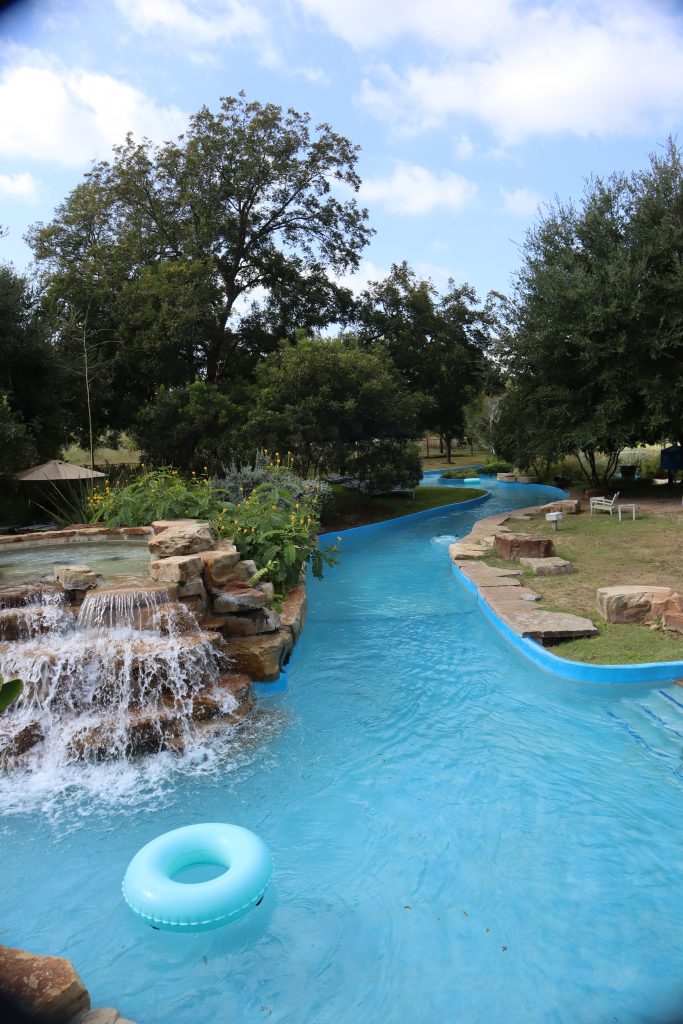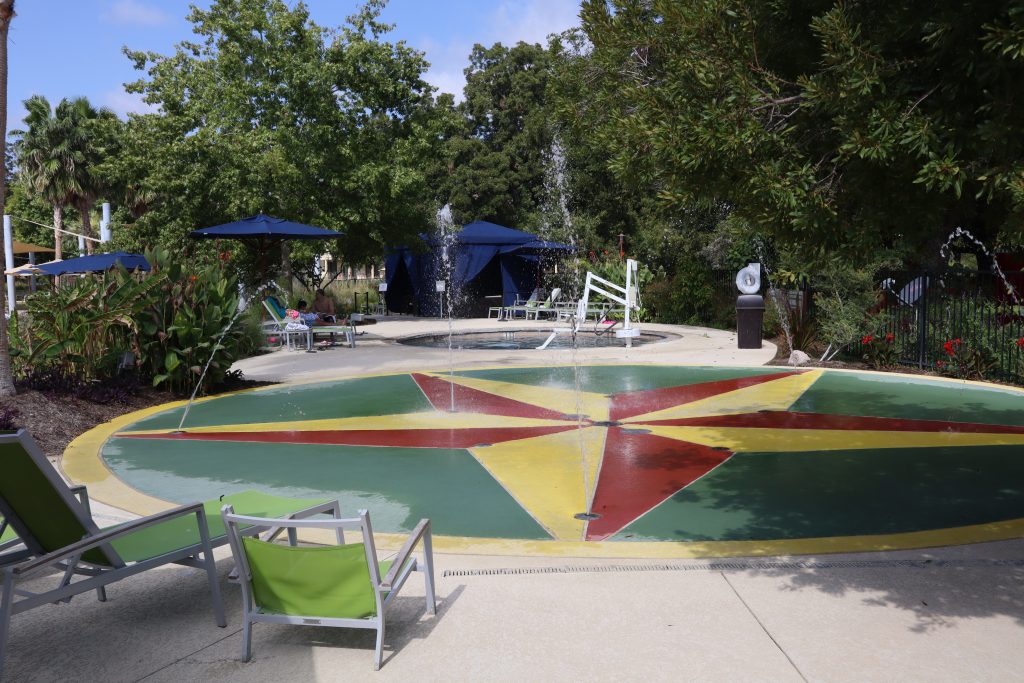 Other activities at The Hyatt Regency Lost Pines Resort & Spa
There's a resort fee of $35 per day. That includes use of the pool area, activities like lawn games, s'mores at the fire pit, bike rentals and more.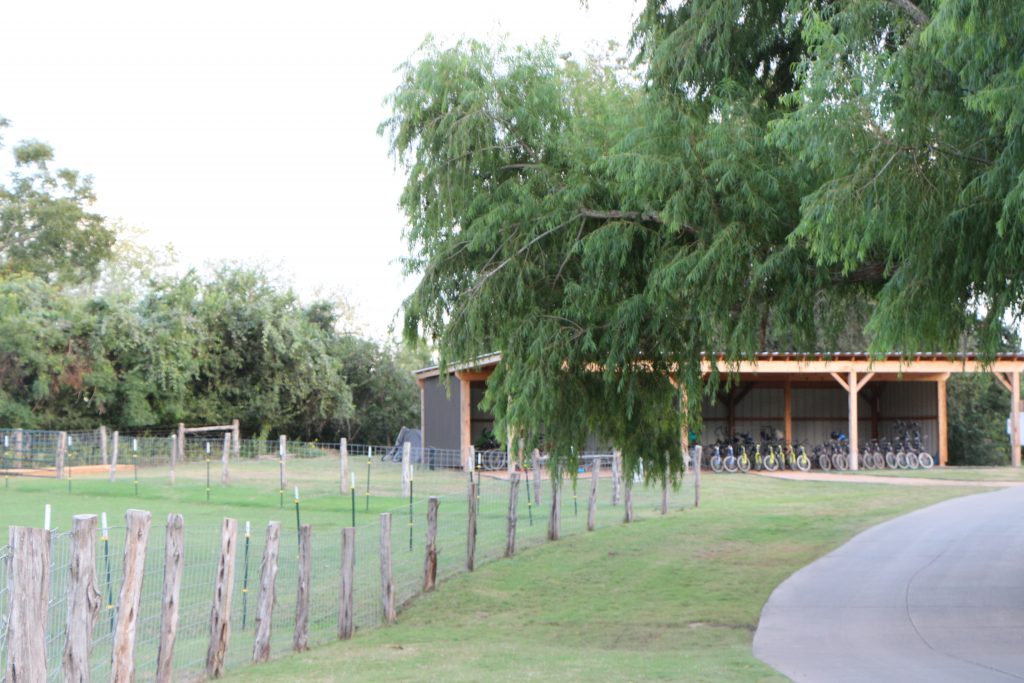 The grounds are a lot of fun to explore. There are gardens, little shady nooks to sit, a river front to explore and more.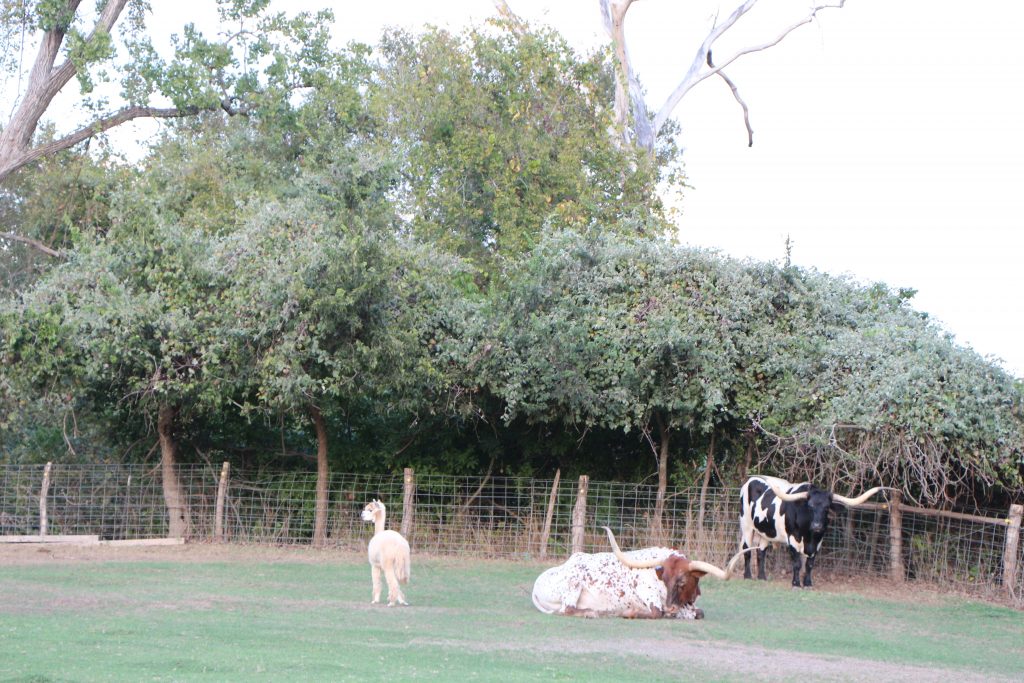 There are a ton of other activities available, from horseback riding to zip lining to water activities on the Colorado River. There's also a kid's camp – Camp Hyatt – that's available for a charge if parents want to do something without the kids in tow. Stop at the concierge desk to get more info on what's available and book your activities.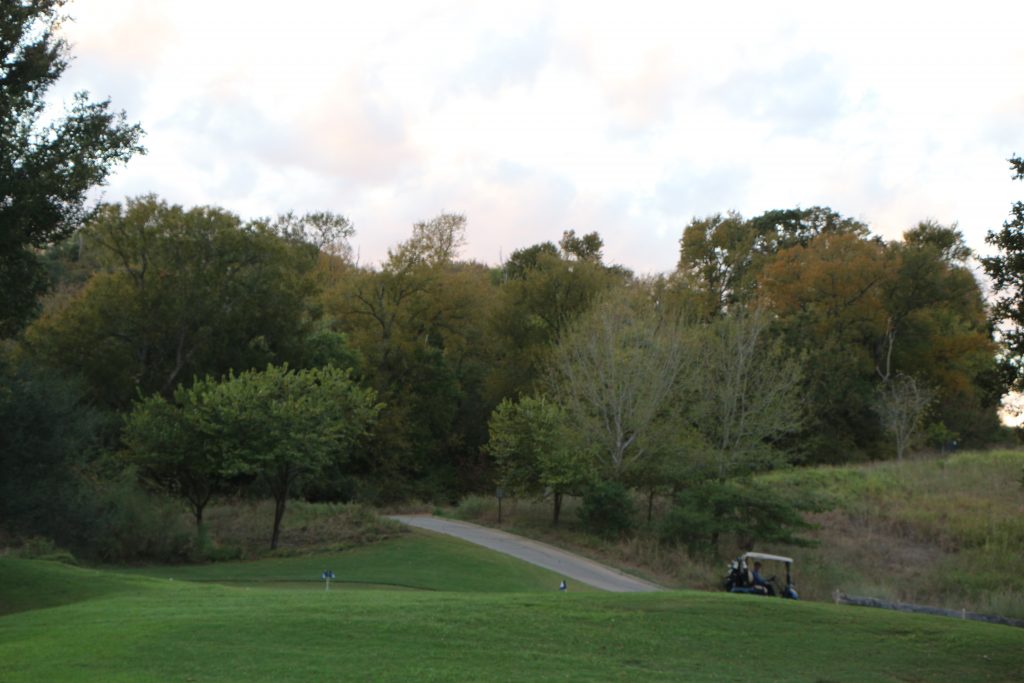 My bottom line:
The Hyatt Regency Lost Pines Resort is luxe without being hoity toity. It's a high-end property with a hometown vibe. If you like luxury but don't want that stuffy, pretentious vibe, this place is for you. It is the perfect luxury resort for families.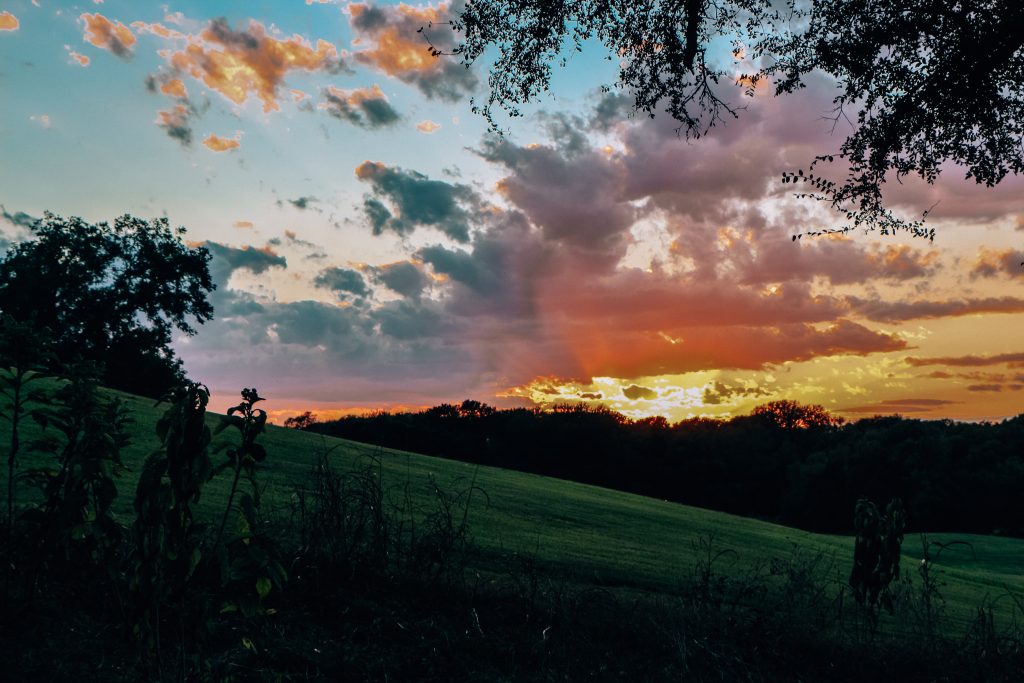 You have all the comforts and amenities you expect from a luxury property and none of that "People are going to give me the side eye because my kids are acting like kids." We were totally comfortable as a sans-kids couple but we can't wait to make a return trip with our boys. It is definitely our kind of place.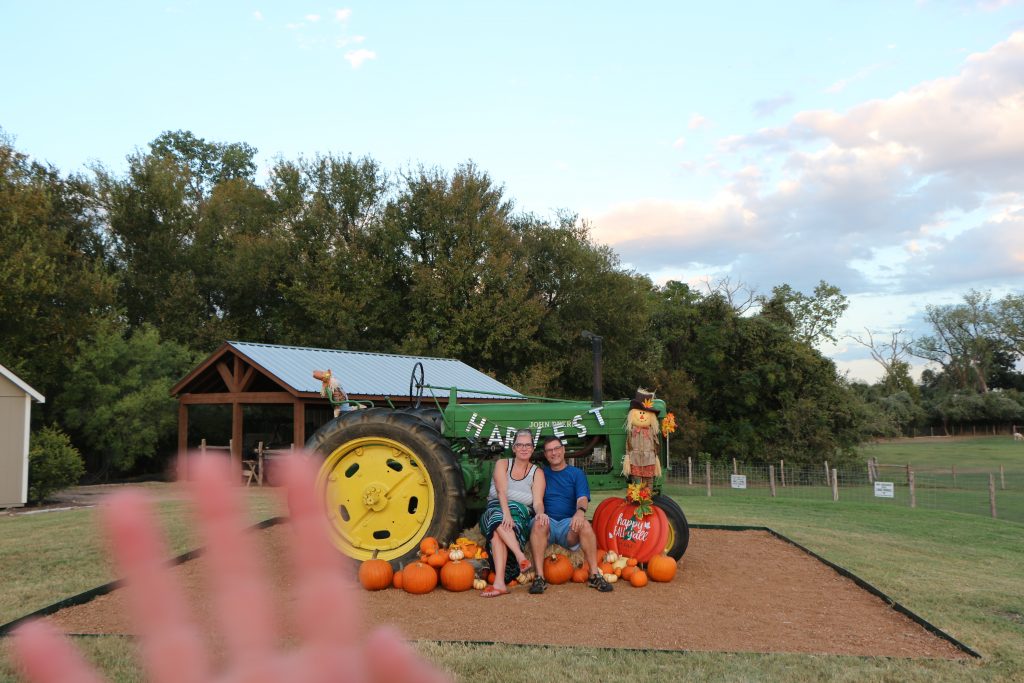 If you're looking for the perfect Texas getaway, I've found it for you. To see more or to contact the property directly, check out their website.
Read More:
The Deluxe Level Resorts at Disney – Why they're worth it