Exploring the Montana Dinosaur Trail in Southeast Montana
(This post may contain affiliate links. Read my full disclosure.)
I'm not sure what it is about dinosaurs that is so fascinating, particularly for younger kids, but my two boys are all-in when it comes to all things dinosaur. Giant, roaring lizards with sharp teeth and horns…I mean, what's not to like about that? My kids have dinosaur everything: from tee shirts to bed sheets to cups and plates but we recently got the opportunity to really learn something about these great beasts who walked the earth so many years ago through exploring the Montana Dinosaur Trail in Southeast Montana. From Glendive Montana to Jordan Montana and all kinds of places in between, we've come away from our time in Montana knowing a whole bunch more about dinosaurs than we did when we got there. Our experience on the Montana Dinosaur Trail has left us wanting more, which is a good thing since we only hit four out of the 14 stops. Only 10 more to go. It's a good start, don't you think?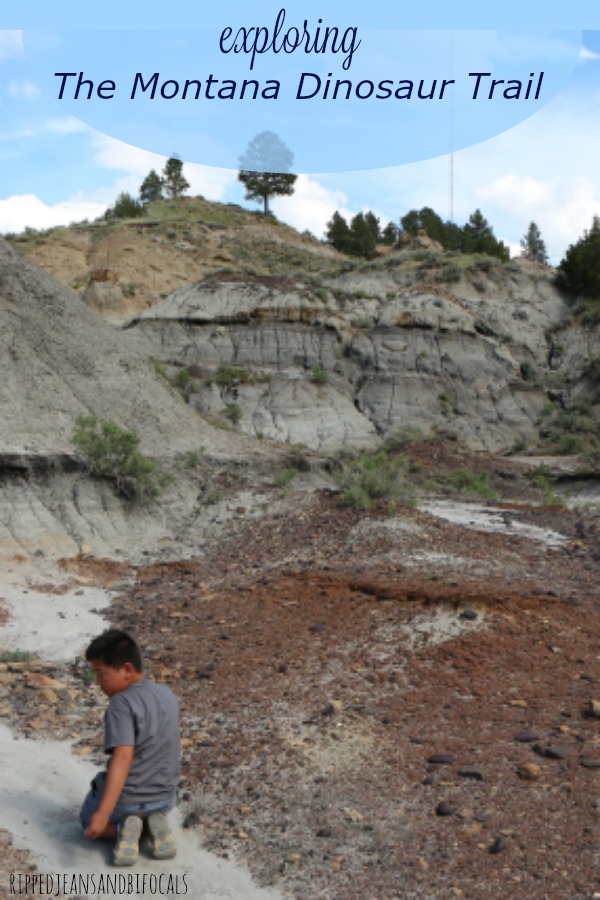 Exploring the Montana Dinosaur Trail in Southeast Montana
My family was hosted by Southeast Montana and their partners. All opinions are mine.
What is the Montana Dinosaur Trail, exactly?
The Montana Dinosaur Trail is a trail that runs across Montana and consists of 14 locations. Each location offers a glimpse at the historic dinosaur discoveries in the state and provides visitors with a better understanding of the giants that once inhabited the planet. Each stop on the dinosaur trail offers something to see, do, learn (or maybe all three) in the form of exhibits, programs and field digs.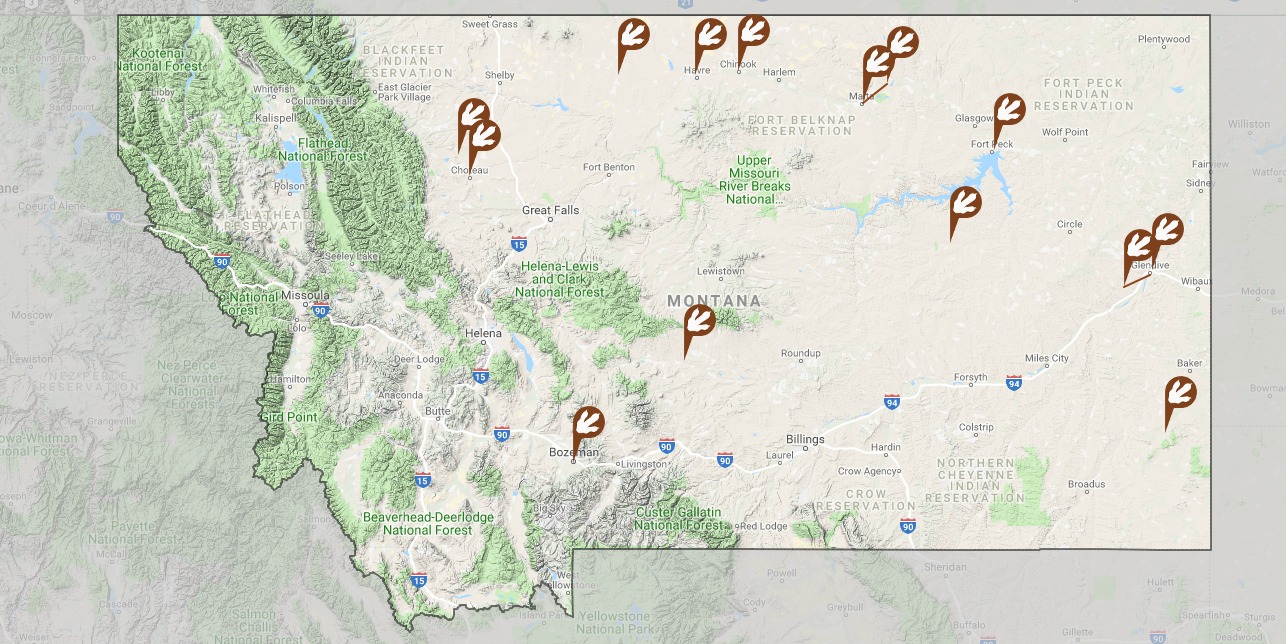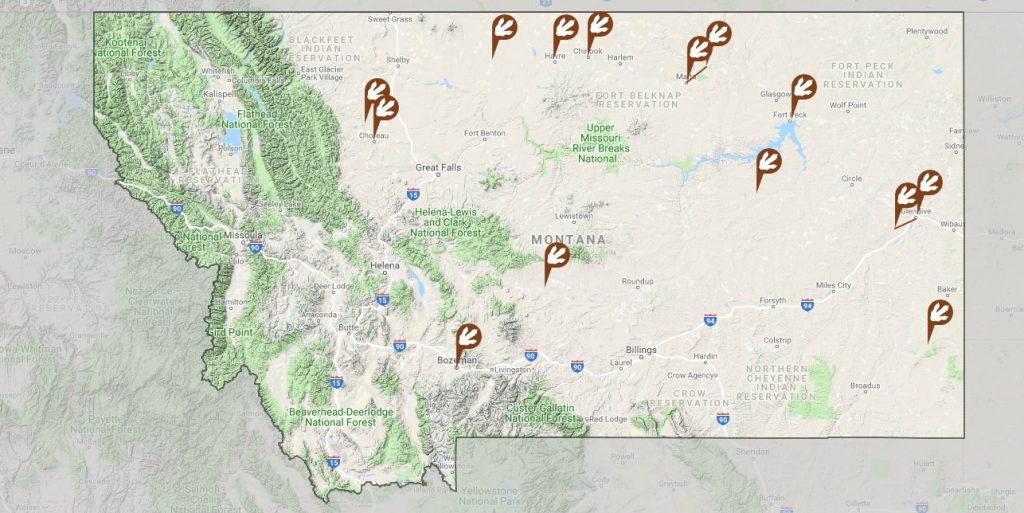 You can memorialize your visits to each of the stops by using the Montana Dinosaur Trail passport, which is a little booklet you can get stamped when you visit each location. If you complete the trail within five years, you get an exclusive tee shirt. The book costs $5 and can be ordered online or purchased at any of the Montana Dinosaur Trail locations. You'll pay a processing fee if you order online but if you really want to make sure you have them in hand before you set off to explore, the option is there.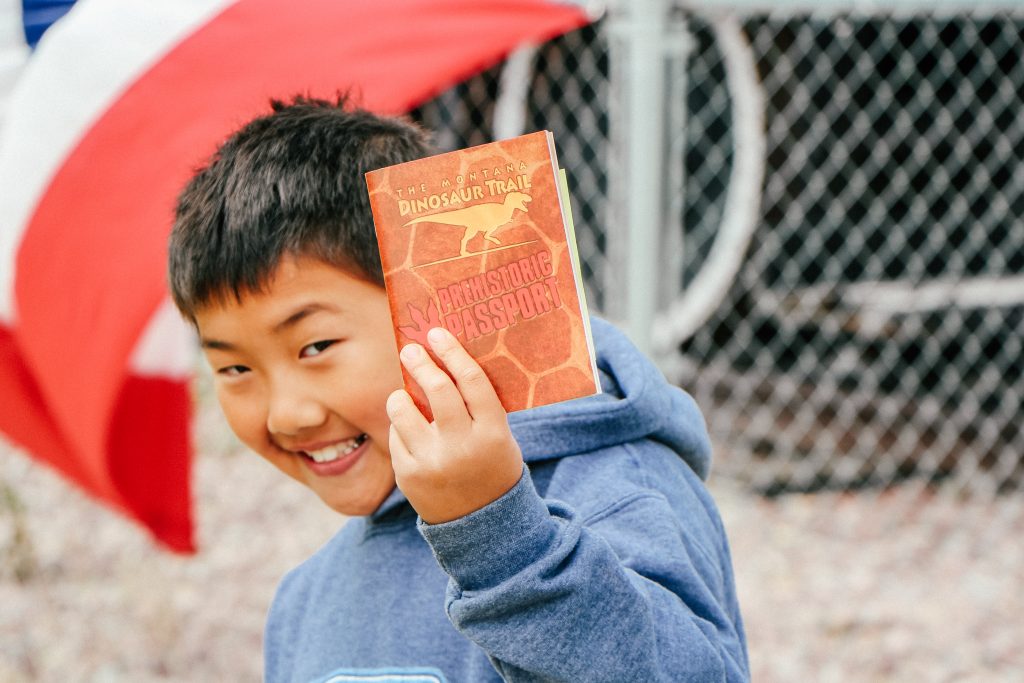 Exploring the Montana Dinosaur Trail in Southeast Montana and Central Montana
We did a seven day loop of Southeast Montana and Central Montana and hit four stops on the Montana Dinosaur trail. If you wanted to extend your trip out a little further than we did on our most recent trip you can hit one that we didn't make it to but probably could have squeezed in (Fort Peck Interpretive Center). We did other activities in Montana besides exploring the Montana Dinosaur Trail but you could easily adjust your itinerary (copy ours here) and checked five stops off the list. Our loop of Southeast Montana and Central Montana started an ended in Billings.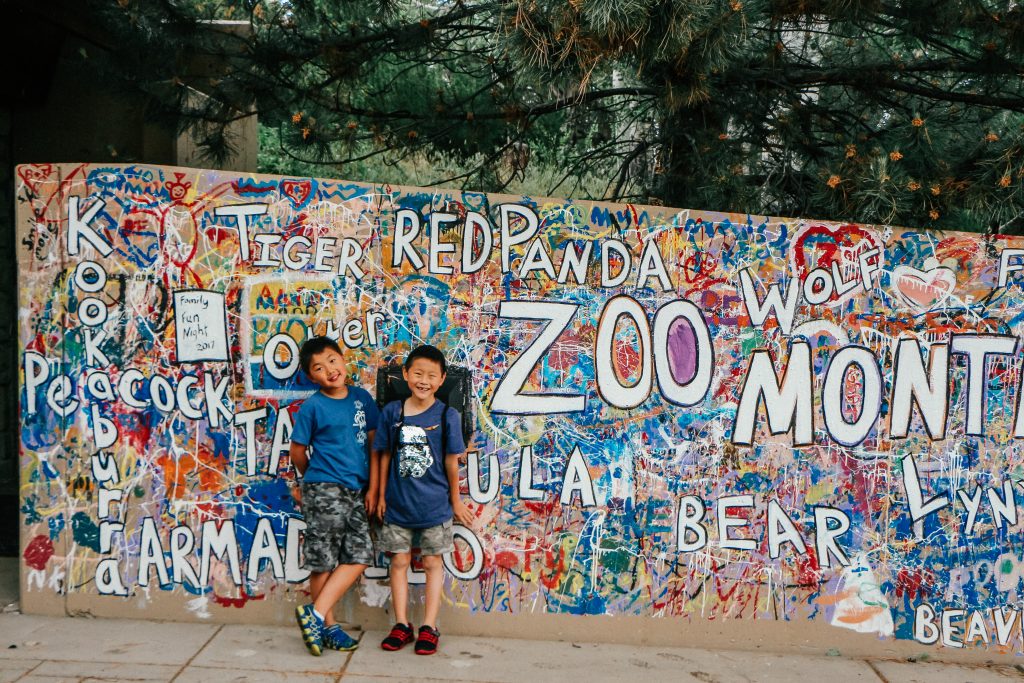 The Montana Dinosaur Trail's website is really well done and I recommend spending some time there before you make your plans. In addition to giving you information on each museum, it will also tell you which museum to visit next, giving you options on which direction you're heading. It will also give you other information on things to do in the area in case you want to do something not related to dinosaurs. I also recommend checking out the Southeast Montana and Central Montana websites for suggestions on places to see, eat and stay in this beautifully rugged area of the country.
In general, the stops on the Montana Dinosaur Trail are open Memorial Day through Labor Day (although there is some variation so make sure you're checking the individual websites or calling) which is a great time to visit Montana. If you go outside those times you're going to be dealing with snow and will probably want to plan different sorts of activities.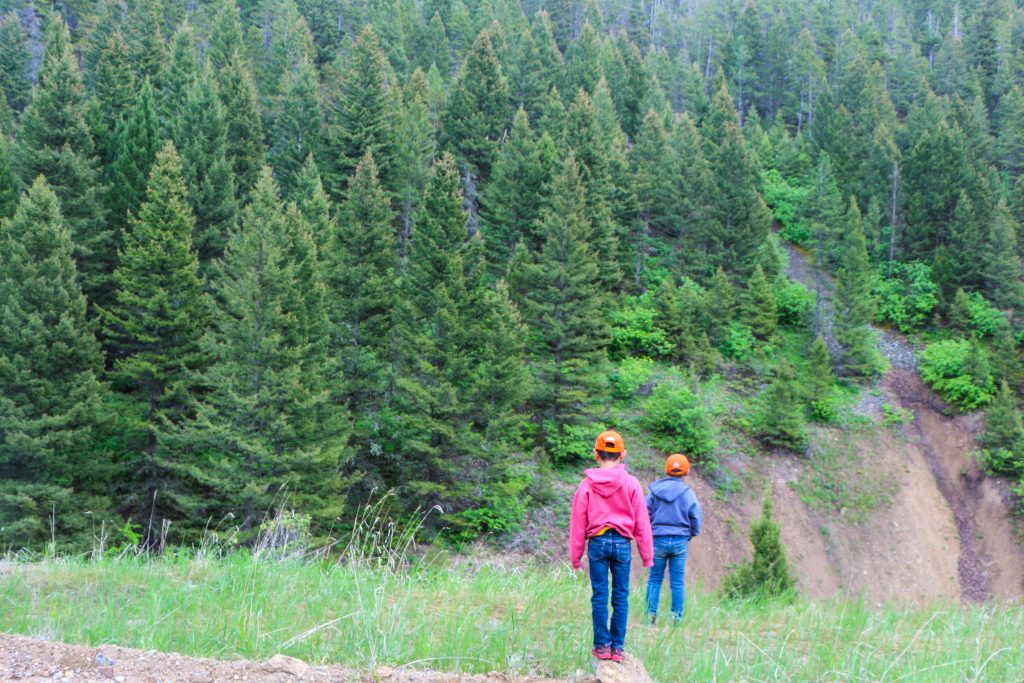 Upper Musselshell Museum in Harlowtown Montana
The Upper Musselshell Museum is open Memorial Day through Labor Day. Hours are 10:00-5:00 Monday through Saturday.
The big draw here is the full-size cast of the Avaceratops, which is a small ceratopsian dinosaur discovered in 1981. I'd never heard of the Ava before so that was a really neat, educational moment. The Avaceratops was named after the wife of the man who discovered her bones. I think it would be pretty cool to have a dinosaur named after you, right?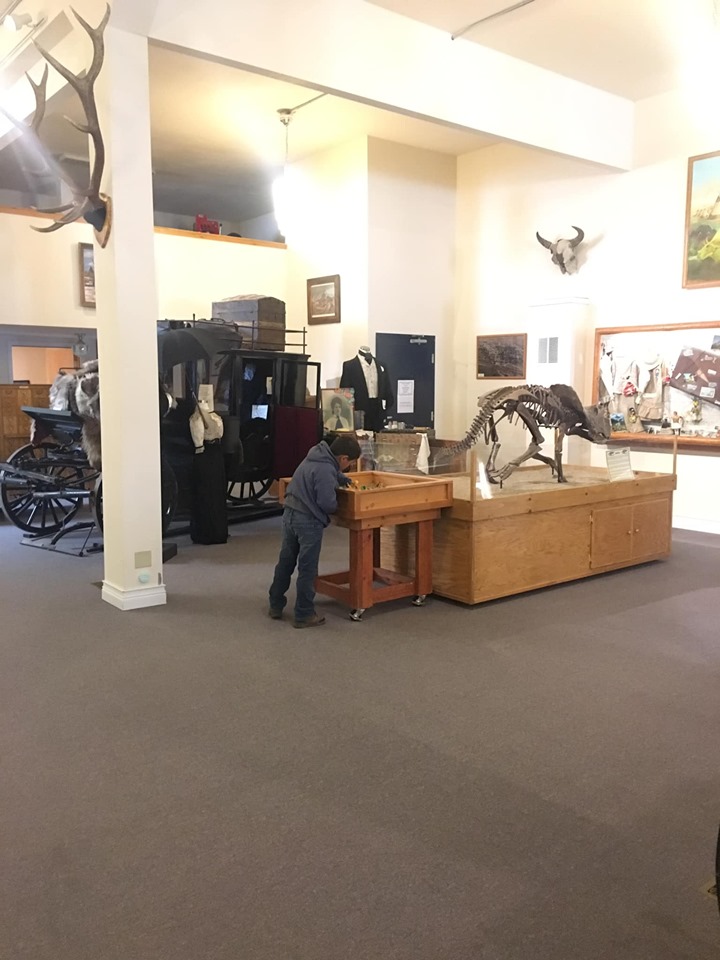 In addition to dinosaur exhibits, there are exhibits that teach you about the how the area was settled. It's really nicely laid out and very well organized. There's also hands-on activities for children, such as a mini-dig site and a coloring table. As you'll find with most people you'll meet in Southeast Montana, the museum staff are very friendly and helpful and more than happy to give information about the things you see in the museum or the surrounding area.
You can get through the Museum in an hour and see pretty much everything. You can spend more or less time there if you wish but allow for at least an hour. If you want to grab breakfast, lunch, or coffee while you're in town, Sun Dog Coffee is right up the street.
Don't forget to buy your Montana Dinosaur Trail Passport and if you already have it, don't leave without getting it stamped.
Garfield County Museum in Jordan Montana
If you really know your dinosaur history, you know that this is where T-Rex was initially discovered. You can check out the Garfield County Museum to see memorabilia relating to the discovery of the T-Rex as well as a Triceratops cast. There's also some real Triceratops fossils that you can touch. Most of the bones you'll see in museums along the Montana Dinosaur Trail are either casts (replicas) that are off limits for touching or in a display case. The Garfield County Museum has a real dinosaur bone you can touch and everyone knows kids like to touch all the things.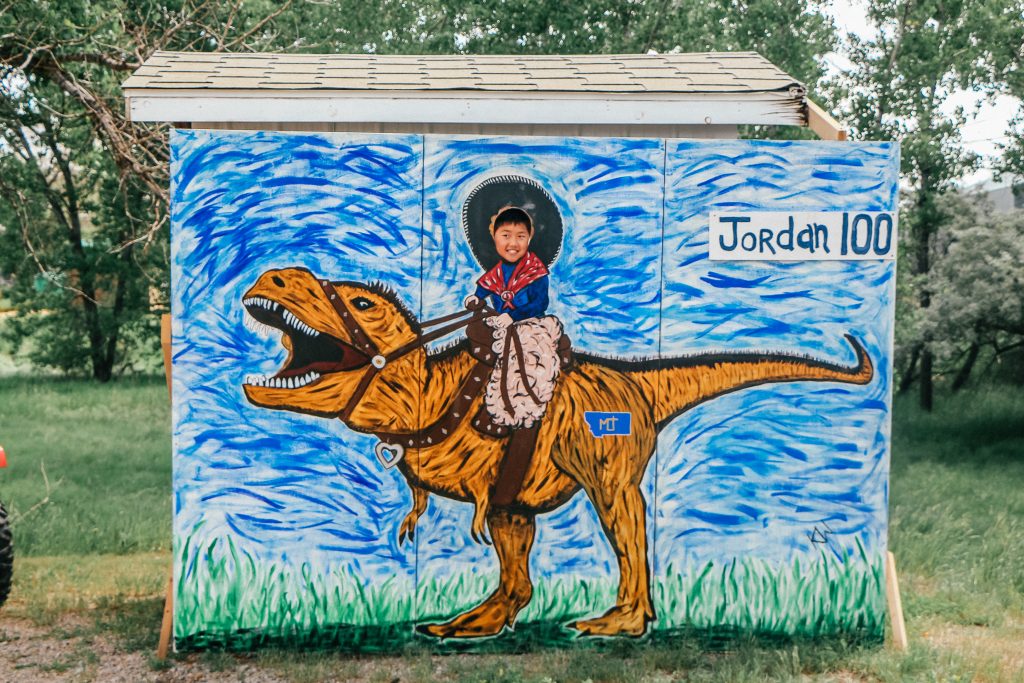 This museum also gives a lot of information on the history and settlement of the area. One of the great things about the Garfield County Museum? It's totally free. Unless you want to read all the newspaper articles up on the walls – there are quite a few that talk about the discover of the T-Rex – I'd recommend 30-45 minutes here.
The Garfield Country Museum is open June 1st through August 31st.
Also to note, Jordan Montana is pretty remote. No matter which way you're traveling, you've got a ways to go before you find services. Make sure you get gas and get something to eat before you head onward. If you want to continue Northeast about 95 miles, you can catch Fort Peck Interpretive Center on this trip.
Makoshika State Park
Makoshika State Park is near Glendive Montana. Makoshika is a Lakota phrase that means "bad land" or "bad spirit." If you want to walk the same trails as T-Rex and Triceratops, walk along the hiking trails and try to image what the land looked like millions of years ago, this is your place. The Visitor's Center has a great interpretive exhibits that your kids will love. When we visited, there was a paleontology intern from Montana State University at Bozeman (don't make the rookie mistake of referring to it as the University of Montana because they'll potentially ask you to leave the state…only kidding a little bit) on site and he was full of answers…because, of course, my kids were full of questions.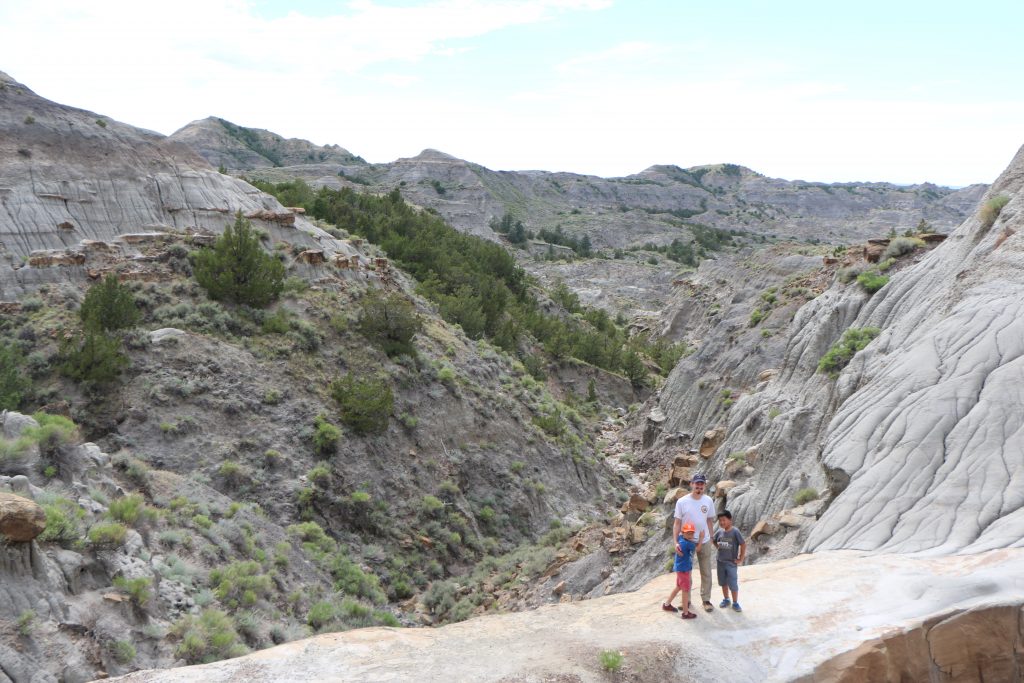 There's a nominal fee to enter Makoshika State Park and additional fees apply if you'd like to camp there. It's a fantastic place to explore and if you ever thought the badlands were a desolate and ugly place, it's anything but.
Makoshika State Park is open year round but there are summer and winter hours for the visitor's center, so make sure you check out their website. If you want to breeze through the exhibits in the visitor's center, you can get through it in 30 minutes or less but there's so much outdoor beauty that you're doing yourself a disservice if you don't explore the rest of the park.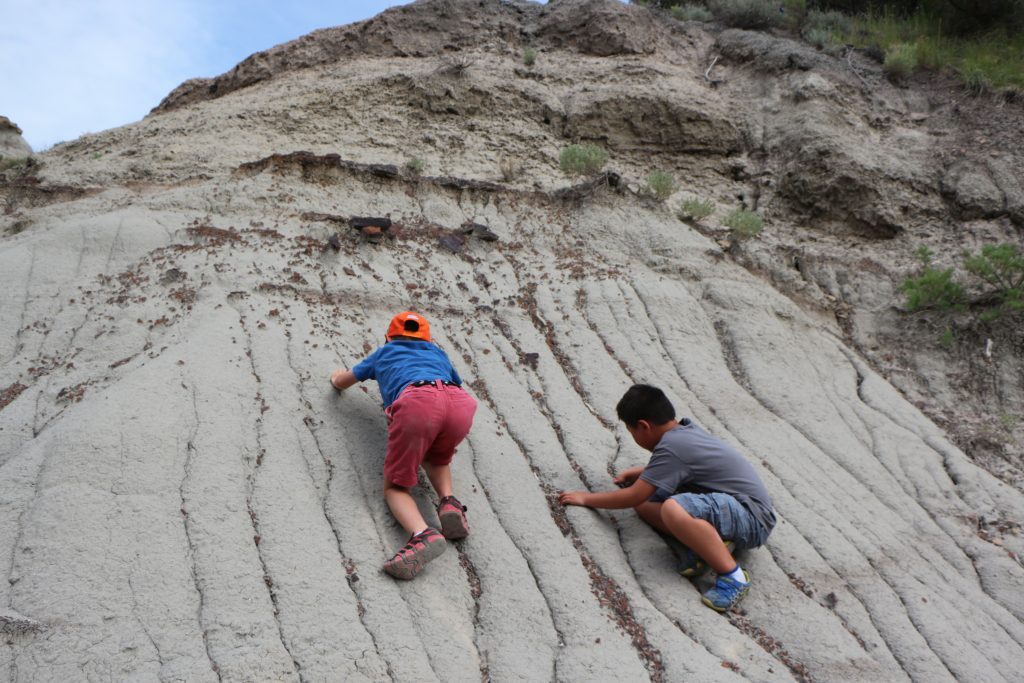 Frontier Gateway Museum
Frontier Gateway Museum in Glendive Montana is open Memorial Day through Labor Day. Hours are Monday through Saturday from 9:00-5:00 and on Sunday from 1:00-5:00. Admission is free.
You'll also find dinosaur and fossil exhibits here but you'll also find exhibits about the history of the area, to include some outdoor/open air exhibits in the back.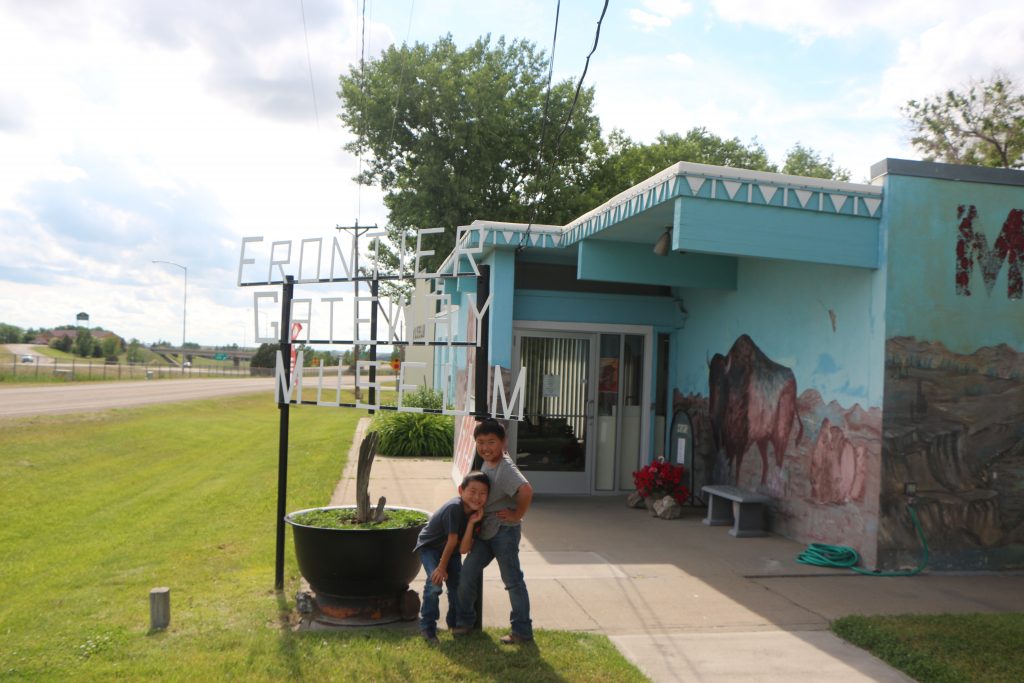 Glendive is full of things to do and you could easily spend three days exploring. This was one of our favorite stops during our Southeast Montana vacation.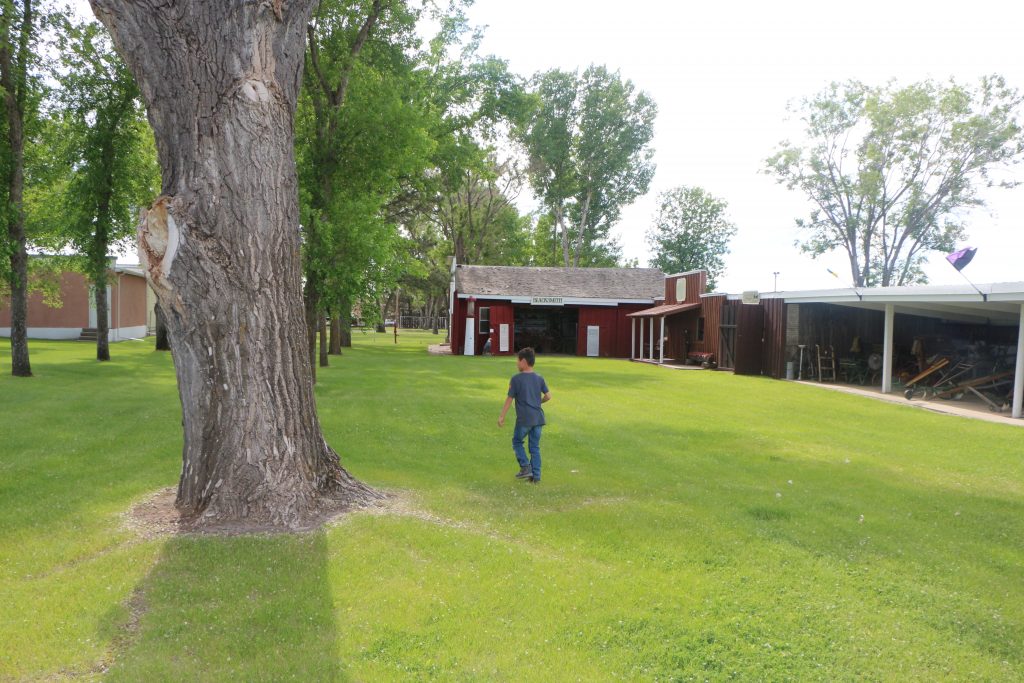 Other dinosaur related fun in the area
What's considered to be officially a part of the Montana Dinosaur Trail is listed on their website. However, there is dinosaur fun all around this area of Montana and there are things dinosaur lovers of all ages will enjoy that aren't a part of the Montana Dinosaur Trail in Southeast Montana. This is a pretty remote area that requires some effort to get to so here are some additional things I recommend in the area:
Baisch's Dinosaur Digs
Basich's Dinosaur Digs is located in Glendive and I highly recommend you don't leave the area without checking it out. It's a 7,000 acre private ranch that offers half day and full day guided digs. You'll need to book in advance and price-wise, the experience is a little bit of a splurge, but it's a one-of-a-kind experience. You'll start your day with a quick briefing on what fossils look like and then continue out to a private ranch in Montana's badlands to see what kind of fossils you can find.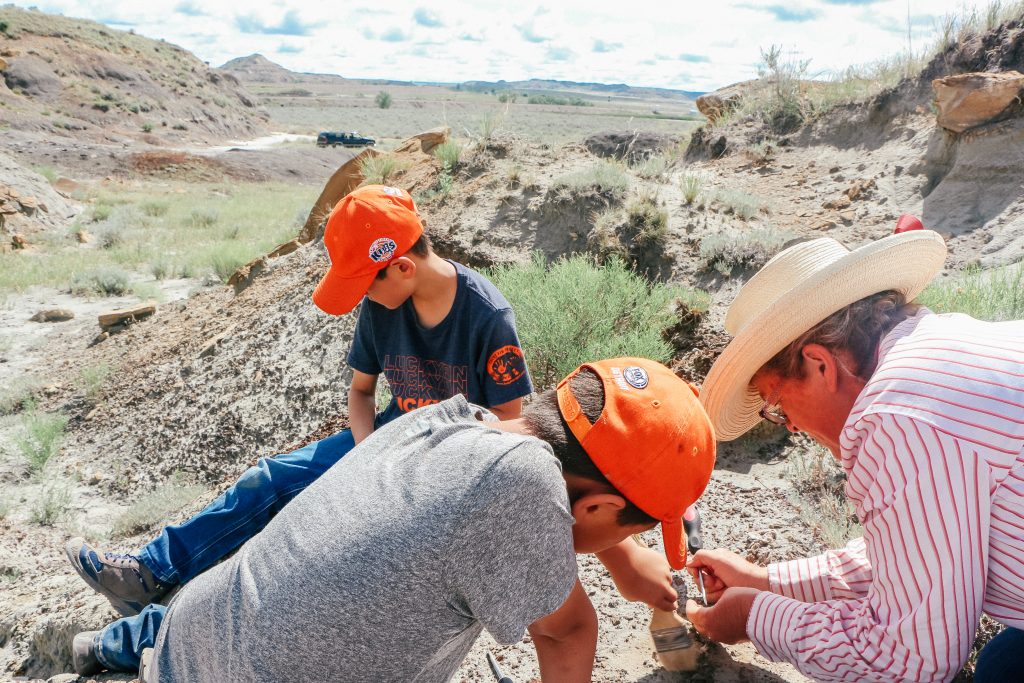 This was one of our favorite parts of our trip. Not only did we uncover some fun finds, we got to play in the most amazing playground. The badlands are a super fun place to explore.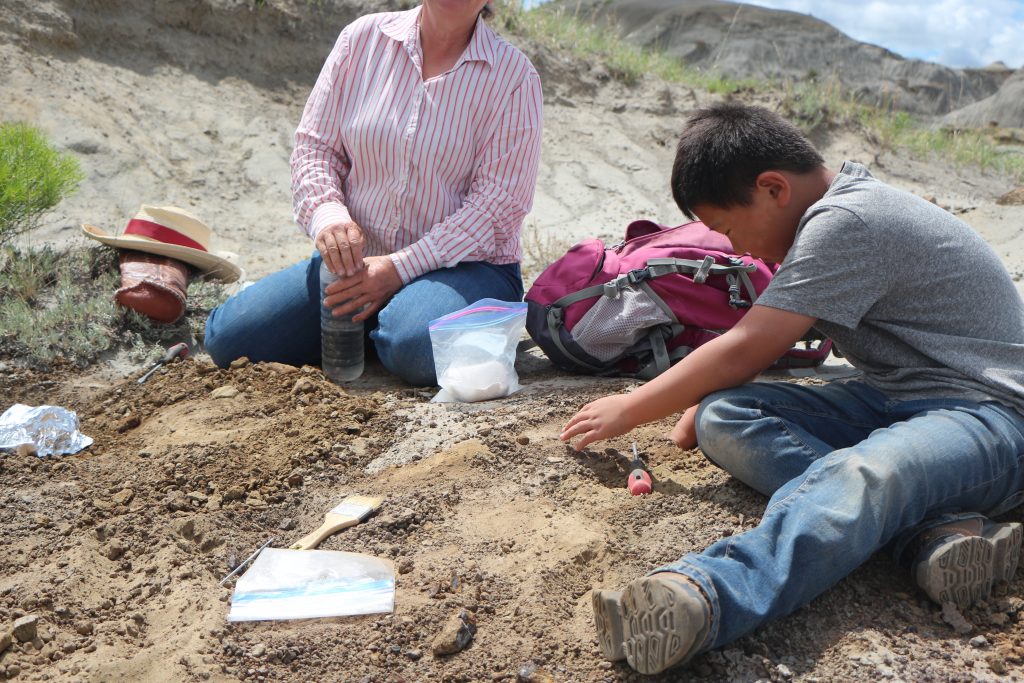 Hell Creek Music
Also located in Glendive, Hell Creek Music is a music store on Merrill Avenue that has a 38 foot T-Rex cast inside. It's definitely worth a stop because…38 foot T-Rex cast.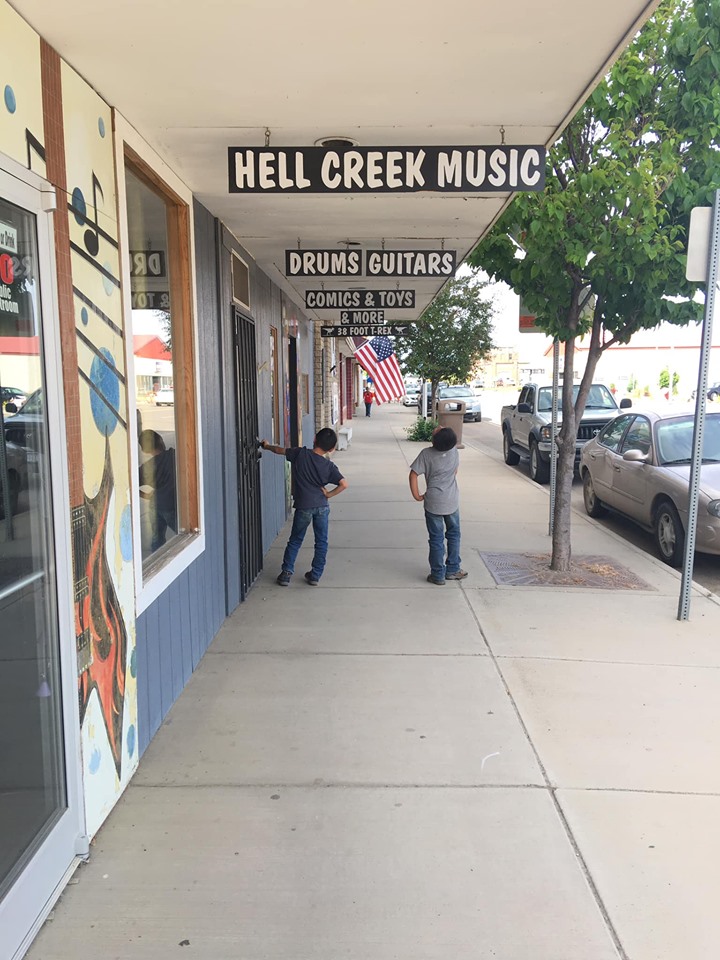 Glendive Dinosaur and Fossil Museum
This is a very well done museum with two levels of exhibits, a movie theater and a gift shop. To know before you go: the somewhat unconventional philosophy of the museum. They strongly subscribe to the theory of a young earth and that humans and dinosaurs lived on earth together. There are many exhibits in the museum that suggest the reason dinosaurs became extinct is because Noah didn't take them on the arc. It's a little bit hard to get your head around but if you disagree with that theory, don't let it deter you from visiting. My kids took it for what it was worth: a fun place to learn about more dino stuff.
The Glendive Dinosaur and Fossil Museum is open April through August with specific hours for summertime. Admission price is $8 per person with reduced admission for kids and seniors.
You might also like:
Places to visit in Montana that aren't Yellowstone or Glacier