Things to do in Georgetown Texas
(This post may contain affiliate links. Read my full disclosure.)
Georgetown Texas is 28 miles north of Austin. If you're planning to be in Austin or San Antonio, Georgetown makes an easy side trip or day trip but this list of things to do in Georgetown Texas will show you why I think Georgetown deserves a dedicated trip.
Georgetown has a little bit of an Austin vibe…some of the quirky weirdness has migrated north and joined with the historic buildings, tranquil parks, and small-town charm to form something entirely new. You'll know you're in Texas because people will smile at you on the street and stop and chat with you. I've driven past Georgetown on Interstate 35 I don't know how many times without stopping. This delightful city is worth stopping for.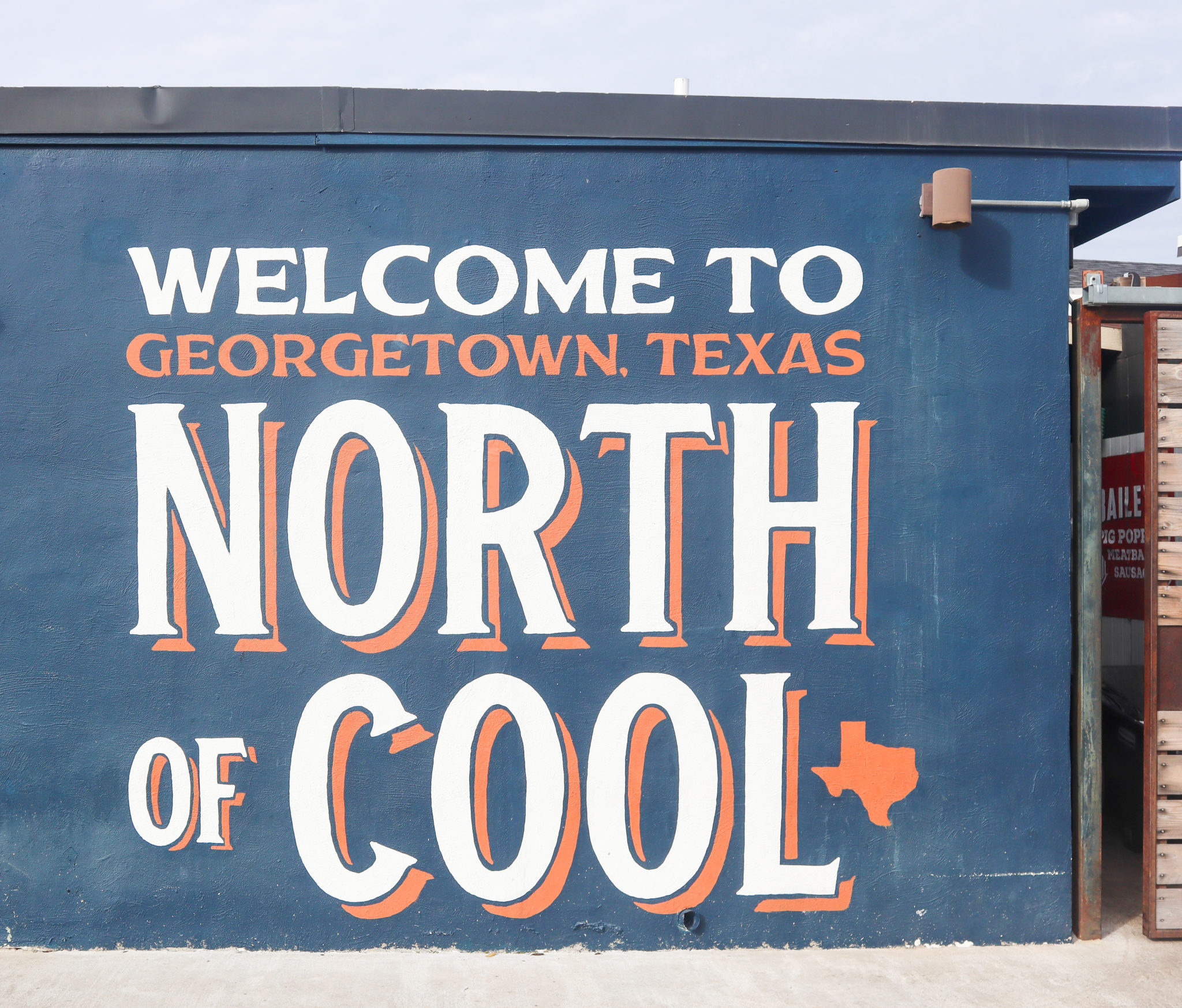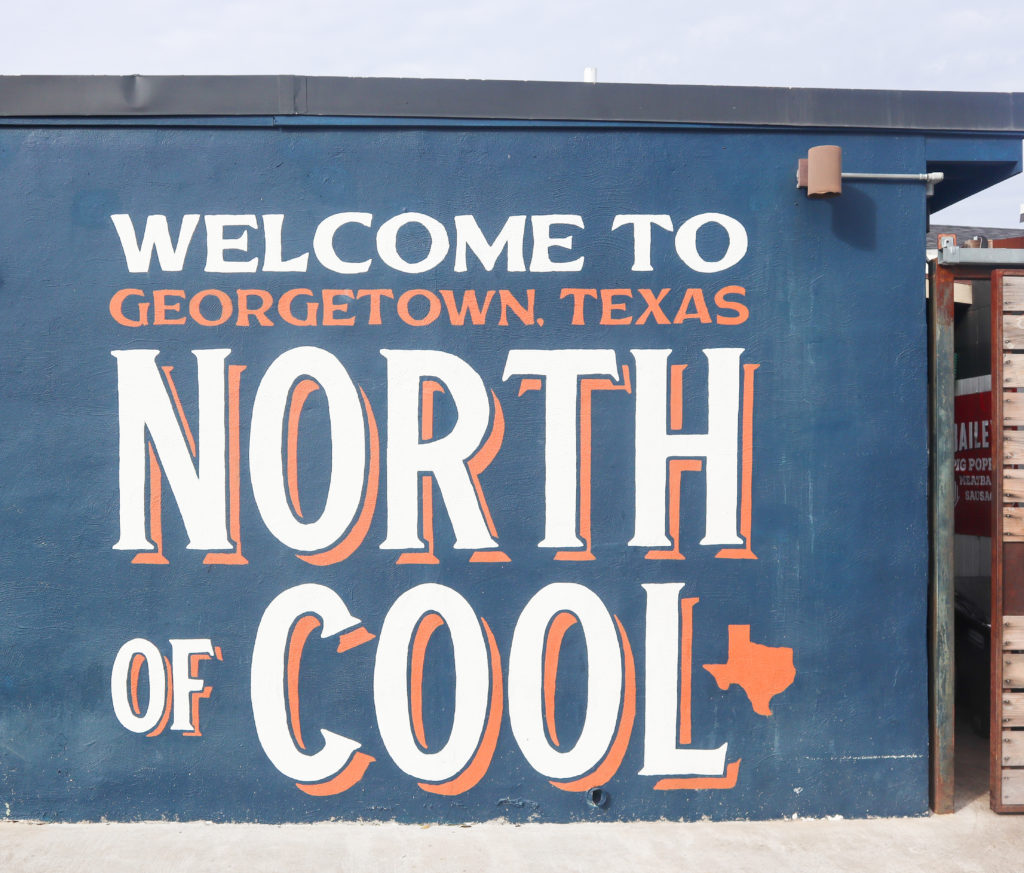 Things to do in Georgetown Texas
I was hosted by Visit Georgetown. I spent two days exploring and only scratched the surface of what there is to do, so definitely check out their website when planning your adventure.
Getting to Georgetown
I drove from San Antonio. The 128-mile drive took me about two hours. If you're flying, you can use the San Antonio International Airport (SAT) or Austin Bergstrom International Airport (AUS.) If you're driving from San Antonio, Georgetown is straight north up Interstate 35, although I took the toll road to avoid driving through downtown Austin. Make sure you have a TxTag pass or stop and pay the toll.
The Georgetown Square
Most of the activities visitors will want to engage in are located around the historic town square. The town square is easy to navigate and it is fairly easy to find parking, although you might have to circle a time or two during busy periods. There's a great mix of dining, shopping, and places to have drinks. There's a clean public restroom on Church Street behind Sweet Lemon Cafe. If you want to sip while you stroll, get a glass of wine to go to one of the wineries in town.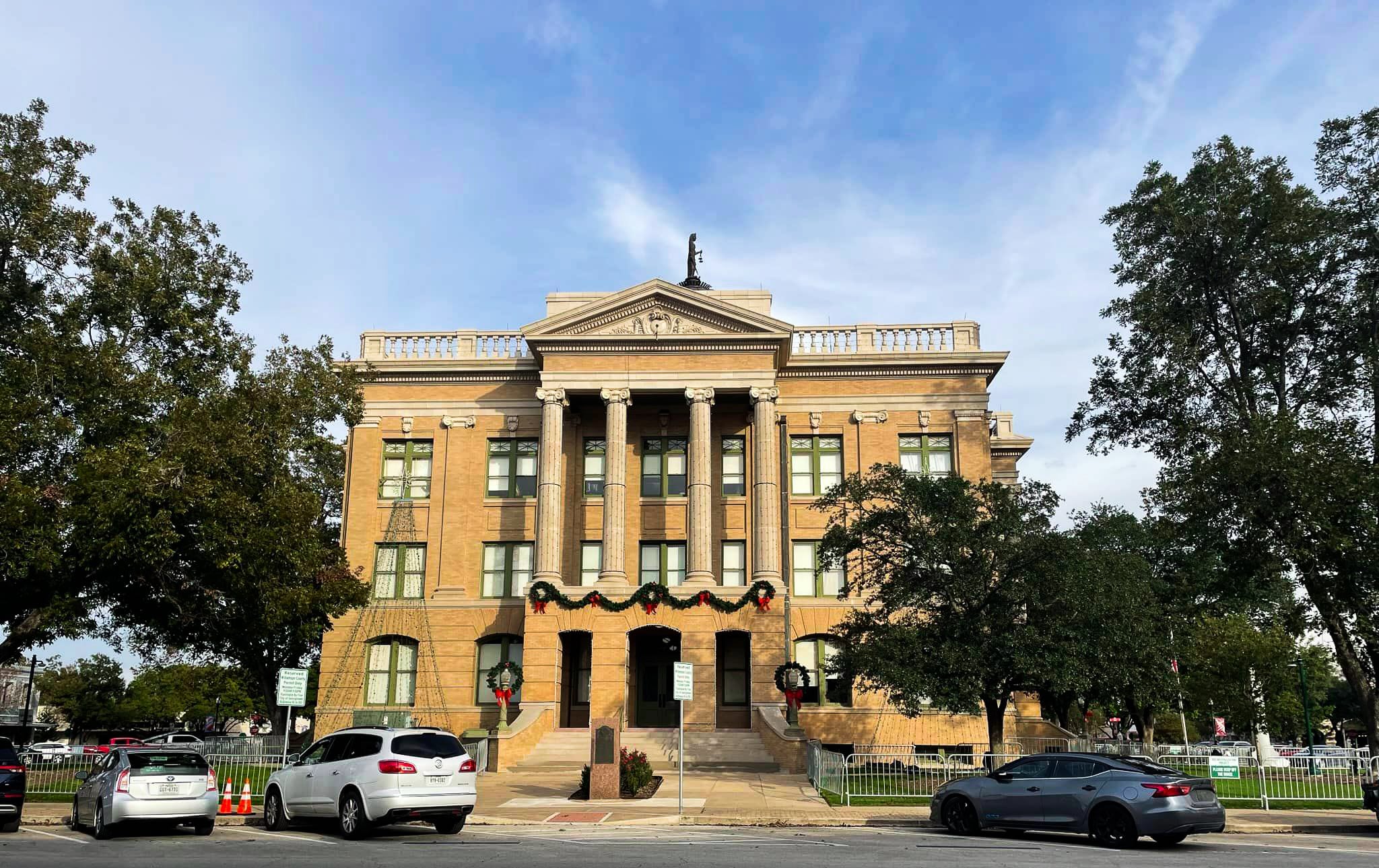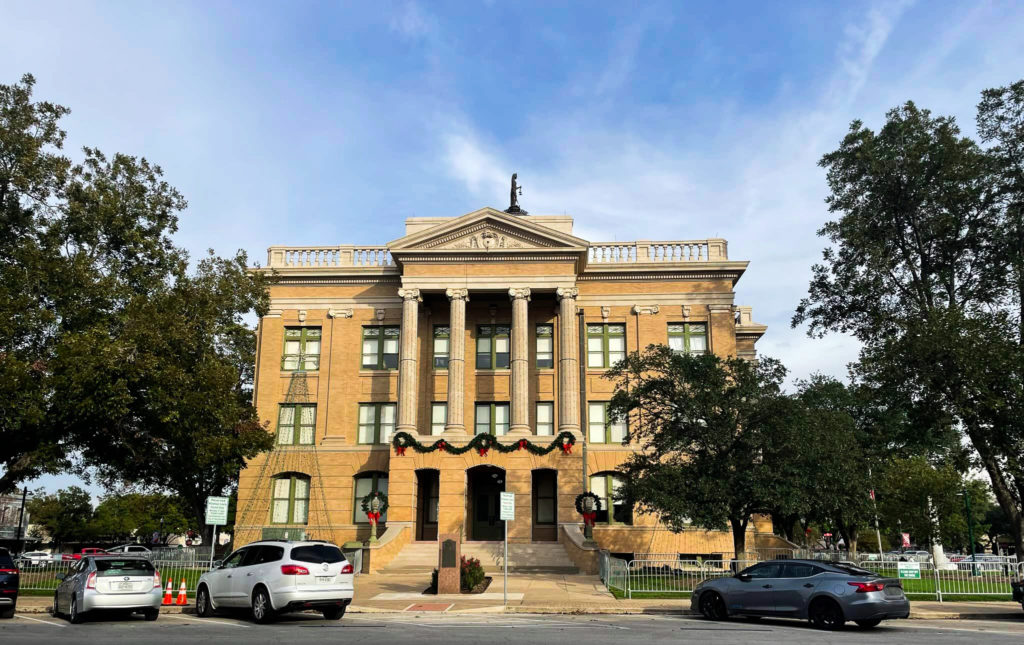 Shopping in Georgetown
My list of stores in Georgetown barely scratches the surface of the fun little boutiques to pop in and out of. Here are a few of my favorites (AKA places that now have some of my money) but don't limit yourself to just these. I'm convinced you could plan a dedicated shopping trip and still not see all the stores. If you can't find something you like, you're doing it wrong.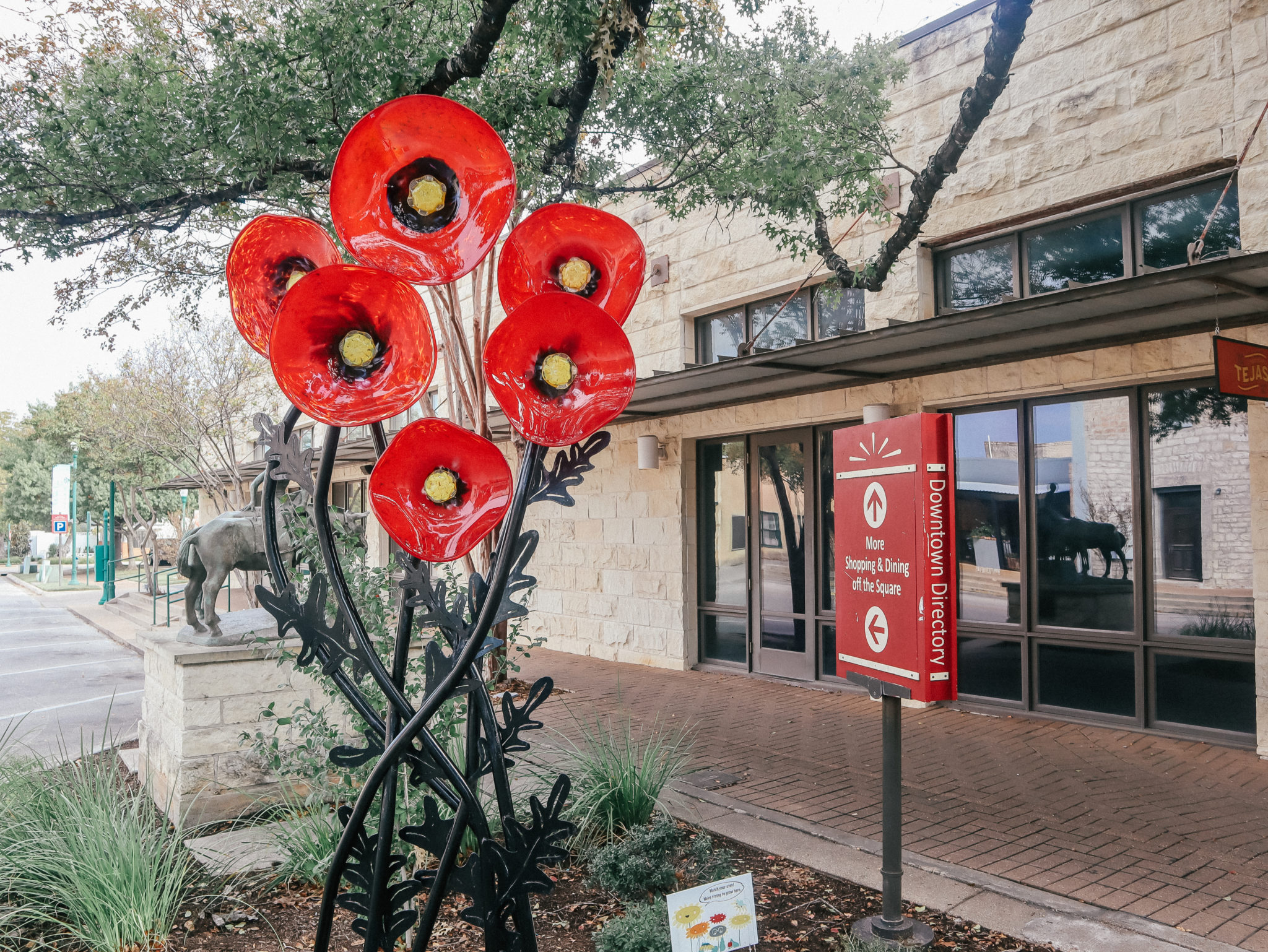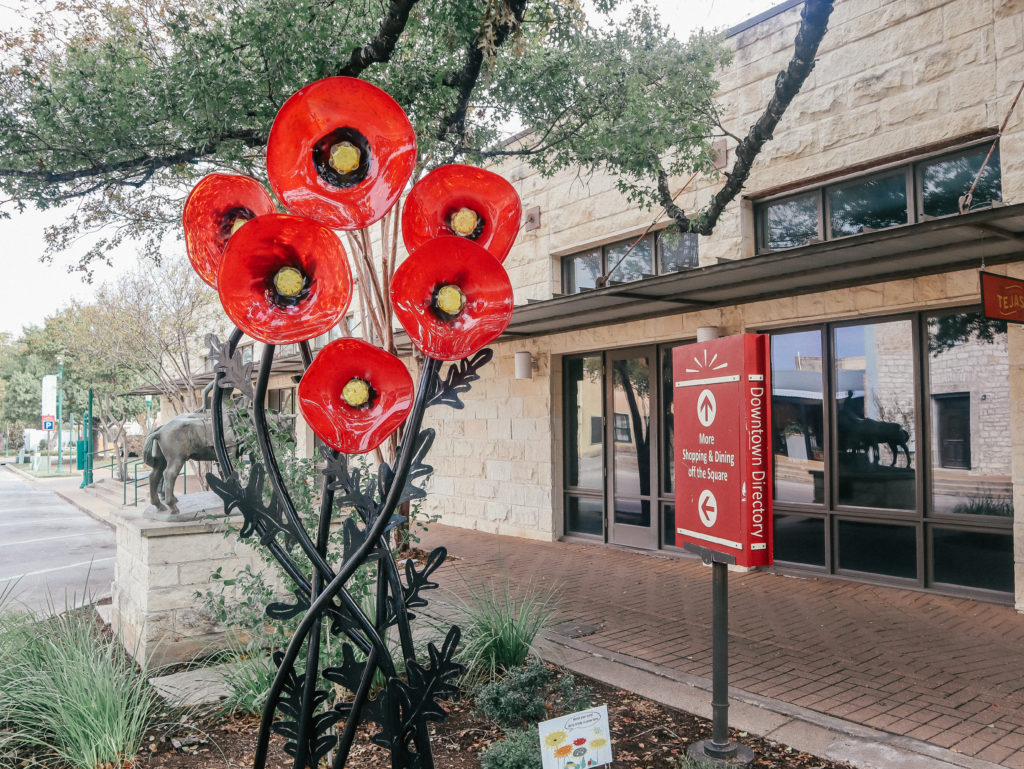 Brazos Market
The Brazos Market sells mostly women's clothing, jewelry, and other gifts. They're a fun, friendly place to check out with shopping on two levels.
Lark and Owl Booksellers
This bookstore sells inventive gifts and has a small cafe in the back that sells both alcoholic and nonalcoholic drinks. The vibe is both soothing and quirky and I found a fun selection of merchandise, such as "seed pops" for my kids to plant, fun socks, and earrings made of old typewriter keys. It was the adult version of going to the book fair and not buying books but I had a blast looking around.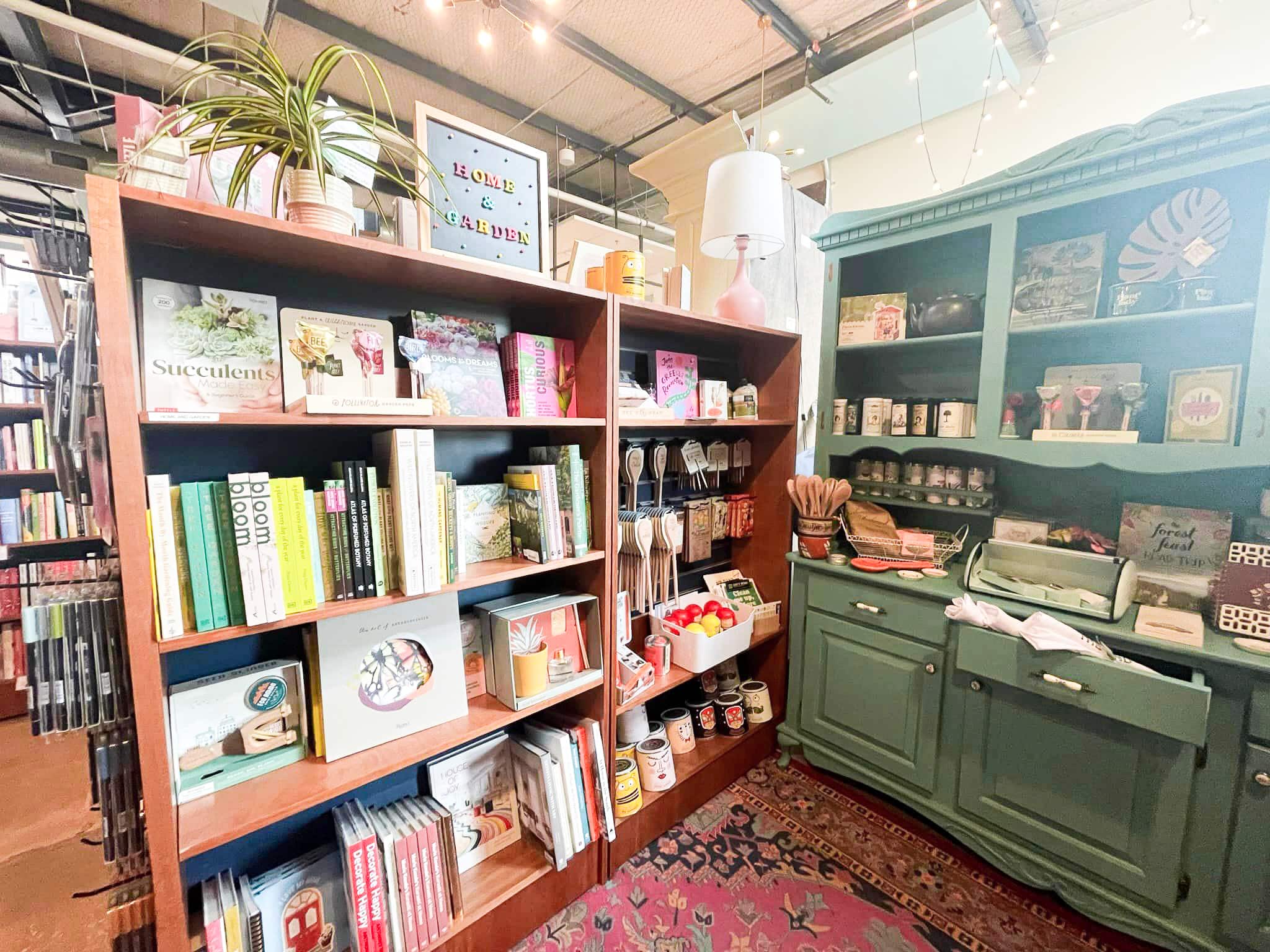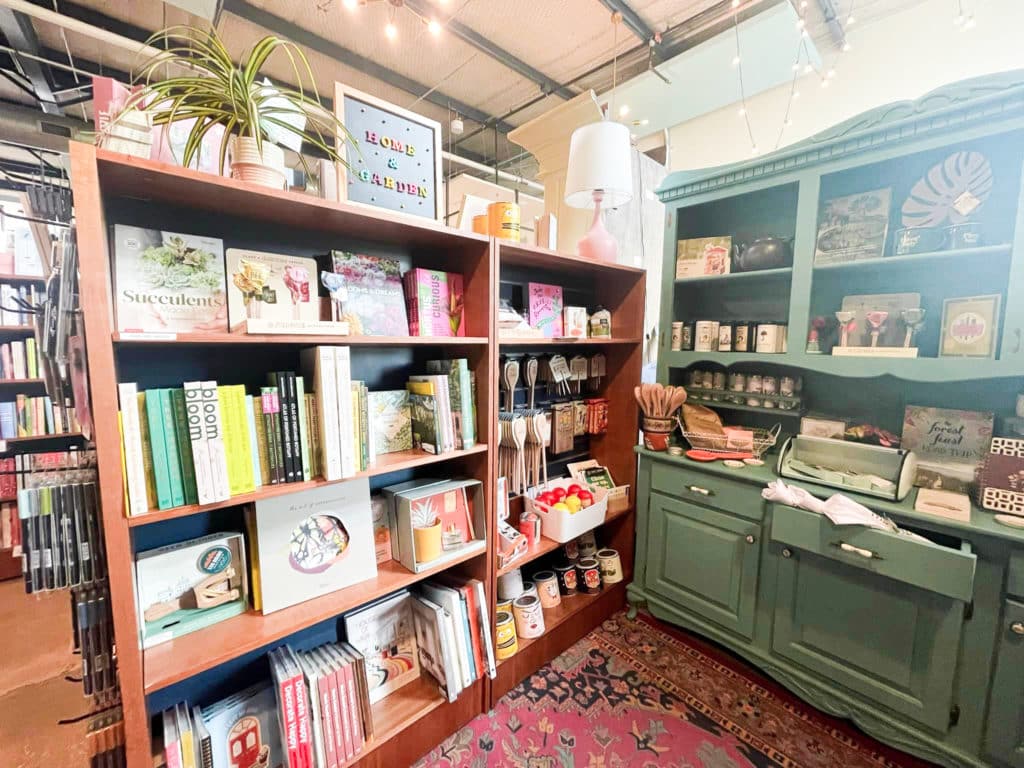 Foundry 42 Coffee and Gifts
This beautifully decorated store has gifts and housewares. There's a coffee bar with seating in the rear of the store with pastries and a few other assorted snack items. I had the BEST cafe mocha I've ever had here and I usually don't throw out phrases like "the best" and "favorite ever." This hit best-ever status for me.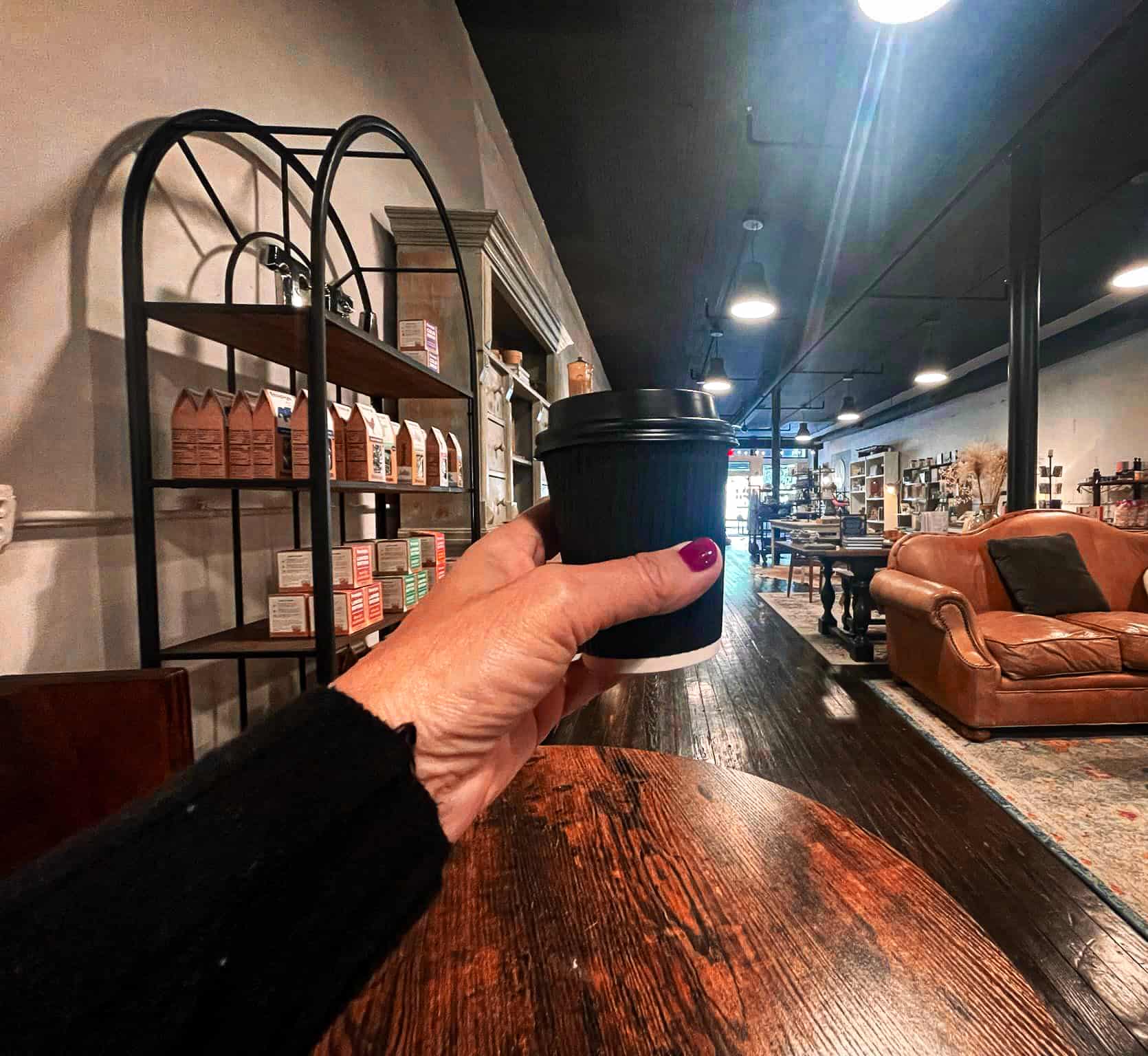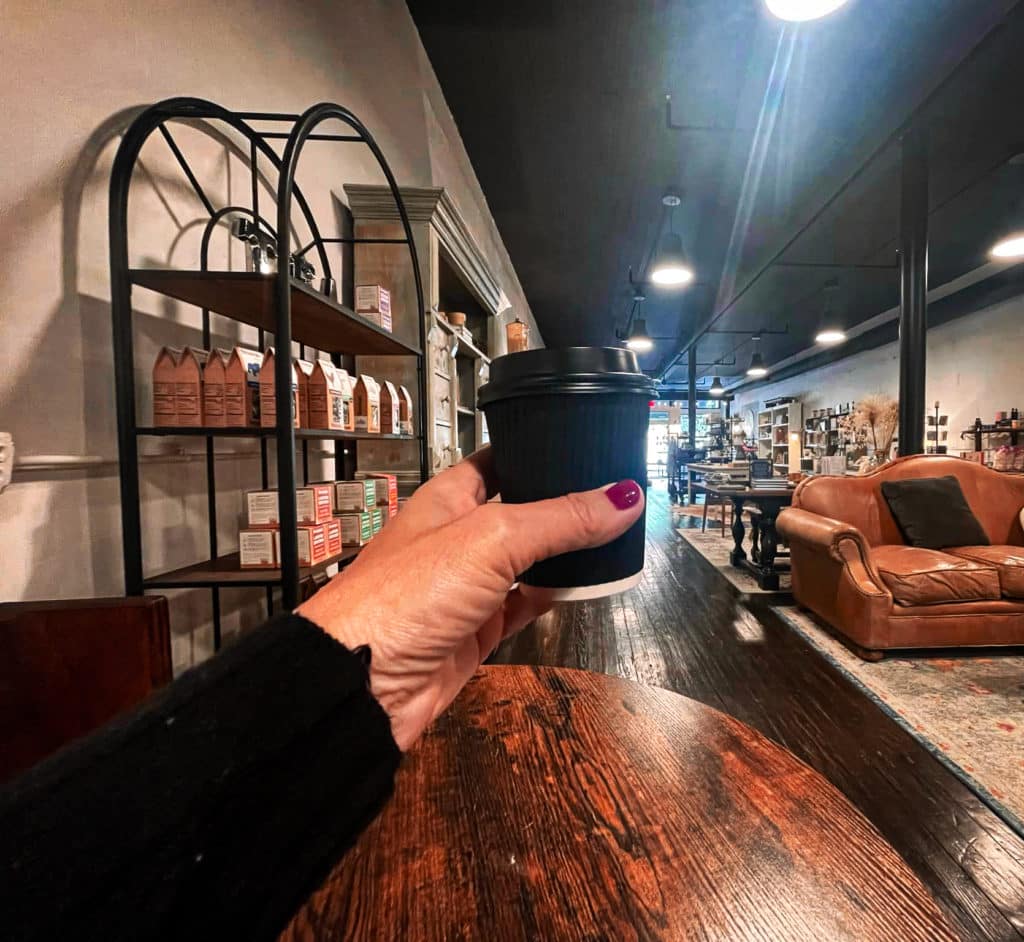 Ooh La La
This boutique sells jewelry, home goods, and other gifts. The space has a fun, vintage vibe and has some antique linoleum for sale that I talked myself out of but might go back for.
These places reflect my shopping interests – books and gifts marketed to women, usually things that smell good and are shiny. There are a variety of antiques, home decor, cosmetics, jewelry, kids' toys, and other things for sale on the square but these four stores stood out as my favorites.
Restaurants in Georgetown
I'll include below the restaurants I ate at in Georgetown and my recommendations for each place. For more choices, Visit Georgetown's website has an entire restaurant section.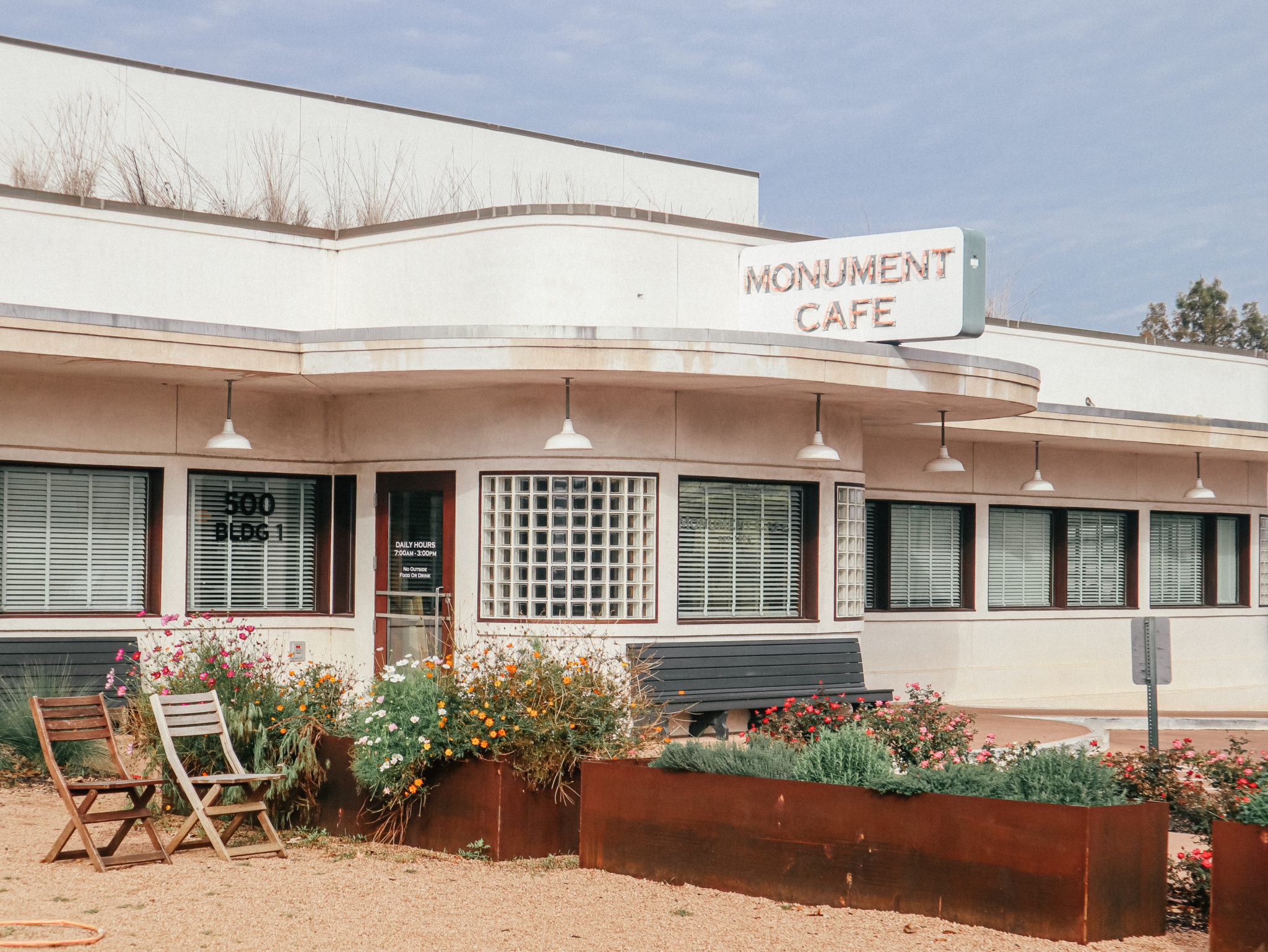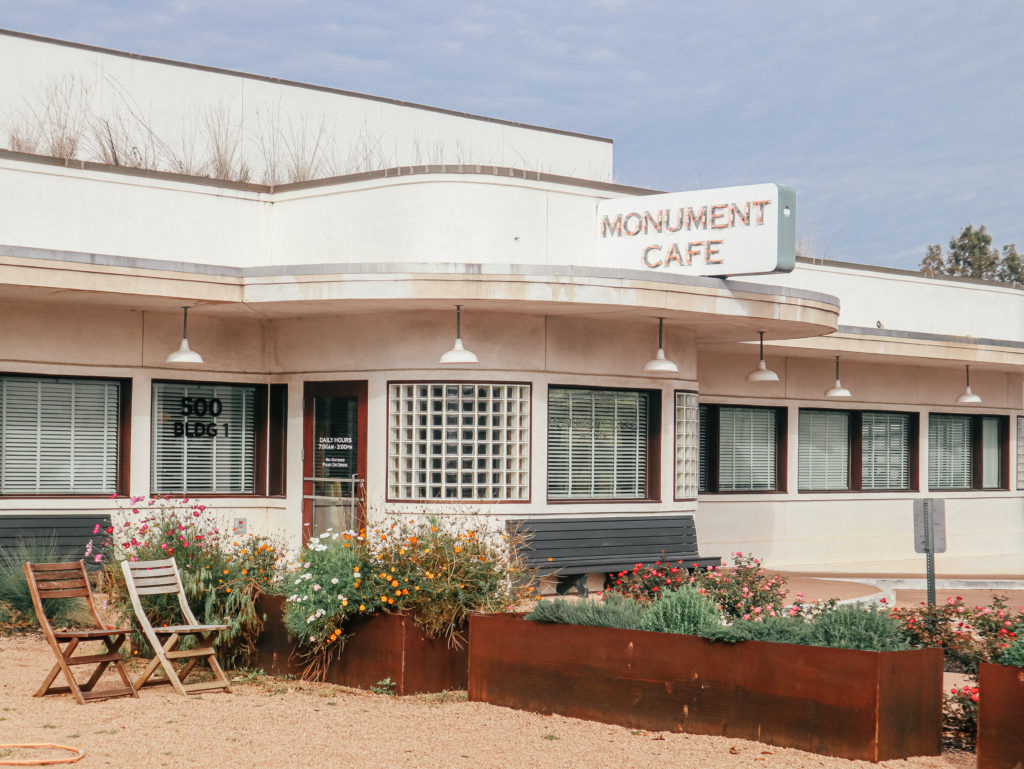 Fuego Latino Gastropub
This family-owned restaurant in the square serves lunch, dinner, and Sunday brunch. Their appetizer menu lists several varieties of ceviche, street corn, and marinated shrimp tostadas, just to name a few things. Their main menu has a variety of creative meat and seafood dishes.
My server told me the most popular entrees were the Fuego Nachos (yes, on the main menu), the duck, mushroom, and corn enchiladas, and the lime cilantro glazed pan-seared scallops. I love scallops, so I went with that choice. These perfectly cooked scallops were served on a bed of white bean puree with corn and poblano salsa and topped with avocado and asparagus. My server warned me that this dish was on the spicy side but other than the poblanos, I didn't find this to pack very much heat.
Monument Cafe
The Monument Cafe downtown serves breakfast and lunch. This has a "where the locals eat" vibe. I had breakfast here on a weekday and the place was hopping and the counter seating was full, which I took as a good sign.
I had corned beef hash, which was made with white and sweet potatoes as well as diced poblano peppers. My toast was served with homemade blackberry jam, which was very good, even though I'm not normally a jam person.
Monument Cafe also has a takeaway bakery, selling whole pies and cakes as well as casseroles and quiches.
Goodfolks
Goodfolks, located on the square, is a light, airy restaurant serving breakfast and lunch. Goodfolks serves a variety of appetizers, plates, sandwiches, and salads but their specialty seems to be fried chicken baskets. I kept it light and had a Goodfolks Salad and a lavender lemonade. The corner space is light, airy, and welcoming.
Baked Bear
If "monster ice cream cookie sandwich" sounds like your thing, stop at Baked Bear and indulge your sweet tooth. I had a sandwich made with a pumpkin spice cookie and a carrot cake cookie with homemade vanilla ice cream in between rolled in Heath Bar bits. It was every bit as awesome as it sounds.
They have a variety of cookies, ice cream flavors, and brownies and you can design your own epic dessert. They also service regular ice cream treats but I recommend going big and doing the cookie sandwich.
Golden Rule
The Golden Rule is a speakeasy-style restaurant and bar founded on the principles of goodwill, friendship, and kind regard. They offer dining room seating as well as seating in the bar area and patio.
They have a variety of appetizers, plates, and familiar dishes with a unique twist. I had the carne asada fries appetizer and it was delicious. The fries were topped with seasoned steak, queso, jalapeno avocado crema, and refried great northern beans. I was trying to keep dinner light because I was determined to go to Baked Bear for dessert but the roasted chicken salad sandwich and elk double smash burger also caught my eye. Golden Rule also serves Sunday brunch.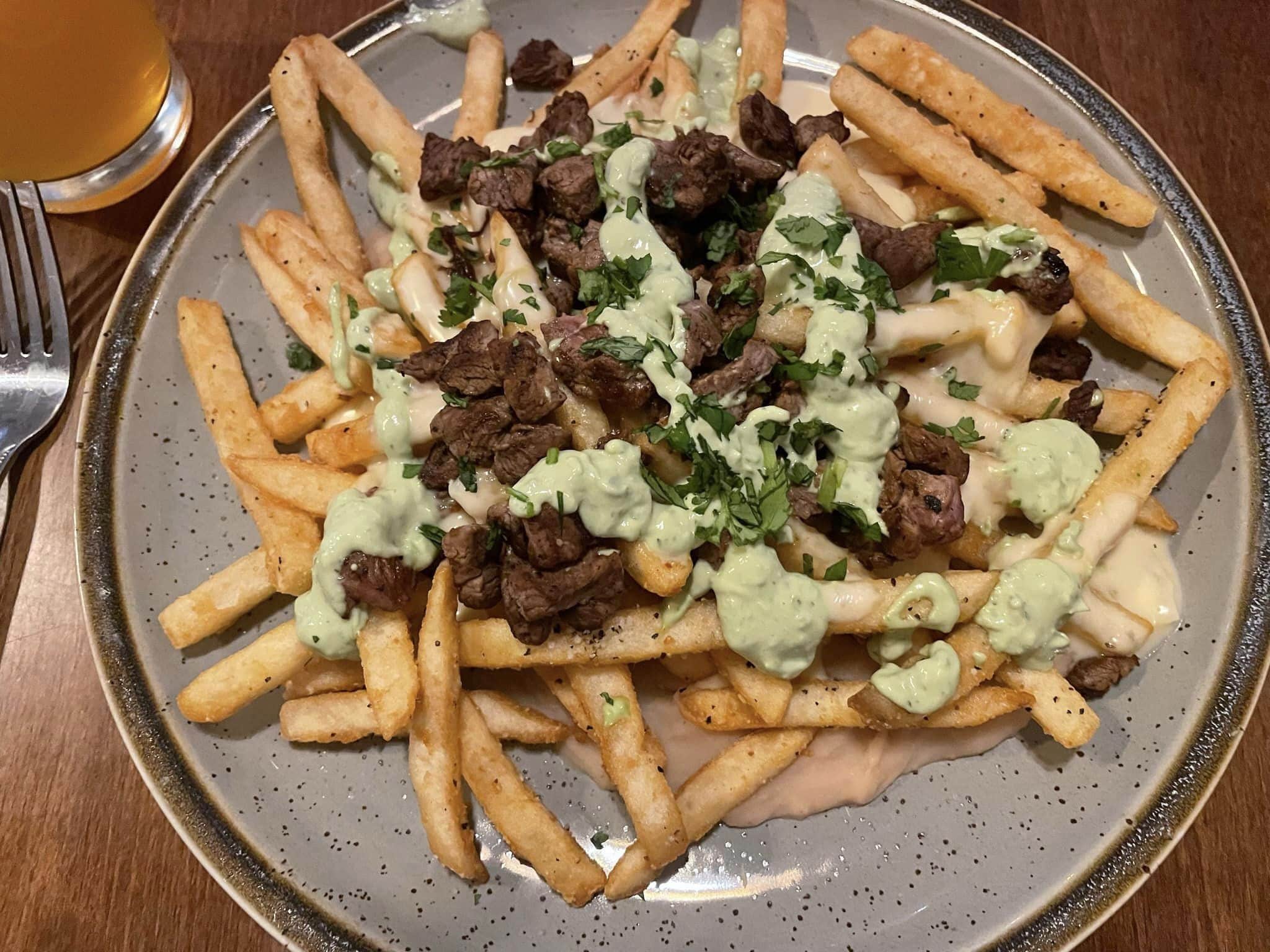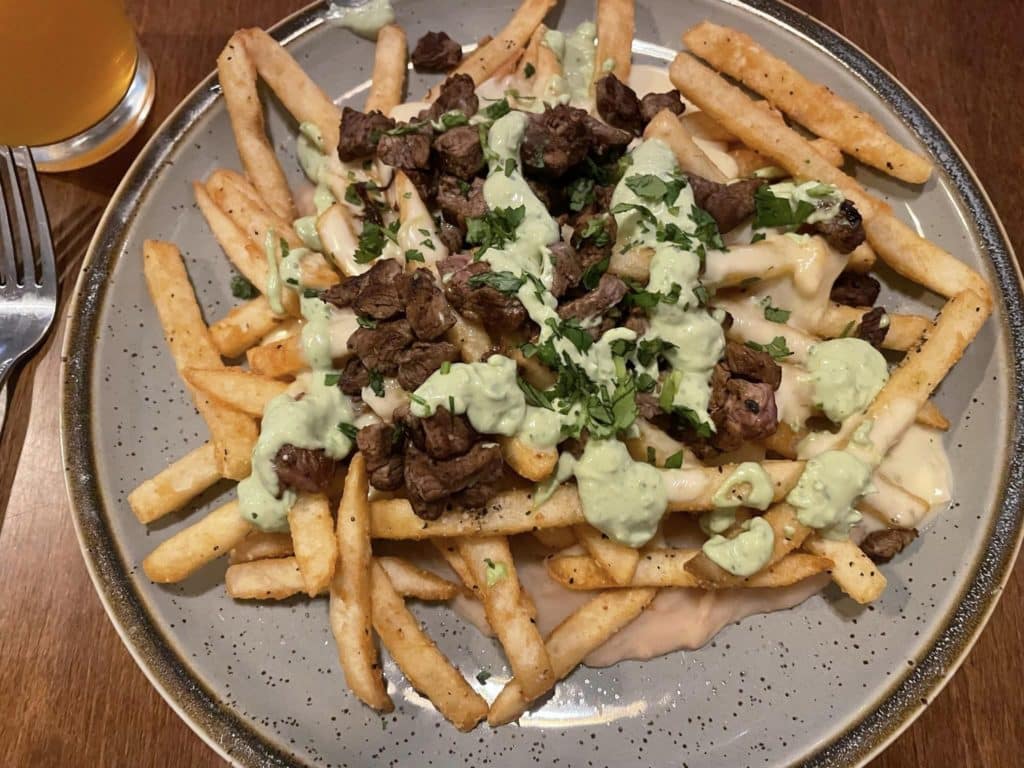 Sweet Lemon Kitchen
Sweet Lemon Kitchen is a farm-to-table eatery serving breakfast, lunch, and dinner. Their menu is small but they have a nice variety of breakfast items, sandwiches, salads, and heartier mains for dinner, such as meatloaf and lasagna bolognese. I had breakfast at Sweet Lemon Kitchen and took a bag of baked goodies home to share with my family.
If you're a lemon bar person, you'll need to order the lemon bar (I mean a place called Sweet Lemon is going to have a killer lemon bar.)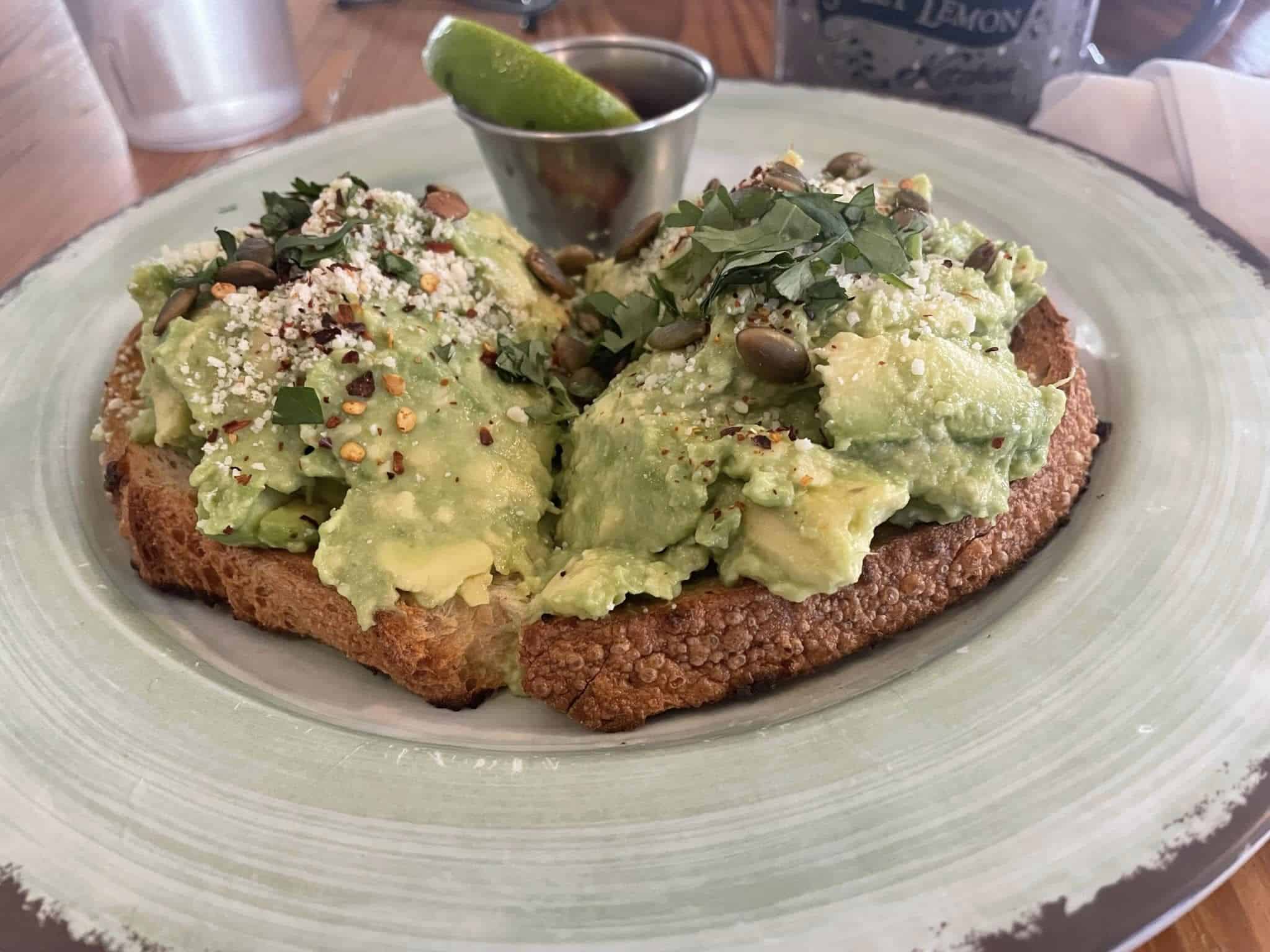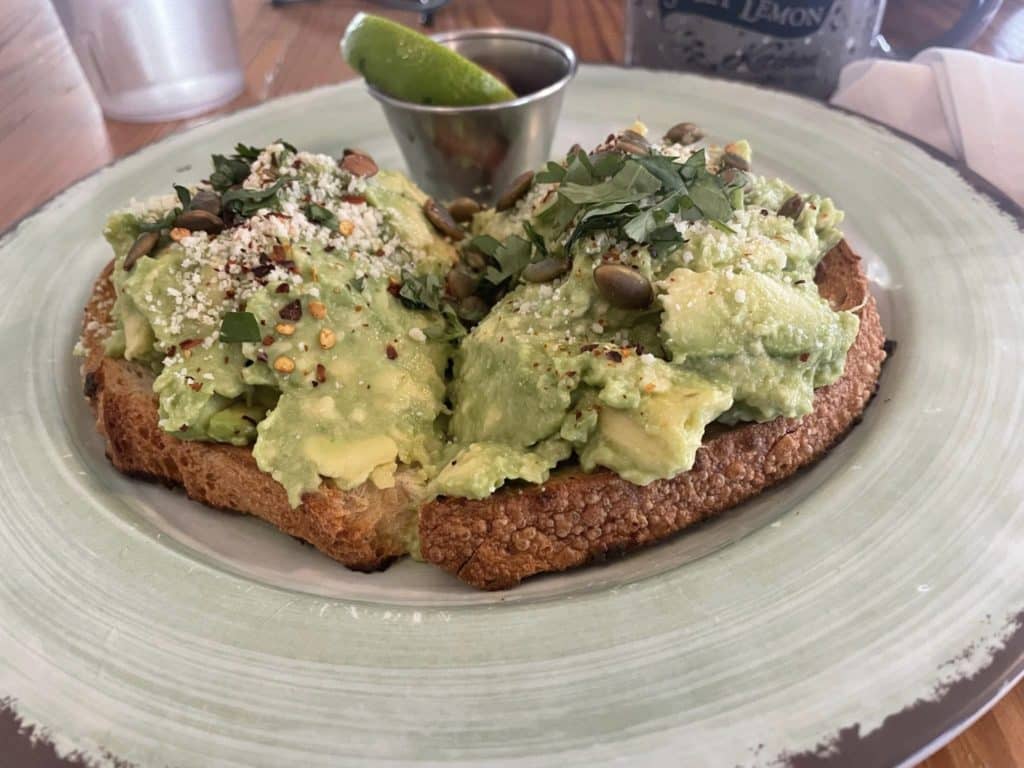 Wineries/Breweries
While Georgetown doesn't rival Fredericksburg for wine-tasting opportunities, there are enough tasting rooms and tap rooms located on or near the square to have wine or beer tasting a big part of your plan. The fact that the square is easily walkable and that you can walk around with a to-go cup are definite plusses.
I spent a little time at Grape Creek Winery's tasting room. Their main winery is located just outside Fredericksburg and they also have a tasting room in downtown Fredericksburg. If you're looking to do a seated tasting or sit down for a glass of wine, you must be a wine club member, which is easy enough to remedy if you want to join. I did a tasting at the bar and sampled four wines of my choice for $30. They have a nice variety of whites, reds, and sweets. Anyone can grab a glass of wine to go.
Things to do in Georgetown Texas – Parks
There are a lot of outdoor spaces in Georgetown. If you want to go for a long hike or bike ride, splash in the water, or just walk off a meal, there are lots of places that are near downtown. I went to three different parks during my two-day stay.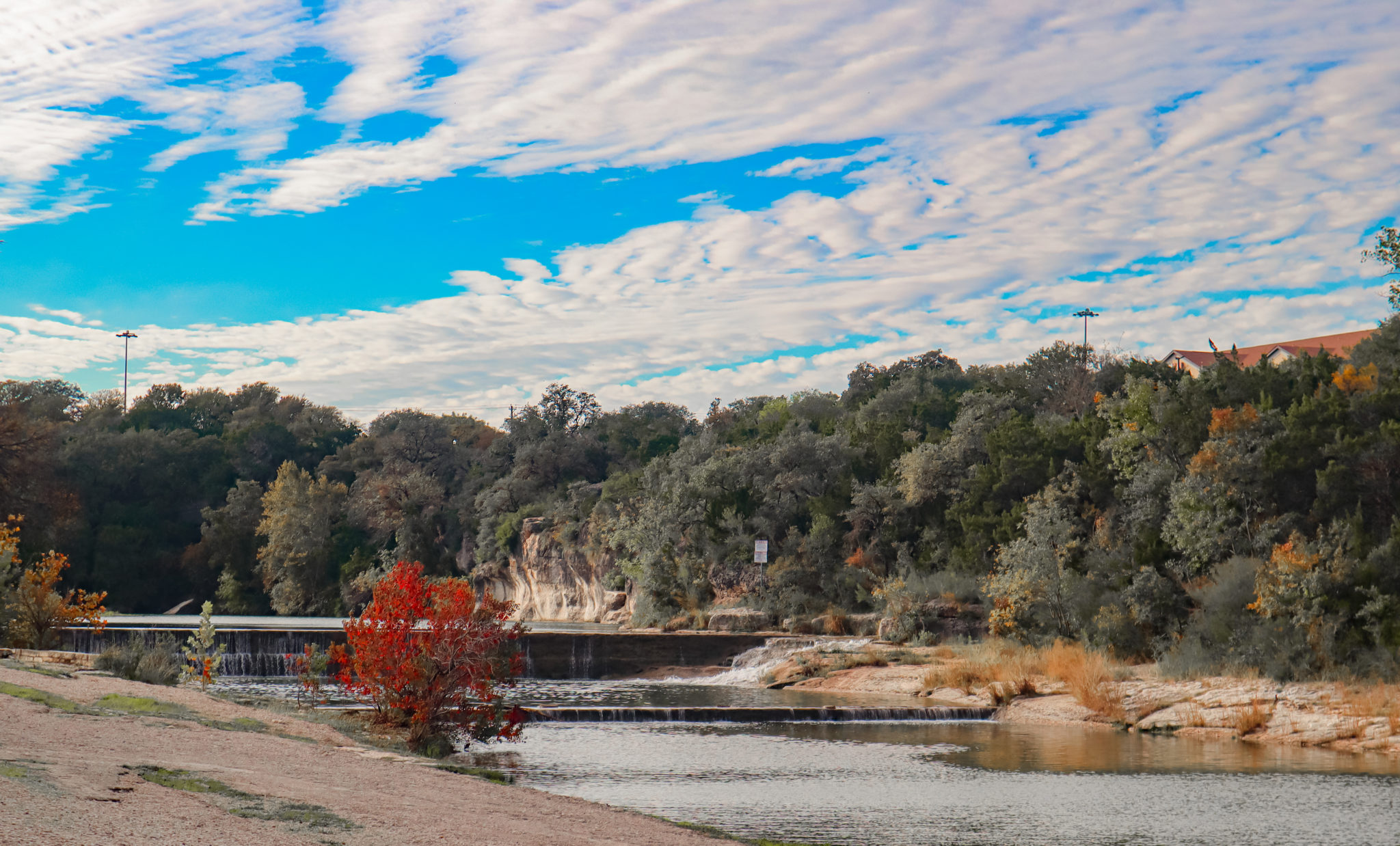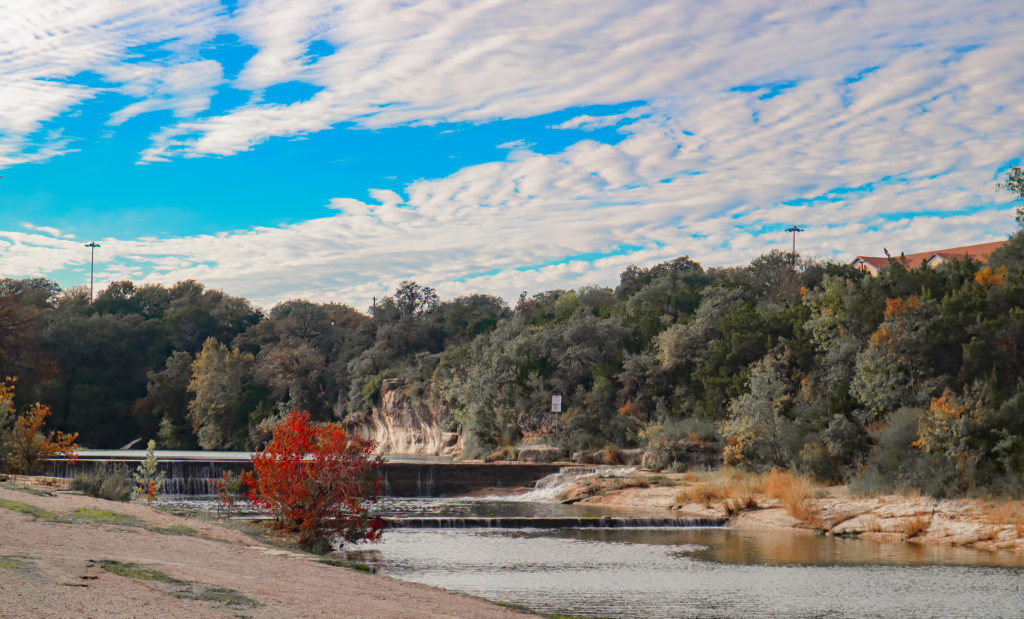 San Gabriel Park
San Gabriel park, just off downtown Georgetown, has shade, paved travels, and views of the San Gabriel River, which is a great place to watch the ducks. There is also a children's playground, disc golf, and picnic areas.
Garey Park
Garey Park is about a 10-minute drive from downtown Georgetown. There's a dog park, children's splash pad, fishing ponds, hiking, and equestrian trails, and more. There's a fee to get into Garey Park. As a non-resident, I paid a $4 entrance fee.
Blue Hole Park
Blue Hole Park is located right off downtown Georgetown. A scenic pool surrounded by limestone bluffs is the draw for this park. I visited during the winter when it was too cold to swim but this is a popular swimming hole during warmer weather. There's a paved path, walking trails, and picnic areas. Check out the linked safety information if you plan to swim at Blue Hole Park.
Note: Not to be confused with Blue Hole Regional Park in Wimberly.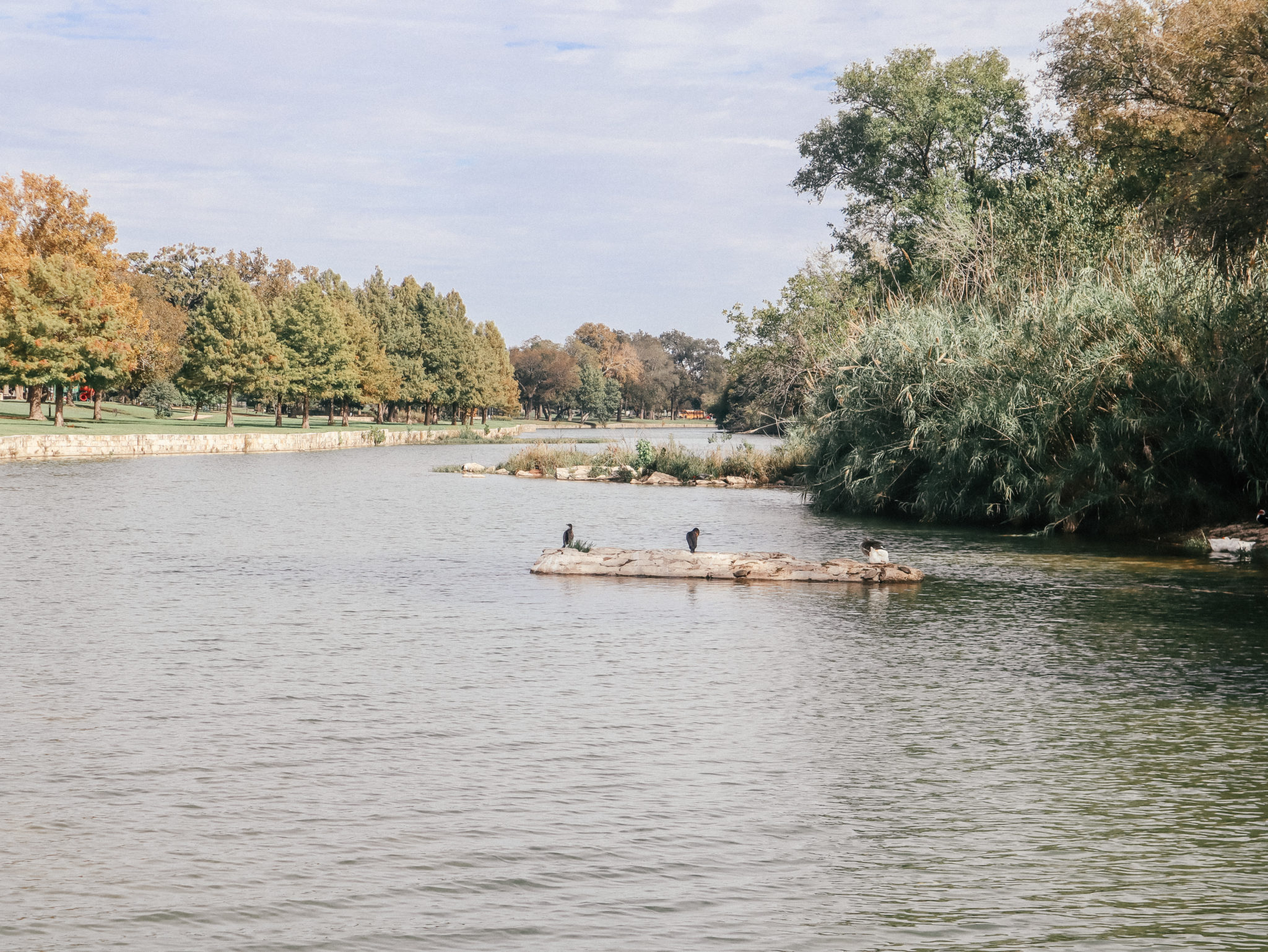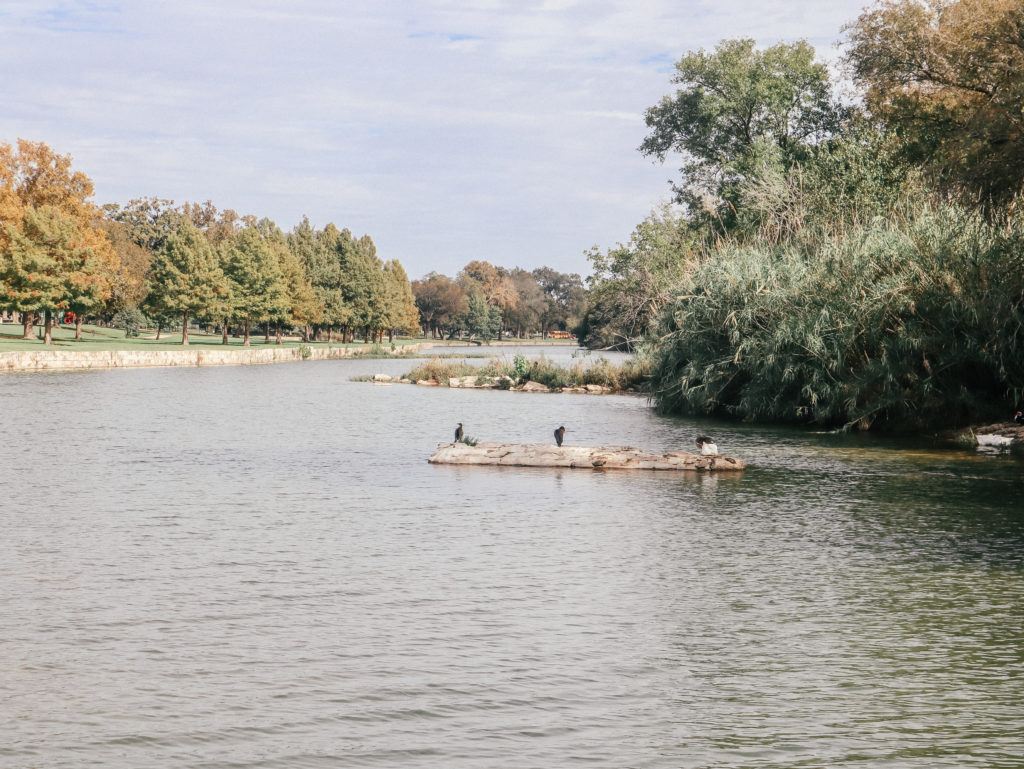 Other things to do in Georgetown Texas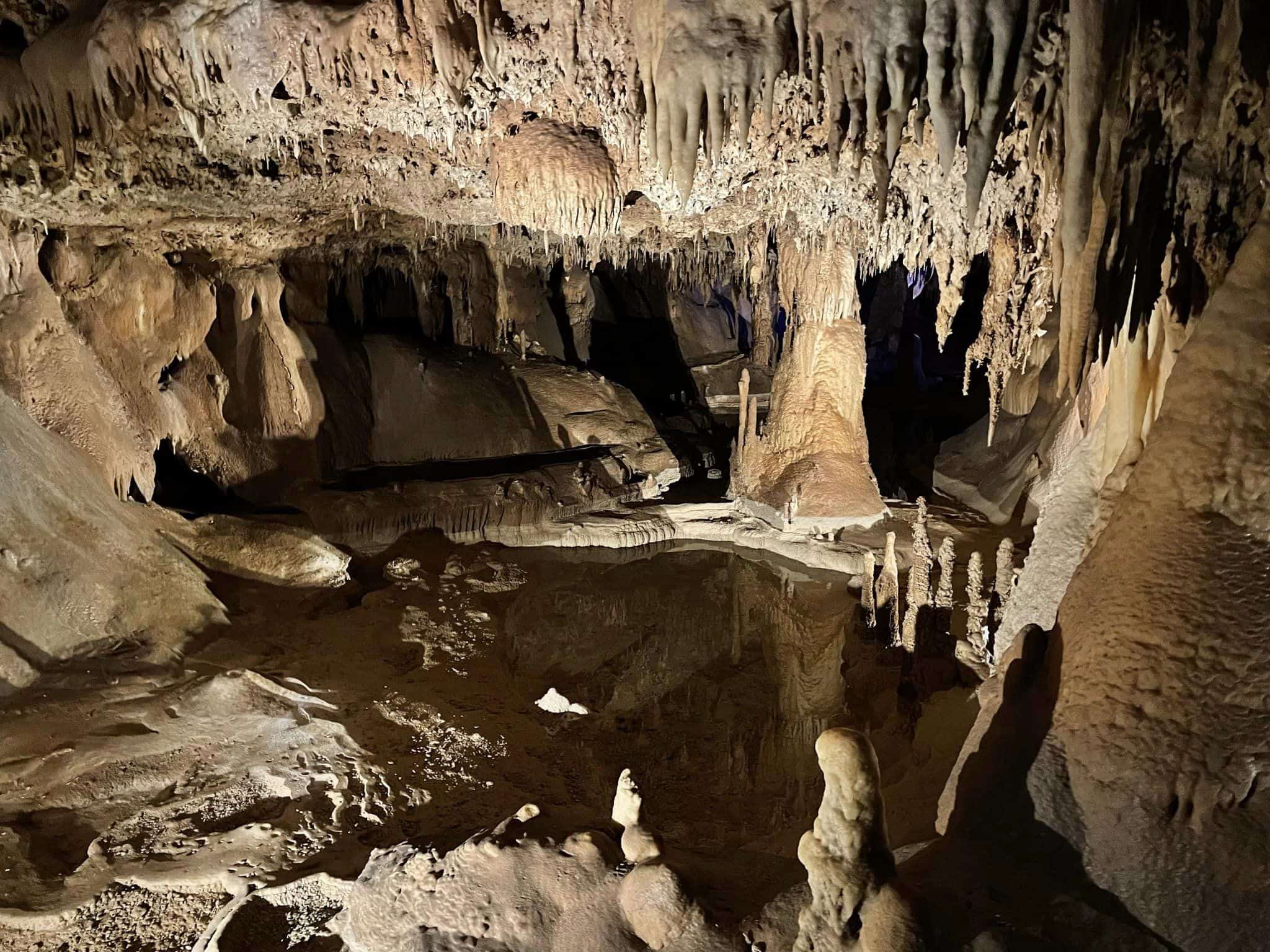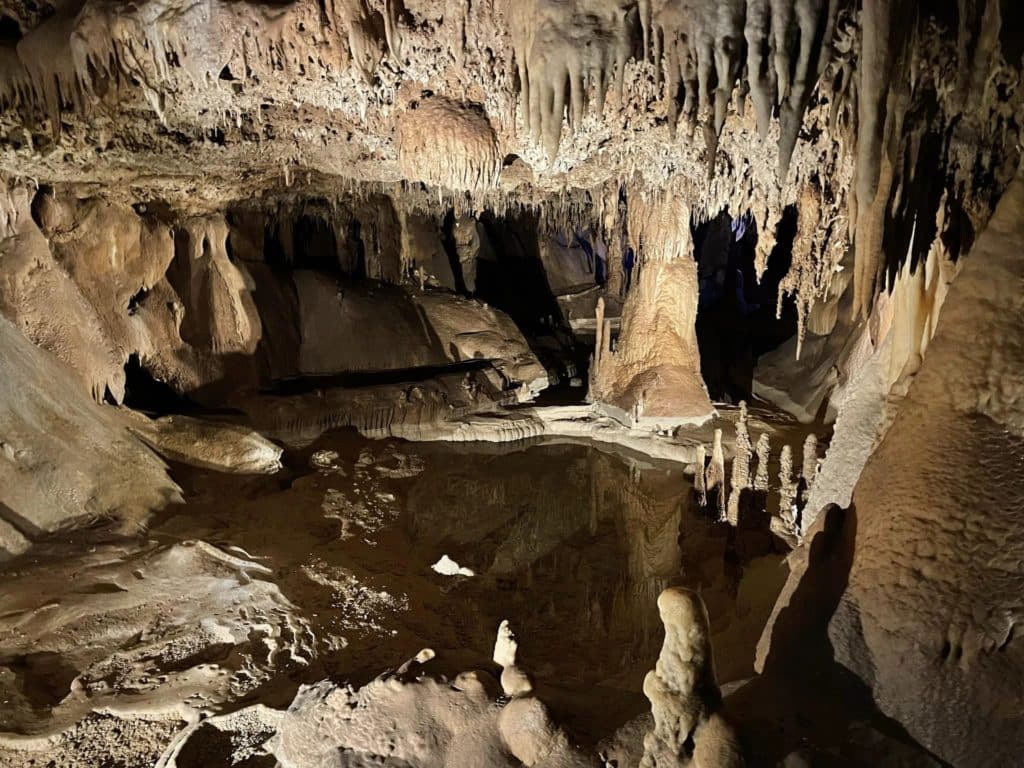 Inner space Caverns
Inner Space Caverns was discovered in 1963 when the highway was being built and it has been a tourist attraction since 1966. There are three options for cave tours. I took the most popular Adventure Tour, which departs every 20-30 minutes. The tour lasts about an hour and involves walking a total of one mile out and back.
The Hidden Passages Tour lasts 1.5 hours and is for participants 7 and up. The Wild Cave Tour is a more adventurous caving experience that involves crawling, climbing, and squeezing through tight spaces. The tour lasts about four hours and is scheduled by appointment only. The minimum age for the Wild Cave Tour is 13.
Inner Space Caverns has other activities, such as gemstone mining, a gift shop, and an outdoor zip ride. Inner Space Caverns is part of the Texas Cave Trail, along with four other caverns. Visit all five trails and get a tee shirt.
Kid-friendly activities
Other activities for kids of all ages include bowling, mini golf, batting cages, and kayak rentals. Nearby Sweet Eats Fruit Farm offers a variety of activities, including fruit picking, face painting, and a petting zoo.
Where to stay in Georgetown
I was hosted at the Sheraton Austin Georgetown Hotel and Conference Center. I had a club-level room with two queen beds and a pool view. It was a spacious, airy room with a floor to ceiling window and a full bath with the standard amenities, such as toiletries, hairdryer, and towels. There were two robes in the closet, a coffee maker, a small refrigerator, and a large flatscreen TV. I stayed here alone but I think it would have made an ideal room for a family because of the generous amount of floor space. The club lounge serves breakfast and heavy hors d'oeuvres every evening. The lounge is open throughout the day with coffee, tea, bottled water, sodas, and various snacks available.
The hotel is rated four-star and is conveniently located near the 1-35 and downtown Georgetown – about a five-minute drive to get from the hotel to the town square. You could walk or bike but you have to cross an overpass. The hotel offers bikes out front – I even spotted a children's bike – and there are shops and eateries to explore near the hotel without going into historic downtown.
The hotel has an onsite restaurant and bar, Brix and Ale, a fitness center, a pool, and conference facilities. There's free garage parking and free WiFi. Sheraton is part of the Marriott/Bonvoy family, so you can get an idea of room availability and rates through the Bonvoy App or website, or call the hotel directly.
Visit Georgetown also maintains a lodging section on their site with listings of other hotels, B&Bs, and camping.
Other Texas destinations to explore: