The Prettiest Places to Visit in October in the United States
(This post may contain affiliate links. Read my full disclosure.)
From varicolored leaves to pumpkin patches, apple orchards, and haunted tours, October is a fabulous month to check out new cities. Of course, some locations extend prettier foliage and better fall-themed attractions than others. Each landing place offers its own charm. We've assembled a list of the most inspiring destinations for this spooky season.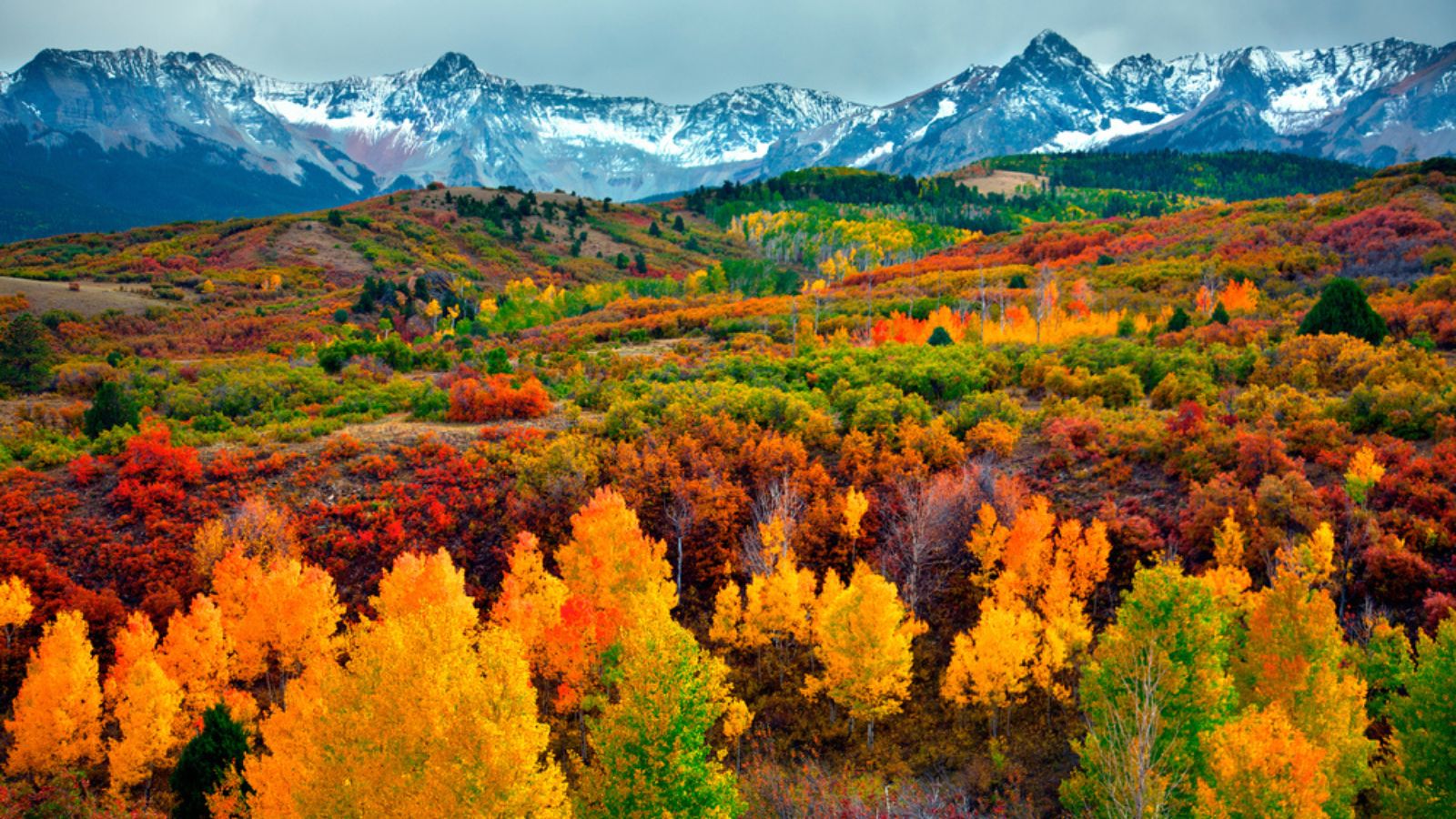 1. Gatlinburg Tennessee
Long winding roads sprawl throughout the Smoky Mountains in this mountainside Tennessean town. The physical city of Gatlinburg offers a plethora of tourist attractions, such as a ski lift over the shifting fall foliage, a mountain coaster that shoots through the gorgeous backdrop, and the longest pedestrian sky bridge in North America.
Visitors nestle in cabins off in the Smoky Mountains range, and black bears, moose, and foxes love paying visits to new friends.
2. Hawaii
In October, Hawaii's average temperature drops from a sweltering high 80s to a cool mid-70s, and the weather dips into the 60s at night. The water stays relatively warm during Spooky season, inviting surfers and snorkelers for a gorgeous look into the sea life. Many visitors flock to Hawaii during the winter months, making October a perfect, uncrowded month to view the state.
3. Aspen
Between thick summer weather and freezing winter snow, we have the glorious month of October. In Aspen, Colorado, October introduces the brightest, boldest foliage, a swath of fall activities, like hikes and excursions into the mountains for a closer look at the foliage, and a popping farmers market with a beauteous backdrop of butterscotch tinted leaves set in the Rockies.
4. Savannah
This haunted southern destination waves away humidity and invites pumpkin patches, strolls through Summer Live Oak arches, and haunted ghost tours of mansions, hotels, and streets. When the horrid humidity rolls away, you catch glimpses of Forsyth Park's infamous fountain lit up by a jaw-dropping purple sunset and a bustling River street filled with local shops and tourist favorites.
5. Portland, Oregon
Snow-capped mountains peek out in photos, and autumnal leaves dot the backdrop in October in Portland, Oregon. The Northwestern state catapults tourists into the Halloween season by stopping by the Portland Japanese Garden. Peer over the ponds and the kaleidoscope-colored plants and plod through the path while brisk air tickles your nose.
Who can avoid a pit stop at a mansion with the best view of downtown? The Pittock mansion spans 16,000 square feet on top of West Hills and permits explorers to pause for an overview of the wondrous city known as Portland.
6. Upstate New York Catskills
Waterfalls trickle through the Catskills as people cruise through the fall foliage. Rail Explorers USA installed a backcountry railroad-esque ride, providing a glimpse into the Catskills' foliage. Two to four people board the sit-down express and pedal through the wilderness, soaking in the sound of crunching leaves, meandering deer, and the running Esopus Creek. For brave wilderness enthusiasts, the company offers a lantern-lit night ride to illuminate the beauty of the Catskills truly.
7. Asheville
The Blue Ridge Mountains want to welcome you to a dramatic disposition of more than 100 deciduous trees in their prime. Pumpkin pickers and apple adorers love trekking to Asheville for their orchards. Most of the pumpkin stands and apple orchards allow customers to pick their own from the selection, plop it in their car, and head home with a smile plastered across their faces. While picking these delicious fall-flavored fruits, grab an apple cider donut or a pumpkin-themed drink and savor the delectable tastes only offered during the chilly fall months.
8. Jackson Hole, Wyoming
Though October is a perfect time frame to catch the motley array of leaves, faint dustings of snow, and fewer white water rafters in Jackson Hole, make sure to plan your vacation for the early days of the Halloween month. The weather changes yearly, but during harsh winters, snow piles onto the mountain, closing some fall activities early. A popular tourist attraction is the Jackson Hole Aerial Tram, a nine-minute cable car ride ascending to the peak of Rendezvous Mountain. Riders take a brief break from the outdoor weather for a stunning gaze over the Tetons and Jackson Hole Valley.
9. Napa Valley
The previous selections note October as one of their off months, but not Napa Valley because October is a harvesting month. Since October is one of the busiest seasons and the best to harvest the grapes and make wine, sightseers can smash their own grapes. As one of the warmer October destinations, Napa Valley maintains the high 70s during the day and high 40s at night, perfect for individuals searching for a respite from frigid atmospheres. Hop on a hot air balloon ride for an aerial view of rich red, yellow, and orange vineyards.
10. Portland, Maine
This seaside lighthouse-decorated town boasts a brilliant October, what with apple picking, whale watching, seal spotting, and comfortable low 70s rolling through the variegated foliage. Embark on a sunset cruise where whales and seals frequent the sidelines, tour the haunted streets and sidewalks, and munch on a potato donut from Holy Donut.
Write Your Itinerary
Pack your scarves, pull on your parkas, and get the flannel out of the closet because it's fall! With two Portlands to pick from, an infamous vineyard, and a haunted Georgian city swarming with southern hospitality, which city will you visit this October?
About Gabrielle Reeder
Gabrielle Reeder is a travel enthusiast from St. Petersburg Florida. She boarded her first plane at six months old and blames her love for jet-setting on her mom's background as a travel agent. She's been to 41 states and six countries, hoping to up that number to 50 states and 10 countries by her 26th birthday. During her trips, she loves to find the best vegetarian food, desserts, and music venues.
Follow her on Twitter and Instagram.