Best Holiday Gift Ideas For Swifties
(This post may contain affiliate links. Read my full disclosure.)
What comes to mind with these statements? Ten albums. Four studio re-recordings. A song occupying every slot on Billboard's top ten. Breaking her own records. A lawsuit against Ticketmaster, backed by her unyielding army of fans. Singlehandedly saving the tourism industry. A chokehold on capitalism thanks to an evergrowing surge of interest from seemingly every citizen in the world.
Two words. Taylor Swift.
Swift continues to revamp the music industry by crushing new records and taking back her name and her reputation. How do you celebrate momentous achievements set by this 33-year-old Pennsylvania-born icon? With holiday gifts, of course! As a dedicated Swiftie myself, I've pored over the best options for gift-giving in the name of one of music's most inspirational trailblazers.
Best Holiday Gift Ideas For Swifties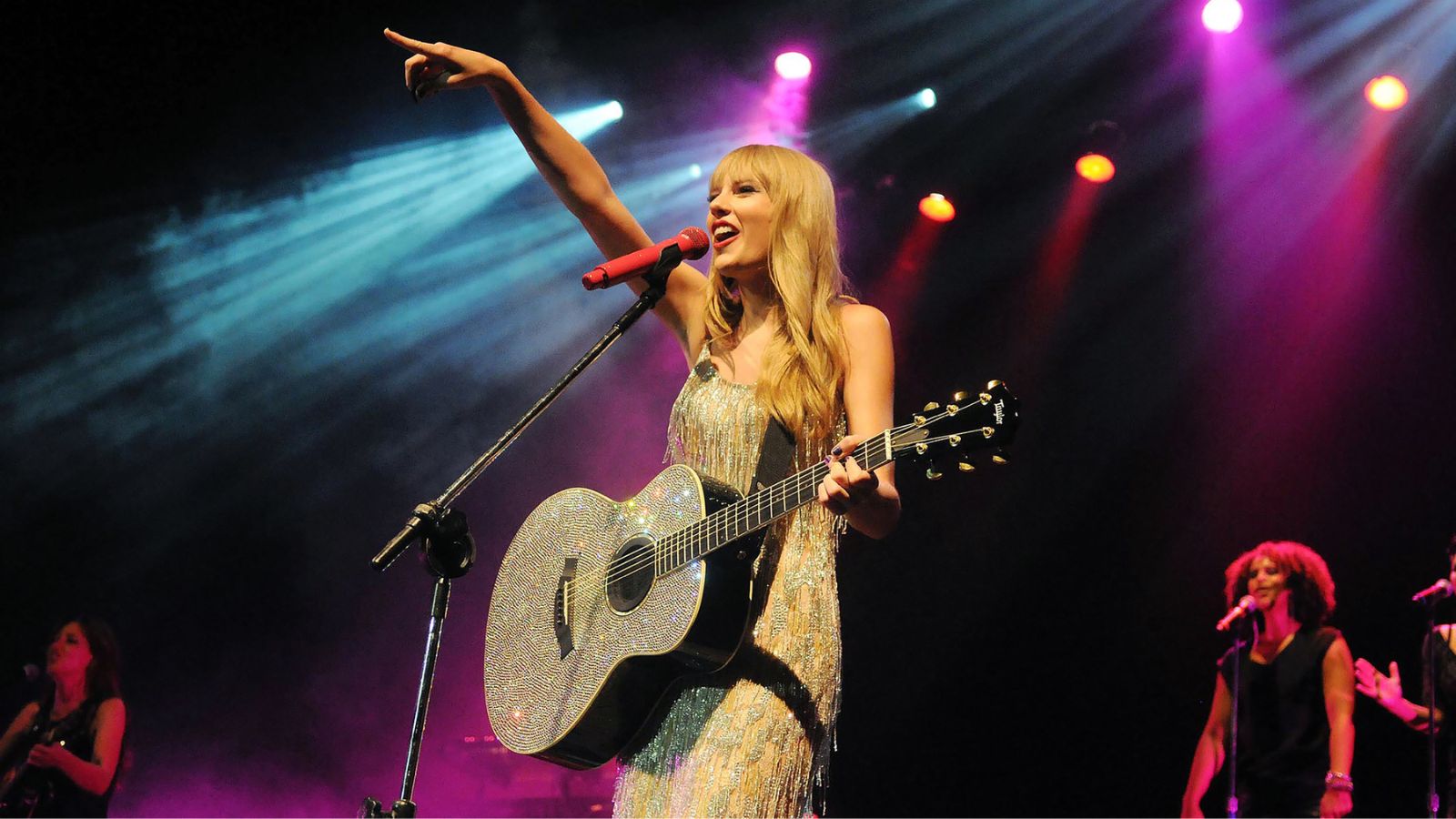 If you have a Taylor Swift superfan on your holiday list, here's 10 ideas for the Best Holiday Gift Ideas For Swifties.
1. Friendship Bracelets
In the fifth song of Midnights, "You're on Your Own, Kid," Swift sings about the idea of giving your blood, sweat, and tears into your passions but never forgetting the moments that got you to where you were. For her, she tackled a misogynistic industry dedicated to bringing down her image and revoking any accolade she earned. Those who assisted in helping her climb the metaphorical ladder are her fans. The lyric "So make the friendship bracelets, take a moment and taste it" is a love letter addressed directly to those Swifties who never left her side despite rumors affecting her public image.
Swift sells a gorgeous friendship bracelet on her website; one adorned with colored gems correlating to each of her ten studio albums, and two re-recordings—considering the bracelet was crafter after the Red re-release.
2. Friendship Bracelet Making Kits
A large portion of The Eras tour and the Swiftie fan base consists of making beaded friendship bracelets to trade between friends and new Swifties. Swift enthusiasts adore fashioning bracelets after her biggest hits, inside jokes—specifically the viral moment where she sternly warned a security guard to leave her fans alone—and the biggest moments in her life. Making friendship bracelets in the Swiftie fandom is the equivalent of a coming-of-age ritual in the community.
3. Eras Tickets
With the international and third legs of The Eras Tour approaching, fans monitor Ticketmaster and Taylor's collections of social media accounts with a "wide-eyed gaze," pleading for her to release more tickets and drop more dates for the once-in-a-lifetime show. The Eras Tour tickets run on the higher price line (For full disclosure, I spent $2000 altogether to attend the (three nights in Tampa), but methods to offset the high upfront cost exist. For one, ticket websites allow buyers to submit payments with no interest to decrease financial stress, and as the tour dates approach, the prices tend to depreciate.
4. Any of Her Lithographs
Taylor is a photo shoot queen. She displays her artistic vision in each of her photo shoots. Each album explores a different theme (1989 finds her on a beach surrounded by summer and seagulls, while evermore sees her waltzing through a forest clad in dark plaid patterns).
Currently, her website only boasts four lithographs; however, Amazon, and other resell/retail websites have a backstock of her previous posters. And knowing Taylor, she'll release some holiday-themed prints soon.
5. Any Vinyl
Where are the vinyl enthusiasts? Swift is known for releasing multiple vinyl versions with each record. On her website, she has a separate tab under the merch umbrella for the Vinyl Shop. This includes one gold Fearless vinyl, a red and black Red vinyl, a cotton candy-hued Lover vinyl, a forest green evermore record, five versions of Midnights: moonstone blue, mahogany, jade green, lavender, blood moon, a Speak Now orchid marbled collection, and a light blue 1989 record.
Keep an eye out for collaborations with Target and Walmart, as they carry differing variations of her records. Your local record store might carry some of her beloved albums as well. And, Amazon carries a variety of Taylor Swift on Vinyl.
6. Heart Shaped Sunglasses
On the first Tampa Eras stop, I wore matching heart-shaped sunglasses with my mom to tap into our Red era. In Swift's "22" music video, she wears the staple outfit, a black fedora atop her blonde hair, a pair of red heart-shaped sunglasses, and a shirt mocking her career with the playful phrase, "Not a lot going on at the moment," black shorts, and ankle high boots.
Most fans who channel their Red era show up in the red heart sunglasses fixed with the "not a lot going on at the moment" shirt, but if you choose to rely solely on the sunglasses, other Swifties will immediately approach you, asking what your favorite Red vault track is.
Spoiler alert: the correct answer is "All Too Well (10 Minute Version)."
7. A Red Scarf
Another way to channel Red's energy is with a red scarf. "All Too Well," the original, and the ten-minute version reflect on Taylor leaving her "scarf there at your sister's house. And you've still got it in your drawer, even now." While many ponder the implications and metaphorical meaning behind the scarf, Sadie Sink wore a fashionable red fabric in the "All Too Well" music video, putting a literal image to the figurative phrase.
8. Taylor Swift Calendar
Start 2024 with a 12-16 month layout featuring a musical legend. This calendar website features photos from Taylor's Speak Now era, motivating onlookers to get to work. More updated calendars comprise Swift's more recent performances from The Eras Tour and interviews following her re-records. And, of course, there is always Amazon for Taylor Swift finds of all sort, even calendars.
9. Taylor Swift Affirmation Board
Considering Swift breathes affecting prose and poetry with each stroke of a pen, many fans have compiled affirmation boards to keep their head up and read inspiring tidbits of advice each day. Each board pulls from the most moving lyrics, such as "I come back stronger than a 90s trend," "Honey, life is just a classroom," and "So don't you worry your pretty little mind, people throw rocks at things that shine." Begin the new year with 30-plus quotes from Swift decorating your wall.
This book of Taylor Swift quotes also makes a fun gift.
10. A Tattoo Voucher
Once you get one tattoo, the incessant itch for more creeps up on you. One of my Swiftie friends designed her right arm as her Taylor Swift tattoo easel—she has Taylor's Version inscribed above her elbow, a mirrorball tattoo, and an illustration from "All Too Well" of "autumn leaves falling down like pieces into a plane," and other Swifties in my circle have full lyric tats etched onto their skin.
Christmas Tree Farm
These gifts will delight any Swiftie who wants to "leave the Christmas lights up 'til January." Plus, you can "hold on to the memories" together on New Year's Day with these new gifts.
About Gabrielle Reeder
Gabrielle Reeder is a travel enthusiast from St. Petersburg Florida. She boarded her first plane at six months old and blames her love for jet-setting on her mom's background as a travel agent. She's been to 41 states and six countries, hoping to up that number to 50 states and 10 countries by her 26th birthday. During her trips, she loves to find the best vegetarian food, desserts, and music venues.