The Ultimate Pigeon Forge Vacation Guide
(This post may contain affiliate links. Read my full disclosure.)
This ultimate Pigeon Forge Vacation guide will give you a jumping off point to help you plan your trip to Pigeon Forge Tennessee. I spent a week in Pigeon Forge this summer with my two kids (11 and 12.) Here's what we did, what we ate, where we stayed and what's on our list to do for next time.
The Ultimate Pigeon Forge Vacation Guide
There are lots of places you can pick when planning a family vacation. Our main takeaway after our trip to Pigeon Forge was "Why didn't we come here sooner?"
Where is Pigeon Forge?
Pigeon Forge (as well as nearby Sevierville and Gatlinburg) are located at the foothills of the Smoky Mountains and a short drive from Great Smoky Mountains National Park. The closest major city and airport is Knoxville. Pigeon Forge is about an hour from Tyson McGee Airport (TYS). You'll definitely need a car to get around Pigeon Forge. We drove from San Antonio with pit stops in Arkansas and Kentucky.
Pigeon Forge Vacation Guide: Things to Do
Here are my favorite things to do in Pigeon Forge as well as some things that are still on my bucket list. We didn't get to everything we wanted to do but some of the attractions we just didn't have time for are standout, so I wanted to mention them.
Great Smoky Mountains National Park
There are tons of things to do inside the park. Two of my favorite spots are Cades Cove and Klingman's Dome. The latter is the highest point on the Appalachian Trail. It's a steep hike but the path is paved and there are plenty of spots to stop and rest if you need to.
There are lots of other things to do inside the park, including camping an hiking. You could easily dedicate an entire vacation to doing things inside the park.
Dollywood
I have an 11 and a 12 year old so amusement parks are big fun for us. I expected to like Dollywood. I've heard so many great things about the park that I expected no less than a super time. I love, love, loved Dollywood. Trip Advisor recently named it as the USA's number one theme park and I wholly agree.
Both Dollywood and Dollywood's Splash Country are located just minutes from downtown Pigeon Forge and are easy to navigate. There's something for everyone in the family but I think Dollywood is especially awesome for tweens. The rides strike a great balance between not being too mild and being terrifying. The thrill rides were enough to keep my daredevil kid interested but most of them weren't so extreme that we couldn't enjoy them as a family.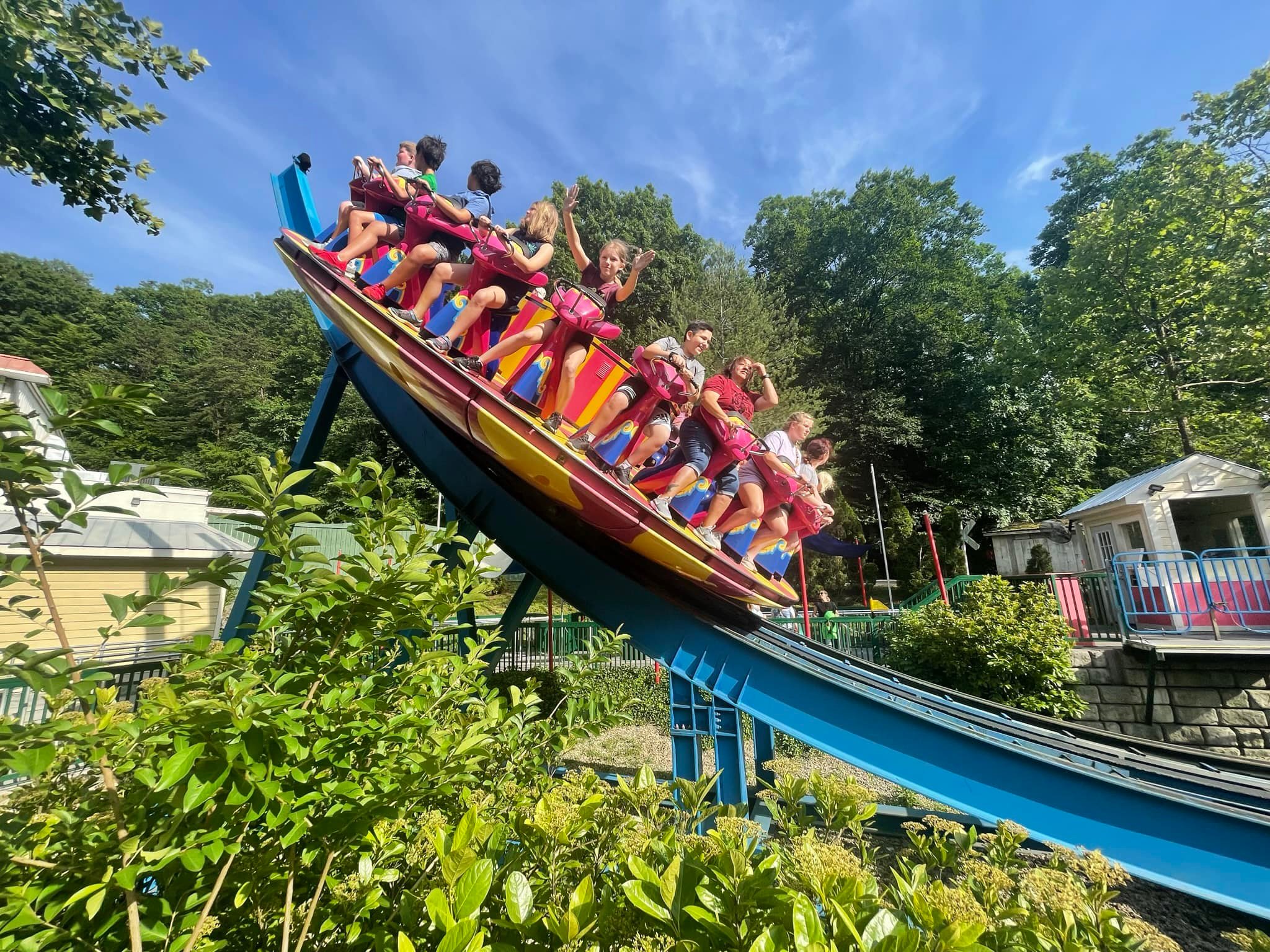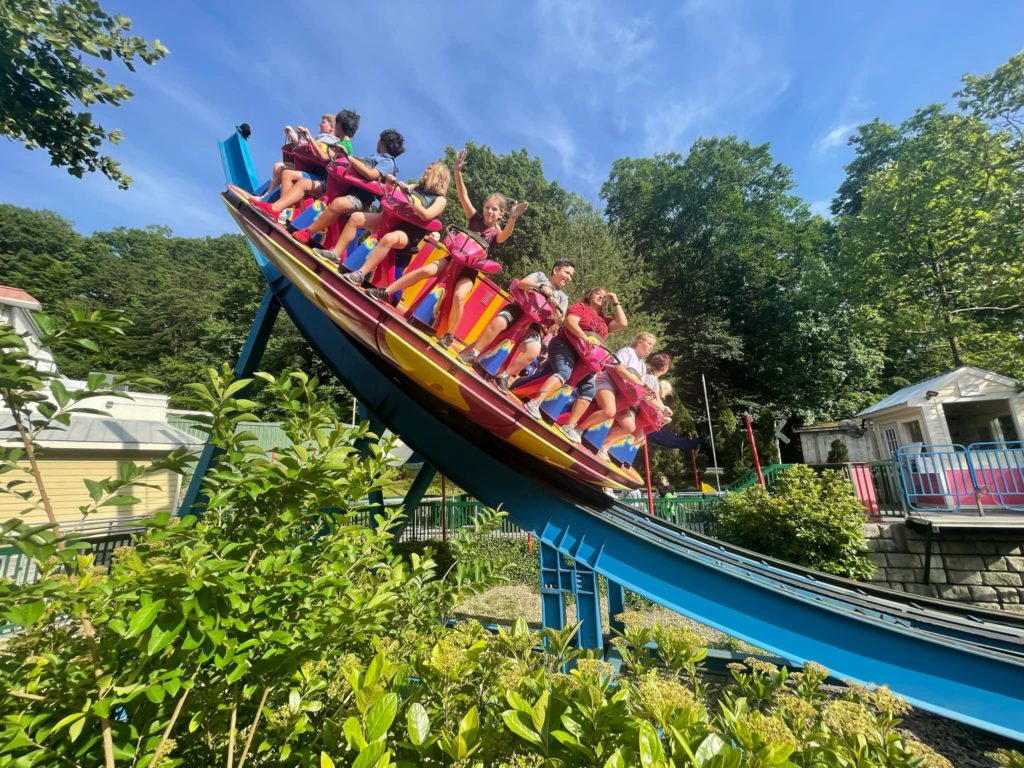 There's also a selection of rides geared toward younger kids that can accommodate grownups as well, so parents and kids can ride together. There's a measuring station near the front of the park that measures kids once and provides a wrist band indicating what they can ride to streamline the boarding process. My kids were too tall for this, but I remember when they were smaller and being stopped multiple times throughout the day (sometimes more than once per attraction) to have them measured, so this is a plus for parents of smaller children.
I strongly recommend the Timesaver Passes. Unlimited Timesaver Passes are $80 per person and allow you to access a special Timesaver line, bypassing the regular line. We visited on a June Friday when the park was busy and walked right on to every single ride except one, where we waited five minutes.
There are plenty of places to grab food and drinks. The food is mostly standard theme park fare: turkey legs, nachos, hot dogs, kettle corn. There's also a sit-down restaurant that serves homestyle cooking family style, Aunt Granny's. We bought the all day drink bottle which was a great investment. Dollywood serves Coke products but there's also fruit punch, lemonade, and sports drink if you don't want to guzzle soda on a hot day.
Dollywood Splash Country
Splash Country is Dollywood's water park. It is near Dollywood but has a separate parking area and entrance. The park is beautifully landscaped and has a wave pool, a lazy river, a children's splash pad, several water slides, a water coaster and more.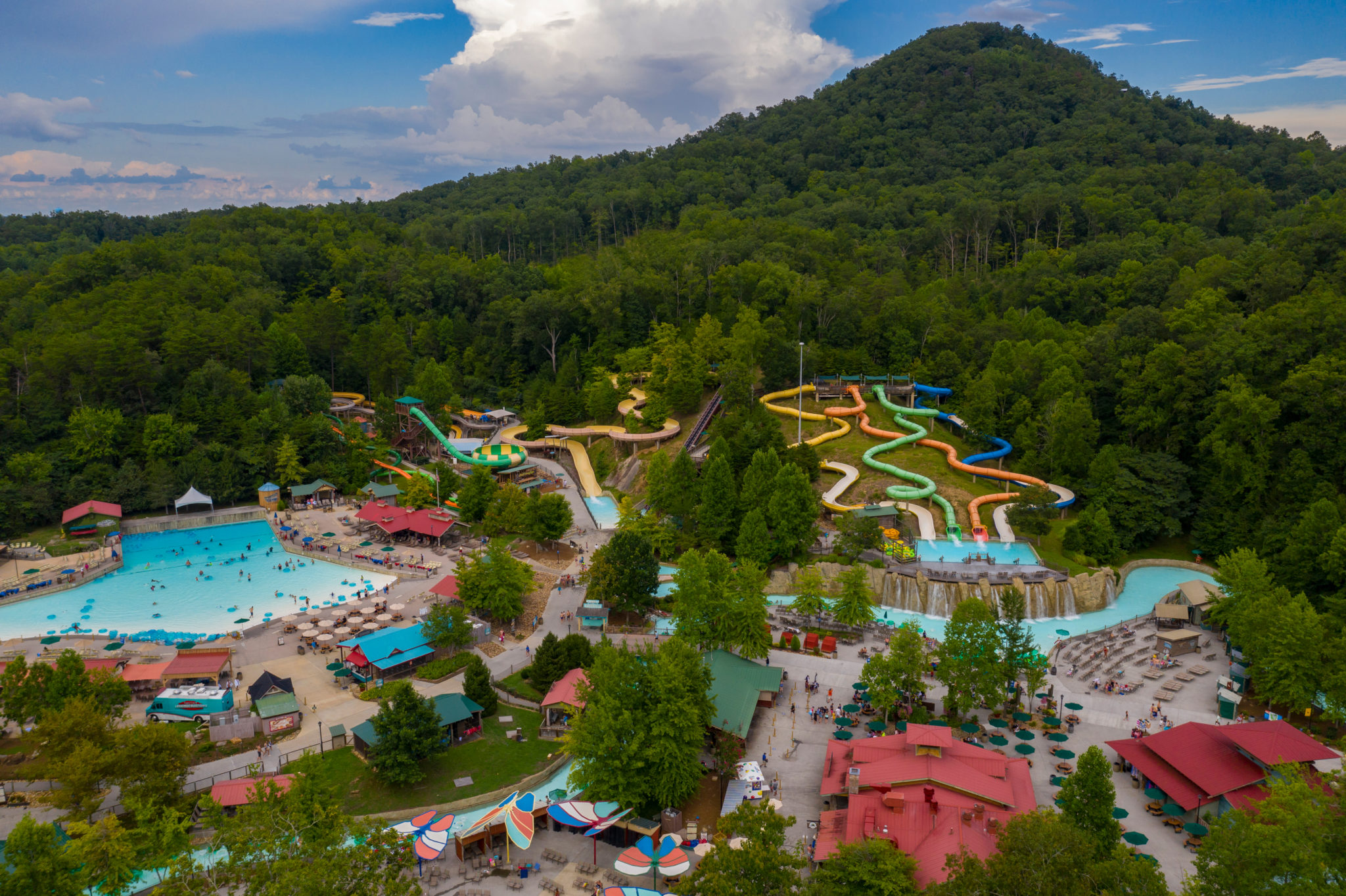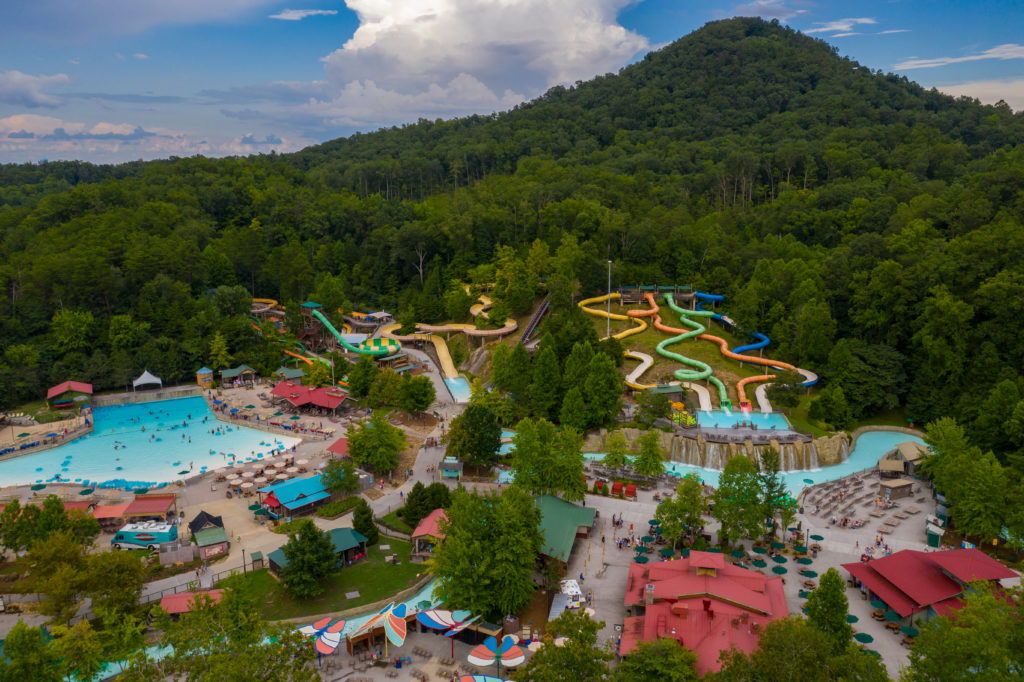 Splash Country has cabanas (called retreats) and shaded seating available for an additional cost. They also offer the Timesaver passes, as described above. If you're interested in the premium seating, I recommend you reserve in advance. We inquired about this the day of our park visit and there was none available. We did not use the Timesavers at Splash Country. I absolutely recommend the Timesavers at Dollywood but the water slide lines were relatively short at Splash Country, even on a busy June Saturday. My kids reported the longest lines were to get the tubes to get on the water slides and the Timesaver passes wouldn't do you any good there.
There is standard theme park fare at Splash Country and they also have the all day drink bottle described above. We enjoyed Splash Country but thought the major downside was the lack of shaded seating and the crowds. The park opened at 10:00 a.m. and we arrived at noon. It was hard to find any seating at all, much less in the shade. After about 1:00 p.m. the morning crowds starting to trickle out so I was able to snag a shady spot.
Parking is not included in your Dollywood or Splash Country tickets. You can also purchase preferred parking, which gets you closer to the entrance, however, Dollywood park has a tram that runs continuously throughout the day to take you from the parking lot to the car, so I'd recommend saving your money and spending it elsewhere.
Mini Golf
There are lots of places to play mini golf in Pigeon Forge. We played at both Toy Box Golf and Crave Golf Club. Crave Golf Club has both indoor and outdoor courses. We played indoors.
Toy Box Golf was fun but there is zero shade so I recommend playing early in the morning or in the evening. Crave Golf Club was our favorite – it was absolutely pristine and and everything looked brand new. Mini golf in Pigeon Forge seems to come with a twist: at both courses there were signs with challenges for each player, such as putting on one foot or choosing a player to get an extra point.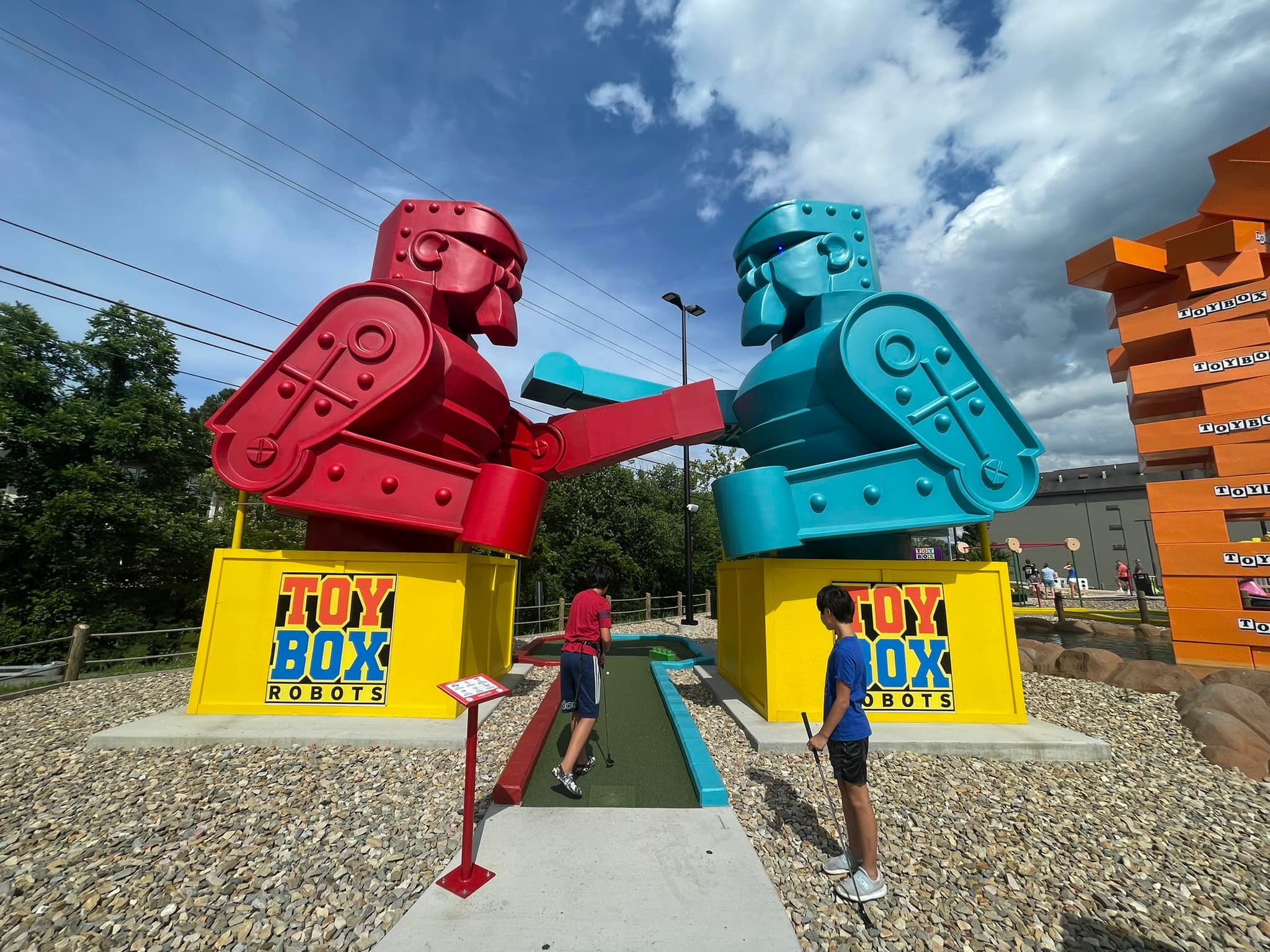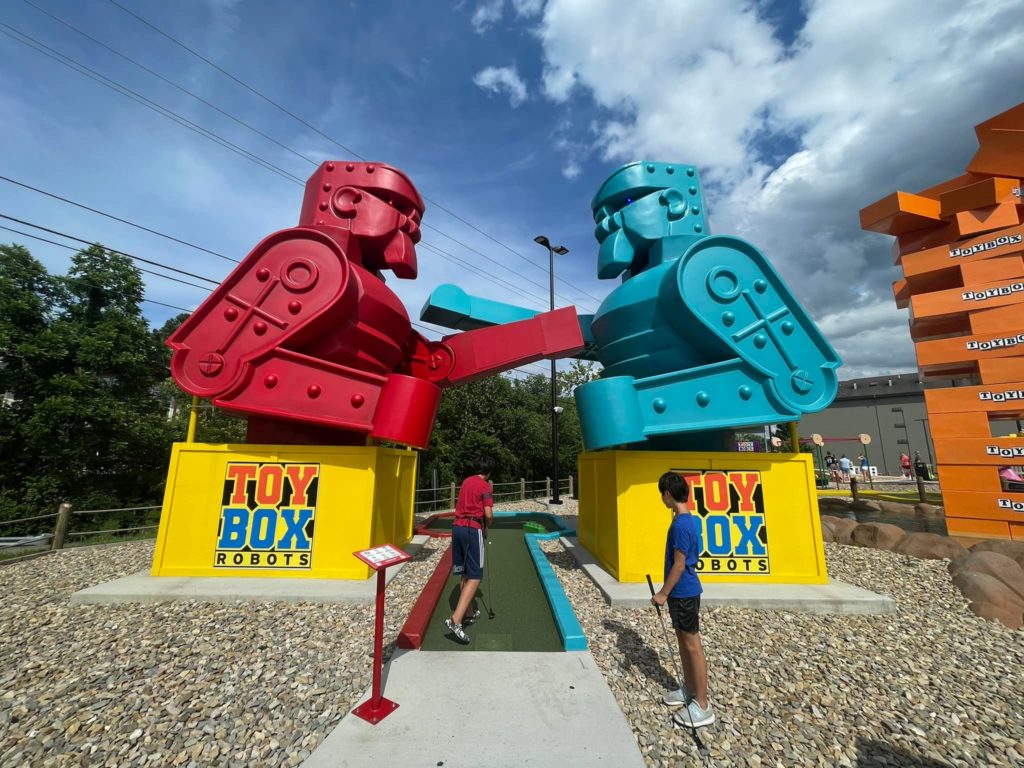 Rocky Top Mountain Coaster
This was one of our family's favorite activities in Pigeon Forge. The ride, start to finish, takes nine minutes, so it's pretty long for as far as roller coaster rides go. The carts can hold one or two people. You can purchase single ride tickets or all-day passes. You'll get a discount on repeat rides.
Pigeon Forge Snow
Pigeon Forge Snow has a snow tube chute plus a snow play area. Pay by the hour. There's an upstairs parent observation area. If you visit during the hot summer, this is a fun and novel thing to do.
Paula Deen's Lumberjack Feud
There's a lot to do here. The adventure park includes a the first of its zip coaster, The Flying Ox, free fall, ropes course, and more. The Flying Ox was sadly down the day we visited but my kids found plenty to do.
The 1.5-hour lumberjack feud show happens twice daily. Guests cheer for the Dawsons or the McGraws as the two teams go through a variety of impressive lumberjack contests. The show is heavy on audience interaction and an all-around great time. It's a little bit corny but that is part of the fun.
Sky Fly Soar America
Sky Fly Soar America is located on Margaritaville Island, a popular tourist destination in Pigeon Forge with lots of options for shopping, entertainment, and dining.
Sky Fly Soar America is a single-ride ticketed attraction similar to the Soarin' ride at Disneyland or Walt Disney World, although I think it's better than Disney's rides. Guests go on a simulated flight around the United States, seeing various spots that showcase nature and natural beauty before returning back to Pigeon Forge. The whole experience takes about 20 minutes.
Topjump Trampoline Park
Topjump Trampoline Park and Extreme Arena is a great place for kids with lots of energy with tired parents. There are lots of trampolines to bounce on, plus a climbing course, a gladiator style obstacle course and dodge ball. There's also a dedicated area for younger kids and a deck for parent observation.
The jumpers start and end in blocks so you may have to wait a bit before your jump period starts. We waited about 40 minutes from the time we walked in the door until the kids were jumping. This included waiting in line, signing waivers, the payment station, the safety video and about a 25-minute wait so our group could start together.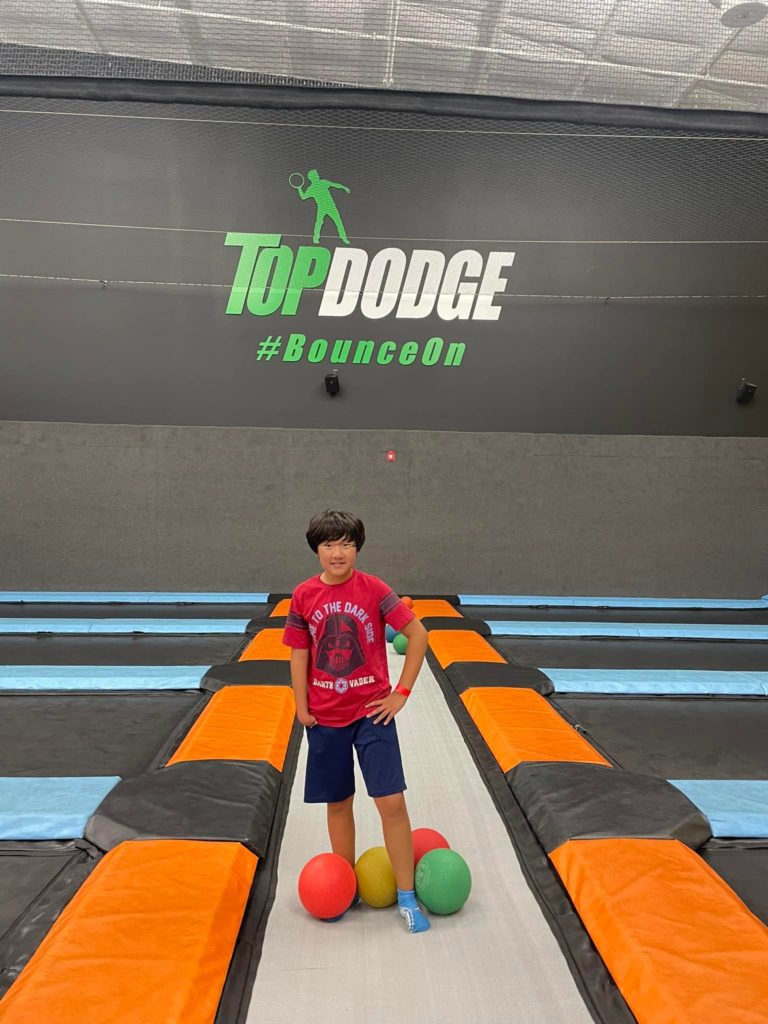 7D Interactive Adventure
This is an indoor adventure ride. Guests can choose from one of three overlays. The pricing listed on the web is different from what we encountered in person in June 2022 – it was actually lower. We paid $12.99 per person for the two ride combo.
I didn't think this activity was anything spectacular – it's similar to the Toy Story Mania ride at Disney World where you're shooting things, although the "7D" does enhance the experience a bit. My kids absolutely loved doing this, though. There's a competitive element where they snap a picture of you and post it on a leaderboard and my tweens were all about this.
Things that are still on our list for next time
We had the following activities on our radar for our weeklong visit but ran out of time. Since we all picked these as things we wanted to do, I'll mention them briefly in case they interest you for your trip planning purposes:
*I've done the Track Family Fun Park and the Titanic Museum in Branson, which is one of the reasons we placed them a little lower on our priority list but I believe they're nearly identical. I'd recommend both activities wholeheartedly based on my Branson experience.
If you've read this far and have been to Branson or researched it, you're probably thinking a lot of this sounds familiar. It's true! There are lots of similarities between Pigeon Forge and Branson, although I have to say I enjoyed Pigeon Forge much more.
Places to Stay in Pigeon Forge
We did a split stay in Pigeon Forge. We stayed first at The Lodge and Camp Margaritaville. This is a newer property in Pigeon Forge and is part hotel and part RV park. We stayed in a King Deluxe Room which works great for families. The King Deluxe Room has a king bed, a pull-out couch and a separate kid's "tent" area with two twin beds. There's also lots of floor space, which is nice for larger families.
Read my complete review of Camp Margaritaville Lodge & Resort Pigeon Forge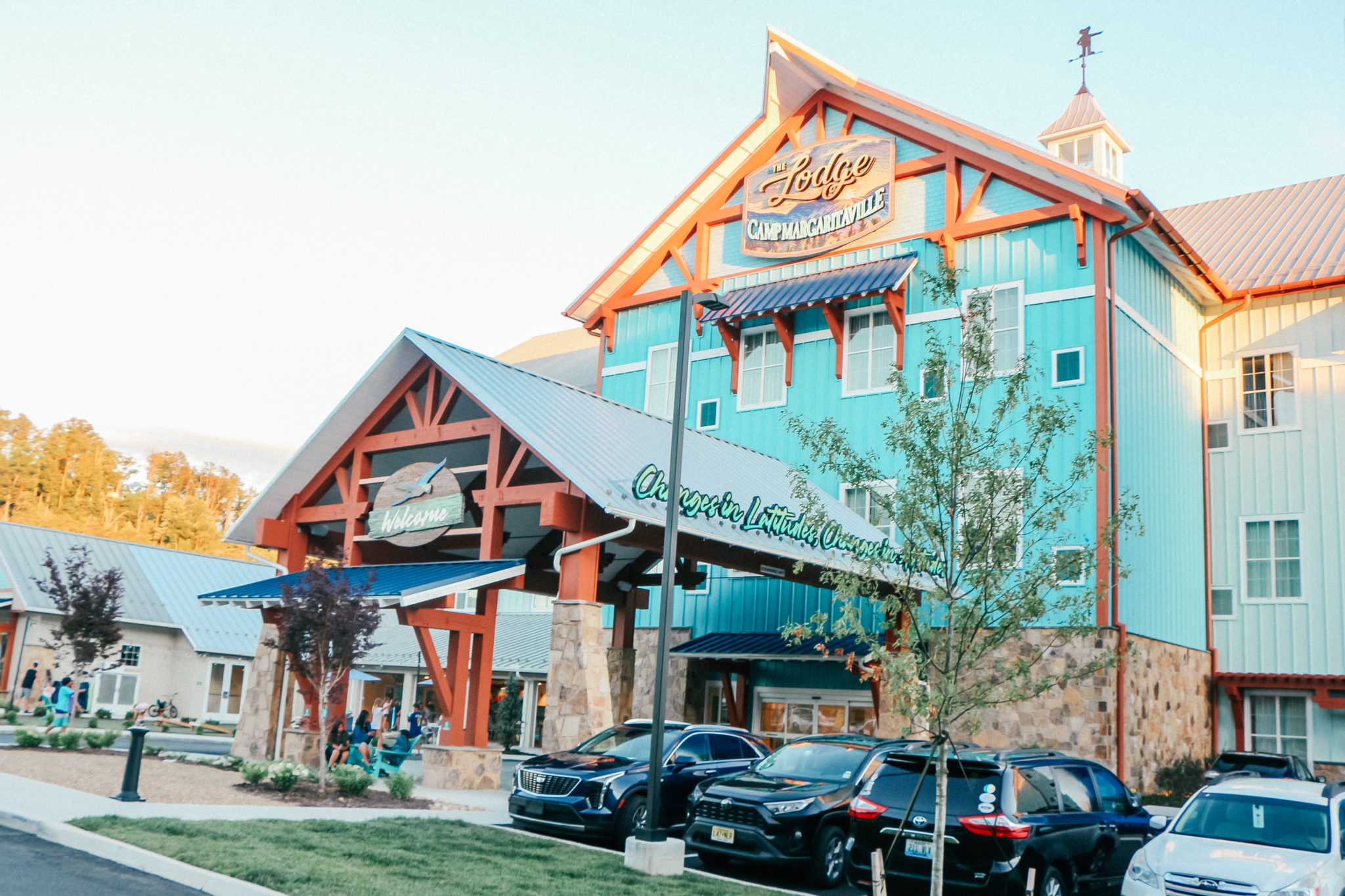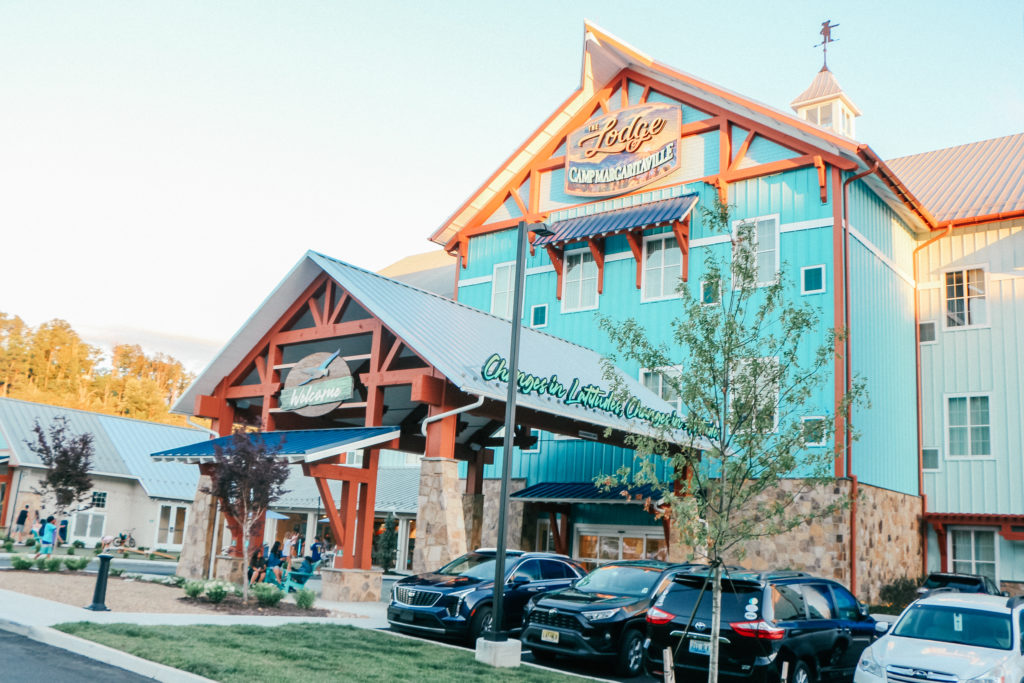 The Lodge at Camp Margaritaville has a pool with a hot tub and a water slide. A lazy river is in the works. There are organized kids' activities, live music on the weekends, and other fun – check the front desk for a schedule. There's an onsite restaurant and bar, Fins, and a camp store that sells sundries (to include alcohol and some RV supplies) as well as some food items, coffee, and smoothies.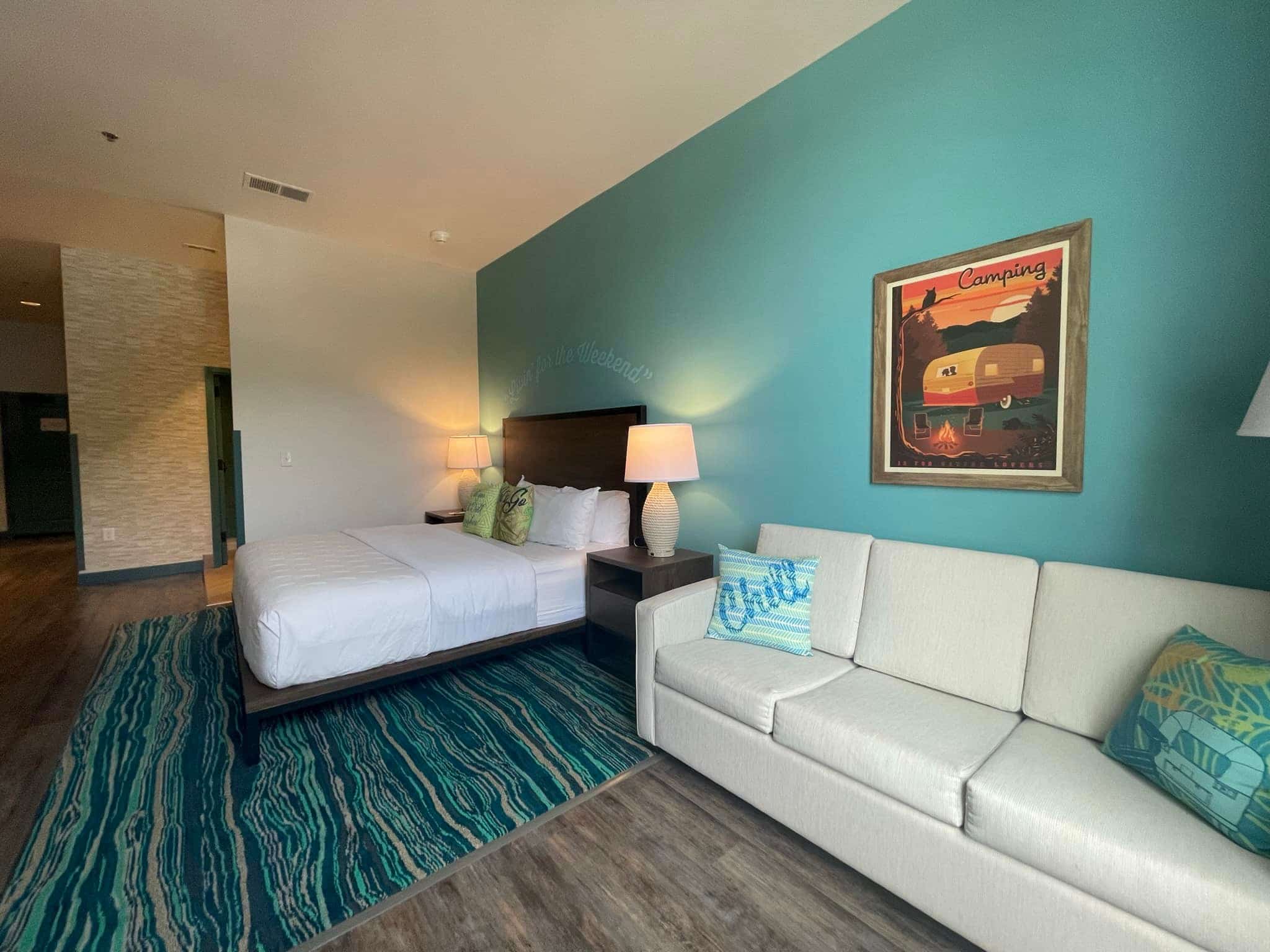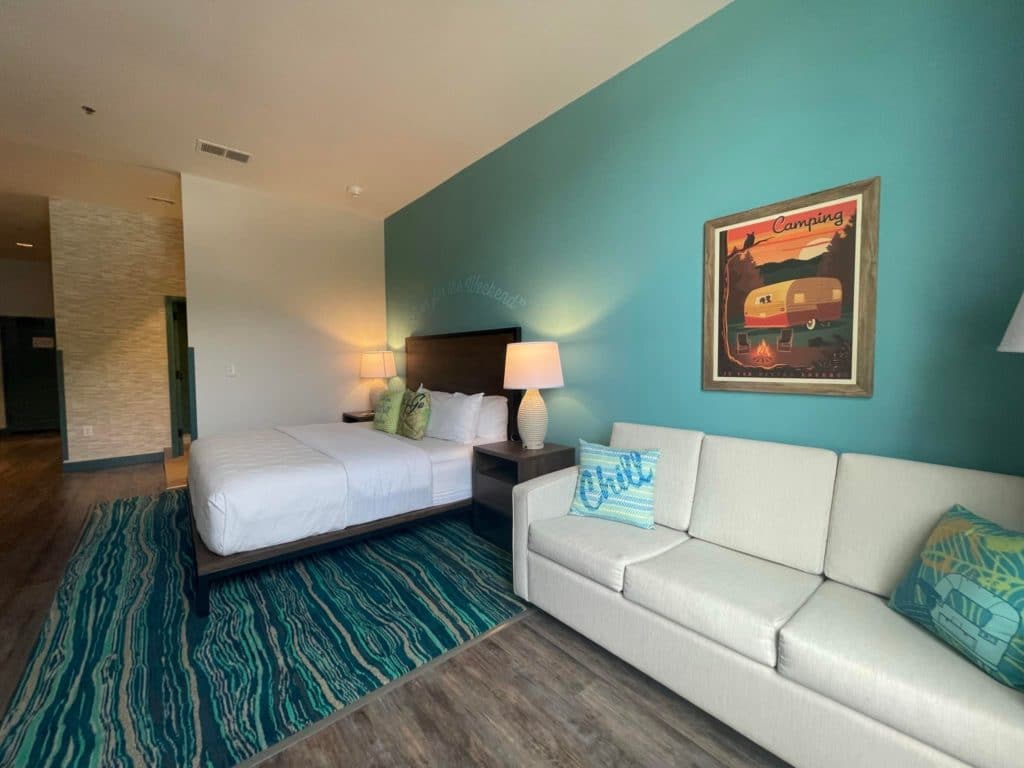 We also spent two nights at Country Cascades Water Park Resort. To call this property a water park might be a little bit of a stretch. It has a zero gravity entry pool with a separate splash pad area for younger kids and two slides. The pool area has a snack bar and cabanas for rent – there's little seating in the shade otherwise.
Country Cascades is an older property and the room we stayed in and the common areas show some wear and tear. That said, it was impeccably clean and every staff member we encountered was phenomenal. The excellent location paired with the free hot breakfast buffet make this a location to consider. We stayed here because we we got 11,000 Southwest Airlines points for two nights. If you're making a run at the Southwest Airlines Companion Pass, booking properties with bonus stays is a good way to stack your points.
Places to Eat in Pigeon Forge
There's no shortage of good food in Pigeon Forge. There's a restaurant touting country cooking or pancakes about every quarter of a mile. There's also plenty of fast food and familiar franchise restaurants.
For extra fun, check out Dolly Parton's Stampede, the Hatfield and McCoy Dinner Feud, or the Pirates Voyage Dinner & Show. We did Dolly Parton's Stampede and it was a lot of fun, although it is definitely on the pricier side at $66.99 for an adult ticket. The food is good and hearty and designed to be eaten without utensils, which most kids will find to be super fun.
We also ate at Paula Deen's Family Kitchen. If you like country cooking, this is a stop to put on your list. The food is served family style and you'll choose a set number of main dishes and four sides. The portions that are brought to your table are relatively small but you can ask for unlimited refills. Cheese biscuits and dessert are included. This is a busy place but we didn't have to wait long for our table and enjoyed good service. It's definitely someplace to go when you're very hungry. If you've got people with big appetites who will eat seconds, even better.
If you're a fan of "ice cream as a meal" I recommend you check out The Yard. The Yard is a milkshake bar but they have ice cream, sundaes and a variety of other treats. If you spend time at Paula Deen's Lumberjack Show, The Yard is directly behind the adventure park. If you do the Flying Ox and ropes course, this is the perfect treat for afterwards. These are fancier (see also more expensive) than your average milkshake, but you do get to keep the glass. There's even a washing area in the dining room so you can wash out and bag your glass.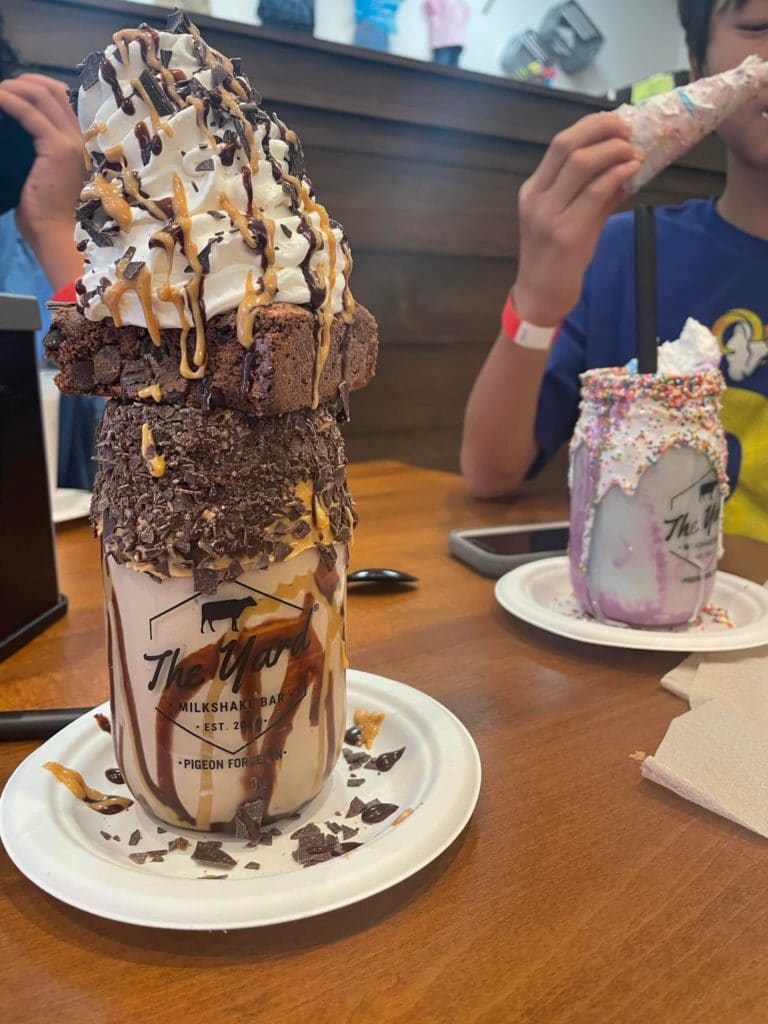 Even though we didn't eat there, I'd like to mention Frizzle Chicken Farmhouse Cafe. A reader recommend we check out the "singing chickens" and we put it on our list of places to eat. Unfortunately, I'd planned it for one of our dinners and it is a breakfast place that closes at 2:00 p.m. Everyone we talked to said it was a fun place with great food, so it's definitely on our list for next time.
Other things to know about visiting Pigeon Forge
Afternoon and early evening traffic was very heavy. Mornings and late evenings were much easier to navigate.
Check the hours of attractions before making your plans. Many things don't open until 10:00 a.m. but most things are open late.
If you need tickets or reservations to do something, such as dinner shows, book in advance to get the dates and seatings you want.
If you attend an open seating show, go as early as you can to get a good seat.
Many of the Pigeon Forge activities are probably things your family can do near home, such as mini golf and trampoline parks. Don't discount how much your kids will enjoy these activities. Kids loving what they're doing is a big part of what makes a vacation a success in their eyes.
Consider adding extra days if you plan to visit Gatlinburg or Sevierville. These communities are very close by but Pigeon Forge is pretty packed with fun things, so if you plan to venture further, make sure to allow yourself time.
If you'd like more information about visiting Pigeon Forge, check out their website. I'm happy to answer questions, too.
We received complimentary lodging and amenities at Camp Margaritaville Lodge and complimentary admission to select activities in Pigeon Forge.
You might also like:
Review of Carolina Pines RV Resort