Things to do at Mall of America (if shopping isn't your thing)
(This post may contain affiliate links. Read my full disclosure.)
The Mall of America is one of America's largest shopping malls located just outside Minneapolis. There are more things to do at Mall of America besides shopping. Even if you don't consider yourself a "mall person" or don't particularly enjoy shopping, there are plenty of fun activities here. My family spent 2+ very full days at the Mall of America without really going shopping. We had a blast.
Things to do at Mall of America (if shopping isn't your thing)
My family and I were hosted by Mall of America and Bloomington Minnesota Convention and Visitor's Bureau.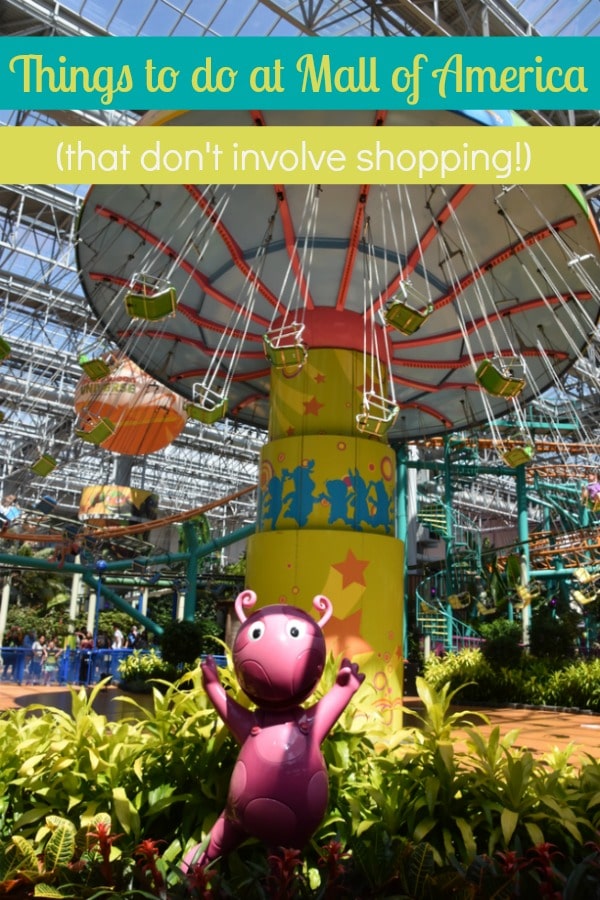 Where is Mall of America and how do I get there?
The Mall of America is located in Bloomington Minnesota, which is just outside of Minneapolis. The Mall of America is about a 10 minute drive from Minneapolis St Paul International Airport. That's a pretty major (and nice!) airport so it's easy to get flights in and out.
We were able to fly Delta direct from San Antonio to MSP. There are also flights available on American, United, and my favorite Southwest Airlines although you'll have to take a connecting flight to get there.
There are lots of hotels in the area surrounding Mall of America and there are two hotels that are actually inside the mall. You can take the light rail from the airport to the mall. If you're staying in one of the hotels inside the mall, you don't even have to go outside. We stayed at the A.C.Hotel which is directly across from the mall.
I'm sharing some of my favorite things to do at Mall of America. It's a big place and there's lots to discover. There are so many activities at Mall of America to keep you busy that you won't have to go into a store…unless you want to. My kids didn't want to leave, which is the sign of a great trip, right?
Related reading: A parent's guide to Mall of America
Nickelodeon Universe
Nickelodeon Universe is the amusement park located on the ground level of the mall. This all-indoor amusement park has 27 attractions. They offer something for everyone, from kiddie rides to thrills. If you've got kids and you're looking for things to do at the Mall of America, Nickelodeon Universe is a must-do, although you don't have to be a kid or have kids to have a good time here.
If you're not sure if Nickelodeon Universe is for you, walk through and take a look. There's no gate and you don't have to have an admission ticket so you can check it out up close to see if its something you want to spend time on. Visitors must pay to ride the rides but non riders can hang out in the general vicinity at no charge.
Everything is inside. It was really funny to be standing in a line to ride the Log Chute wearing jeans, boots and a sweater, but it's an awesome way to enjoy an amusement park in the middle of the Minnesota winter. Our favorites were The Fairly Odd Coaster, Teenage Mutant Ninja Turtles Shell Shock, and Sponge Bob's Rock Bottom Plunge but there are rides for all levels. Let me tell you – that Sponge Bob ride is NO JOKE. You would think a ride named after Sponge Bob would be sort of sweet and tame but it was anything but that!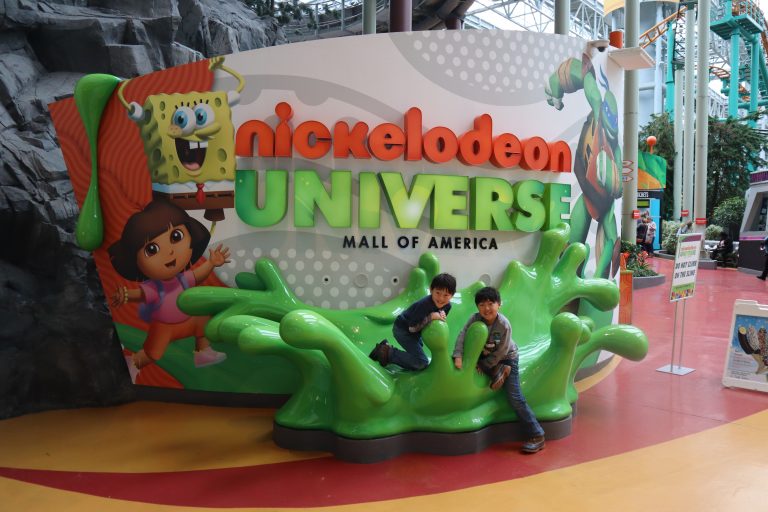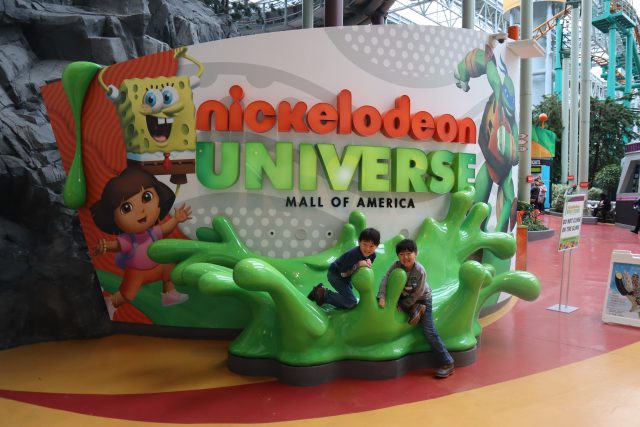 You can pay per ride or purchase an all-day wrist band. I recommend the bundled wrist band, which gives you unlimited rides plus another activity or perk, such as the Crayola Experience or a few of the other activities on this list. They also offer military discounts, twilight passes, and group rates. Check out their website to see all the options.
Like any other amusement parks, you'll find concessions, souvenirs, and character meet and greets. We saw Dora and Diego and some of the Paw Patrol Characters and managed to miss Sponge Bob and the Teenage Mutant Ninja Turtles. The character meet spot is easy to spot and there's a posted schedule of times/characters, so it's easy to know when your favorites will be out.
Nickelodeon Universe was one of our favorite activities at Mall of America – it really has an appeal for everyone, whether you're a hardcore thrill seeker or a "all the kiddie rides, please" kind of person.
Extending your time in Minnesota? Check out this great info on Minnesota North Shore Scenic Drive Must-See Stops
Dutchman's Deck
Dutchman's Deck is the ultimate adventure course. If you're a thrill seeking kind of family and you're looking for really fun things to do at Mall of America, add this to your list. They've got the Ghostly Gangplank, which is a ropes course that reaches heights of 56′ about Nickelodeon Universe. You'll also be able to enjoy the Anchor Drop, a crazy long spiral slide and the Barnacle Blast, which is the longest indoor zip line in North America.
Dutchman's Deck is technically part of Nickelodeon Universe but there's an extra fee to participate. You can purchase this as an add-on to your all day wristband. If your wish list of activities in Mall of America include some thrills and adventure, definitely check out Dutchman's Deck.
Fly Over America
Fly Over America is a 10-minute immersive ride that simulates flying over American cities and landmarks. It's located adjacent to Nickelodeon Universe but you will need a separate ticket to ride. You can purchase tickets on site but you can save time by buying in advance.
If you've been to Disney and ridden Soarin' Around the World, Fly Over America is the same concept, but it's better. I said what I said.
If you are prone to motion sickness, Fly Over America might bug you a little. It moves you around a little bit more than Soarin' which is one of the things that makes it cooler.
The Escape Game
If you've never done an escape room, I highly recommend it. It's a fun activity for a date night or for a group of friends. My husband and I have done two of them but this was the first time we did an escape room with our kids. I thought they'd be sort of a hindrance but they actually were very helpful. Younger kids have sharper senses and they'll spot things adults won't.
An escape room is a series of puzzles and clues you have to solve to find your way out of a locked room in under an hour. You are being observed by a game host the entire time. They can (and do) help you upon request…or just randomly when they see you're stuck.
I'll add that you're not really trapped in there. If you need to or want to leave, you'll be able to. The hour does go quickly.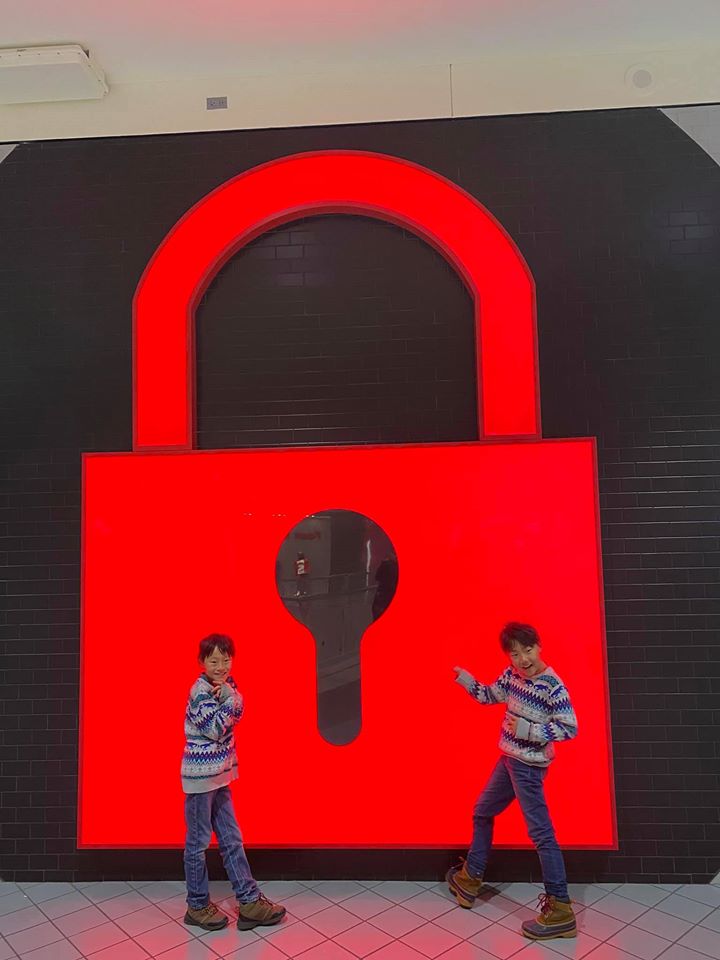 The Escape Game's website recommends this as an activity for guests 13 and up. My kids are were nine at the time of our visit (the venue made an exception because we were part of a media visit) and they did well. They were really into solving the puzzles and clues and were engaged the entire time.
When you play the Escape Game, you will probably be paired with other people who have signed up. You can look at this two ways. One, it's a great way to meet new people and possibly capitalize on some skill sets you don't have and/or take advantage of the extra brain power. Two, you may not work well with someone you don't know or think you work better with someone with whom you have an established dynamic.
There are several scenarios you can choose from at The Escape Game – we did Gold Rush. You'll get hints from your game host and honestly? These games are hard. I was playing with my husband who's much more cerebral than I am when it comes to logic problems and two kids who spotted things the rest of us didn't and we still struggled. We wouldn't have made it without the clues but it was still really fun.
See the Sea
There's a Sea Life Minnesota Aquarium inside the mall. When you are making your list of things to do at Mall of America, you don't really think of marine life encounters, do you? I was really surprised to find marine life in a city that doesn't have a coastline – although there are lots of lakes in Minnesota. The Sea Life Aquarium occupies multiple levels of The Mall of America and there's a lot to see. There are colorful fish, sharks, sea turtles, rays and more.
I think our favorite was the jelly fish exhibit. I've never seen one quite like this and the lighting effects were really cool. I still wouldn't want to run into one of these guys while swimming in the ocean but they were cool to see here.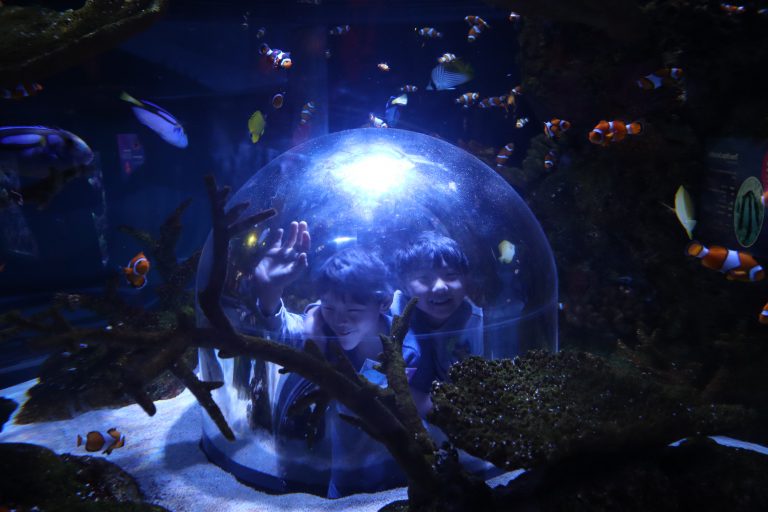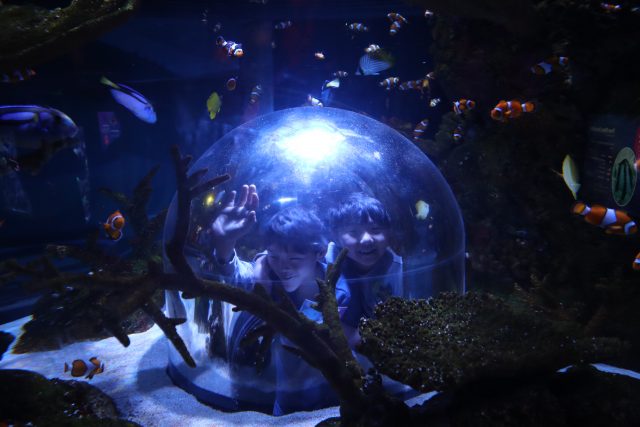 There are floor to ceiling level aquariums and tunnels where you can watch turtles, sharks and colorful fish swimming over your head. It's a really cool view of the ocean. Sea Life Minnesota Aquarium is go through at your own pace. It will take you around two hours to see everything and you can leave and re-enter on your day ticket. You can buy onsite but you will save money if you grab your tickets online.
You can also book special experiences at Sea Life Minnesota Aquarium. We did the behind the scenes tour which gave us insight into how the food for all the fish is prepared. We also got to see the aquarium from the top of the tanks, which is a perspective I've never considered before. I've been in plenty of aquariums where I've stood and looked inside the tanks from the floor level but this was a really neat view. You can also book snorkeling experiences and feed the rays.
Mini Golf
The Mall of America has not one but two miniature golf courses. Moose Mountain Adventure Golf is an 18-hole course overlooking Nickelodeon Universe. It's a fun, challenge course that has an old time North woods feel.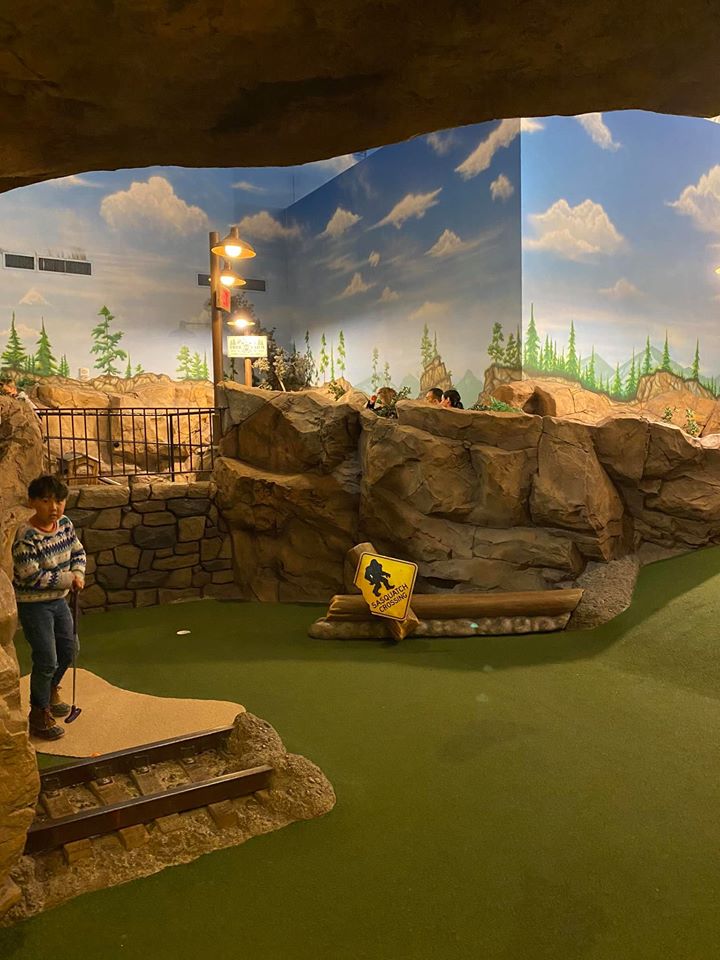 There's also Rock of Ages Black Light Golf Course. This one also offers 18 holes but it's in a much more concentrated space. There's black lights – obviously – and music that represents what's been popular through the ages.
Each mini golf course in Mall of America is fun in it's own way. If you're there for a couple of days or more, I recommend trying them both. You can actually buy a ticket for both attractions for $19.99. Also check to see what discount will apply if you've already purchased the wristbands from Nickelodeon Universe and see what's the better deal.
We liked having the "rematch game." We stayed in Bloomington for three nights and we played Rock of Ages the first night and did Moose Mountain on our last night. There was lots of smack talking between the first and the second match. My husband won both. We all decided he cheated.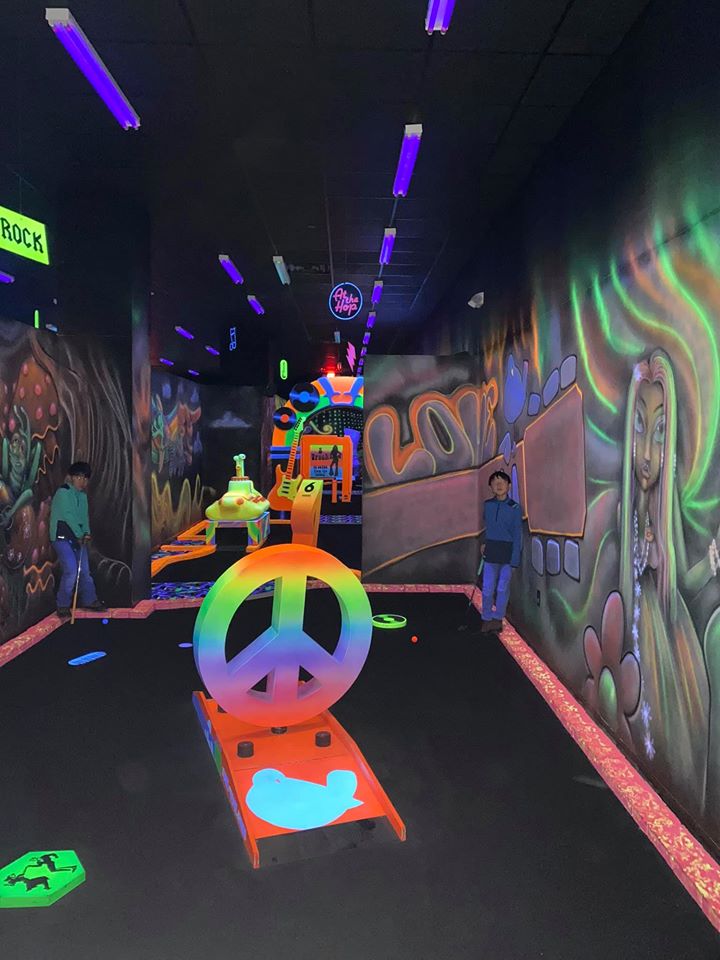 The Crayola Experience
The Crayola Experience is something parents with young kids are going to want to put high on their list of activities at Mall of America…but even if you're not a parent of young kids, don't count this experience out as "kid stuff" because it's pretty darn cool.
You can create all kinds of fun art projects, from puzzles to coloring pages. You can also create your own crayon color. Some of the activities inside the Crayola Experience cost extra but it's a great way to spend some time away from electronics and technology.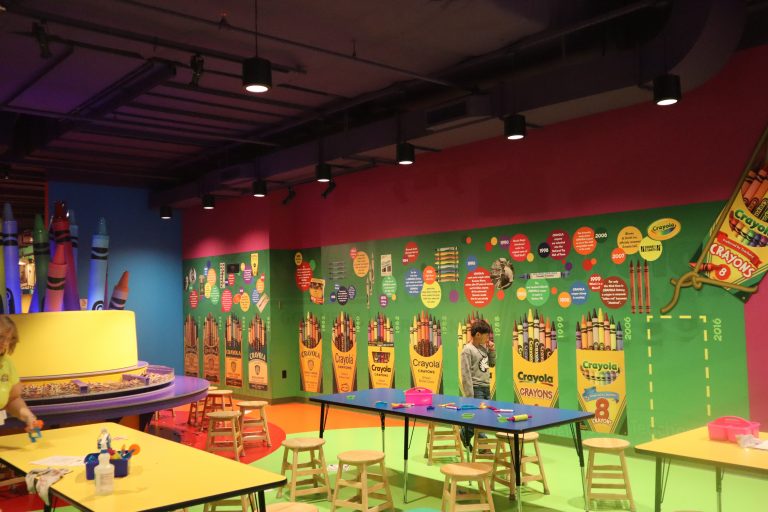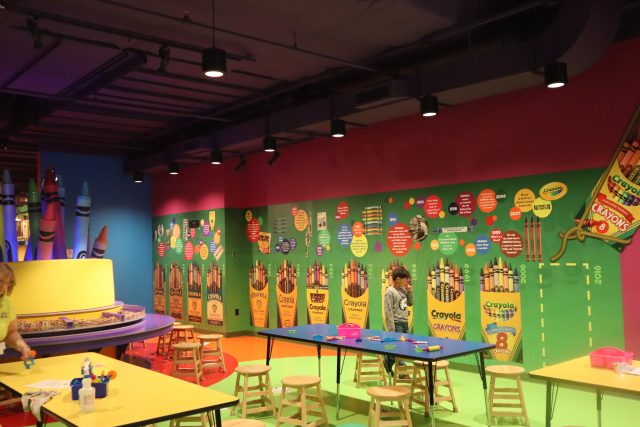 If you want to include the Crayola Experience as part of your Mall of America fun, make sure you schedule this earlier in the day. The close a lot early than some of the activities and their close time is a hard close, not a last entry.
You can save money on tickets by subscribing to their email updates. Check out more ways to save and plan your visit to the Crayola Experience here.
Go to the Movies
If you want to check out a movie at Mall of America, you can! The mall has a B&B Movie Theater, and it's not your average movie going experience. Yes, a movie might be a fairly typical thing to do at a mall but the B&B Movie Theater at Mall of America offers an elevated experience. If you're scoping out activities at Mall of America and want a chillaxed end to your day (or even a midday break) consider this one.
There are market style food options you can check out before grabbing your seat. There's an in-house pizza station, a burgers and shakes destination, a deli station featuring cheeses and charcuterie platters, salads, sandwiches and more, and a popcorn lab. I mean…don't the words "popcorn lab" just scream "elevated movie going experience?"
If you want a cocktail before, during, or after your movie, this theater offers a wide variety of craft cocktails, wine, beer, and spirits.
The CMX Movie Theater offers first-run movies and a variety of special pricing and discount (such as matinee and military discounts so definitely ask) and this is a great way to unwind after a day of power shopping, mini golf, or riding the rides.
See a comedy show
Movies are fun, but if you want to relax at the end of your day in Mall of America with some laughs, then maybe the House of Comedy will find a place on your list of things to do in Mall of America.
This is one of the activities at Mall of America that interested us but that we didn't get to do because we had our kids with us. You can take kids 15 and up to the early show and the later shows are 18 and up. I personally wouldn't take a minor to a comedy show. For me, it's an adult event but if you have more questions, you can check out the FAQs here.
Eat – One of my favorite things to do at Mall of America. No shame about that!
To detail all of the food options in the Mall of American warrants its own separate blog post. I'll give a really quick recap for my friends who see eating as a sport – as I do. One of my favorite activities at Mall of America was eating, and here's a quick look at what we loved.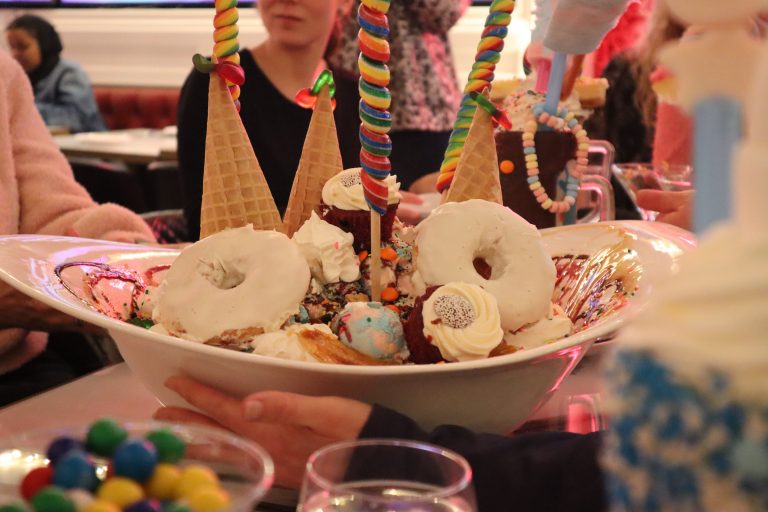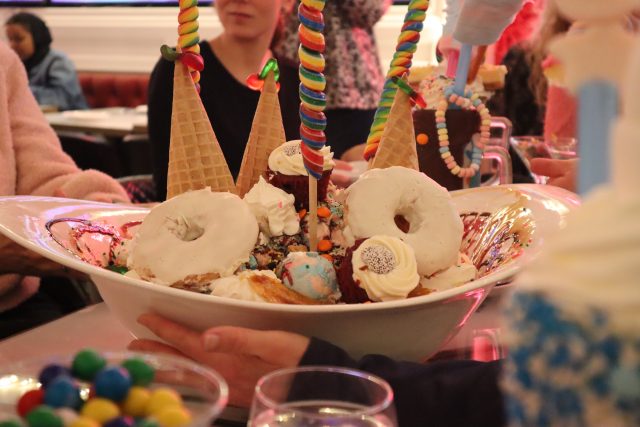 Food Courts – The Mall of America has two food courts. That's how you know its a mega mall, right? You'll find the standard mall food court fare, such as Sbarro and Chick Fil A but you'll also find some deliciously ethnic finds, such as Bussin Birria Tacos.
The standard mall grub – You'll find Auntie Anne's as well as Wetzel's Pretzels, which pretty much presents an impossible choice. There's also chocolates, churros, ice cream, and everything else you could want to nosh on.
My picks – I went into my Mall of America trip thinking I was going to go to town on all the mall food and I just ran out of steam. Don't miss Oppa Sweets and Doc Popcorn.
Sit Down Food – There are lots of options for sit down dining at the Mall of America. You'll find familiar chains such as Hooters, Margaritaville, Buffalo Wild Wings, and more. Our personal recommendations are The Sugar Factory, Twin City Grill, and Fire Lake Grill House + Cocktail Bar. I think you'd have to spend a week in the mall sampling all of the food options and even then, you'd waddle out without trying it all. I'm convinced sampling all the things in a short span of time is an impossible task.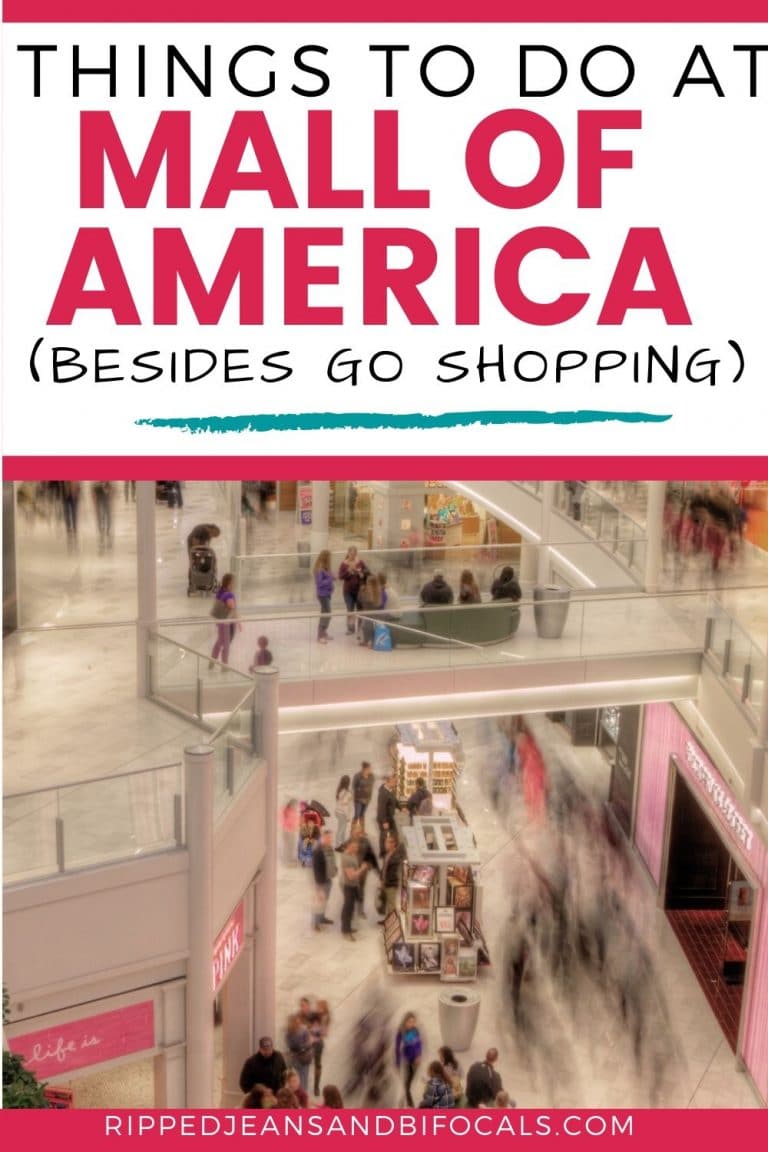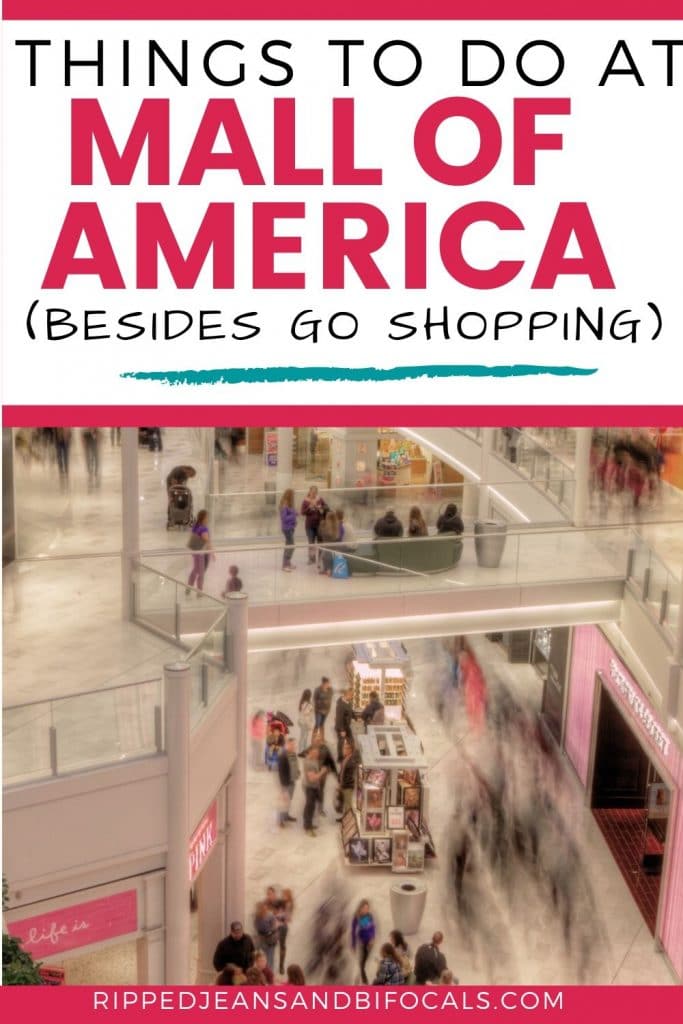 What's new and Coming soon to Mall of America
M&M Store (opened May 2021)
Kura Sushi revolving sushi bar
You might also like:
Things to do in Tempe with kids
Tips for putting your kids in ski school