5 day Gulf Shores spring break itinerary
(This post may contain affiliate links. Read my full disclosure.)
Want the BEST spring break trip for your family? I've got an awesome suggestion for a family-friendly beach break: Gulf Shores Alabama. Alabama beaches are perfect for families – no MTV-style beach bash here. Gulf Shores and nearby Orange Beach are beach communities that cater to families with plenty of places to stay and a plethora of shopping and dining options. This 5-day itinerary for the perfect spring break in Gulf Shores Alabama is easy to follow and also easy to modify if you want to swap an activity out or schedule fewer activities. Create your own adventure!
My lodging, meals, and activities were covered by Gulf Shores and Orange Beach Tourism.
Order your free Gulf Shores Orange Beach Vacation Guide, search for lodging options, and learn even more about the area.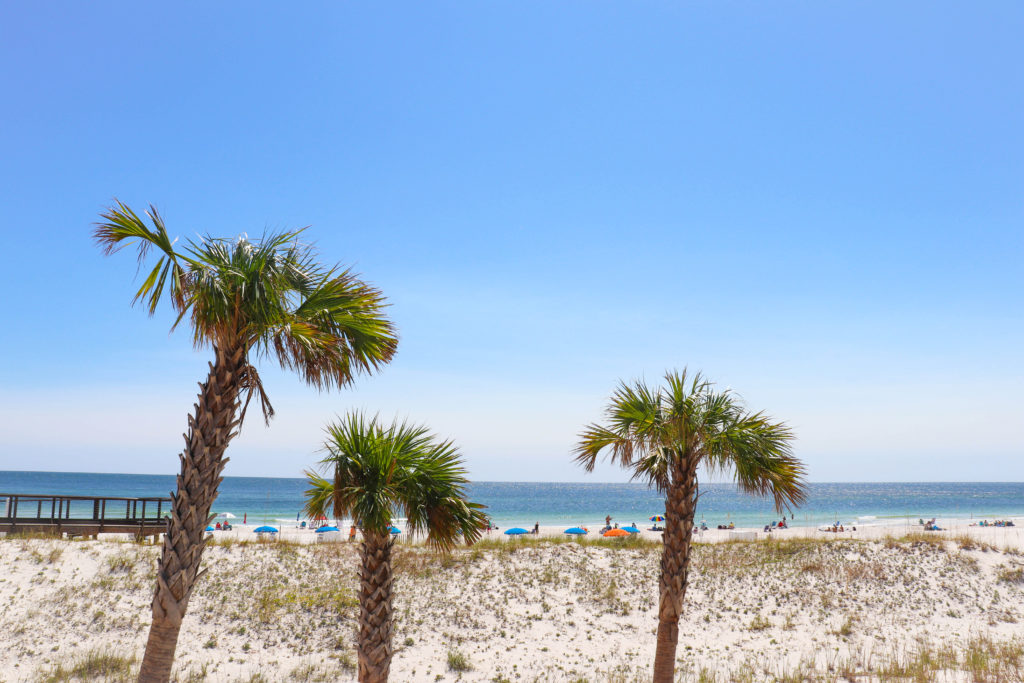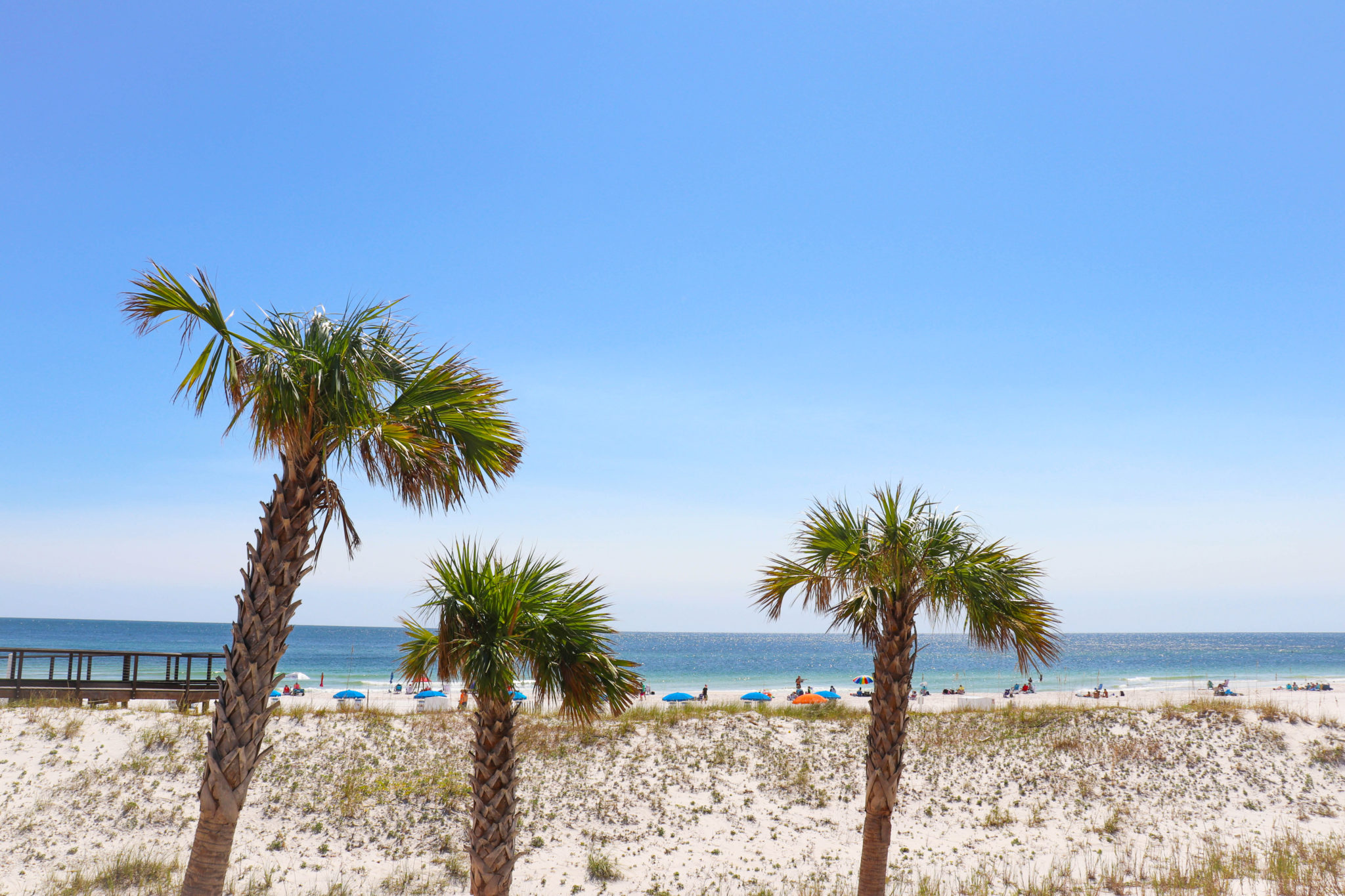 5-day Gulf Shores spring break itinerary for the perfect spring break
This 5-day Gulf Shores spring break itinerary is built for Day 1 as your arrival day in Gulf Shores and Day 6 as your departure day. The suggested activities aren't super structured to allow you downtime. It is the beach, after all. If downtime isn't your thing, you can add additional activities.
Day 1 of your Gulf Shores Spring Break itinerary – settle in
Day 1 is arrival day! Your condo check-in will probably be between 2:00 and 4:00 p.m. Gulf Shores is very condo heavy…there are hotels but condos and beach houses are more plentiful because Gulf Shores is so family-friendly.
Gulf Shores Condos and vacation rentals
Renting a condo versus renting a hotel room takes your family vacation up a notch. I know what you're thinking: that it will take your credit card balance up a notch, too. Vacation rentals in Gulf Shores/Orange Beach are surprisingly affordable, especially when you consider all the space you get and that having a kitchen will ultimately save you money on food. I'm not a big fan of cooking on vacation but putting together a simple breakfast or making sandwiches for lunch is easier and less expensive than loading everyone up to go to a restaurant three times a day.
On my most recent visit to Gulf Shores, my family (five people total) stayed in one half of a beachfront duplex located in the heart of Gulf Shores. We stayed in Indigo Surf EAST, which sleeps up to 15 people. Rent the entire house if you have a really large group (up to 30) or just want that extra space to spread out.
The house was amazing, with a very well-stocked kitchen, comfortable living area, two master suites, and a bunk bed room that sleeps nine people. Each bedroom has an en suite bathroom and there's also a powder room in the hall. There were two balconies with a beach view, one off the living room and one off the upstairs master bedroom.
This setup is perfect for a multi-family or multi-gen travel group. I stayed here with my daughter and son-in-law and my two grandchildren. I had the downstairs master suite and they took over the upstairs area. We all had plenty of privacy and space. Pam is an Airbnb Superhost, which means she's an experienced, highly-rated host. I had to contact her during my stay and her response was super prompt.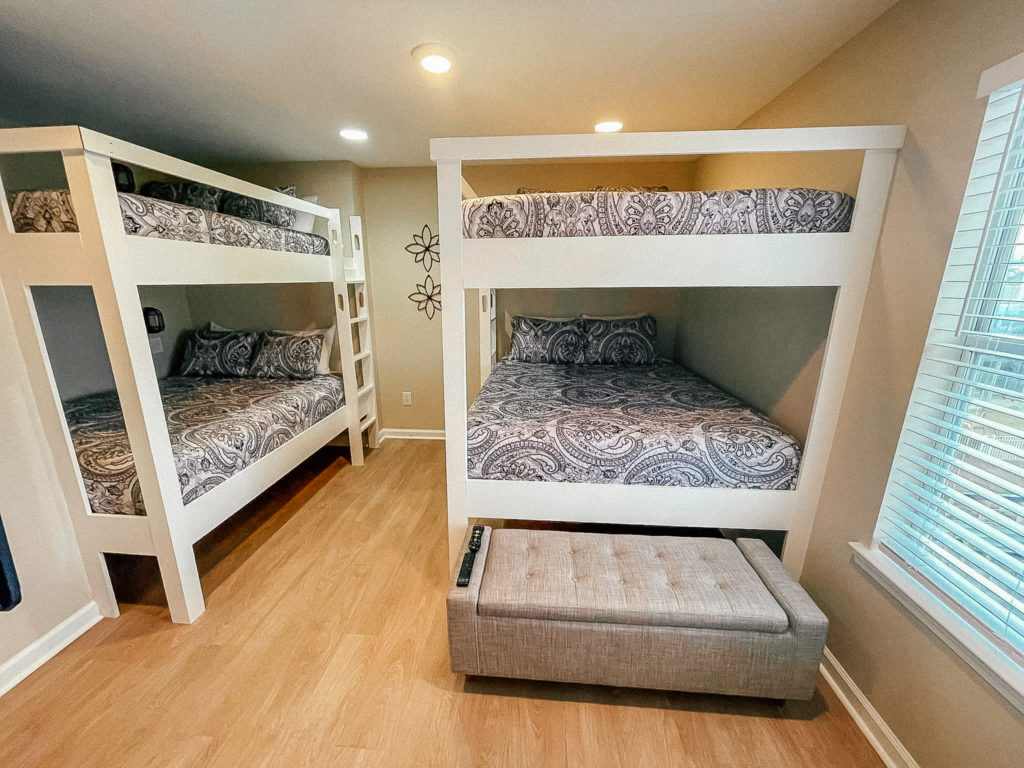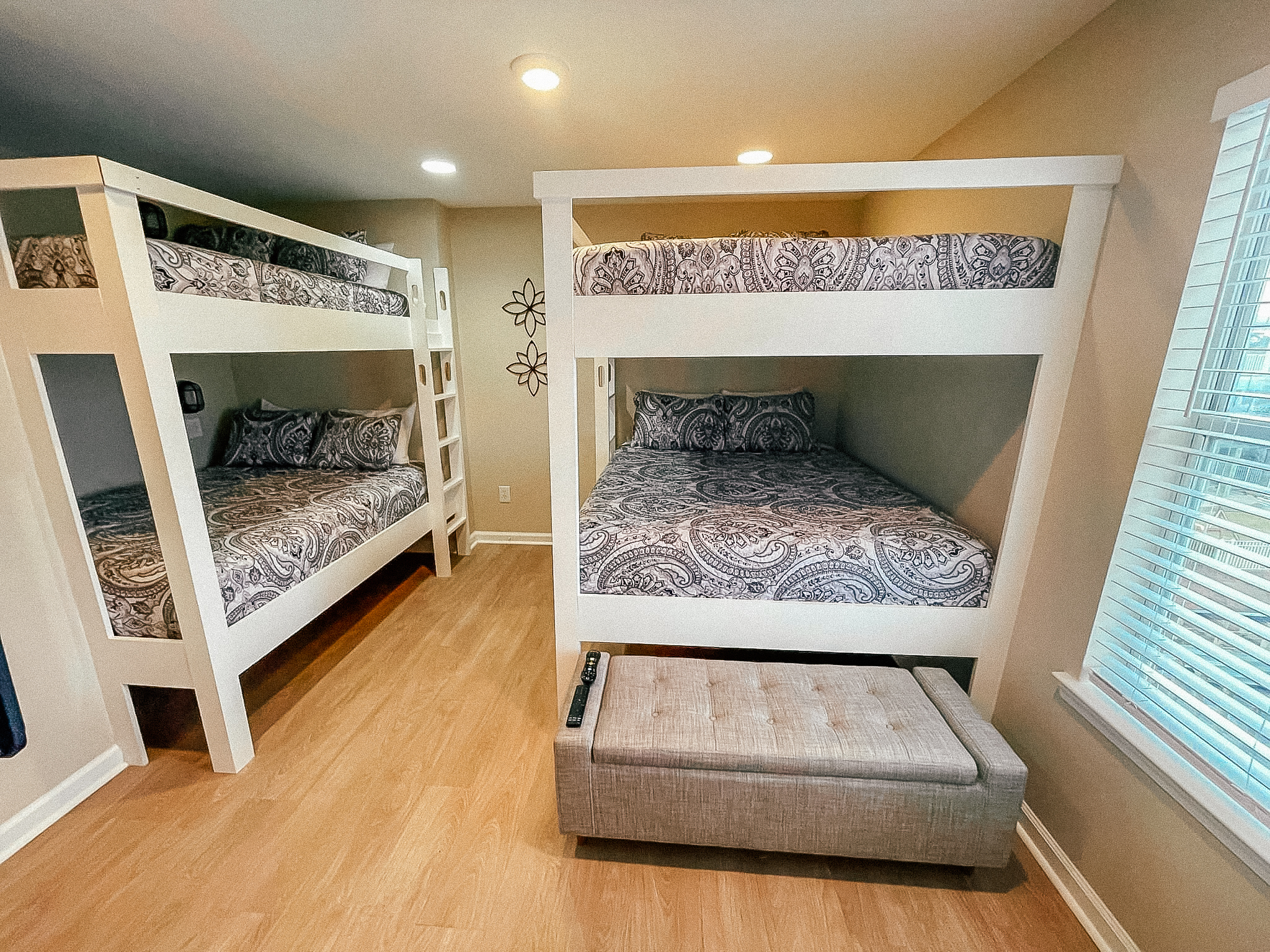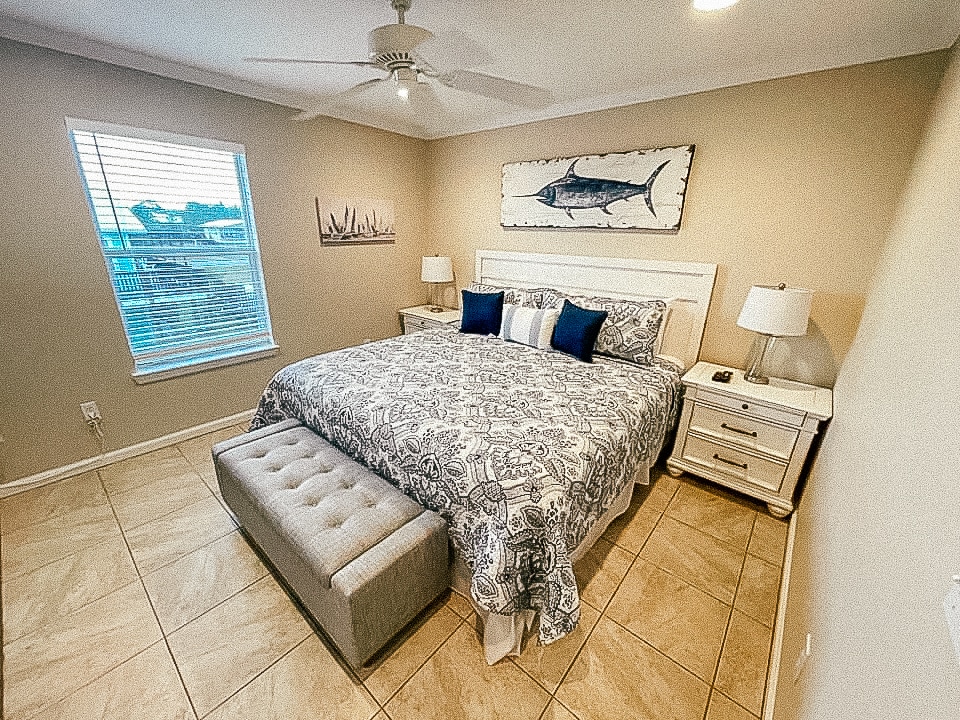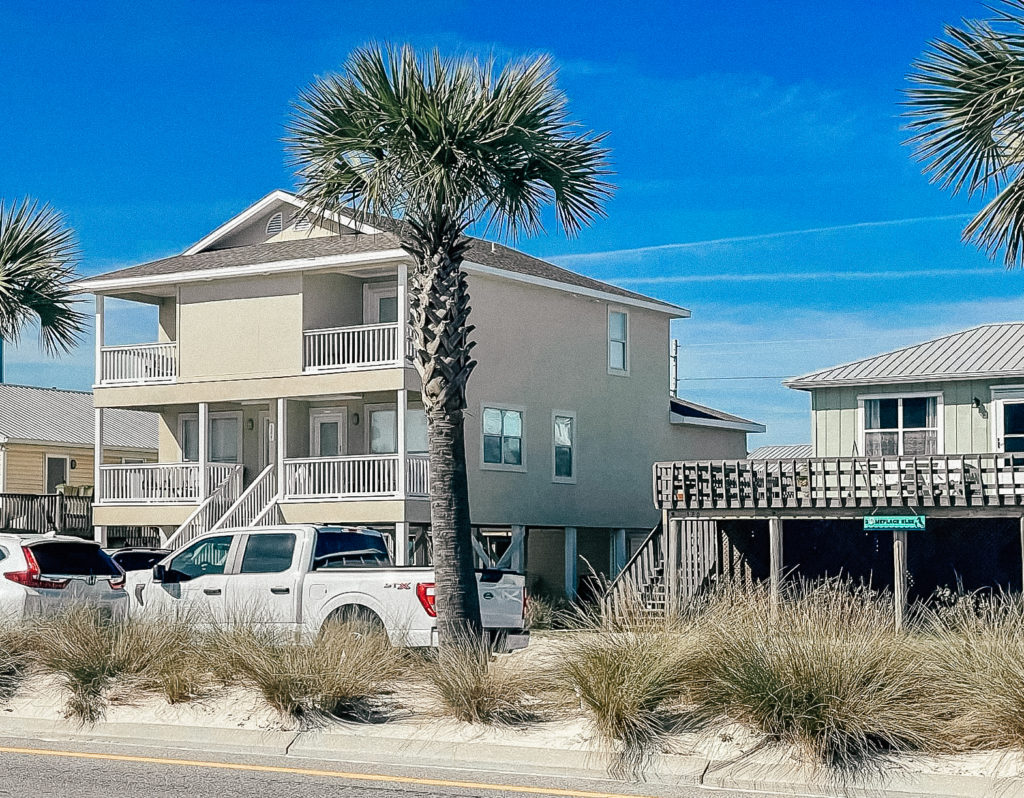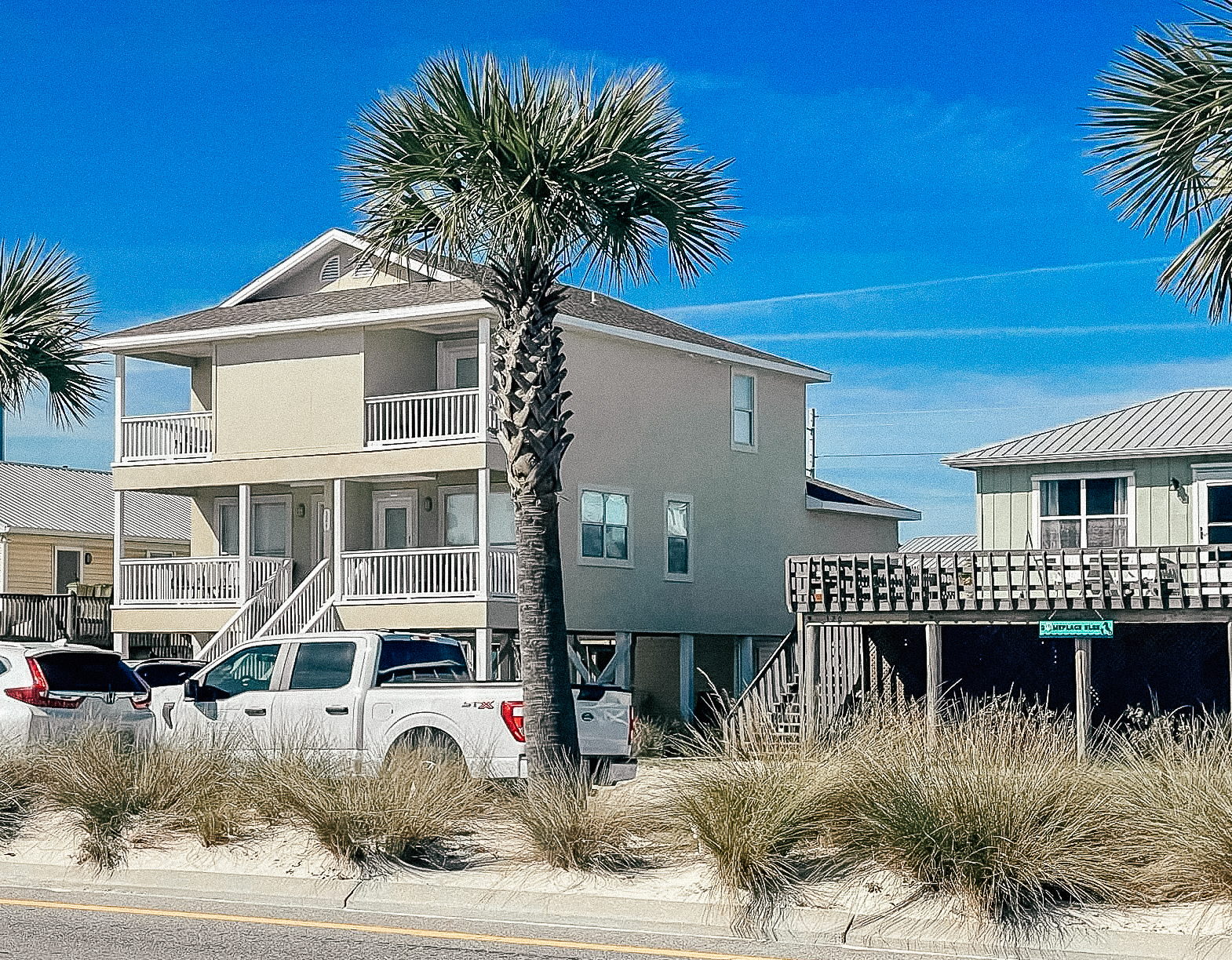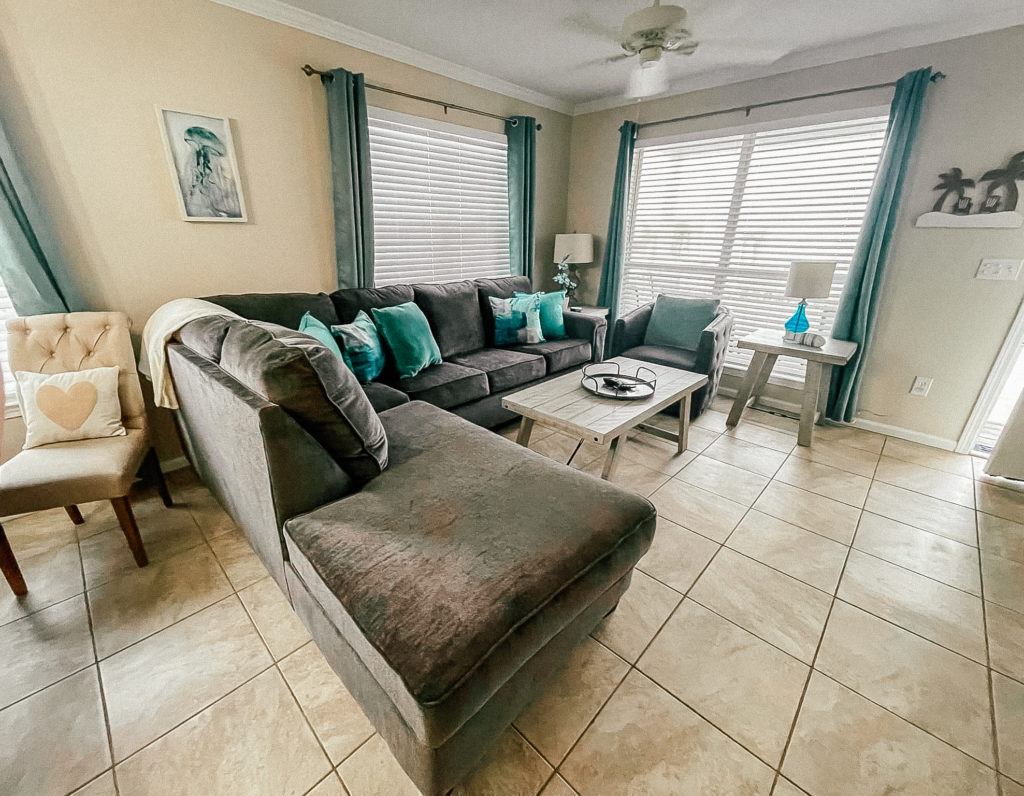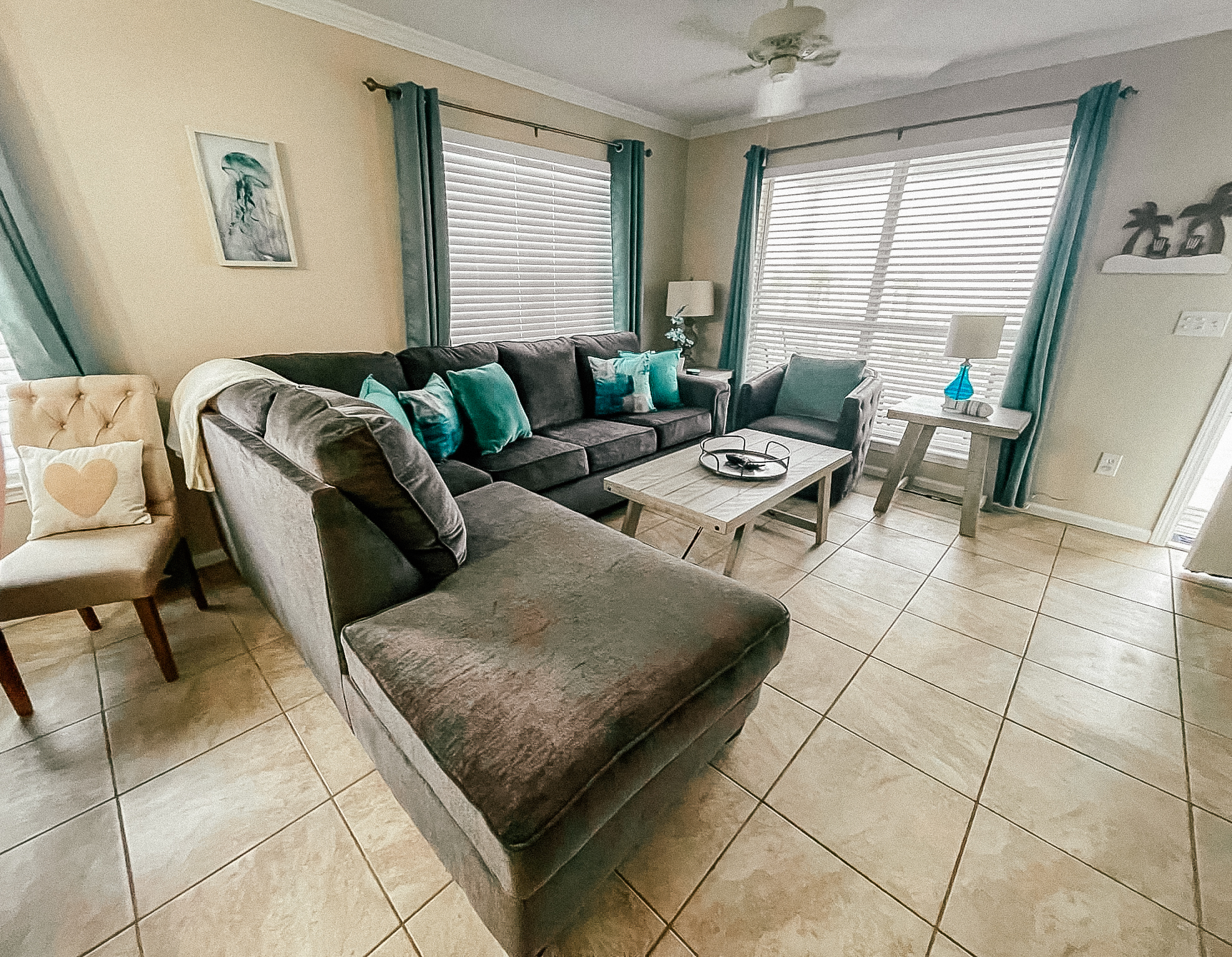 You can also check out the Gulf Shores/Orange Beach tourism site – they have links to lots of condo rental agents – and plug in the specific location, size, and amenities you need.
Note: There was no pool at Indigo Surf, so if having pool access is important to you, you may want to shop around a bit. Most of the high-rise condos in Gulf Shores and Orange Beach come with some type of pool access.
Grocery shopping in Gulf Shores/Orange Beach
You'll want to hit up a grocery store on your way into town or make plans to get supplies delivered once you get checked in. We shopped at Rouse's Market in Gulf Shores and got everything we needed. We stick to the basics when living that condo life: coffee, bread, eggs, milk, and sandwich fixings. If you want to prepare more ambitious meals, I recommend having a look at what type of kitchen equipment is in your rental or contacting your lodging host.
You can also use Shipt or Instacart to get groceries delivered to wherever you are staying. Gulf Shores has both a Walmart and a Target and both have curbside pickup and delivery options. There are also Beach Moms, a local concierge service that can arrange grocery delivery and also book experiences such as beach picnics, photo shoots, excursions, private dining, and more.
Spend the first day settling in
Spend the afternoon unpacking and exploring. This is a good time to make sure you get everyone set up on the WiFi and make sure your pool code works if your lodging space has pool access.
If you want to have dinner out, there's a list of recommended restaurants at the end of this article.
Explore the beach in the dark and bring a flashlight to check out the ghost crabs. This is something you can do any – or every – night of your spring break trip in Gulf Shores AL. You can get red filters for your flashlight at the Gulf Shores Welcome Center (3459 Gulf Shores Pkwy, Gulf Shores, AL 36542 ) along with a net bag for shell collecting and a shell identification card to help you identify your treasures.
Day 2 of your Gulf Shores Spring Break itinerary – Beach Day!
Breakfast on the balcony or patio. Keep it as simple as you want or gourmet it up in your condo kitchen. You can also pick a breakfast or brunch spot from the restaurant list below.
After breakfast, hit the beach at your leisure. If you're staying in a vacation rental or condo, I recommend you scope out the beach equipment situation before your trip. You'll want beach chairs, umbrellas or canopies, sand toys for the kids, and beach towels. Your lodging may or may not provide those things. If you need to buy beach gear (or if you forget your bathing suit or your sunscreen) there are plenty of nearby places to grab beach gear. There are lots of outfitters near the beach or you can go further in town and hit Target or Walmart.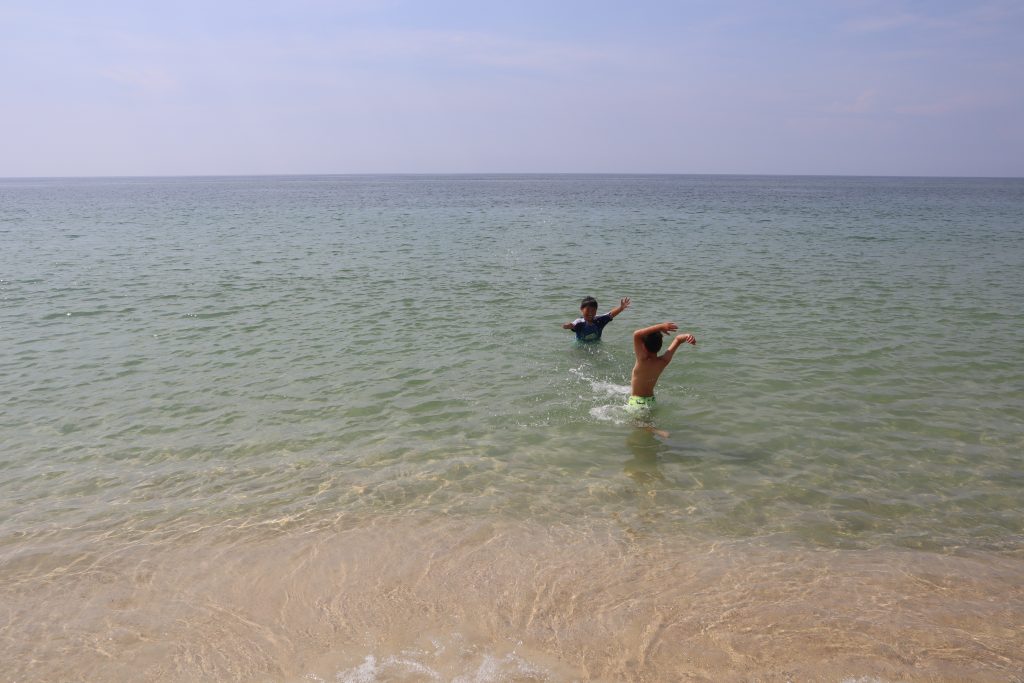 I recommend taking an extended lunch at The Hangout. If you opt to have lunch at your condo, consider the Hangout for an early dinner. Do sandwiches or leftover pizza (or order more pizza!) for the meal you don't go out for.
The Hangout offers inside and outdoor dining. They have great views of the beach and a fun backyard with lots of photo ops and things for the kids, like an hourly foam explosion.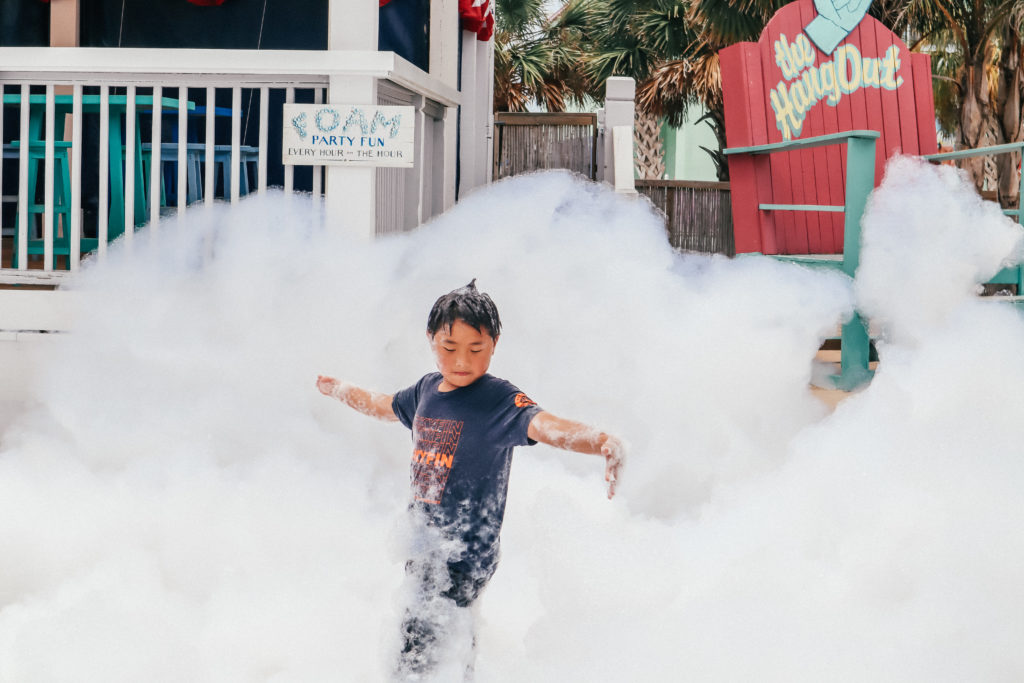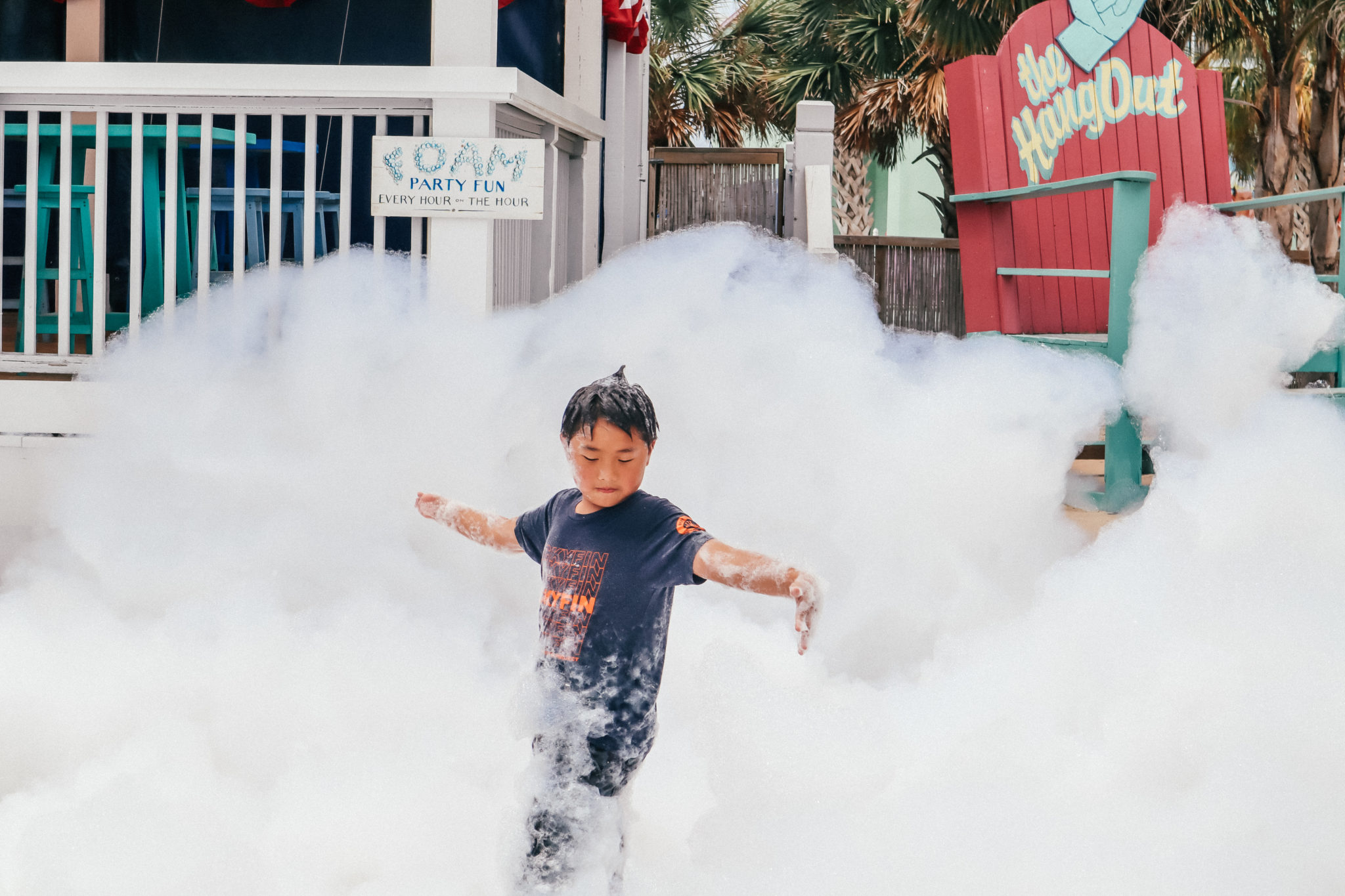 Day 3 of your Gulf Shores Spring Break itinerary – Choose Your Adventure Day
If you have a larger group you can split up and have everyone pick activities that interest them. Here are a few options to choose from:
Parasailing with Skysurfer
Parasailing with Skysurfer was a great experience, albeit slightly terrifying, for me. My two sons and I went out on a 15-passenger boat with two crew members. One of my kids didn't want to parasail so he went on the boat as an observer for a small charge. The boat ride was an adventure in itself, so observers shouldn't feel too left out. You can parasail as a duo, as we did, or as a group of three.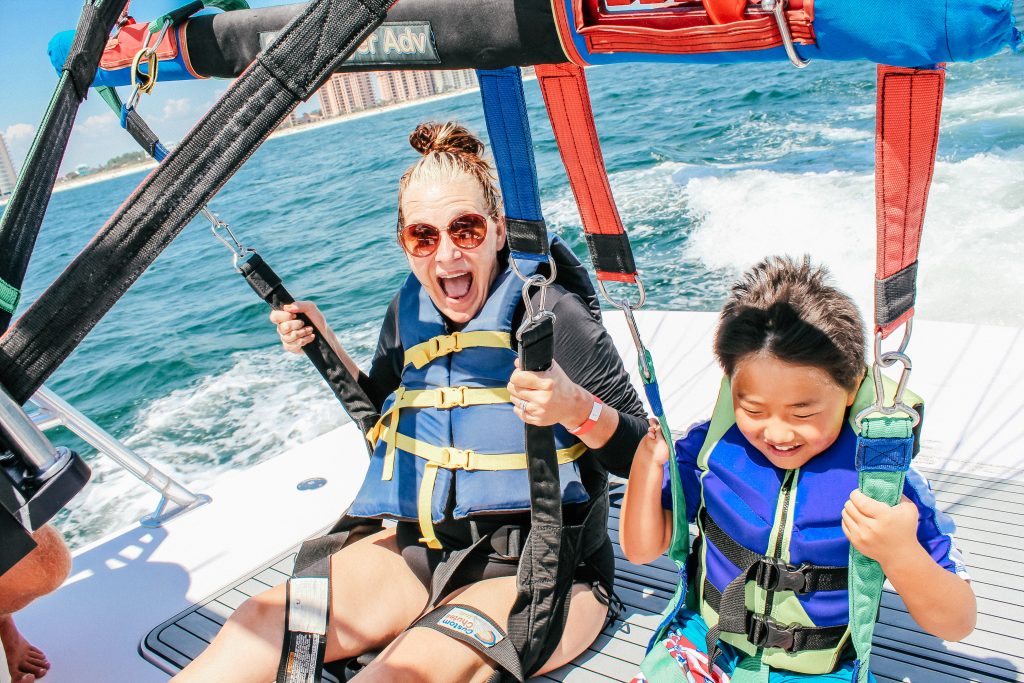 We were out for a total of 90 minutes and Zack and I were up in the air for about 10 minutes. I'm proud of us for doing it since it was outside of my comfort zone. Kids as young as four can go parasailing so this is a family-friendly activity.
If you're up for adventure but parasailing isn't quite your thing, there are lots of other water activities available: jet skiing, paddle boarding, kayaking, sailing, and more. To check out what adventure sports are available in Gulf Shores, read here.
Explore Historic Fort Morgan
Visiting Fort Morgan is a great way to learn the history of Gulf Shores. This National Historical Landmark is a former outpost where soldiers protected and watched over Mobile Bay. Admission to the fort includes the grounds, a small museum and gift shop, and access to a beach adjacent to the property. You'll get a pamphlet at the entrance that will take you on a self-guided tour.
I recommend allowing at least an hour to explore Fort Morgan. Some of the stairs to the viewing points on top of the fort are quite steep so if you have very small kids or experience any mobility issues, fully exploring the fort might not be the best fit. There is quite a bit of outdoor space to explore and the beach is great for walking or shelling. Swimming isn't prohibited, according to signage, but this isn't the area's best beach for swimming.
Fort Morgan offers free admission to military and reduced admission for seniors and students.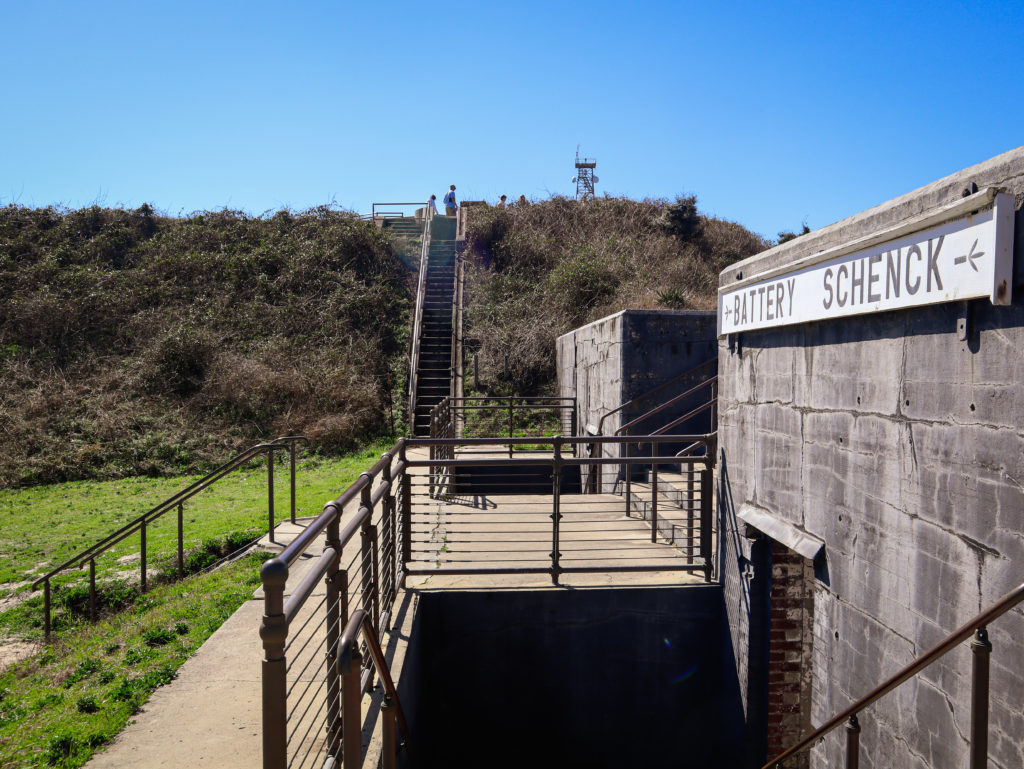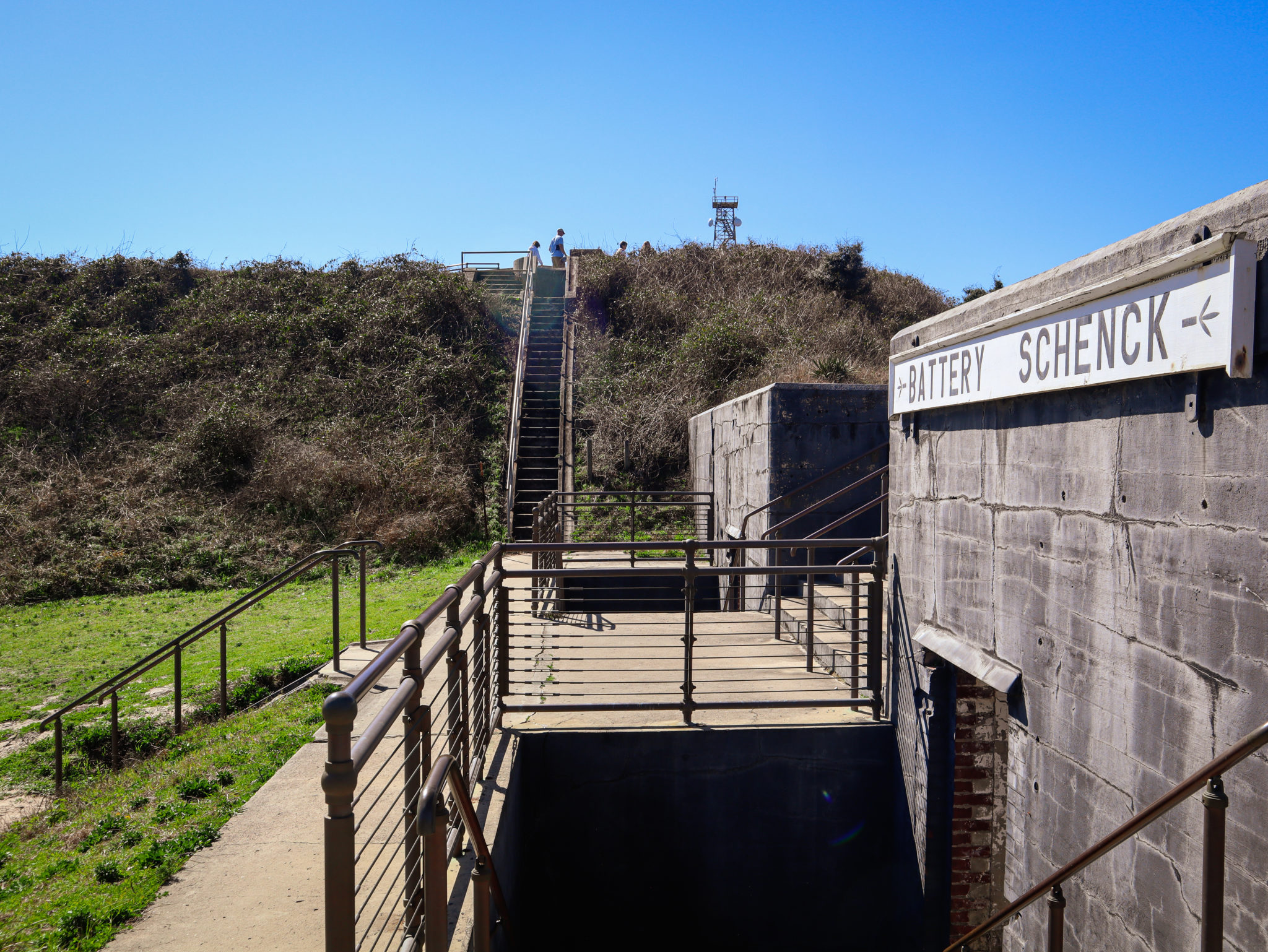 Visit the Alabama Gulf Coast Zoo
There's an excellent small zoo in Gulf Shores. It's great for all ages but it's perfect for younger children. Add-on activities (not included in your zoo admission) are animal encounters (Sloth, Lemur, Kangaroo) and a carousel ride. There's a great outdoor playground that's included in zoo admission. The zoo might not be the best activity choice during Alabama's hot and humid summers but the March and April weather should be just right so consider adding it on to your spring break itinerary.
You can see everything there is to see at the zoo in two to three hours, going at a relaxed pace. The adjacent restaurant, The Safari Club, is a don't miss. Zoo food is usually nothing to get excited about but the Safari Club is different. The African-inspired decor rivals the theming at Disney's Animal Kingdom (both the park and the lodge) and the menu is so much more than chicken nuggets and fries. The Safari Club is Alabama's first green restaurant and has a wide selection of plant-based items. We had a light lunch that included the smoked tuna dip, the chicken salad croissant, and the Real Deal Burger, which lived up to its name.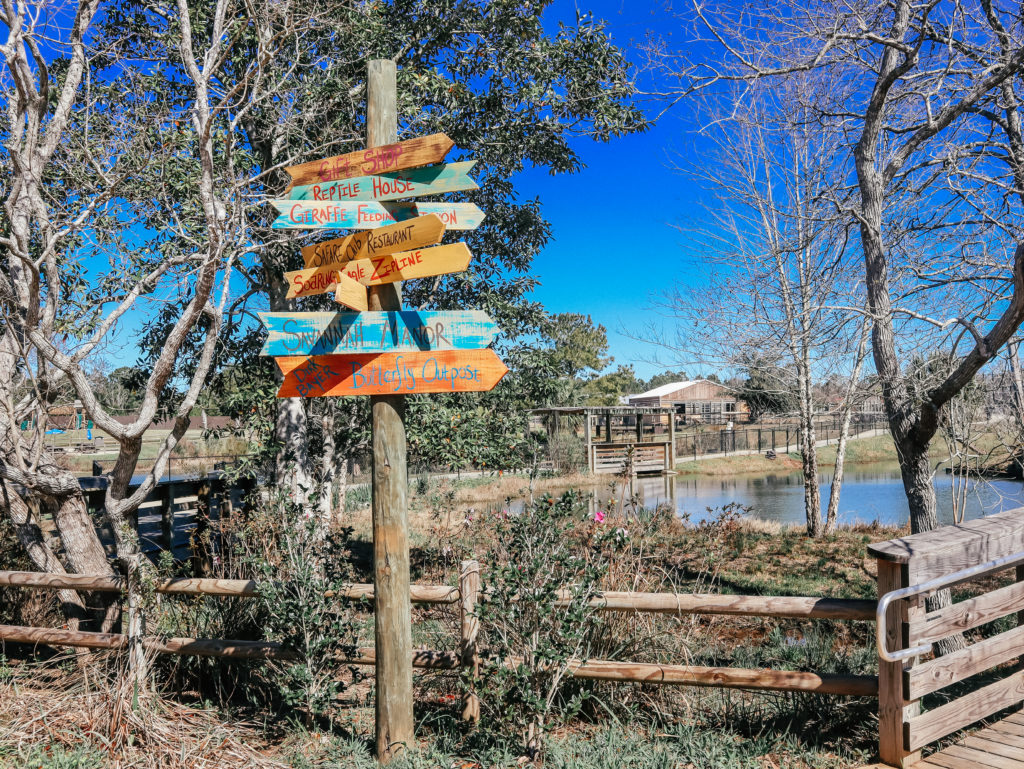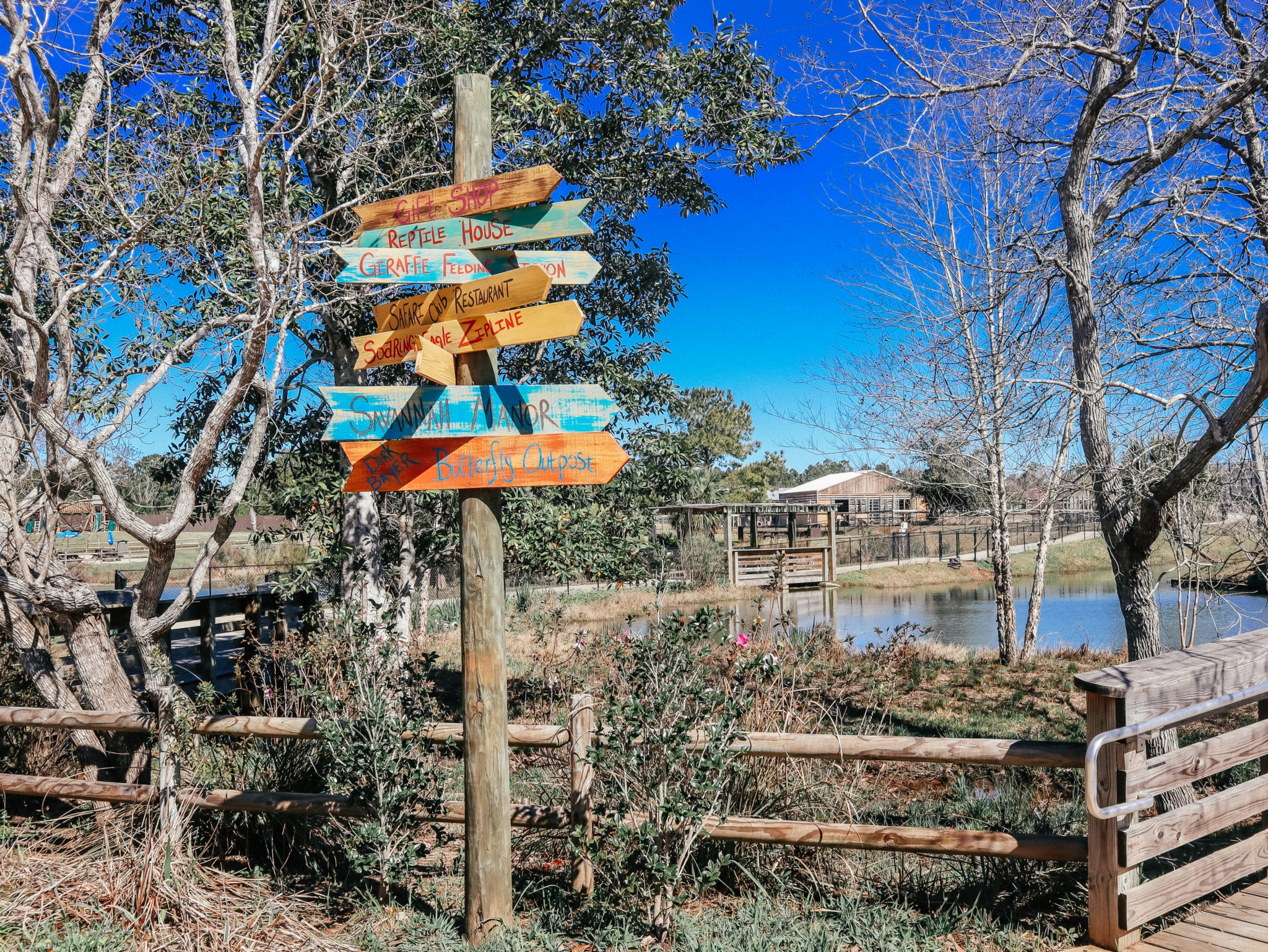 Related post: 5 Reasons to check out Alabama Beaches
Day 4 of your Gulf Shores Spring Break itinerary – Beach Day Part 2!
After all…you came to the beach to go to the beach, right? If you're doing spring break in Gulf Shores AL, you want to make sure you maximize your time to enjoy these beautiful white sand beaches.
Build an Instagram-Worthy Sandcastle
If you want to take your beach day up a notch, book a class with Sand Castle University. Our one-hour lesson really helped me take my sandcastle-building game up a notch using common household tools. The lesson also includes a timelapse video of your sandcastle-building efforts so you can put your phone away and truly immerse yourself in the moment.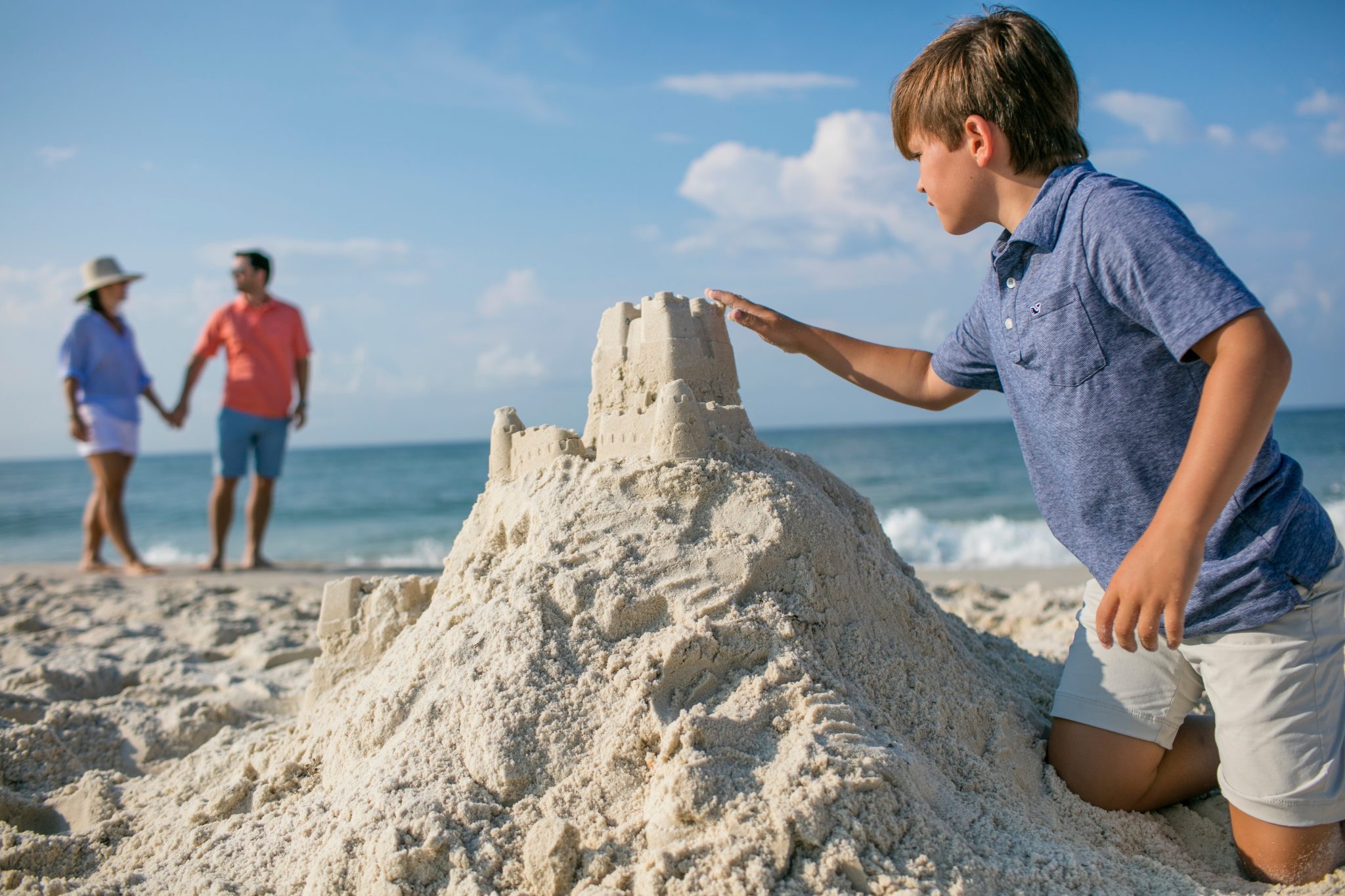 Related post: Unlock your inner child with Sand Castle University
Other activity choices
If you're tired of the beach, here are a few other activity recommendations to help fill your day. These are great for larger groups with varied interests and for people who want to do something a little more active or hands-on. I'm on "team lies on the beach with my Tervis" but if that's not you, there are options.
Whether you want to make art, watch other people make art, view art, or just soak up some beautiful southern architecture and landscaping, the Coastal Art Center has you covered. If you're interested in taking a class, check out their schedule or call beforehand – spots fill up fast. Some classes have age requirements so if you're taking kids, double-check that the class is appropriate for them. I did a glass-blowing class and it was the highlight of my trip.
The Coastal Art Center is funded by the city to give local artists a place to showcase their work.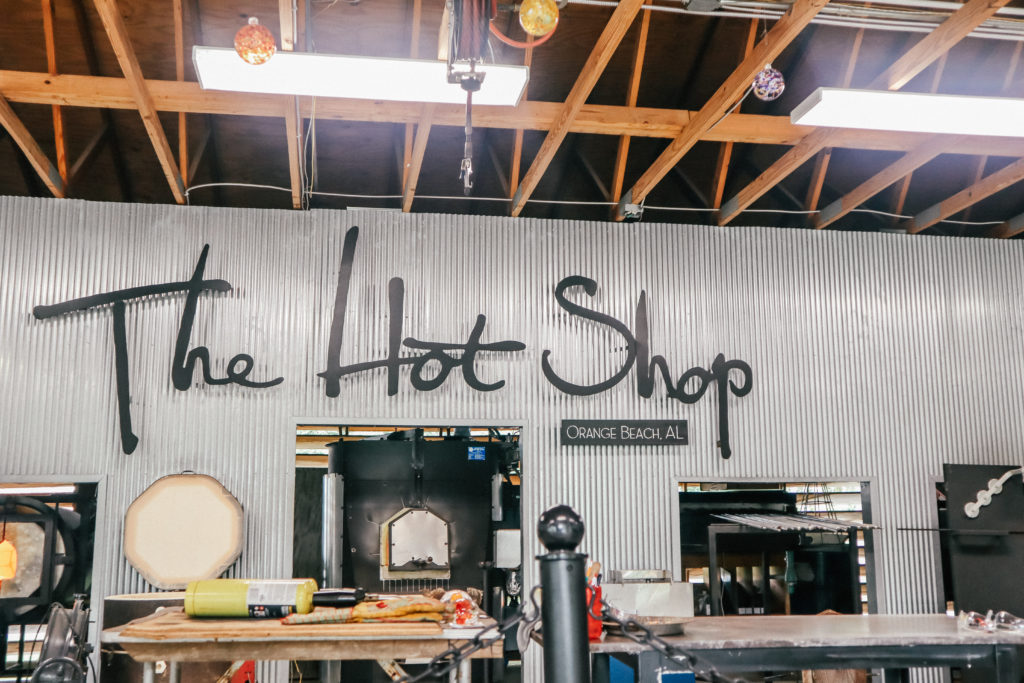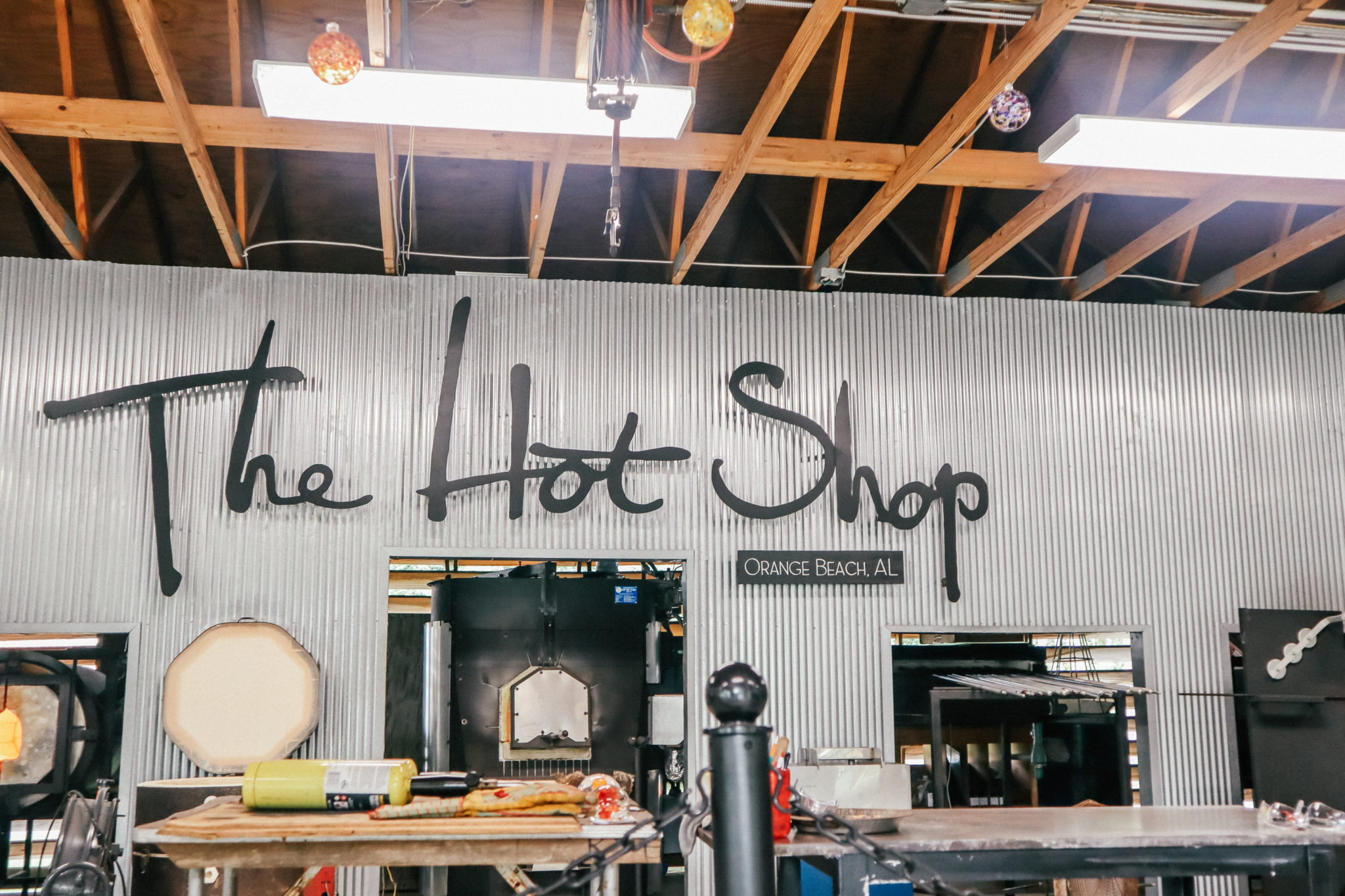 Want a little bit of an amusement park day? Check out The Track Family Fun Park.
The Track has been in Gulf Shores for over 30 years! Take a ride on the Wild Woody, the park's signature, wooden go-kart track. There's also mini golf, blaster boats, an arcade, and kiddie rides.
Newly-opened Jurrasic Golf is an indoor, black-light mini golf course with a 3D option (you can purchase the glasses for an additional fee and elevate your experience.)
The 18-hole course is challenging but not impossibly hard. There are both static and animatronic dinosaurs throughout the five-room indoor course that seem very realistic! Jurassic Golf is located in the Pelican Place shopping center which houses a movie theater and various shops and eateries. The Yard milkshake bar is located right across the street from Jurrasic Golf, making it the ideal 19th-hole hangout spot.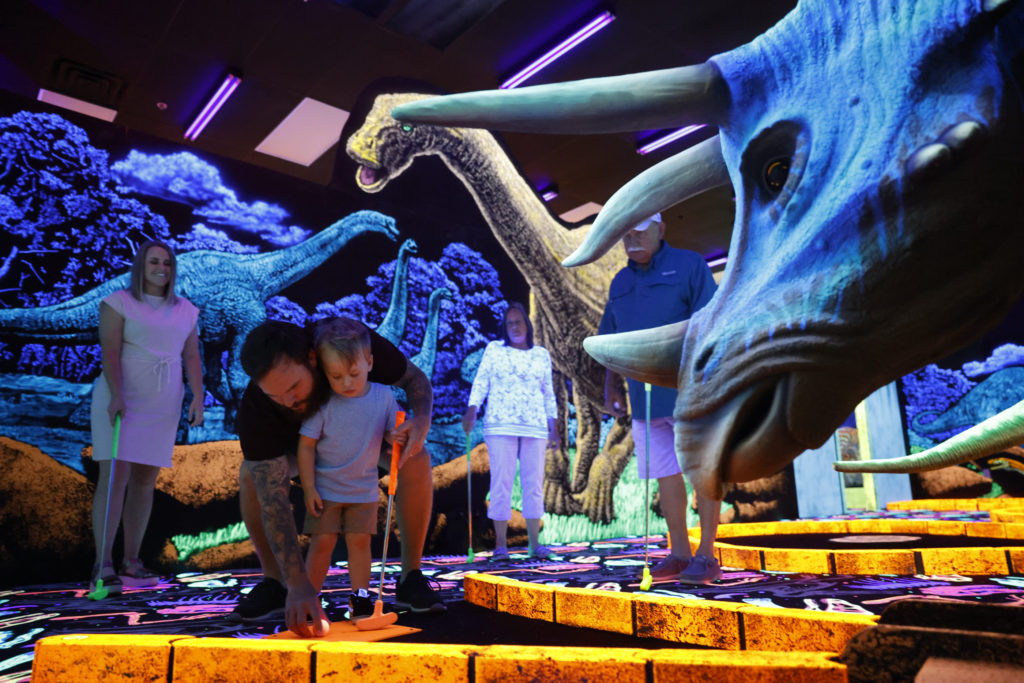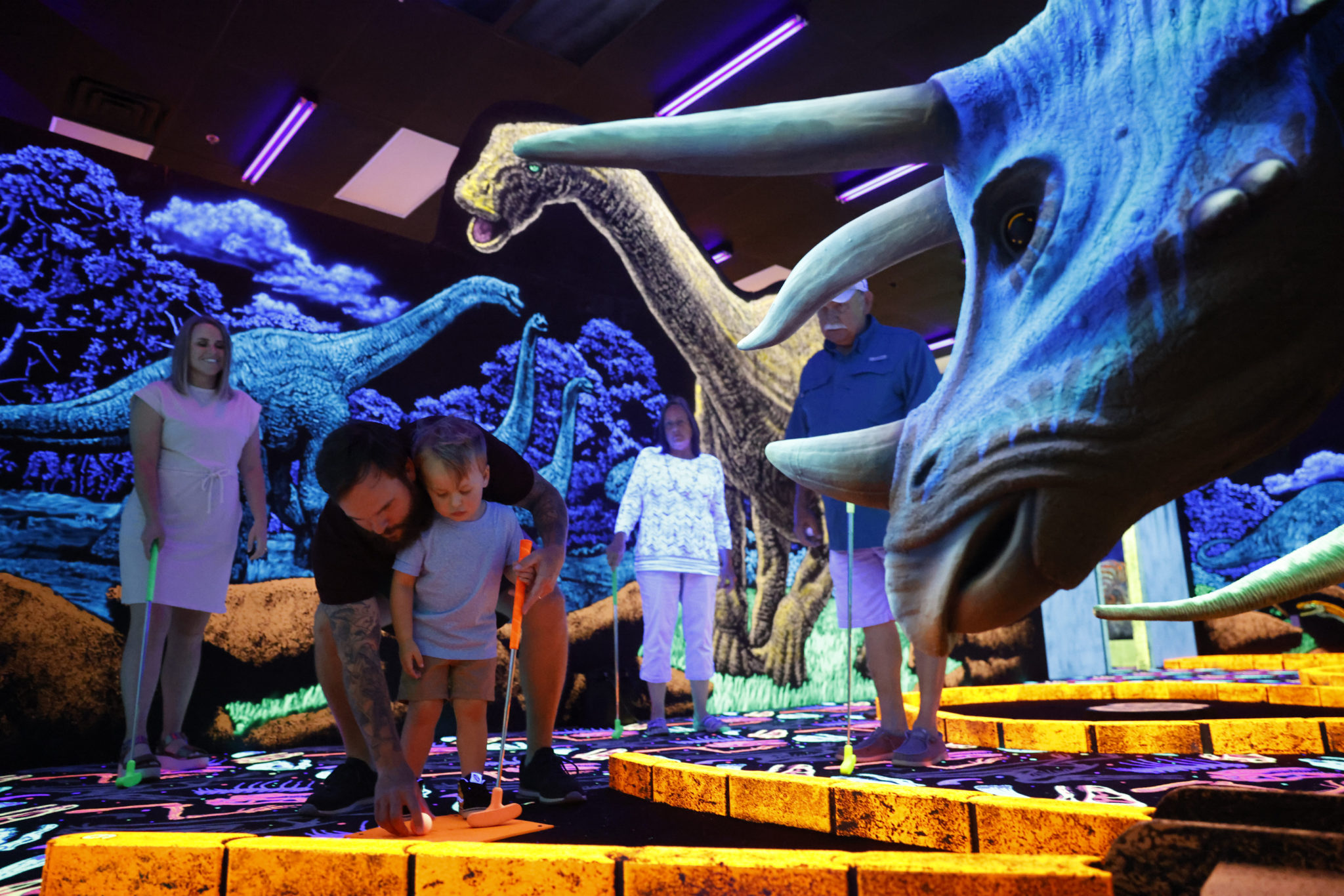 Day 5 of your Gulf Shores Spring Break itinerary – Exploring The Wharf & Dolphin Cruise
This is your last full day in Gulf Shores so if you haven't enjoyed breakfast out yet, I recommend you do it today.
The Wharf Entertainment District in Orange Beach
Head out to The Wharf to check out the shopping and other attractions. There's a little something for everyone here, including shopping (lots of cute local stores) and entertainment. There's a Ferris wheel and train – even if you don't ride the Ferris wheel, grab a picture because it's part of the iconic landscape of The Wharf. You'll also find an escape room, axe throwing, a movie theater, and many more options. Check out the list of venues at The Wharf here.
The Wharf also has dining options, if you want to have lunch or dinner down here. Two of my favorites are Ginny Lane Bar and Grill and YoHo Rum and Tacos. I'm hard to impress with Mexican food and I give Yoho five stars.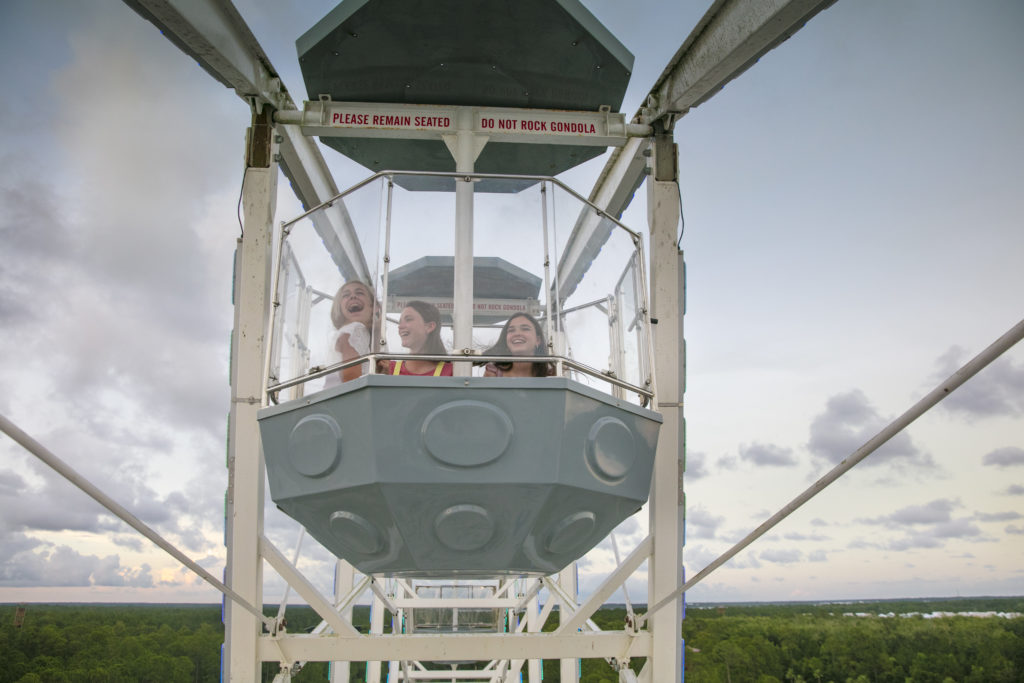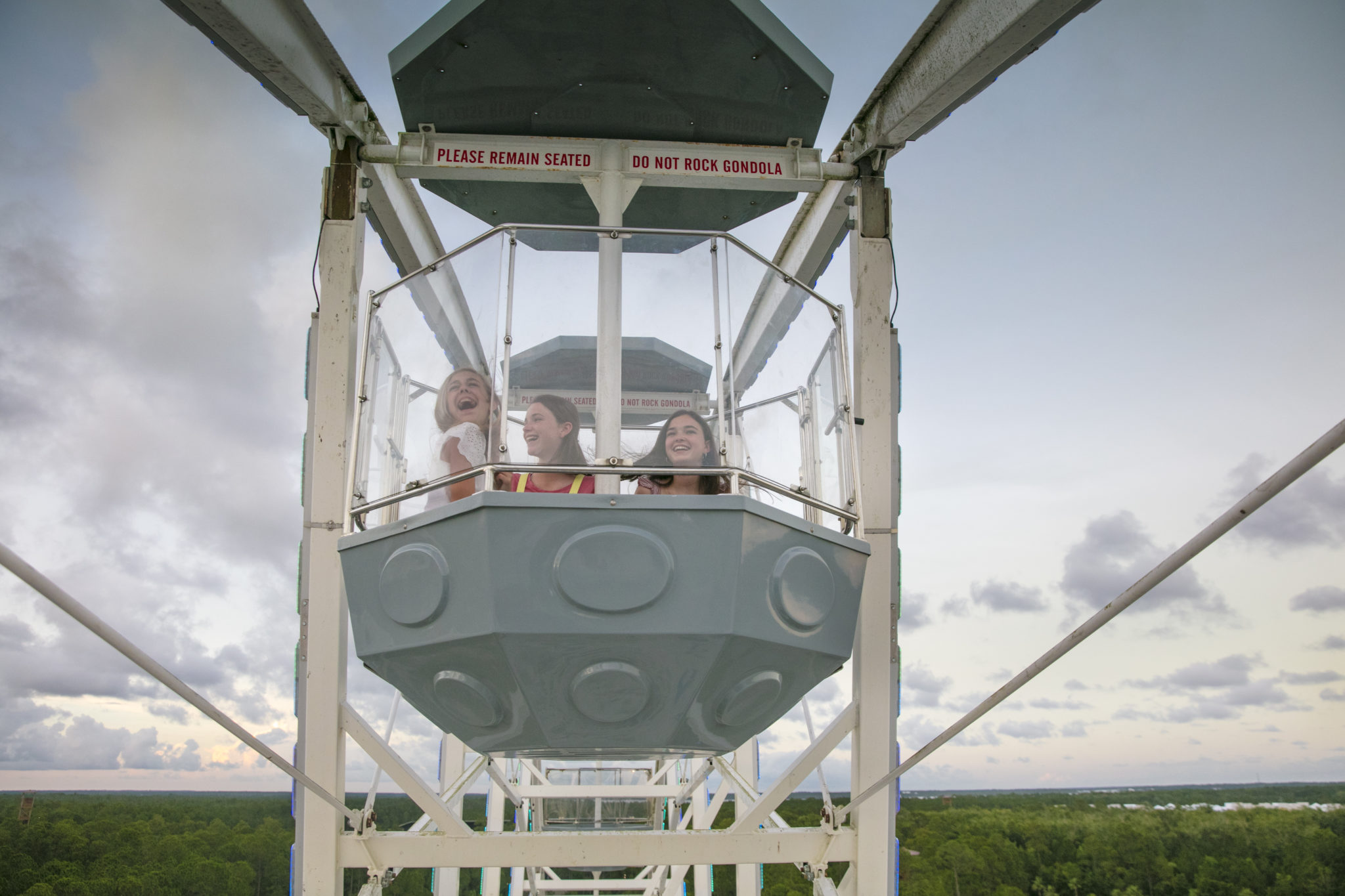 Take a Dolphin Watching Cruise
Top your stay in Gulf Shores off with a Dolphin Watching Cruise and see dolphins in the wild as well as waterfowl. We've been out twice with Cetacean Cruises, once on their Dolphin and Nature Sunset Cruise and once on a smaller boat daytime eco-tour. We saw lots of dolphins on both of our boat trips.
Cetacean Cruises offers snacks and a variety of alcoholic and nonalcoholic drinks for purchase while you're on board. Your tickets will earn you some discounts at various eateries on The Wharf. Your Captain will give you the details before you disembark.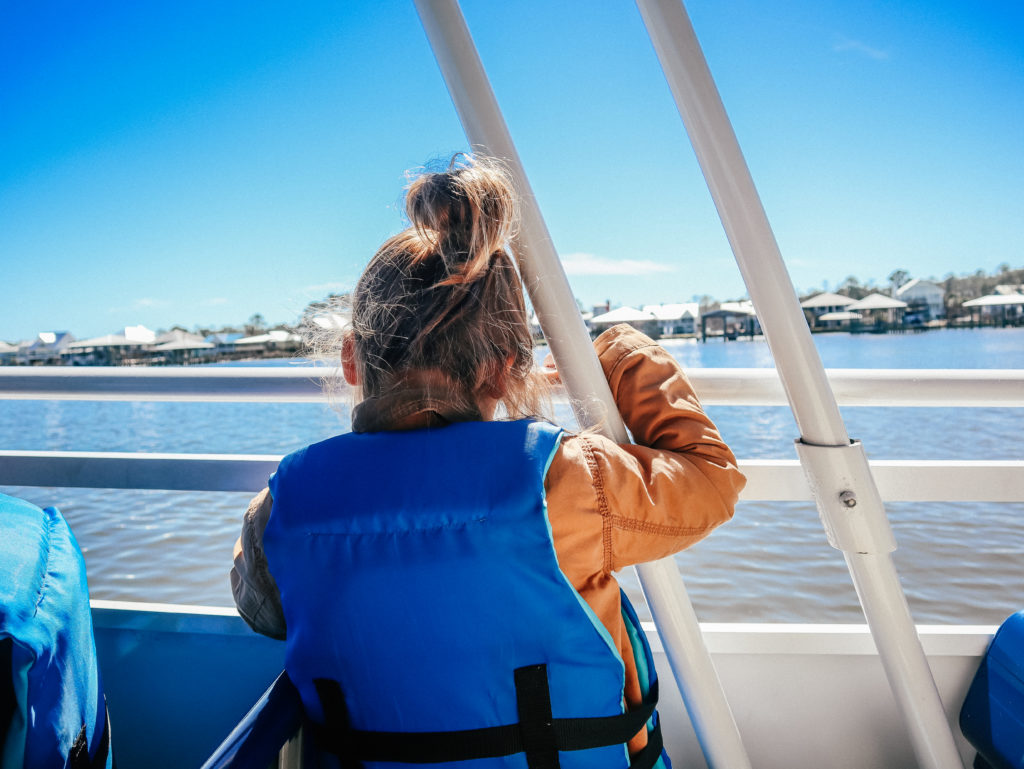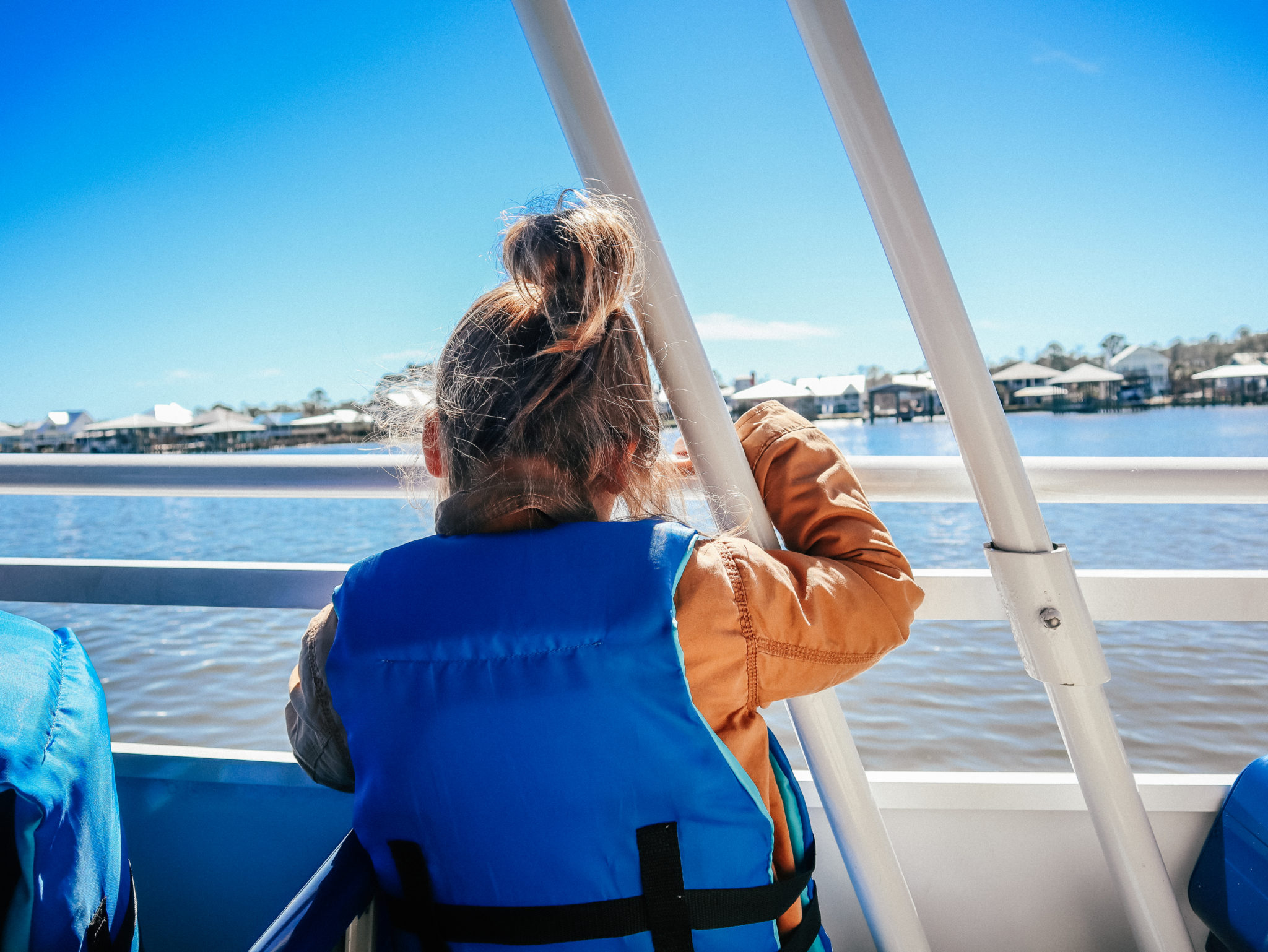 restaurant list
As I mentioned earlier, one of the reasons I love the condo life at Gulf Shores is that we don't have to eat out three times a day. My budget and my waistline can't handle that, and I like those lazy mornings drinking coffee in my pajamas.
Related post: Where to brunch in Gulf Shores
That said, there are plenty of great eats in the Gulf Shores/Orange Beach area. Here are some places I recommend that haven't already been mentioned.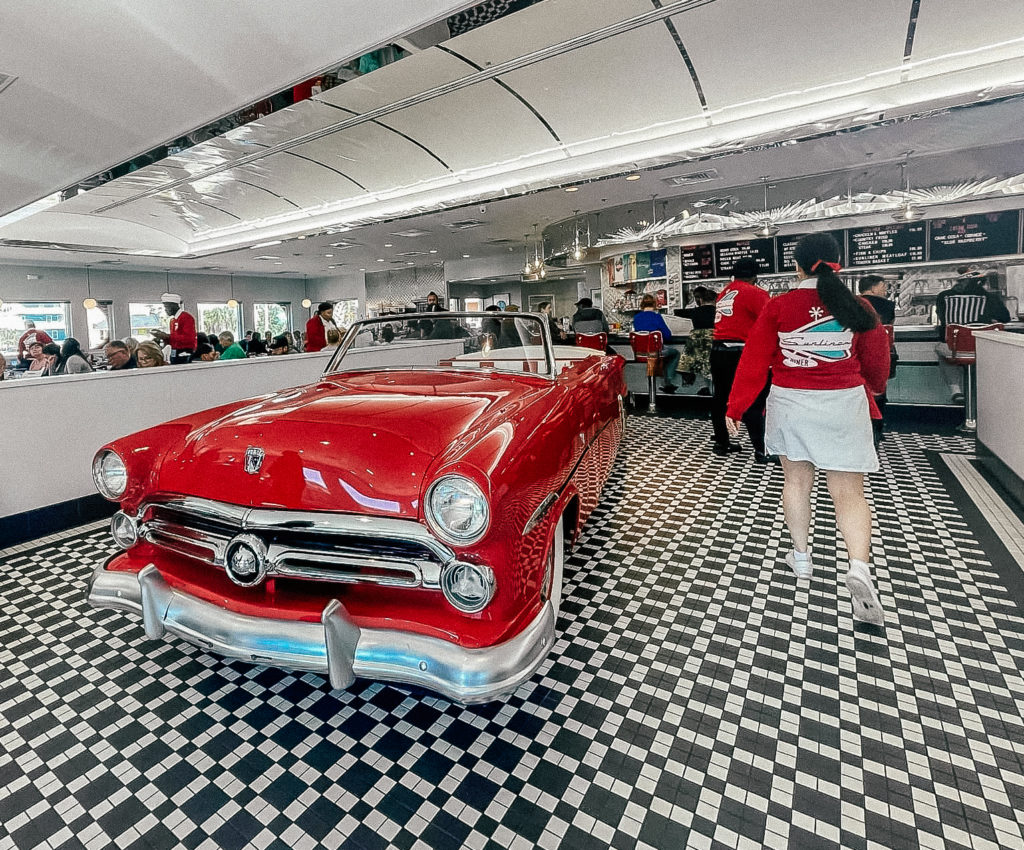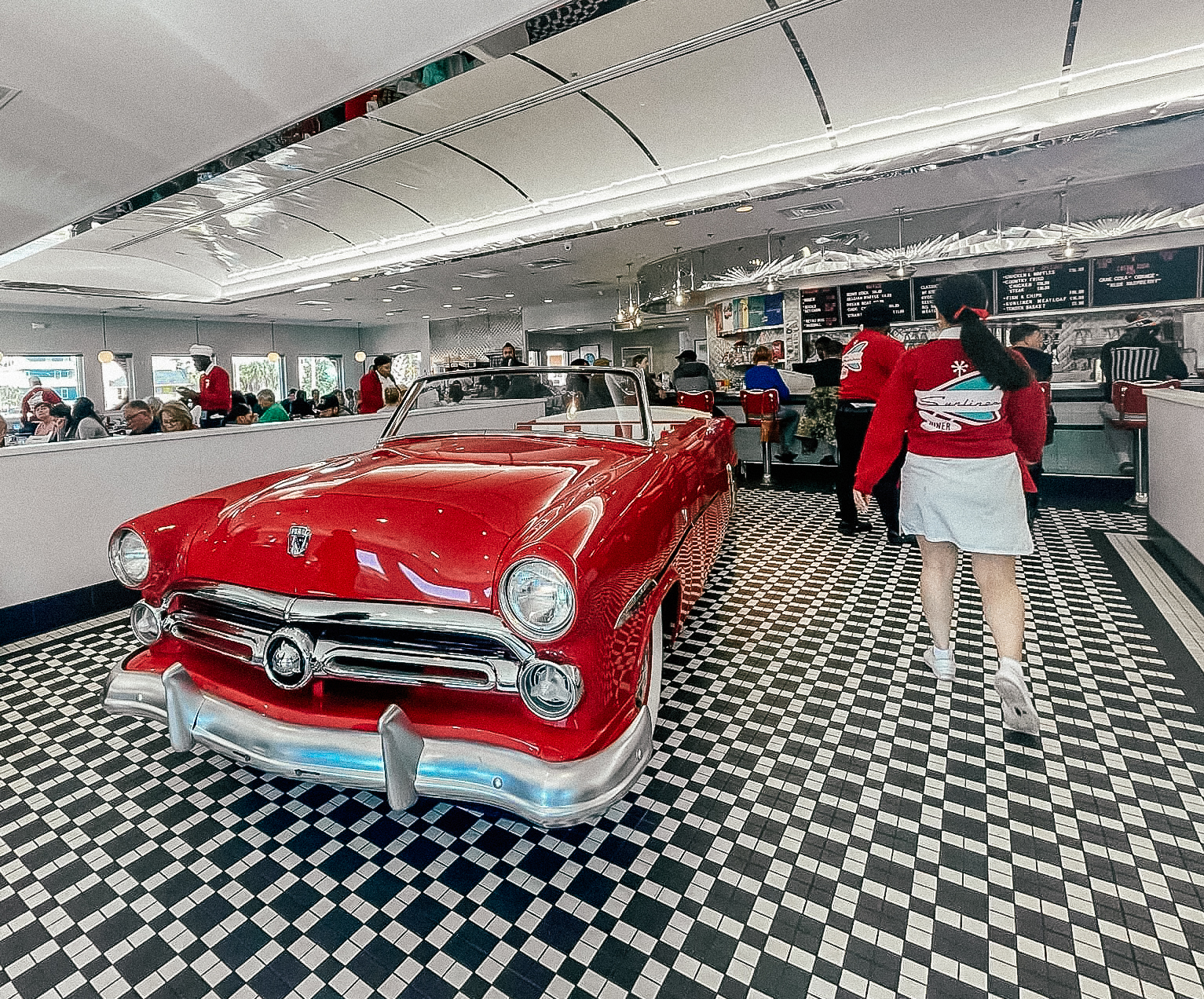 Matt's Alabama Homemade Ice Cream
Order your free Gulf Shores Orange Beach Vacation Guide, search lodging options and learn even more about the area.