5 day Gulf Shores spring break itinerary
If you're looking for the perfect spring break trip for your family, I've got an awesome suggestion: Gulf Shores Alabama. Alabama beaches are super family friendly. If you've got visions of an MTV style beach bash, Gulf Shores and nearby Orange Beach aren't like that at all. I've put together a 5-day itinerary for the perfect spring break in Gulf Shores Alabama that's easy to follow and also easy to modify.
This post was sponsored by Gulf Shores/Orange Beach Tourism. All opinions are mine.
5 day Gulf Shores spring break itinerary for the perfect spring break
This 5 day Gulf Shores spring break itinerary is built for Day 1 as your arrival day in Gulf Shores and Day 6 as your departure day. The suggested activities aren't super structured in order to allow you down time. It is the beach, after all. If down time isn't your thing, you can add additional activities.
Day 1 of your Gulf Shores Spring Break itinerary – Your get settled day
Day 1 is arrival day! Your condo check in will probably be between 2:00 and 4:00 p.m. Gulf Shores is very condo heavy…there are hotels but condos are definitely more plentiful because Gulf Shores is so family friendly.
Renting a condo versus renting a hotel room really takes your family vacation up a notch. I know what you're thinking: that it will take your credit card balance up a notch, too. Not so. If you think you can't afford it, you might be wrong.
I recommend checking out Gulf Shores Rentals. I had a great experience with them. You can also check out he Gulf Shores/Orange Beach tourism site – they have links to lots of condo rental agents – and plug in the specific location, size and amenities you need.
Many condos in the Gulf Shores/Orange Beach area come equipped with full kitchens – being able to prepare meals in your rental can save you money and also facilitate that relaxed vibe. I'm not a big fan of cooking on vacation but throwing together a simple breakfast (think juice and muffins) or making sandwiches for lunch might be easier than loading everyone up to go to a restaurant three times a day.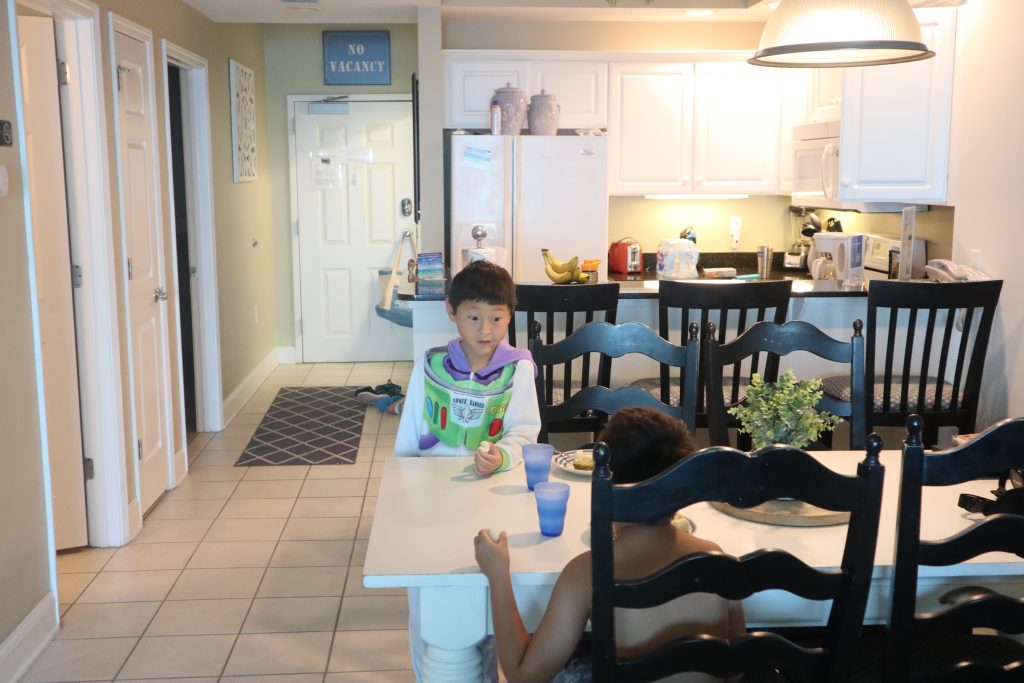 You'll want to hit up a grocery store on your way in to town or make plans to get supplies delivered once you get checked in. We shopped at Rouse's Market in Gulf Shores and got everything we needed. We stick to the basics when living that condo life: coffee, bread, eggs, milk and sandwich fixings. Your kitchen will likely be fully equipped so if you want to buy vittles for more ambitious meals, go for it.
Spend the afternoon unpacking and exploring. This is a good time to make sure you get everyone set up on the WiFi and make sure your pool code works.
If you want to have dinner out, I recommend either Playa at Sportsman Marina or Lulu's. If you don't want to go out or don't feel like cooking, make sandwiches or order pizza delivery. Explore the beach in the dark and bring a flashlight to check out the ghost crabs. Sit on your balcony, drink some wine and listen to the waves or play a family card game and enjoy some time together.
Day 2 of your Gulf Shores Spring Break itinerary – Beach Day!
Breakfast on the balcony. Keep it as simple as you want or gourmet it up in your condo kitchen.
After breakfast, hit the beach at your leisure. If you didn't bring your own beach equipment (i.e. chairs, umbrellas, etc) you'll probably be able to rent it beachfront. If you want to buy your beach gear, there's plenty of nearby places to shop.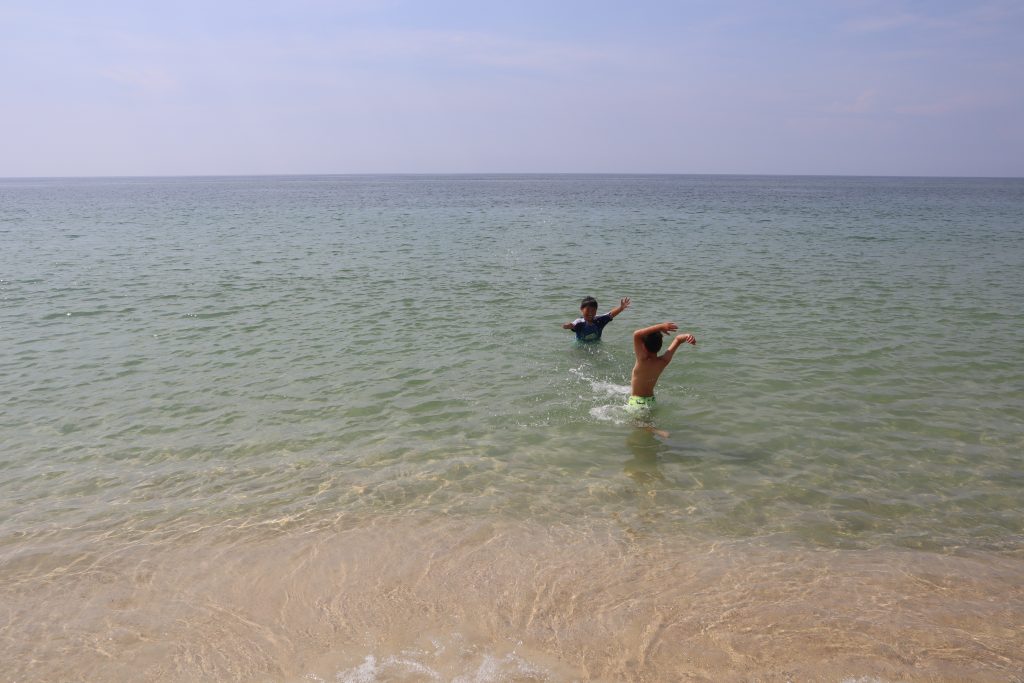 I recommend taking an extended lunch at The Hangout. If you opt to have lunch at your condo, consider the Hangout for an early dinner. Do sandwiches or leftover pizza (or order more pizza!) for the meal you don't go out for.
The Hangout is a beachfront eatery in Gulf Shores that's a don't miss in my book. The Hangout has great food but it is so much more than a restaurant. You can't do spring break in Gulf Shores AL without hitting the Hangout. I think its a rule or something.
Related post: Unlock your inner child with Sand Castle University
The Hangout offers inside and outdoor dining. They have great views of the beach and a fun backyard with lots of photo opps and things for the kids. And…there's an hourly foam explosion. It doesn't get much cooler than that. If you only go to one restaurant while in Gulf Shores (which would be super hard because there's so much goodness) then go here. It's got a great atmosphere and your kids won't want to leave. You probably won't, either.
To check out the menu and to see what's happening daily at The Hangout, check out their website HERE.
Day 3 of your Gulf Shores Spring Break itinerary – Choose Your Adventure Day
I recommend Parasailing with Skysurfers. I did this with my son Zack and it's definitely an activity that got me out of my comfort zone.
I find myself growing more timid about some things as I get older. However, I'm the oldest mom of the youngest kids – I'm 52 and my youngest is nine. I don't want to be that old lady mom who is afraid to get on the roller coaster or experience new things so I make myself push outside of that bubble of comfort. I'm usually glad when I do.
We went out on a 15 passenger boat with two crew members and some other fun people. My son Kyle didn't want to go up so he went on the boat as an observer for a small charge. The boat ride was an adventure in of itself, so he didn't feel too left out. You can parasail as a duo, as we did, or as a group of three.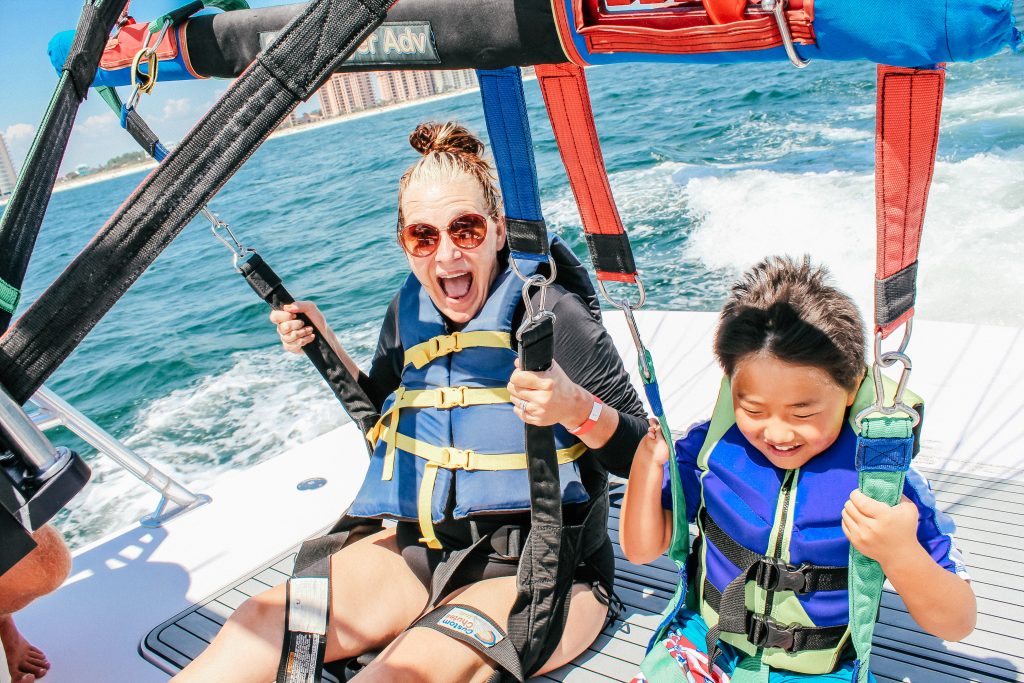 We were out for a total of 90 minutes and Zack and I were up for about 10 minutes. It was an ultra peaceful feeling being up above the gulls. I'm proud of us for doing it and I completely recommend the experience. Kids as young as four can go parasailing so this is definitely a family-friendly activity. To learn more check about Skysurfers and what they offer, visit their website HERE.
If you're up for adventure but parasailing isn't quite your thing, there are lots of other water activities available: jet skiing, paddle boarding, kayaking, sailing and more. To check out what adventure sports are available in Gulf Shores, read here.
You've probably earned a dinner out after your big adventure day. Choose something from the list below. You can't go wrong!
Related post: 5 Reasons to check out Alabama Beaches
Day 4 of your Gulf Shores Spring Break itinerary – Beach Day Part 2!
After all…you came to the beach to go to the beach, right? If you're doing spring break in Gulf Shores AL, you want to make sure you maximize your beach time.
If you want to take your beach day up a notch, book a class with Sandcastle University. This was my favorite thing we did in Gulf Shores on our trip last year. It's really hard to have a favorite because everything we did was really fun and relaxing but learning to take my sandcastle game up a notch was the best. We had a one hour lesson with Sandcastle University and I strongly recommend you do this too, either on your dedicated beach day or any other time you can squeeze it in.
If you're tired of the beach (as if but I guess it's possible) check out something off the beaten path. For the record, I dislike the term off the beaten path but I'll use it here to describe things you can do in Gulf Shores that you might not expect to do in Gulf Shores.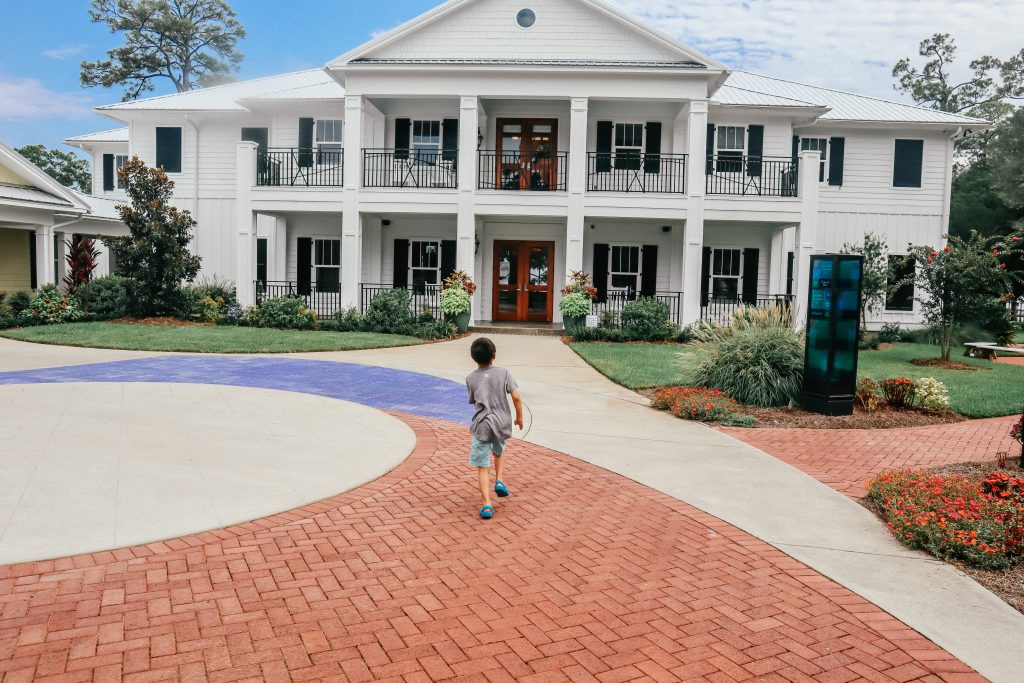 Coastal Arts Center
Whether you want to make art, watch other people make art, view art, or just soak up some beautiful southern architecture and landscaping, the Coastal Art Center has you covered. If you're interested in taking a class, check out their schedule or call beforehand – spots fill up fast.
I did a glass blowing class and it was the highlight of my trip in the summer of 2019.
The Coastal Art Center is funded by the city to give local artists a place to showcase their work. Read more HERE.
Historic Fort Morgan
Historic Fort Morgan is the site of four wars and where U.S. Navy Admiral David Farragut made the famous declaration, "Damn the torpedoes, full steam ahead!" The 150th anniversary of the Battle of Mobile Bay was celebrated in August, 2014. New at Fort Morgan is the Escape Room themed Espionage at Mobile Point.
"It is the summer of 1864 and you are Federal Spies captured by the Confederate soldiers. The Battle of Mobile Bay was one of the most decisive battles of the war. Can you help the union forces understand the defenses of Mobile Bay? Does the Fort have an effective method of attack? Your job is to find the defensive map and escape route."
Family Fun at The Track
Want a little bit of an amusement park day? Check out The Track.
The Track has been in Gulf Shores for 29 years! Take a ride on the Wild Woody, the park's signature, wooden go-kart track. A brand-new "slick track" is also now open.
If you want dinner out, check out my recommendations below.
Day 5 of your Gulf Shores Spring Break itinerary – Exploring The Wharf & Dolphin Cruise
Start your day with a beach breakfast or early swim followed by brunch/lunch at Brick and Spoon. This place is sublime. You have to order the Bananas in Pajamas. Trust me on this one – they're so good.
Check out the shops and attractions at The Wharf...there's a ton of options for shopping and dining and entertainment. There's so much to soak in but my top pick here is Ginny Lane Bar and Grill. Order the shrimp and grits. You're welcome.
Top your stay in Gulf Shores off with a Dolphin Watching Cruise. Who doesn't want to get an up close look at dolphins in the wild? We went out with Cetacean Cruises on their Dolphin and Nature Sunset Cruise. Cetacean Cruises depart from The Wharf entertainment district in Orange Beach, which offers awesome shopping, dining, and other fun stuff.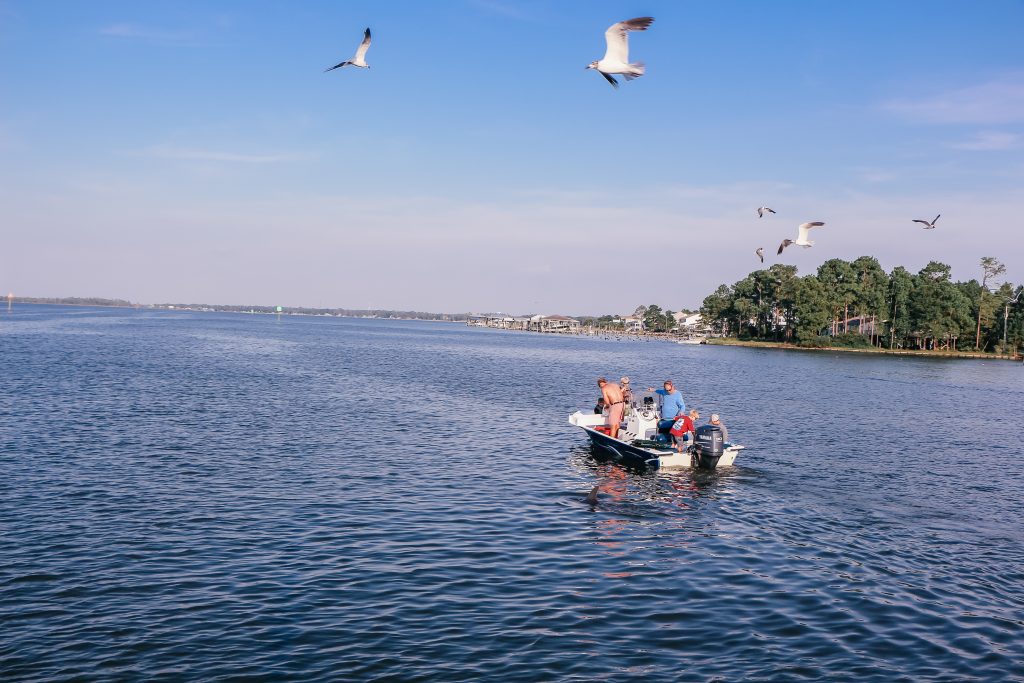 The cruise we took was on a 52 foot (very comfortable) catamaran. When you book your ticket you'll be assigned a seat, so there's no scrambling or wondering where to sit.
Cetacean Cruises offers snacks and a variety of alcoholic and nonalcoholic drinks for purchase while you're enjoying your sunset cruise. If you want a frozen drink, you'll have to order it before the boat leaves the dock but other than that, you can live it up on board.
Your tickets will earn you some discounts at various eateries on The Wharf. Your Captain will give you the deets before you disembark. We ate at one of the suggested restaurants and forgot to give the server our tickets. The shrimp and grits were so good I didn't mind paying full price.
More on Cetacean Cruises HERE.
Exploring The Wharf and the Dolphin Cruise is a great way to cap off your family spring break in Gulf Shores AK. Tomorrow is your pack 'em up, move 'em out day, which will seem a little sad. The cure for that is to plan another trip to Gulf Shores ASAP.
Recommended Eats Not Recommended Above
As I mentioned earlier, one of the reasons I love the condo life at Gulf Shores is that we don't have to eat out three times a day. My budget and my waistline can't handle that, and I really like those lazy morning drinking coffee in my pajamas.
That said, there are plenty of great eats in the Gulf Shores/Orange Beach area. Here are some places I recommend that haven't already been mentioned.
Matt's Alabama Homemade Ice Cream
Need even more picks? Check out the Gulf Shores/Orange Beach Tourism Site for more recommendations.