Review of Carolina Pines RV Resort
(This post may contain affiliate links. Read my full disclosure.)
Carolina Pines RV Resort is an upscale camping resort near Myrtle Beach South Carolina. Operated by Sun Outdoors, Carolina Pines has much to offer whether you're camping in an RV or seeking to rent a cabin.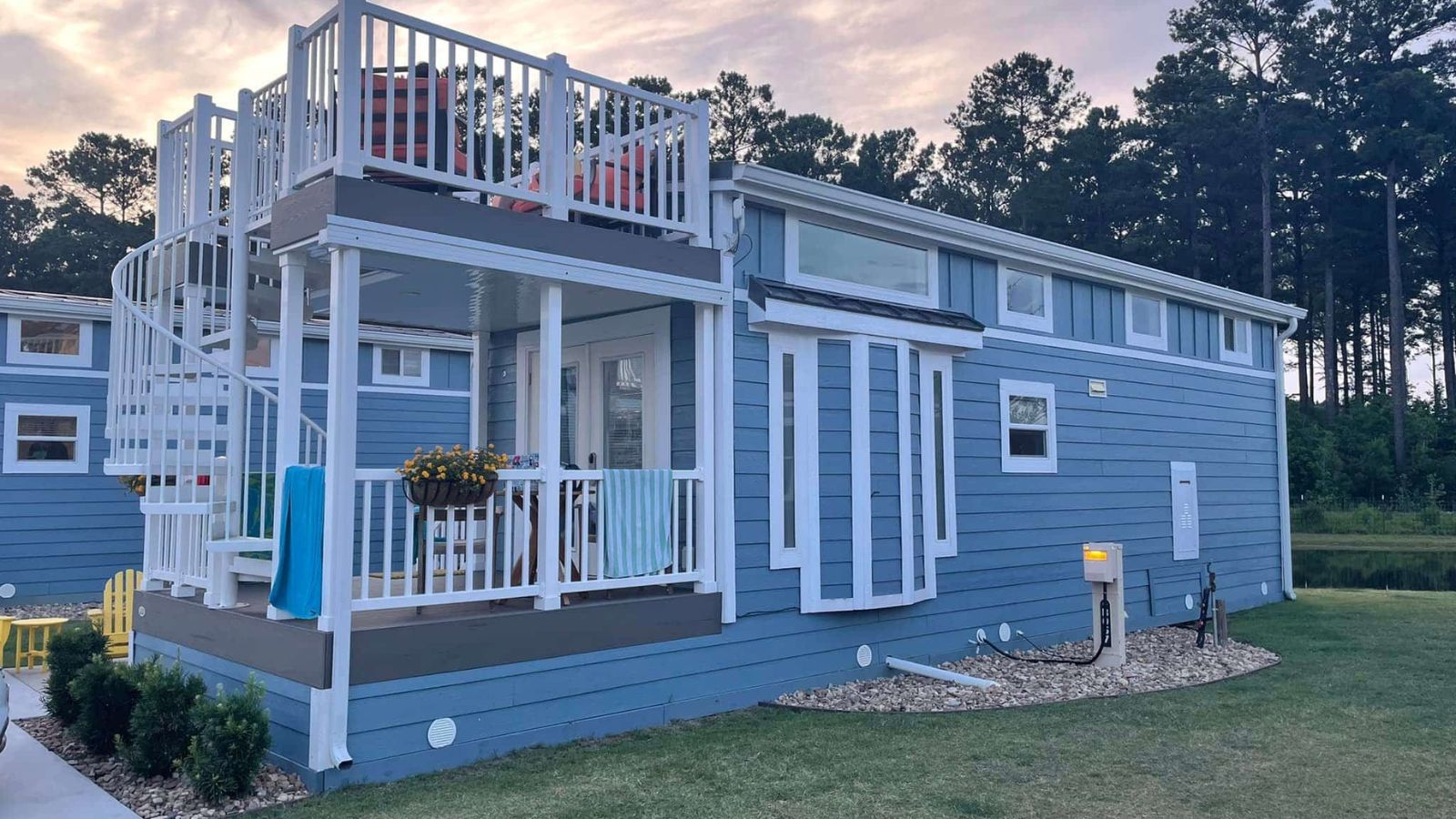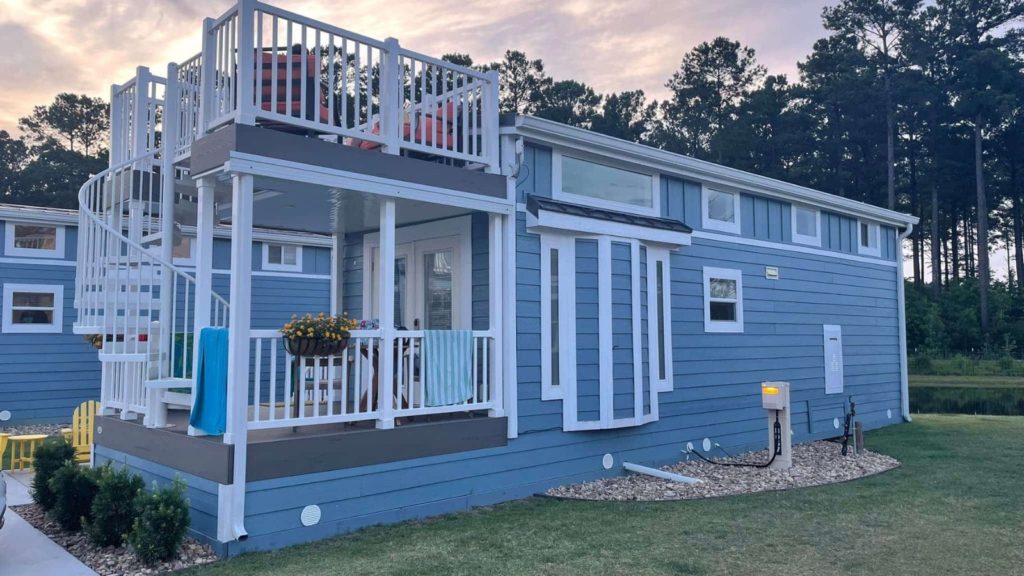 Review of Carolina Pines RV Resort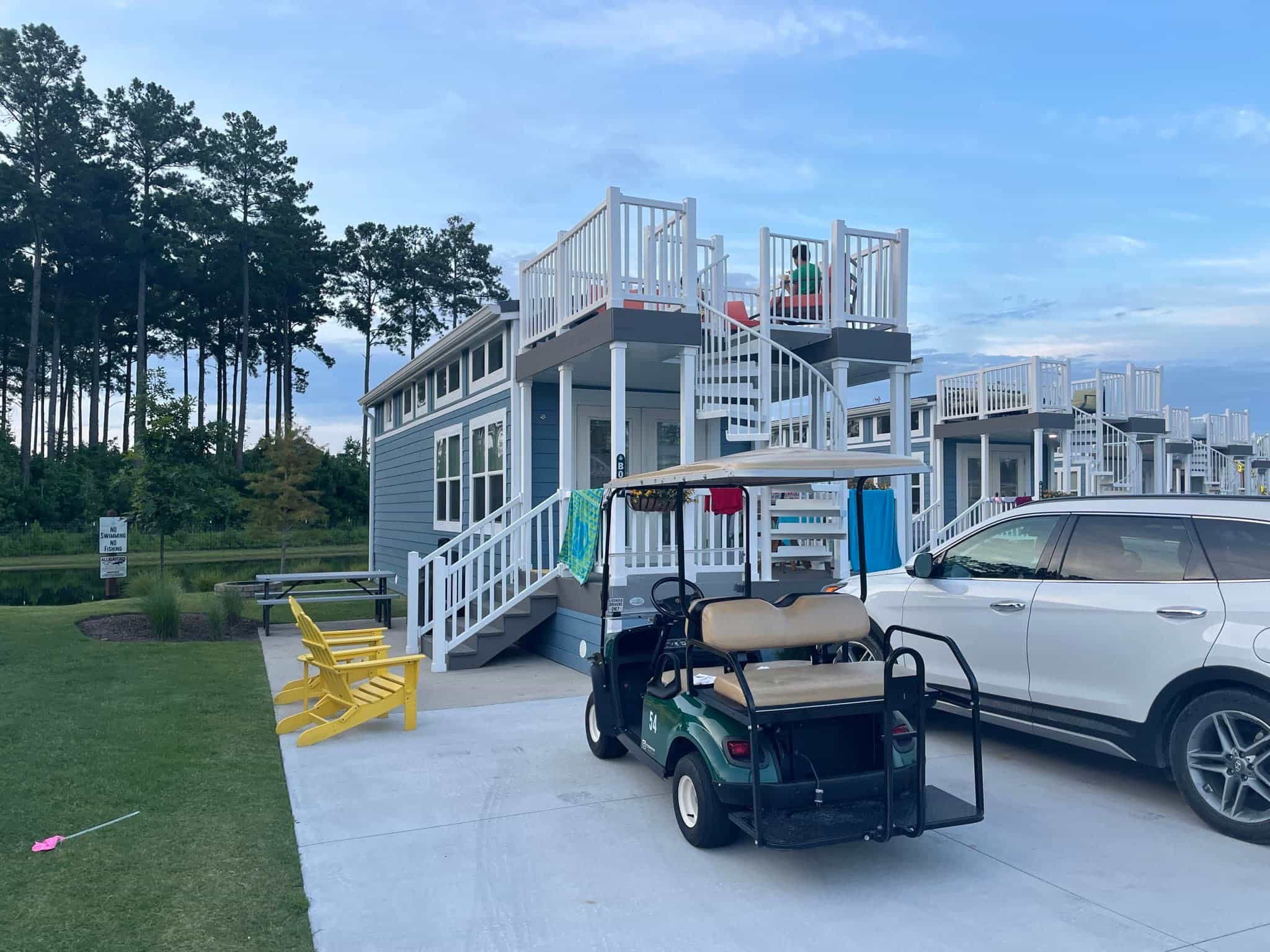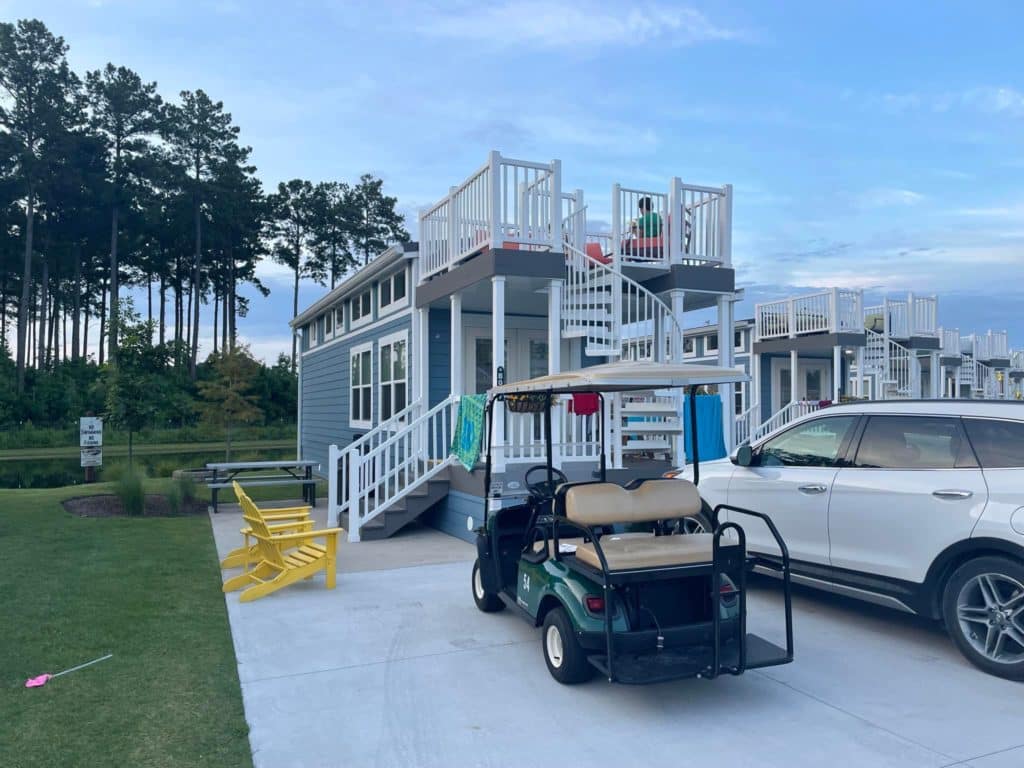 The resort opened in late 2019 but most of the facilities appear very new. Overall, we really loved this resort and would stay again.
Cottages and RV Spots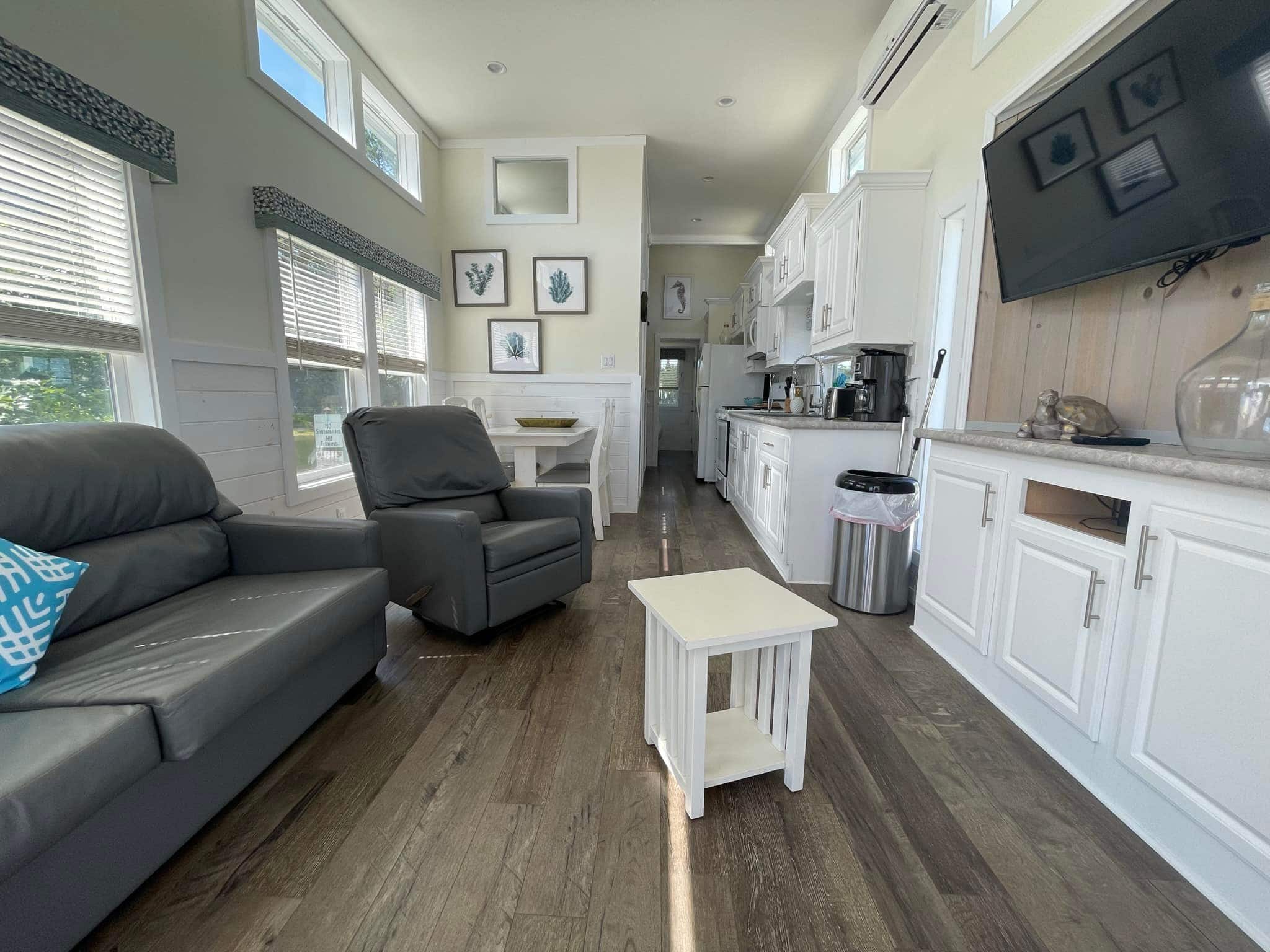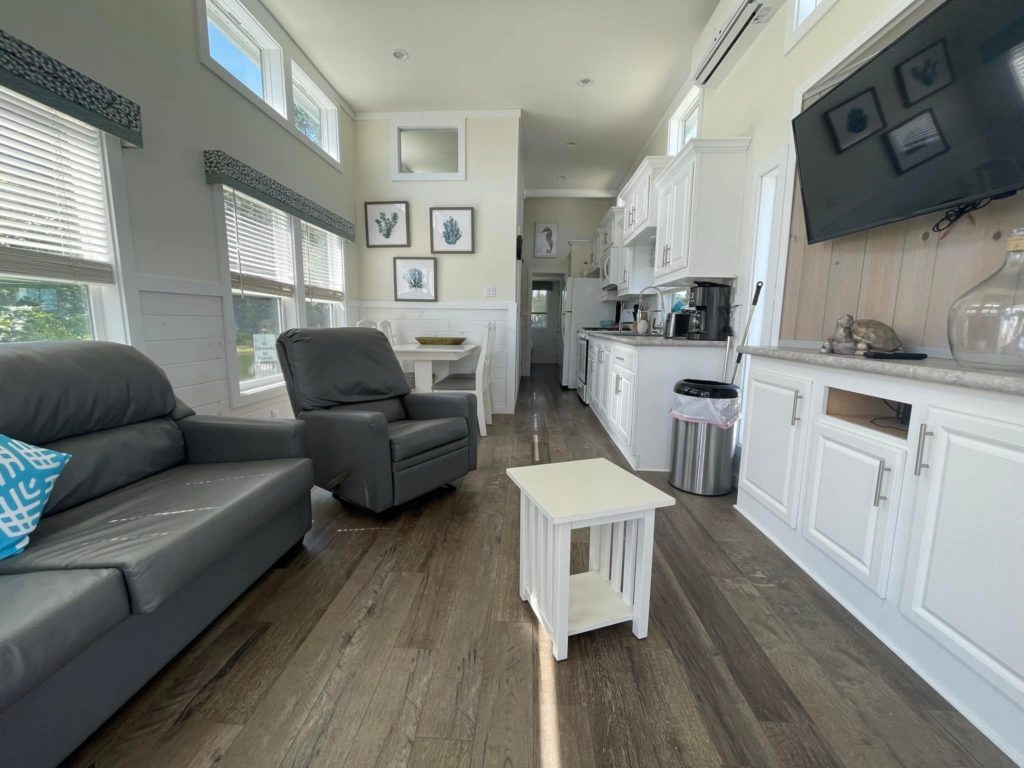 We're not RVers but we've stayed at several camping resorts in the past. Carolina Pines RV Resorts stands out as having the largest number of cabins available to rent. I didn't count but there seems to be a nearly equal mix of RV spots and cottages.
RV sites run from $73-$83 per night. Cottages range from $133-$180 per night.
My kids and I stayed in a Carolina Cottage with Rooftop Terrace. Our unit had a full kitchen (no oven and no dishwasher but a full-size refrigerator, cooktop, and small appliances), a bedroom with a king-sized bed, an open living room/dining area with a pullout couch, and a sleeping loft with a full-sized mattress.
We also had a single bathroom, charcoal grill, outdoor seating area, on the porch and the upper rooftop terrace, and two flat-screen TVs. Our cabin had air conditioning, cable, and Wi-Fi, although our Wi-Fi signal wasn't great.
The cabin was stocked with everything we needed to make simple meals, trash bags, and bath towels. Everything – especially the king bed I slept in – was very comfortable and the inside decor had a luxe beach cottage feel. The cabin didn't include paper towels or bathroom hand soap (there was a soap dispenser in the kitchen we moved to the bathroom), BBQ tools, or ice cube trays but these were pretty minor inconveniences. Daily trash pick-up is included.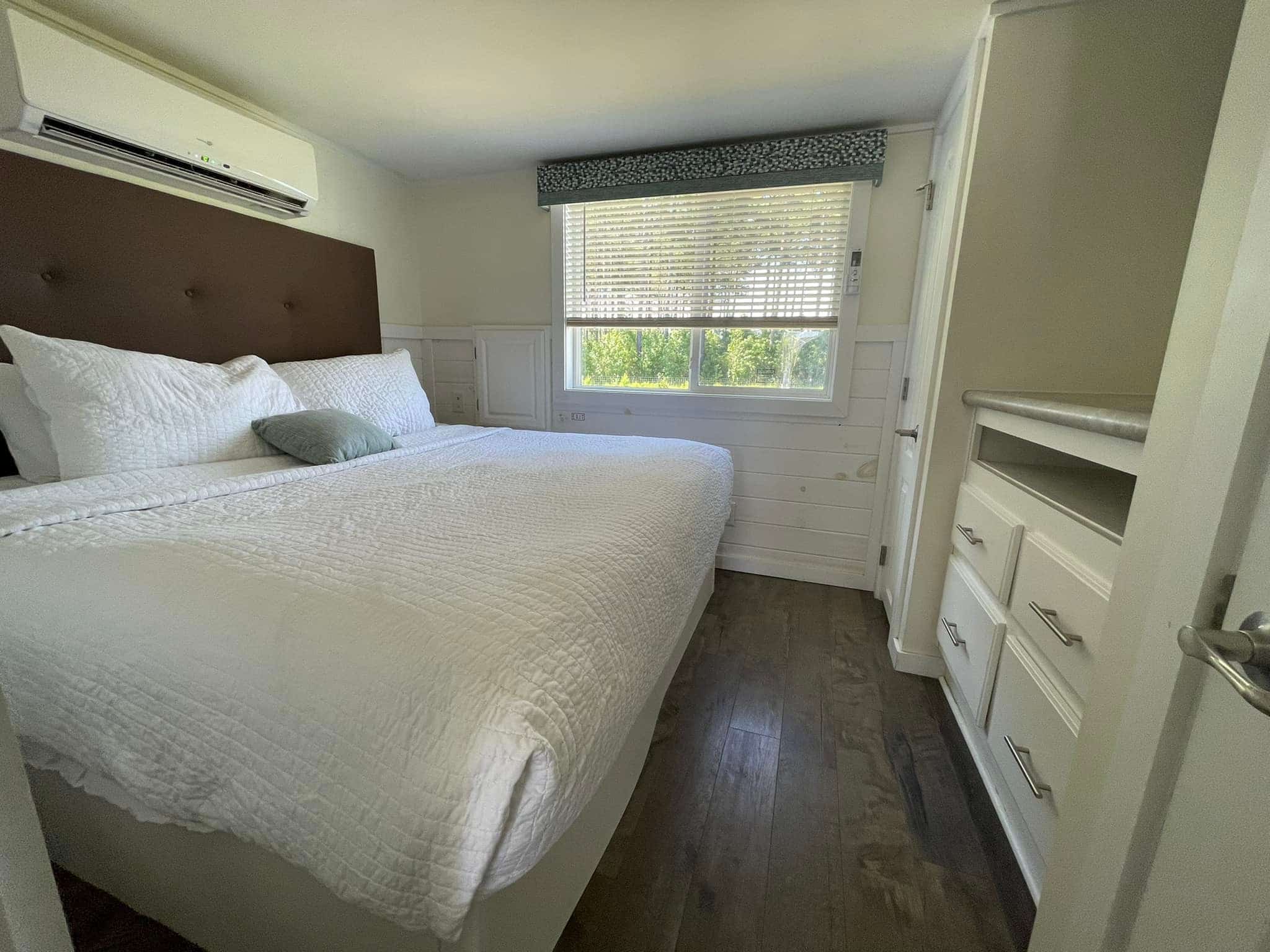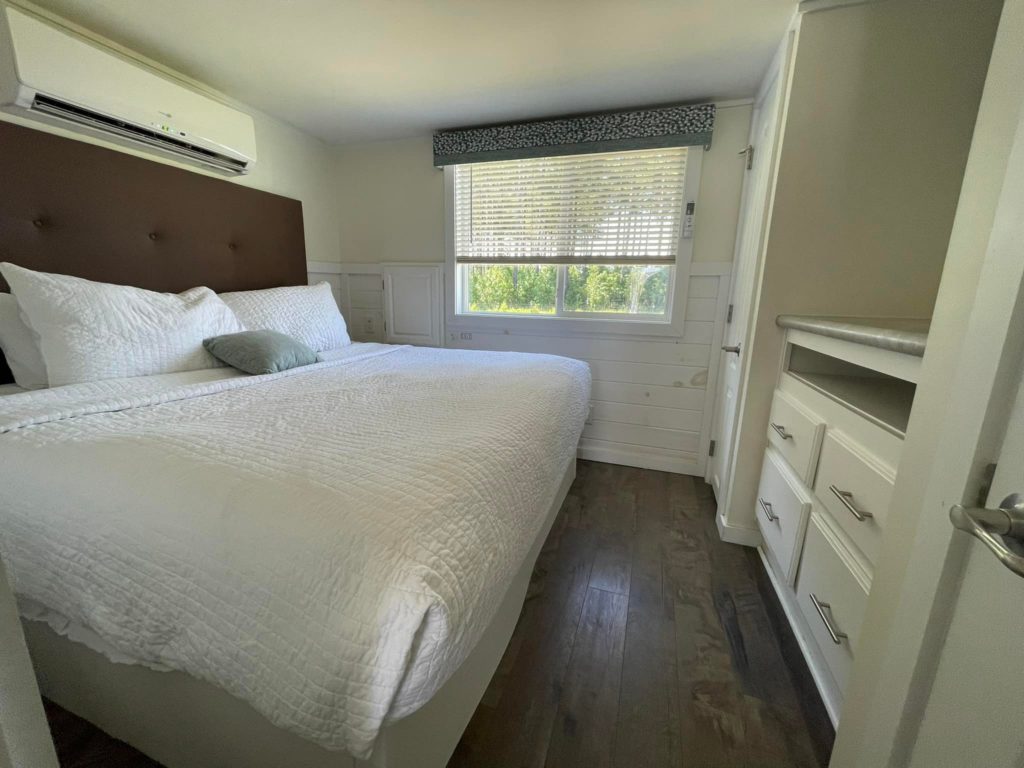 The bedroom had USB ports on both sides of the king bed with an additional port in the kitchen, which I thought was handy. There's ample storage space for personal belongings and groceries.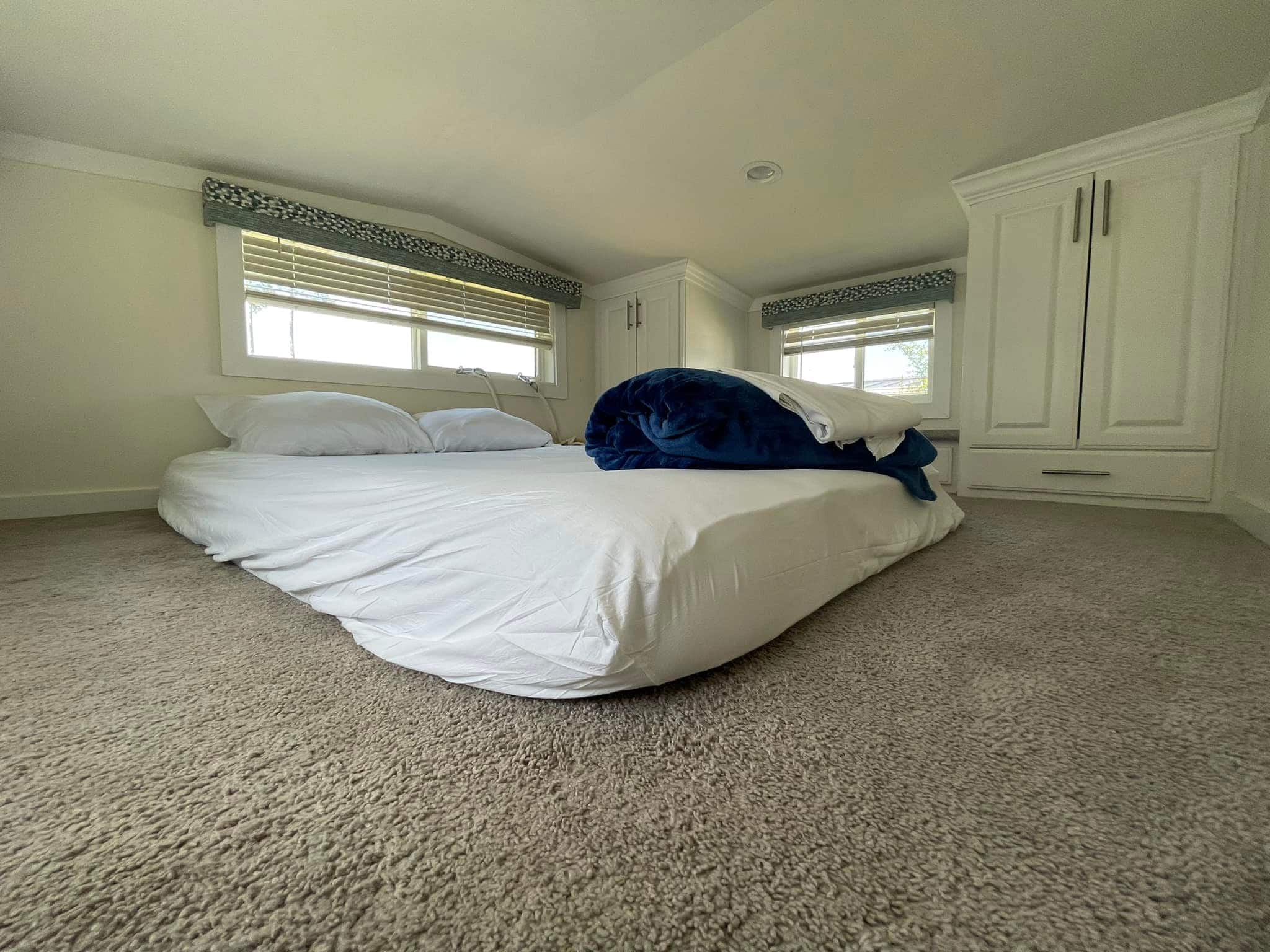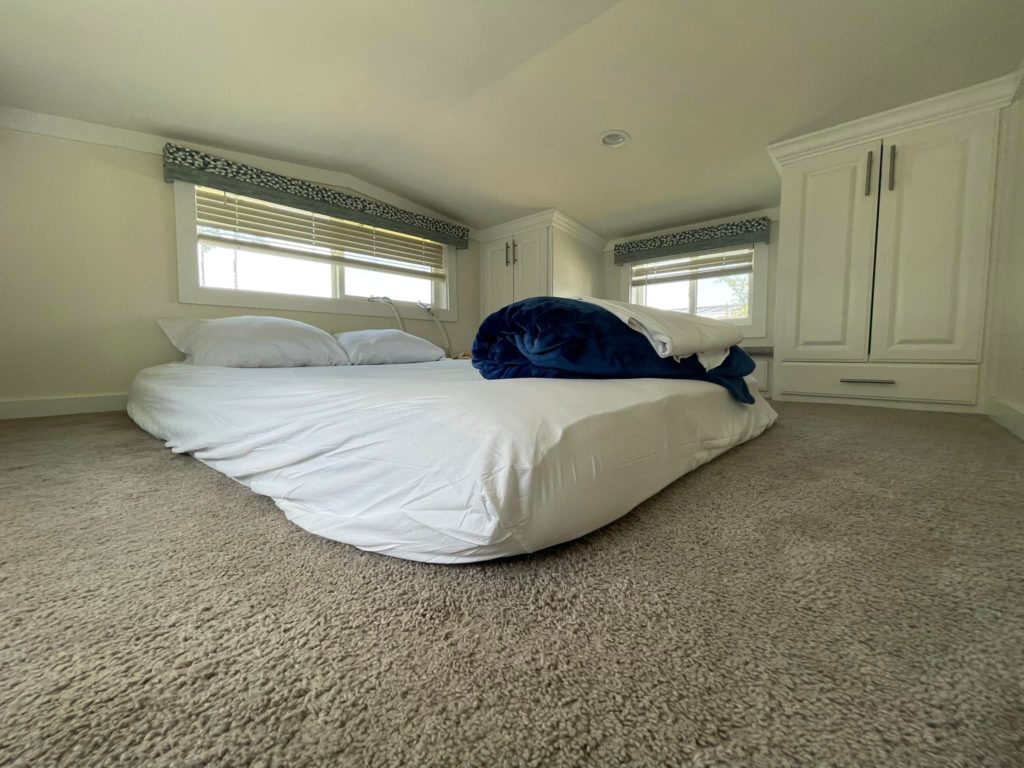 Outdoor Space – A+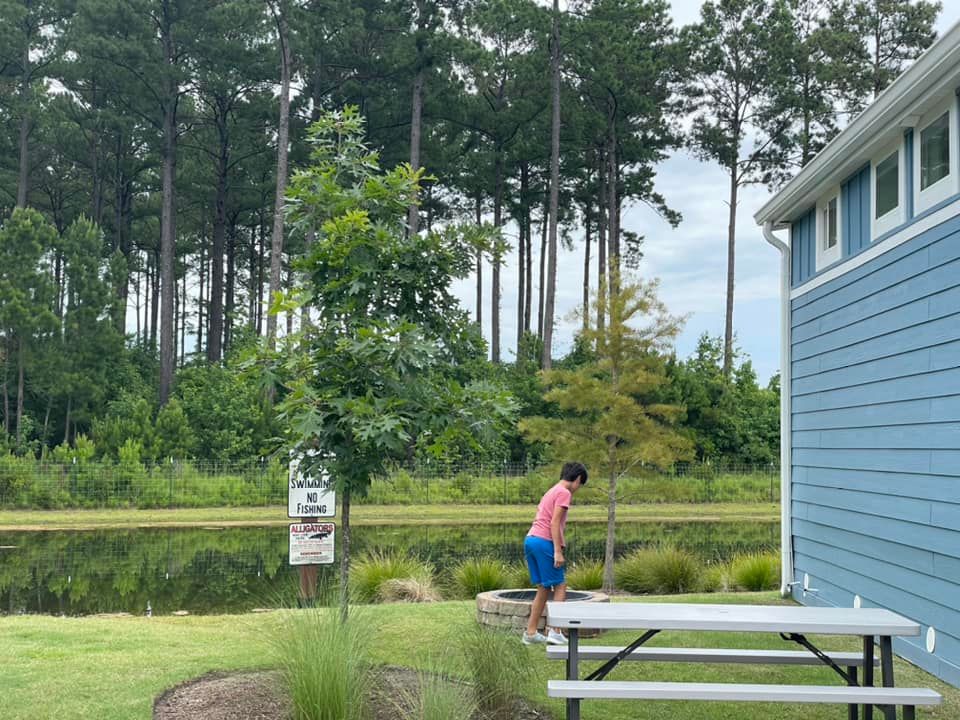 We made great use of the outdoor spaces, including having a fire in the fire pit and enjoying the sunset and broad view of the entire resort from the rooftop terrace.
Resort Amenities At Carolina Pines RV Resort
Although the resort is located conveniently near Myrtle Beach and all the things to do there, Carolina Pines RV Resort has so many amenities that you'll find yourself not wanting to leave the property.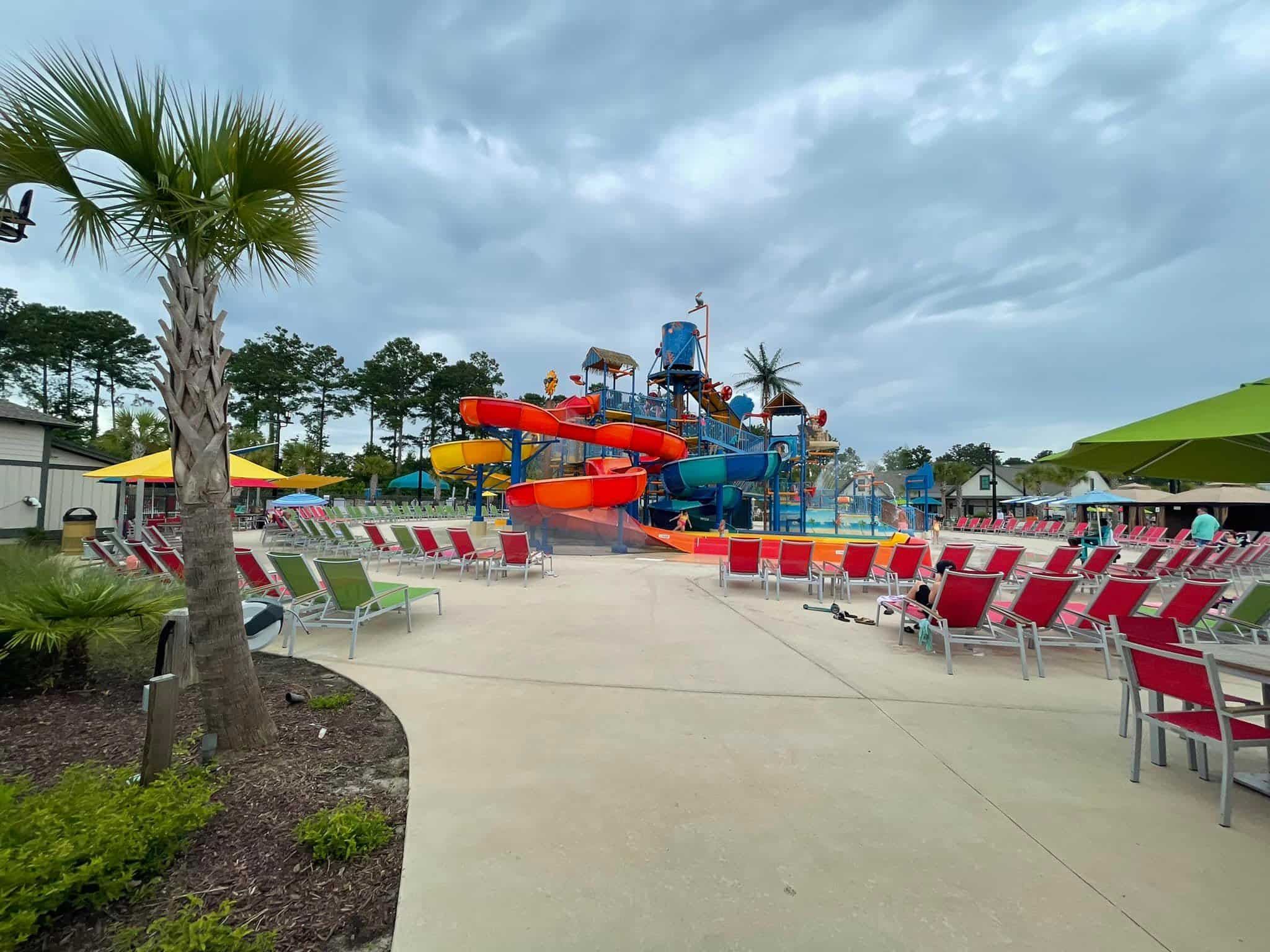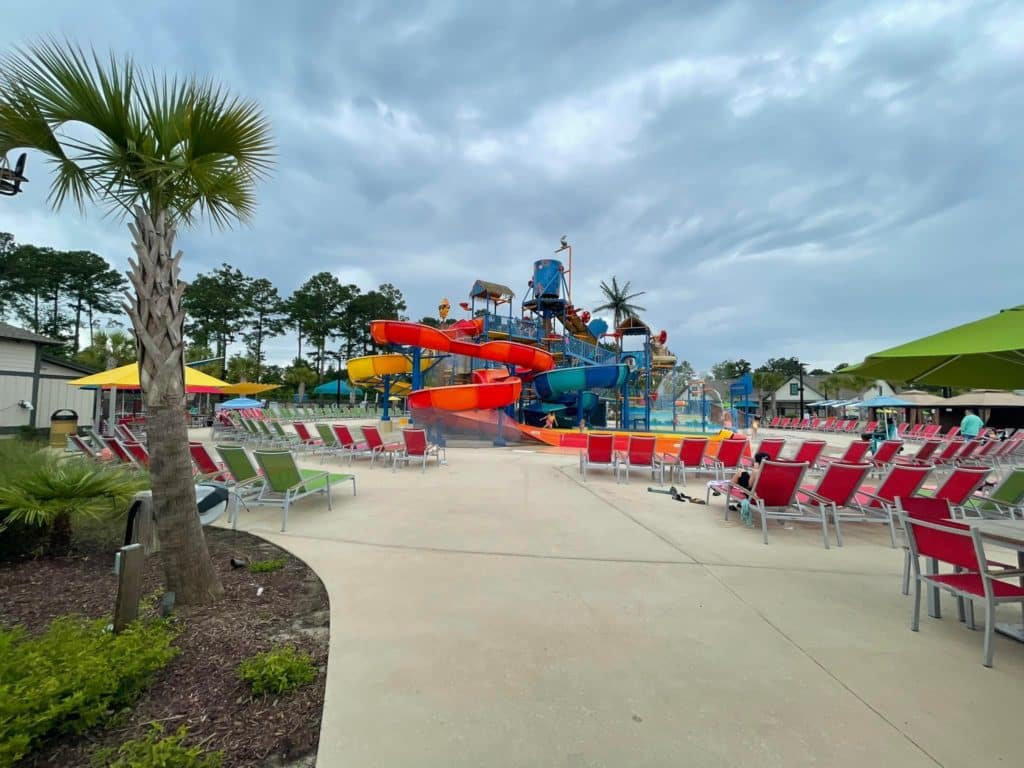 There's a gift shop in the check-in area, a waterpark area, two pools*, including a serenity pool with a hot tub and a lap swimming pool, mini bowling (extra fee applies), miniature golf, yard games, concessions (including an onsite restaurant) and lots of charming outdoor spaces. There's ample seating at the pools but most of it is in the full sun. There are shaded cabanas available for rent.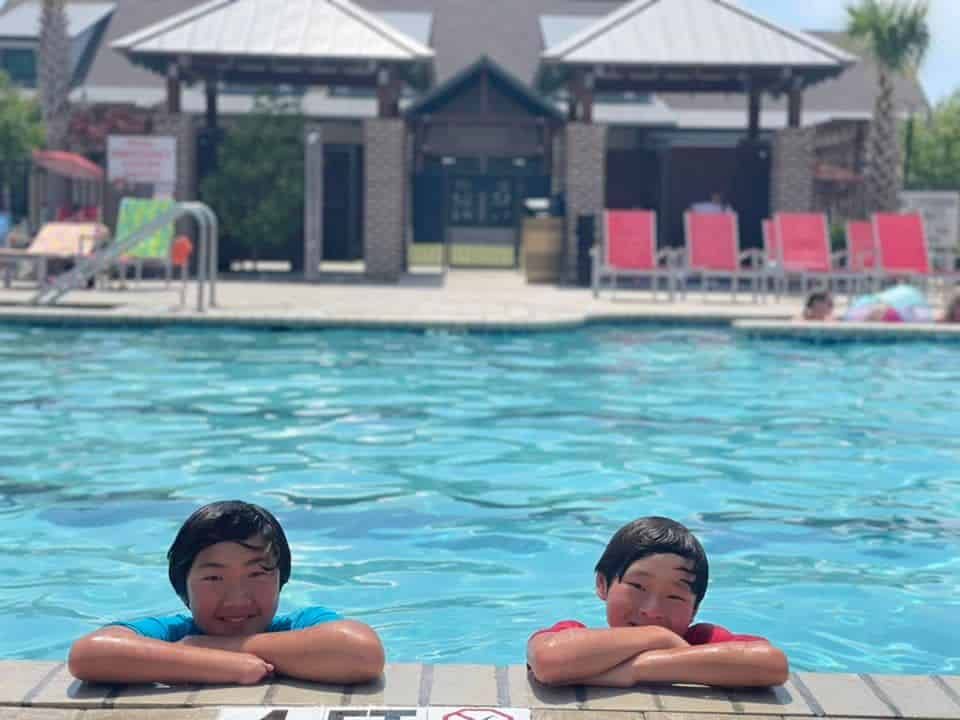 *I saw a third pool in the back of the RV area. The pool was very small and appeared to cater to campers located some distance away from the main pool area. There's also another waterslide area behind the waterpark pool seating area that appears to be under construction.
Guests will receive a schedule upon check-in that is chock full of activities to join, such as organized sporting events for kids, arts and crafts (extra fee applies), musical entertainment, trivia games, and more. You can do as much or as little as you like at Carolina Pines RV Resort. Click here for a complete list of amenities.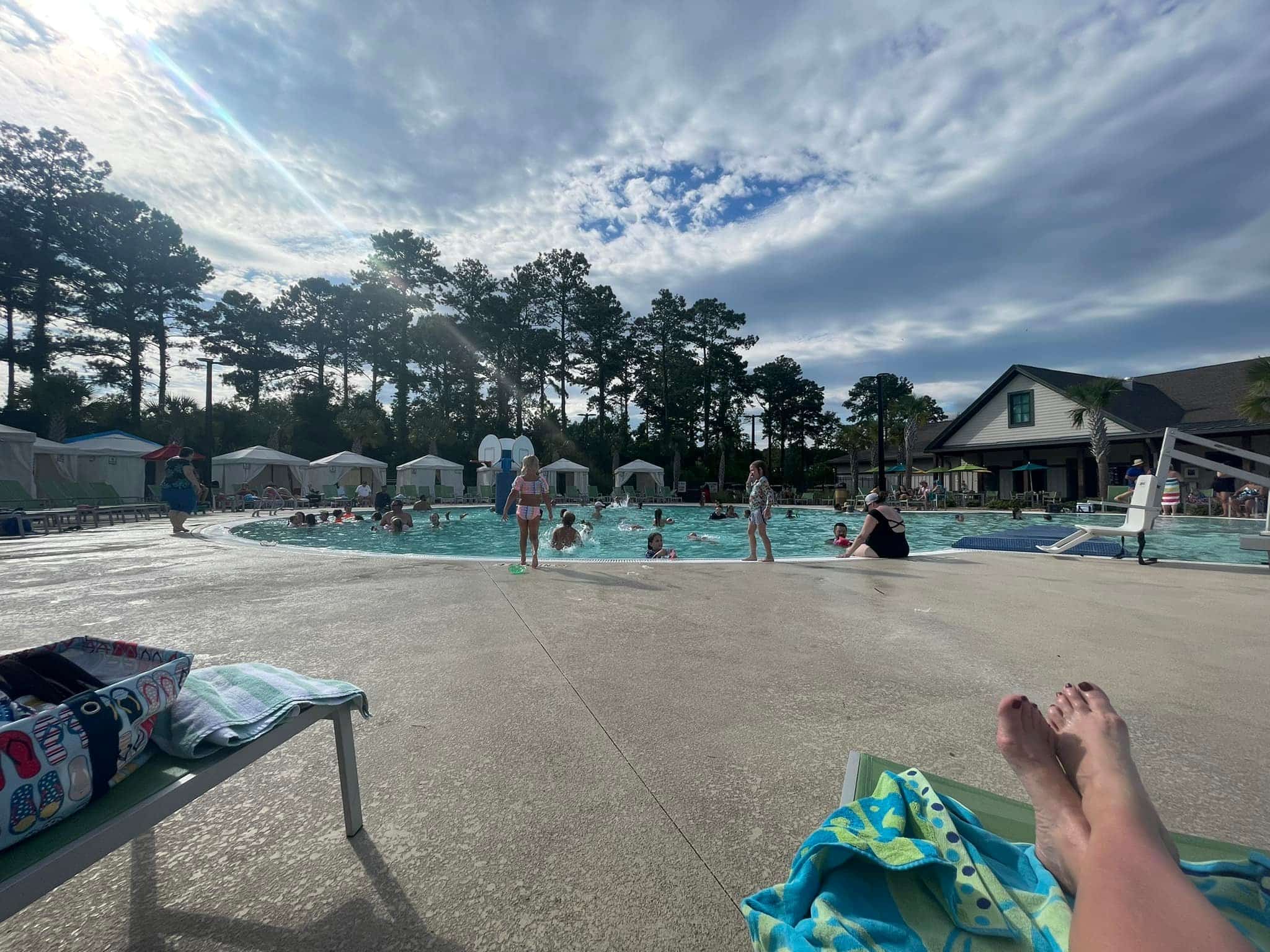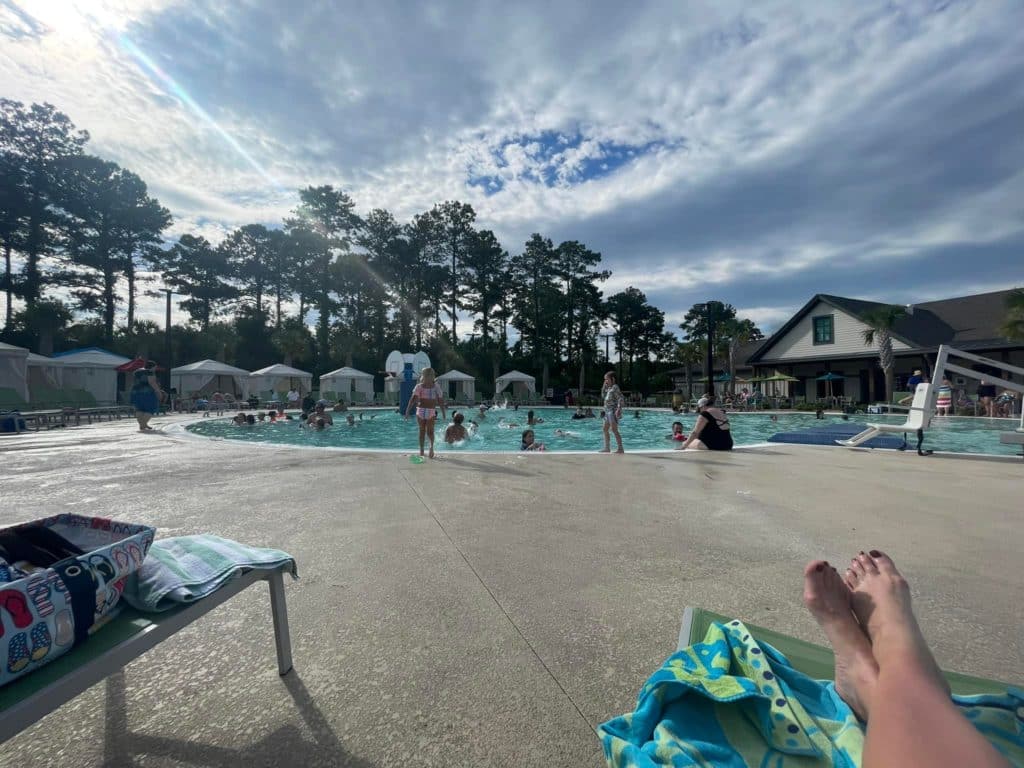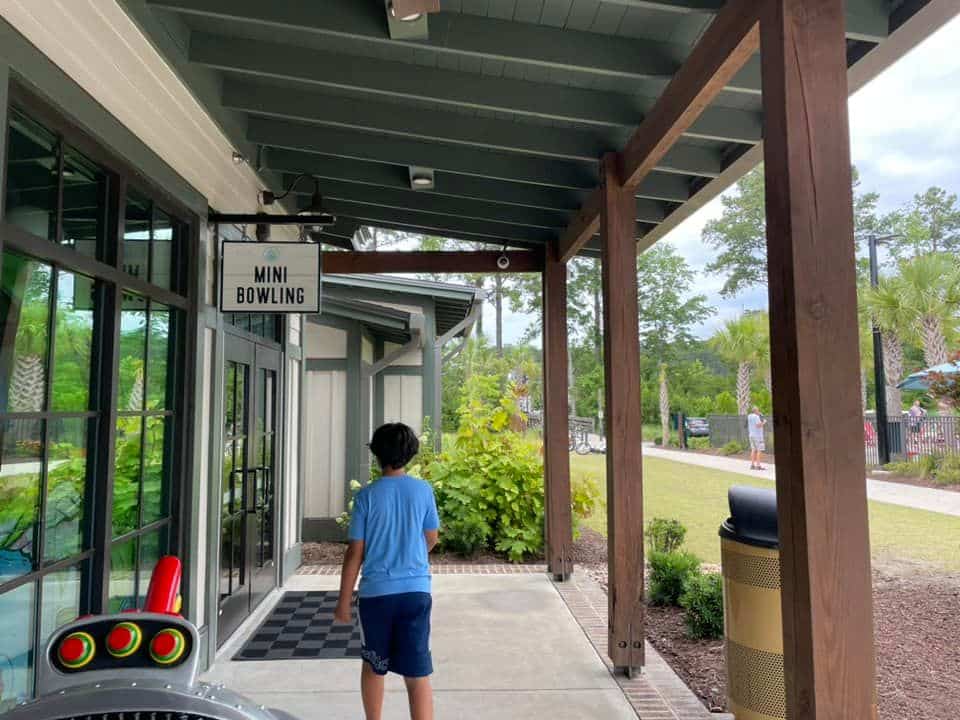 Golf Cart – It's a must have!
I highly recommend having or renting a golf cart to get around Carolina Pines RV Resort. The resort is sprawling and while it is easy enough to get around on foot, the summer temperatures are hot and you'll be out in the full sun. There are also limited car parking spaces at the public venues but plenty of golf cart spots. It's a fun, easy way to get around the resort.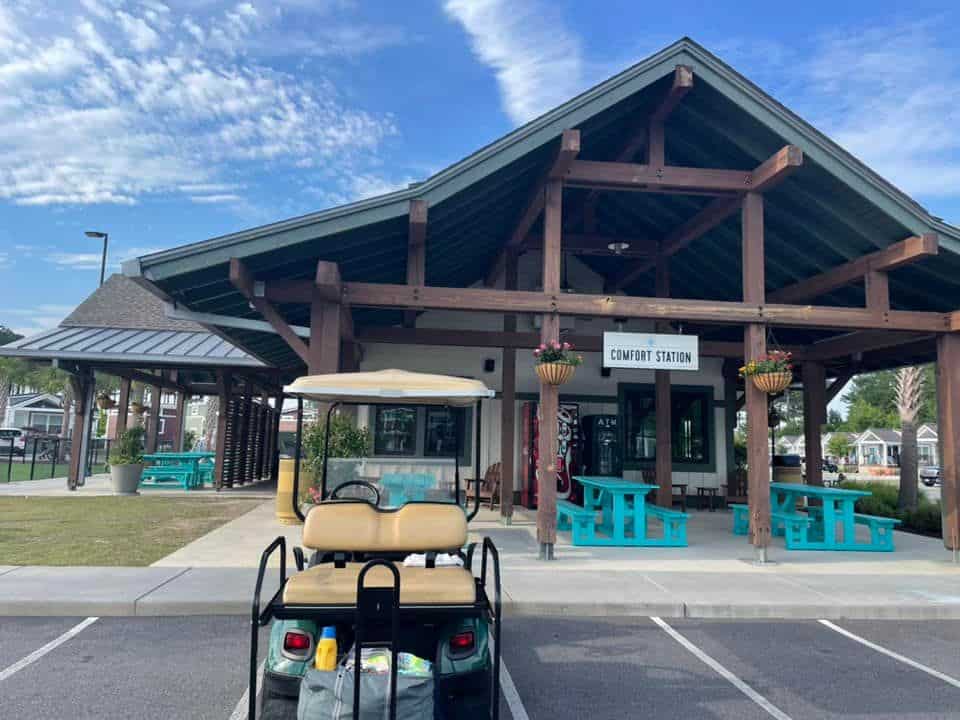 If you rent a golf cart from the resort, I recommend making a note of your cart number and doing something to make your cart easily recognizable, such as adding a scarf or ribbon. All golf carts look the same!
What to Bring with You
The camp store sells a few grocery items and camping supplies. There's also a Kroger and a Walmart both within about a 10-minute drive. The cabins are pretty well-stocked but here's what I recommend you bring:
Charcoal and lighter fluid
BBQ Tools
Wood, newspaper, and fire starters for outdoor fires
Beach towels
Towel clips
Sunscreen
Insect repellant
Flashlight or night light
Reusable storage containers or plastic food storage bags
Ice cube trays (or purchase ice at the camp store or grocery store in town.)
Bicycles or scooters
My family and I were hosted by Carolina Pines and Sun Outdoors for this review. All opinions are my own.
You might also like:
Review of Adventures on the Gorge
Things to do in Hot Springs Arkansas
The Ultimate Pigeon Forge Vacation Guide
Fun things to do in Bowling Green Kentucky
What I wish I'd known before planning a visit to Mammoth Cave National Park