When you travel with kids, the big question is always "drive or fly?" We do a mix of both but if a trip involves more than 6 hours in the car, we look hard at flying. We don't mind longer road trips but our current situation is to make the very best use of my husband's vacation days…we take more trips than he has vacation days and two days in the car eats in to that big time. The big detractor on flying is the cost times four. We use Southwest Airlines whenever possible because they have the best rates and perks and I'm excited to tell you, things just got a whole lot better: our family scored TWO Southwest Airlines Companion Passes for 2020, which means our kids will fly free when we fly all of next year and the rest of this year, too. Wanna know how to get the Southwest Airlines Companion Pass? I'm excited to share that with you, so read on!
How our family scored TWO Southwest Airlines Companion Passes
First things first: What is a Southwest Airlines Companion Pass?
Just what is sounds like. It's a pass that allows someone else you designate to fly with you as your companion for a set period of time. When you make your reservation on a Southwest Airlines flight, you can book your designated companion for free as long as there's space available on that flight. You pay taxes and fees for your companion. It's an awesome deal.
How do I qualify for Southwest Airlines Companion Passes?
First, you have to open up a Southwest Airlines Rapid Rewards Account, which is fast and easy to do. If you fly Southwest at all, you should definitely have a Rapid Rewards account because they have one of the best loyalty programs out there, in my opinion. You can qualify for the Southwest Airlines Companion Pass by accruing a certain number of points or a certain number of flights in a calendar year period.
For 2019, it is 110,000 Rapid Rewards points or 100 one-way flights. 2020 is bringing some changes to Southwest Airlines Rapids Rewards program, and their new qualifying point threshold is going to be 125,000 Rapid Rewards Points. This doesn't make me jump for joy but their fares are still the lowest and they still offer two free pieces of checked bags per person, so I still think they are the best deal out there.
Yes, 100 one-way flights is a lot and obviously, to qualify for the Southwest Airlines Companion Pass with flights is probably only feasibly for you ultra frequent flyers out there. We qualified using points. Keep reading for specifics.
Read more: Want to better understand Southwest Airlines change policy?
How we qualified for TWO Southwest Airlines Companion Passes in 2020
My husband and I each qualified for the companion pass this year, which means that when we travel as a family, our kids will fly free (+ taxes and fees.) This is a huge benefit for us because no matter how cheap the airfare is, airfare times four is expensive.
We qualified with Rapid Rewards Points earned from Southwest Airlines Rapid Rewards Visa from Chase. My husband has a Southwest Rapid Rewards Visa and I have a Southwest Rapid Rewards Business Performance Credit Card. We use his card as our primary personal credit card and we use the business card for all expenses associated with running my blog – hosting, software, printing, training, and, because I'm a travel content creator, a lot of our travel goes on the business card.)
We use these two cards almost exclusively to pay for absolutely dollar we spend for the purpose of accumulating miles for flights and points towards the Southwest Airlines Companion Pass. We do pay our credit card balances off each month, and so should you if you're going to use them this way. We are very deliberate about gaining our points but we are also very deliberate about not going into debt to get travel perks.
What pushed us over the top for getting a Southwest Airlines Companion Pass?
We realized in mid-September that we were both within sniffing distance of getting a companion pass but that we'd need to spend/travel strategically to get to 110,000 points each. We went ahead and bought our Christmas presents (which wasn't a huge spend because outside of experiences, we're not huge gift givers) and paid ahead on our kids' martial arts lessons. What really pushed us over the top is booking more travel. Here's what we did:
We booked two trips we hadn't planned on taking…one in October 2019 and one in November 2019. While we did gain some points with airfare x 4, where we really scored big was with hotel points/special offers. We did a two-night stay at the Arizona Biltmore, which is a luxury resort outside Phoenix and a three-night stay at a golf resort in Sedona (we like Arizona…what can I tell you?)
We got 26,000 points for the Biltmore and 18,000 points for the resort in Sedona. Yes, you read that right. That's what pushed us over the threshold. We got two great trips out of the deal and 12 months+ of free flights for our kids. I call that a win.
Finding the killer point deals on Southwest.com
On the home page, select "special offers" then select "hotels." Note you can also select vacations, cars or flights and see what comes up but we searched for "hotels" both times." This takes you to a partnership screen with Booking.com. You'll see a list of flight deals but what you want is the search box at the top.
Put in a city you want to visit and plug in some dates. Wait for the "Rapid Rewards Plus Points" to load – you'll see a red line load across the top of your screen as the available hotels populate. All hotels are going to have Rapid Rewards points associated with them but you'll want to look for the points in the bold blue box.
This requires some trial and error with locations and dates. I've generally found Phoenix and the surrounding area, Vegas, Hawaii, and the Caribbean to have the best points offers. New Orleans and Aruba have yielded some good points offers as well…you just have to play with the dates and locations. I wish there was a "hot deals" listing for these properties for people who are looking for great deals and are flexible with their destinations, but so far I've not been able to maneuver the search that way.
Related reading: Can you save seats on Southwest Airlines? The answer is complicated but read here.
Examples:
I plugged in some random dates to visit New Orleans. The best deal looks like 14,000 Rapid Rewards points to stay at a particular property. Keep in mind this level of points is going to be a fairly high-end property. Also, I don't consider anything that offers less than 10,000 points.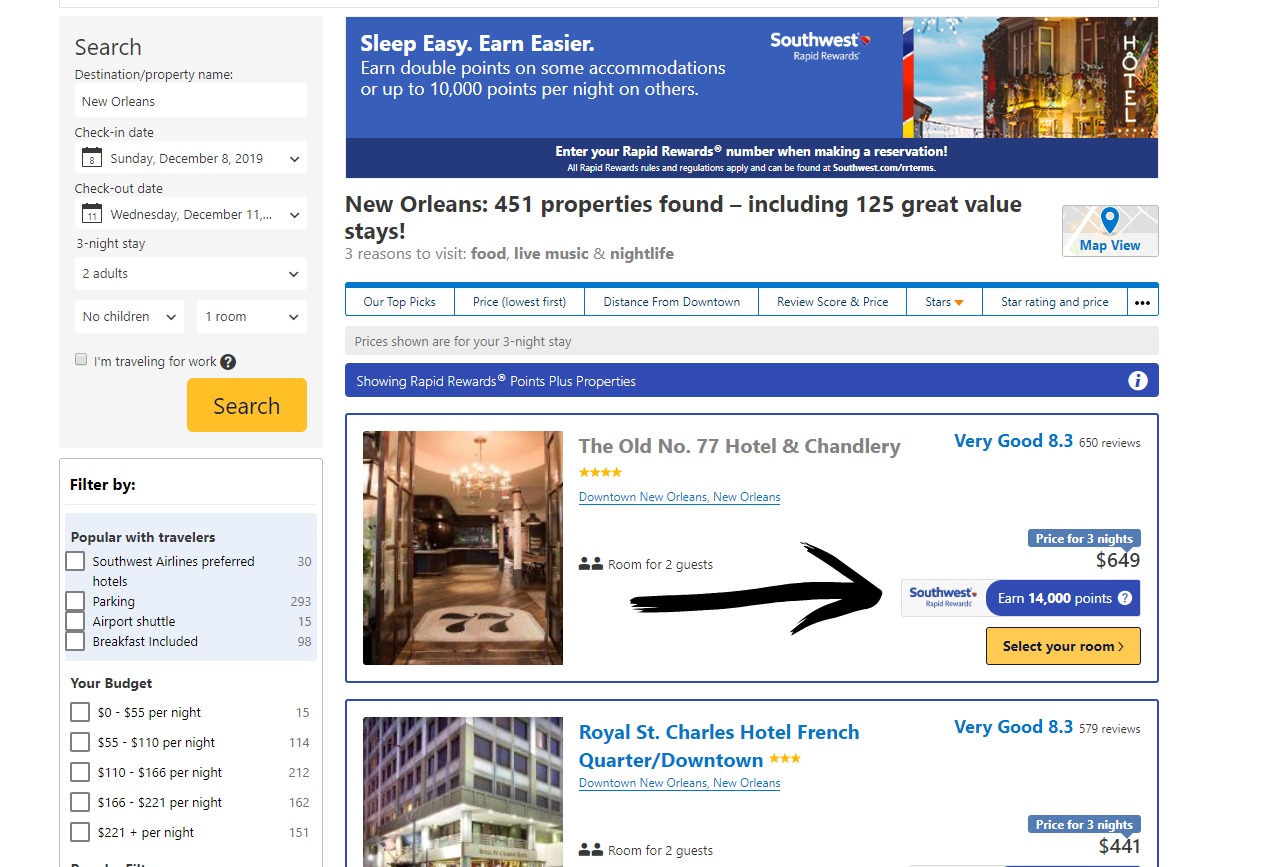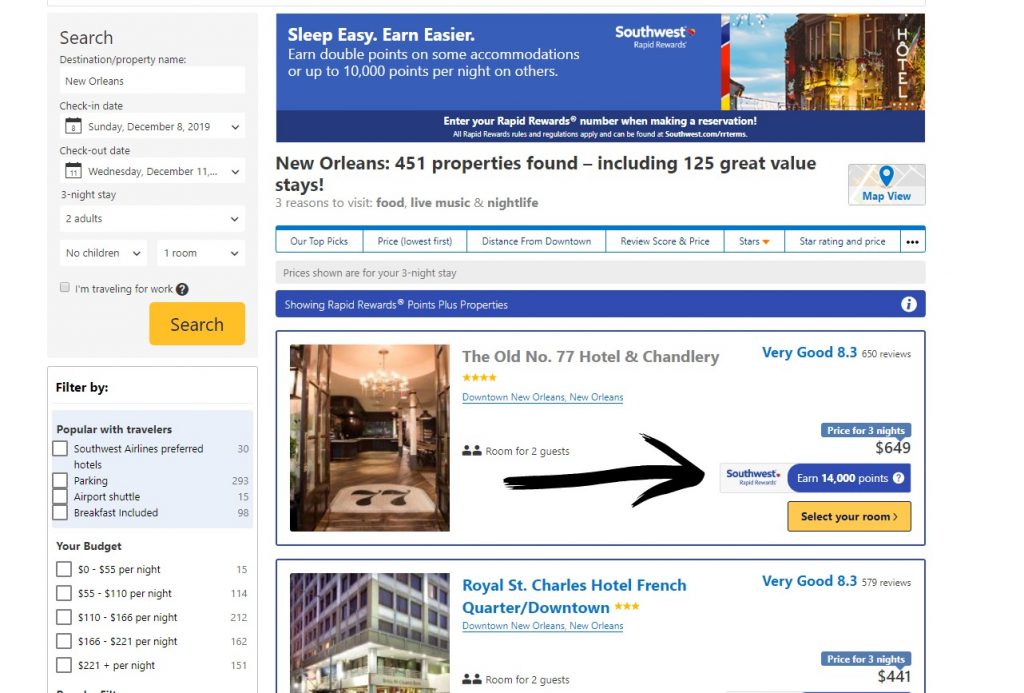 When I go to select my room, there are options to upgrade to even more points. As you can see, I can get 20,000 points if I spend an additional fee for my room. $649 gets me three night and 14,000 points but $763 gives me the same room and 20,000 points, which can big a big jump if you're trying to qualify for that companion pass.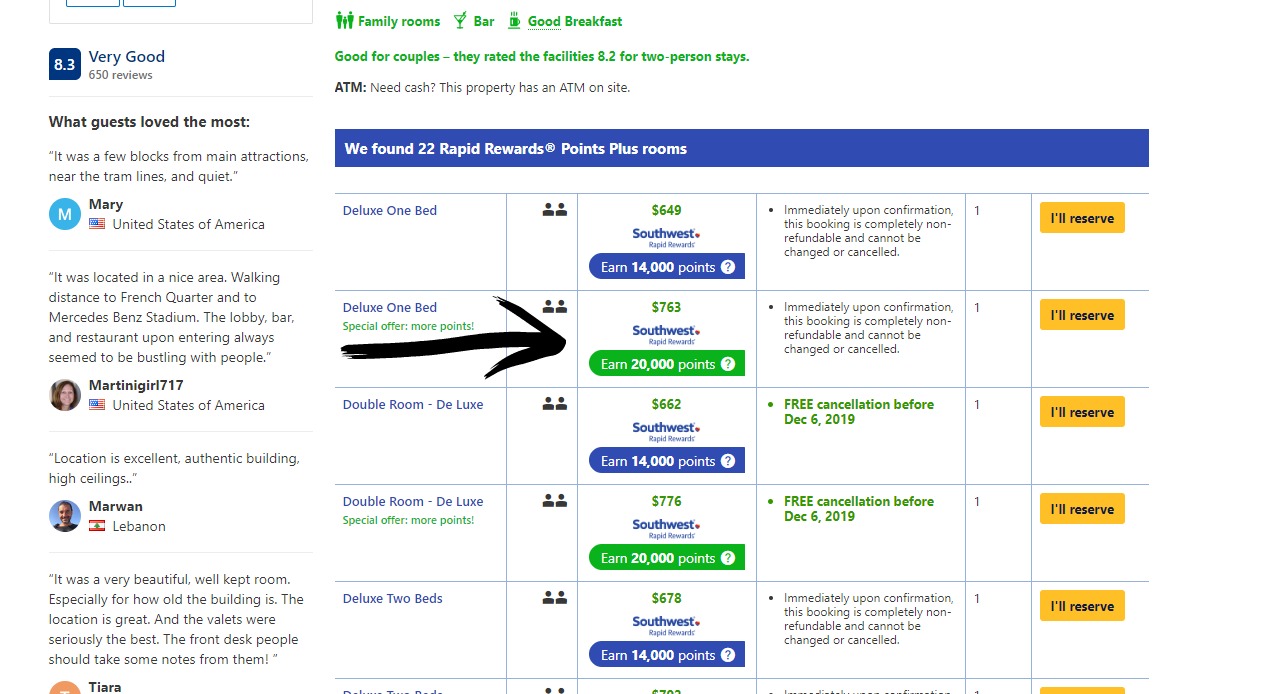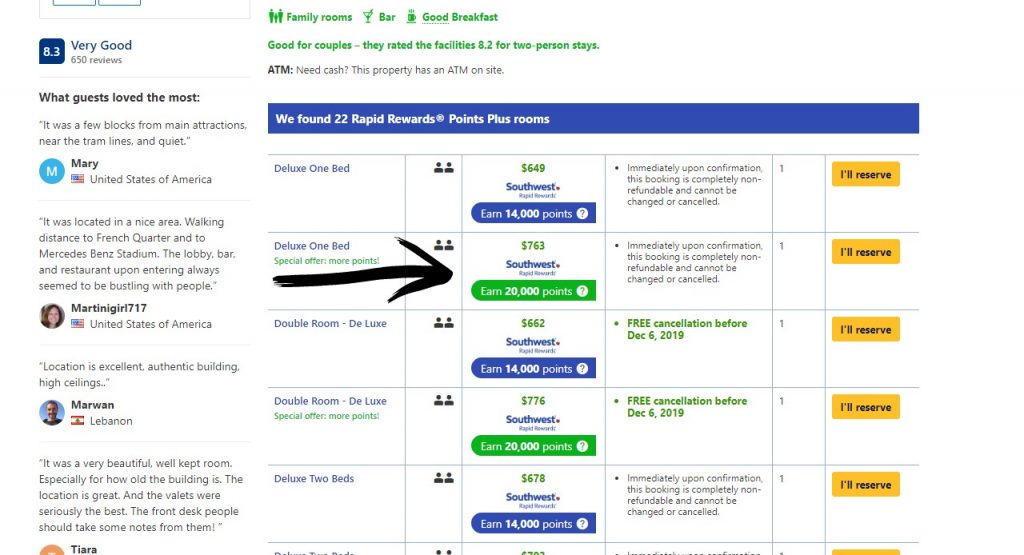 The two trips (one went on each account) were enough to put my husband and I both over the threshold for a Southwest Airlines Companion Pass using points. We spent a few bucks on some other things but it was mostly these two trips that did it for us.
What's the bottom line?
For us, it means a year plus of free flights for our kids, knocking our air travel in half when we fly Southwest Airlines as a family of four. It also has given us some strategy on how we'll plan some of our travel for the second half of 2020. We've got some flexibility and we're sometimes able to follow the deals versus being wed to traveling to certain locations. We've got our eyes on using this same method to gain our companion passes for 2021 and beyond. We'll see how it goes.
Your mileage may vary and you may not see these types of deals for the places you want to travel. I go in about once a week and play with dates and locations and it seems Arizona, New Orleans, Hawaii, Aruba, and the Bahamas consistently offer the super points. I keep plugging new destinations in (I like to stick to places where I can get a direct flight since these tend to be shorter trips for us) and seeing what's available. It does require some patience and some diligence but the results were worth it for us.
Now, we have to plan that 2020 travel to make sure we put those Southwest Airlines Companion Passes to good use!
For more information or to read about the Companion Pass directly from the horse's mouth, read here.