Adventures on the Gorge – Everything you need to plan an epic family trip
(This post may contain affiliate links. Read my full disclosure.)
If you're looking for an experience chock full of family fun and outdoor adventure, check out Adventures on the Gorge. Located in West Virginia near the US's newest National Park, New River Gorge National Park and Preserve, this outdoor-focused resort has everything you need for a great active vacation.
Adventures on the Gorge – Everything you need to plan an epic family trip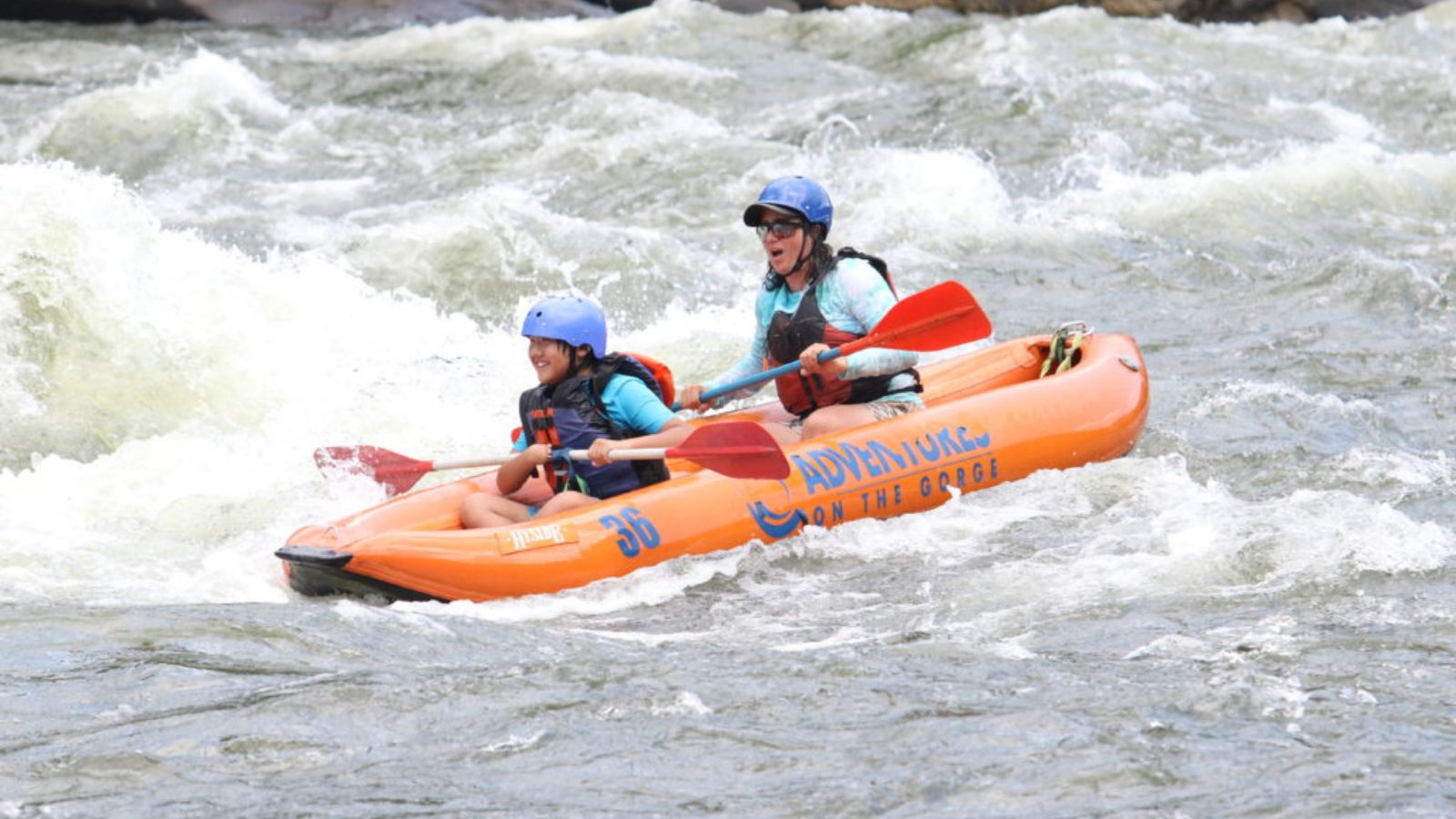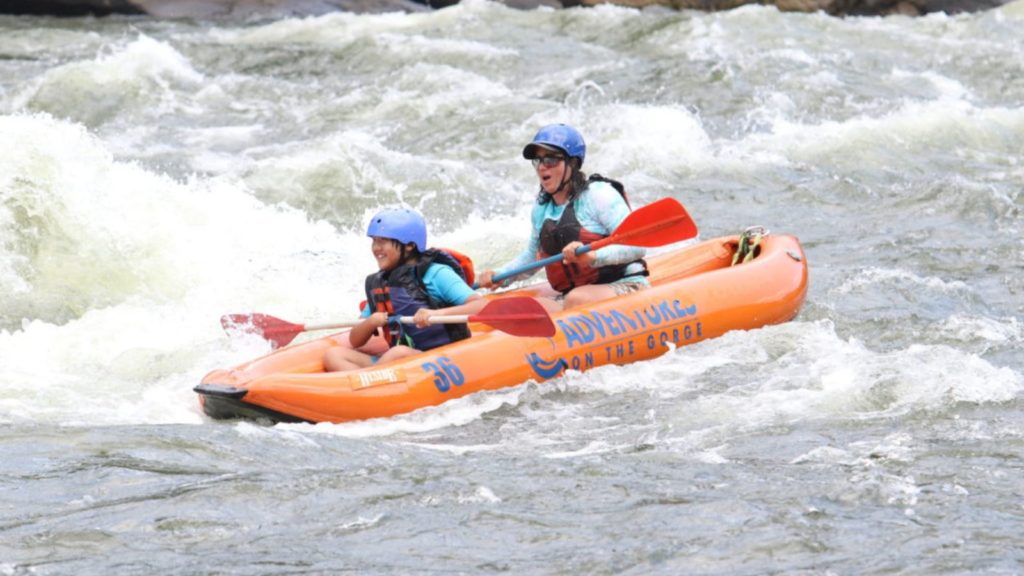 New River Gorge National Park and Preserve is America's newest National Park. A stay at Adventures on the Gorge is a great place to establish a base camp to explore the wild and wonderful beauty of this area.
Please note: Reservations are strongly recommended for each activity offered at Adventures on the Gorge.
Getting to Adventures on the Gorge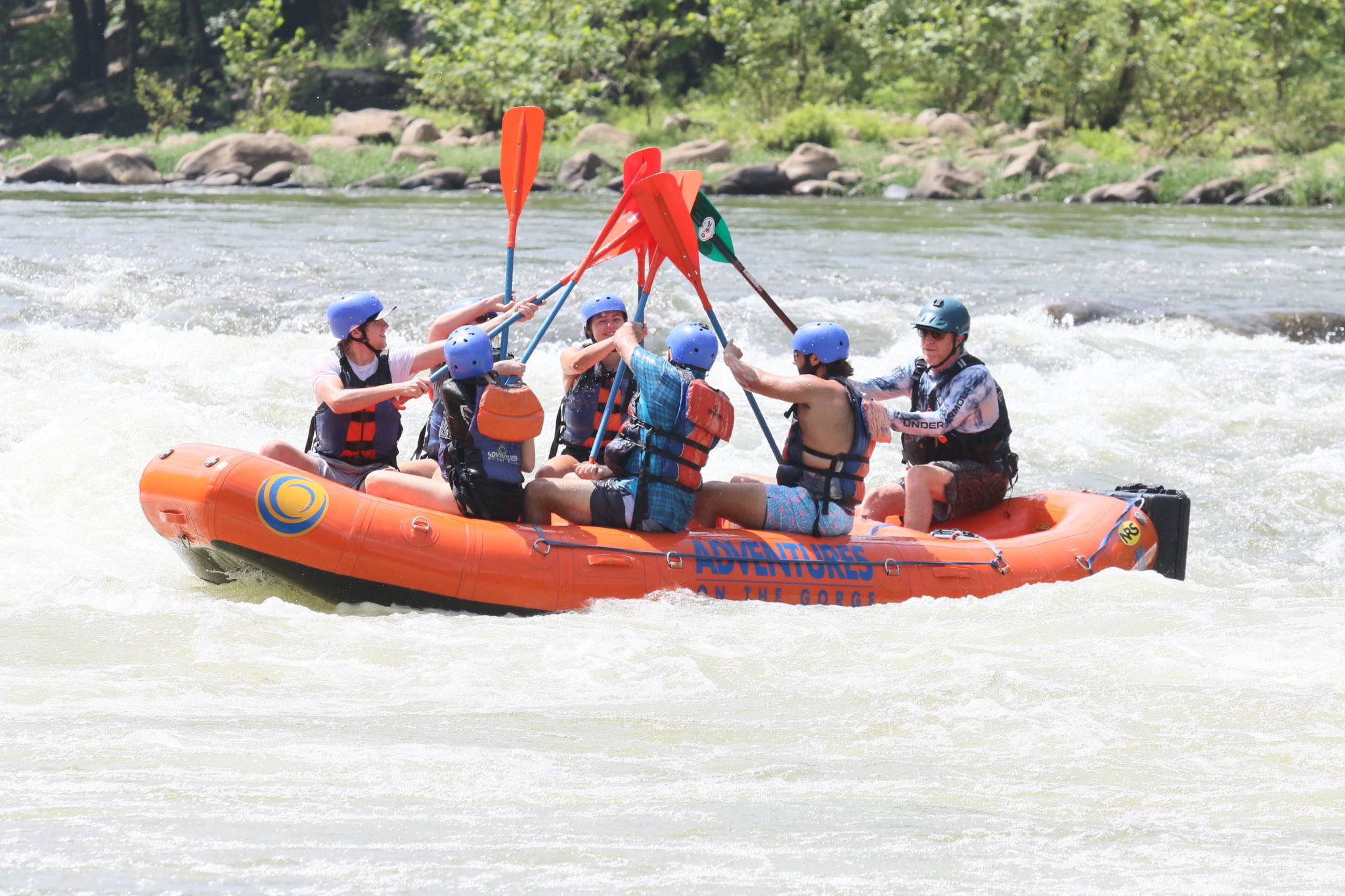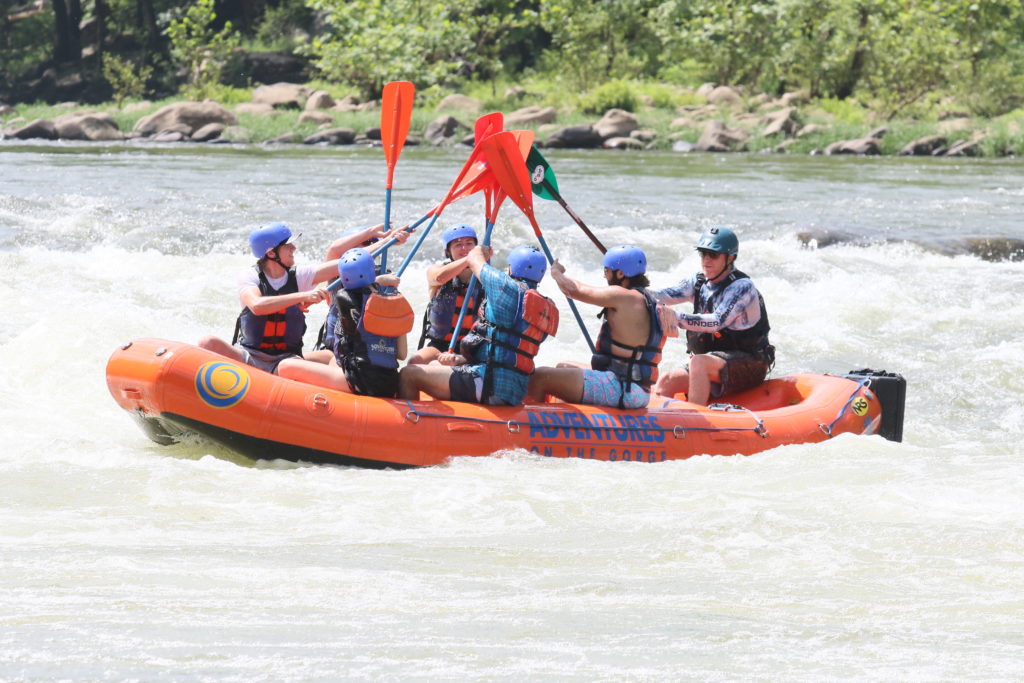 219 Co Rte 60/5, Lansing, WV 25862
Adventures on the Gorge is located about an hour's drive from the Charleston airport (CHS.) My kids and I drove but my husband (who has a less flexible schedule than I do) flew Delta from San Antonio into Charleston (connecting through Atlanta.)
Adventures on the Gorge is near the city of Fayetteville West Virginia. There's an opportunity is Fayetteville for shopping and dining and I'd love to have another opportunity to explore it. Other than driving through Fayetteville, we didn't have a chance to experience it firsthand.
Whitewater Rafting with Adventures on the Gorge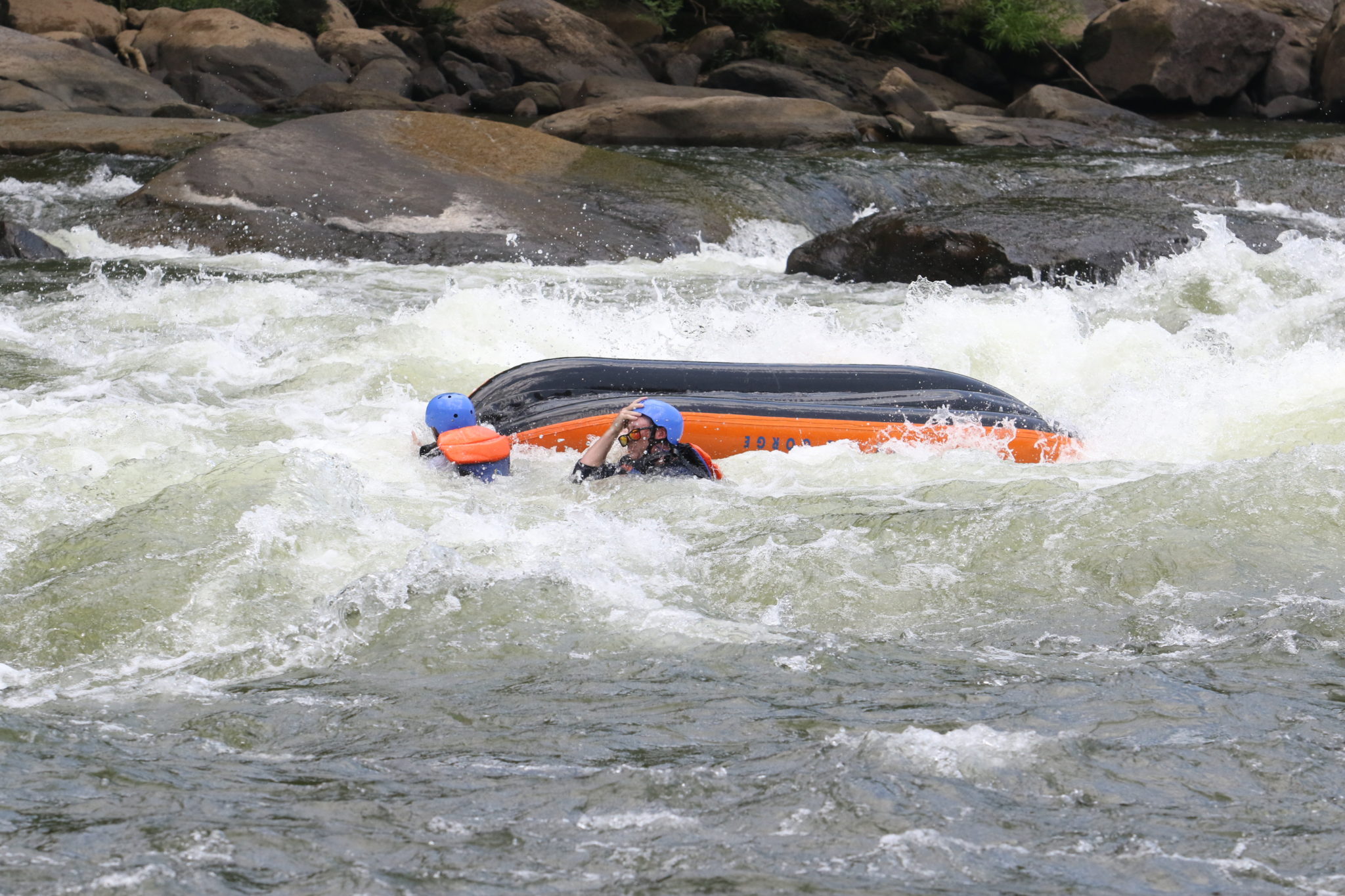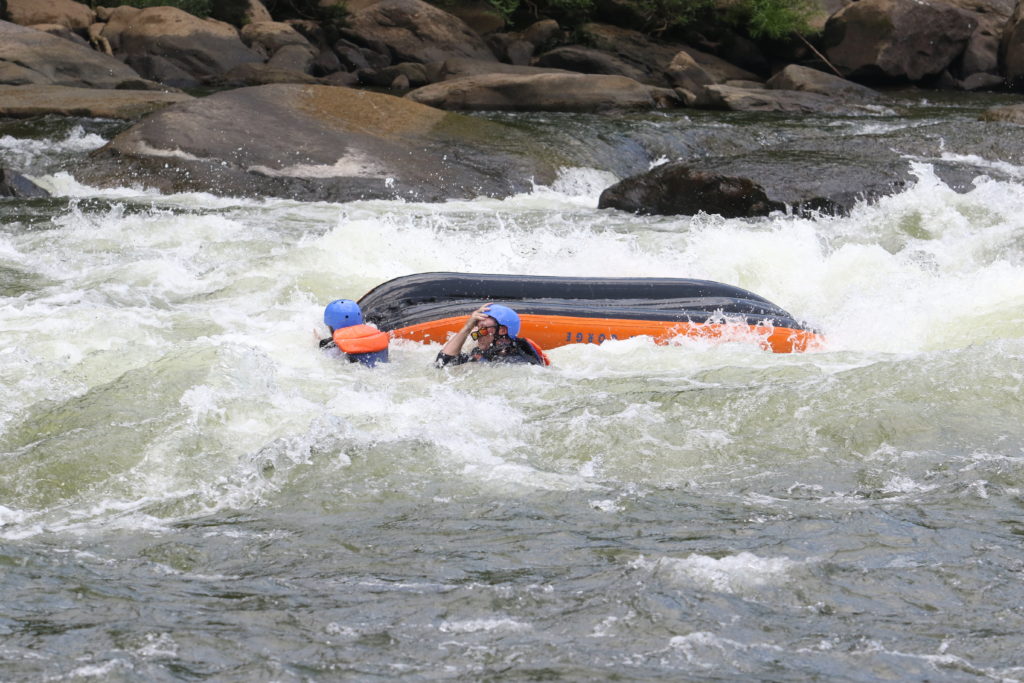 Adventures on the Gorge is located near both the New and Gauley Rivers. We did a full day on the Upper New River, which is perfect for newbies, families with younger children, or those wanting a milder dose of adventure. Kids 6-11* raft free with a paying adult, Saturdays excluded, so this can be a great bargain for families watching their vacation budget.
Our full-day adventure on the Upper New River included transportation, lunch, and time to swim, as well as all equipment you need for a day on the river. The run included Class I-III rapids. The two sets up Class III rapids we went through were pretty intense, at least that's what I thought. Our inflatable kayak (also known as a duckie) flipped over going through the second to last set-up rapids (Surprise Falls) which was my least favorite part of the adventure. That said, our guides prepared us very well for what to do in case that happened.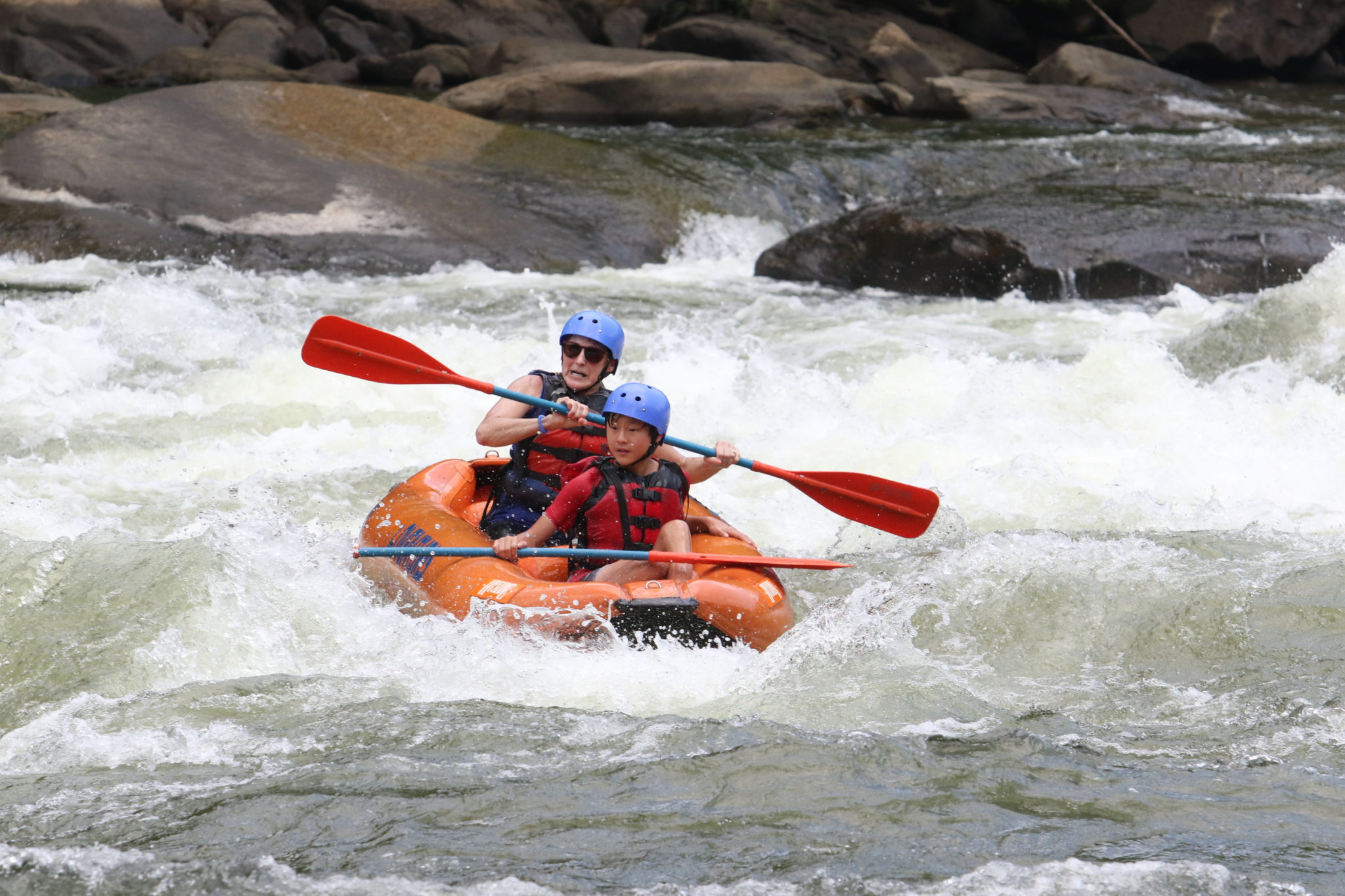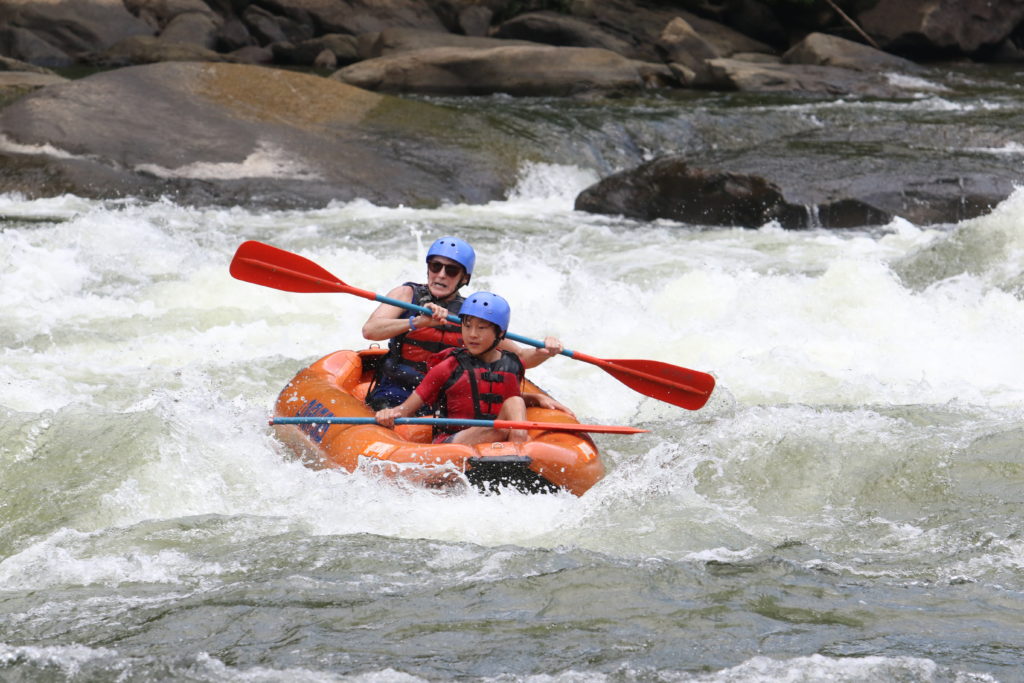 If everyone in your group is 12+ and you want faster rapids, you can take a trip on the Lower New River, which steps up the intensity of the rapids. If you opt for the Lower New River, you'll paddle as a group in a raft with an experienced guide giving directions. The Lower New River trip also includes transportation, lunch, time to swim, and equipment.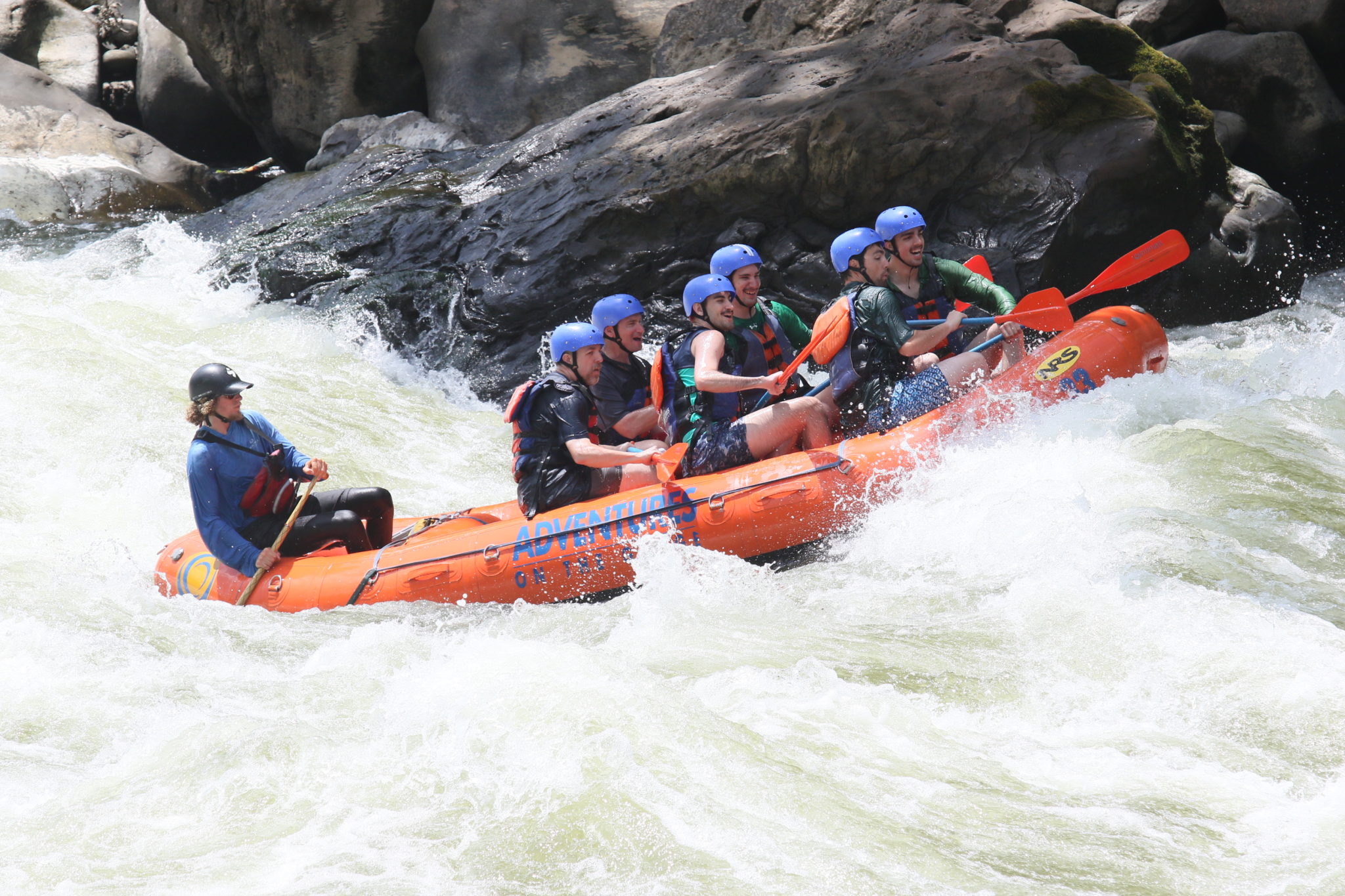 Both excursions include beverages on the bus on your way back to Adventures on the Gorge.
If you're interested in whitewater rafting excursions on the Gauley River, check out Adventures on the Gorge's selection of whitewater rafting excursions to see which one is right for you. In general, the Gauley River is more intense than the New River and better suited to experienced whitewater rafters.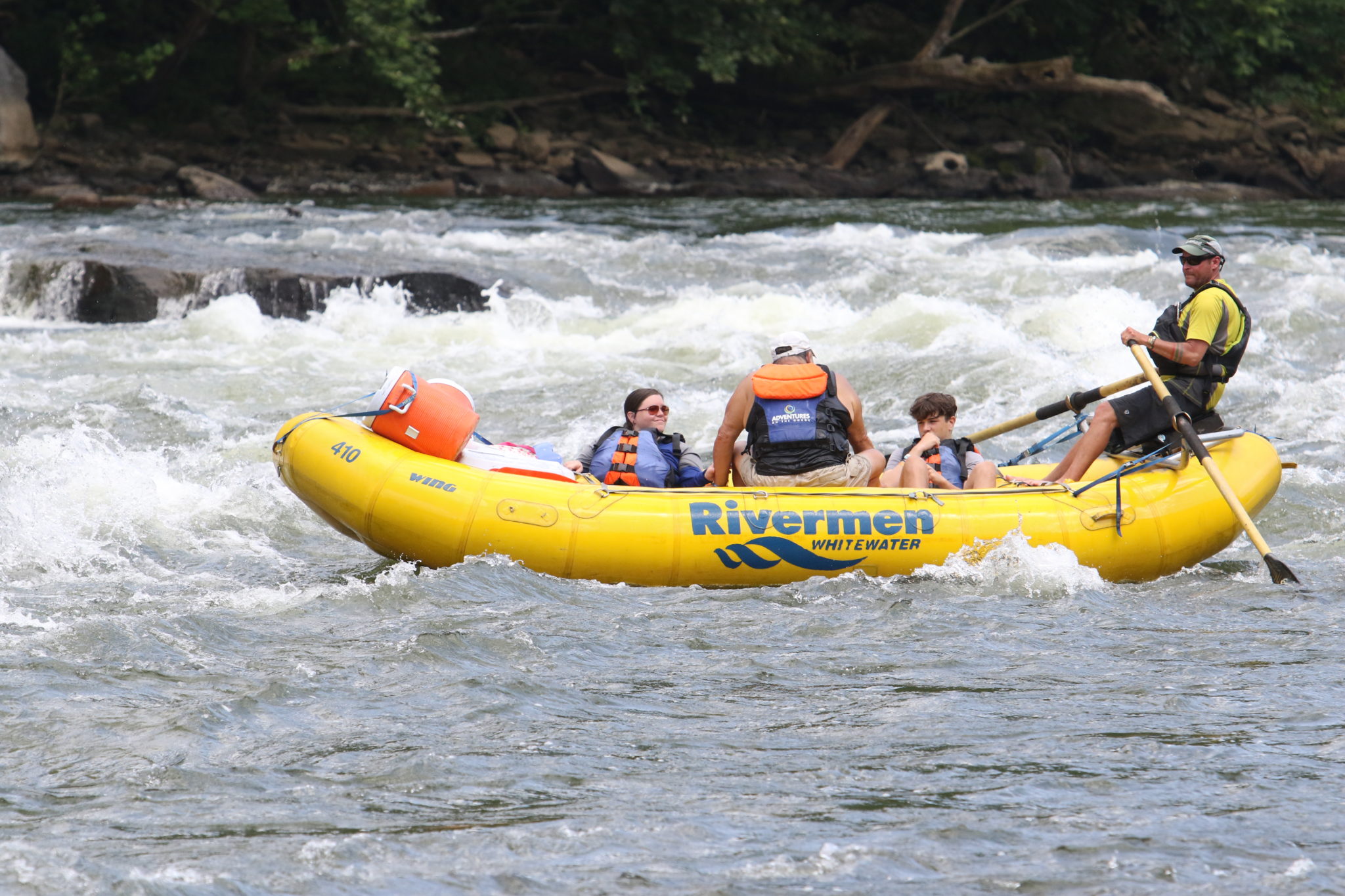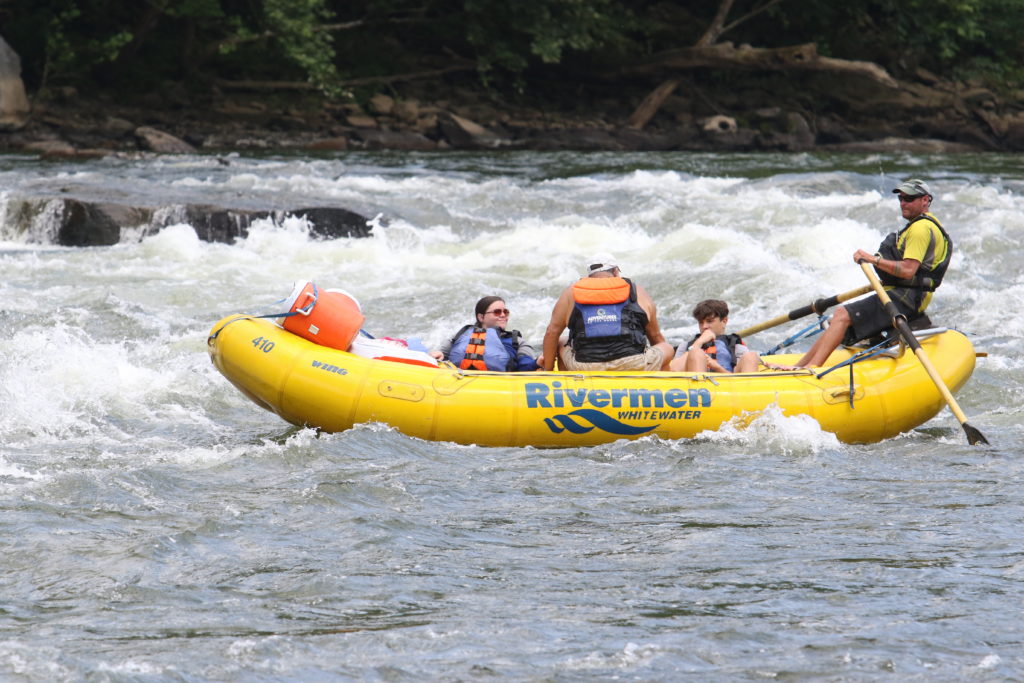 *This activity is for kids 6 and up.
Other Adventures on the Gorge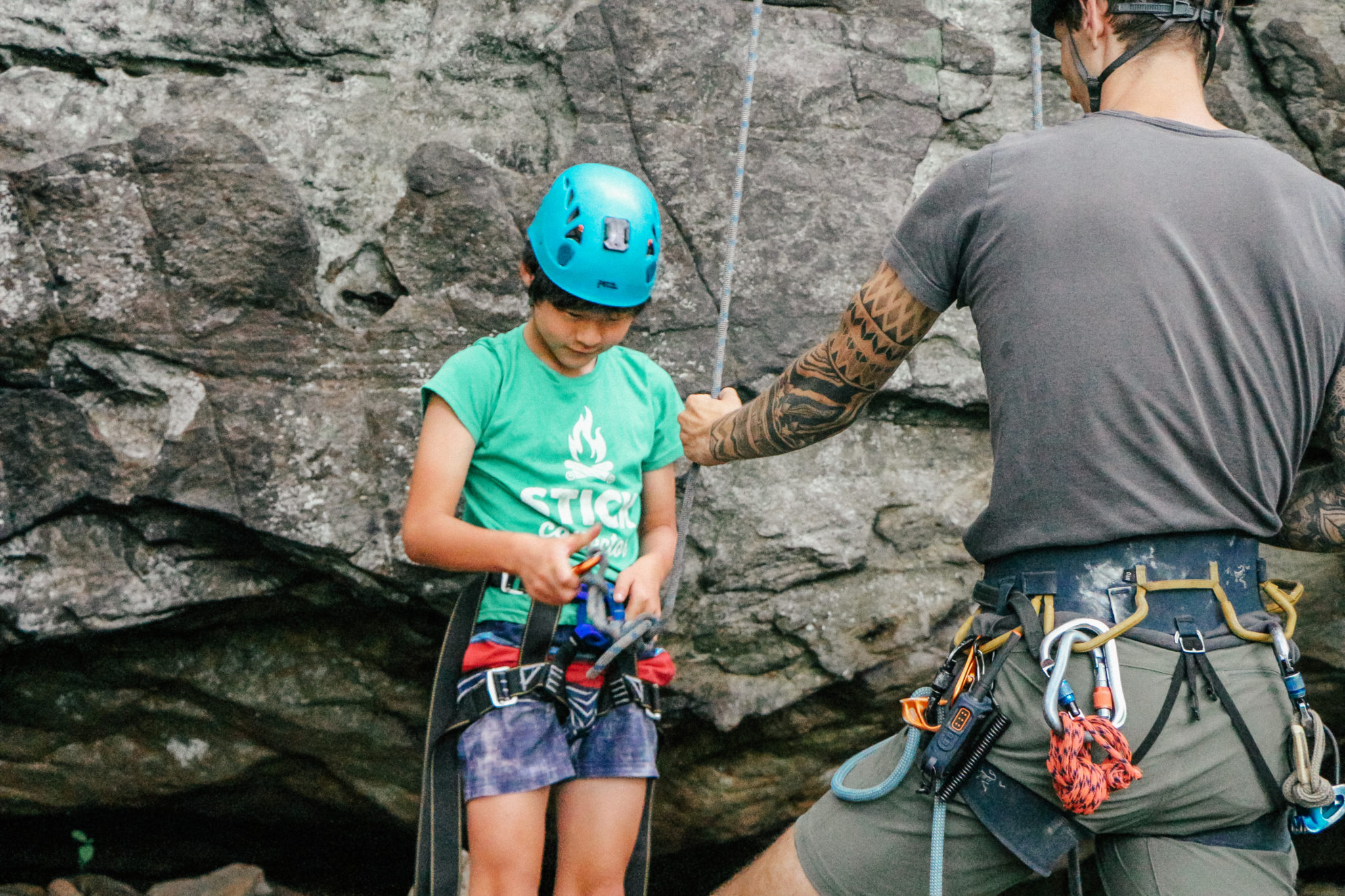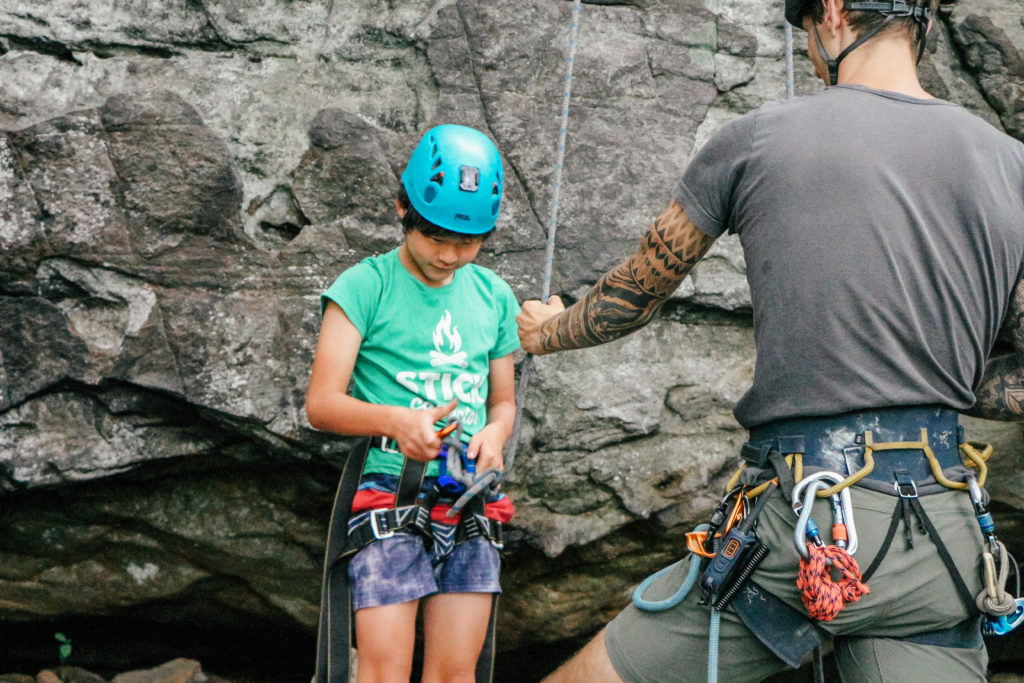 Whitewater rafting might be a big draw at Adventures on the Gorge but there are lots of other things to do. Our family did the Treetops Zipline Canopy Tour, Timbertrek Adventures, and the Guided Rock Climbing.
The Treetops Canopy Zipline Tour is a two-hour adventure that includes five swinging bridges and 10 different zip lines that send you soaring through the treetops, as the name suggests.
Timbertrek Adventures consists of seven obstacle courses set in the tree canopy. Navigate swinging bridges, nets, platforms, and more. The courses range in difficulty and there's a grid that explains who should do which course, and what type of supervision or prerequisite course applies. Experienced guides render assistance, if needed, from the ground. Participants are assigned to a group of 20 people. Three hours are given to navigate the courses. Non-participating parents can observe from the trees.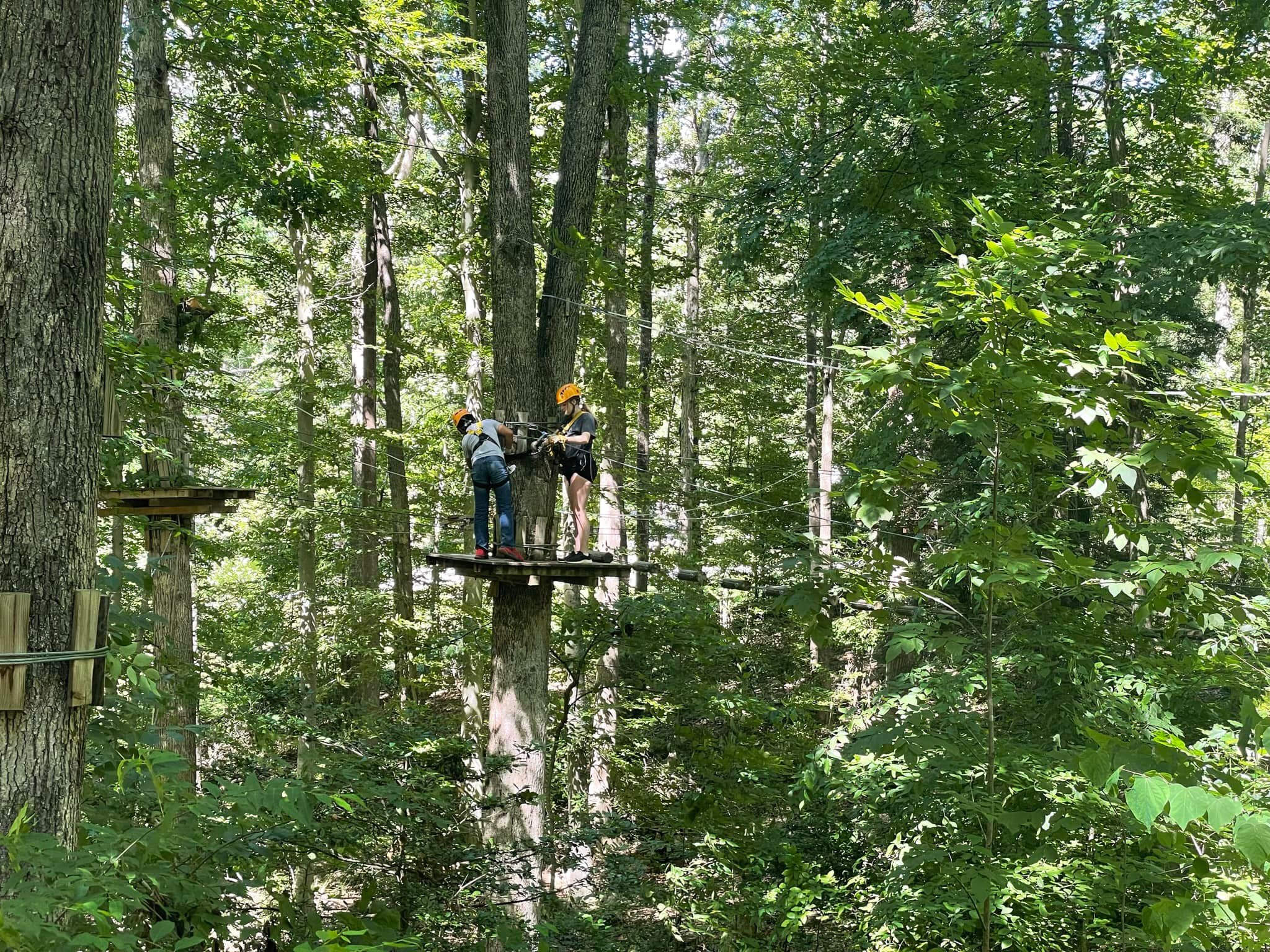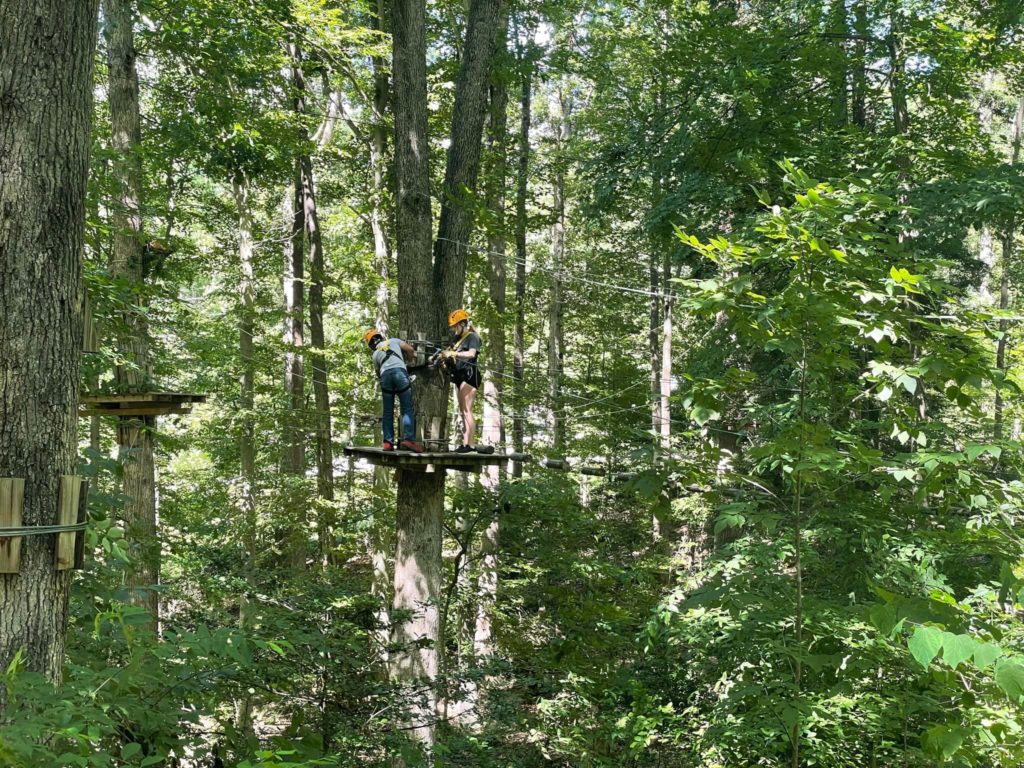 We also did a guided rock climbing, which my husband and kids really enjoyed. We had two very experienced guides who took our group of novice rock climbers through the basics of rock climbing and kept us safe. Transportation and all equipment are included. Full-day rock climbing trips that include lunch are also available.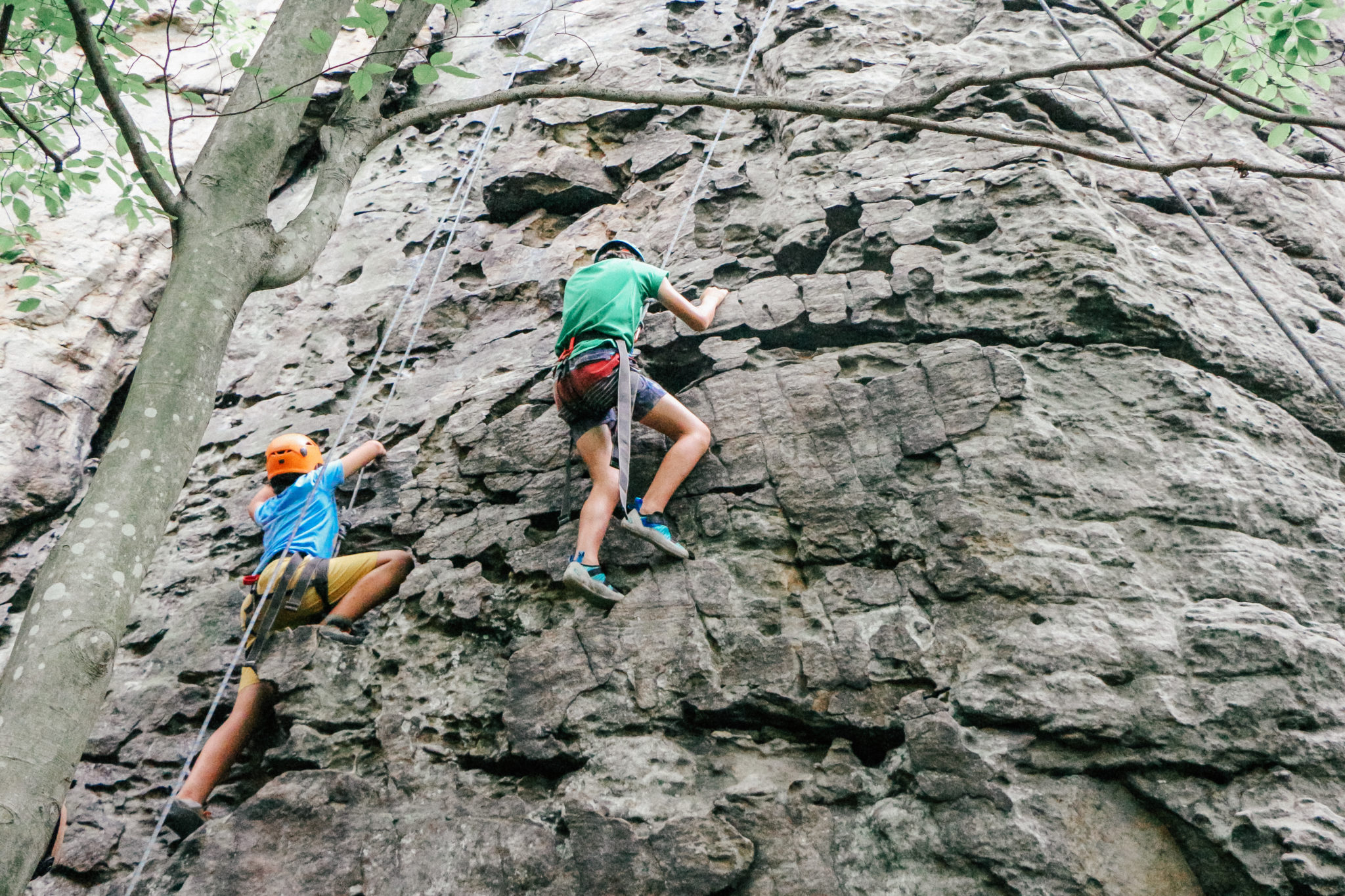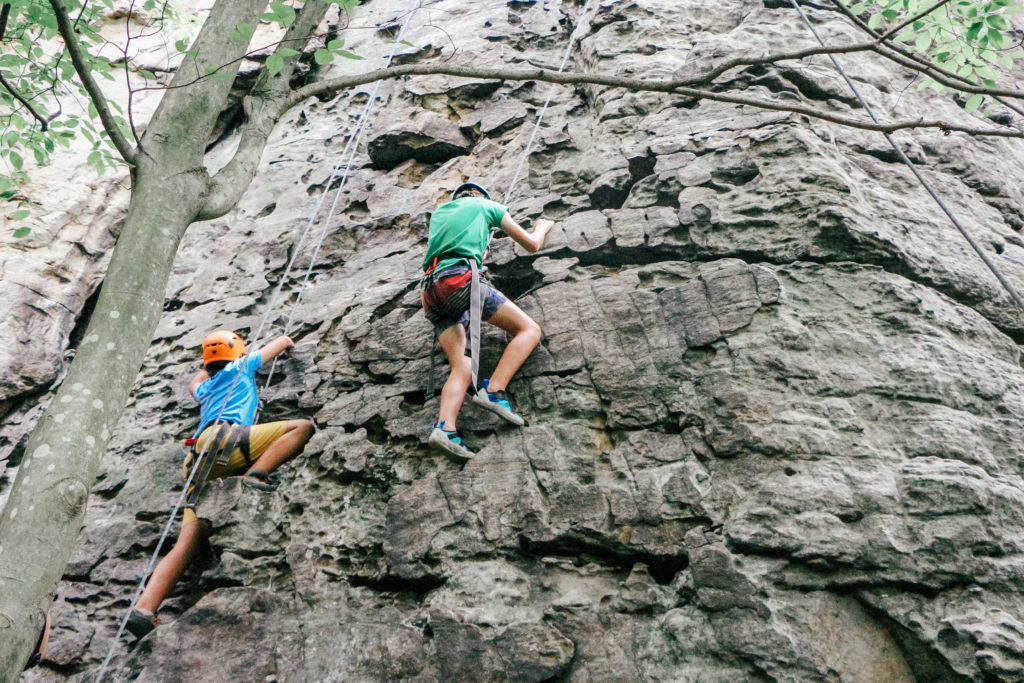 There are lots of other activities available, including guided hikes, horseback riding, flatwater activities and more. Here's a complete list of activities. Make sure you check the respective limits that may apply for age and weight for each activity.
Lodging and Dining at Adventures on the Gorge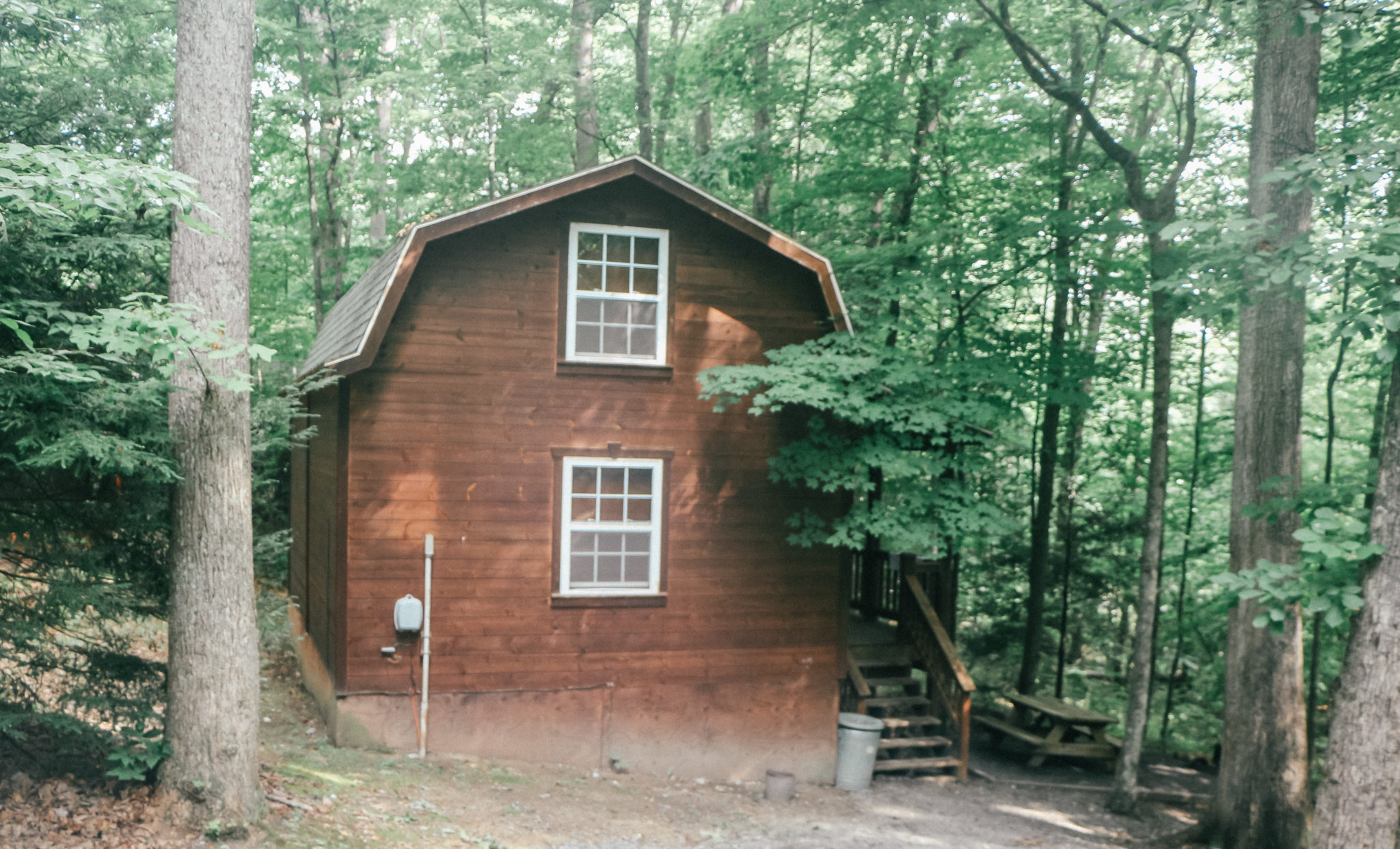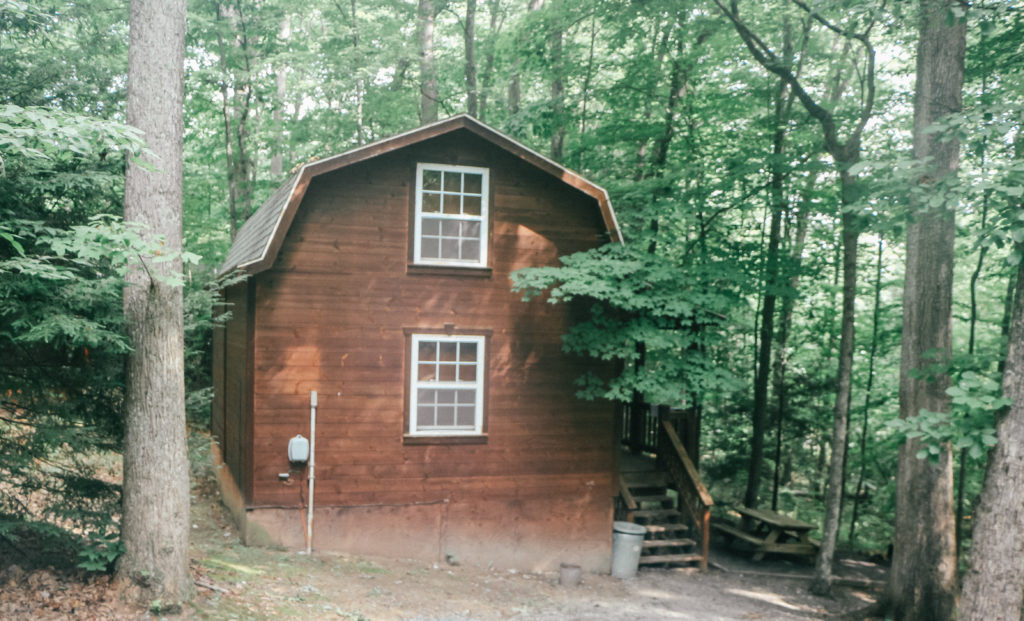 There are a variety of different lodging options offered by Adventures on the Gorge. We stayed in 7 Bed Sportsman Cabin. This is advertised to sleep up to 12 people, however, this would be a super tight squeeze and there's only one bathroom. For our family of four, this was more than enough space.
Our cabin had a secluded feel, even though it was near other cabins in the area. There was a small downstairs living area with a futon couch and an eating area. There wasn't a full kitchen but there's a sink, microwave, and a full-size fridge. The upstairs loft had three double beds and four twin beds. There's a bathroom downstairs, a covered porch area, and a fire pit. Our cabin was rustic but comfortable. We were so busy and were only there to sleep, so this was perfect. It was located a short drive from everywhere we needed to be. Adventures on the Gorge has more luxe options as well as campsites/RV hookups if you want something different.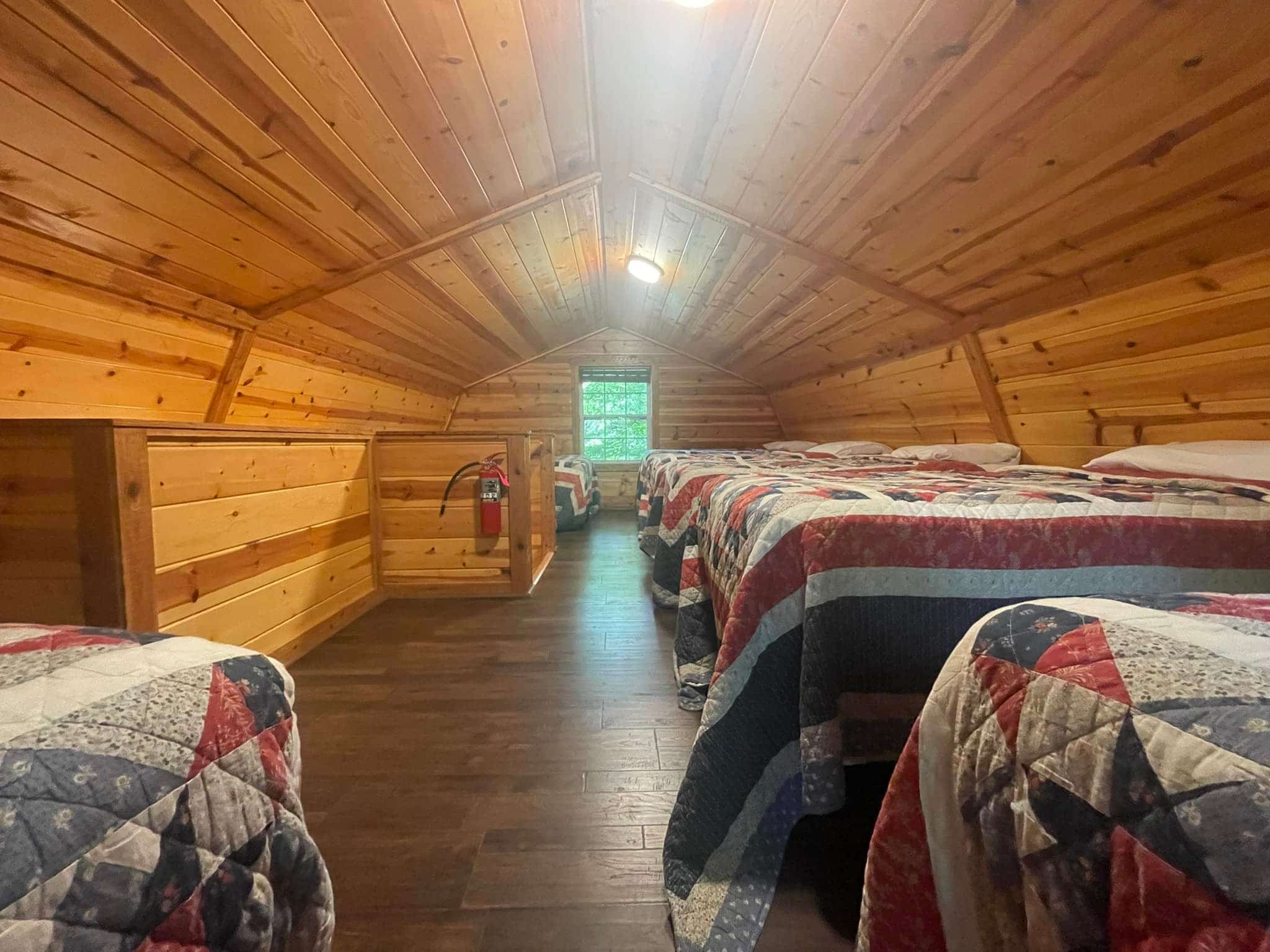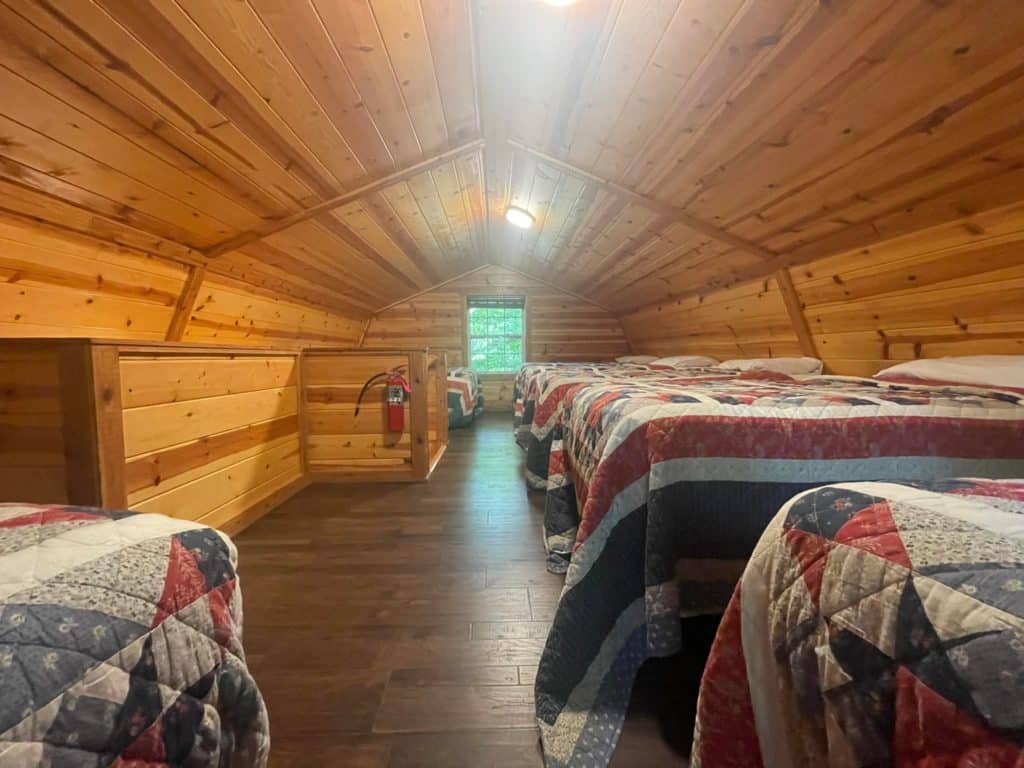 One of the reasons we didn't venture into Lansing or Fayetteville to eat is that Adventures on the Gorge has delicious food on site. We enjoyed breakfast and dinner at Smokey's on the Gorge, which has delicious appetizers and entrees. Breakfast is served buffet style and is a really great spread with everything you need to fuel you up for a day of adventure. If you want a lighter breakfast, Sweet Java Falls has grab-and-go-style offerings, such as breakfast sandwiches, smoothies, pastries, and specialty coffees.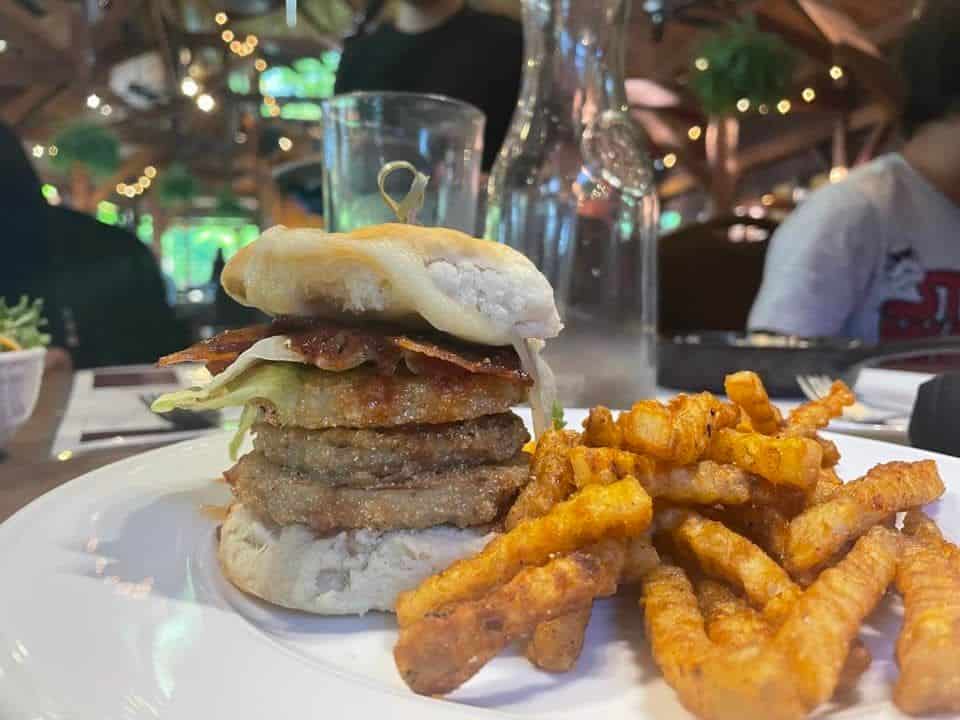 Chetty's Pub is another great choice for lunches and dinners. They have a smaller, simpler bar menu but you'll find great and hearty choices and great beer, too. If you're looking to grab a burger or some wings, Chetty's is the place for you.
Resort Amenities At Adventures On The Gorge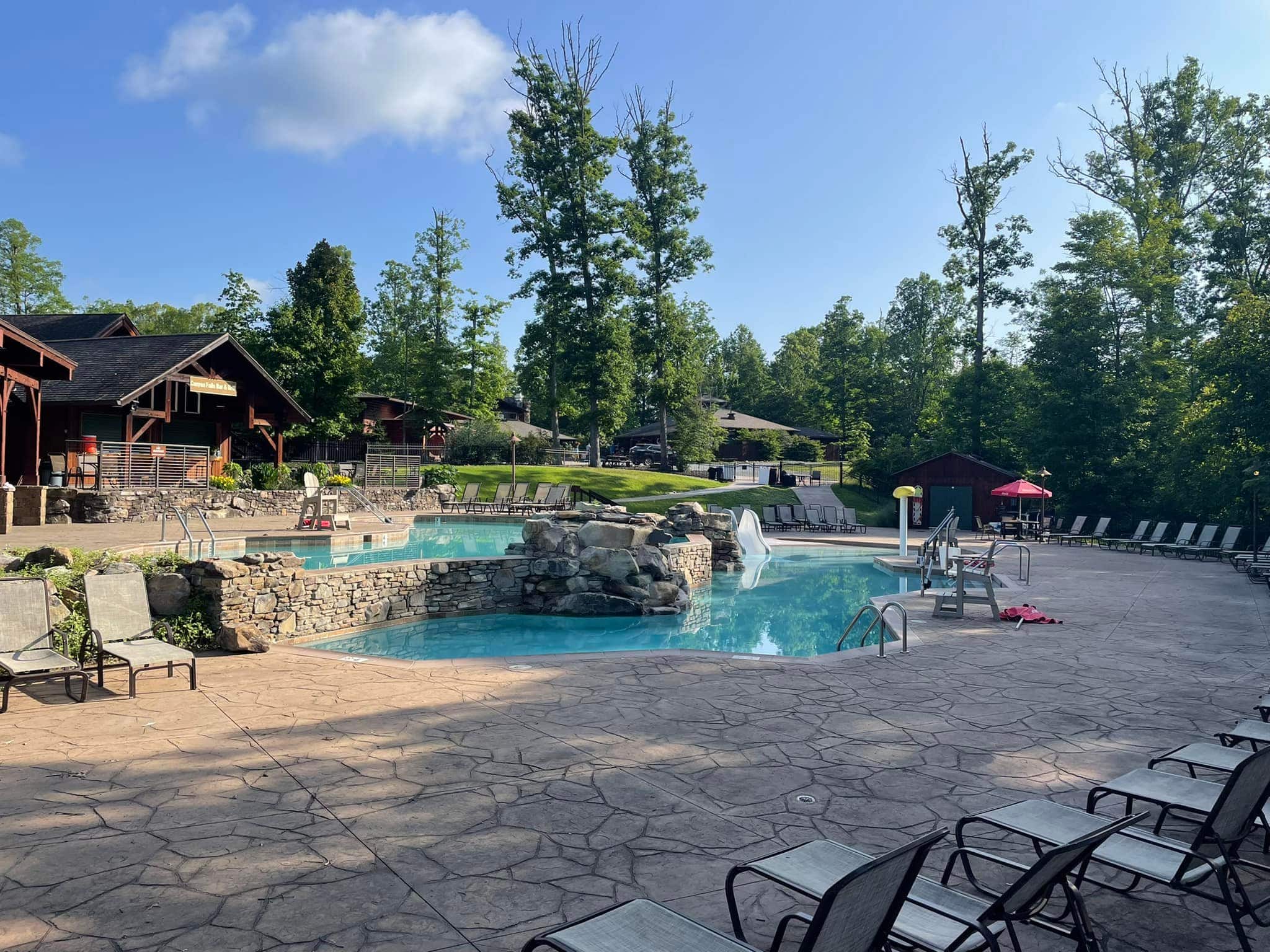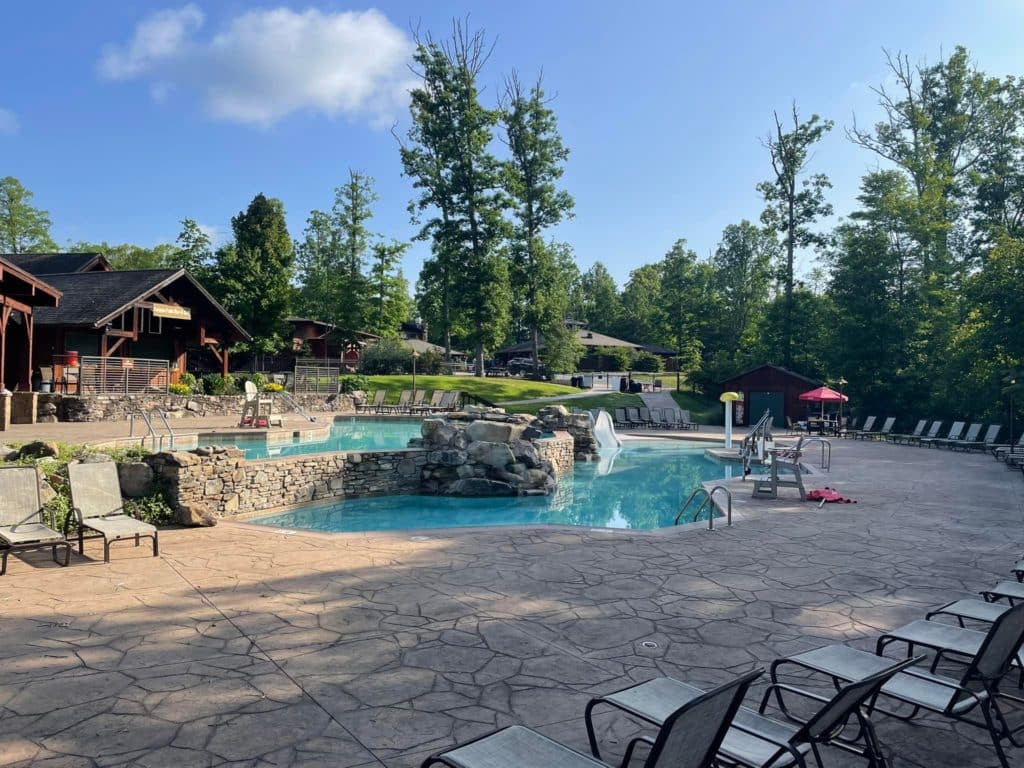 In addition to the lodging and restaurants, Adventures on the Gorge has a great pool, disc golf, and a playground. Two stores will have everything from camping essentials to clothing, to souvenirs. If you forget something you need for your rafting trip or other adventure, you'll be able to buy it on-site.
One of the things I loved most about Adventures on the Gorge was the stunning scenery. All around were places to take in the views, including some very majestic sunsets. There may be other onsite activities during your visit. There was live music twice during our four-day stay.
Canyon Rim Visitor's Center New River Gorge National Park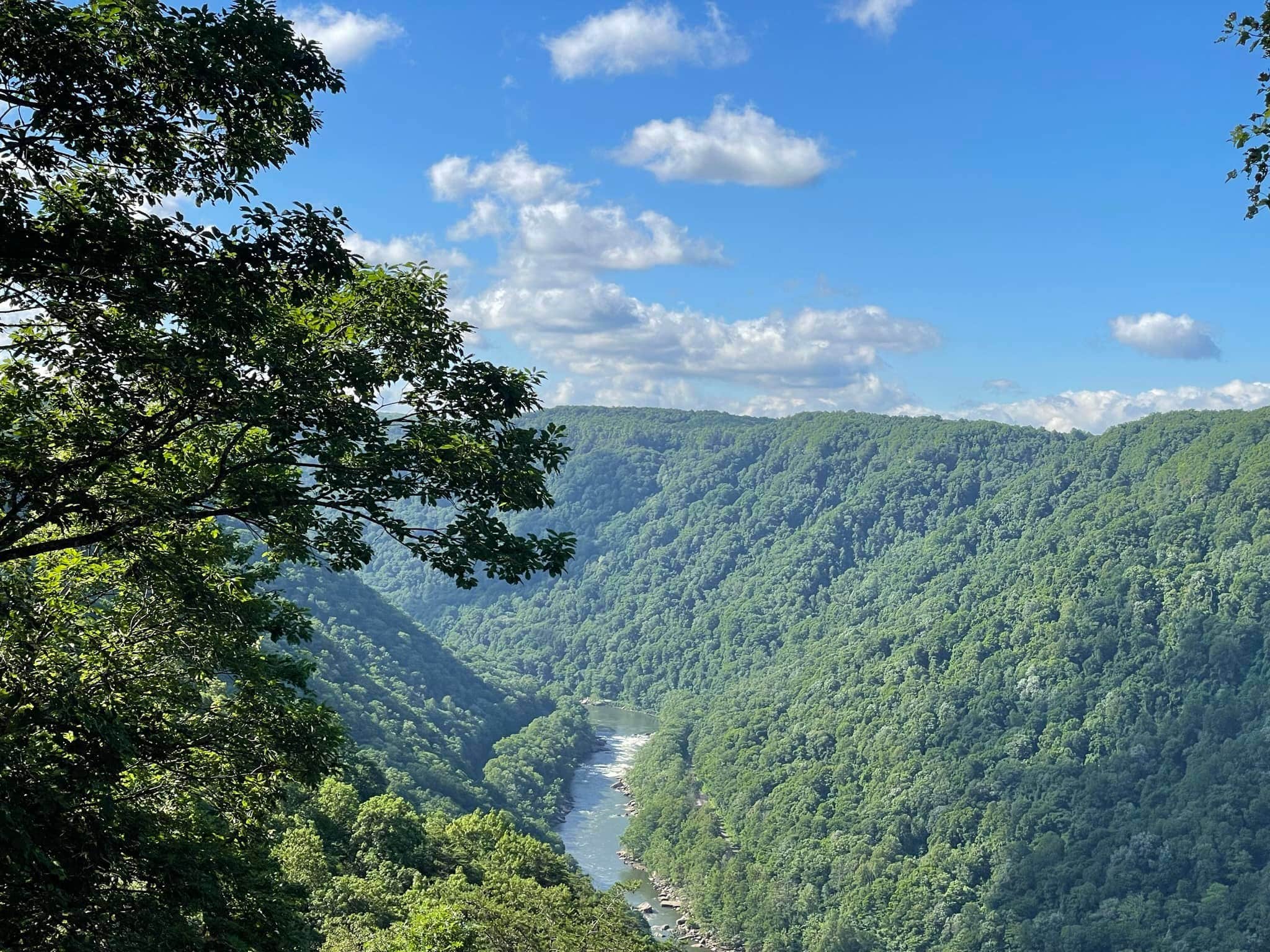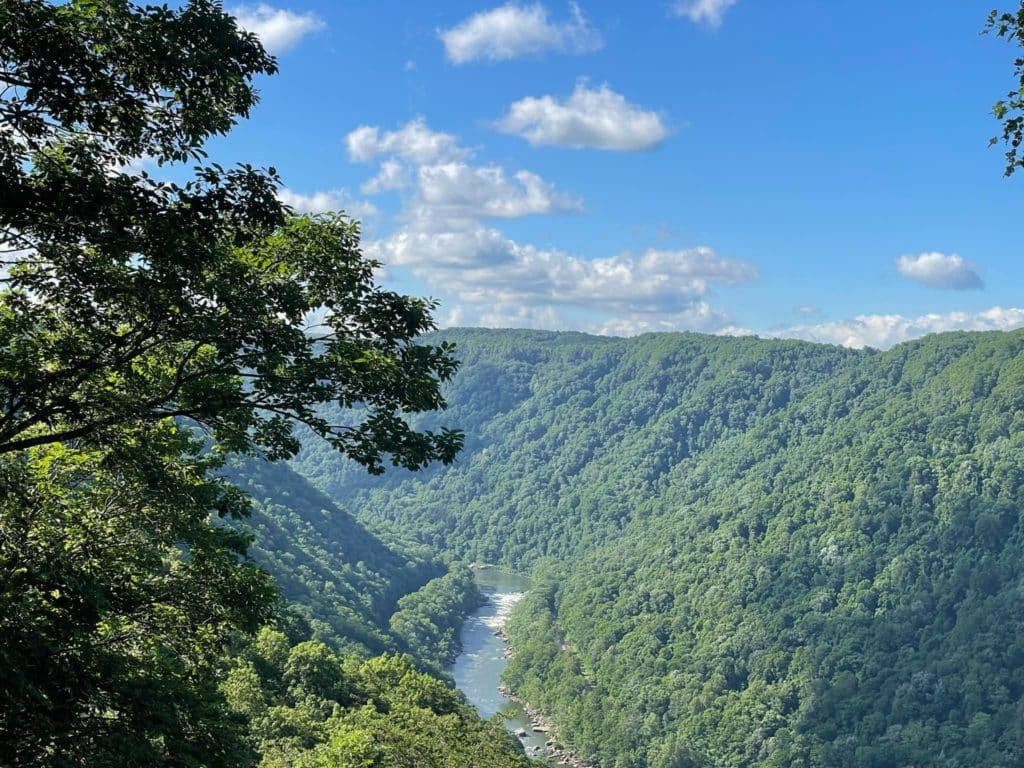 The Canyon Rim Visitor's Center is a great place to learn about the history of America's newest national park and the history of the area. There's a great interpretive center, a theater, a well-stocked gift shop with tons of books, and a porch with scenic overlooks and possibly the best view of the river from above.
There are also a few trails on site you can walk to to get another look at the bridge and the river. I recommend allowing at least an hour to explore the visitor's center and grounds.
New River Gorge Bridge Walk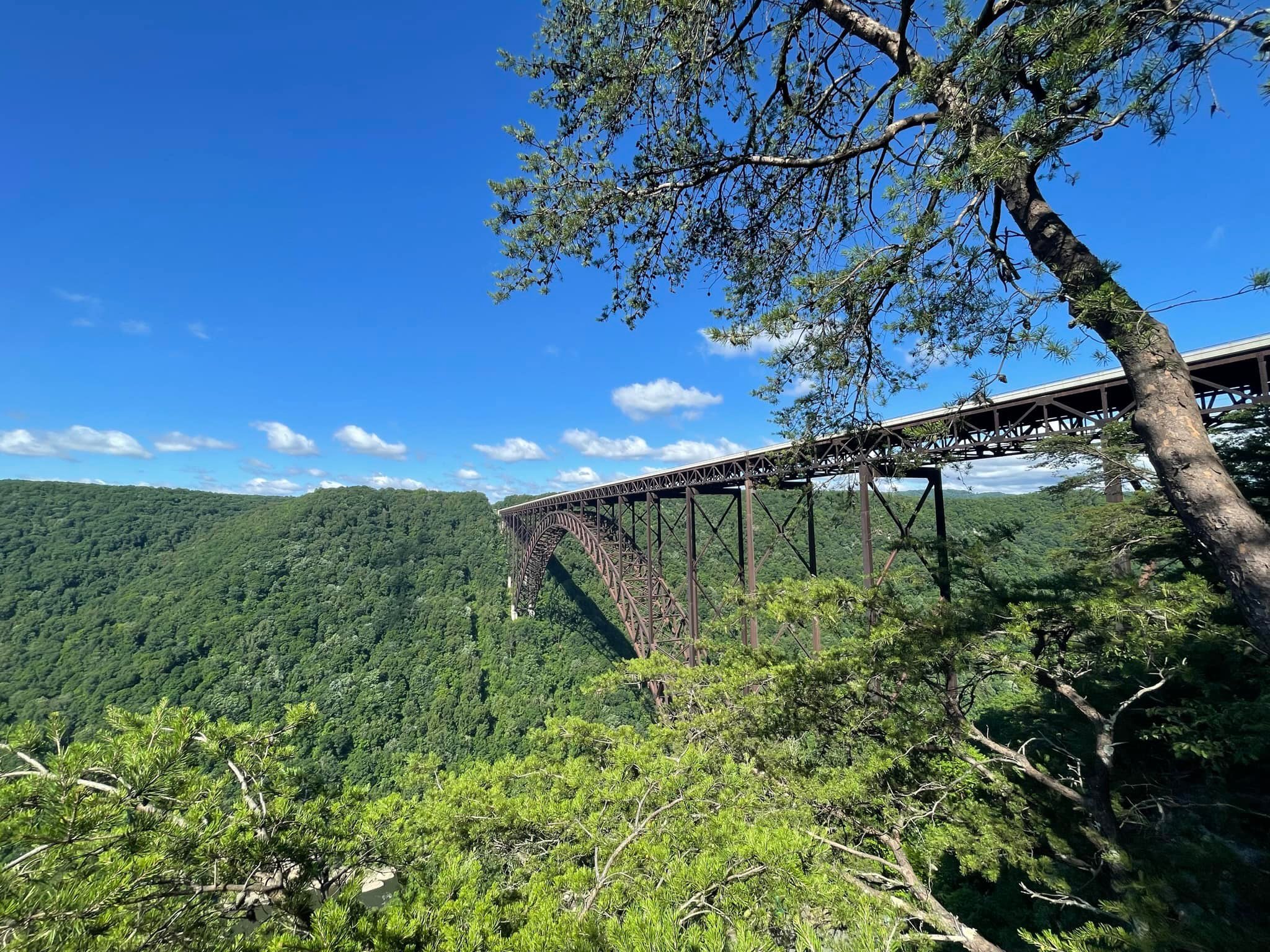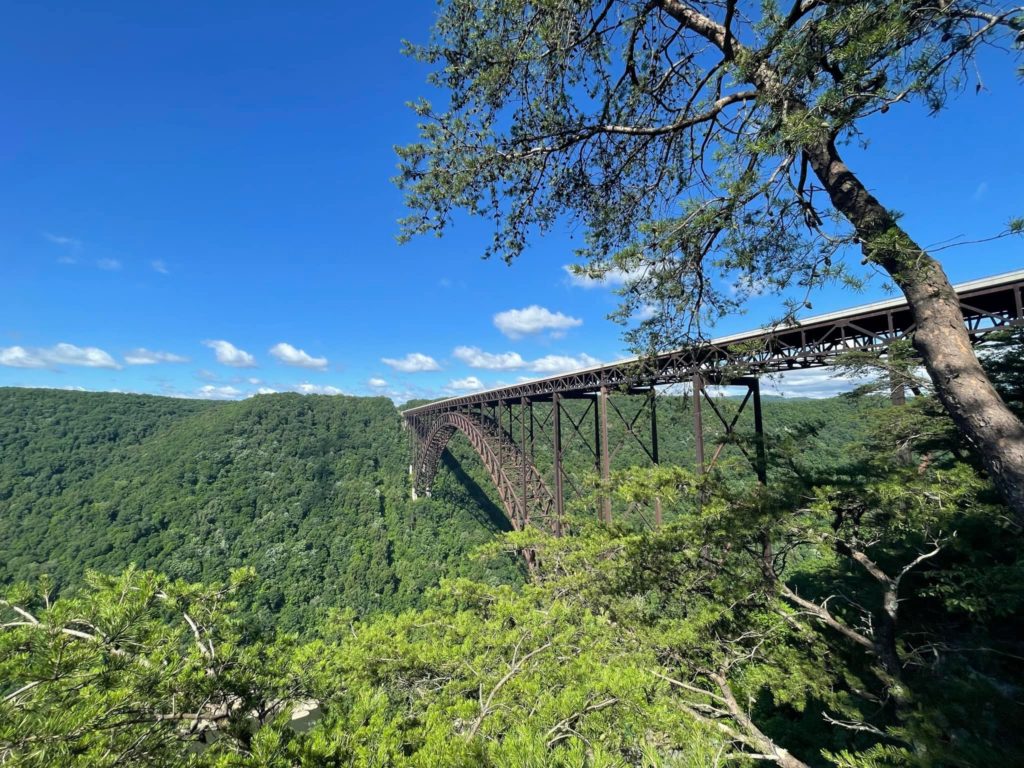 The New River Gorge Bridge Walk is advertised as "the walk of your life" and it definitely is that. This adventure will last two to three hours and take you on a one-mile trek across a catwalk that runs 25 feet under the New River Bridge, also known as the Capital Bridge. You're about 800 feet up in the air, walking along a 24-inch wide catwalk. You're harnessed in so the activity is very safe. That said, it's still fairly scary, at least I thought so.
Visitors to the bridge are guided by an experienced guide who explains the history of the bridge and gives great recommendations for photos. The trip is one way – the shuttle that takes you to the bridge is waiting for you on the other end to take you back to where your car is parked.
I recommend pairing the bridge walk with a visit to the Canyon Rim Visitor's Center described above. They're located right next to each other and these two activities fill a morning pretty perfectly.
Limb Differences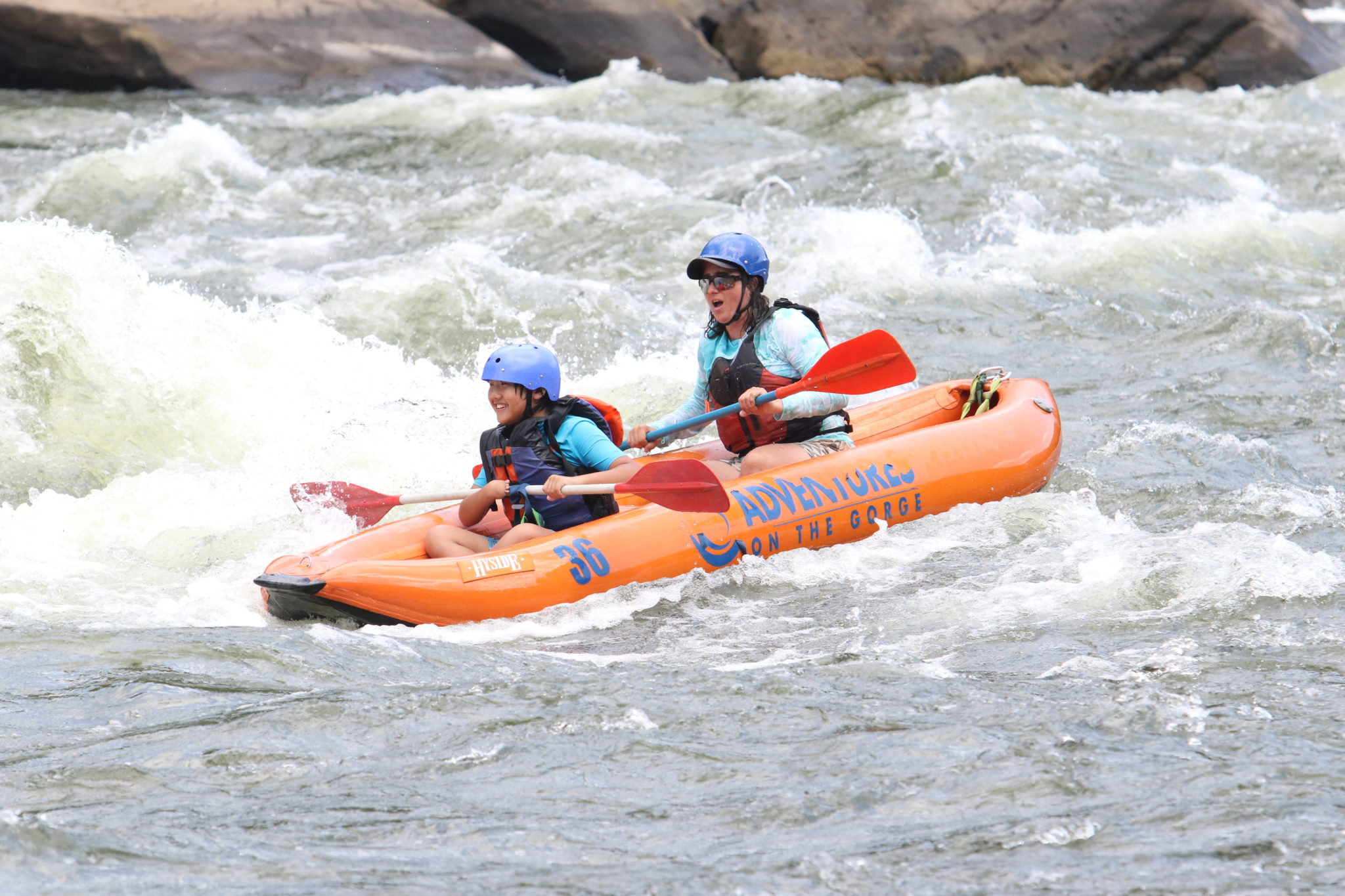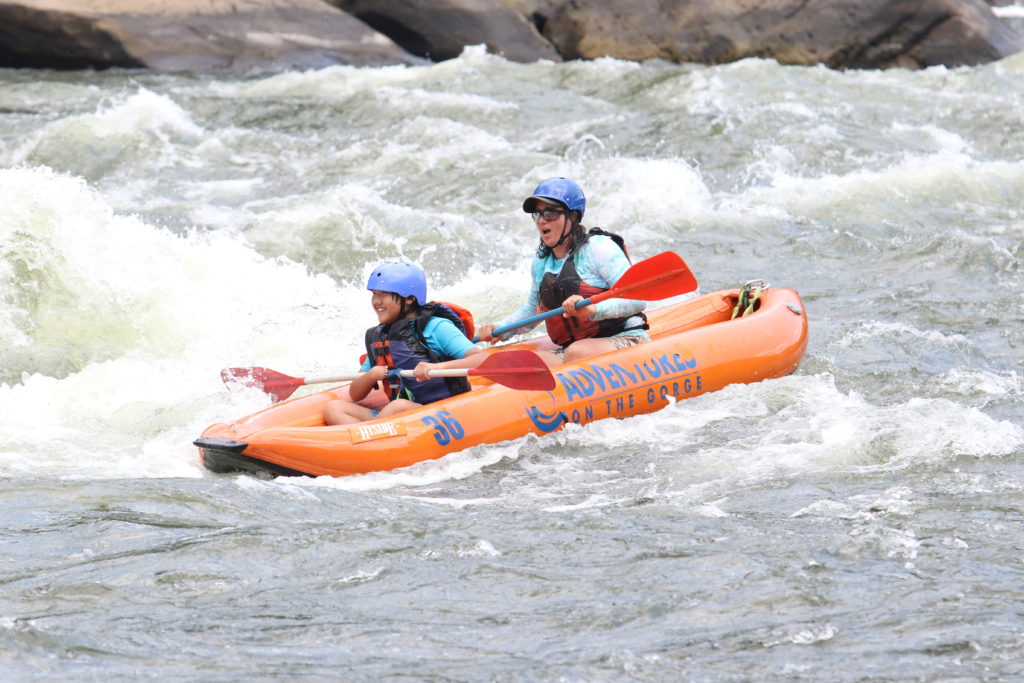 As you can see from the pictures (and may know if you've been following my blog for a while) one of my kids has a limb difference. I found the staff at Adventures on the Gorge to be very accommodating. For the treetop adventure activities that required gloves, we used duck tape to keep the glove closed on his little hand. Our river guide worked with various things to help Zack hold his paddle and nothing really did the trick. He figured out how to hold the paddle on his own and did fine, although we have used hardware to affix a drawer pull onto his paddle for similar activities.
This is definitely an active vacation but if someone in your group has disabilities or limitations, definitely talk it out with the staff to see what is possible.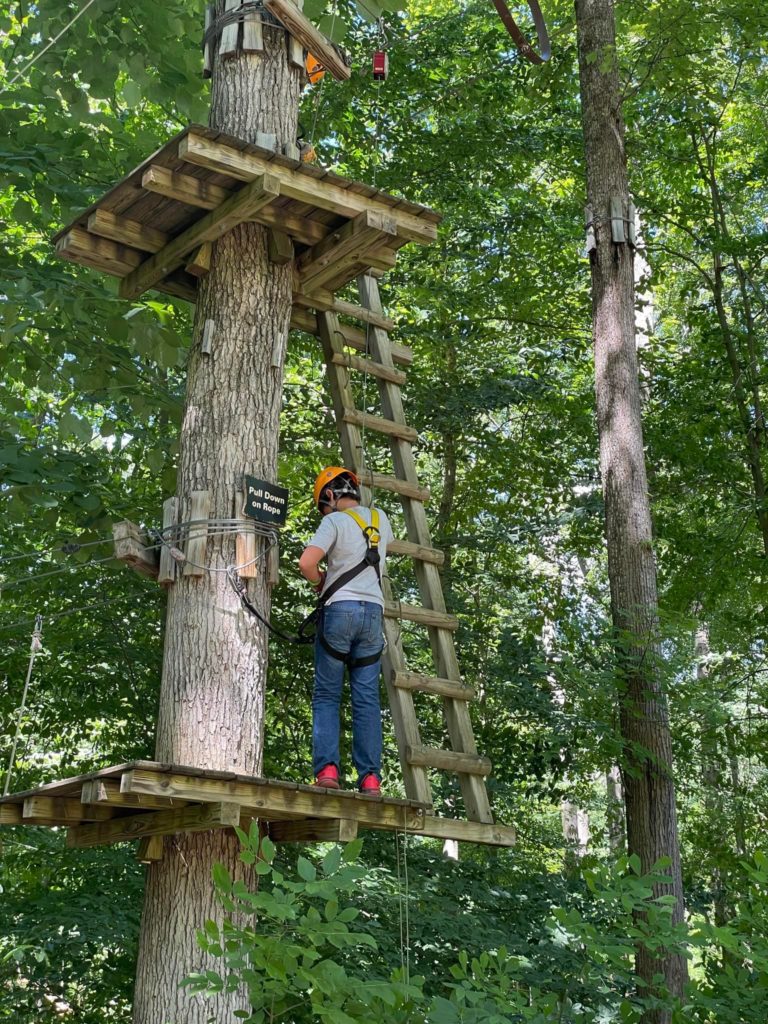 My family and I were hosted by Adventures on the Gorge for lodging, meals, and activities. All opinions are my own. Photographs taken by me unless otherwise specified.
You might also like:
Review of Carolina Pines RV Resort
Things to do in Hot Springs Arkansas
The Ultimate Pigeon Forge Vacation Guide
Fun things to do in Bowling Green Kentucky
What I wish I'd known before planning a visit to Mammoth Cave National Park