How to get your runDisney race pictures
(This post may contain affiliate links. Read my full disclosure.)
I just got done running the Fairy Tale Challenge at the Disney Princess Half Marathon Weekend. I'll pause for a second and imagine you applauding my running greatness. Just kidding. Maybe. The Fairy Tale Challenge consisted of the Enchanted 10K on Saturday and the Disney Princess Half Marathon on Sunday, which was a total of 19.3 miles. One of the questions I heard people asking at the expo and during the races was "How do you download your race pictures?" so I decided to put together a really quick little tutorial on how to get your runDisney race pictures. It's super easy and I've broken it all down for you.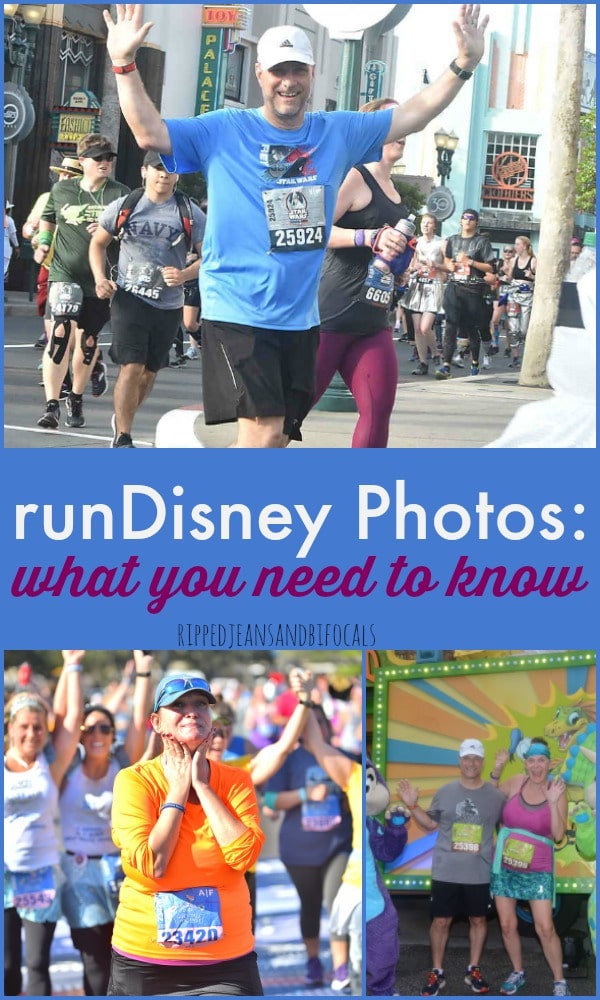 How to get your runDisney race pictures
About the PhotoPass Photographers
The Disney PhotoPass Photographers will be out at various points along the race course and at the finish line. They'll either be in bright green tents or wearing bright green hats. Out on the race course, the PhotoPass photographers are typically on Disney's BoardWalk or inside the parks.
Related: Disney Wine and Dine Half Marathon Weekend – Your questions answered
Thinking of booking your own Walt Disney World or Disneyland California vacation?
Check out my partner, Get Away Today for the best deals and white glove service.
How to get in your runDisney race pictures
First, make sure your race bib is pinned to the front of your outer garment. Nothing says "newbie runner" like someone lining up to start with their race bib pinned to their back. The nice thing to do, by the way, it to tell them they won't be in any pictures if they don't adjust their bib.
When you're running through the parks, avoid the middle of the road. The PhotoPass photographers are on either side of the road, so if you're in the middle of the road, the photographers might not pick you up as well.
Make eye contact and indicate that you want to be in a picture. Waving, cheesing, making the peace sign, flinging your arms wide open all work. Just watch out for the runners behind and to the side of you when doing those arm swings!
Also, don't stop or dramatically slow down so the photographer can get your picture. The people behind you might not realize (or appreciate) what you're doing and will run into you, which will not make a magical picture.
You do not get your race day pictures scanned to your Magic Band although the photo opps at the Health and Fitness Expo will scan photos to your Magic Band.
Related: runDisney 101 – Everything you need to know about Mickey's races
How to get your runDisney race pictures
Your pictures from the race will be available 48 hours following the race, sometimes sooner than that. You will not get an email or a push message that tells you your pictures are ready but you can see your pictures by following these simple steps.
Go to Disneyworld.com/PhotoPass and log in if you're not already logged in. At the top of the menu, you'll see an option to "link photos." Click on that and it will ask you for your code.
Check the back of your race bib for your specific code. For example, for this year's Disney Princess Enchanted 10K the code is 2020PRIN10K followed by the 5 digit bib number that is unique to you.
After you enter that code in, your pictures will populate. They will be heavily watermarked, sometimes to the point where you can't see a facial expression.
If you have a second bib to enter, just repeat this process until everything populates into your gallery. Once all the photos are there, you can scroll through and laugh at yourself…at least that's what I do.
Memory Maker is Disney's unlimited download feature for your PhotoPass photos in the parks and runDisney races. Read more about it here.
If you've got a Memory Maker Linked, your photos will download without the watermark. If you don't have Memory Maker Linked, you can buy individual downloads. I purchased three downloads on February 26th 2020 and they were priced at $16.95 per download. If your individual photo purchases start creeping up toward $200, you can go ahead and buy Memory Maker now and get everything for one price.
Whatever you choose to purchase, your downloads are available for immediate use. If you bought Memory Maker, the downloads are only in your gallery for 30 days and you'll get a reminder email to grab them before you're gone.
Easy peasy, right? It really is. Expensive, yes. Difficult, no.
Character stops along the race course – PhotoPass Photographers Yay or Nay?
It depends. Sometimes. My experience is usually not but I saw more PhotoPass Photographers along the race course during the Disney Princess Half Marathon Weekend than I have in other races. Most people just hand their phone to the person waiting in line behind them or a volunteer and get their picture that way.
The character photo opps at the start and finish line will always have PhotoPass Photographers but you can also use your phone and get someone to snap your own pictures easily enough.
Buying your runDisney race pictures – You mean they aren't free?
Nope…they're not free. The good news is, if you have Memory Maker or can get on someone else's Memory Maker, your runDisney race pictures will be included.
I am a big fan of Memory Maker, which is a way to pre-purchase all of your pictures taken at Walt Disney World. If you purchase in advance – at least three days before you intend to use it – you get a discount. Purchasing Memory Maker on the spot (available for immediate use) is $199 and advance purchase is $169, so planning definitely saves you some bucks.
Related: The Star Wars Half Marathon – My first runDisney experience
If you are combining your runDisney race with a few days in the parks, I think Memory Maker is money well spent. If you are the mom who is always behind the camera, this is your opportunity to get in those pictures and make those memories.
You can share your Memory Maker with friends and family – there's a limit to this but it is generous – so if you know someone else going to Walt Disney World during the same window, you can save big.
Read more: My Walt Disney World Do-Overs
However you get your pictures and no matter what you do or don't buy, make sure you share them. Bragging right are a real thing. You worked hard to finish and no matter what you might think, your race pictures are problem going to inspire and motivate someone else.