Star Wars Retail: The Merchandise at Galaxy's Edge
(This post may contain affiliate links. Read my full disclosure.)
Despite the massively exciting and highly anticipated Millennium Falcon attraction, one thing steals the show at Galaxy's Edge. The Black Spire marketplace may be the newest addition to Disneyland (and Disney World later in the summer), but it is already rich in history. The story that unfolds all around you in Galaxy's Edge starts with Black Spire's storied marketplace. The lore that permeates the region, the characters that populate it and the sense of menace brought by the sudden arrival of Stormtroopers is just the start. When you are in Star Wars: Galaxy's Edge, you will quickly discover that the retail element is very different here. Here is a look at some of the exciting Star Wars retail opportunities. You are excited, right?
If you're a lover of the latest Disney merchandise and plan to visit Star Wars: Galaxy's Edge within the next year, you're going to want to plan your shopping now.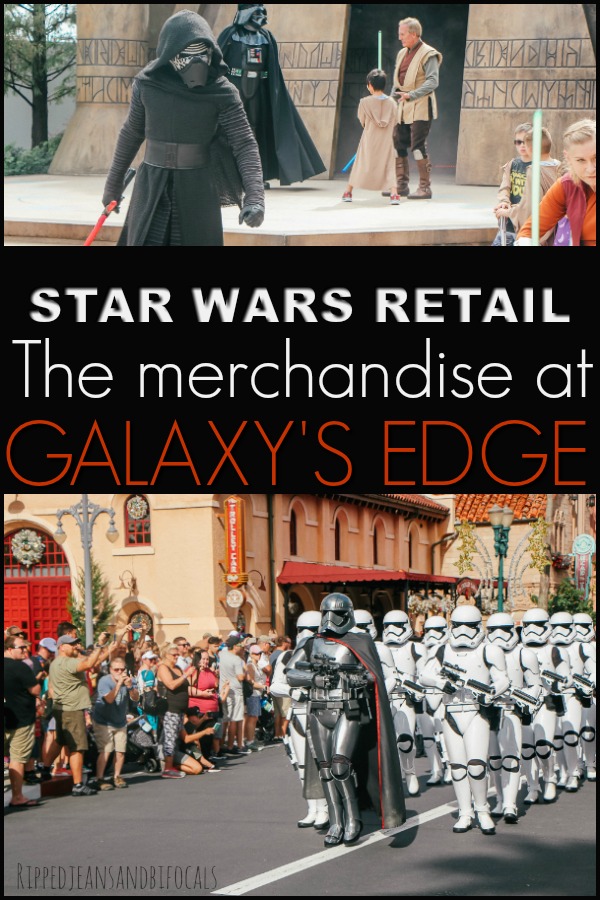 Star Wars Retail: The Merchandise at Galaxy's Edge
Droid Depot
In the Droid Depot, you will find all kinds of robotic life in motion. You can even create your own R or BB unit to take home. These droids are even able to communicate with each other! Just don't give them an old bath on the way out, no matter how tempting it is.
Savi and Sons Salvage
This unassuming shop is actually a front for a lightsaber building workshop. The Gatherers inside are dedicated to balancing the force. they exact this mission by sharing the knowledge of it to all who enter. You are given a wide variety of options to choose from in completing your custom hilt. Base styles include Peace and Justice, Power and Control, Republic Era, Elements of Nature, and Protection and Defense. The last two offer a more creative take. These lightsabers will be realistic, but pricey alternatives to the plastic ones you may be familiar with. If you've got a real Star Wars lover in your family, this would be a big treat for them. A lightsaber of this caliber would really elevate a birthday.
Creature Stall
One of the things that makes the Star Wars retail at Galaxy's Edge so unique is that it all falls into the internal logic of the land's narrative. So, although elsewhere in the park you may purchase a cute plush, here you adopt a creature. Of all the merchandising in Galaxy's Edge, this bares the closest resemblance to the banshees you adopt in Pandora. However, there are six different creatures to choose from here. Each one performs a different type of response when activated.
Toydarian Toymaker
The toy store is not you average toy store either. Here you will find the types of toys and games that would exist within the Star Wars universe. dolls are the types of figures you would expect a young Rey to play with as a child.
Den Antiquities
This is a store for rare finds, some for sale and others are only to be admired. You can purchase a lightsaber here or another priceless memento.
I'm seeing a plethora of options for someone who collects Star Wars memorabilia and those of us who just plain love the hottest, newest merchandise from Disney. These properties are going to be crazy crowded at first (and let's be real, probably for a long time after) after opening and the opportunity to visit these stores is just going to be a bigger incentive to go and spend time here. I predict that the crowds are going to be off-the-charts insane. The people who are already fans of going to Walt Disney World are going to be all in for this. Star Wars lovers who are not necessarily Disney lovers (gasp) are not going to pass up the chance to fly the Millennium Falcon. This place is going to be HUGE.
More reading:
Disney World Star Wars News 2019: Galaxy's Edge and New Hotel
The Jedi Training Academy at Disney's Hollywood Studios: What you need to know