The man behind the magic – Interview with Marc Forster, director of Christopher Robin
(This post may contain affiliate links. Read my full disclosure.)
Less than two weeks ago, I was sitting in an interview room in Los Angeles talking face-to-face with actors I've admired on screen for years – Ewan McGregor and Hayley Atwell. I also had the opportunity to interview Jim Cummings who is the voice of Winnie the Pooh and Tigger…although I feel like I did more soaking in of his incredible talent and presence than I did actual interviewing…just to be in the same room as that iconic voice (voices, actually) is pretty special. One theme was present throughout all three interviews and that was how wonderful it was to work with director Marc Forster. McGregor and Atwell even went so far to say that it was Forster's vision and passion for bringing the story of Christopher Robin to life that sparked their interest in the role more than their childhood memories of Winnie the Pooh. I found that statement very telling but when I had the chance to have an interview with Marc Forster himself, I found that vision and passion to be contagious.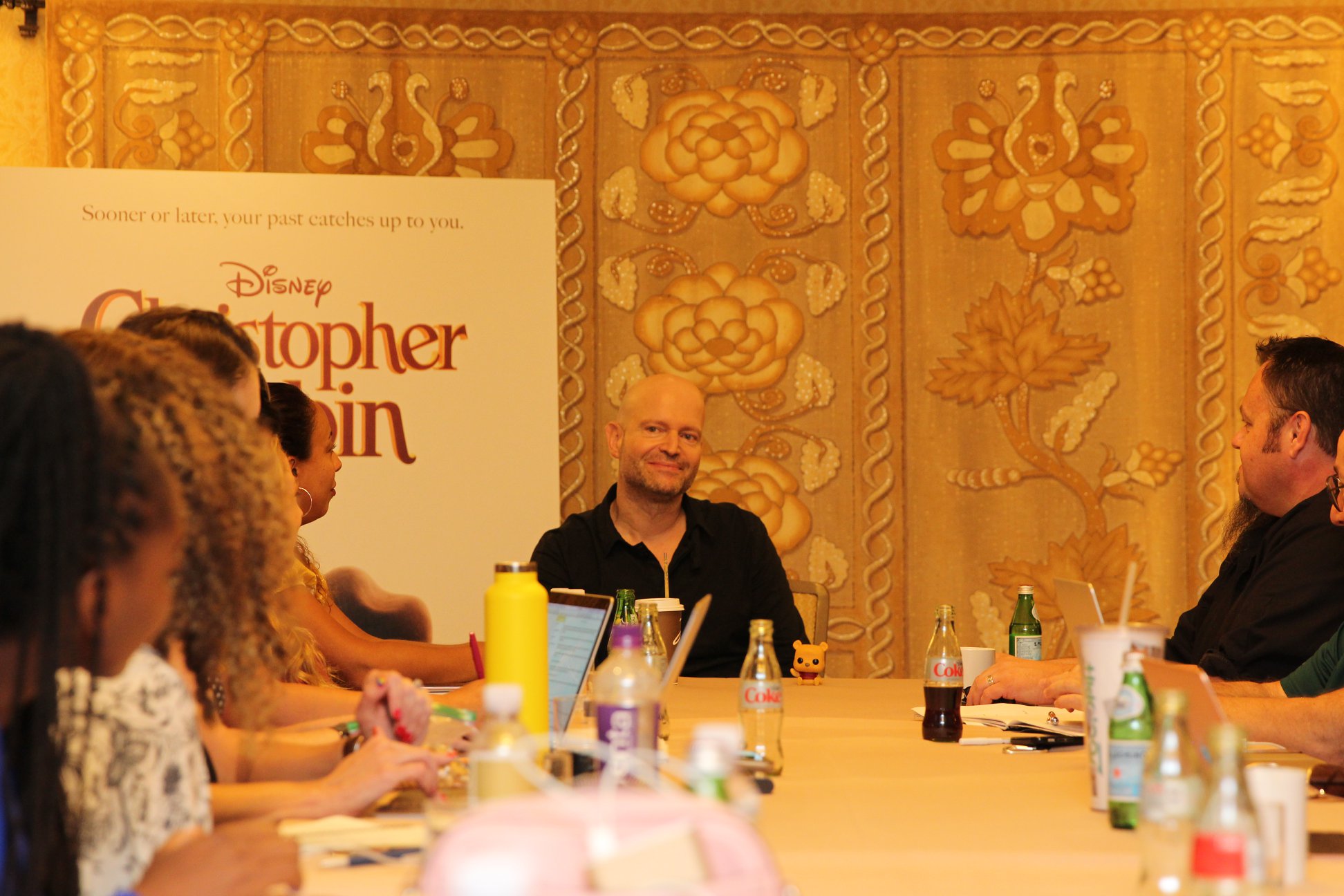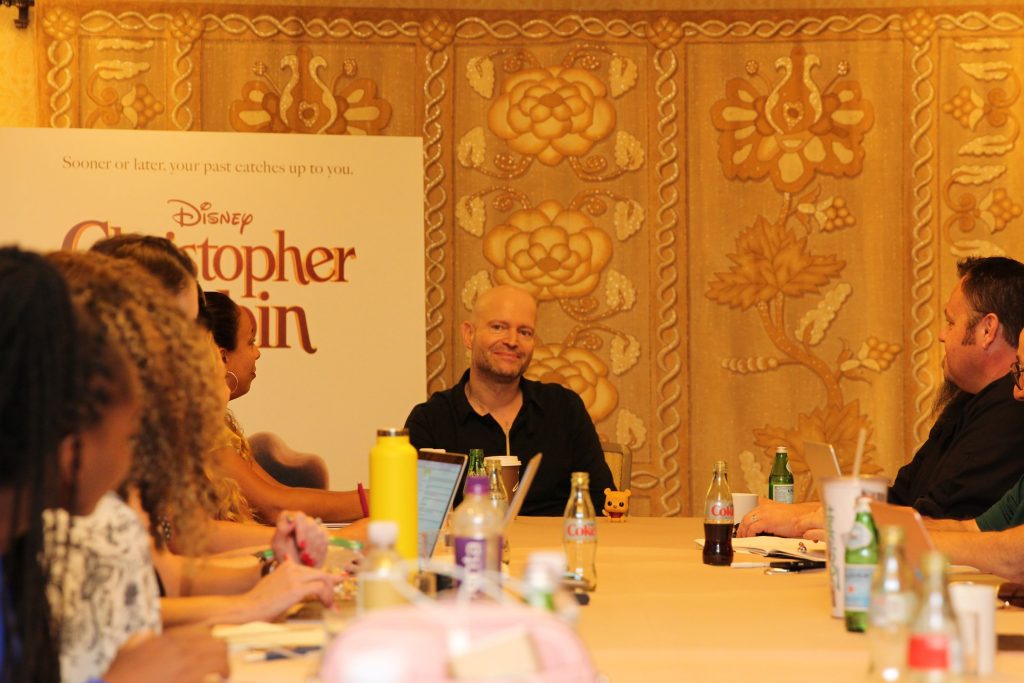 The man behind the magic – Interview with Marc Forster, director of Christopher Robin
[Tweet "Interview w/ Marc Forster, director of the movie #ChristopherRobin #ChristopherRobinEvent #DisneyPartner"]
Forster is best known for directing Monster's Ball, Finding Neverland, Stay, Stranger than Fiction, The Kite Runner, Quantum of Solace and World War Z.
On how he chose Ewan McGregor for the role of Christopher Robin
This is the second time Forster and McGregor have worked together and when the idea for Christopher Robin began to take shape, McGregor seemed a natural choice.
"There's something about him…he's so likable and so lovely. You want to just connect with him." Forster goes on to mention how we want to root for McGregor in his role as Christopher Robin as his heart opens again and he becomes playful and reconnects with his family.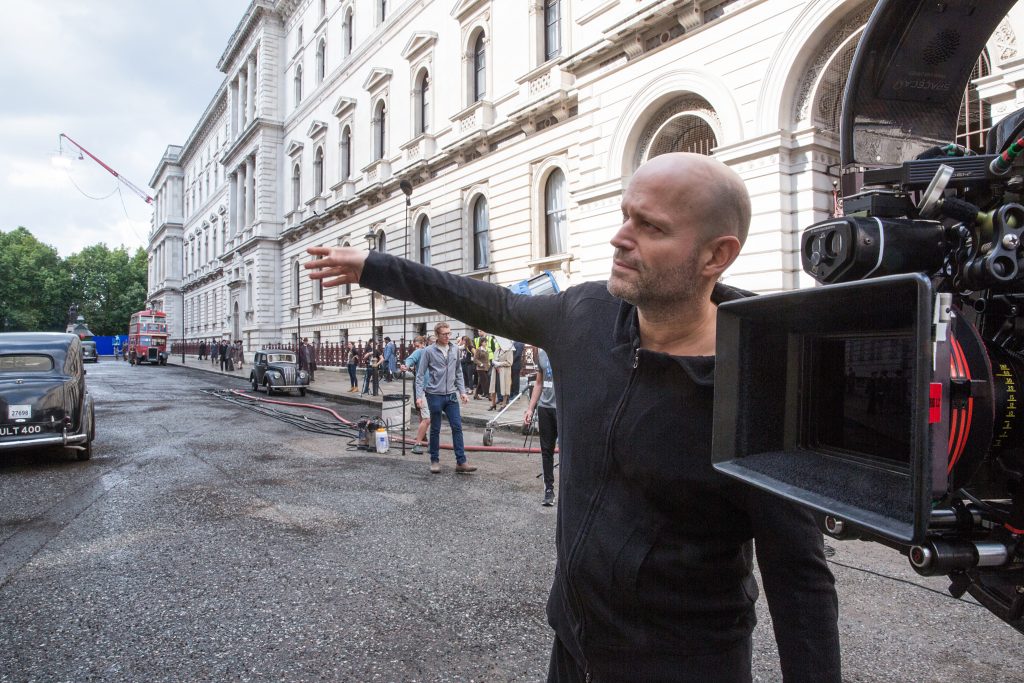 If you're not familiar with the story line of Christopher Robin, you can read my full review here, but essentially, the movie begins when Christopher is a married father in his forties who has forgotten how to have fun and is becoming disconnected from his family due to pressures at his ho-hum job as a supervisor for a company that manufactures luggage. Through being reunited with Winnie the Pooh and friends, he learns (or perhaps re-learns) some valuable life lessons that bring him back around to savoring what is really important – family.
Forster wanted the audience to relate to the character of Christopher Robin and to really root for him to come around and realize the importance of love and connection.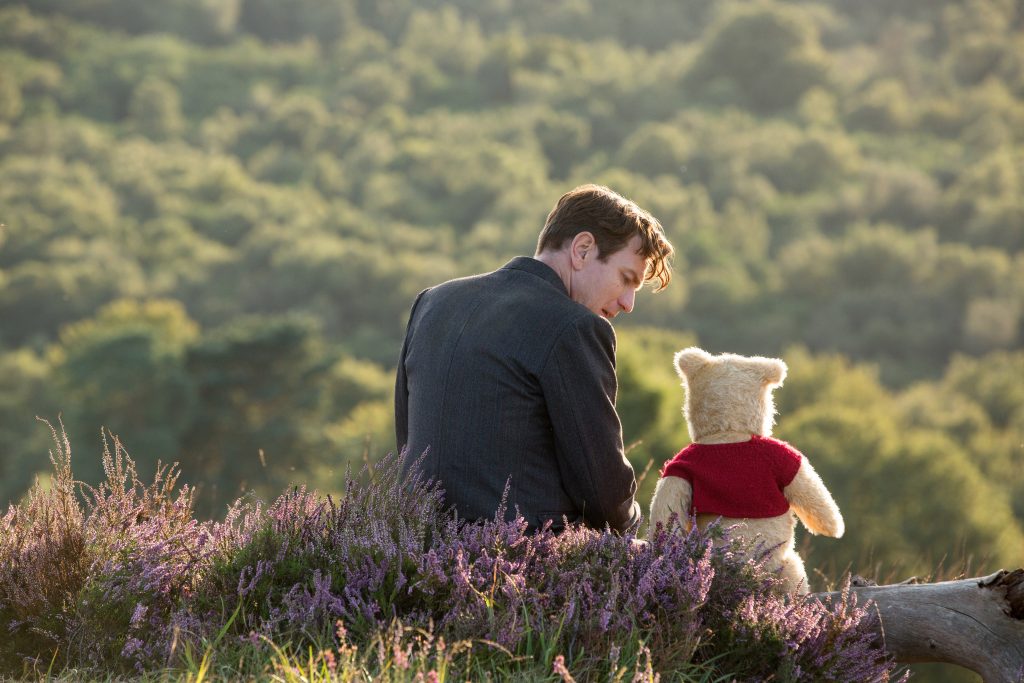 On how the idea for Christopher Robin began
Forster recalls being on a plane with his daughter – six years old at the time – who was watching a Winnie the Pooh cartoon on her iPad. She suddenly turned to him and said "Why can't you make a kids movie once?"  Up to that point, Forster's movies had been definitely for adult audiences.
Forster says he jokingly said "Why don't we do Pooh?" and his daughter's reply was long the lines of "Yes, why don't you?"
Something kept bringing Forster back to the idea and the continuation of Christopher Robin's story began to take shape and the stars lined up and three years later, he began work on Christopher Robin.
Clearly, this was meant to be.
On metaphors and symbolism in the Christopher Robin movie
I love looking for metaphors and symbolism. Sometimes, I'll pick up on things that only mean things to me and how I process a movie but I loved hearing Marc Forster talk about them. At the time of our interview we'd just done a private screening of the movie and then we saw it again at the premiere just a few hours after we talked with Marc. It was quite a treat to be able to watch the movie after hearing the director's insight.
The red sweater worn by Winnie the Pooh is meant to be a metaphor for love…isn't that sweet? Also, in the end scene when everyone is happy in the Hundred Acre Wood, Christopher is also wearing a red sweater that is a bit too short, just like Pooh's. It's something you might have to look for when  you see the movie but when you notice it, it gives a strong visual clue that Christopher and Pooh are definitely best friends and connected to one another.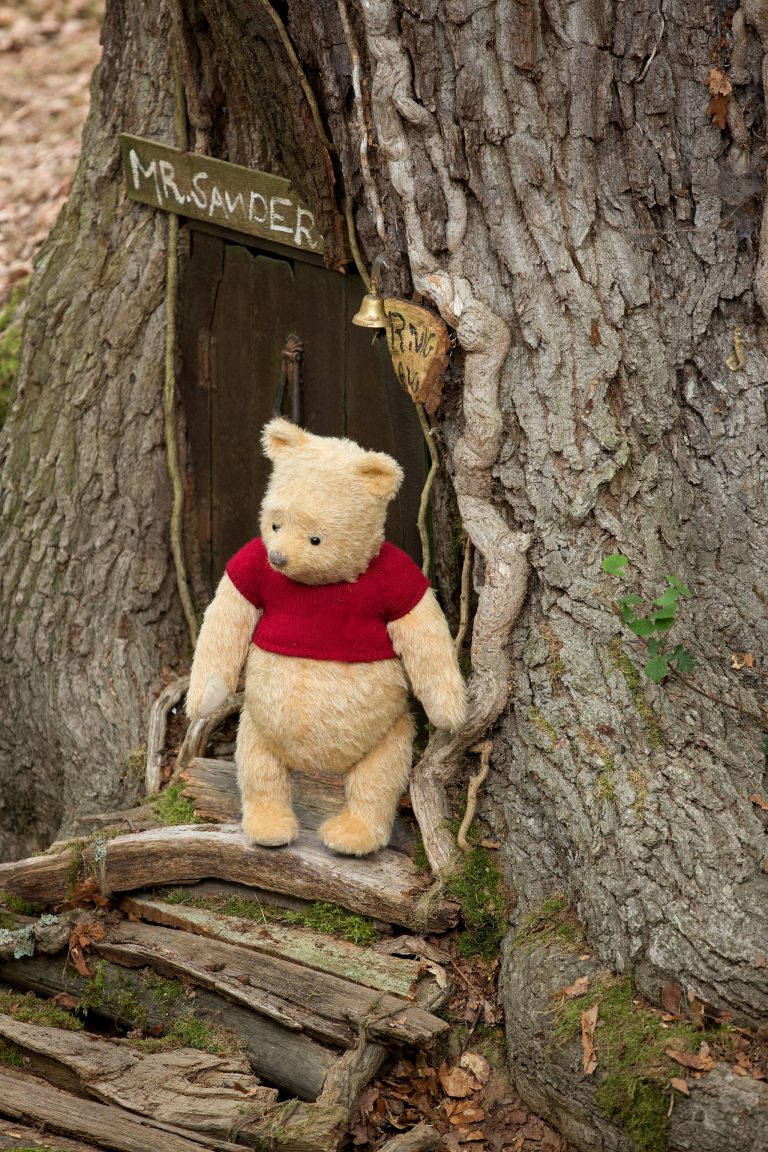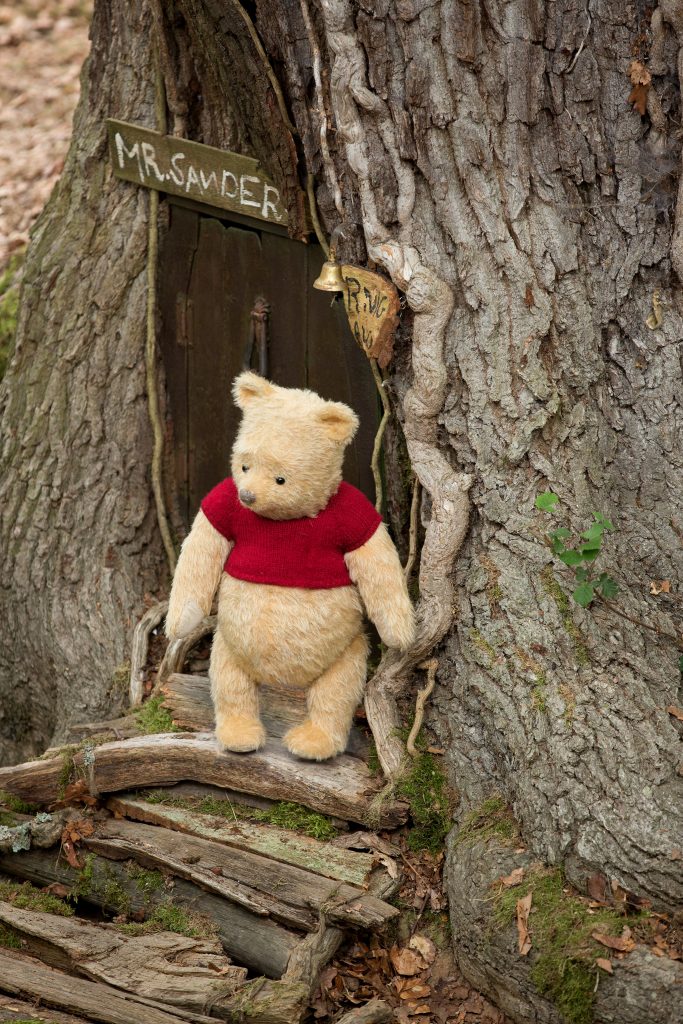 Another piece of symbolism is the scene where Christopher's daughter Madeline finds some of his old drawings of Winnie the Pooh. Although Christopher looks like he's on the verge of softening, he chastises his daughter for not reading more and studying more and slams out of the room, causing a jar of honey to spill on to the drawing.
The idea is that seeing the drawing of Pooh brings the silly old bear back into Christopher Robin's conscious thoughts and that the spilling of the honey "wakes up" Pooh. In a subsequent scene, we see Pooh in his little house in waking up with honey on his mind. When Pooh finds his cupboard bare, he goes looking for his friends but cannot find them. Instead, he finds himself at the "door from which Christopher Robin has been known to appear" and goes through.
The door leads to Christopher Robin's garden in London and when Christopher sees Pooh sitting on the bench, he's shocked because the door is supposed to be at his cottage in Suffolk. Nonplussed, Pooh remarks that perhaps the door is where it's meant to be, which I think is very powerful. Sometimes, life has a way of taking us where we are meant to go or showing us what we need to see. I think this was one of those times.
About the location where the movie was shot
Christopher Robin is a very visually appealing film. Actually, visually appealing sounds lame – it was truly beautiful to watch and both Ewan McGregor and Hayley Atwell commented on the beauty of the set, both in terms of physical beauty and the wonderful, collaborative atmosphere Forster created.
Some of the scenes were shot in Ashtown Forest, which is very near the estate of A.A. Milne, the original author of the Winnie the Pooh stories. The river on which the Pooh bridge in the movie is located is connected to the same river that the real Pooh bridge sits on. Several very important scenes take place on this bridge and I love how this movie is connected to the original stories.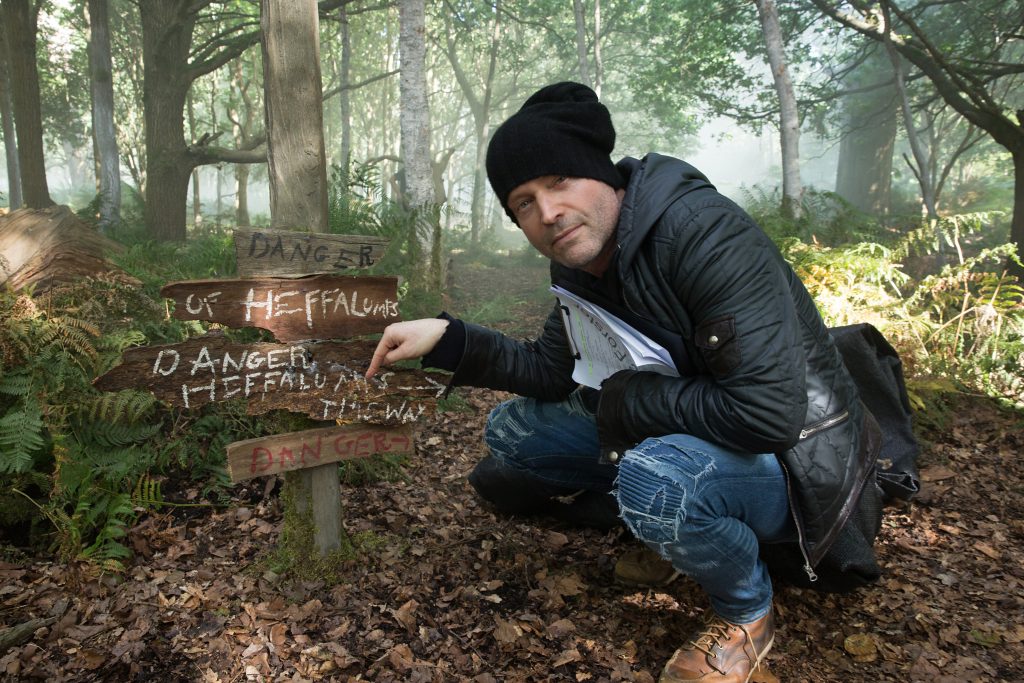 Other scenes were shot near Windsor Castle, which is just outside of London. If you're a Royal watcher, you'll recognize Windsor Castle was the location where Prince Harry and Meghan Markle were married earlier this year. The movie was shot in the forest near the Queen's Park.
"The great thing about that particular forest is it's sort of untouched," says Forster of the forest near Queen's Park. "Every wood, every tree that falls down has, can't be touched. Everything is just how nature brings it and it's very wild and looks also very beautiful."
On his favorite Hundred Acre Wood friend
I love hearing people's answers to this question. If you haven't read my interviews with Ewan McGregor, Hayley Atwell, Jim Cummings and Bronte Carmichael, you should check them out. They all answer very differently.
"I definitely think for me it's, it's Pooh and second it's Eeyore and Piglet," Forster shares with us. "I have definitely and Eeyore and  Piglet side of me. I'm a very big optimist, but there's still sometimes where I think, oh, it's too late, too this and you know, there's sort of Piglet, these moments of worry and, and, and fear creeps in and suddenly I think what am I doing? But I think Pooh had that gift to be very zen."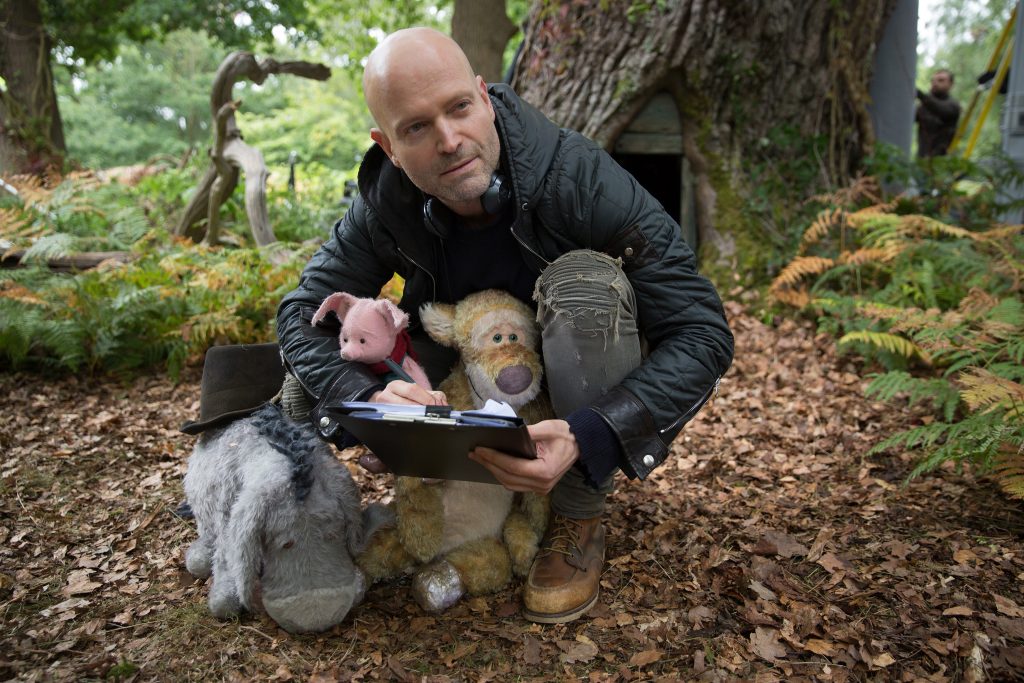 I think this is a great way to describe how little bits of these characters live in all of us. I know I definitely have my Eeyore moments, although I also consider myself to be an overall optimist, and sometimes, I can feel that Piglet-like nervousness creep up on me. But Pooh is very zen, which is the same way Hayley Atwell described him. It's like he's the calm and wise influence that keeps the rest of the Hundred Acre Wood balanced…even though he refers to himself as a "bear of very little brain."
What Marc Forster hopes you take away from the movie Christopher Robin
"In the times we live in, I think it's so important to have hope, joy and, and really, you know, it's about love and Pooh is about love and reconnecting with the people you love."
Forster talks about trying to find the balance between work and the people that you care about and says as a whole, most people don't spend enough time or give enough attention to people we love. This was definitely my take-a-way from Christopher Robin. When a parent who hasn't always put family first (ahem) sees what that feels like through the eyes of a child, it's a bit of a wake up.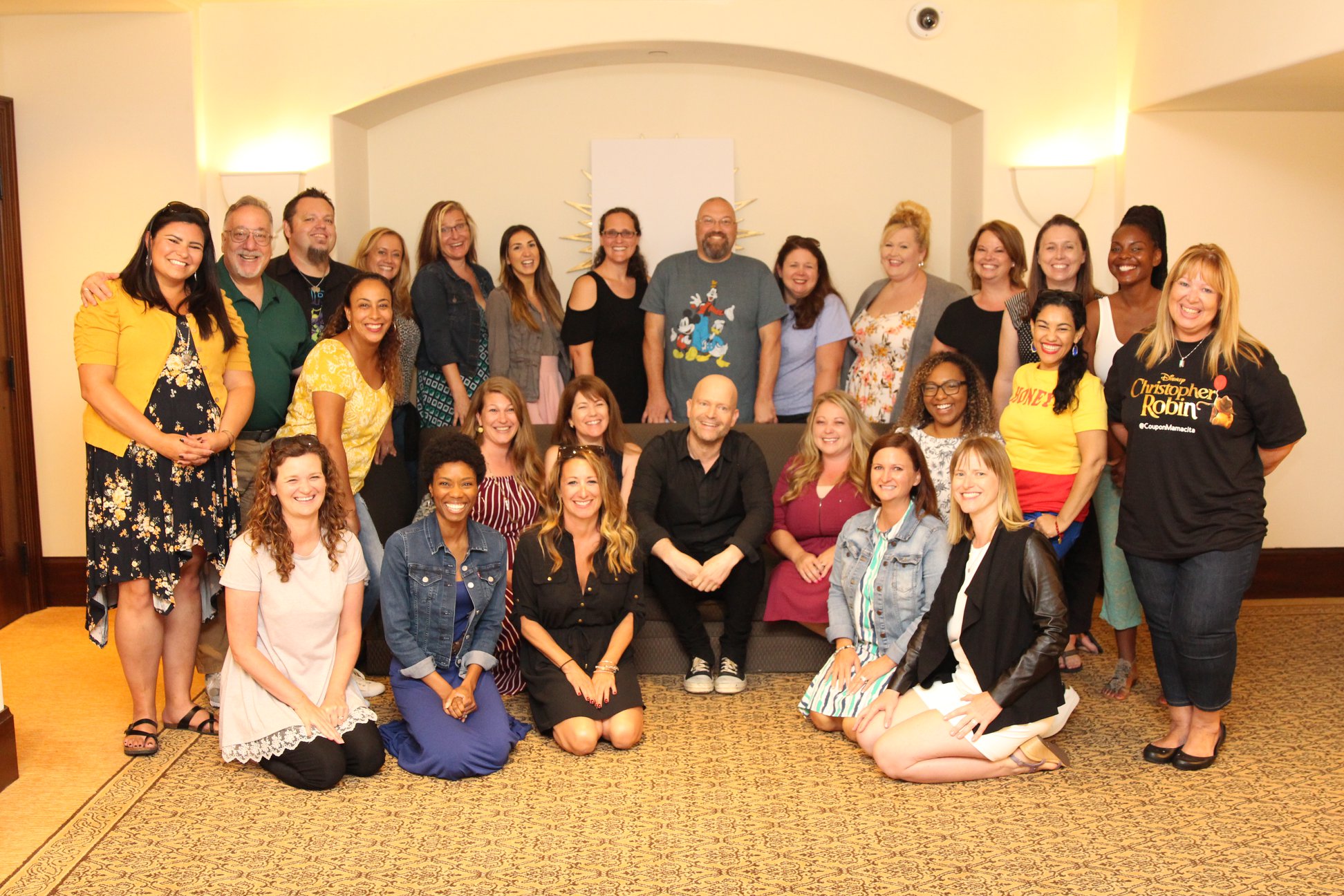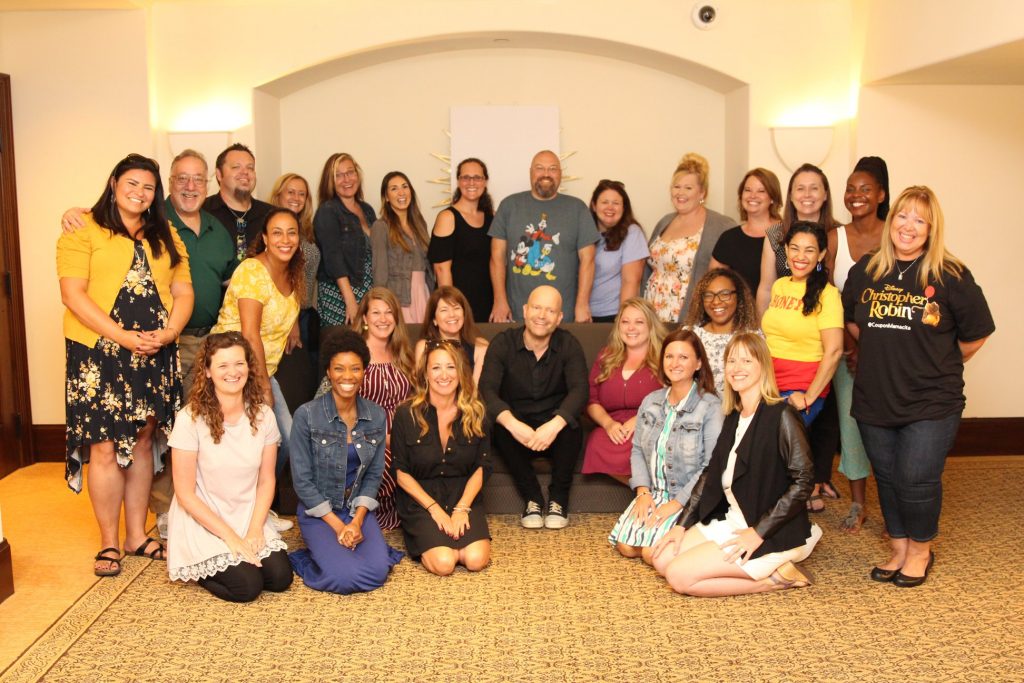 And make sure you stay all the way to the end. The closing credits have a wonderful Easter Egg that die-hard Disney fans are going to delight in. Plus, the very end of the end-credits scene has my favorite Eeyore line ever…I'm so glad they found a way to get that one in there.
It was an honor to be invited by Disney Studios to have this behind-the-scenes type of perspective and I'm excited that I'm able to share it with you.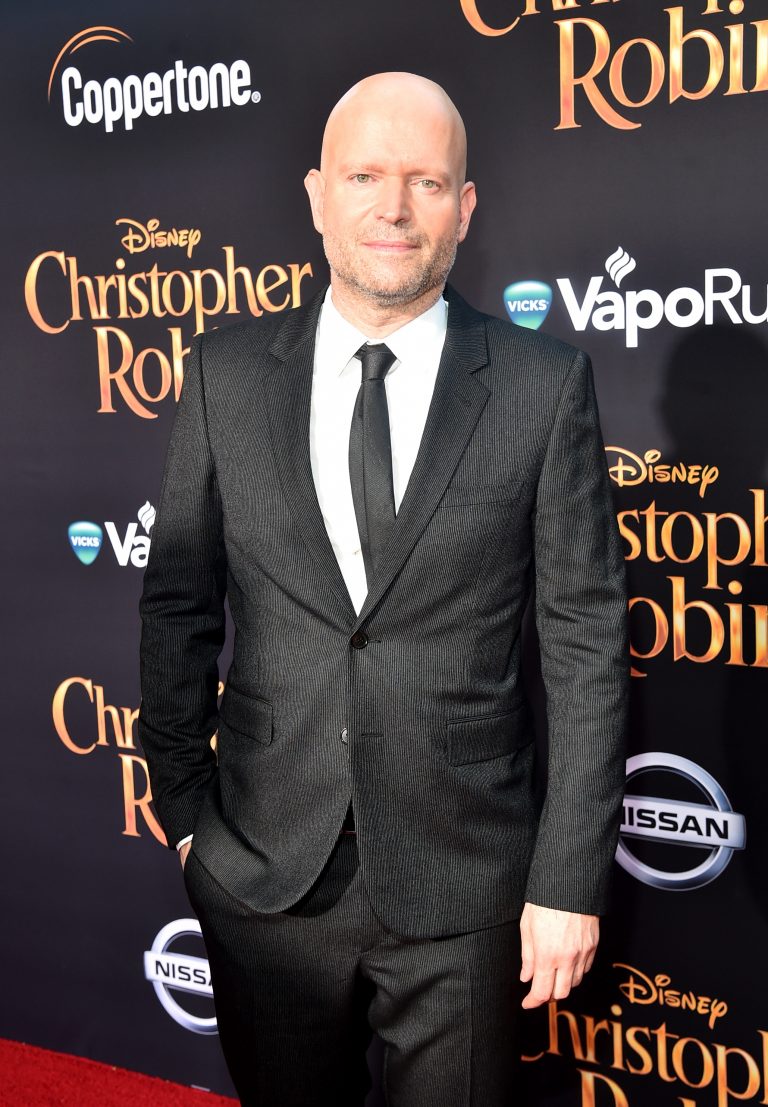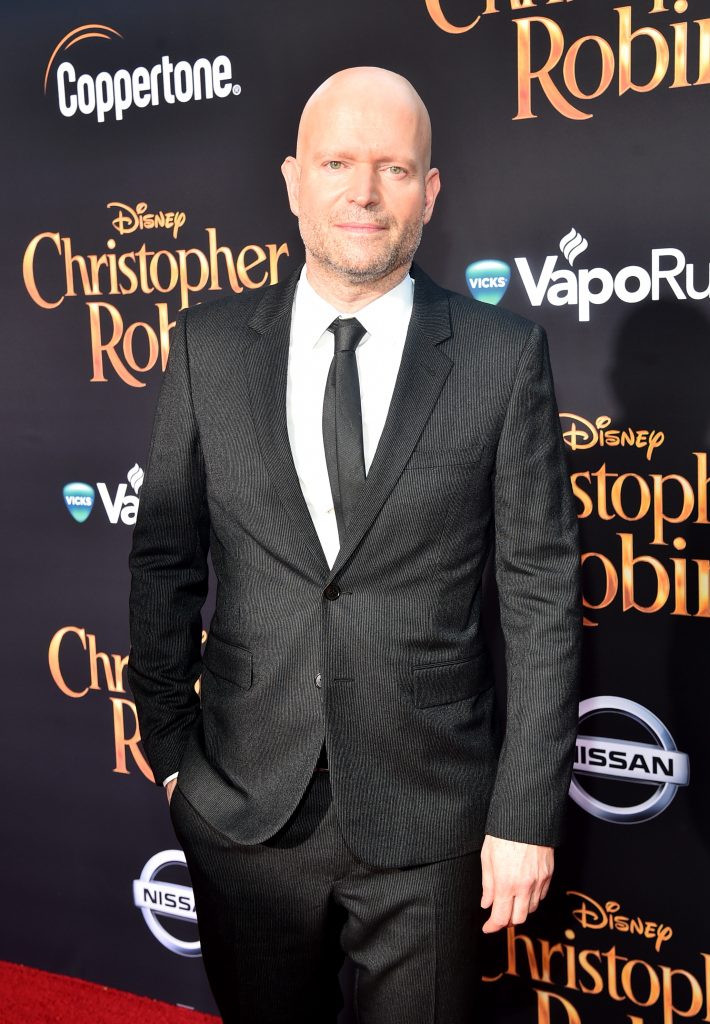 To read more of my posts from this press junket, to include my review of the movie and all of my cast interviews in one place, check out my Christopher Robin Landing Page.
Disney's Christopher Robin is now playing in theaters everywhere. Here's more about the film:
Christopher Robin stars Ewan McGregor as Christopher Robin; Hayley Atwell as his wife Evelyn; Bronte Carmichael as his daughter Madeline; and Mark Gatiss as Keith Winslow, Robin's boss. The film also features the voice of Jim Cummings as Winnie the Pooh and Tigger.
Christopher Robin is a heartwarming live action adventure, the young boy who shared countless adventures with his stuffed animal friends in the Hundred Acre Wood has grown up and lost sight of what's important in life. Now it is up to his childhood friends to venture into our world and help Christopher Robin rediscover the joys of family life, the value of friendship and to appreciate the simple pleasure in life once again. 
CHRISTOPHER ROBIN is NOW PLAYING in theatres everywhere! Stay tuned for more exclusive behind-the-scenes awesomeness that I got during my whirlwind three days in Los Angeles, to include my interviews with the cast. I can't wait to share more of my experiences from the premiere of Disney's Christopher Robin with you! To stay up-to-date, subscribe to the blog and follow #ChristopherRobinEvent on social media.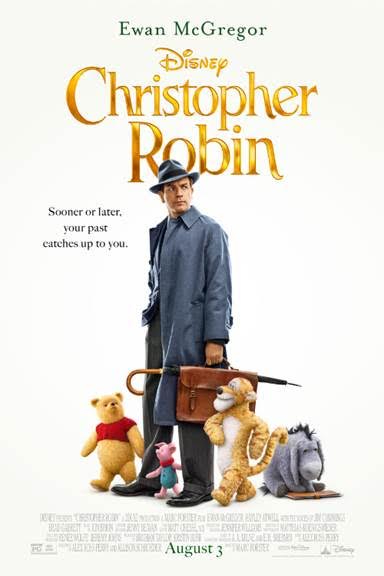 Like CHRISTOPHER ROBIN on Facebook: https://www.facebook.com/DisneyChristopherRobin/
Follow Walt Disney Studios on Twitter: https://twitter.com/disneystudios 
Follow Walt Disney Studios on Instagram: https://www.instagram.com/disneystudios/
YOU MIGHT ALSO LIKE:
My interview with the man behind Christopher Robin, Ewan McGregor
Interview with Bronte Carmichael
Audio Comfort – Interview with Jim Cummings (voice of Winnie the Pooh & Tigger)
My red carpet experience – The World Premiere of Disney's Christopher Robin
Next stop, Disney's Christopher Robin Event