Audio Comfort – Interview with Jim Cummings, voice of Winnie the Pooh (and Tigger too!) #ChristopherRobinEvent
There I was in The Montage (super posh hotel in Beverly Hills) standing with a group of bloggers gathered around Marc Forster (director of the awesome new movie Christopher Robin) getting ready for a group photo. I heard the words "everybody say honey" and I felt my heart leap. There was an audible reaction from our group. There were some gasps. There were some "awwwws" and there were some whispers of "It's him." I know the voice of Winnie the Pooh anywhere. We all do. Jim Cummings, who is the voice of Winnie  the Pooh was standing right across from us. He was early for his interview with our group and I have to tell you, he kind of stole the director's thunder there for a minute…sorry Marc. It was a really exciting thing to be invited by Disney Studios to Los Angeles for the World Premiere of Christopher Robin and to interview all the talent. My interview with Jim Cummings was the one I was most looking forward to. Sorry Ewan.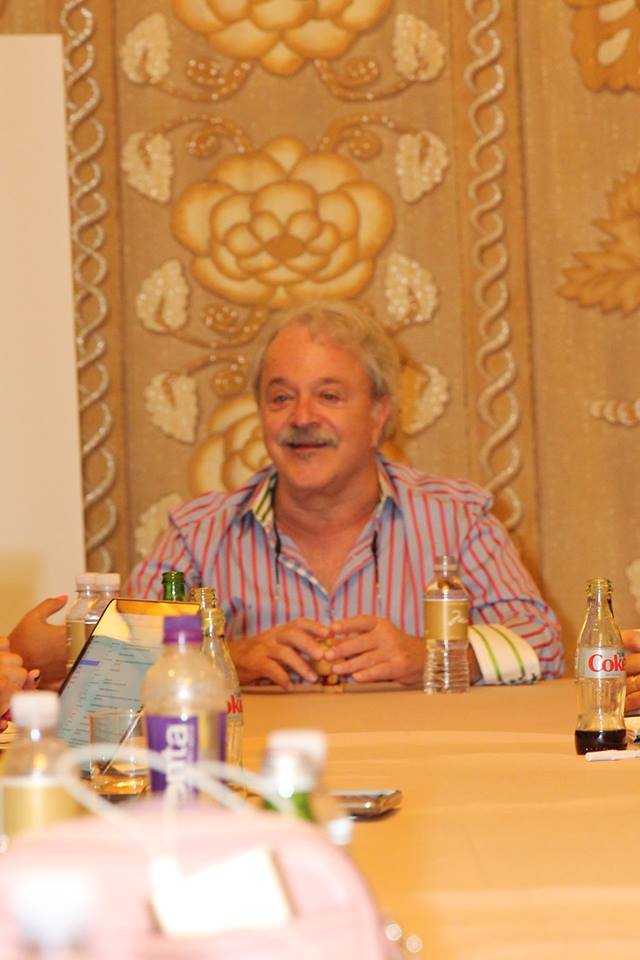 Audio Comfort – An Interview with Jim Cummings, the voice of Winnie the Pooh (and Tigger too!)
Jim Cummings has been the voice of Pooh for over 30 years. What I didn't know until I was preparing for my trip to Los Angeles is that he is also the voice of Tigger. That's T-I-Double G-RRRR, people. Cummings' "regular voice" sounds nothing like either one of those characters which is why I'm so in awe of his talent.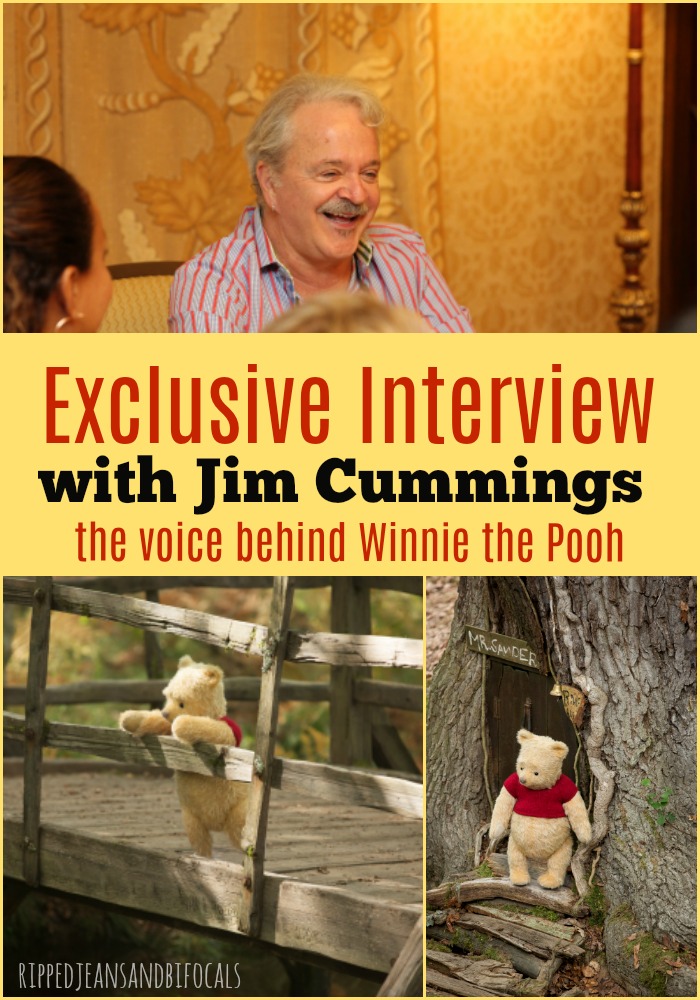 Q: How difficult is it to switch voice between Winnie the Pooh and Tigger?
The answer is one of those "you had to be there" kind of things. While his answer was "It's very hard. It's tough to do," he demonstrated with his voice (errr…voices) how easily he could switch back and forth between Pooh and Tigger. It was amazing. Or, as Cummings describes it, schizophrenic. It was really quite something to see and hear.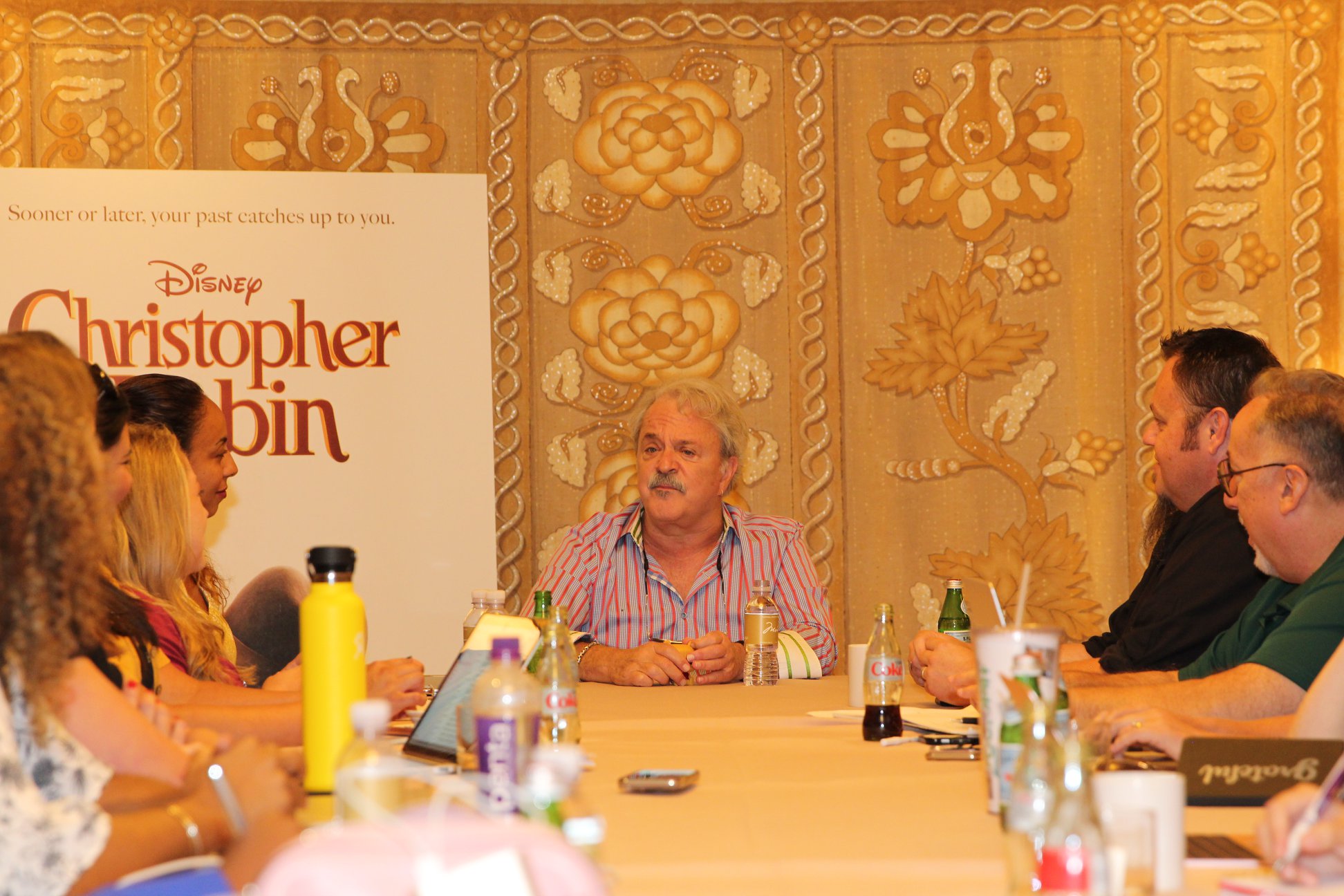 Q: How does it feel to bring Winnie the Pooh to life again?
A: "Well, he's been around with me for a long time. And it feels great. And I love the reimagining, I love…oh my goodness, Marc's [director Marc Forster] vision is sublime."
I got the feeling that the voices of Pooh and Tigger are part of Cummings. His delight in bringing those characters back well…it just radiates from his entire person.
"It just feels great you know, to be associated with such a beautiful, a beautiful franchise. It's not a franchise to me. What am I trying to say? It's a universe, sort of. You know, the hundred-acre wood, everybody knows about it and everybody knows all those characters and they have a sweet spot in everybody's hearts and it's an honor."
Cummings goes on to describe the best part of his job as when he gets to use his "Winnie the Pooh voice" on a child. Can you imagine being in an airport or in line at the grocery store somewhere and witnessing your child's reaction to those beloved voices coming out of this man's mouth. It would be hilarious, heartwarming and utterly special. I hope we bump into him someday. Besides being a talented character actor, Jim Cummings is a really nice man.
Q. What do you think it is about Pooh's voice that just gets such a reaction from everyone that hears it?
Cummings described this reaction as "a pipeline to you at five" and that's true. The voice of Winnie the Pooh instantly rockets us back to childhood.
"It just seems like, 'oh gosh, that reminds me of when I was,' you know, and then you're going, 'oh boy those were good times, oh say something again.' You know,
and it, it's just a comfort. I think it's like audio comfort, you know."
The phrase "audio comfort" really resonated with me. That is the absolute perfect way of describing how the voice of Pooh makes me feel.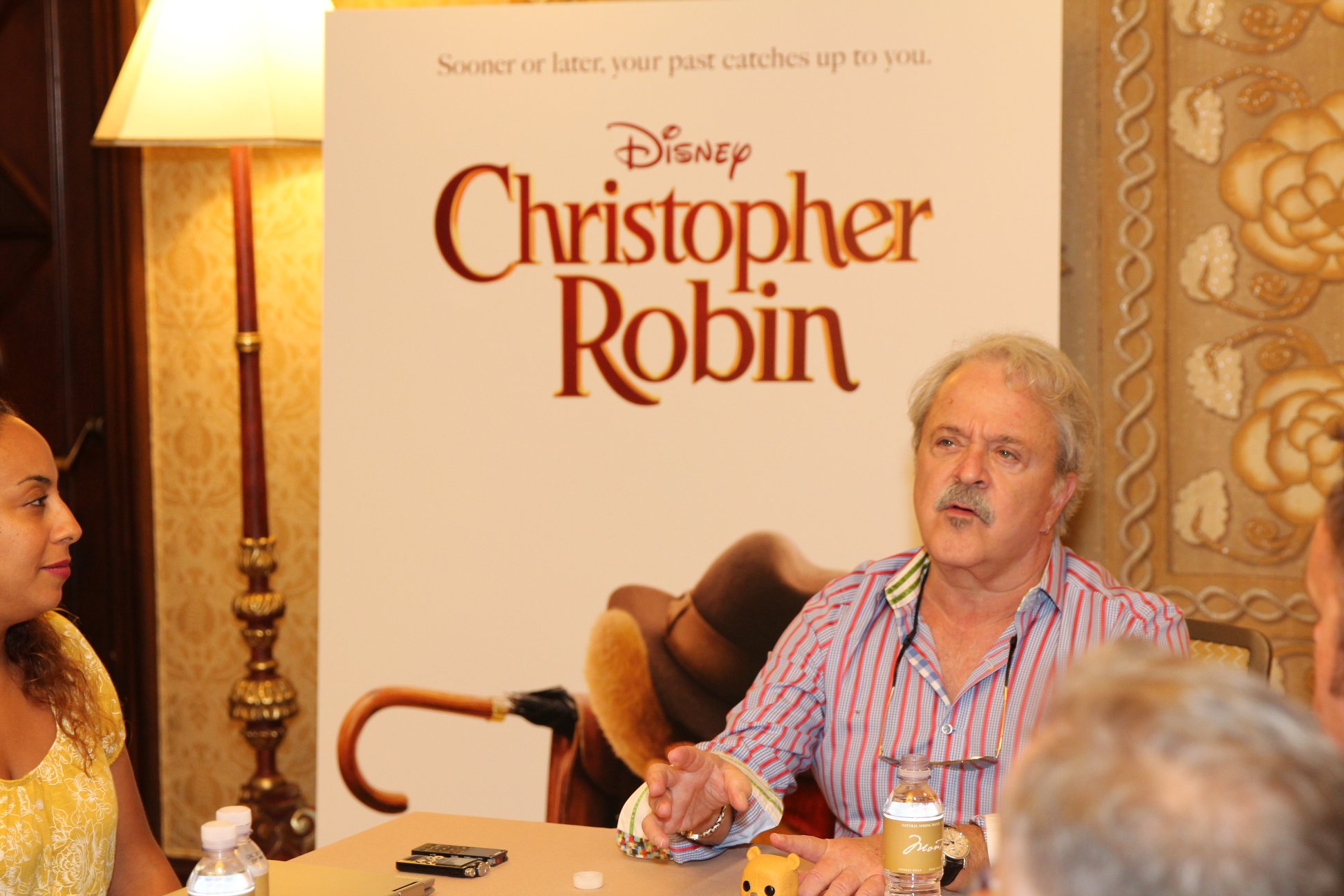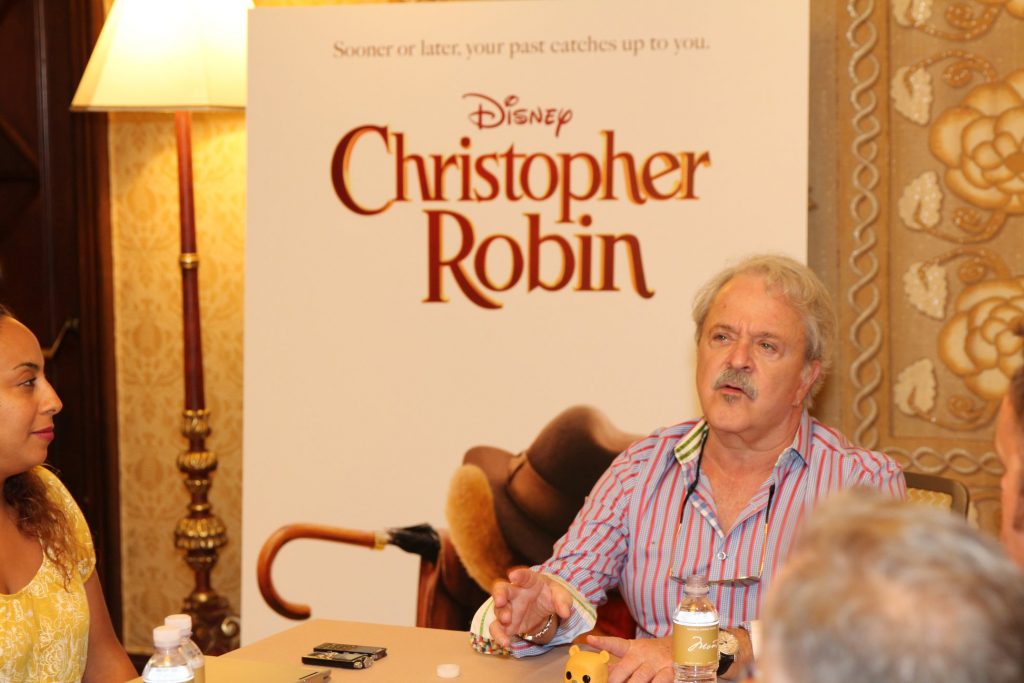 Q. Do you have a favorite Pooh quote you've said over the years?
"There are so many," says Cummings and then he touches on what he refers to as "Pooh logic." Pooh describes himself as a "bear of very little brain" but he's got a ton of life wisdom.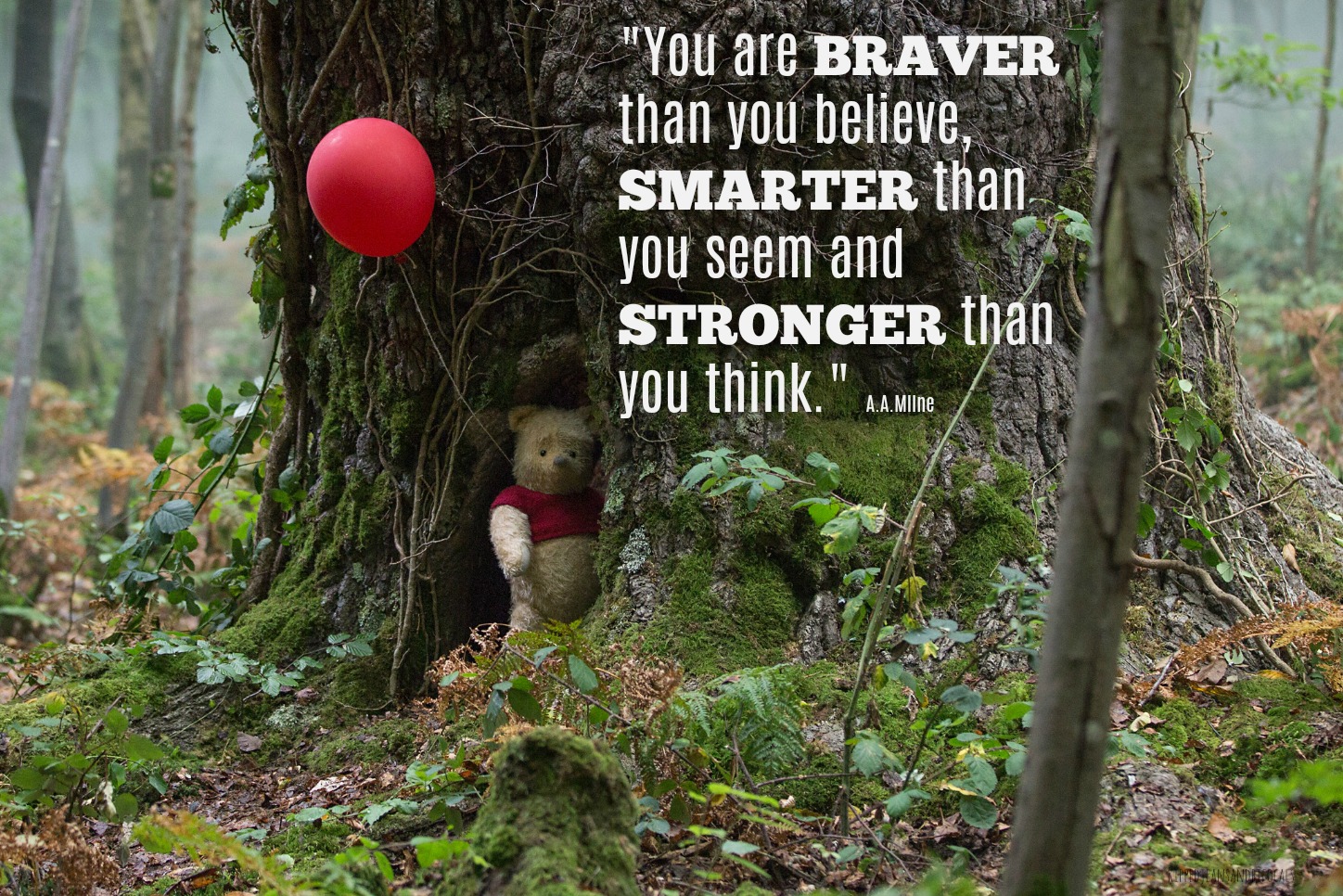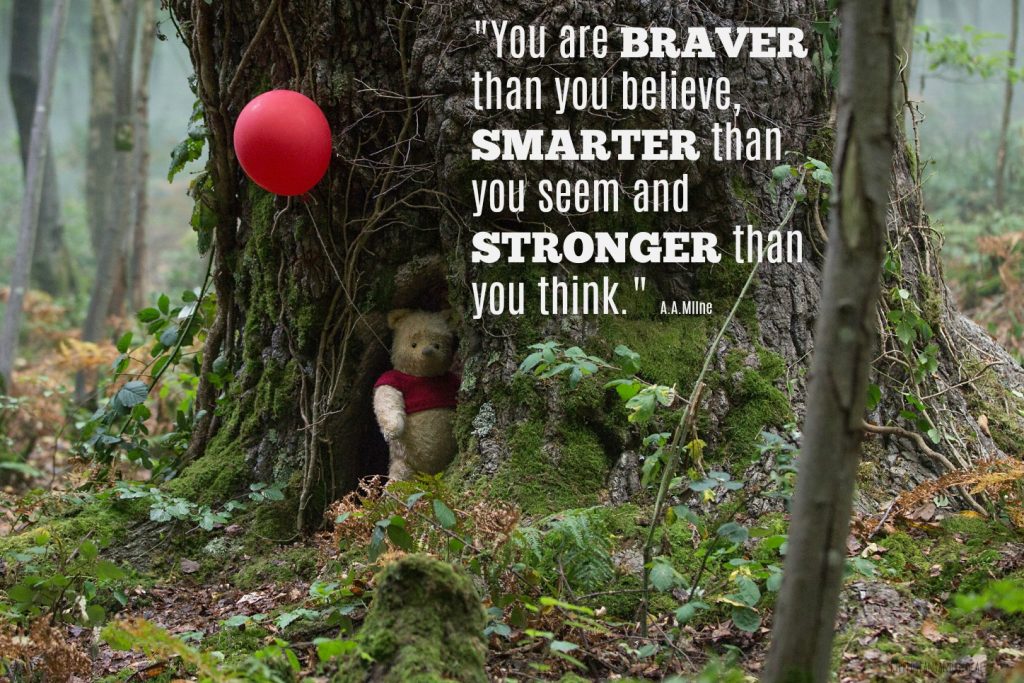 I don't think he's a "bear of very little brain" at all. The message of this movie is to slow down and savor and to learn how to embrace doing nothing.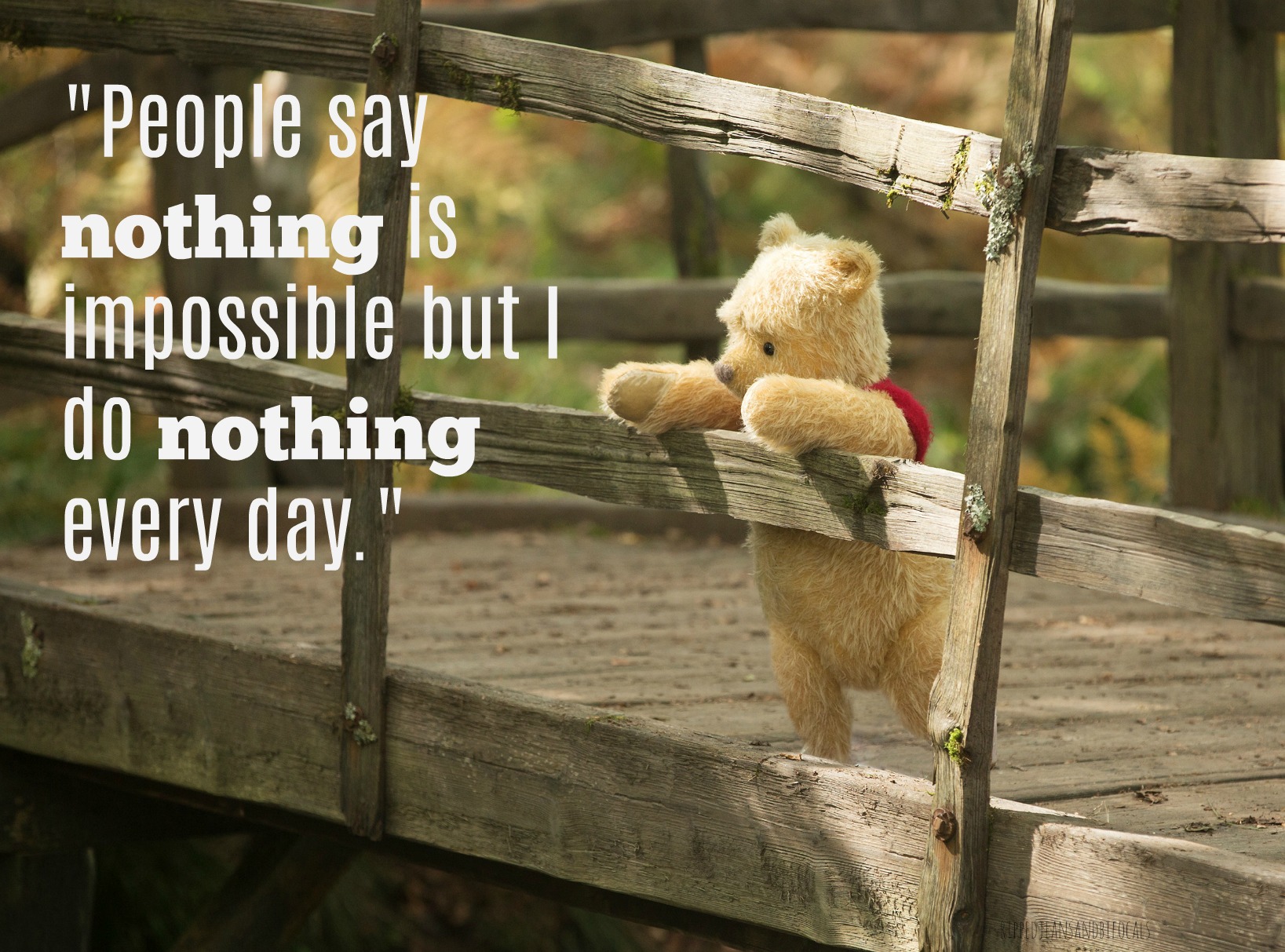 Other nuggets from this wonderful interview:
On whether he ad libs…
"I ad lib a lot. Tigger ad libs more than Pooh."
One of Cummings' other famous roles was that of Ray in The Princess and the Frog. He had this to say about being the voice of Ray:
"…he was one of my favorites and, I think for Princess and the Frog I think that's probably the only movie I don't think I said one thing they wrote."
I think we're going to have to re-watch this one!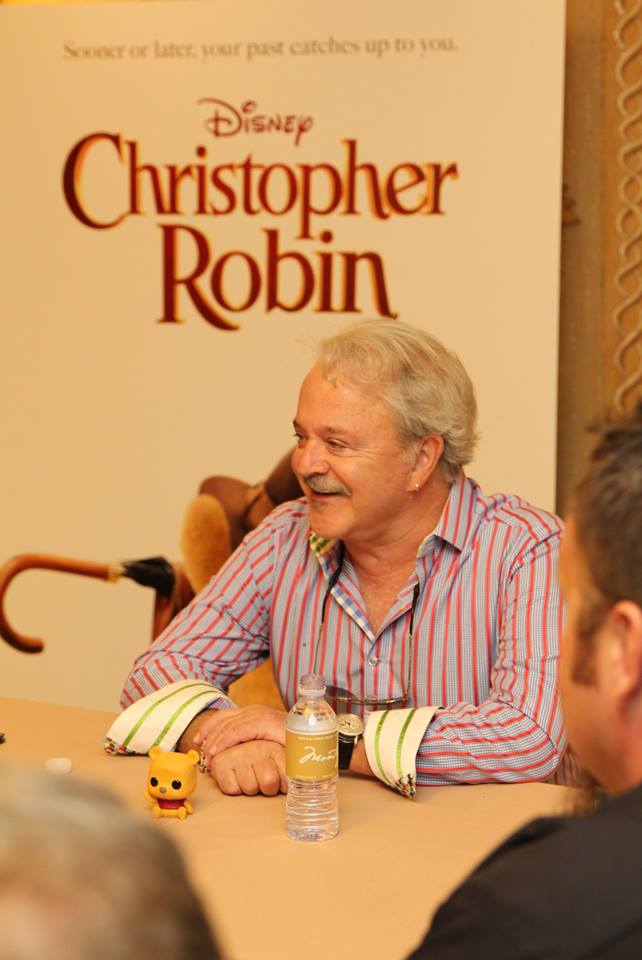 On whether he did voice impressions as a kid…
"Oh yeah, I was very annoying."
This one made me smile. Cummings went on to describe how he discovered his love for creating voices while mimicking his Aunt Grace. Oh, Aunt Grace, I'm sure you probably didn't appreciate it at the time but thank you to what you helped give the world.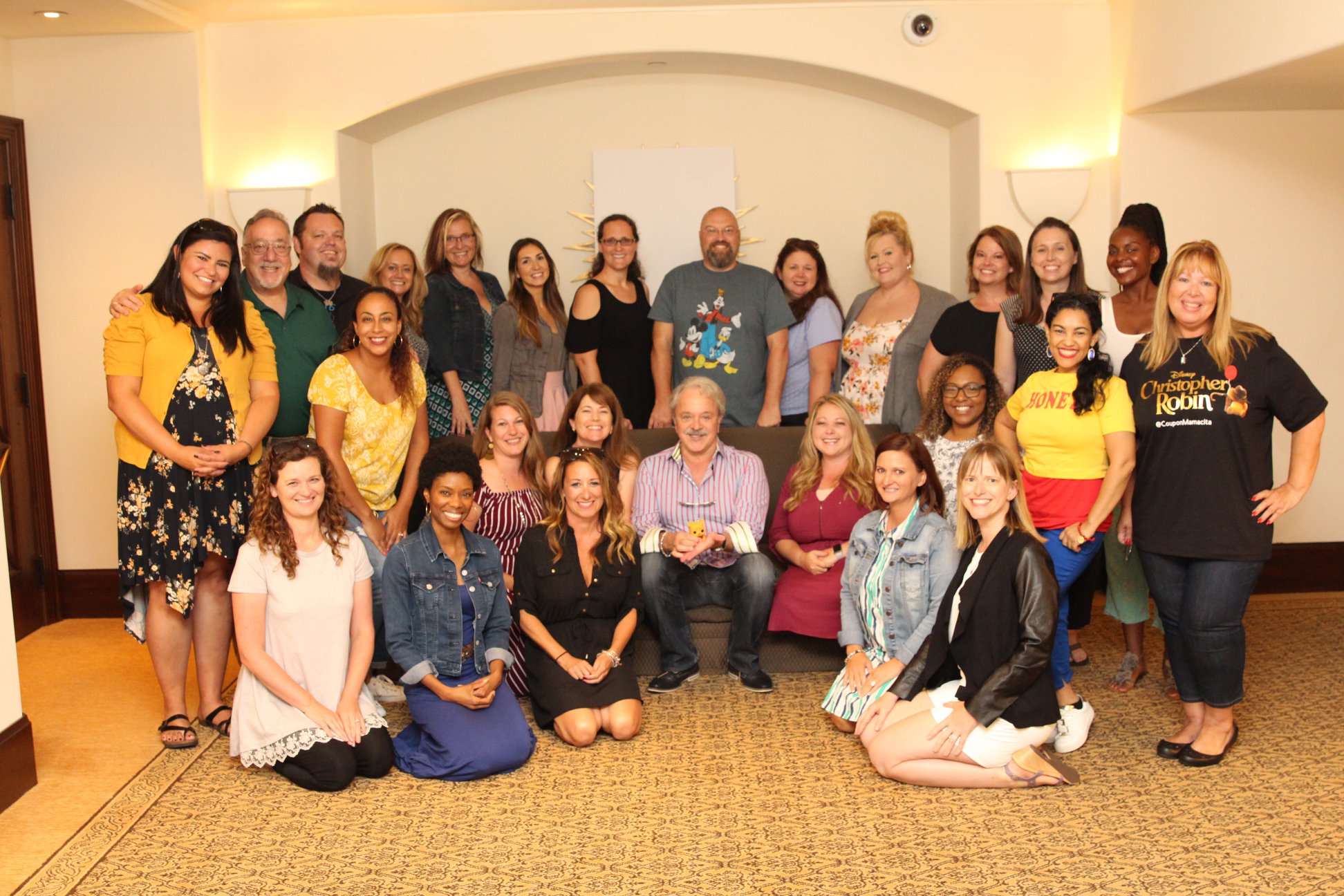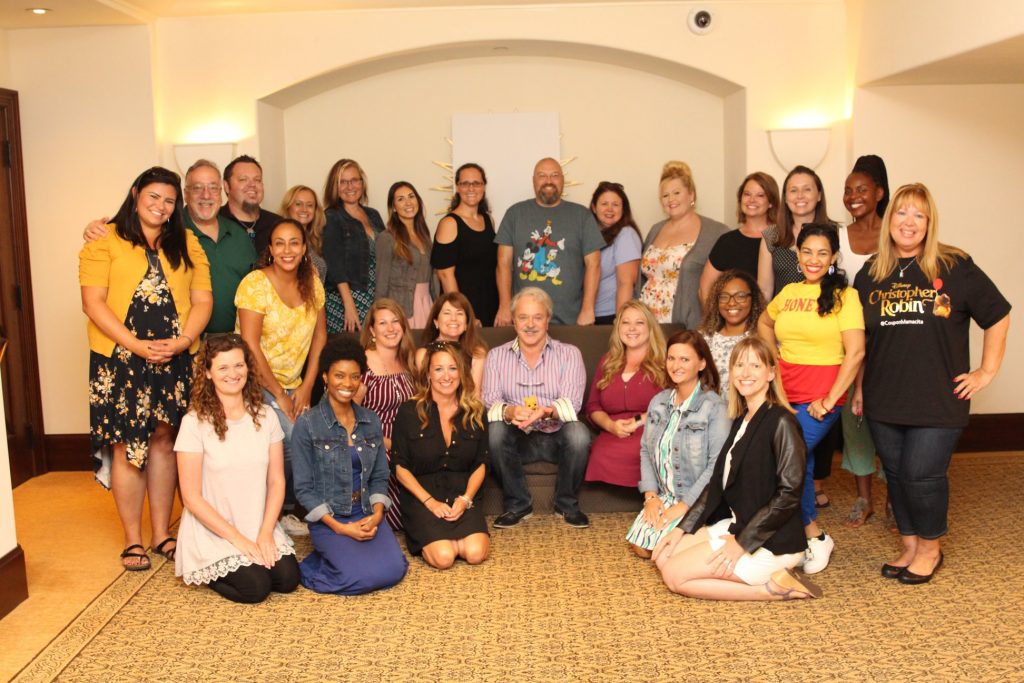 Jim Cummings' advice on how to get started as a voice character actor…
"Do a perfect impression of somebody. And if you do an impression of somebody super famous that everybody knows and don't sound anything like him, that's a new character.  And, if you do a perfect impression of somebody nobody knows, your mailman or someone, that's a new character.  And you mix and match, you know, and like I was always, like I say, as a kid I, I'd be ten or eleven years old and I would, I didn't want to be the Little Prince, I wanted to be the ogre or the monster living in the cave, or the weasel or something."
One of the last questions asked in our interview with Jim Cummings was what Hundred Acre Wood character was his favorite. I find people's answer to this question so interesting. Some people will say they like them all and some will quickly and decidedly answer as to who their favorite is. Cummings was in the latter category:
"Tigger. Tigger and Eeyore."
You know…I think Jim Cummings looks a little bit like Tigger, around the eyes. Do you see it?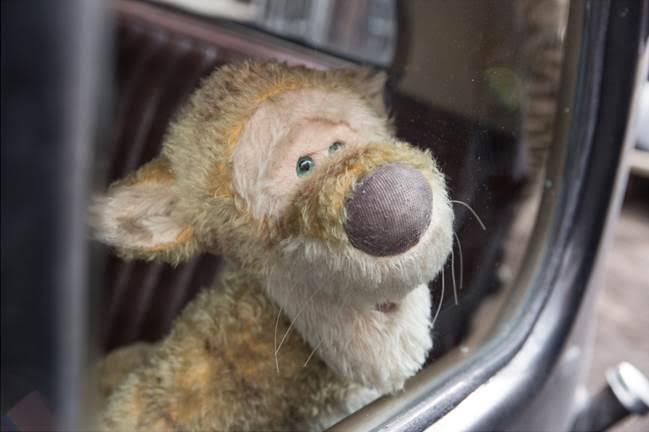 I was so delighted with this answer because Tigger and Eeyore are my own favorites – although everyone of course loves Pooh. It was a delightful interview and I'm so glad I got to meet Jim Cummings in person. And the movie is delightful as well. Go see it, if you haven't already!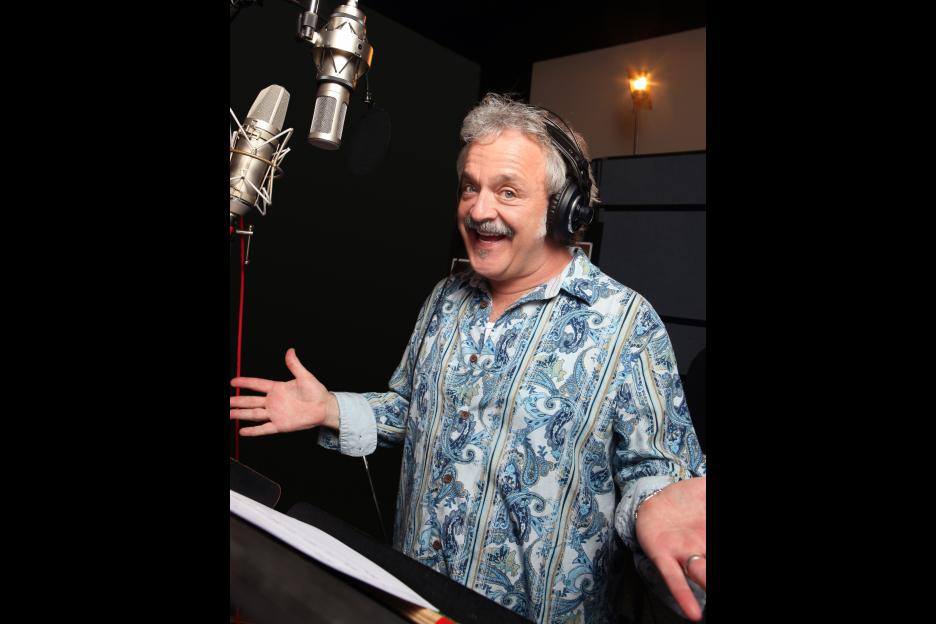 More about Disney's Christopher Robin
Christopher Robin stars Ewan McGregor as Christopher Robin; Hayley Atwell as his wife Evelyn; Bronte Carmichael as his daughter Madeline; and Mark Gatiss as Keith Winslow, Robin's boss. The film also features the voice of Jim Cummings as Winnie the Pooh and Tigger.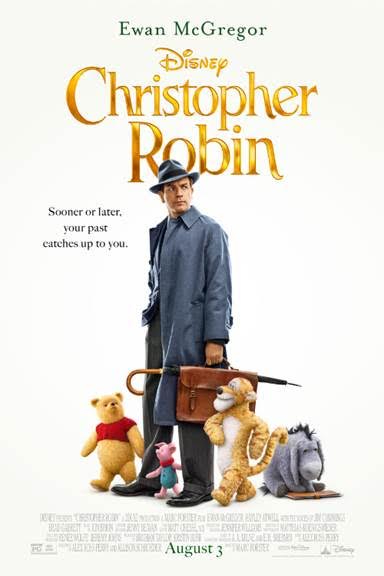 Christopher Robin is a heartwarming live action adventure, the young boy who shared countless adventures with his stuffed animal friends in the Hundred Acre Wood has grown up and lost sight of what's important in life. Now it is up to his childhood friends to venture into our world and help Christopher Robin rediscover the joys of family life, the value of friendship and to appreciate the simple pleasure in life once again. 
CHRISTOPHER ROBIN is NOW PLAYING in theatres everywhere! Stay tuned for more exclusive behind-the-scenes awesomeness that I got during my whirlwind three days in Los Angeles, to include my interviews with the cast. I can't wait to share more of my experiences from the premiere of Disney's Christopher Robin with you! To stay up-to-date, subscribe to the blog and follow #ChristopherRobinEvent on social media.
Like CHRISTOPHER ROBIN on Facebook: https://www.facebook.com/DisneyChristopherRobin/
Follow Walt Disney Studios on Twitter: https://twitter.com/disneystudios 
Follow Walt Disney Studios on Instagram: https://www.instagram.com/disneystudios/
YOU MIGHT ALSO LIKE:
Not just a kids movie – My review of Disney's Christopher Robin
My interview with the man behind Christopher Robin, Ewan McGregor
My red carpet experience – The World Premiere of Disney's Christopher Robin
Next stop, Disney's Christopher Robin Event