My red carpet experience – The premiere of Disney's Christopher Robin #ChristopherRobinEvent
(This post may contain affiliate links. Read my full disclosure.)
Walking the Hollywood Red Carpet has never exactly been a life goal for me. Although I love the movies and following the careers of my favorite actors and actresses, strutting my stuff on the red carpet whilst paparazzi snapped photo after photo of me and cried "Jill dahling, look this way please!" and asked me questions like "Who designed that stunning gown you're wearing?"  has never been on my goal list. But it has happened. I got to experience the red carpet as part of a media trip hosted by Disney and Marvel Studios and it was an amazingly surreal experience. It's like the universe knew I deep down inside wanted to have the red carpet experience…I just didn't fully realize that. I got to experience so much awesomeness at the premiere of Disney's Christopher Robin that I'm sure I'll be smiling for weeks and pinching myself to make sure that this is really my life. I'm excited to share it all here!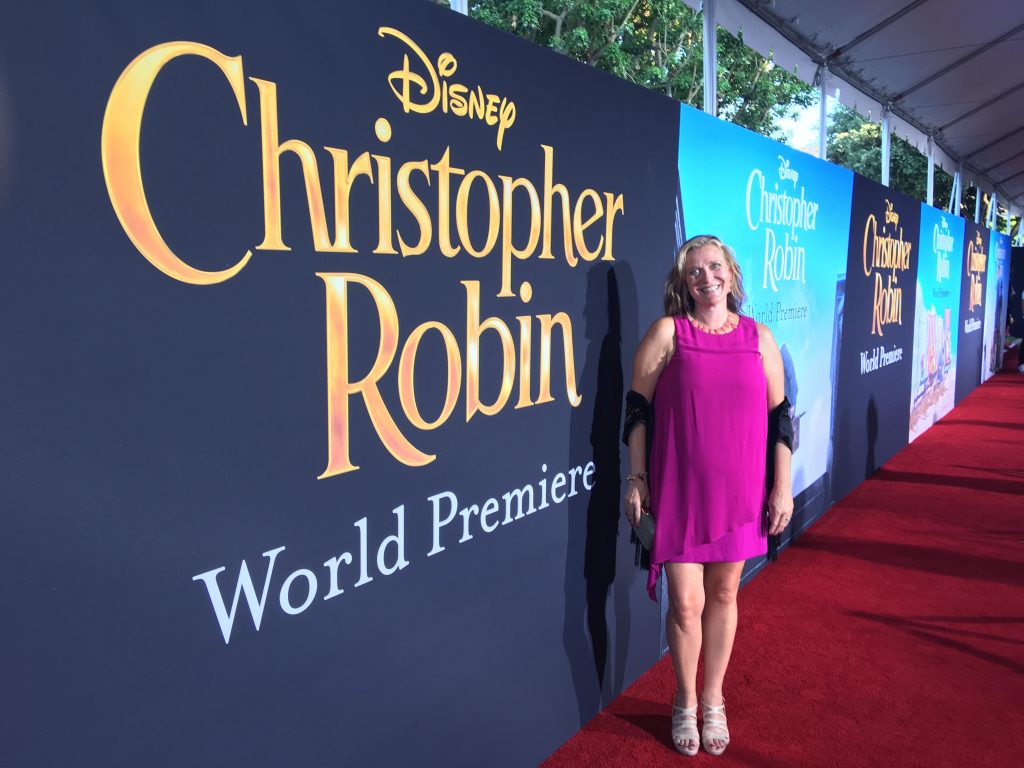 I got to attend the premiere of Disney's Christopher Robin, which means I got to get up close and personal with the amazing stars of what promises to be THE. MOST. ADORABLE. movie of the summer. I was also one of the first to see this movie and, although I have more to tell you about this movie soon, I will tell you that you need to get your tickets and take the people you love.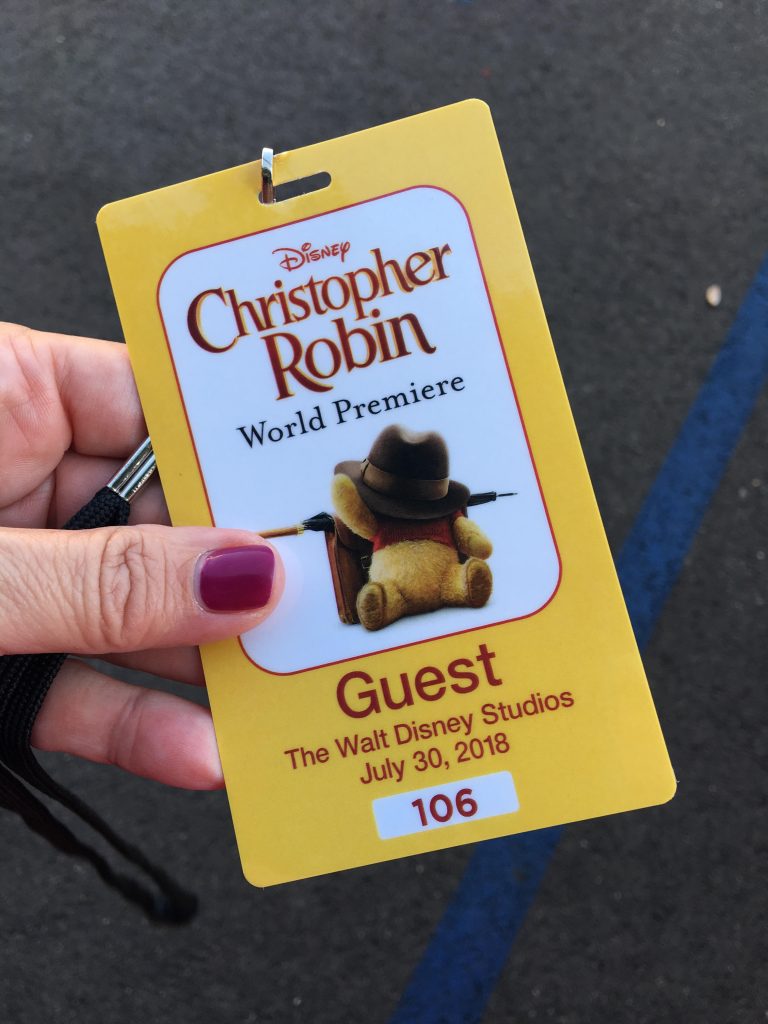 If you don't have "See Christopher Robin" at the top of your summer to-do list, you need to fix that! Here's the trailer:
Christopher Robin stars Ewan McGregor as Christopher Robin; Hayley Atwell as his wife Evelyn; Bronte Carmichael as his daughter Madeline; and Mark Gatiss as Keith Winslow, Robin's boss. The film also features the voice of Jim Cummings as Winnie the Pooh and Tigger.
Christopher Robin is a heartwarming live action adventure, the young boy who shared countless adventures with his stuffed animal friends in the Hundred Acre Wood has grown up and lost sight of what's important in life. Now it is up to his childhood friends to venture into our world and help Christopher Robin rediscover the joys of family life, the value of friendship and to appreciate the simple pleasure in life once again.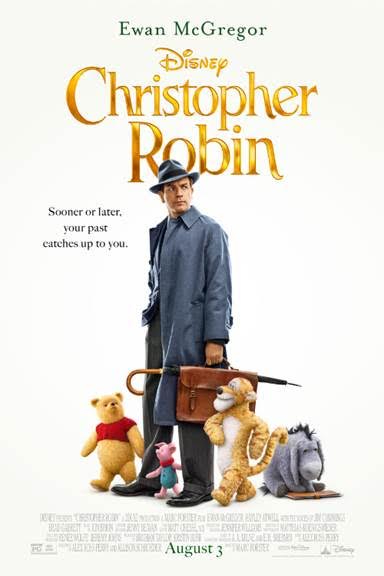 The red carpet is surreal. You see it on television and it looks the same and yet looks different when you see it in person. The Christopher Robin premiere was held on the Disney Studios lot versus at one of the theaters downtown, so the frenzied downtown experience (i.e. onlookers and traffic noises) wasn't there. The atmosphere was "garden party" like…except I was wearing high heels that I wouldn't normally wear to a garden party.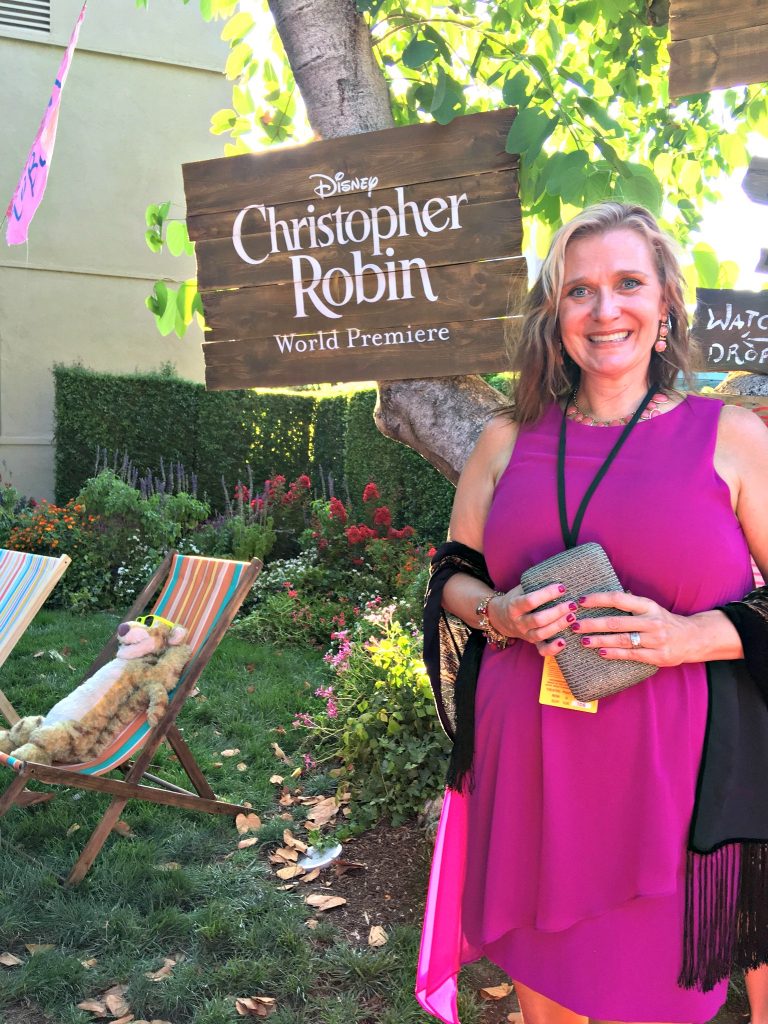 What I wore:
My dress is by Tahari and was purchased at Nordstrom. It's a sheath dress with a crepe overlay that is verrrryy forgiving, AKA hides my muffin top. The color is called "summer fuchsia." I wore nude strappy sandals from Naturalizer (pretty comfy for a high heel) and pink and gold accessories I've had since I don't know when. My wrap is a brown, gold and black velvet shawl that I bought at a consignment shop. It is warm in Los Angeles right now but I always get cold in theaters, so I'm glad I had my wrap.
We arrived at the Disney lot about an hour before the movie started. In addition to walking the red carpet (SUCH an amazing experience) there were multiple other fun things to do.
We got a chance to snag some hunny beforehand. You never know when you might need just a smackerel of something when you've got that rumbly in your tumbly, right?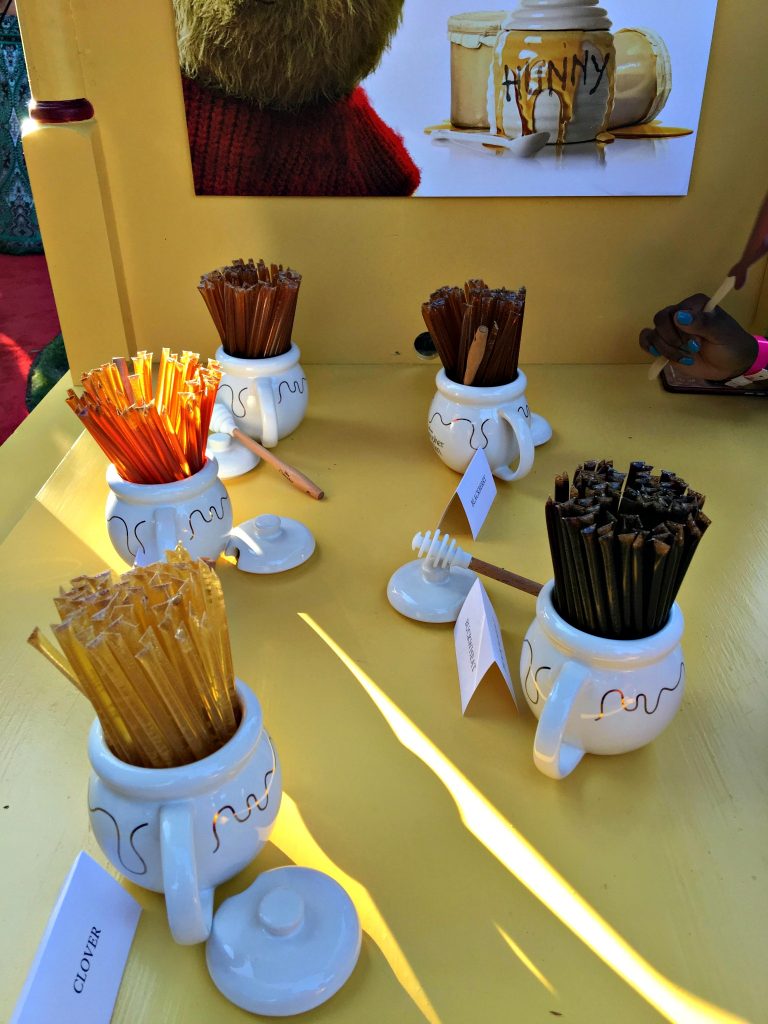 There was this cute little picnic set…when you see Christopher Robin (in theaters everywhere August 3rd) you'll recognize this deliciously laid table and this picnic basket.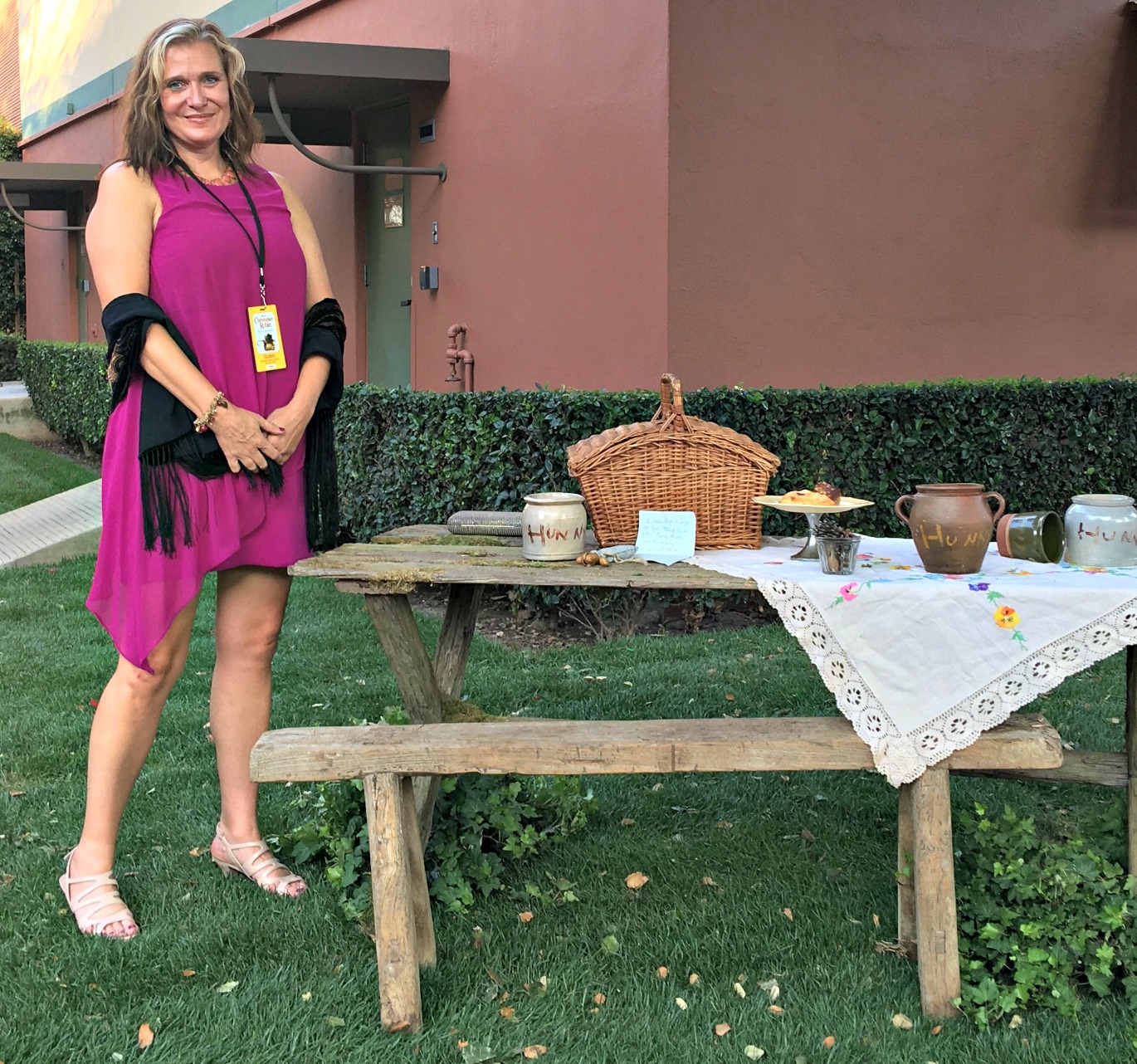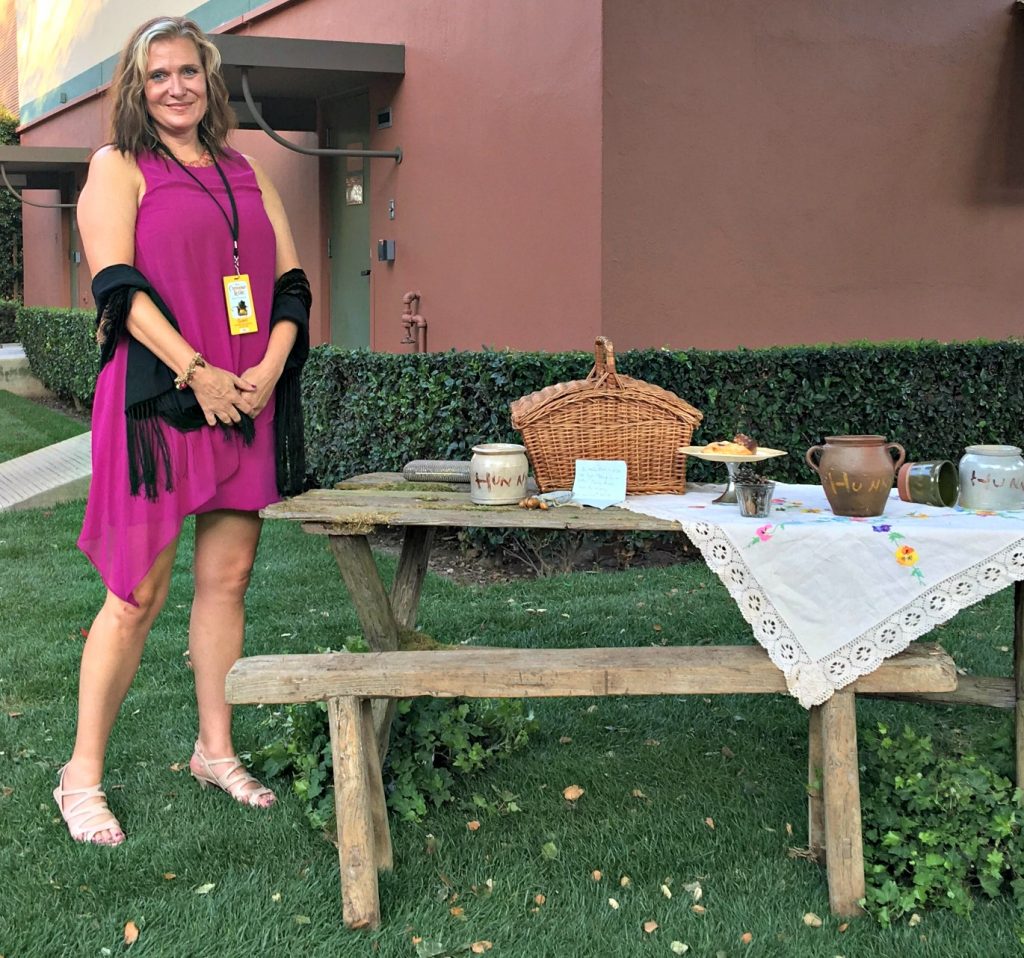 You'll also recognize this cart with the red balloon tied to the handle. This balloon is a very important part of the movie, but more on that later…no spoilers from me other than that this movie is seriously adorable and you need to make plans to see it.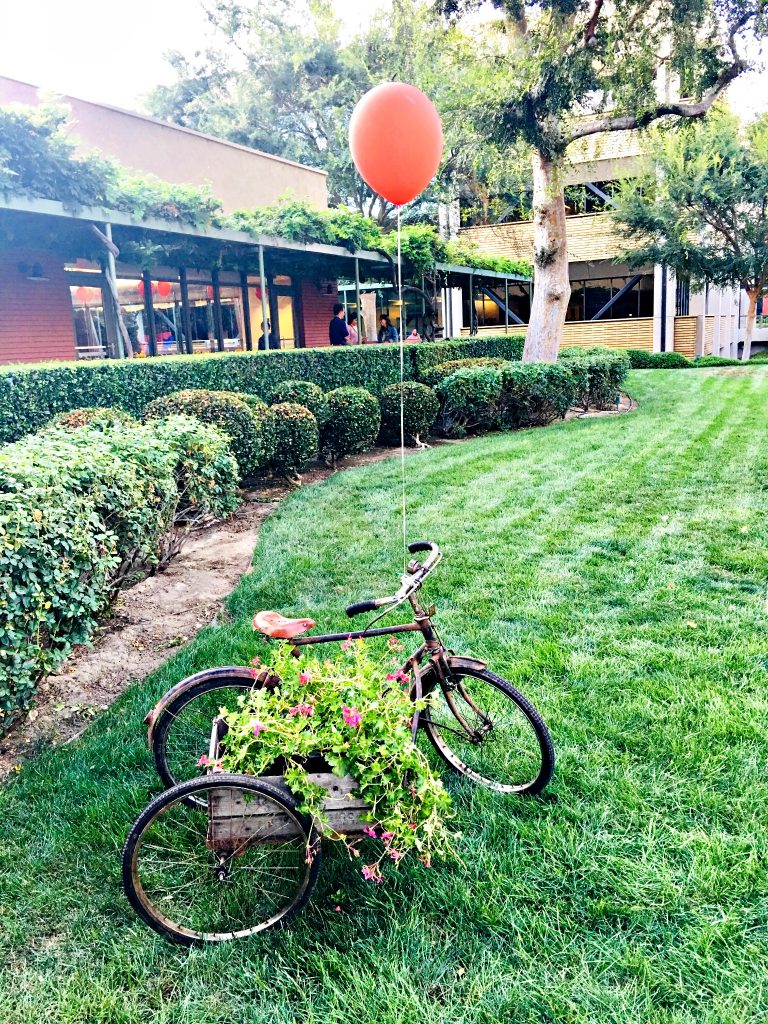 And, of course, these friends were there.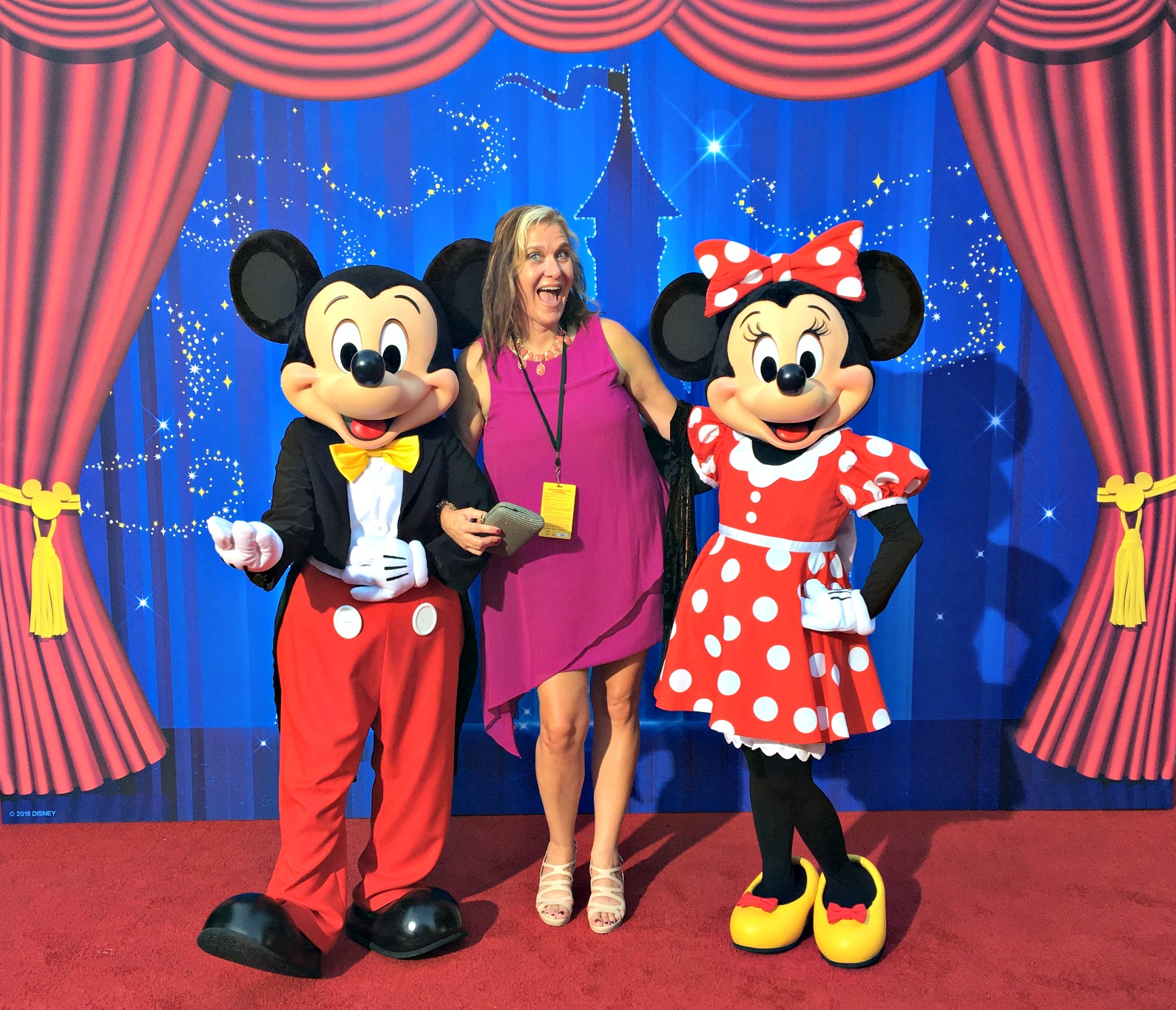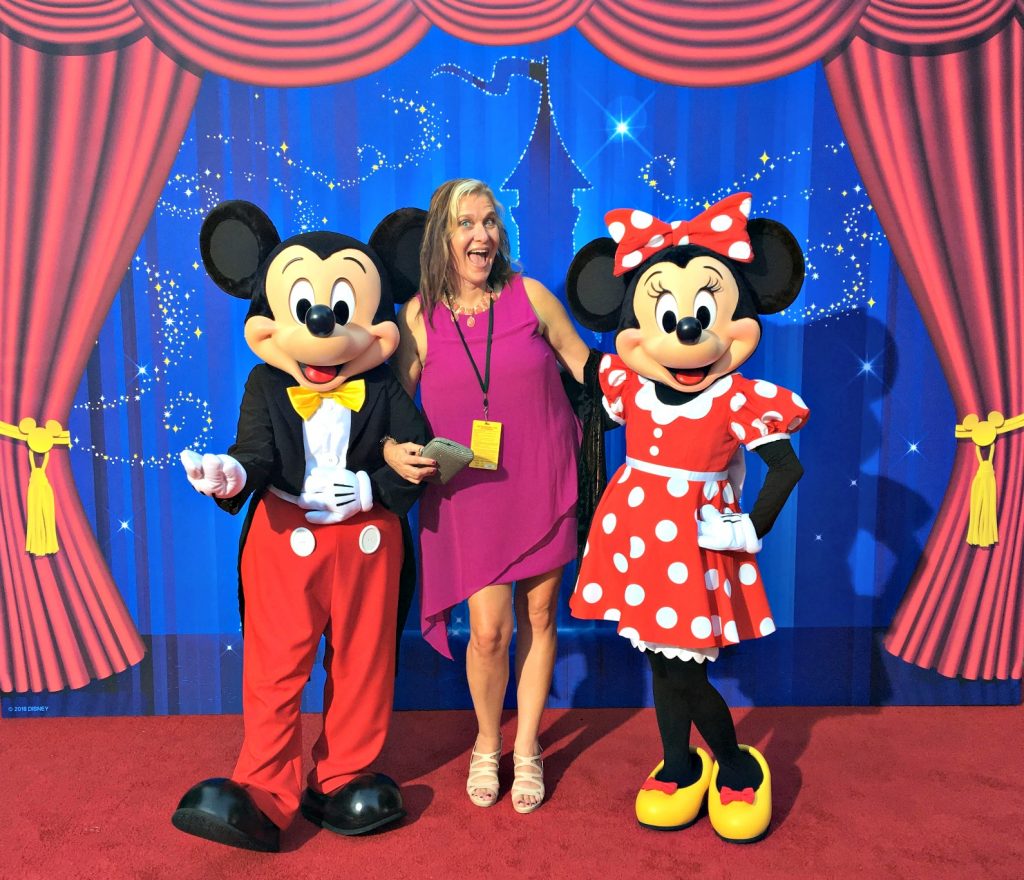 I don't care how old I get to be, Minnie Mouse will always make me feel like I am nine years old, which was the first time Minnie and I made acquaintance at Walt Disney World. She admired my shoes. I admired her shoes. We smiled, we posed for pictures.
And of course, I wasn't alone on my red carpet adventure. I was part of an invited group of 23 other bloggers and the group was a mix of new and old friends. I loved getting to know new people and getting to know some of my friends a little better. I had the honor of hanging out with these two friends on the red carpet: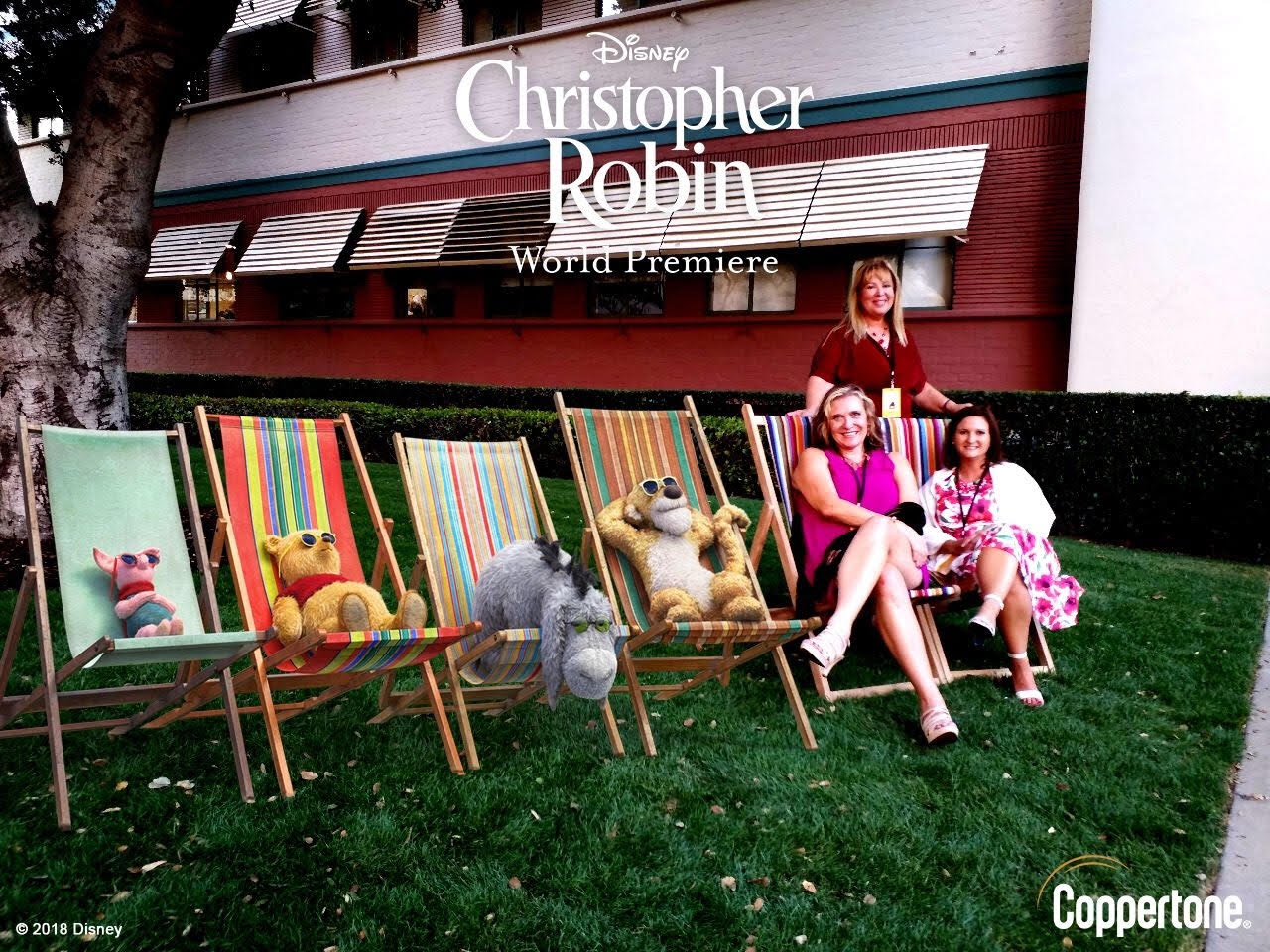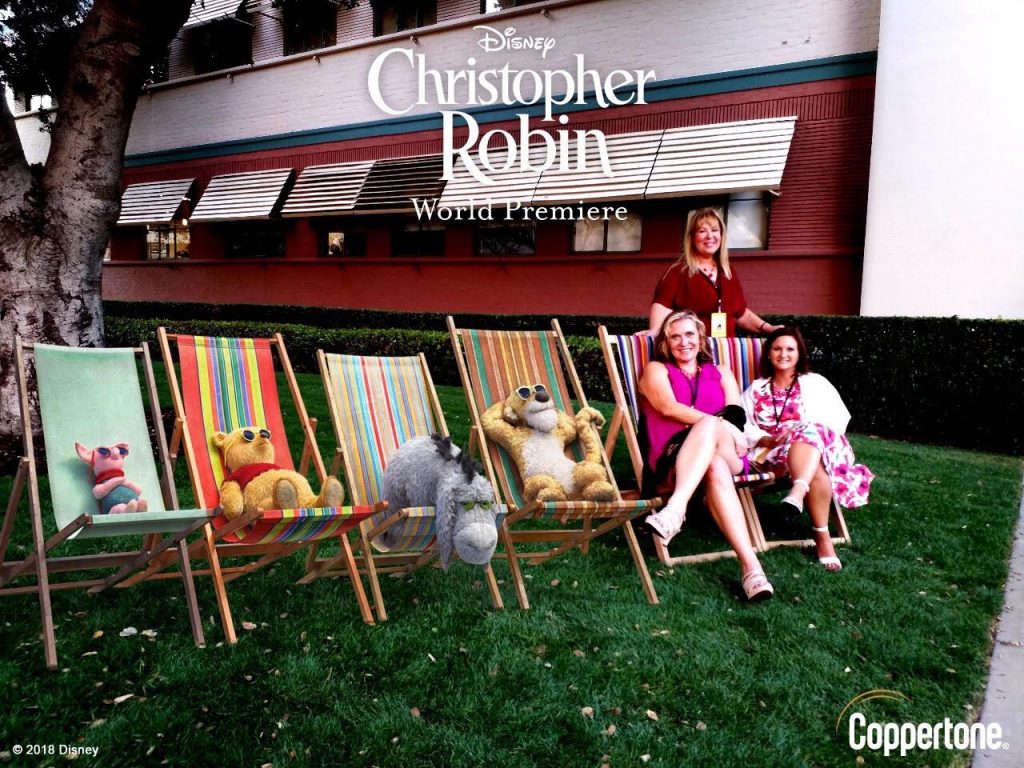 I know…it looks more like we're relaxing in a sunny garden than on a red carpet but this was just one of the amazing photo opportunities to be had. You'll recognize these chairs from the end of Christopher Robin…and make sure you stay all the way through the closing credits!
Winnie the Pooh has some really profound quotes about friendship. For a "bear of very little brain" he has some strong wisdom. One of my favorites is "A friend is the nicest thing to have and the best thing to be," and that quote is perfect for the theme of the movie and my experience on the red carpet.
There was lots of food and drinks available at the pre-premiere party. This one was my favorite: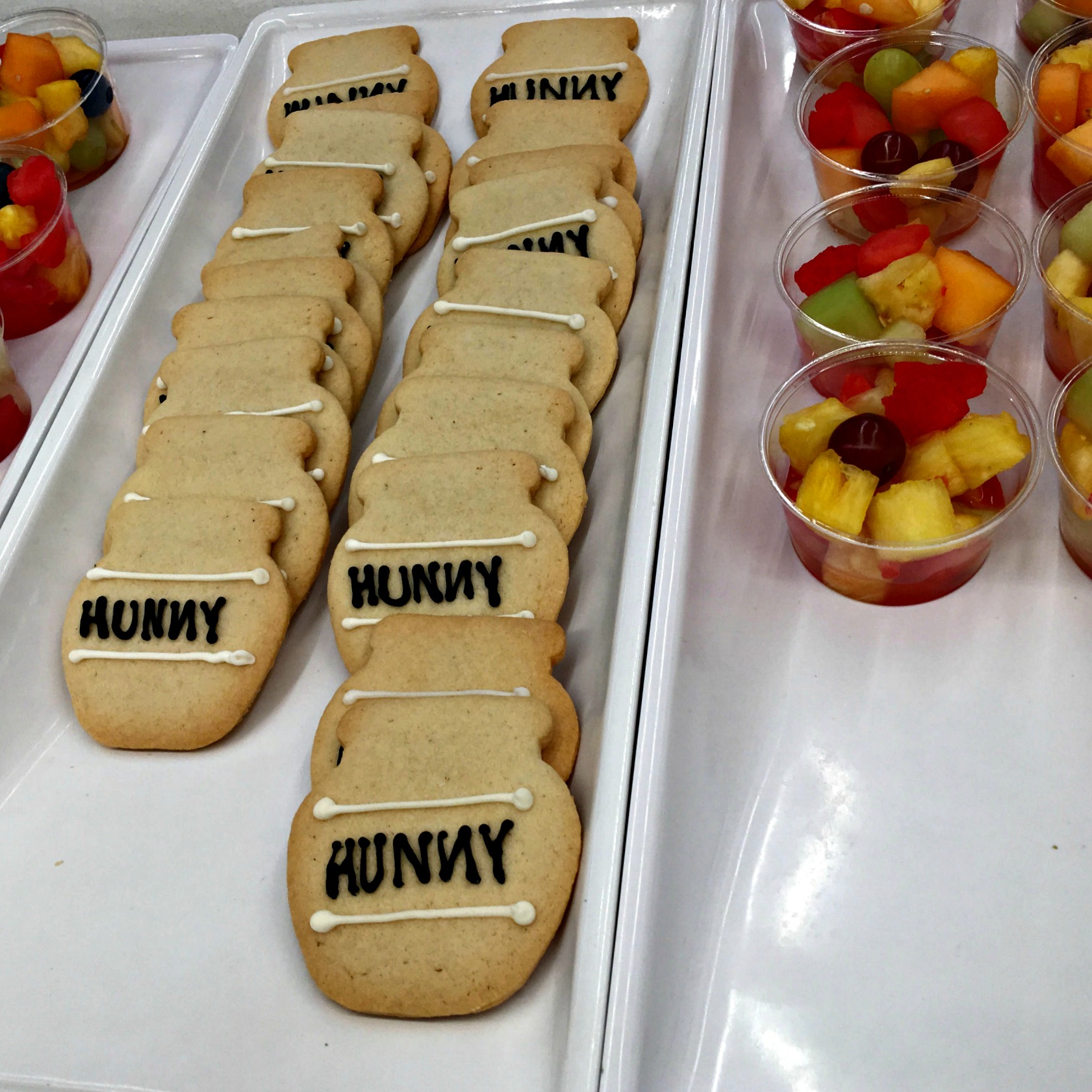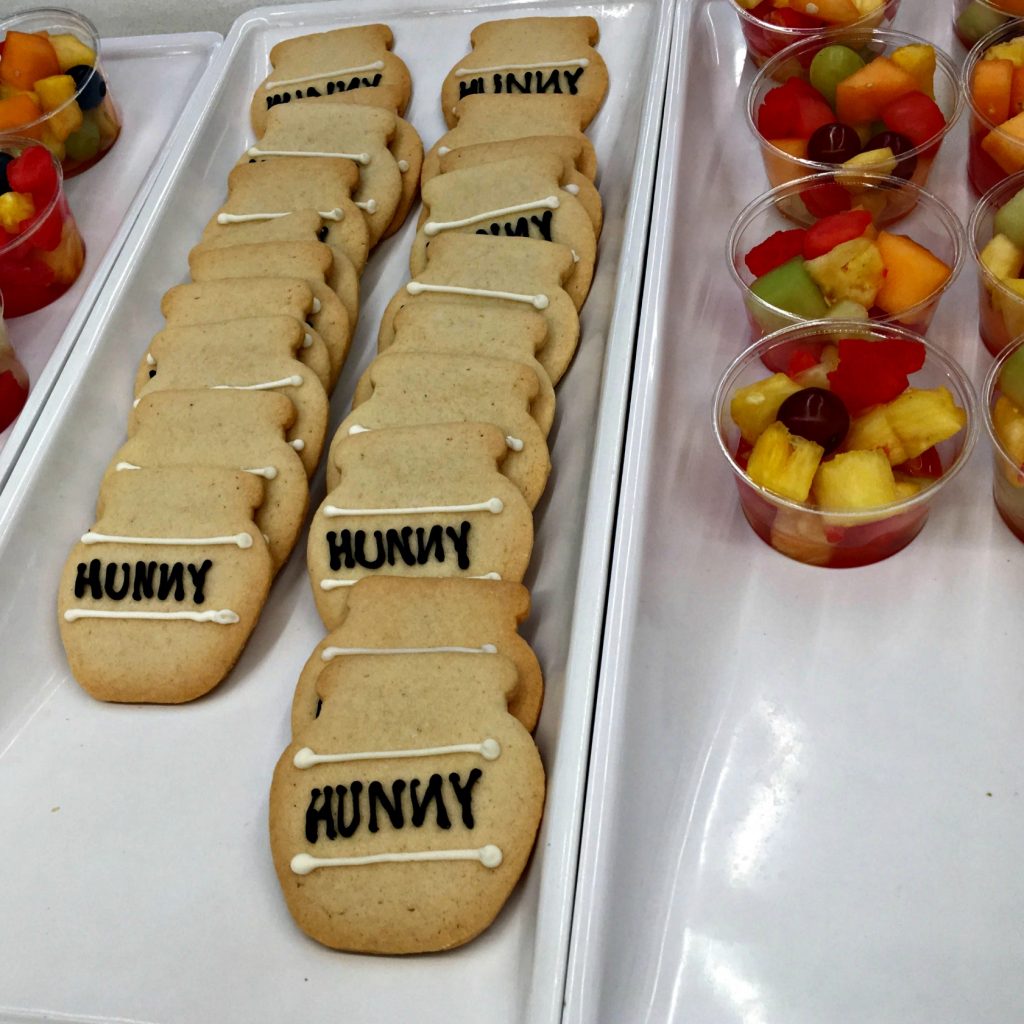 I love a good sugar cookie and this one didn't disappoint. There was also fish and chips (as the film is set in England) and a variety of sweets and other light bites…there were even Mickey Bars! The #ChristopherRobinEvent also had a signature cocktail called "The Smackerel." The ingredients contained vodka, brown sugar, lime, crushed ice, and, of course, honey. I unfortunately didn't get a chance to try it before the Disney Cast Members ushered us toward the theater.
The pre-premiere party was a people watcher's paradise. I am not a great celebrity spotter, although I did get close to Ewan McGregor on the red carpet and I had this "kind of a moment" with Brad Garrett, who provides the voice of Eeyore. We know him best as Robert Barone from Everybody Loves Raymond  but his baritone voice is just perfect for our favorite, glum little donkey. We had this moment of eye contact where I had that puzzled "I know who you are but I can't place you" look on my face. He smirked down at me from his impressive 6″8 height and kept on walking. I figured out who he was later.
My friends got to rub elbows with John Stamos, Tori Spelling, Angela Bassett and Hayley Atwell, who plays Evelyn Robin (Christopher's wife.) The red carpet was a super high-energy and festive experience. I will remember how it felt to be there forever.
We had to give up our phones before we entered the theater. We were asked to put them on silent or turn them off and place them in a secure envelope that was sealed for the duration of the movie. Oh, and I have the answer to a very important question that you probably have…yes, there IS popcorn at a Hollywood movie premiere!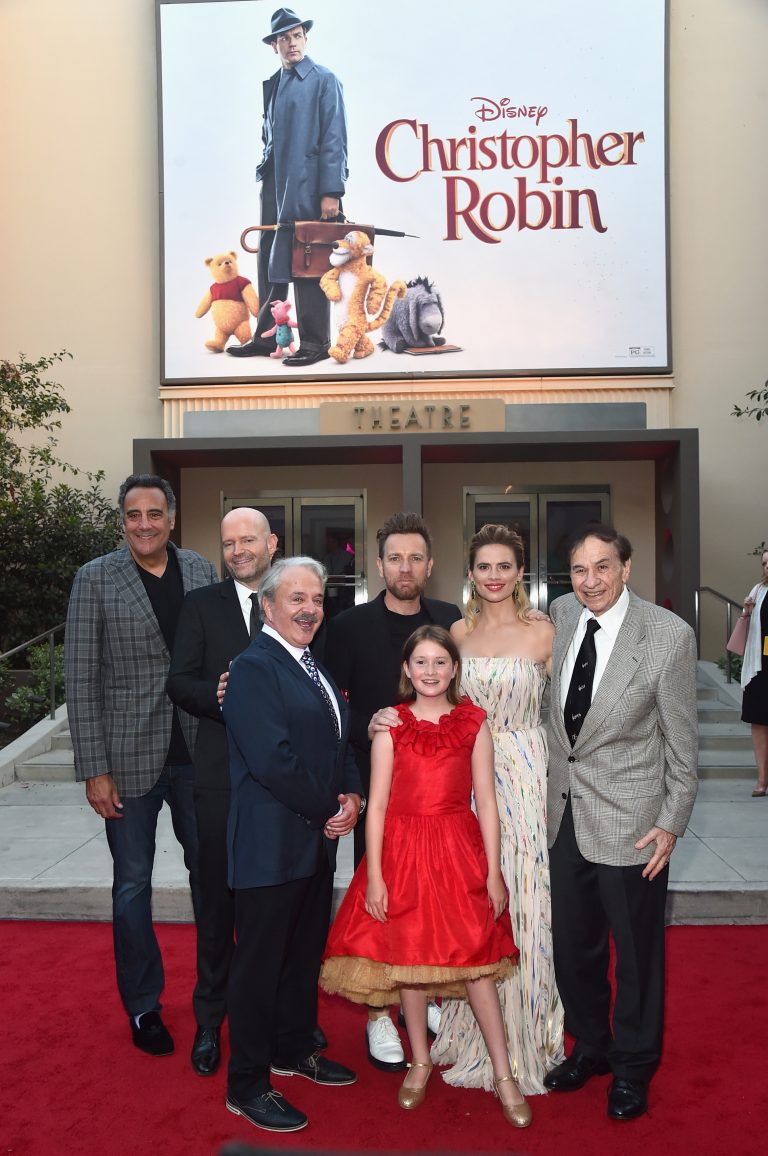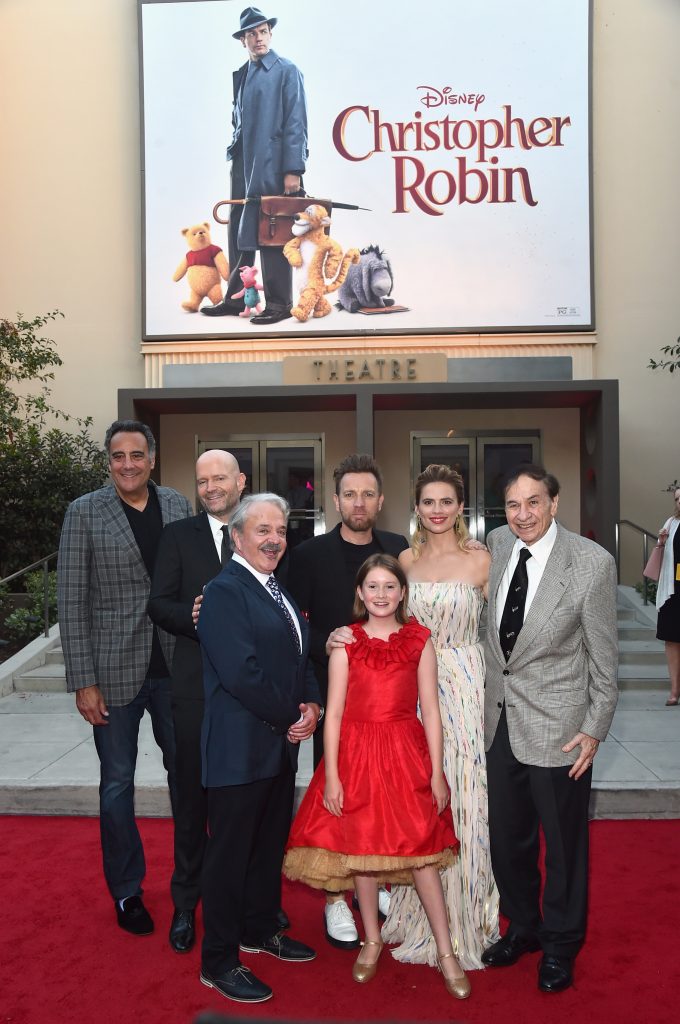 I got to sit on the very front row smack in the center for the world premiere of Disney's Christopher Robin. I wish I could have taken a picture but my phone was already secured at that point. The entire experience was magical and surreal. I am still pinching myself to make sure that this actually happened and that I didn't dream it up.
I went back to my hotel room, washed off my sparkly makeup, took off my high heels and went to bed happy, and although the phrase "turned back into a pumpkin" kept playing in my mind, the feeling I had as I closed my eyes was still pretty special. My experience on the red carpet for the premiere of Disney's Christopher Robin is going to make me smile for a long time.
Thank you again, Disney Studios, for delivering this dose of Pixie Dust and Magic to my little corner of the world. I'm so excited to have had this experience and to share it.
CHRISTOPHER ROBIN arrives in theatres everywhere on August 3rd! Tickets are on sale now! Stay tuned for more exclusive behind-the-scenes awesomeness that I got during my whirlwind three days in Los Angeles, to include my interviews with the cast. I can't wait to share more of my experiences from the premiere of Disney's Christopher Robin with you! To stay up-to-date, subscribe to the blog and follow #ChristopherRobinEvent on social media.
Like CHRISTOPHER ROBIN on Facebook: https://www.facebook.com/DisneyChristopherRobin/
Follow Walt Disney Studios on Twitter: https://twitter.com/disneystudios 
Follow Walt Disney Studios on Instagram: https://www.instagram.com/disneystudios/
You might also like:
Next stop, Disney's Christopher Robin Event