25 Things to do instead of social media
This past week has been…challenging. And by challenging, I mean weird and anxiety inducing. I know none of you have been living under a rock so I don't need to do a coronavirus update and list all the things that have been closed or cancelled. I've watched my plans for the spring go down the drain just like everyone else has and, like everyone else, I'm facing a whole lot of uncertainty. In addition to the stress caused by uncertainty, the issues we're facing are causing divisiveness. One person says "You're not taking this seriously enough." Someone else says: "You're taking this too seriously." I've seen it and I know we'll see more of it before things turn around. Social distancing can include social media, friends. If you're overwhelmed with the information or find it stressful, annoying or what have you, I'm providing some tips on things to do instead of social media.
And no, I'm not suggesting you take a completely detox or break from social media, although it is honestly something I've thought about doing and might need to do for me. There are enough people out there telling you what you're not doing enough of and what you're doing too much of so I won't add my voice to theirs. These are just some alternative to scrolling in case you find yourself with extra time or just want to make some changes. These are easy, fun things to do instead of scrolling Facebook that have positive, constructive results.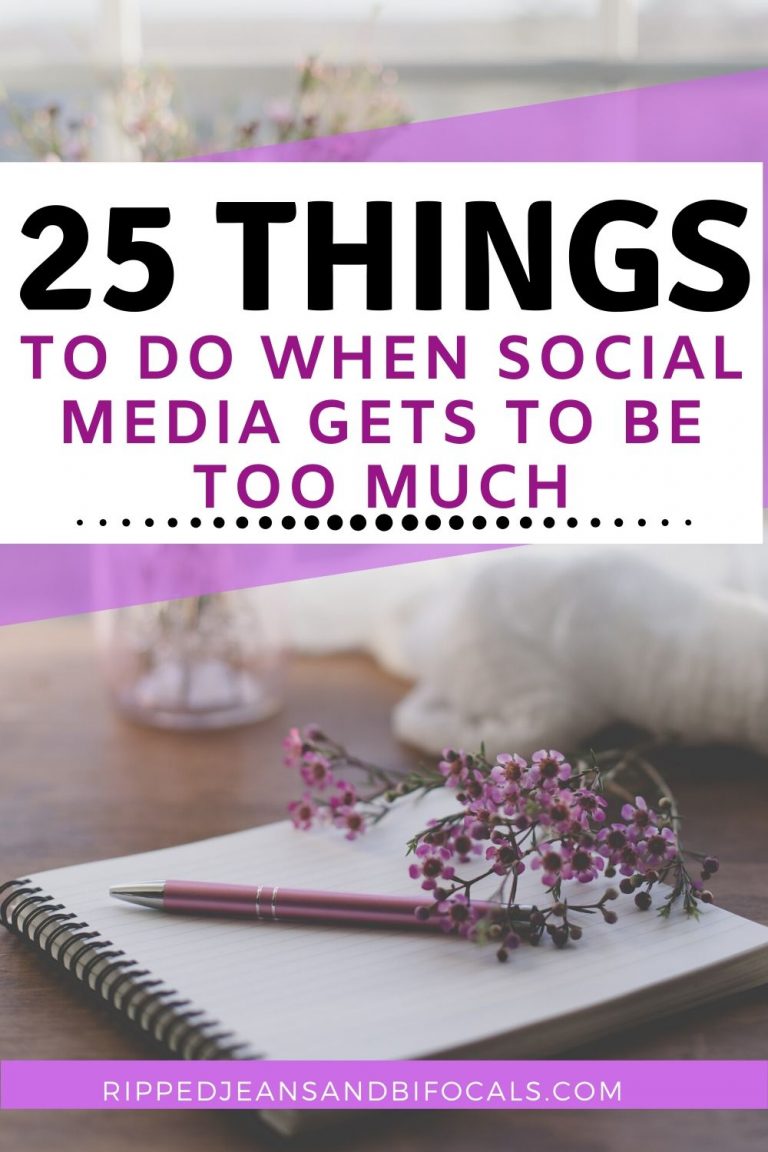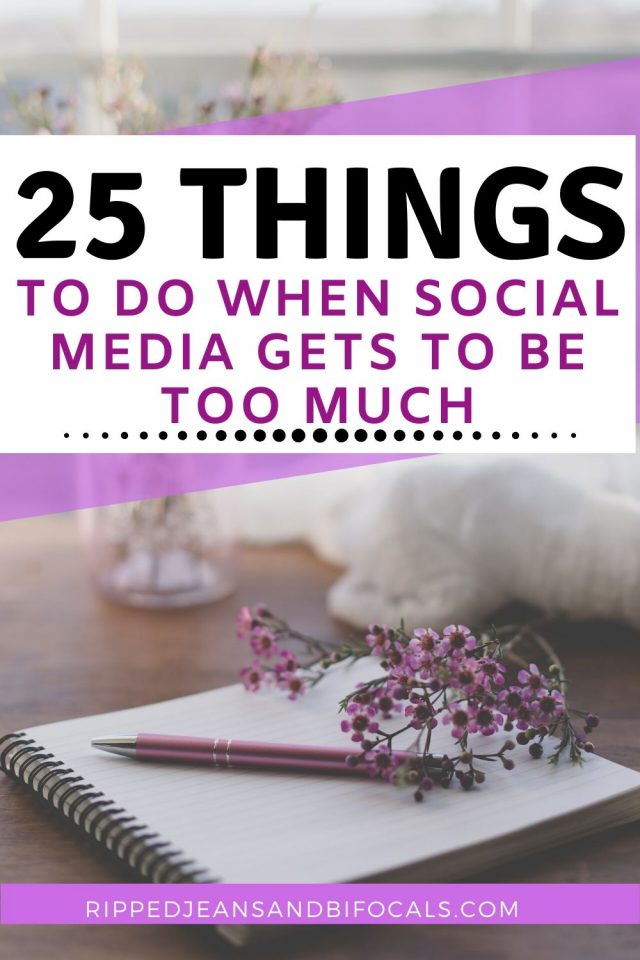 We are a participant in the Amazon Services LLC Associates Program, an affiliate advertising program designed to provide a means for us to earn fees by linking to Amazon.com and affiliated sites.
Have a happier, healthier day with these 25 things to do instead of social media
1. Exercise
Social distancing doesn't have to mean stay in your house. The gym may be off limits but you can still take a walk, go for a run or check out a new fitness video.
My kids and I are going to be taking some short hikes this week. A lot of our local parks remain open and most of them have great light hiking or walking trails. I just have to make sure they understand "park" doesn't equal playground. There are lots of things to do instead of social media that get you outside and into the fresh air that don't involve being around people.
2. Meal Plan
Meal planning is one of those things I say I'm going to do "when I get organized" or "when I have time." Make a list of what you've got on hand and try planning your meals for the week around what you've already got. Get creative or ask friends for recipes.
"What can I make with a can of tuna, white beans and Rotel?"
If you really wanna go crazy, you can inventory your pantry. I'm not there yet but the idea is oddly appealing. You can actually order kitchen inventory printables off Etsy. I might or might not have these in my cart.
3. Write a letter
Bust out those note cards or pretty stationary you've had stashed in a drawer since forever. Bonus points if you write to someone who doesn't use social media.
If you're looking for things to do instead of scrolling Facebook, put your device away and grab a pen. You will make someone's day.
4. Take a bath
I have a basket full of fancy bath bombs and a bottle of never-been-opened bath oil. If things rings familiar and you've been waiting to have that "special occasion bath" then maybe now is the time.
5. Drink your fancy tea
I drink a cup of coffee every morning but I also have an impressive collection of loose tea and herbal tea bags. Break out that really nice mug and brew yourself a cup and settle in with a good book or a magazine or my personal favorite, Netflix.
6. Meditate
If you don't meditate, now is a great time to give it a try. I'm not very good at it but I've been making an effort. On a normal day, my brain moves really fast and efforts to slow my breathing and center my thoughts usually have the opposite effect on me. But, practice makes perfect.
I've been using the Calm App. There's a free trial and after that, it is $59.99 per year. I wish I could say I'm super diligent about using it but I can say that I'm trying and that there's a lot of variety there.
7. Make a to-do list…or several of them
There's nothing like the feeling of accomplishment you get from checking things off a list. Make a list of all the things you've been meaning to get done around the house. You can also have fun with this and make a list of family or personal goals you want to accomplish or a list of contacts you want to reach out to. You can even get a dedicated notebook and use it to keep your various lists organized.
If you're looking for things to do instead of social media you can probably brain storm a bunch of them. Divide them into manageable or even fun lists.
Wanna really have some fun? Order these printable "Get Shit Done" lists from Etsy.
8. Schedule a movie marathon
If you need an excuse to re-watch all the Twilight movies (don't judge me) maybe now is the perfect time to do that or to introduce someone new to the world of sparkly vampires.
I've just introduced my kids to The Hunger Games. It's one of my very favorites and I've watched the movies and read the trilogy way more often than I care to admit. "You here to finish me off, sweetheart?" Who said that?
You could make a list (see above) of all the sagas you want to check out, i.e. Marvel Cinematic Universe, Harry Potter, Star Wars. Have fun with it!
P.S. Don't tell my husband about this one. He's been making noises about Lord of the Rings stuff and I am not here for that.
9. Give yourself a manicure
If you're looking for things to do besides scrolling Facebook, here's an idea to keep your fingers busy for a few minutes – give yourself a manicure.
Even if you don't usually do your nails, taking some time to file and buff them can be soothing and make you feel good about yourself. Or, use this time where you might be limiting interaction with other people to try something really crazy, like neon orange nail polish. Why not?
10. Plan your next vacation
Even though most people aren't traveling right now – I totally get the angst of cancelled trips, by the way – there is going to be an end to this time and people will travel again. Take this time to make your wish list or even start a Pinterest board with travel ideas.
My blog has taken a huge hit because people aren't searching for travel-related content right now, so if you want to visit my website and click around to get some travel ideas, I would appreciate that very much. You can also email me your travel-related questions and I'd be happy to make suggestions or give insight.
Even though scrolling Facebook does give you some great ideas for travel, you can find just as much on travel blogs and websites or on Pinterest. Check out my travel boards to give you some ideas for places to go once travel opens up again – because it will.
11. Try a new hairstyle
Trying something new with your hair is one of the really fun things you can do instead of social media. Braids and fishtails take practice. If you find you have a few minutes each day, practice a new style whether its on your own head or someone else's. Both Pinterest and YouTube have great hair tutorials.
Even those Twilight or Twilight take some time to master…at least that is the case for me
18. Practice a new makeup look
I'm taking this time at home to not wear makeup, however, if you've been wanting to experiment with a smokey eye or a winged liner – both totally elusive to me – now is a great time to do that.
Here are some YouTube videos that I found that you might enjoy:
19. Delete and/or organize your digital photos
How many photos are on your phone? I have over 20,000 photos in my cloud. Some of them I've saved for a reason and others are just random pictures of my elbow my kids have taken or a picture of a sign because I wanted to remember the info for later.
I also take a lot of pictures and videos with my cameras and my Twilight. I'm horrible about not downloading my pictures or doing any semblance of organizing when I return from a trip. I spent almost an hour this morning searching for our pictures from Caprock Canyon State Park last February. I'm going to take some time this week and organize my digital files.
20. Clean out a closet or a drawer
Start small. If I saw "I'm going to organize my house this week" well then I've failed before I've started. My closet is a horror show and you know how most people have that one drawer they use to dump their junk? I have an entire room I've been using to dump my junk and we won't even talk about my garage. I'm pretty sure there could be a family of four living in there and I'd never know it.
De-cluttering my house is daunting. But using that time I'd spend scrolling to clear out a drawer. Do-able.
And, even if your closet is a horror show like mine, set a timer and do what you can during an established period of time. You'd be surprised at what you can accomplish in 10 minutes.
21. Make a new playlist
I love Spotify. I have the paid version which allows me to skip the commercial interruptions and lets me pick the order my songs are played in. I love making playlists for specific trips or specific moods, like "housecleaning" or "road trip." This is a fun thing to do with kids, also. Letting each of your kids have "their" play list makes traveling – even if it is a short trip – more fun and it's good time spent together.
Here's a playlist I put together for my blog post about the new Kia Seltos. I think it makes a good driving playlist no matter what you're driving or where you're going.
22. Watch a TED Talk
TED Talks are my new favorite thing. You can find inspiration or information there. I find TED Talks to be overwhelmingly positive and uplifting and who doesn't need that right now? There are so many talks to choose from and you can see how long they are on the home screen. You can pick something that meets the length of time you want to spend and maybe pick out a few to watch for later.
23. Unsubscribe from promotional emails
I'm sure by now, we know the coronavirus stance or plan for every single business we've ever given our email to. Whether it's an airline or your power company or a store you bought shoes from two years ago, everyone wants to take the opportunity to tell you how the coronavirus is impacting them and reassure you that they remain committed to your safety.
I went through and I did a mass unsubscribe in January but the flood of recent emails has me like "Dang…I've given my email out to a lot of places." If you're not interested in seeing those emails or just want to manage your preferences, use this time to clean out your inbox.
24. Snooze your friends
I'm connected to a lot of people on social media I know in real life. I'm also connected to a lot of people where I'm all "And WHO is that person again?" No matter the level of connection, I now know EV-REE-BODY's stance on COVID-19.
I respect everyone's right to see this thing however they see it and to express themselves. I also appreciate that some of the people I'm connected to feel it their duty to flood my feed with every single update and closure or that my San Antonio-based news channel wants to notify me that they're streaming announcements from North Carolina.
I get it.
But, it's saturated my feed and is having a negative effect on my well-being. While I have limited my time online, I do take the opportunity to unfriend or unfollow people whose posts are causing my feed to be not what I want it to be.
By the way, you can unfollow someone and still remain friends with them. They won't know you unfollowed them and you can still see their posts if you deliberately go to their profile. I've only been unfriending the "And WHO is that again?" people that I'm somehow connected to on Facebook. I've opted to make my online world a little smaller and that's OK.
25. Watch cat videos
If all fails, cat videos never fail to make people laugh. You don't even have to be a cat lover. Here are a few of my favorites but I'd love to find some new ones. I'd love it if you would share some of your favorites.
No cats were harmed during the making of these videos. At least I hope not. I mean…I don't really know for sure.
https://www.facebook.com/CatsZonePage/videos/826773281000292/
https://www.facebook.com/CatsZonePage/videos/640613709741905/
https://www.facebook.com/WeAreCoverMagic/videos/352798605150905/