This cooking club for kids is RAD. A Raddish Kids Review
Raddish Kids is one of our favorite subscription boxes for kids. It's marketed as a "cooking club for kids" which is a great way to describe it. My junior chef loved it. I hope you enjoy our Raddish Kids review.
This cooking club for kids is RAD. A Raddish Kids Review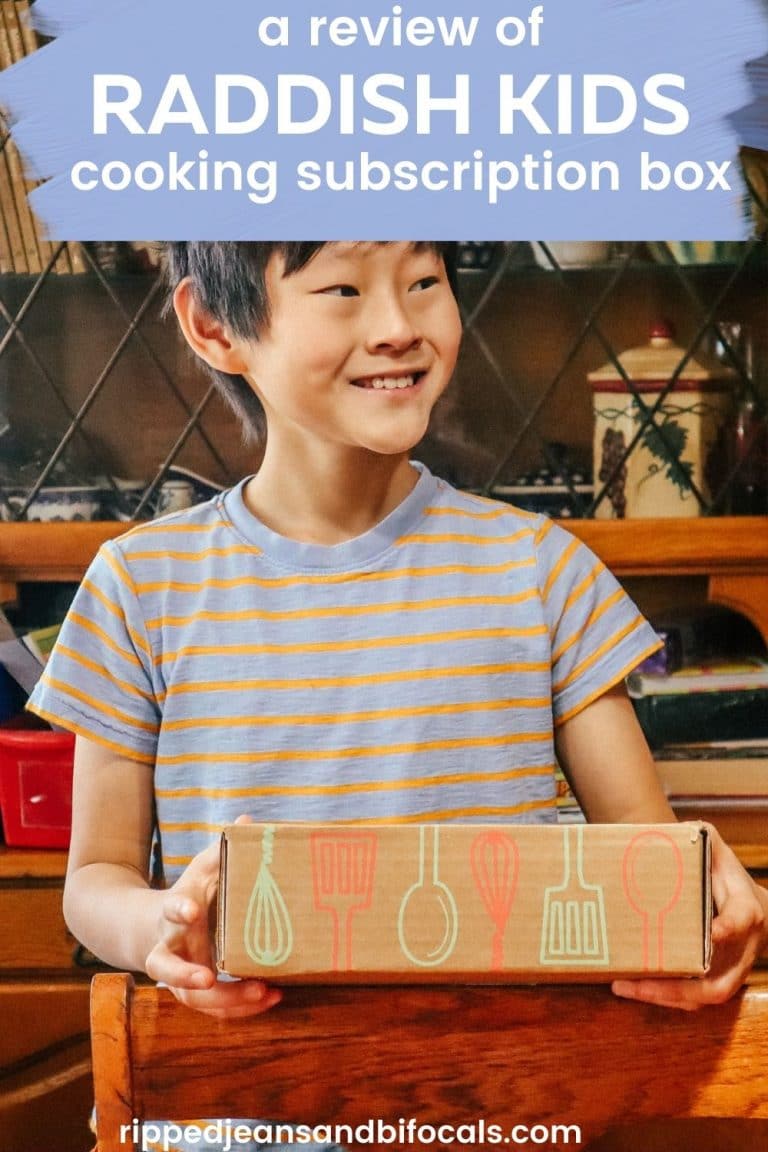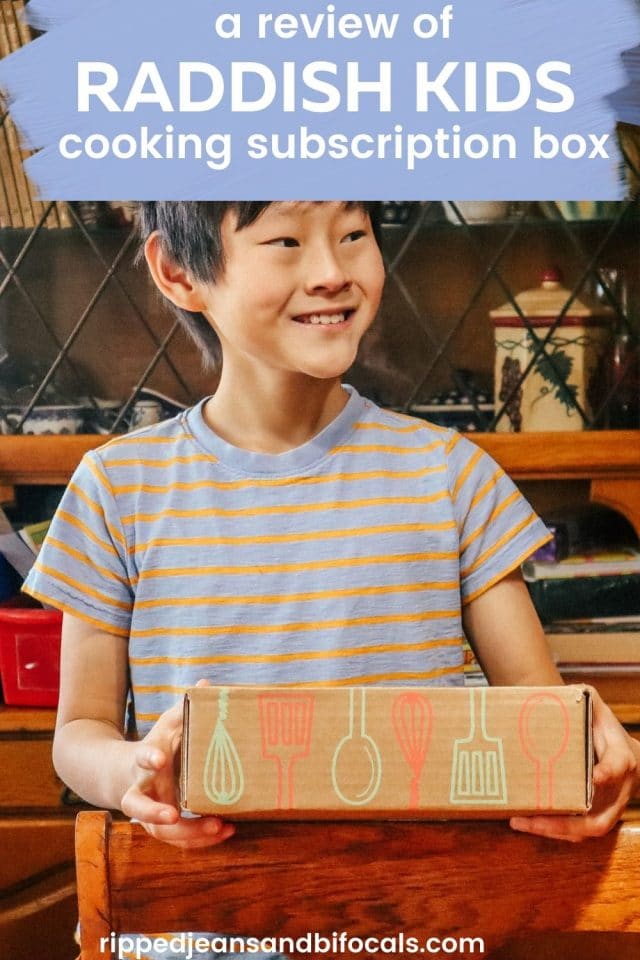 Disclaimer: We are a participant in the Amazon Services LLC Associates Program, an affiliate advertising program designed to provide a means for us to earn fees by linking to Amazon.com and affiliated sites. This post may also contain affiliate links to other sites where I will be paid a commission by the seller if you make a purchase.
I am a big fan of subscription boxes, both in gifting and in getting. I also really love meal prep boxes like Blue Apron and Dinnerly. I'm so-so at meal planning but it's nice for someone else to do it for me once in a while, too. While Raddish Kids isn't exactly a meal prep box, my son Kyle got one and we recently gave the service a test run. If you've been thinking about trying Raddish Kids or you're looking for a fun subscription service or a great gift, I hope you'll find our Raddish Kids review helpful.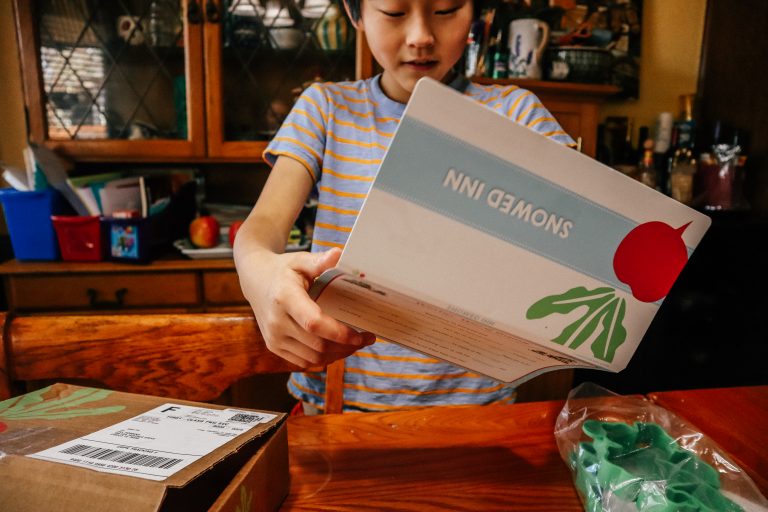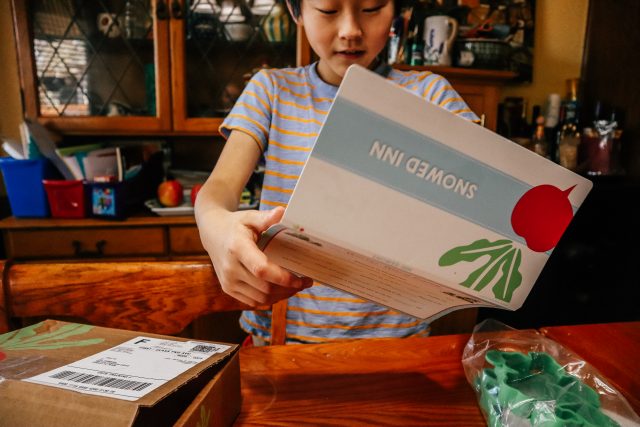 What is Raddish Kids, exactly?
Raddish Kids is a cooking club for kids ages 4-14+. The goal is to provide something fun for families to do together and it nurtures kids' confidence and skill in the kitchen.
A themed box is delivered every month with recipe guides, activities, a collectible iron on patch and a culinary tool. The boxes do not contain food. The recipe cards contain a complete list of ingredients and a breakdown of what kitchen equipment is needed for the recipe. A shopping list is also emailed to you in advance of your delivery so you can be ready to dig in to your box as soon as you get it, if you want to do that.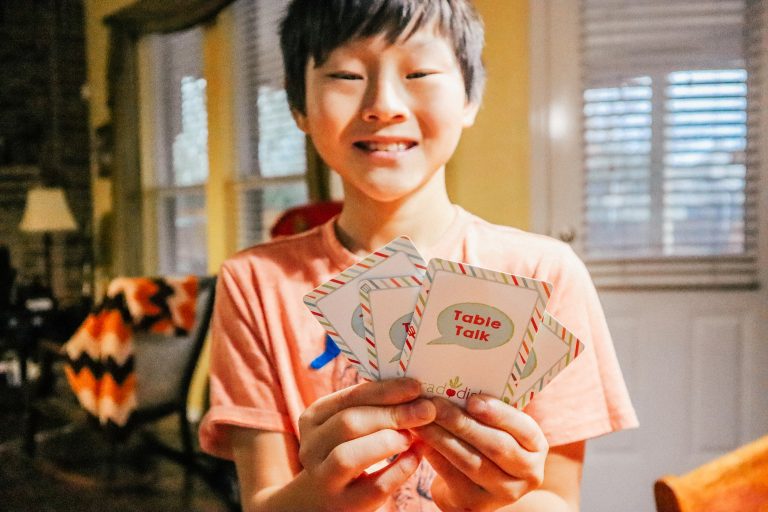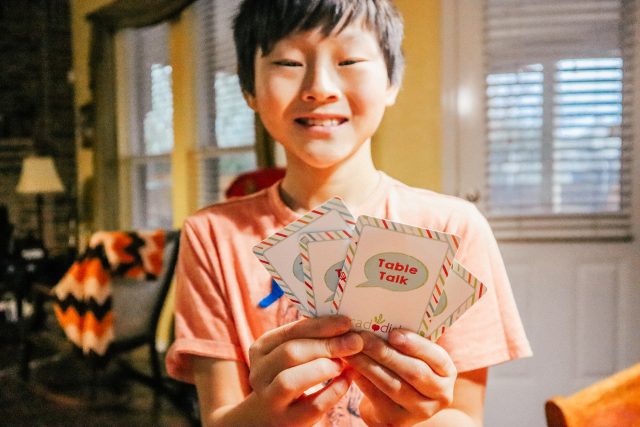 How does it work?
You'll have to sign up to receive a monthly box. You can order month to month or commit to six or 12 months of Raddish Kids boxes. With the month-to-month, you'll be billed per box. With the six and 12 month subscription services, you'll pay for your boxes up front and get a discounted rate.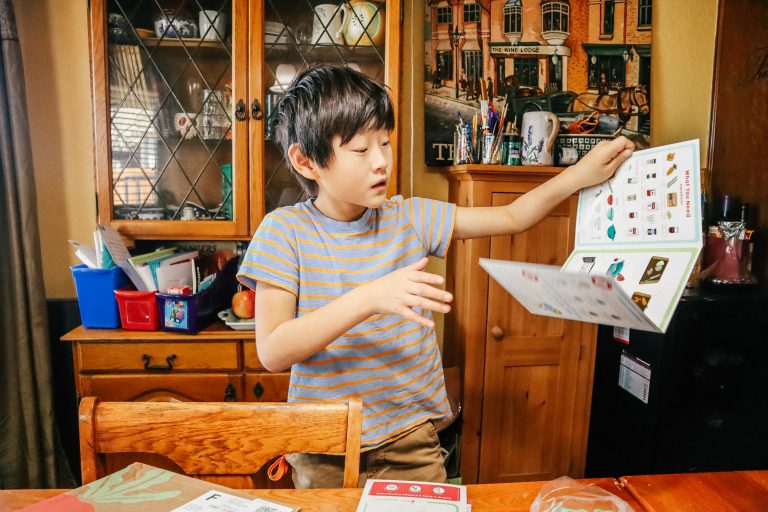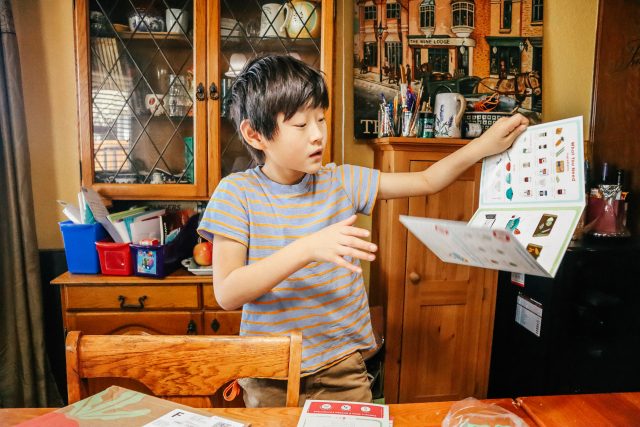 Raddish Kids is $20-$24 per month, depending on which subscription plan you choose. Obviously the 12-month subscription is the best deal. Part of me feels like this is a lot for a box of recipes and one culinary tool but the other part of me was really impressed with the quality and durability of the materials. The recipe cards and Table Talk cards are laminated and can be wiped clean and re-used. While you can look up a recipe and create the same type of experience, the themed box is a lot of fun and really special for the kid who gets it. Think of it as spending around $20 bucks to have an extended activity with your kids. Three recipes = lots of unplugged time with your kids.
Age Appropriate
I believe in starting kids young in the kitchen. There are lots of things a four-year-old can do to help out in the kitchen, such as help gather ingredients, mix, assemble dishes and more.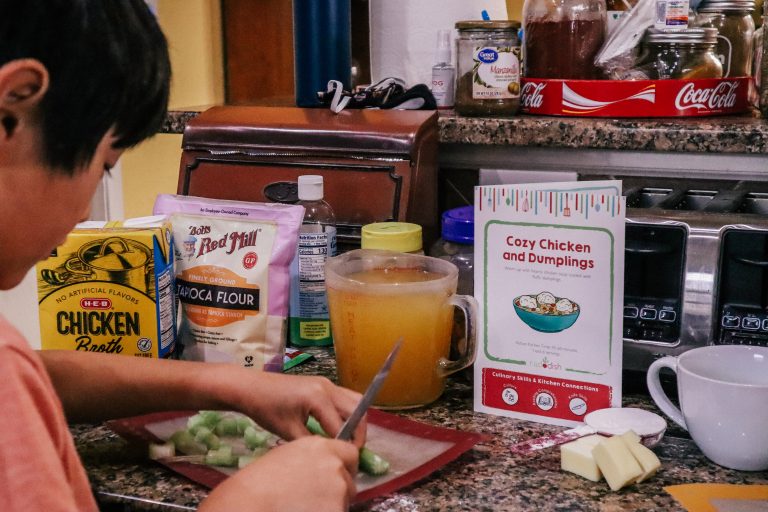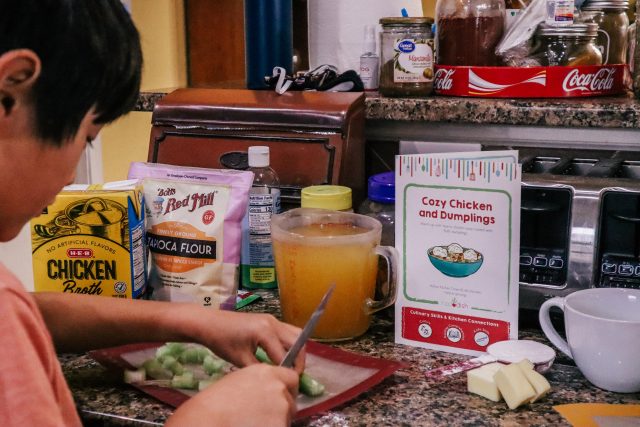 Both my kids enjoy being in the kitchen with me but Kyle seems to like it a little bit more. He's the one that's always asking when our meal prep boxes are coming and he tells me he loves cooking with me, which I never get tired of hearing.
Kyle is 10 and I found he was able to do a lot of the work independently. He's a pretty good reader and was able to read most of the recipe. He's got some decent knife skills and understands the basics of using measuring cups and spoons but he's more hesitant using the stove so our meals prepared together are usually about 50/50.
Raddish Kids – Snowed Inn
We got the Snowed Inn box which is a winter-themed box. Our three recipes were chicken and dumplings, alpine pancakes, and fudge snowcapped cookies. We got our box right before Christmas but waited to open it until a cold, rainy weekend in January, when warm comfort food was exactly the thing we needed.
I am a pretty accomplished cook but I have never made chicken and dumplings or used pancake molds so these recipes were a learning experience for me, too. The silicone pancake molds were the culinary tool included in this box and they were great quality and very sturdy. I can see us using them again and again.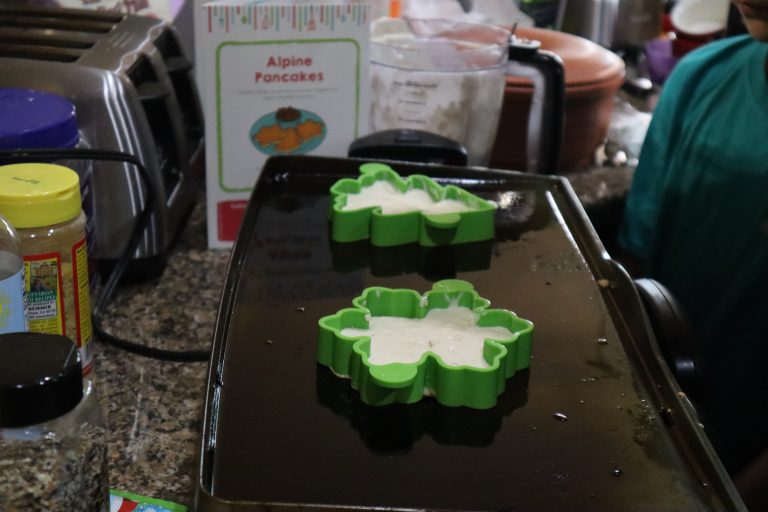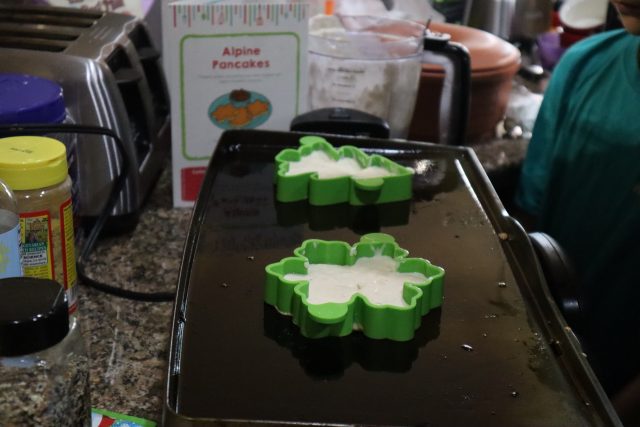 I was really impressed with the recipes. They were geared towards kids so they weren't complicated but they had multiple ingredients and taught several kitchen skill sets, such as peeling, chopping, using a spatula to to turn pancakes, using a blender and more. I think the average family kitchen would be adequately stocked with the tools you need to make these recipes.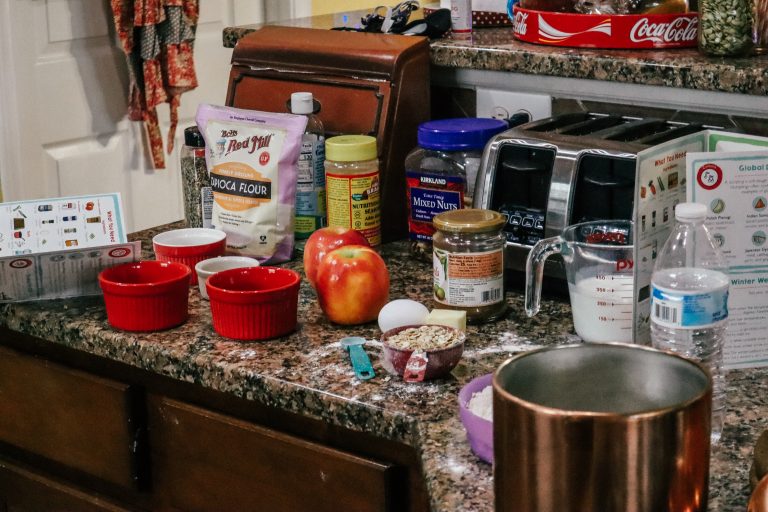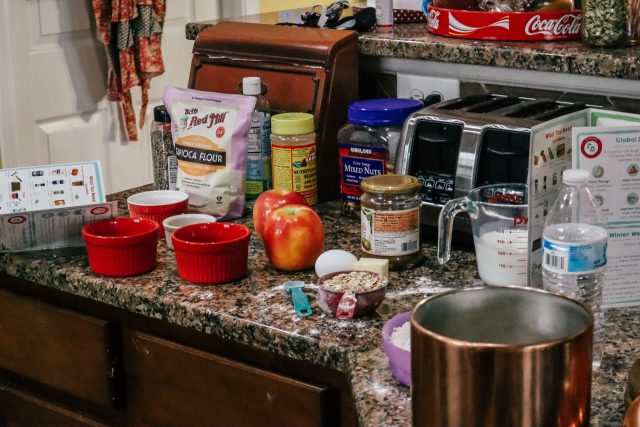 We also really loved the Table Talk cards. We enjoyed our chicken and dumplings and some fun conversation on a cold and dreary Saturday.
Raddish Kids Website – Bonus Bites
Bonus Bites is a seriously cool way to get more out of your subscription box. Bonus Bites includes themed Spotify playlists for each box, extra recipes, cooking videos and other activities.
If you're looking to modify your recipes to suit your particular diet, this is the section you go to. If you want to make your recipes gluten-free, egg-free, dairy-free or vegan, you totally can. It looks like all of these recipes are adaptable to any type of diet plan, although vegan chicken and dumplings made with mushrooms and vegetable broth just would not be the same.
Bonus Bites also contains resources for parents and homeschool resources. We don't homeschool but that doesn't mean we don't take advantage of opportunities to teach and learn in the kitchen.
Other things to know
These recipes are not fancy or complicated and the ingredients are pretty common. No need to go to any specialty stores. You probably have most of the ingredients in your pantry and can easily get any fresh ingredients at your local supermarket.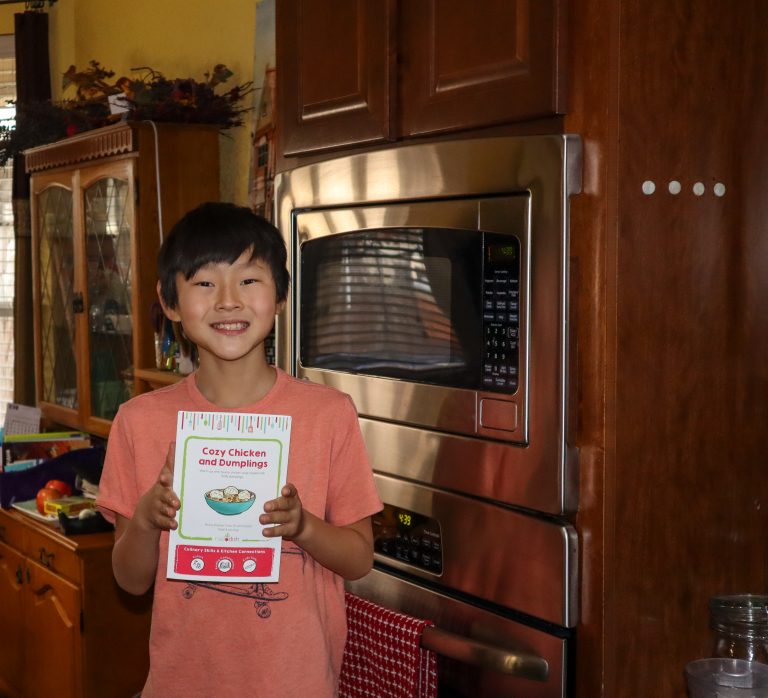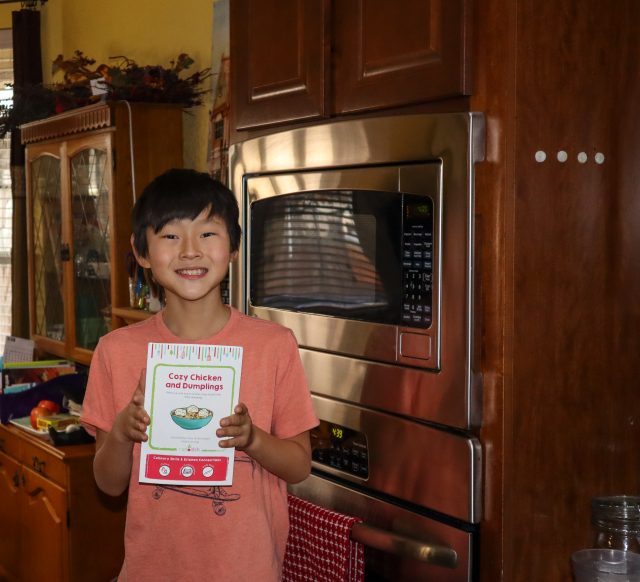 I can see us looking forward to getting this boxes every month and even making these recipes multiple times and experimenting with the ingredients, like adding a little dill to the dumpling batter in our new favorite chicken and dumplings recipe.
The six and 12 month subscription boxes come with a Raddish Kids apron. If you want to order an extra for a sibling, you can do that at checkout. You can also opt-in to have another set of culinary tools/iron-on patches included for a small fee.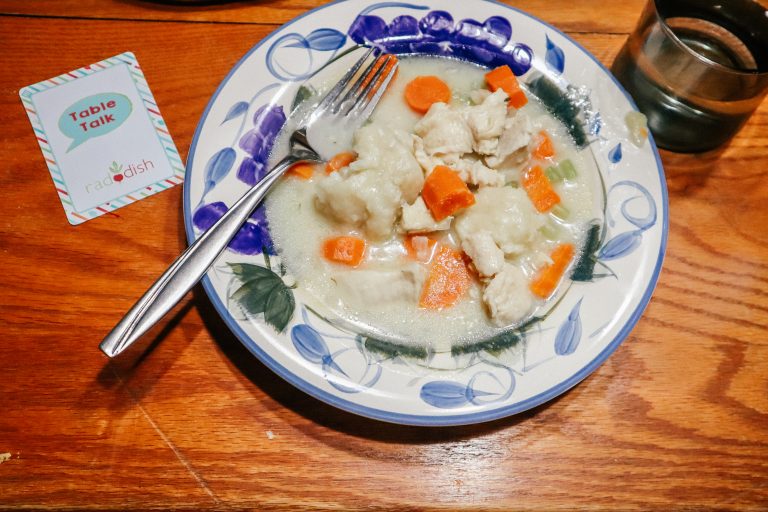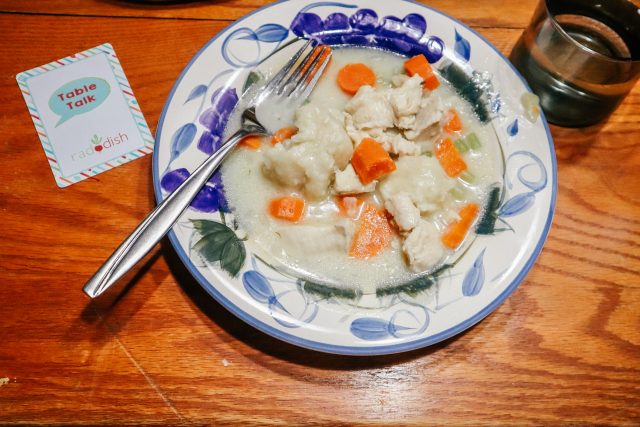 A Raddish Kids Review – Final Thoughts from Parents and Kids
I asked my son if he wanted me to order him another Raddish Kids box and the answer was an enthusiastic YES. Although it is on the pricier side of subscription boxes for kids without a lot of tangible products, there is nothing I don't like about Raddish Kids. The recipes were great, the products in the box were really fun and durable – I really love that the recipe cards are laminated and include pictures – and it gave us some great family time, both in the kitchen preparing and at the table eating.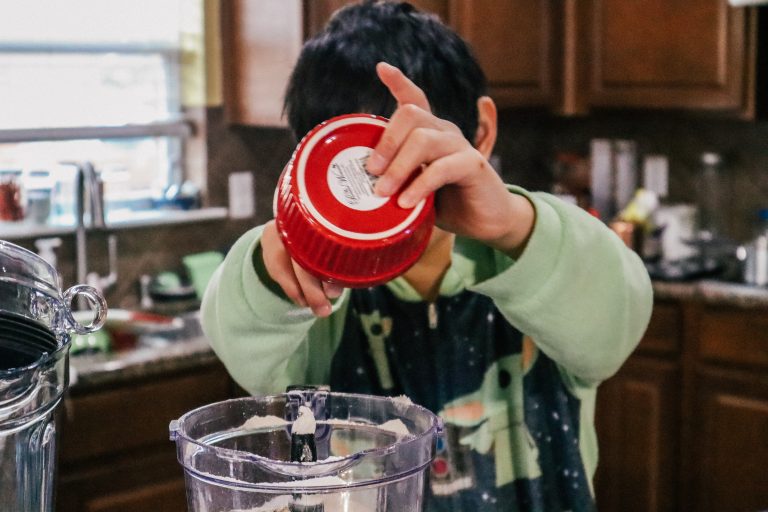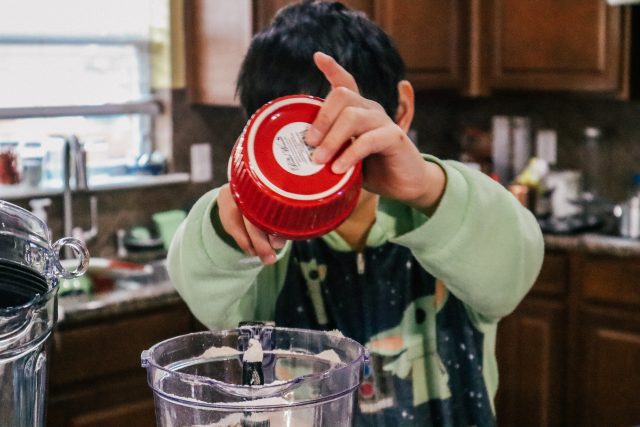 After our first box, I can't really see us not digging into our new boxes as soon as we get them, however, nothing in the box is perishable so you can store them or stockpile them if you want to. Some of the boxes are seasonal, like our Snowed Inn box. It contained a really fun extra recipe card for hot chocolate in a jar with cute gift tags that would have been perfect for holiday gifting so we'll save them for next year.
These boxes also make great birthday party gifts. We like to stay in the $20 price range, so these are perfect. You can gift a box you don't use or go online and gift a box.
Want to try Raddish Kids for yourself?
Order here via my affiliate link and let me know how you like it! I feel very comfortable recommending this to families with kids who already love to cook or to any parent who wants to help their kids gain more knowledge and confidence in the kitchen. I hope you've found our Raddish Kids review helpful. We were provided a box at no cost to facilitate this review and I'll earn a commission if you sign up to receive these. All opinions (as a parent and a home chef) are 100 percent honest.