Spring Closet Refresh with Stitch Fix
(This post may contain affiliate links. Read my full disclosure.)
If you haven't heard of the Netflix show Tidying Up, you've been living under a rock. The show features Marie Kondo herself coming into the homes of regular people who want her help eliminating clutter and getting organized. I only watched a couple of episodes and I have never read any of Marie Kondo's books, but like many other people around the globe, I was inspired to clean out my closets and drawers and to get rid of stuff I no longer wore or didn't fit. It also gave me an opportunity to look at things that were worn out and needed replacing, like socks and underwear. I'm excited to tell you about my spring closet refresh with Stitch . Less excited for you to see what a mess my closet still is but it's getting better. Baby steps, y'all.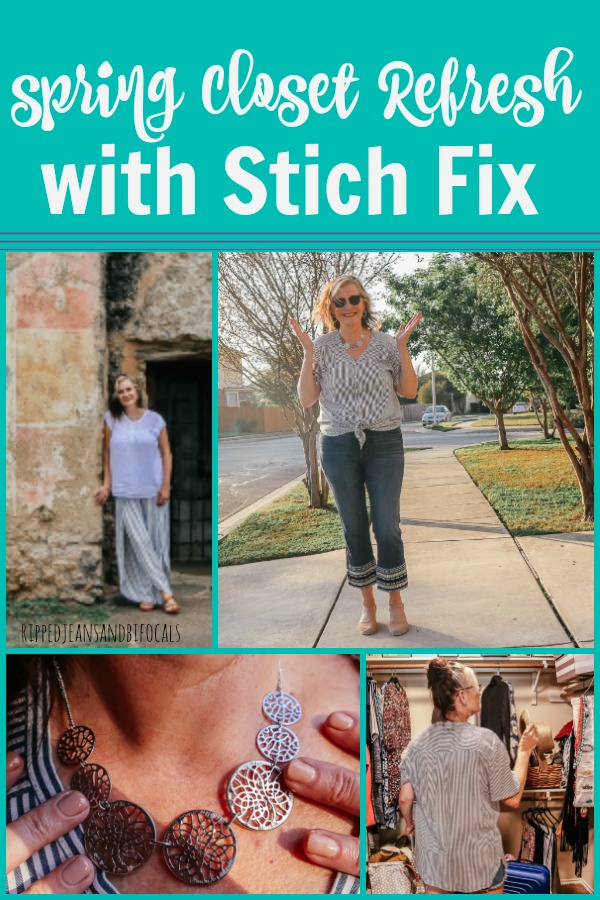 This post has been sponsored by Stitch Fix. All opinions are my own. If you want to try Stitch Fix, too, there's a special offer just for my readers if you sign up with this link.
You'll receive $25 off your first fix. This offer is valid through 4/13/19. You can still sign up after that but you will not receive the $25 off. Keep reading for an explanation of how Stitch Fix works and how your credit will be applied.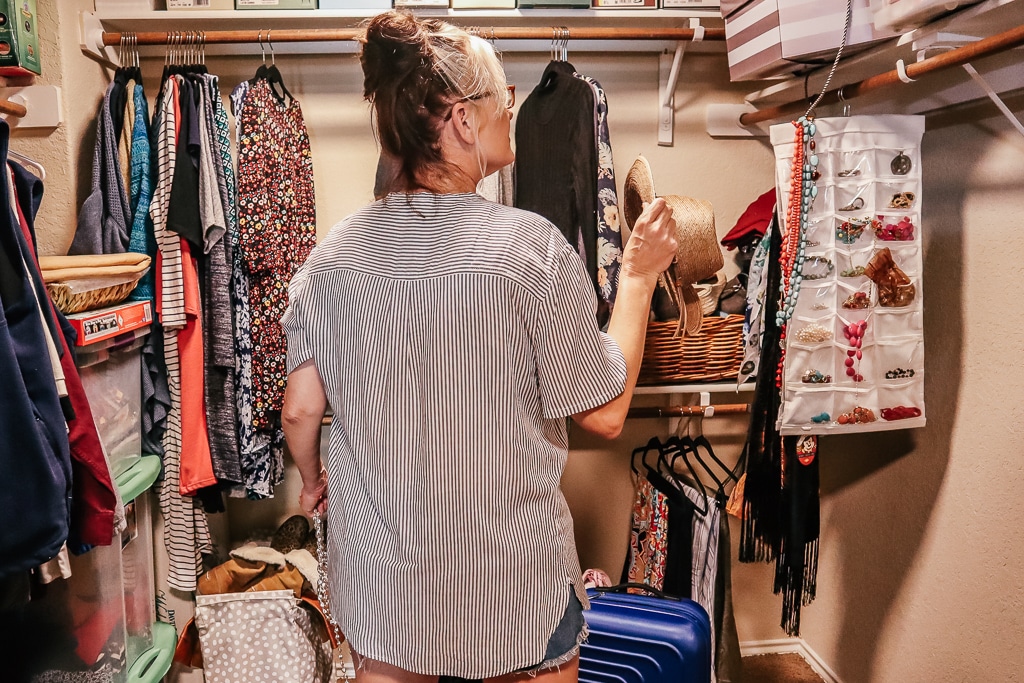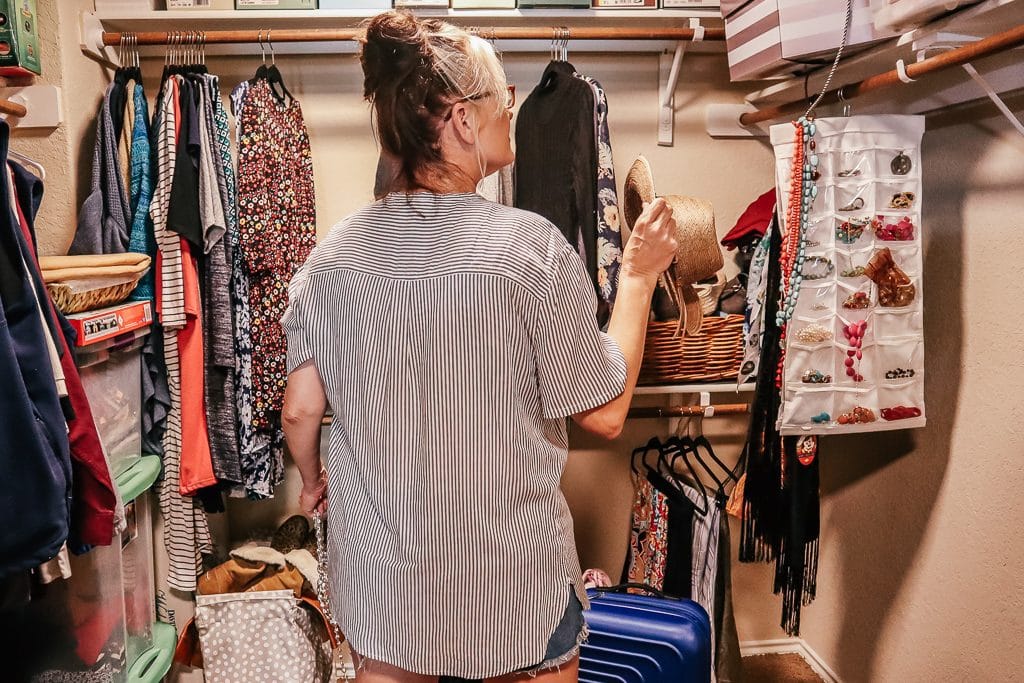 I purged a TON of clothes this year. I tried to go the capsule wardrobe route a few years ago and I packed up the majority of my closet and put it into bins. I told myself if I didn't go into the bins for six months, it meant I could donate them and be done with it. I picked 10 pieces of clothing that I thought I could make work for every occasion, excluding workout wear and lingerie. Only that didn't work for me. And, instead of retrieving things from the bins, I bought more clothes.
I've finally decided that a more minimal wardrobe is the right choice for me but that I don't need to be tied to a particular number of pieces. Before I buy something, I ask myself where I'll wear it and how often as well as how it fits with other things I already own…which is why I mostly stick to neutrals and blues. After this most recent closet purge, I asked my Stitch Fix stylist to find me some basics that could take me into spring. I asked for fun tops, the perfect pair of black pants and accessories.
Wanna see what I got?
Spring Closet Refresh with Stitch Fix
First, the basics. Most people know what Stitch Fix is but if you haven't, I'll break it down really quick. Stitch Fix is a styling service that sends you five items at a time. A stylist personally chooses things for you based on your style profile and any communication you do with her beforehand. For example, you can ask for "all skirts" or "clothes for my upcoming cruise" or just let them surprise you based on the profile you've filled out. You try on your clothes in the privacy of your own home (I love this because I can try things on with other things I have) and you pay for what you keep. What you don't want, you toss in a prepaid envelope and send back. If you don't keep anything, you pay a $20 styling fee. If you buy something, the styling fee is deducted from your purchase. The clothes come at various price points and you can choose what price points you're comfortable with.
If you use my link and purchase one item, you won't pay the styling fee plus you'll get a $25 credit to be applied toward that item. Pretty nifty, huh? Also, Stitch Fix carries an endless number of styles in sizes 0-24W & XS-3X so you'll have lots of choices no matter what your size and shape. I was missing a few things from my spring wardrobe and perhaps you are, too. If you sign up, you can leave a note for your stylist about exactly what you're looking for.
1. Vince Camuto Kade Slim Straight Leg Pant
I specifically asked for the "perfect" pair of black pants. I have a ton of black leggings…I got rid of a bunch during my closet purge but I still have three pairs of full length black leggings plus one pair of cropped. I won't tell you how many I got rid of, but my point is, I needed a pair of basic black pants that I can dress up or down. I don't usually do the business casual look but there are times when I need to look more professional and still keep my casual, boho chic style.
These pants, y'all. They are so soft and stretch and forgiving. They have just enough stretch to feel really good but they don't look like stretchy pants. I like the slim leg, too.
I even dressed up these pants for a cocktail party I went to recently. I am usually happy to wear a skirt or a dress but I was just not feeling one on this day so I paired these pants with a black top, a vintage wrap and some heels.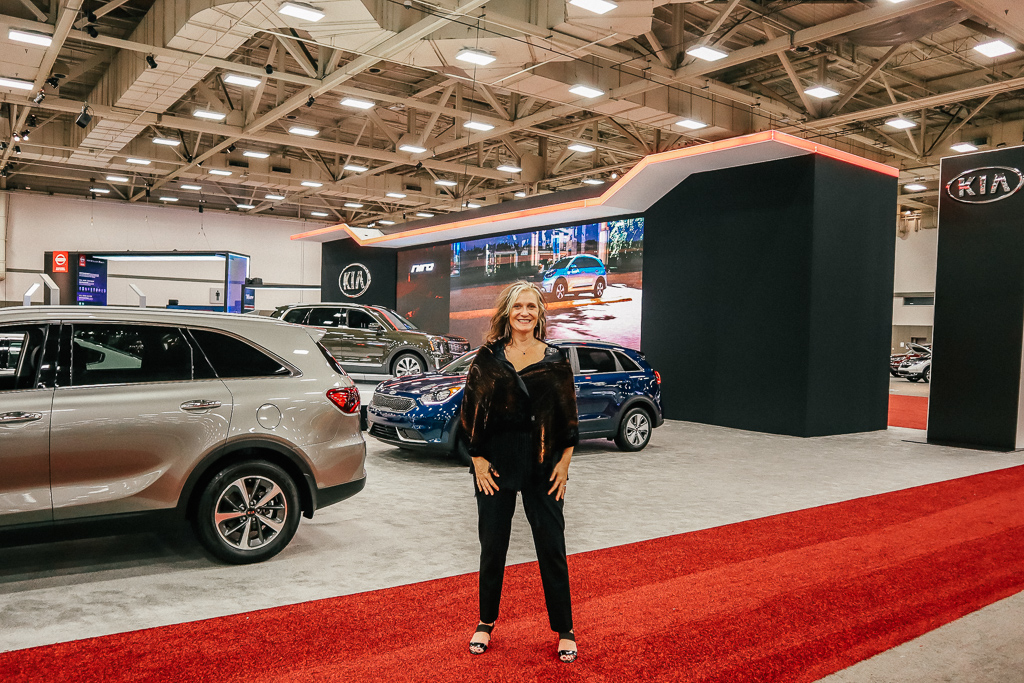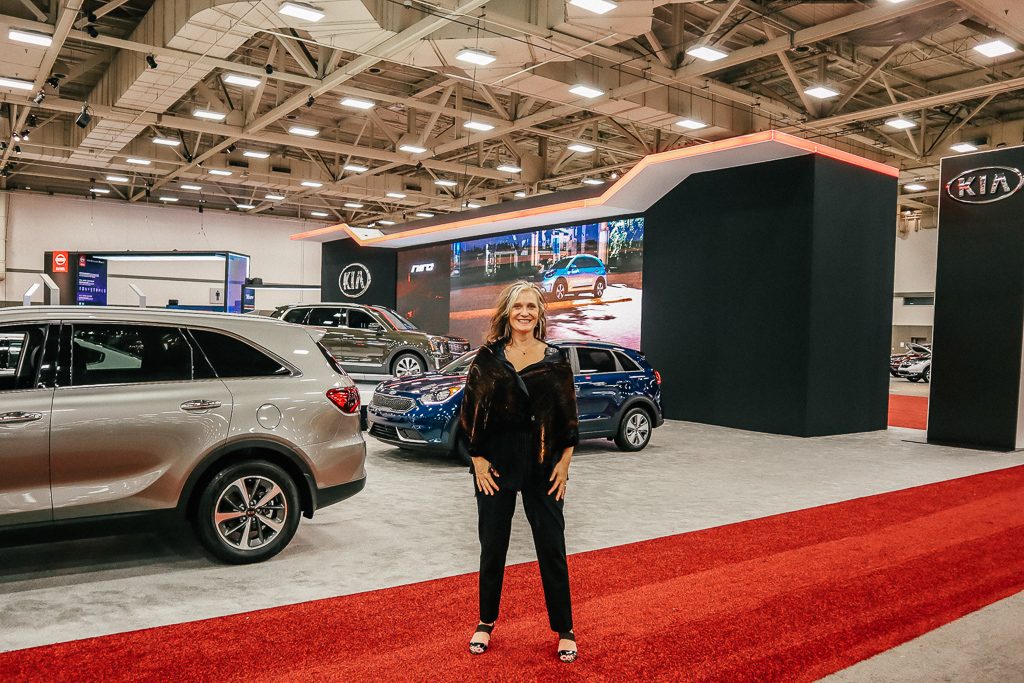 2. Max Studio Tanie Tie Front Button Down Top
I got a similar top a couple of fixes ago and I liked the style and structure of it but I didn't like the pastel pink and white stripes. This blue pinstripe is more my speed.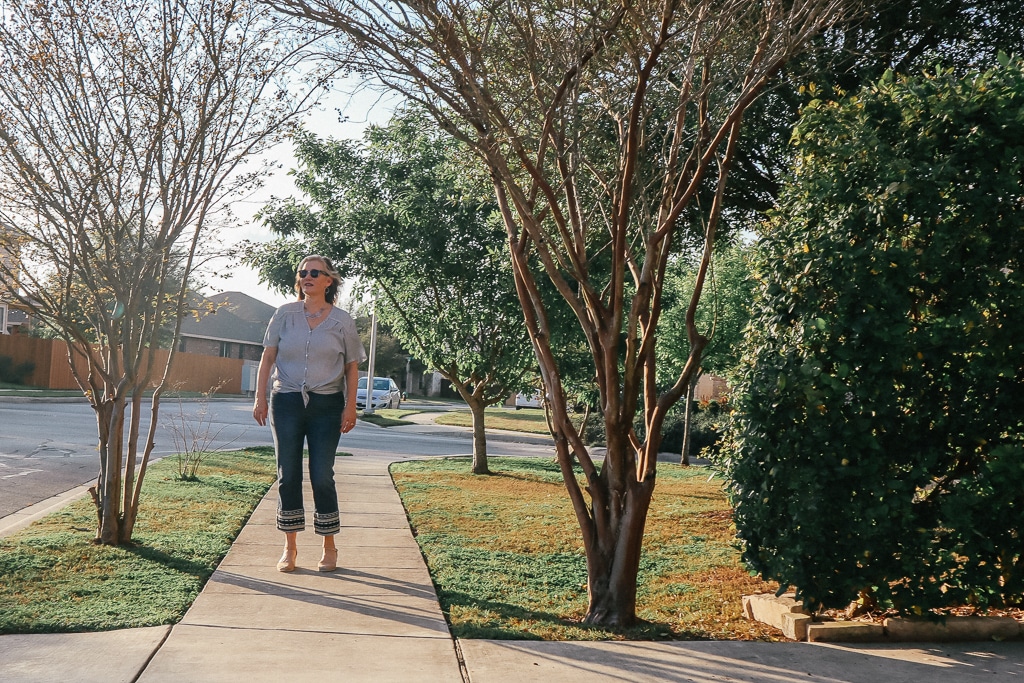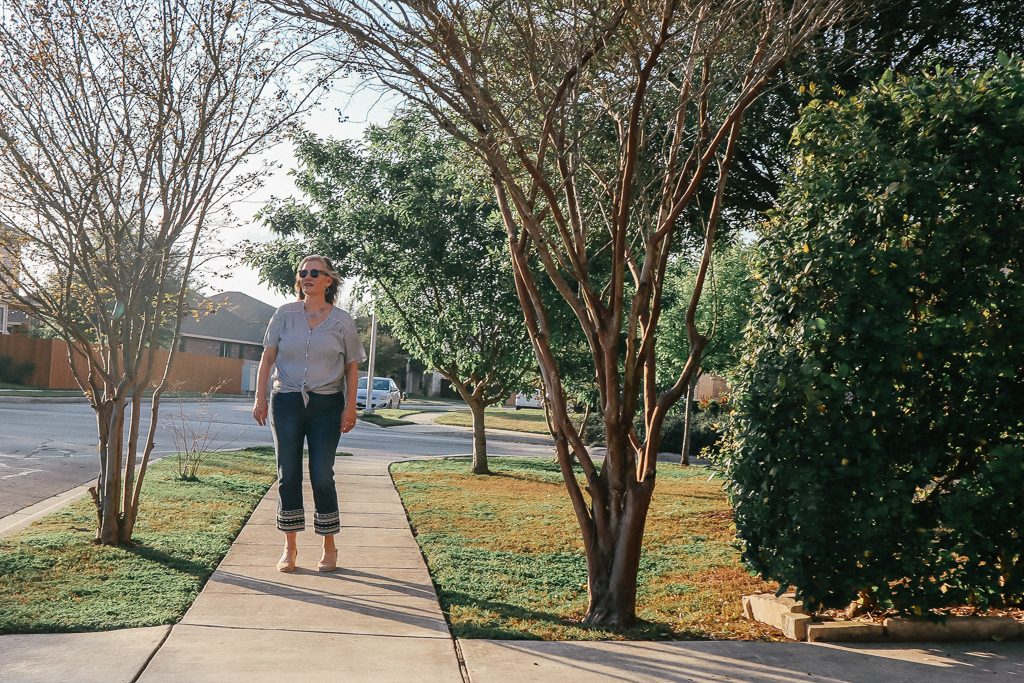 My stylist's suggestion was to wear it with the black pants but I didn't love these two pieces together. I'm wearing it here with a pair of jeans from a couple of fixes ago (isn't the detailing on the hemline so cute?) and I'll probably wear this shirt with shorts or linen pants this summer.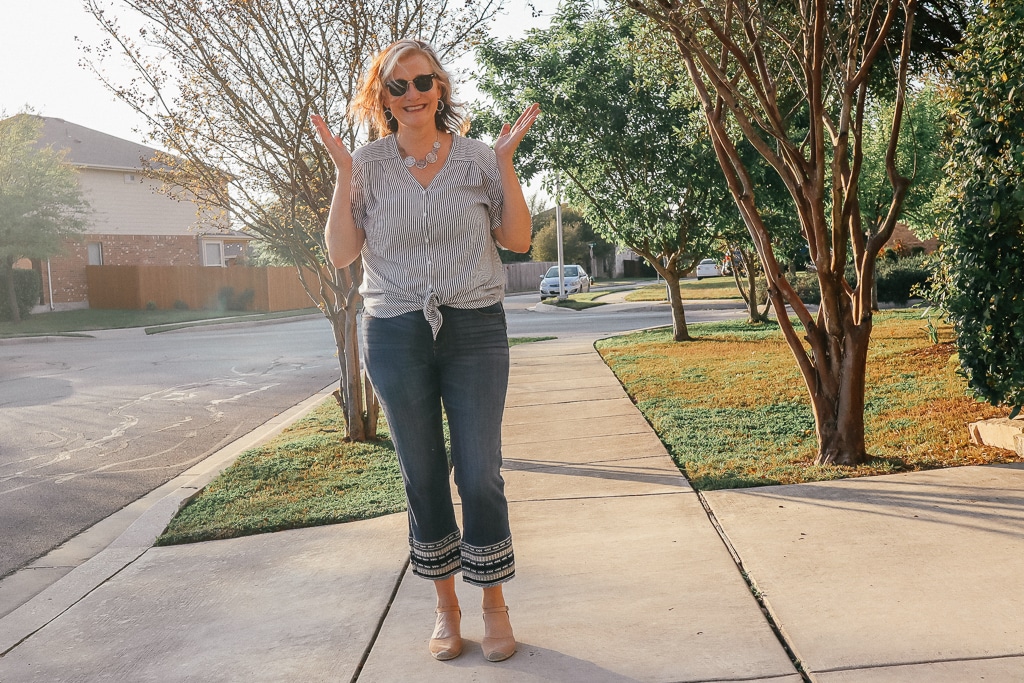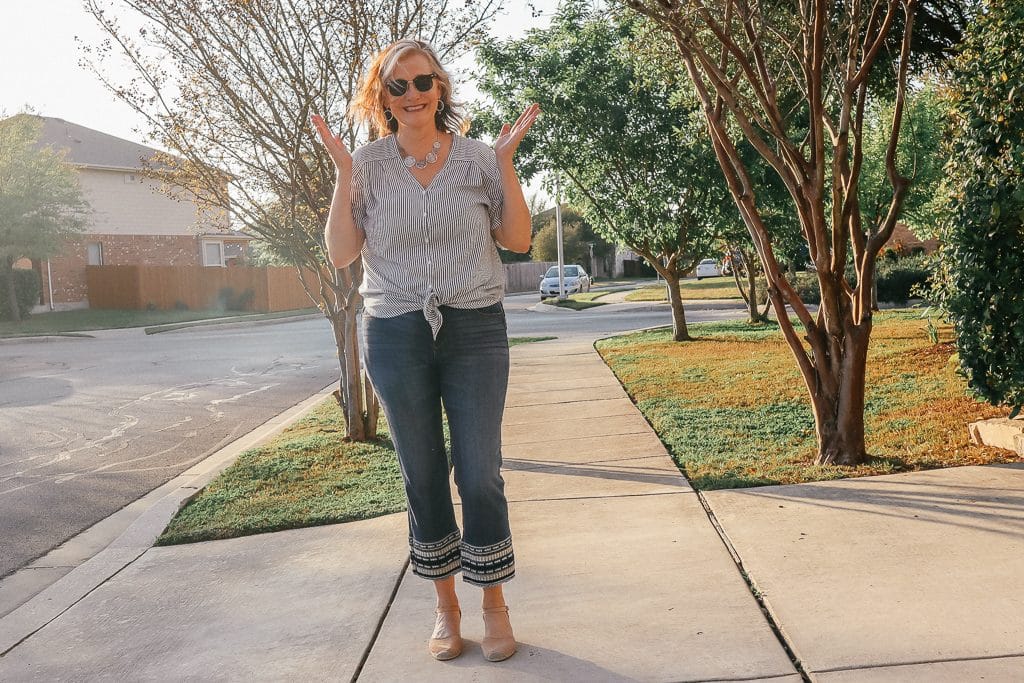 Daniel Rainn Kiara Eye Detail Top
I needed a basic white top like this for spring. I love the length, love that it isn't too sheer and it's got just enough detail to be interesting without being too fussy. I like fairly basic clothes and prefer to be creative with my accessories versus my patterns and this top is the best of both worlds. I've paired it here with these tulip pants (more about them in a minute) for a media day with the San Antonio Missions Heritage Association: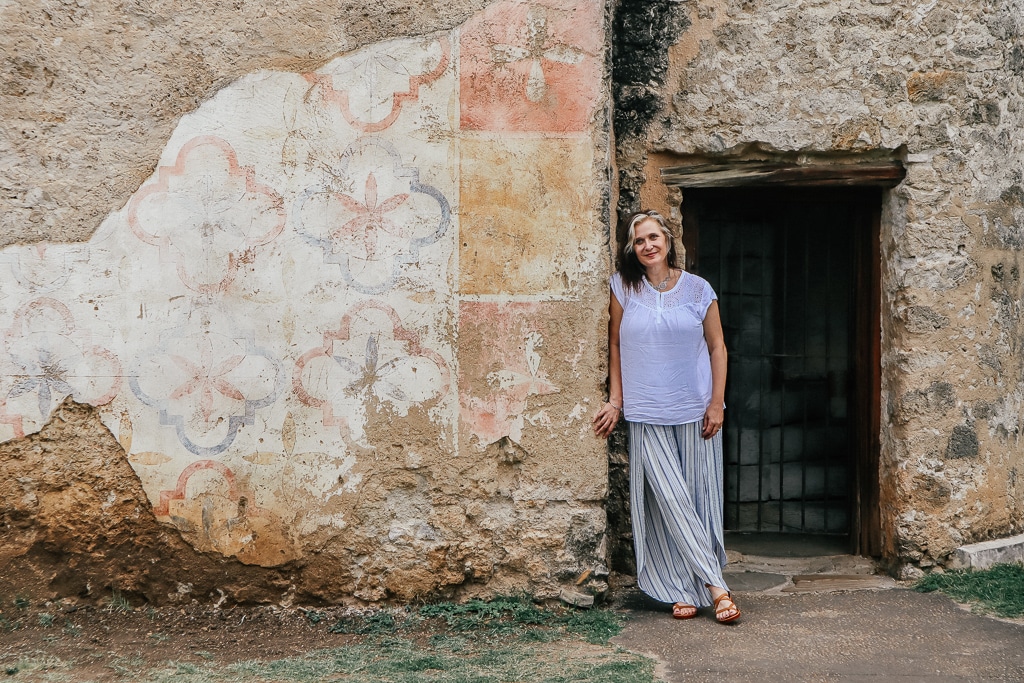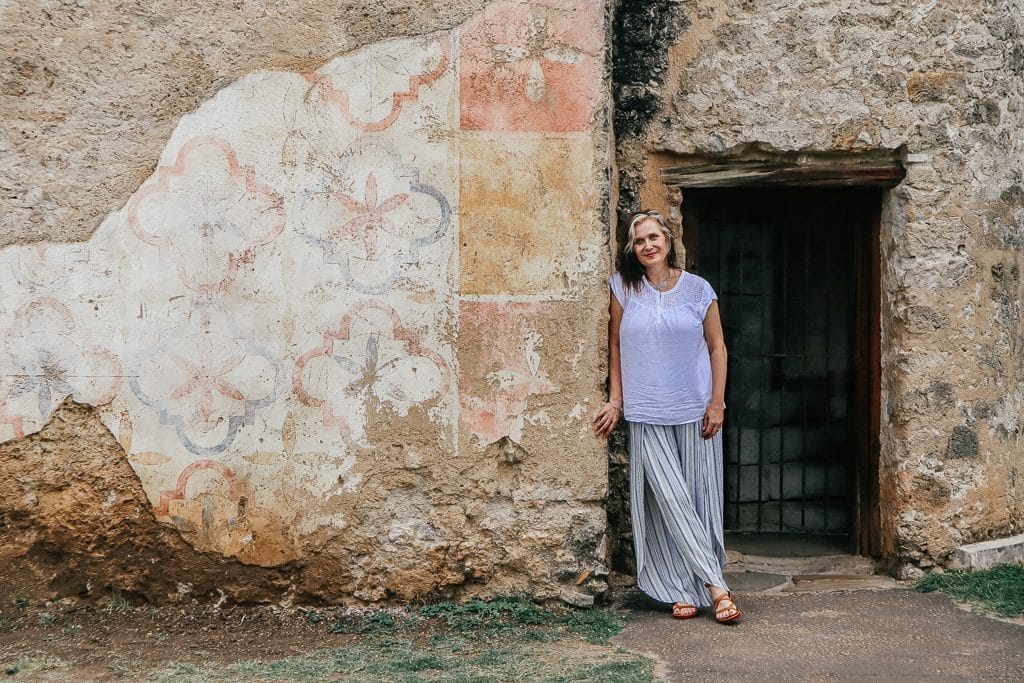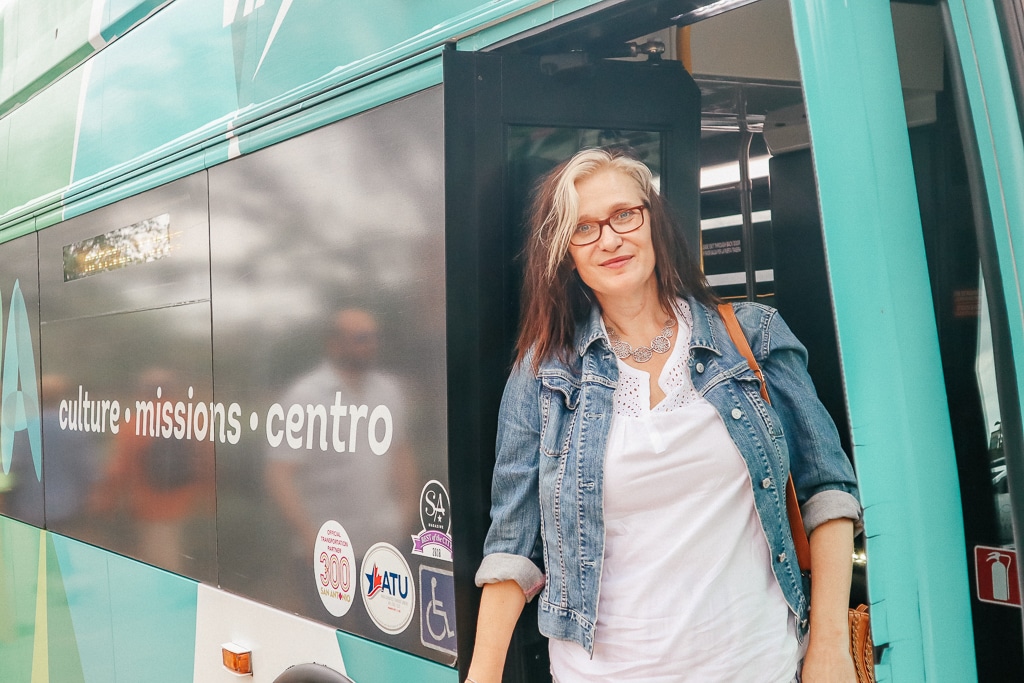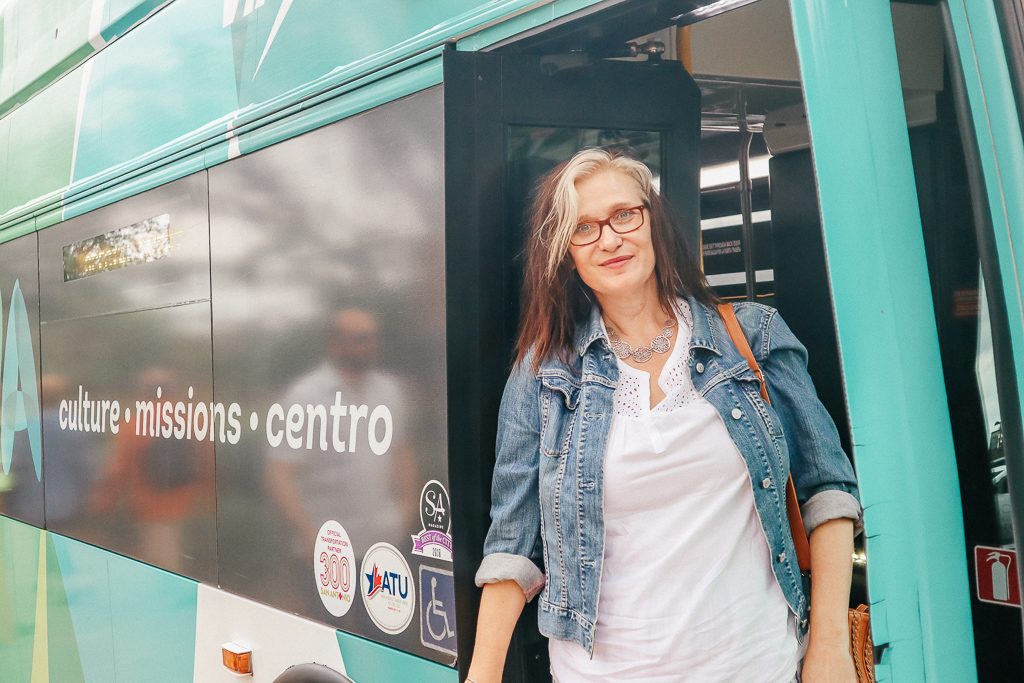 And here with a casual skirt from a fix earlier this year.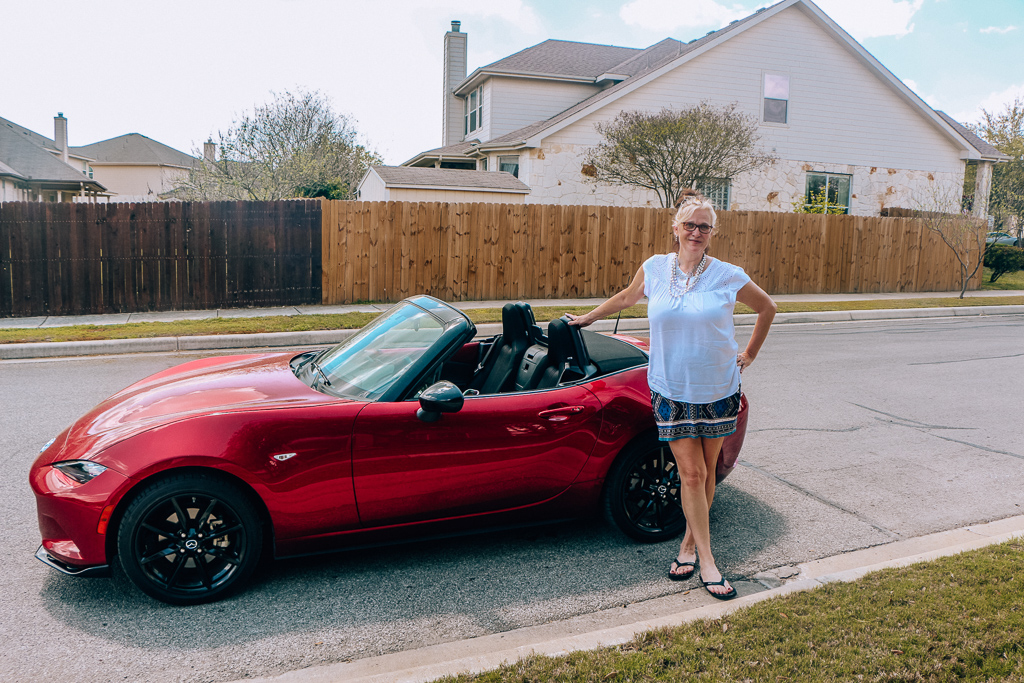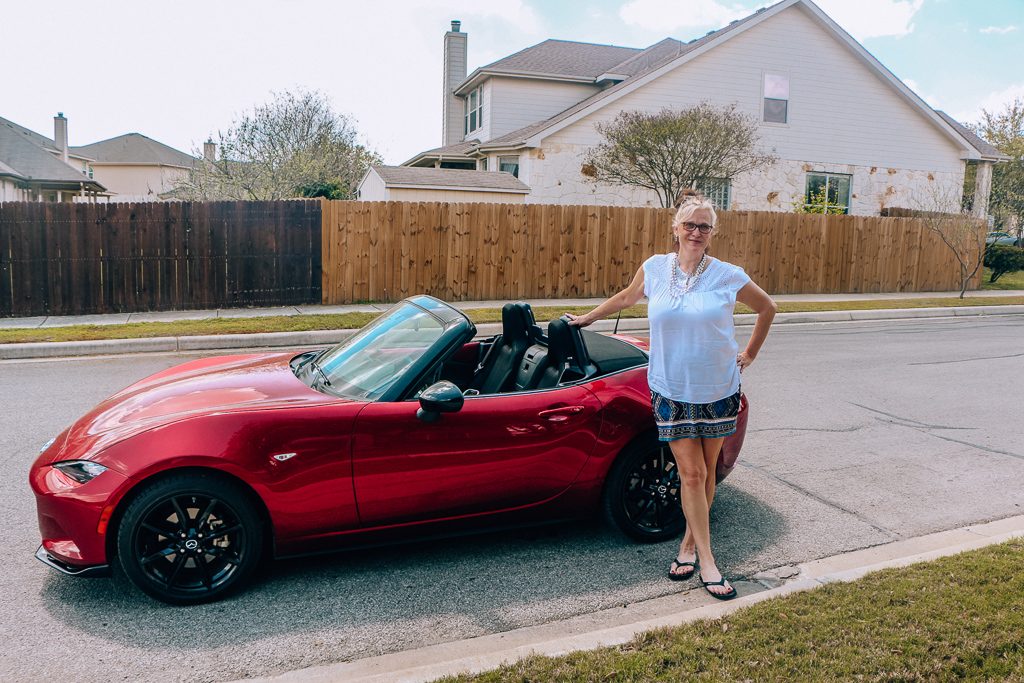 Confession: I'd forgotten I had this skirt until I did my closet purge. It was hiding. Wearing this piece with a skirt and flip flops is a super dressed down yet still put together look that I can wear to lunch at my kids' school or to run errands. It's definitely an upgrade from my yoga pants and hoodie that I lived in this winter.
S&D Selia Tulip Side Slit Wide Leg Pant
When I first took these pants out of the packaging, I oohed and ahhed because I love stripes and I love this material. Then, I put them on and thought "What the what?"
These pants have open sides – I guess that's what makes them tulip pants? I wasn't sure how I felt about that and I took them off and put them aside for a day or so. I tried them on for my husband and he said he liked them and suggested they'd be great "theme park pants" since they're so light but cover the skin on my legs. I'm super pale and burn easily so I like the idea of having some coverage without being bundled up.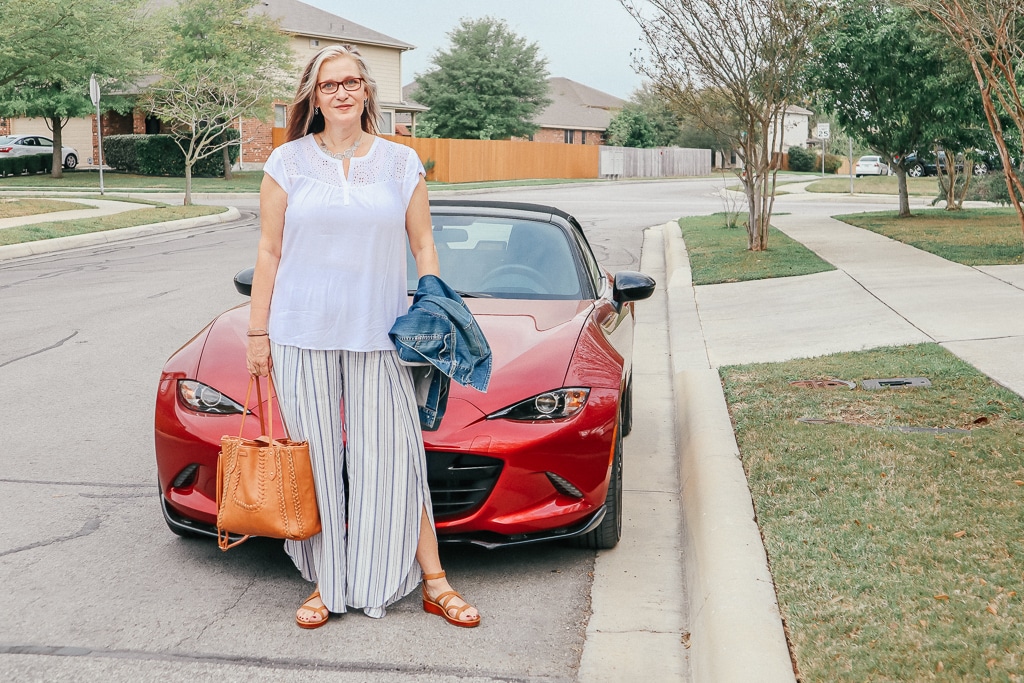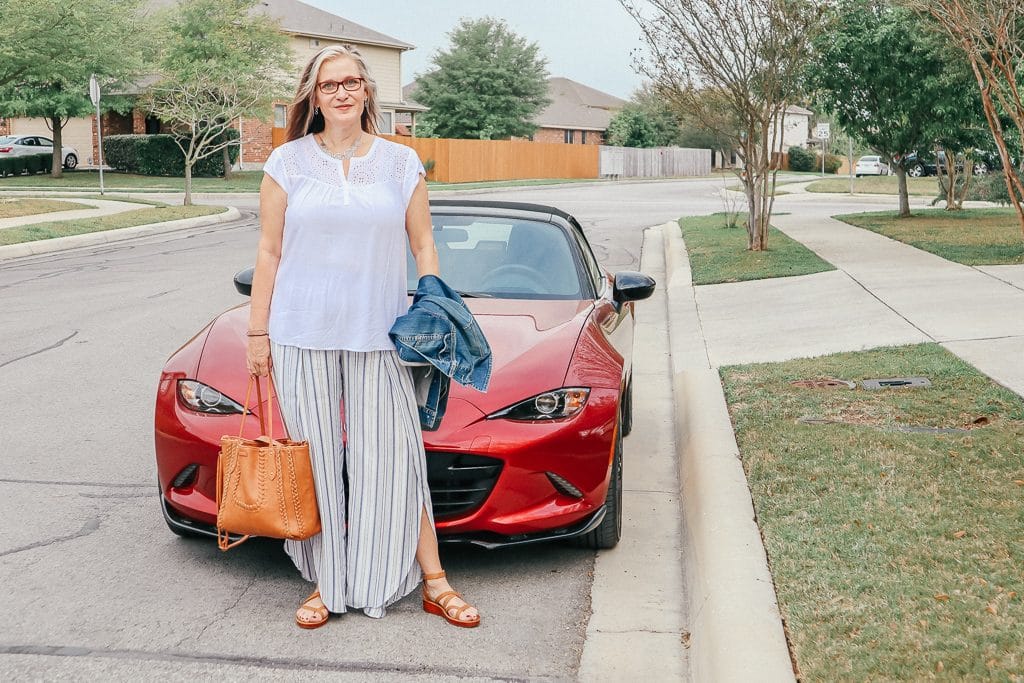 I'll be honest – I went back and forth between "these are so cool" and "these are really weird." I wore them to an event paired with the white eyelet top, my "had it forever" denim jacket and some strappy sandals and I loved the flowing look of these. What I love less is having to shave my legs to wear pants and the way they expose my thighs when I'm sitting down. If you're trying to camouflage heavy thighs, these pants are great – until you sit. They're loose fitting and comfortable and cover your thighs as long as you're standing but the fabric drapes open when you sitting down.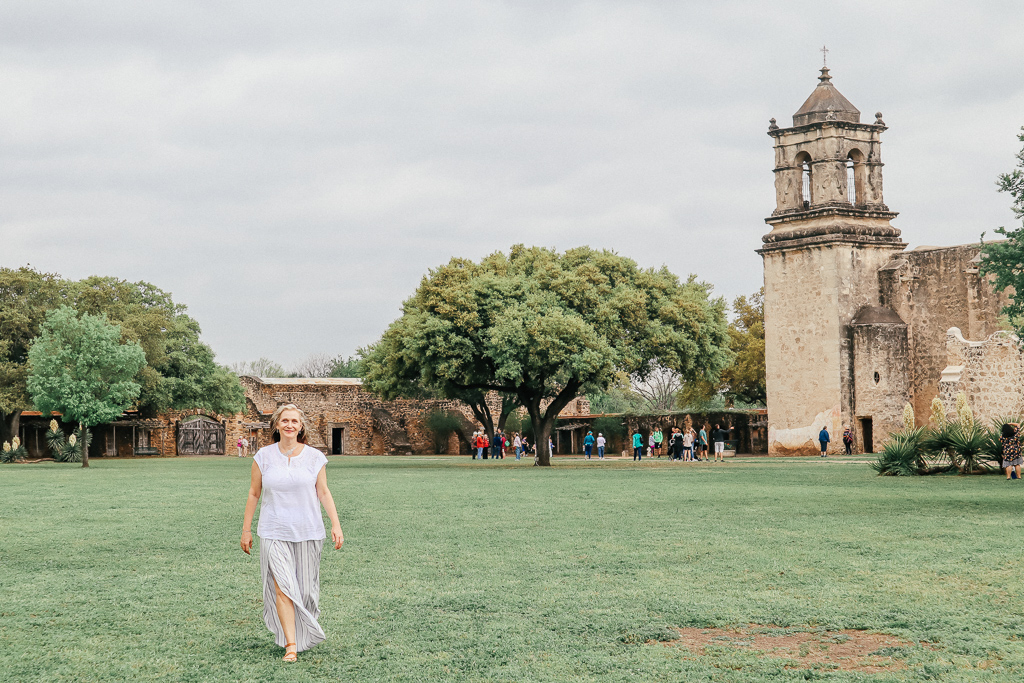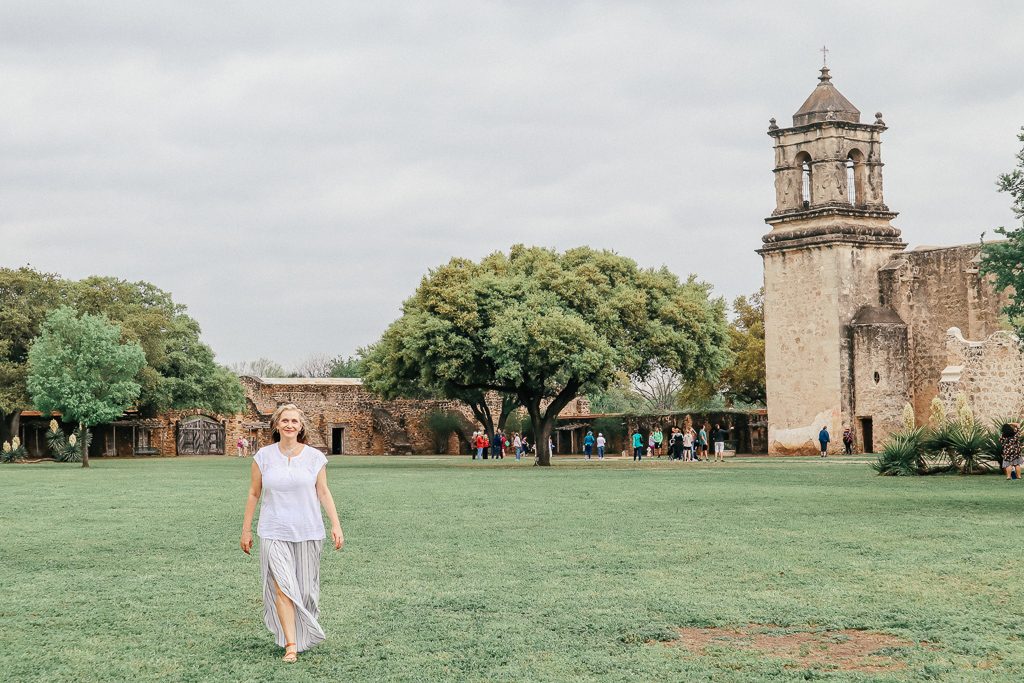 I do like them. I'm not sorry I kept them one bit. They'll transition nicely into summer and they have a total "resort wear" vibe which means I will get a lot of use out of them. Plus, they're nice and light and thin which will be great for packing. I think one of my next additions will be a cute tank top like the one on the style card. If you're ever unsure on how to wear something in your fix, your style card will have some suggestions that might work with things you already own or give you ideas on what you want your stylist to be on the lookout for.
Bancroft Ivy Metal Statement Necklace
I like to use accessories to put pizzazz in my outfits. I don't (usually) like bold prints or patterns in my clothes. Having simpler clothes makes it easier to plan outfits and mix things together. I wore more prints and patterns before I started traveling so much and having clothes that I can easily mix and match has simplified my packing.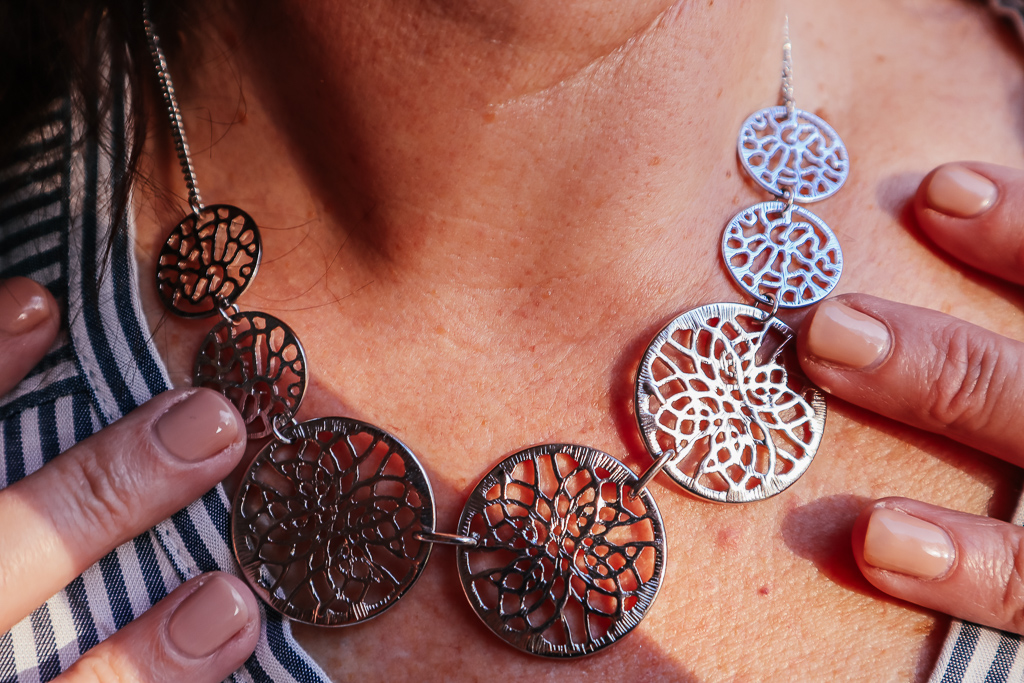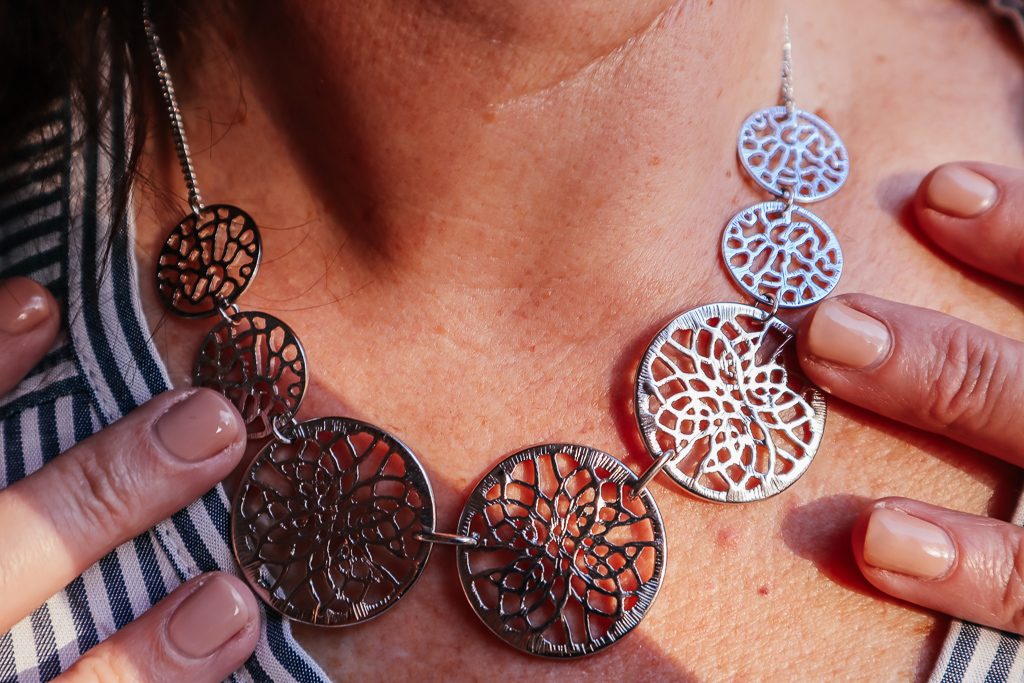 This necklace is bold enough to be a true statement necklace but it's delicate enough where I can wear it with a super casual outfit, like jeans and a tee shirt.
This fix is obviously a success. This has been the first fix in a long time where I've kept all five items. The tulip pants are not something I'd have ever picked for myself and that's the beauty of Stitch Fix – someone else chooses your clothes based on your style profile so it's easy to go out of your comfort zone.
More about Stitch Fix:
Stitch Fix also curates boxes for men and children. In addition to apparel and accessories, as you've seen here, Stitch Fix also has an awesome selection of shoes. I have had a great track record with Stitch Fix shoe keepers. I think I've only sent a couple of pairs back, ever.
Stitch Fix offers all sorts of attire, from professional clothing, special occasion outfits, and active wear. You'll find women's brands such as Free People, Sam Edleman, Theory, Alive and Olivia, ravi, Mag & Bone, Rebecca Minkoff, Madewell, and more.
Men's brands include Tommy Hilfiger, Perry Ellis, DL19161, Liverpool, Levi's, Adidas, Bespoke, Scotch and Soda, Barbour and more.
Kids brands include Kate Spade, Under Armour, Nike, TOMS, Hanna Anderson, Hurley, Sovereign Code, and more plus Stitch Fix's exclusive kids brand Rumi & Ryder. We haven't tried the kids boxes for our kids yet but plan to do so soon.
Also, these brands just scratch the surface. There are so many more and you're likely to find a new favorite. I hope you check out Stitch Fix using my my link, and if you do, make sure you do it before April 13th to get your $25 credit.