The Jedi Training Academy at Disney's Hollywood Studios: What you need to know
(This post may contain affiliate links. Read my full disclosure.)
I know we're all excited about the upcoming opening of Star Wars: Galaxy's Edge at Disney's Hollywood Studios. I mean…we ALL are, right? Star Wars stuff has been a presence at Disney's Hollywood Studios for quite some time with Star Tours – The Adventure Continues, the March of the First Order, character meet and greets, and their nighttime show, Star Wars, a Galactic Spectacular and it's about to get even cooler…although imagining the crowds of people who are going to bombard Hollywood Studio when Star Wars: Galaxy's Edge opens up doesn't thrill me. But, I'm leaving something out, a Star Wars experience for your younglings that puts them right in the center of the action. I'm talking about the Jedi Training Academy, Trials of the Temple.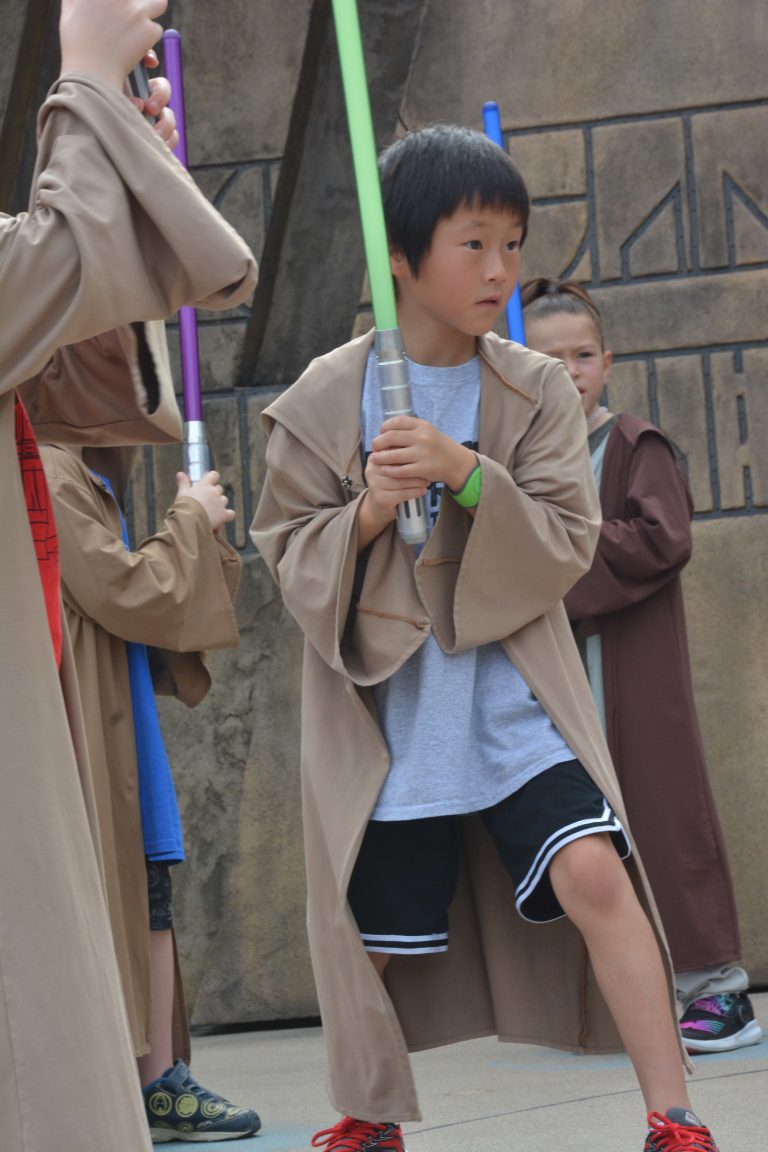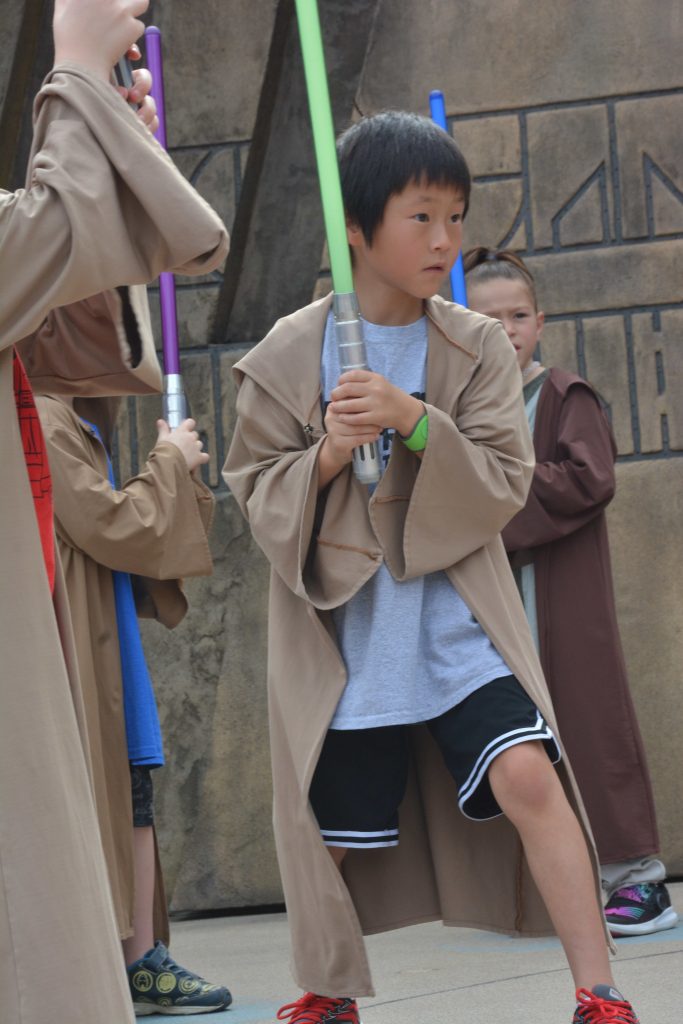 Disclaimer: We are a participant in the Amazon Services LLC Associates Program, an affiliate advertising program designed to provide a means for us to earn fees by linking to Amazon.com and affiliated sites. This post may also contain affiliate links to other sites where I will be paid a commission by the seller if you make a purchase. Thank you!
Related Reading: Everything we know right now about Star Wars: Galaxy's Edge at Disney World
The Jedi Training Academy at Disney's Hollywood Studios: What you need to know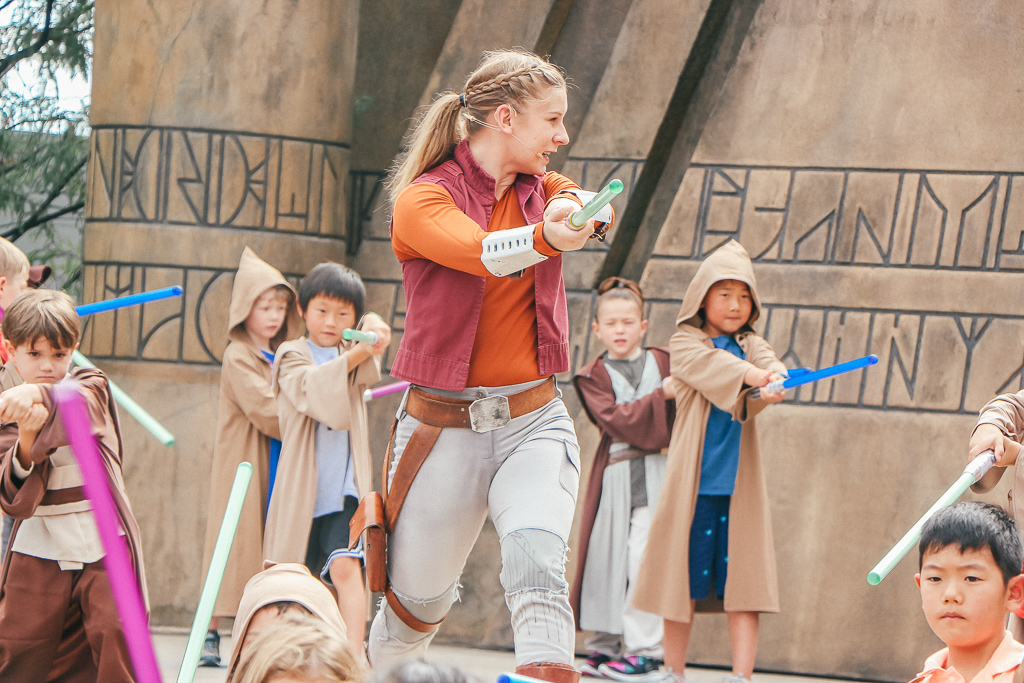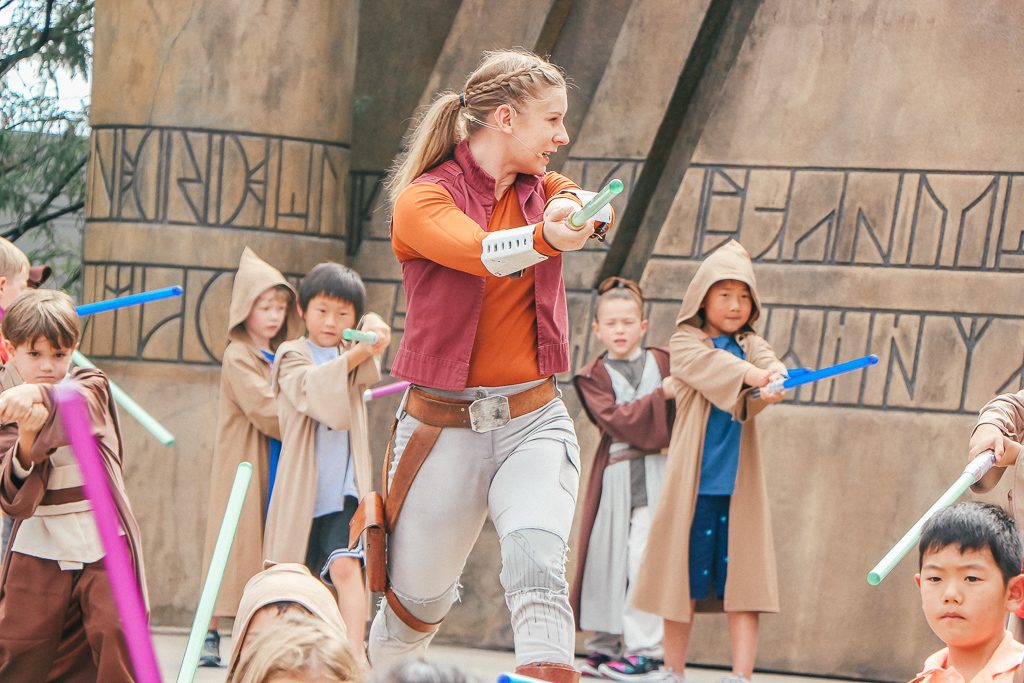 Here's everything you need to know.
What is the Jedi Training Academy AKA Trials of the Temple?
In a nutshell, the Jedi Training Academy is an immersive experience that will allow your kids to learn basic light saber tactics from a real Jedi Master and use those tactics to ward off the dark side. By being part of the Jedi Training Academy, kids will be part of the show, Trials of the Temple that takes place approximately 12 times a day on the stage next to Star Tours – The Adventure Continues.
The current setup accommodates 30 people per show, so only 360 (or so) kids can participate.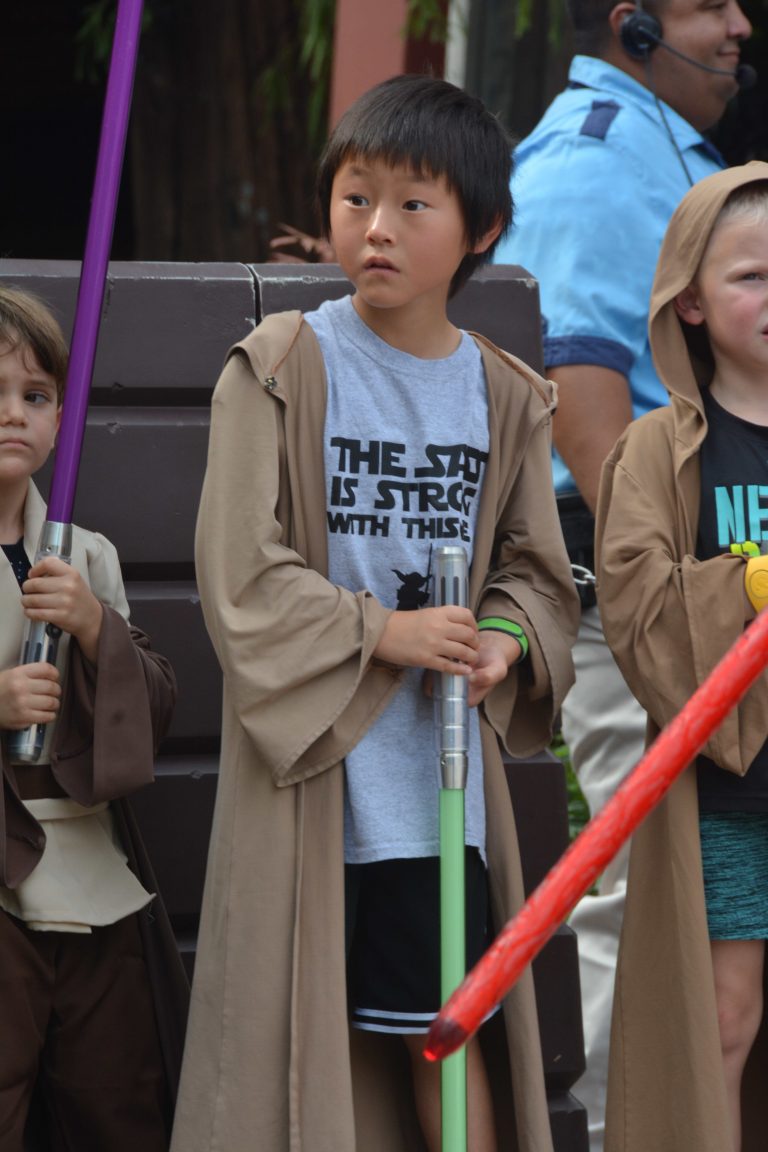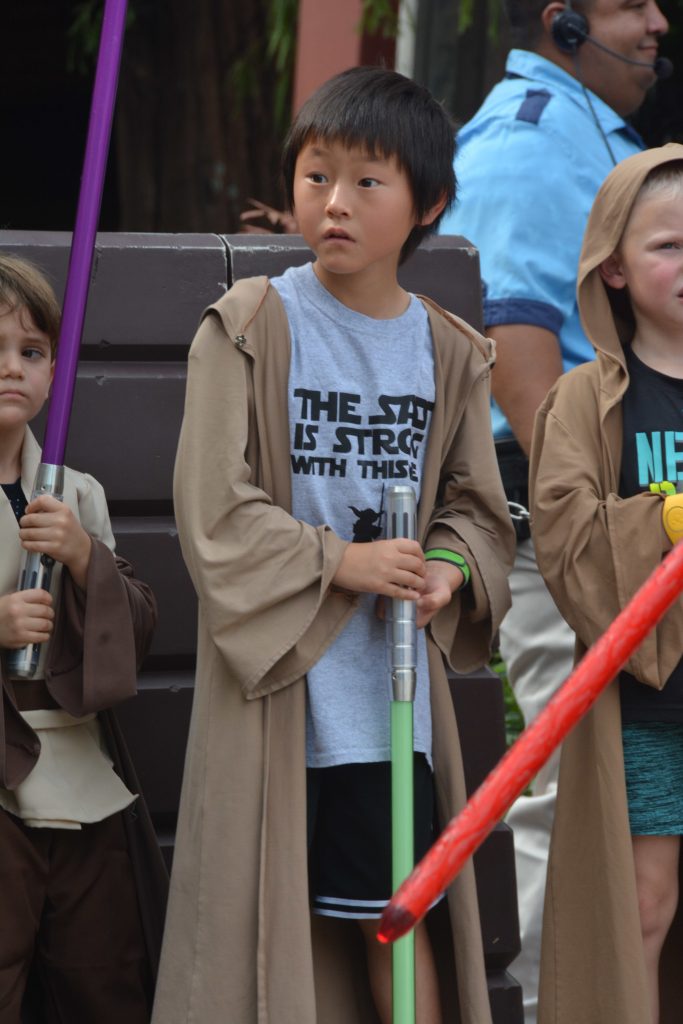 Who can participate?
Children ages 4-12. I know what you're thinking. It kind of sucks that they don't let…ahem…big kids participate but it is what it is. The cute factor of a middle-aged mom wearing a robe and practicing lightsaber techniques probably isn't very high and I get that.
If you have young Star Wars fans that fall in this age range, this is a must-do. My boys did it when they were eight and they both absolutely loved the experience. One is a major Star Wars geek and the other is kind of "meh" about Star Wars and they both were super into it.
How much does it cost?
Unlike a lot of Disney extras and special experiences, the Jedi Training Academy is completely free. Here's the rub: you can't sign up in advance. Everyone entering the park in the morning has a shot at getting in but you have to plan ahead and be fast on your feet.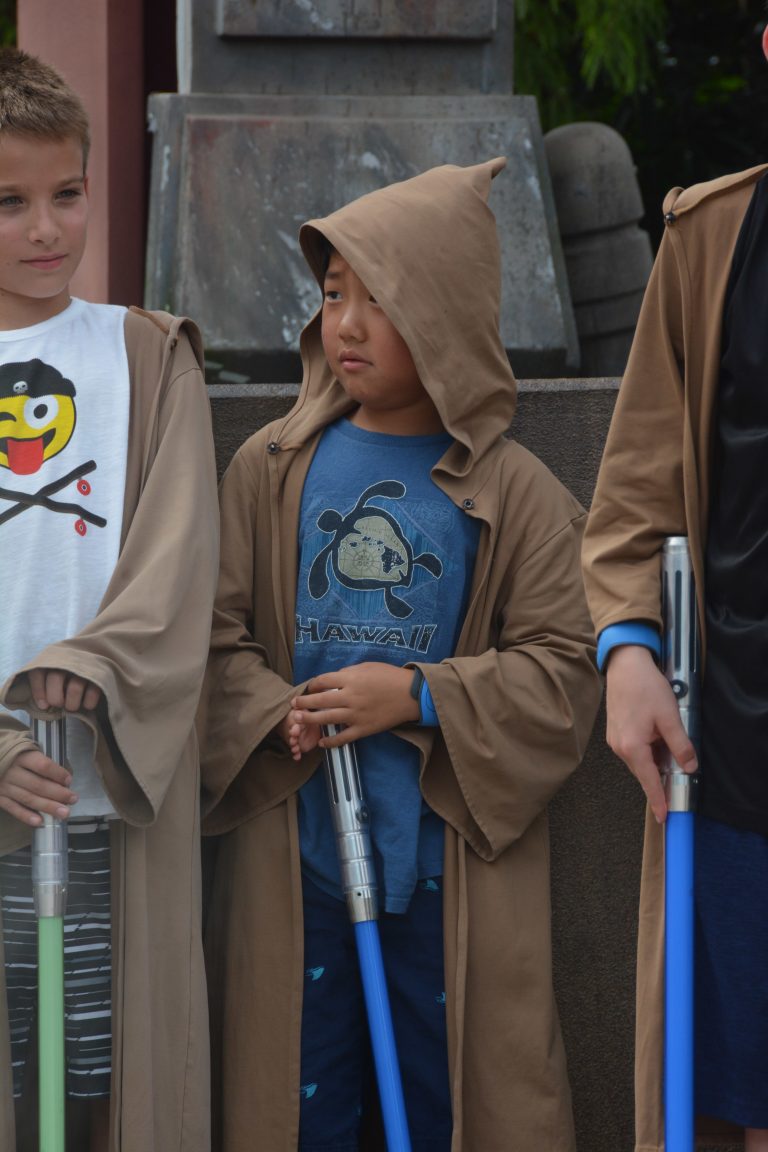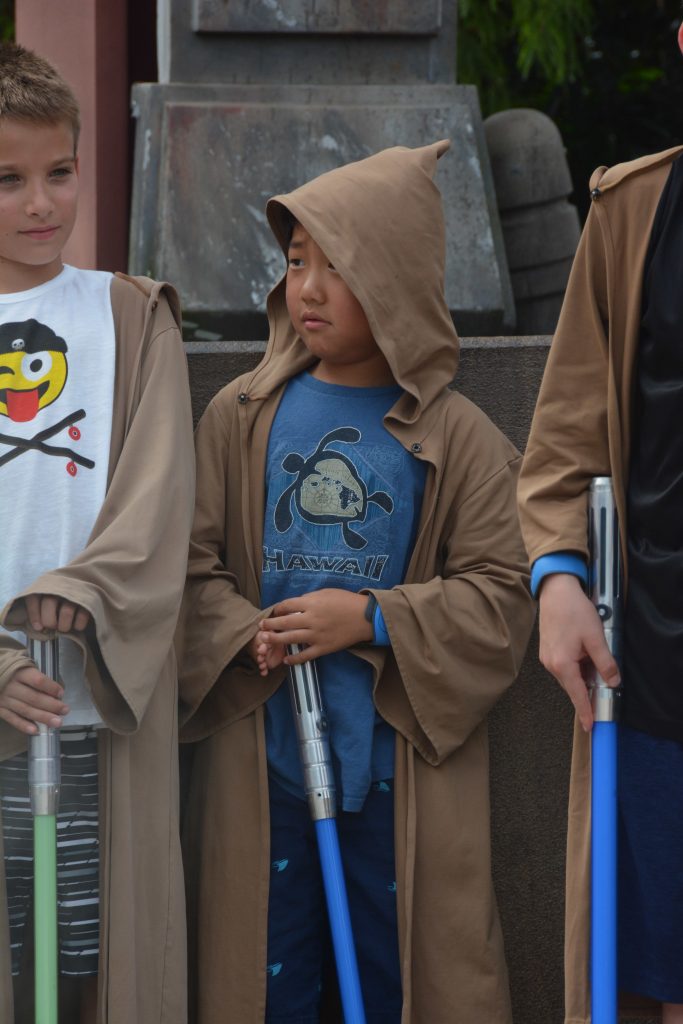 Where and when do I sign up?
In order to have a shot at getting your young padawan into the Jedi Training Academy, you need to be first in line to get into Hollywood Studios when it opens. That means committing to getting in line at least an hour before the park opens, not rolling into the parking lot five minutes before opening.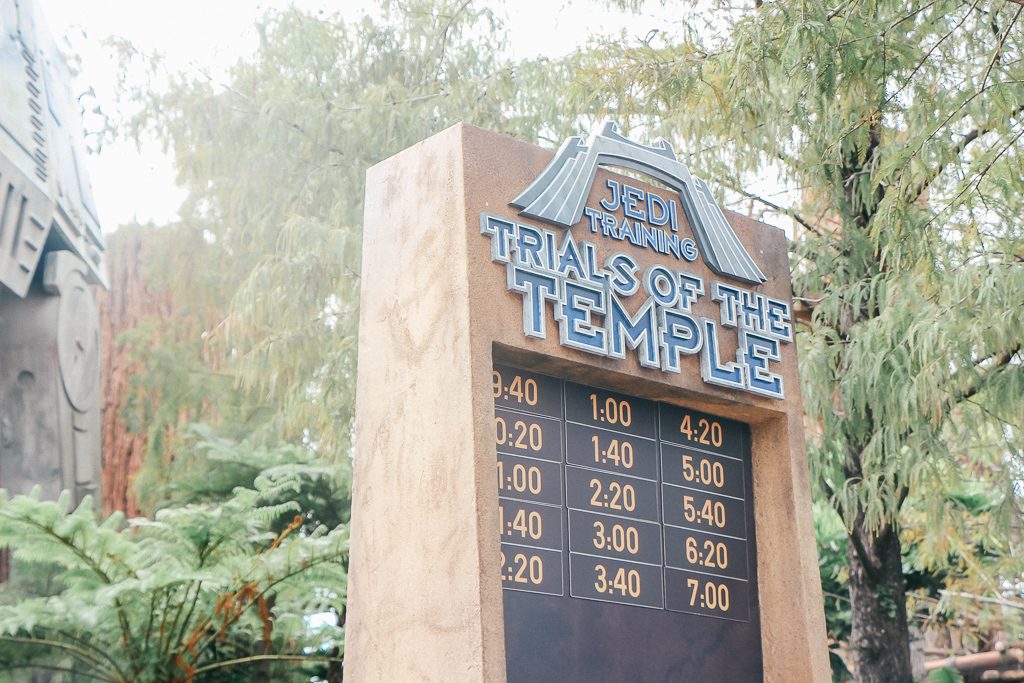 "Rope drop" is a term that is used to refer to getting to the park before opening and being first in line. You'll be allowed to go through the security checkpoints and line up at the admission area where your magic bands or tickets will be scanned. You will typically be allowed to enter the park 30-45 minutes before the park officially opens, although you'll be confined to the entrance area. You'll be able to walk down Grand Avenue but the area in front of the Chinese Theater will be roped off. You can also wander around the Echo Lake area a bit of the other side (which is awesome for taking pictures before the crowds get into the park) but you won't be able to really do anything until they drop the rope.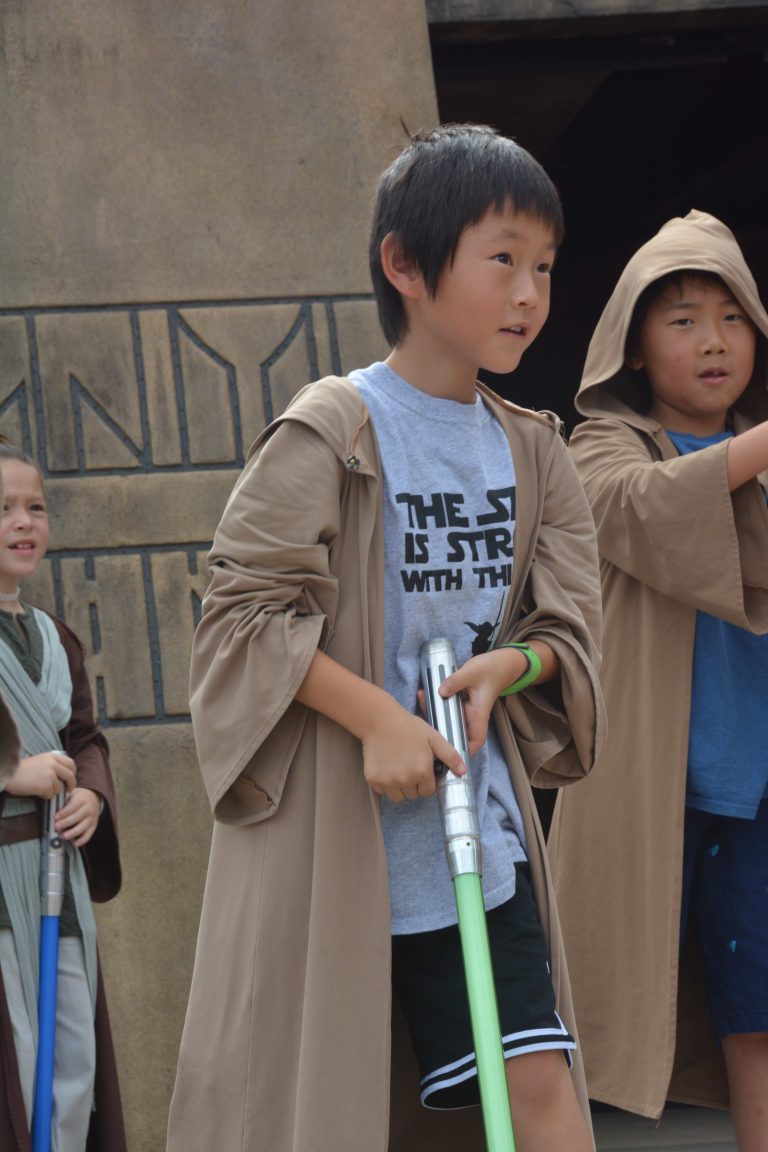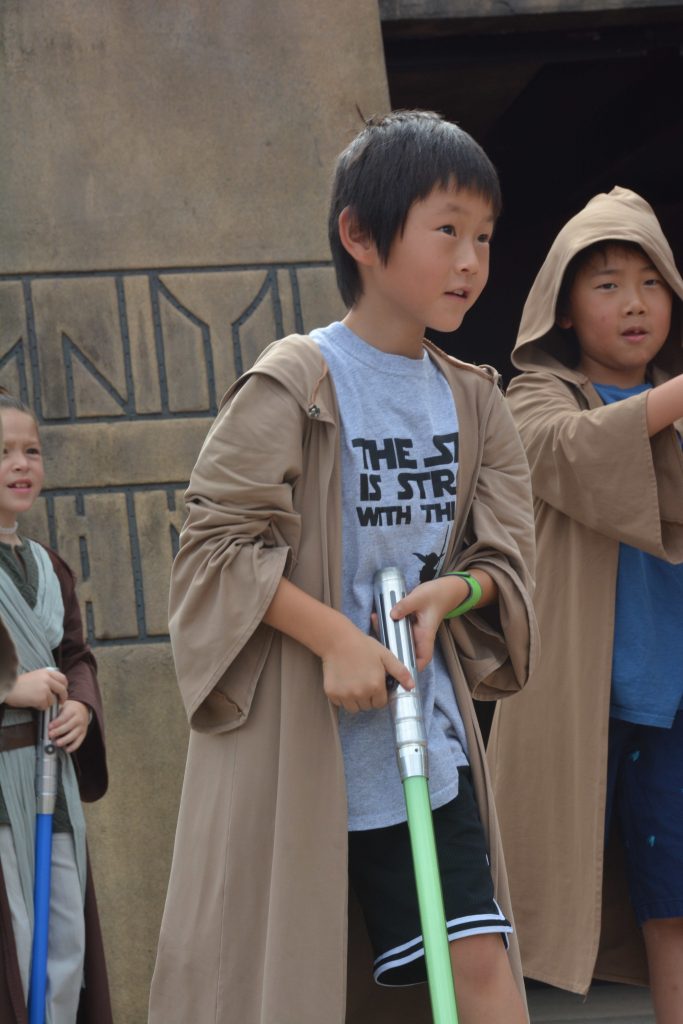 In order to get your kids into the Jedi Training Academy, you need to be Rope Drop people. Immediately upon entering the park, head to Indiana Jones Adventure Outpost. There will be signs directing you but if you're not familiar with Hollywood Studios, I recommend you look at a map before you go.
On the day we took our kids to the Jedi Training Academy, we got in line to enter the park at about 7:45 and were in line to sign up for Jedi Training at about 8:25. We were moving fast and we didn't dilly dally at all and there was already quite the line formed when we got there.
My kids did get into the Jedi Training Academy and although we had some choices, the show we'd wanted to be in was already full up. When the Jedi Training is closed for new sign-ups, they'll put a "standby" out, which means exactly the same thing as flying standby with an airline: you sign up and show up and hope someone else won't show up.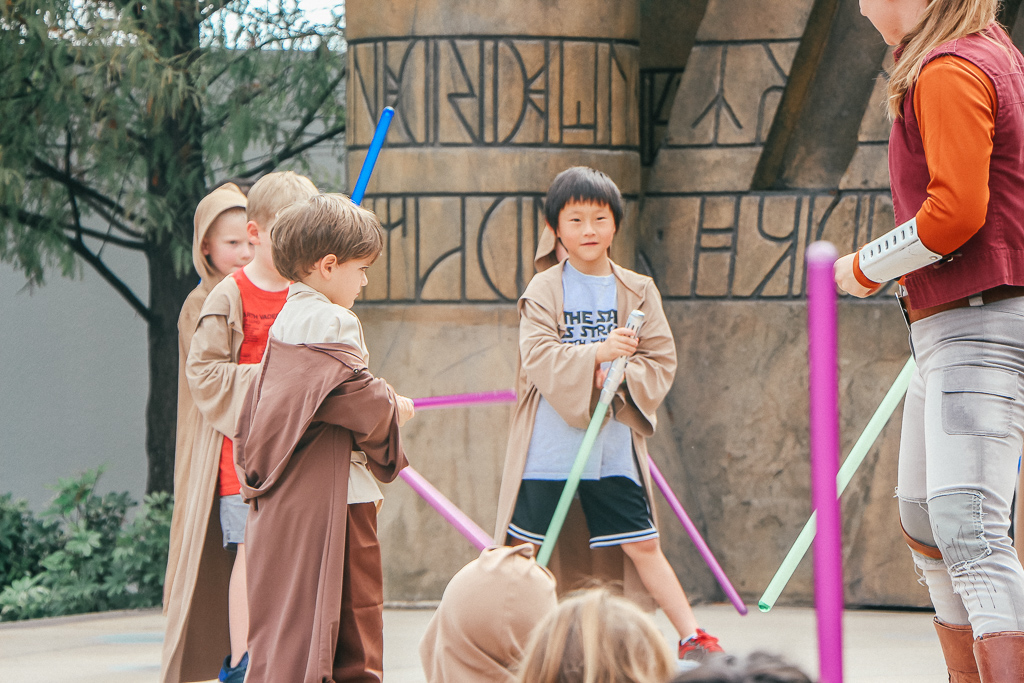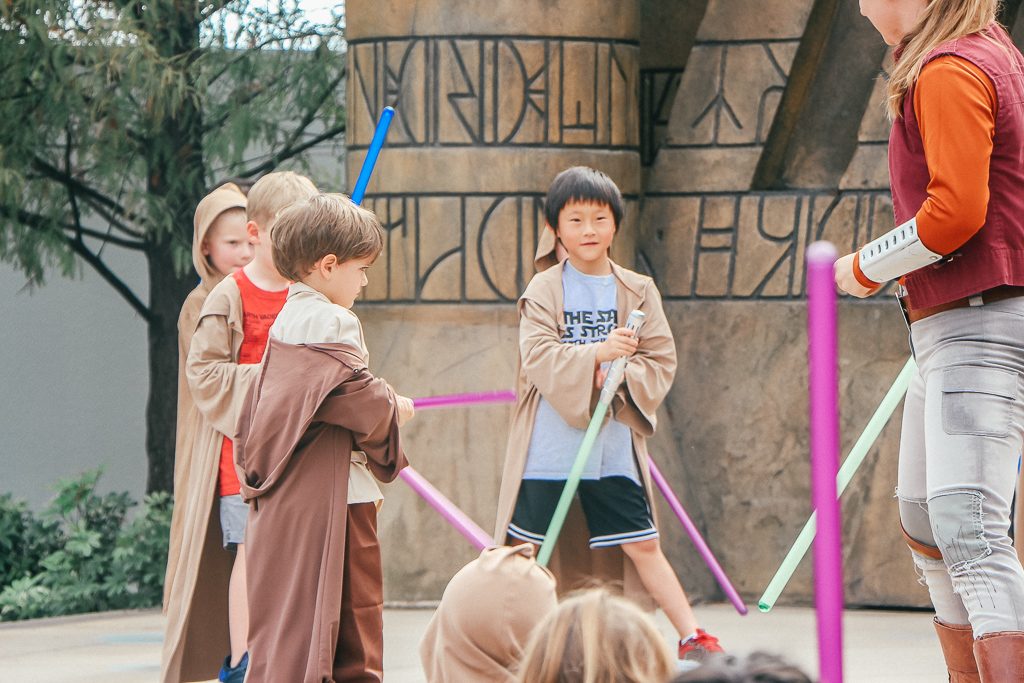 Unless you have a super chill kid or maybe one who isn't completely Star Wars obsessed, you might try this if you can't get a spot in training but I know that level of uncertainty wouldn't fly with either of my two.
So, what happens after you sign up?
You're give a paper ticket with a time to return (30 minutes prior to your show) and then you go about doing whatever else you want to do in the park. I recommend going online and looking at the list of show times for Trials of the Temple and picking which one you want and then plan your other shows and fast passes around that. You still might have to adjust but I'm a big believer that the best Disney days are planned to a tee versus loosey goosey.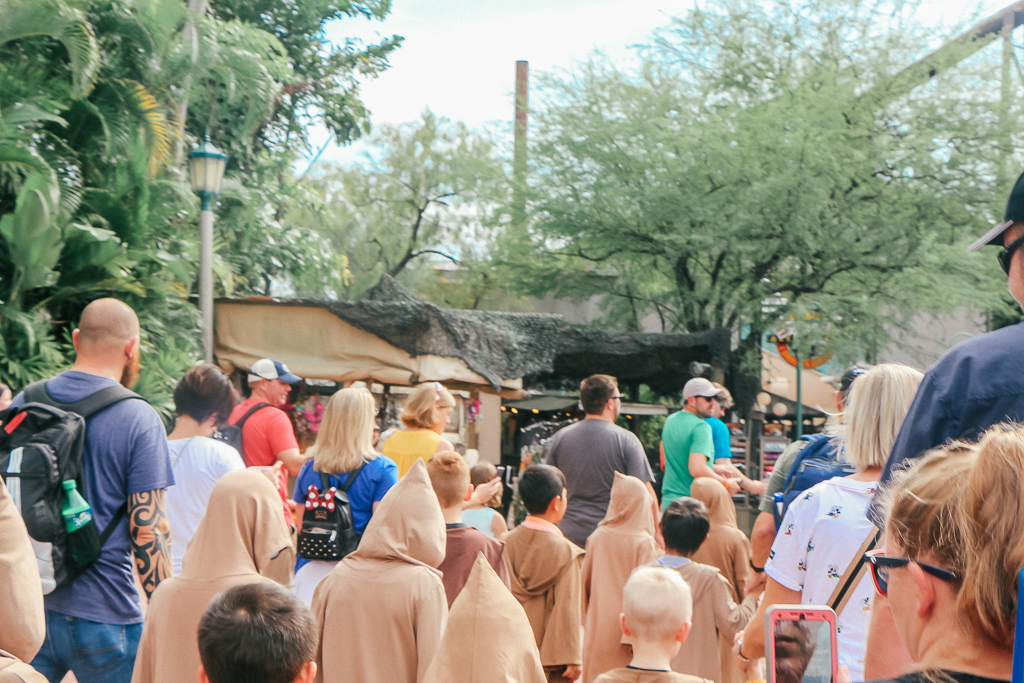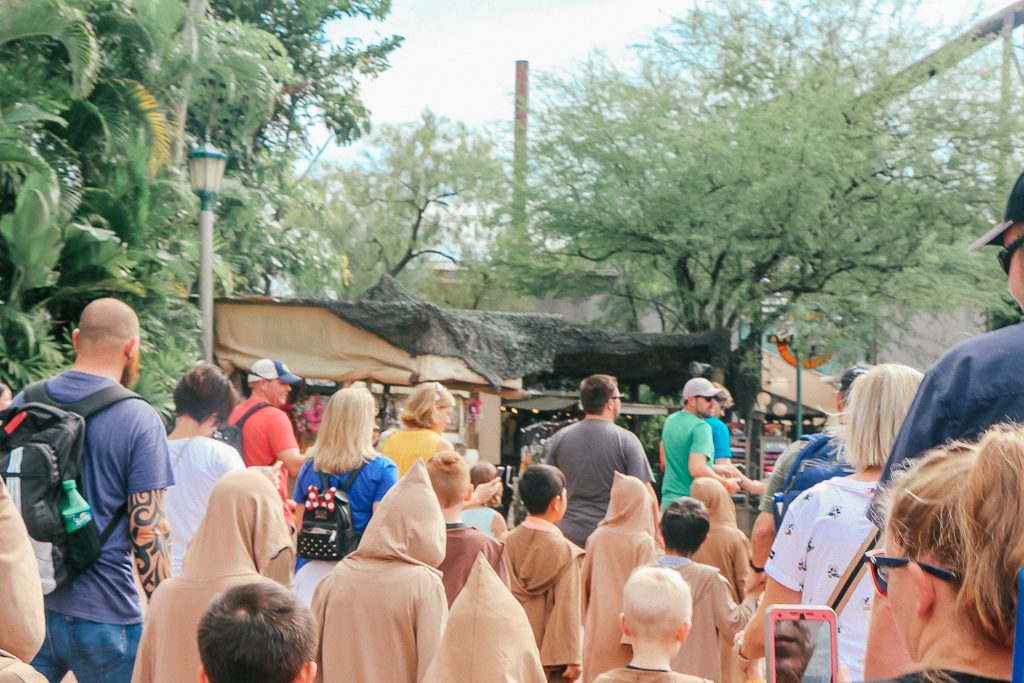 You'll return at your designated time and the cast members who will work with your kids take it from there. They get your kids sized for robes and talk them through what you're they're going to be doing.
What happens at the actual show?
The procession from the Indiana Jones Adventure Outpost to the stage is really fun. The cast members chant "Here come the Jedis." People passing by cheer and wave and everyone really gets into the spirit.
The show lasts about 20 minutes. There's no seating and you're in the full sun. Our kids did this in November and it was pretty hot…I can't imagine doing it in the middle of summer, but people do. The kids are guided through everything they'll need to do and, as you'd suspect, good prevails over evil. The younglings are presented to the audience, everyone cheers, and the participants are given a pin to commemorate their experience.
Are photos included?
There are two Photopass photographers taking pictures of your kids and you'll have to ask them for the card with the code to view your pictures. They don't scan to your Magic Bands like other pictures taken in the park, so you'll need to hang on to the card they give you.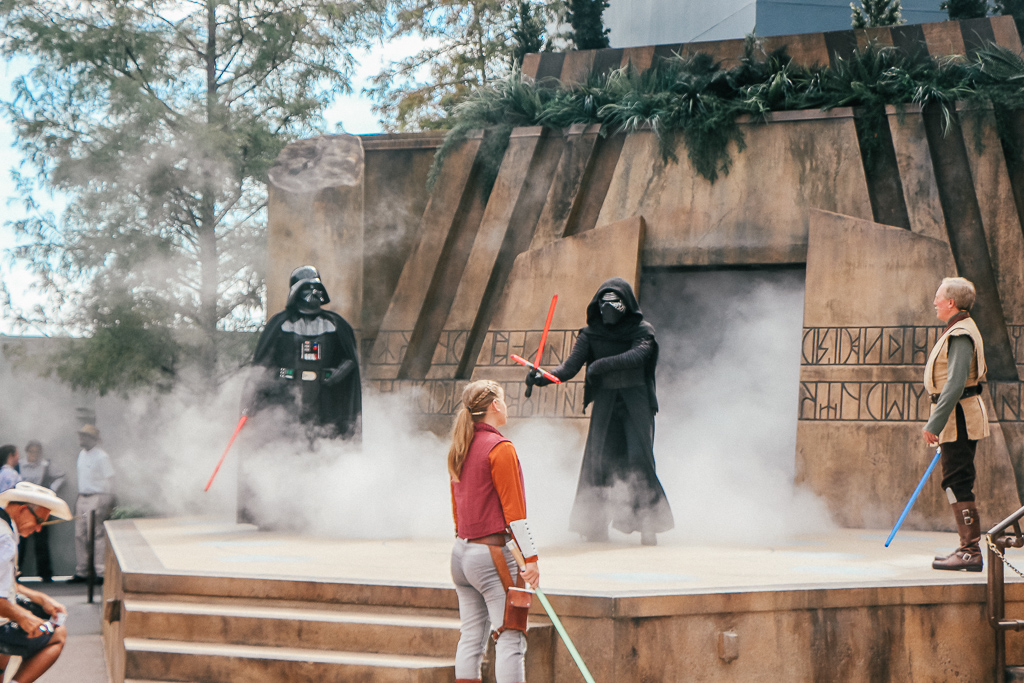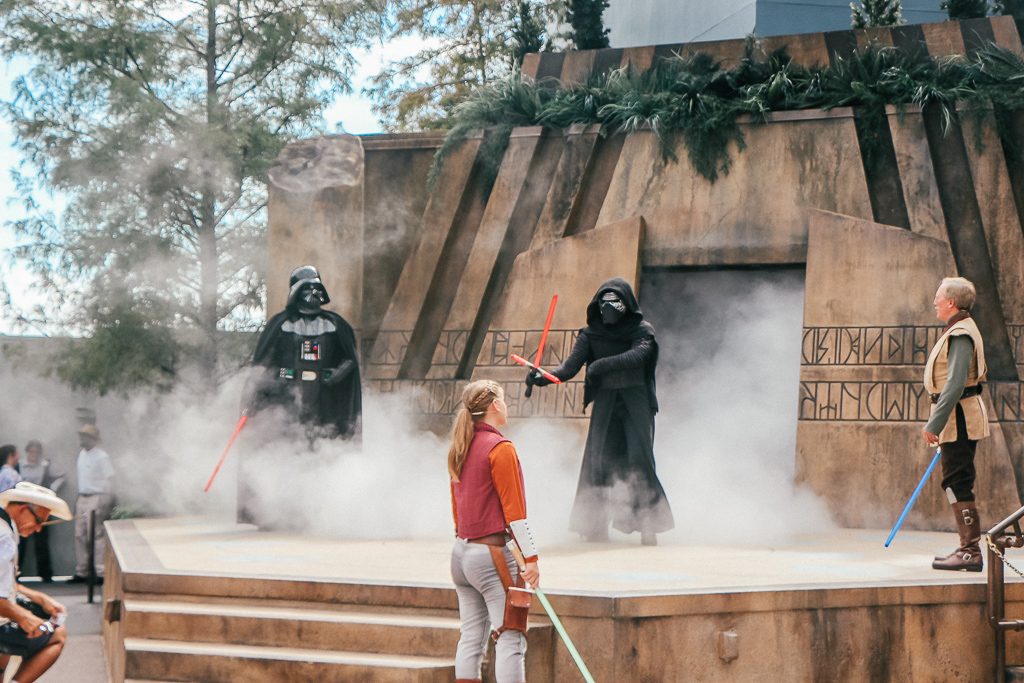 If you have Memory Maker, you'll be able to download all the pictures free but if you don't, you'll have to purchase your pictures. We always get the Memory Maker – totally separate story but I strongly recommend it as being worth the spend.
Anything else I need to know?
Prepare your kids for the possibility that it might not happen. If you get lined up early and beat feet to the sign-up, you have a great shot at getting signed up, but with the onset of Star Wars: Galaxy's Edge and the newly opened Toy Story Land, Disney's Hollywood Studios is THE place to be. Crowds vary during the year and what we experienced might not be what you experienced.
Even if you are successful in getting a spot in the Jedi Training Academy, the show may be cancelled for weather reasons. No one can control the elements, so if it looks like rain, prepare your kids for the possibility it might not happen. No one likes the idea of disappointing your kids or having to deal with an upset, pouty kid at Disney World and you know you child best. If you think your child is going to have an absolute meltdown if the Jedi Training Academy doesn't happen for them, only you know how to handle that.
Hats, sunscreen and water. These are standard issue at Walt Disney World year 'round but you're all going to be standing in the full sun during the show – and your younglings will get hot in those robes. Make sure you're staying cool and hydrated.
Have a sense of urgency with the registration process. Don't throw elbows or trample people on your way to the signups but don't stop and pose for pictures, either…although the rope drop mornings are really great for picture taking.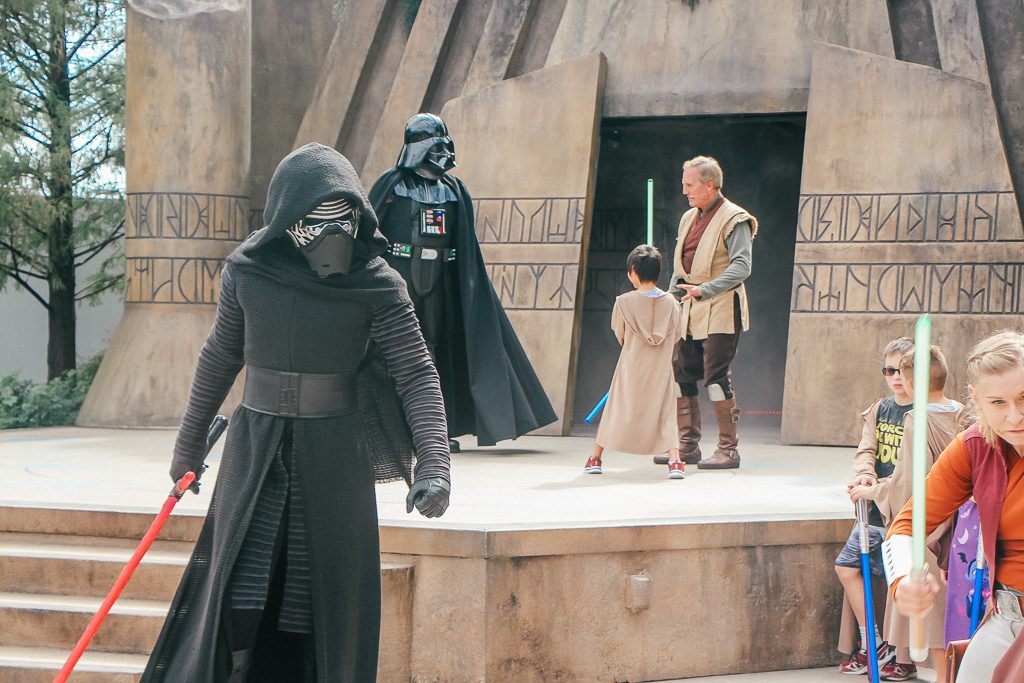 Keep in mind, Disney is always changing…and that is part of the magic. Once Star Wars: Galaxy's Edge is fully up and running, there may be changes at the Jedi Training Academy. I am keeping my ears open for any news of changes to this attraction or the signup procedures.
If your kids get to do this, enjoy the moment and take lots of pictures (or commit to purchasing the photos and be wholly present while they're fighting the dark side.)
Good luck…and may the force be with you!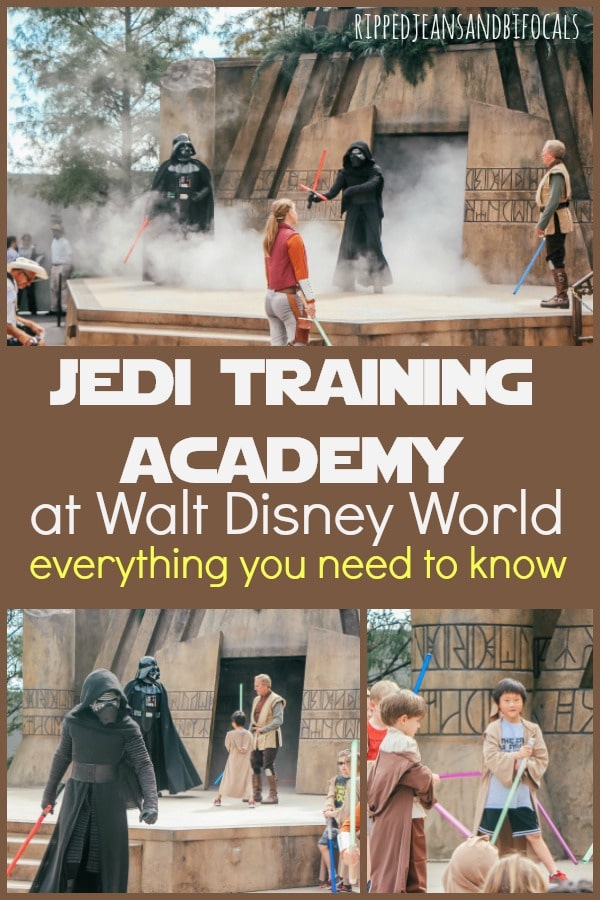 Disneyland Info:
Star Wars: Galaxy's Edge is also coming to Disneyland. If you're planning a trip anytime soon, you'll want to read this post because their way of managing crowds is different than Disney World.
Want to get the very best ticket prices on your Disneyland Resort tickets? Check with my partners at Getaway Today. They're super nice, super knowledgeable and always have the scoop on the greatest Disneyland Deals.

Other popular Disney posts:
2019 Disneyland Closures: Indefinite Shutdowns at the Resort
Disney World Star Wars News 2019: Galaxy's Edge and New Hotel